2023 Newsletter Term 03 | Issue 04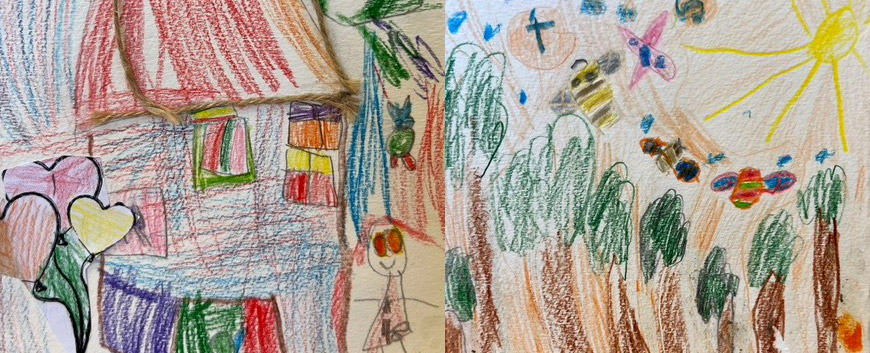 Upcoming events & Important Dates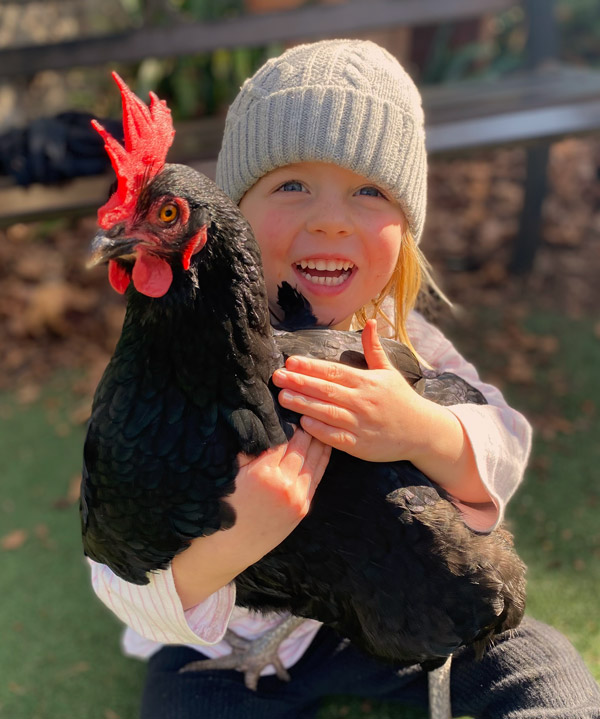 SEPTEMBER
Fri 22nd Last Day Term | Preschool ONLY
Fri 22nd Staff Development Primary Campus K-6
OCTOBER
Mon 9th Students Return
Mon 9-11th School Camp – Yani
Thurs 12th Preschool Tour 4.15pm
Mon 16th October – 3rd November Preschool Parent Teacher Conferences
23rd – 27th October – Parent Teacher conferences Kindergarten
Mon 30th Grandparent & Special Friends Day 10-11.30am | Preschool Campus
Tues 31st Grandparent & Special Friends Day TBC | Primary Campus
Click HERE to see further calendar dates.
Principal's Message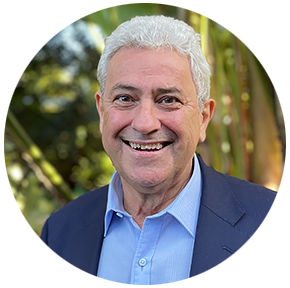 Dear Farmhouse Montessori Families,
Appointment of Harshitha Ravikumar as Deputy Principal
As you know, Alia James, currently Deputy Principal, will take on the role of Principal from the commencement of Term 1 2024. Last week I had the distinction of announcing Harshitha will be the next Deputy Principal, effective 29 January 2024.
Harshitha is a qualified Early Childhood and Primary school Montessori educator, with a Master of Teaching, Zero to 12. She has been Primary Co-Ordinator since September 2022 where she has been doing an outstanding job in that role. Harshitha will be based at North Balgowlah, and will focus on all aspects, operations, and curriculum, of the Preschool. This is particularly important as The Farmhouse Pre-School will be undertaking ACECQA Registration in 2024.
I congratulate Harshith on this appointment, with the firm believe that her Montessori educational skills, dedication, and high work ethic with be an enormous benefit to Farmhouse and to Alia, as Principal. Please join with me to congratulate Harshitha on this significant appointment.
Laura Navío Serrano
Laura, a well-regarded, experienced Montessori educator will be returning from Spain to teach Yani at the North Head Campus from the commencement of Term 4. The return of Laura will further strengthen the calibre of Montessori educators at Farmhouse.
Farwell Denise
This week is the last week for Denise who, for the past four years has be helping on the front desk at North Balgowlah and assisted with accounts when Jill was on leave. Her warm, welcoming smile, calm nature, and 'can do attitude' will be greatly missed. Thank you Denise for your wonderful support to us all at Farmhouse. We shall miss you.
Yani Camp at Milson Island
On their return to school, Yani children will be attending Camp at Milson Island Sport and Recreation Centre on the first three days of Term 4. Tom and Laura will be the teachers attending and supervising.
This is the last week of schooling for Term 3. It has been a very busy time of learning for everyone. A special thank you to all our educators for their wonderful efforts to ensure the best of education for each child. Primary children will finish on Thursday and Preschool children will finish on Friday.
Safe holiday for all.
Bruce Rixon  |   Principal
Deputy Principal's Message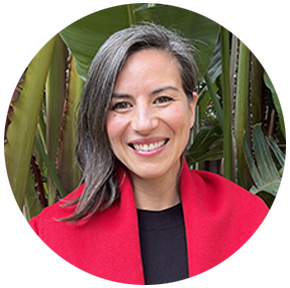 Dear Farmhouse Montessori Families,
Maria Montessori's birthday was recently celebrated across the world on August 31st. If Maria were alive today, she would be celebrating her 153rd birthday. All these years later, her legacy lives on.
There are more than 15,000 Montessori schools worldwide, and the largest school in the world happens to be a Montessori school with more than 55 thousand students. While Montessori's educational approach spans the globe, her life story is fascinating.
Maria grew up in Italy in the late 1800s, a time when women were not encouraged to gain a tertiary education, and yet she defied the odds and the social customs of the time to become one of the first women to obtain a Doctor of Medicine from the University of Rome. She was a three-time Nobel Peace Prize nominee and championed children's rights, even speaking at the UNESCO General Conference in 1950. A simplified timeline of Maria Montessori's life is found on the Association Montessori Internationale website. Montessori's dedication to unity and peace underlies all of her work.
"An education capable of saving humanity is no small undertaking; it involves the spiritual development of man, the enhancement of his value as an individual, and the preparation of young people to understand the times in which they live." – Dr. Maria Montessori | Education and Peace
A relatively new book, The Best Weapon for Peace: Maria Montessori, Education, and Children's Rights, by Erica Moretti, unveils more of Montessori's humanitarian work and fascinating life.
Alia James  |   Deputy Principal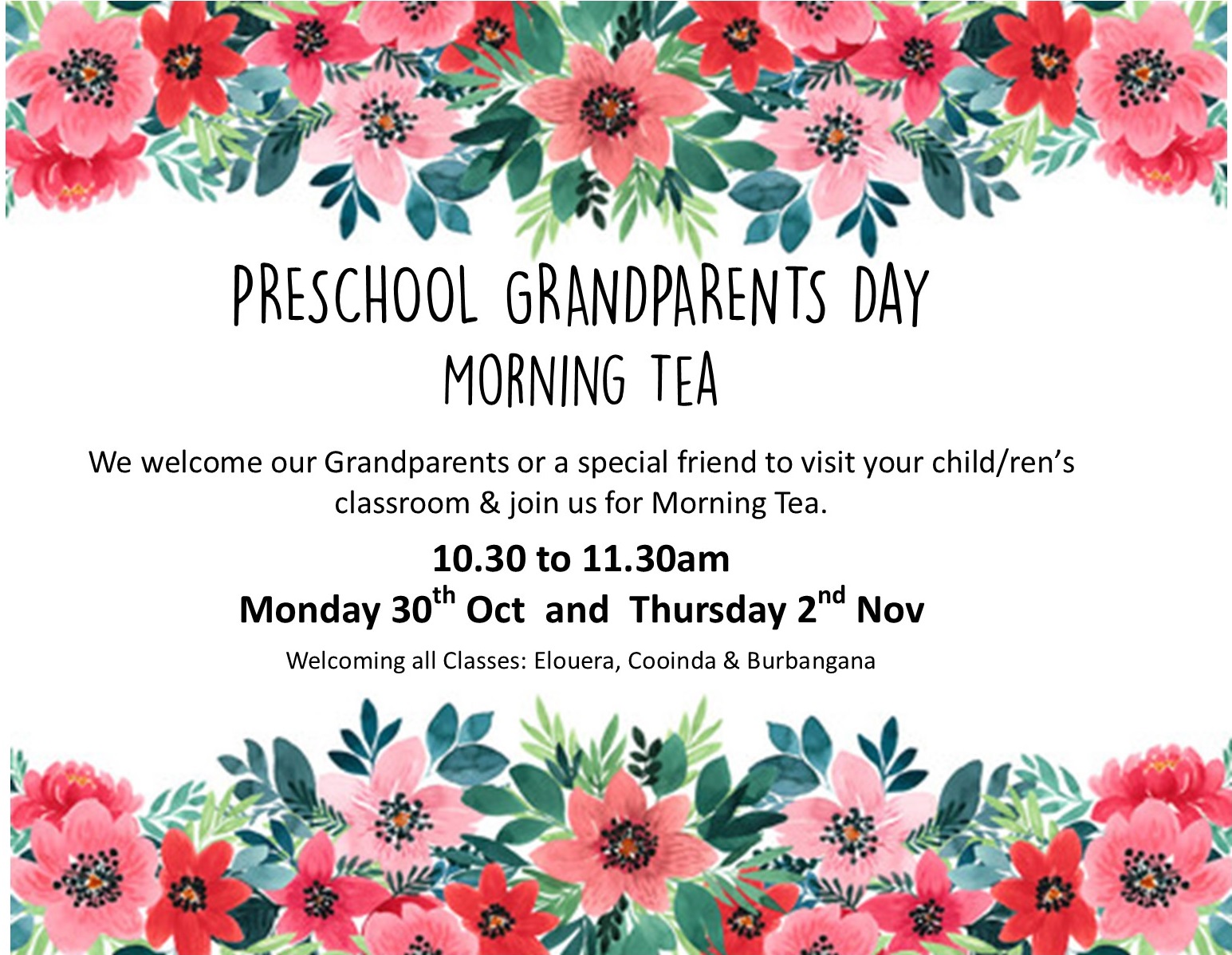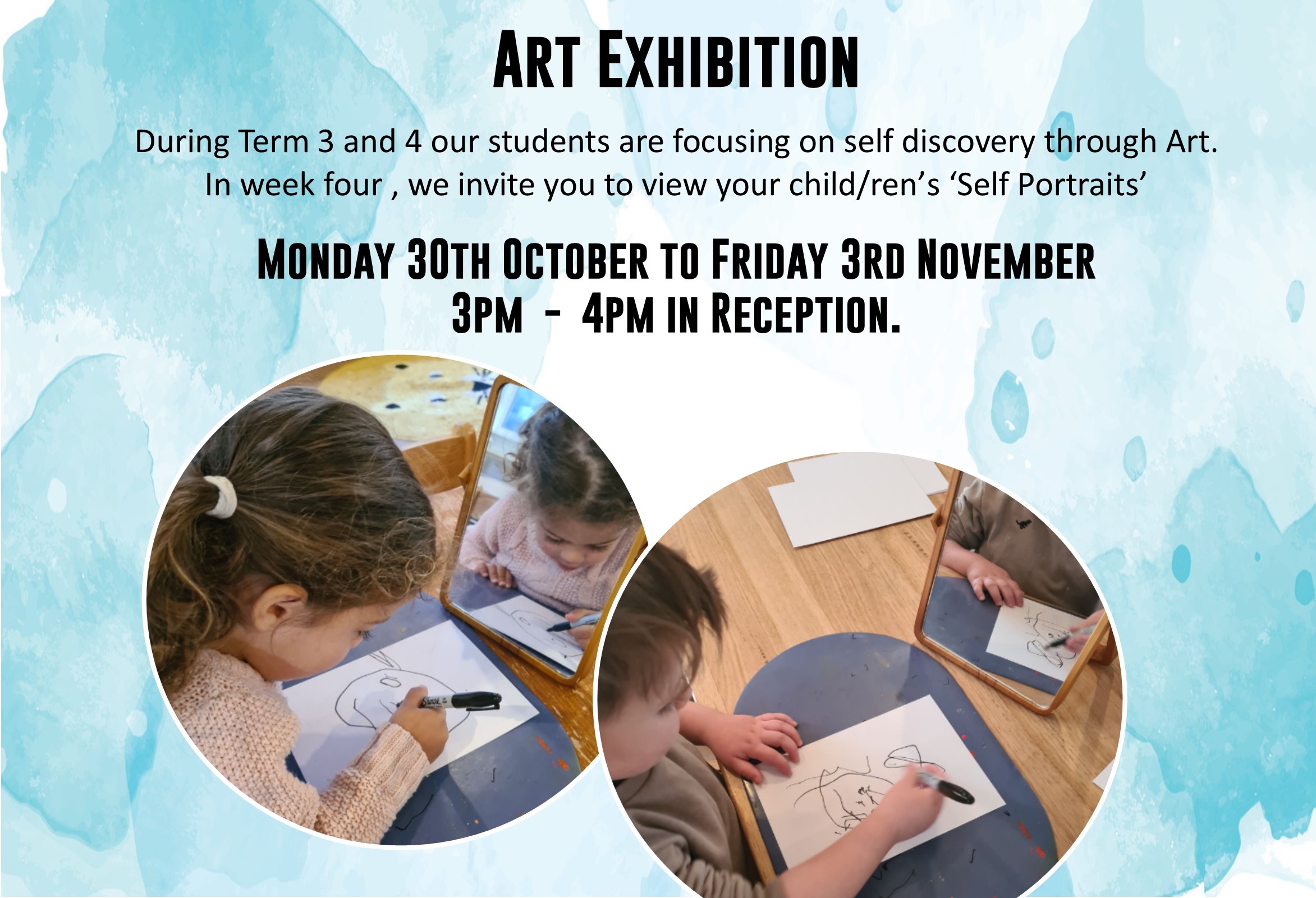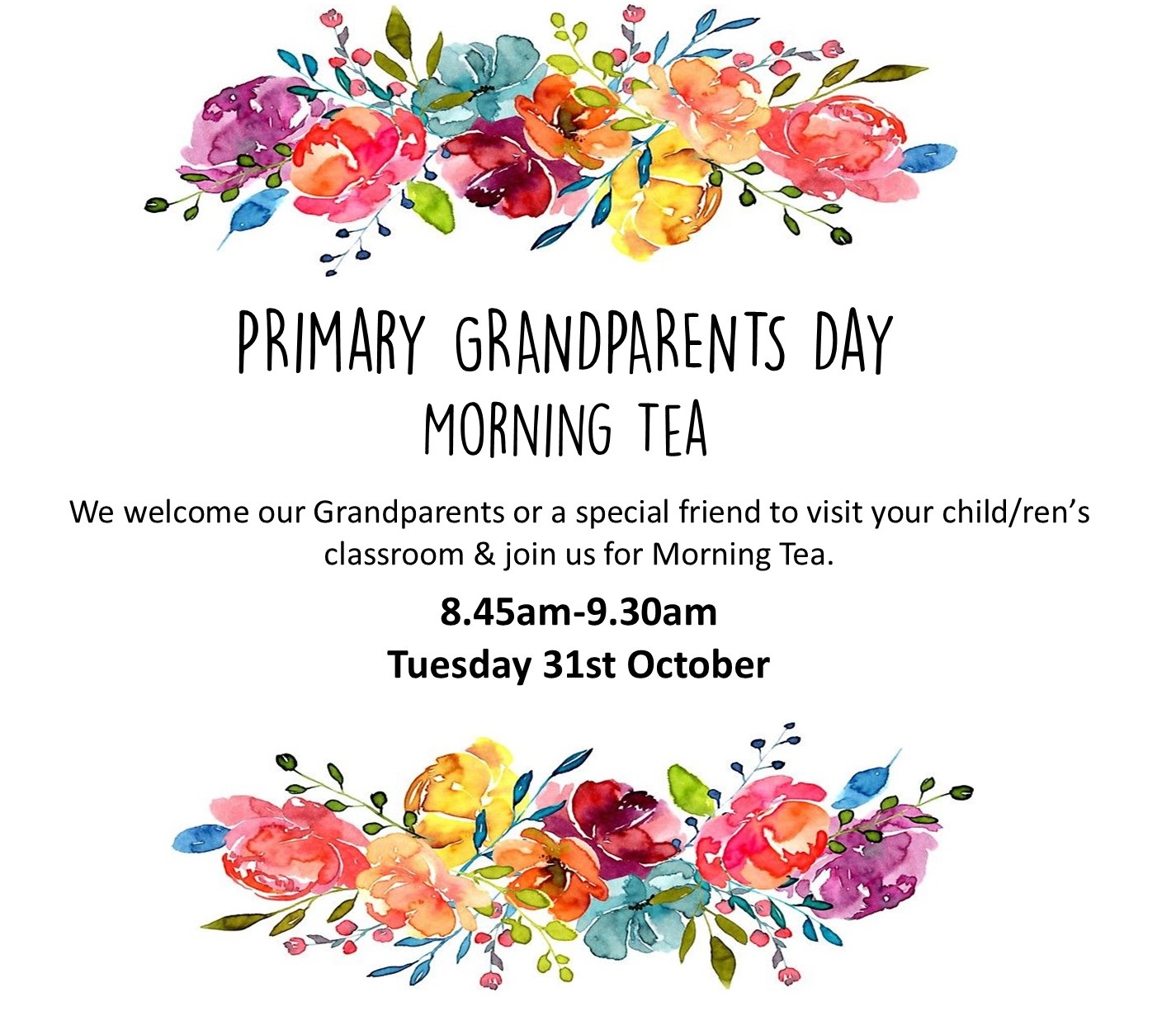 ELOUERA | Stage 1 Infant Community
In Elouera the children have been showing a love of books. We have been fostering this interest by reading books at group times, one on one and giving children time for independent exploration of the books. The books are easily accessible for all children to look at and investigate various topics that they are interested in; as often as they like.
Reading and storytelling helps the children learn about speech sounds, words, language, pictures and books. Reading stories stimulates imagination, develops social skills and helps the children to learn about the world.
— Nina, Rachel, Sarah and Yuko.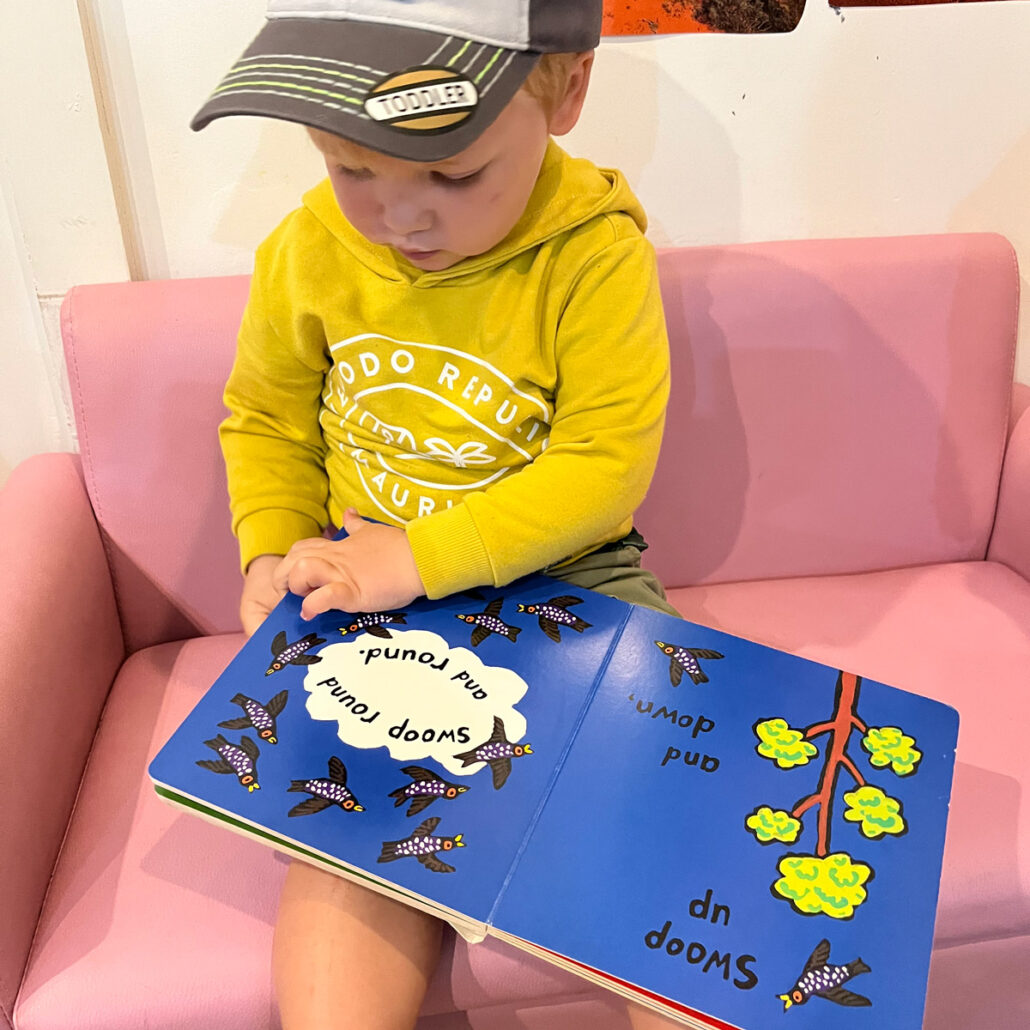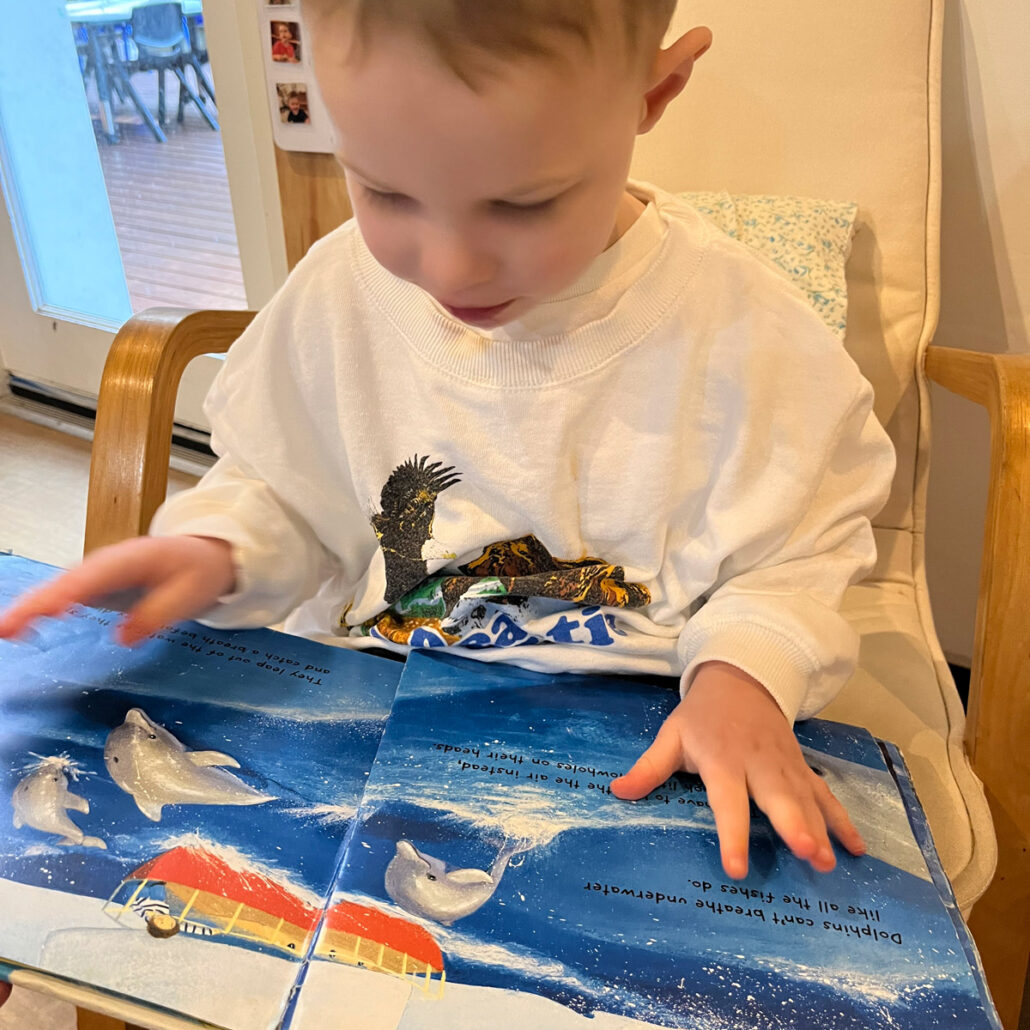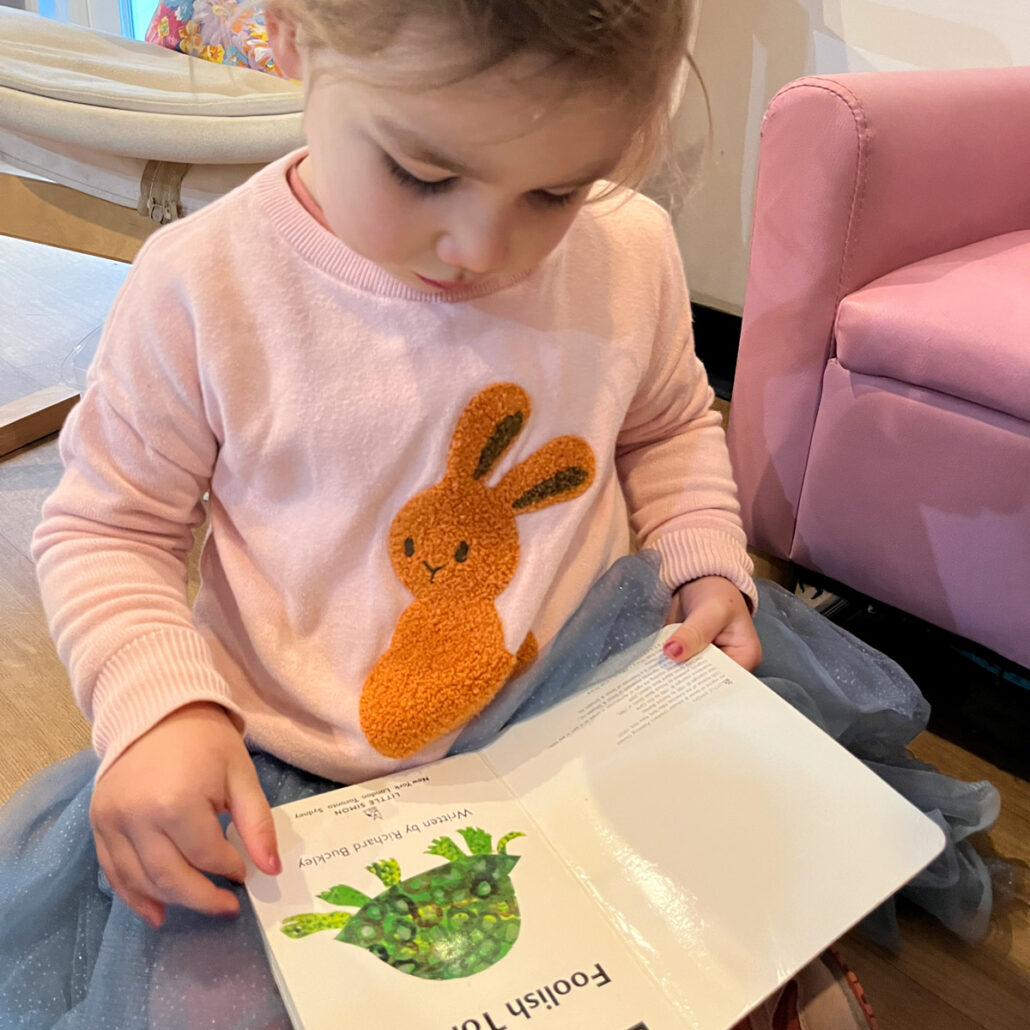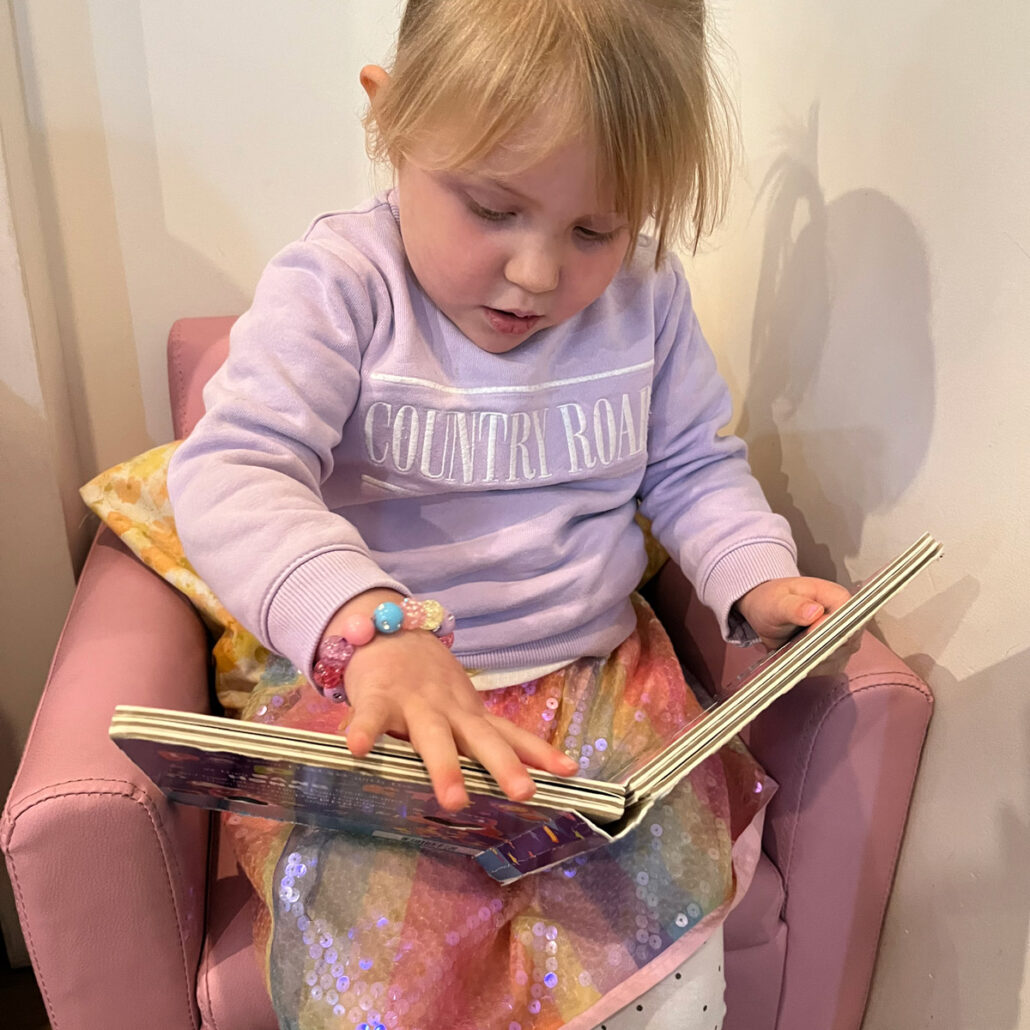 Gross motor development- during our outdoor exploration time, many of the children enjoy the challenge of our monkey bars. This activity is not only supportive of fine and gross motor development as well as coordination, it is an amazing demonstration of the persistence and determination young children have. There have been many blisters on hands and band-aids applied. However, these children come back for more and are determined to reach the end one bar at a time!
— Helen, Teresa & Claire
Having access to a beautiful garden for daily play is a fantastic opportunity for children. Gardens offer many benefits for both physical and emotional well-being. Our garden serves as a natural extension of our Montessori classrooms. It is a space where children can apply the knowledge and skills they acquire indoors to the real world. This hands-on experience deepens their understanding of concepts and encourages active learning. Cooinda children love to engage in endless exploration and discovery as they observe the changing seasons, learn about different plant species and insects found in the garden. Ultimately nature play also involves group activities, which provide opportunities for children to interact with their peers. Cooperation, communication, and conflict resolution skills are developed as children engage in imaginative and collaborative outdoor play. We are very lucky to have such a wonderful garden available for us to play every day.
— Catalina, Elizabeth, Jo and Angela.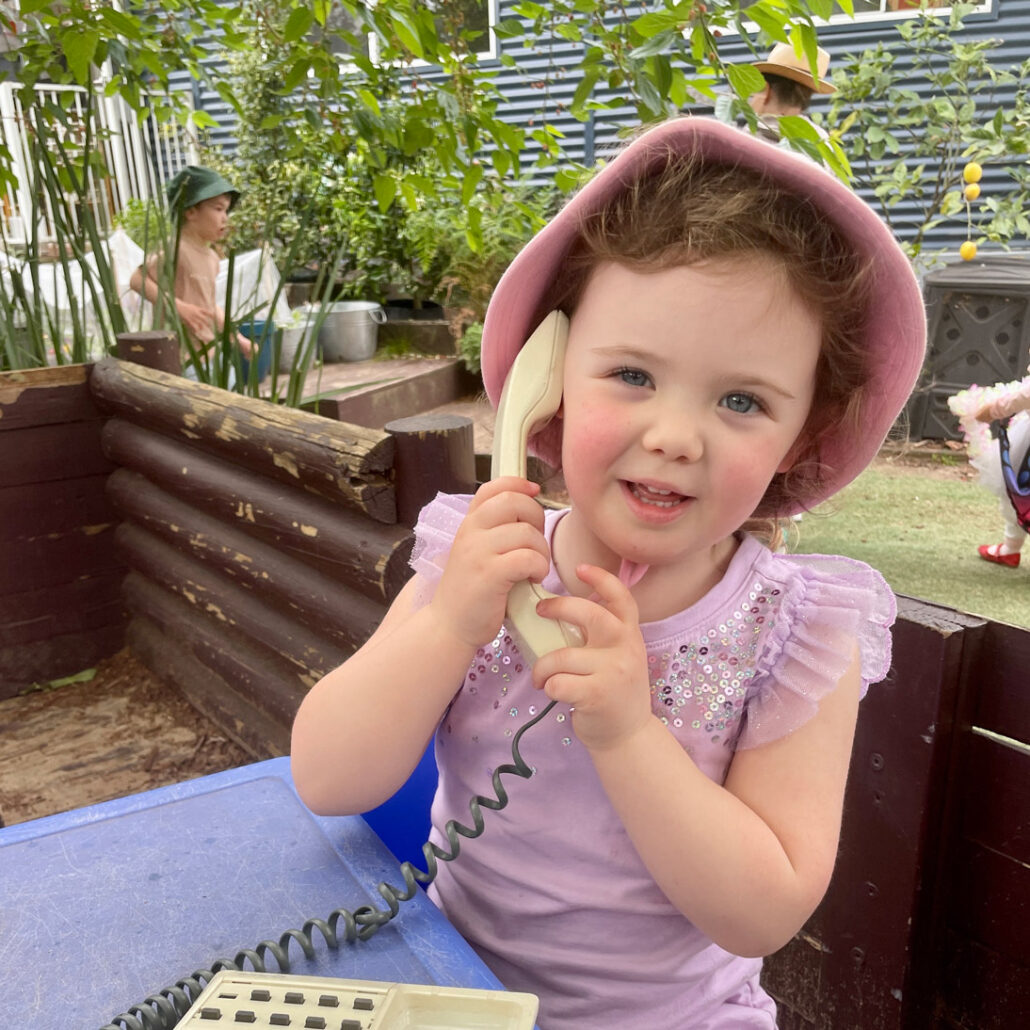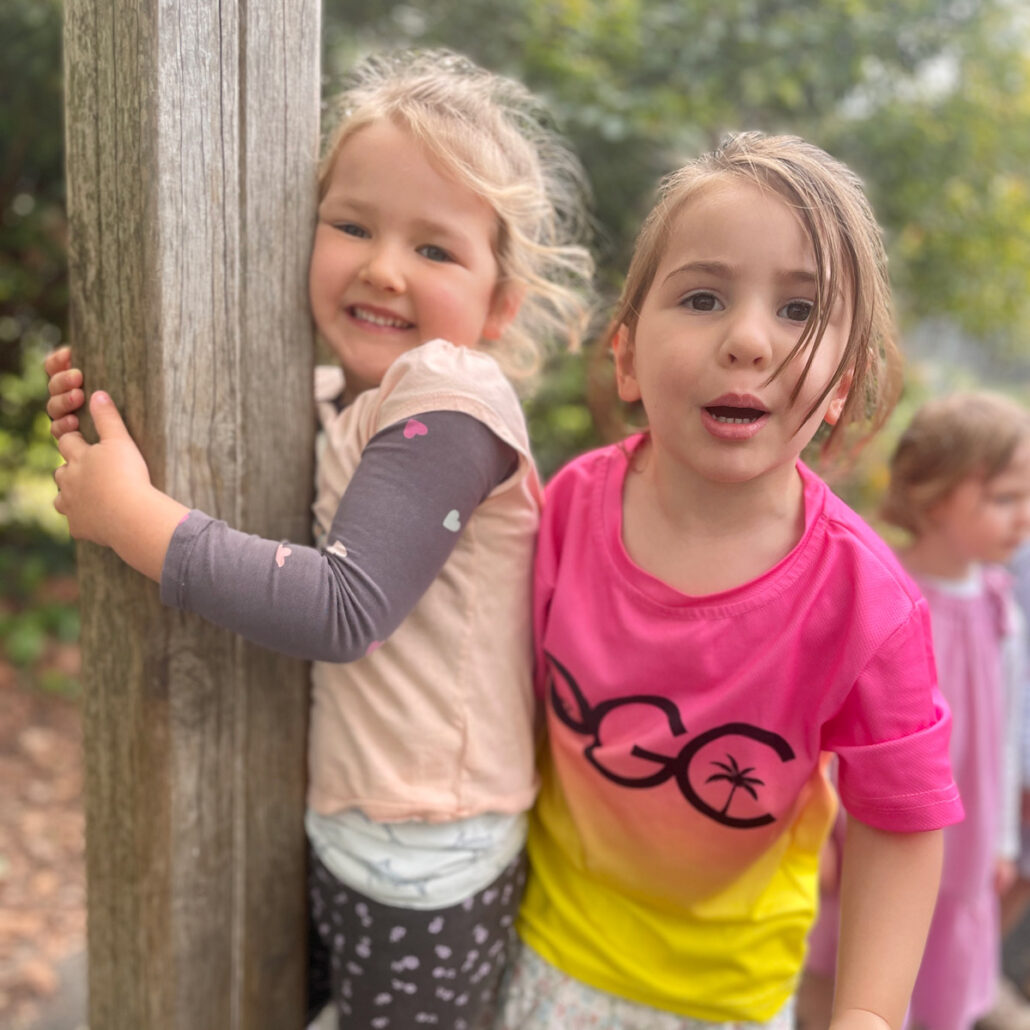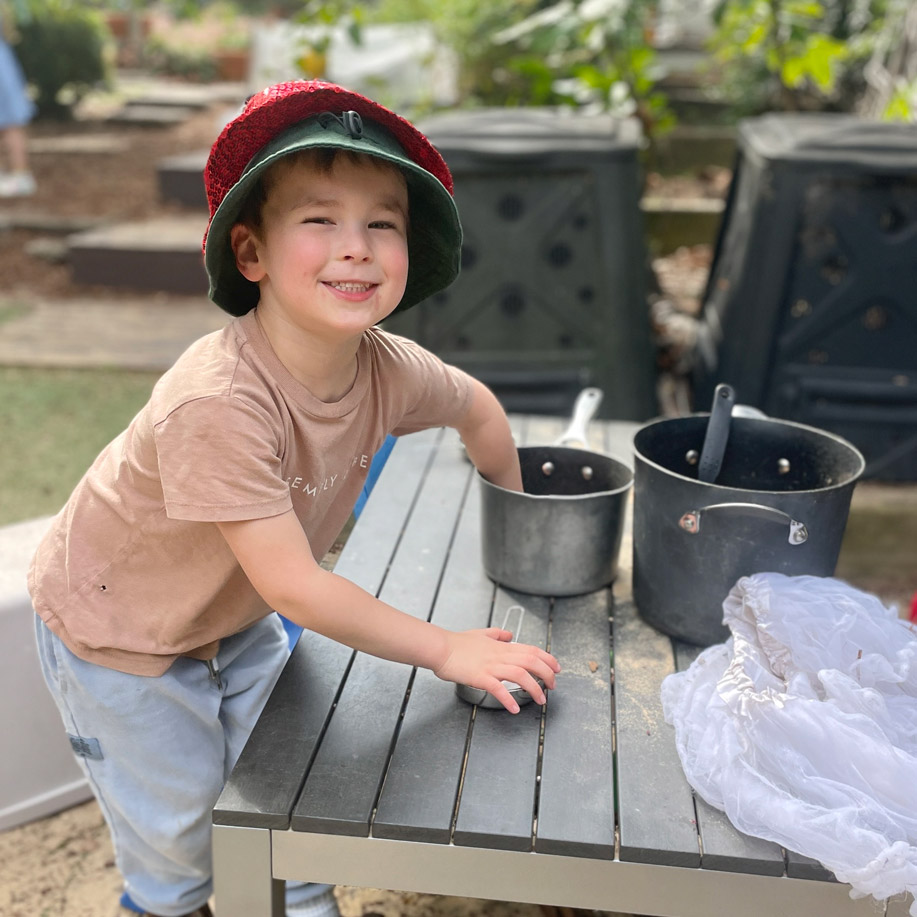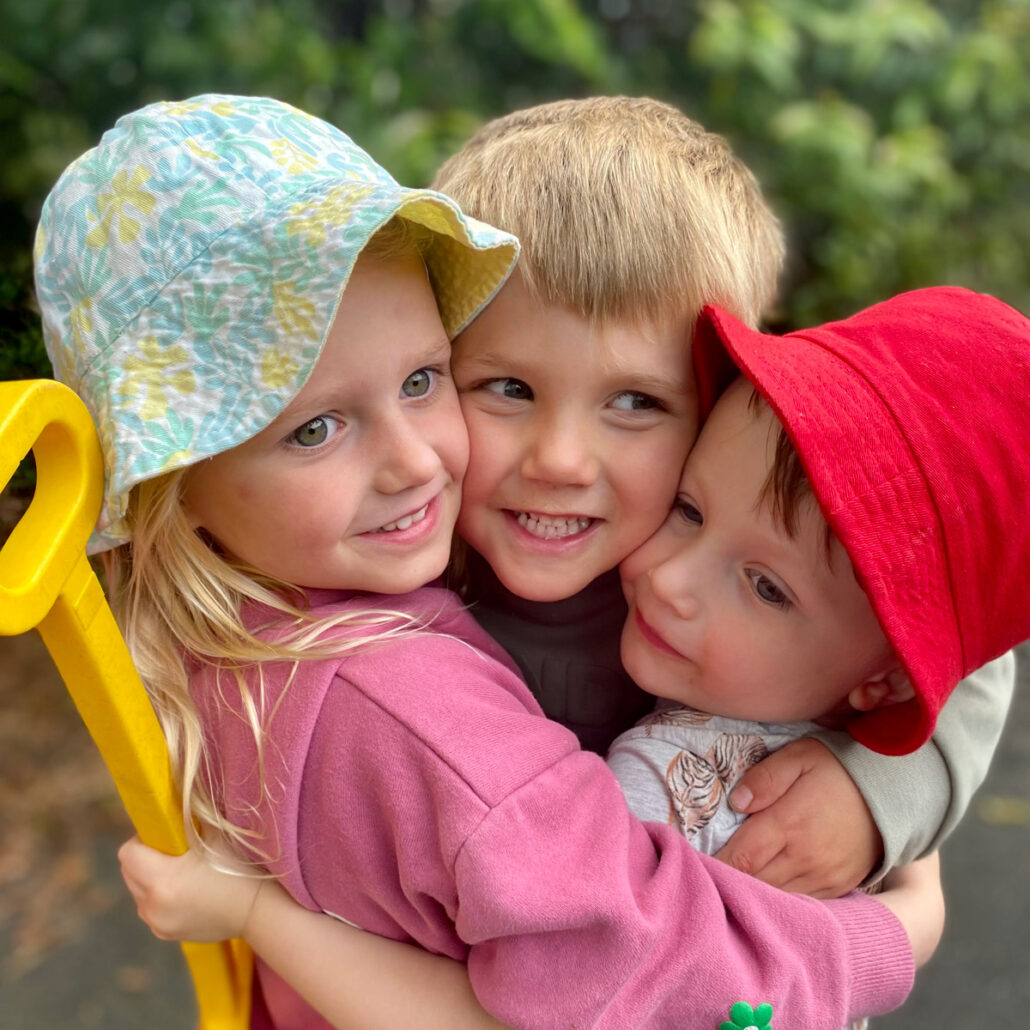 AMAROO | OUTDOOR CLASSROOM
Celebrating Nature Book Week has focused everyone's attention on our library of amazing reference books.  As we explored the question 'what is nature?', we looked more closely at animals, birds and plants.  Choosing to read nature books to children can help them understand more about the environment alongside building their interest in and curiosity about nature.  It also fires up my little eco warriors even more to want to be kind to all creatures and protect our beautiful planet.
– Dawn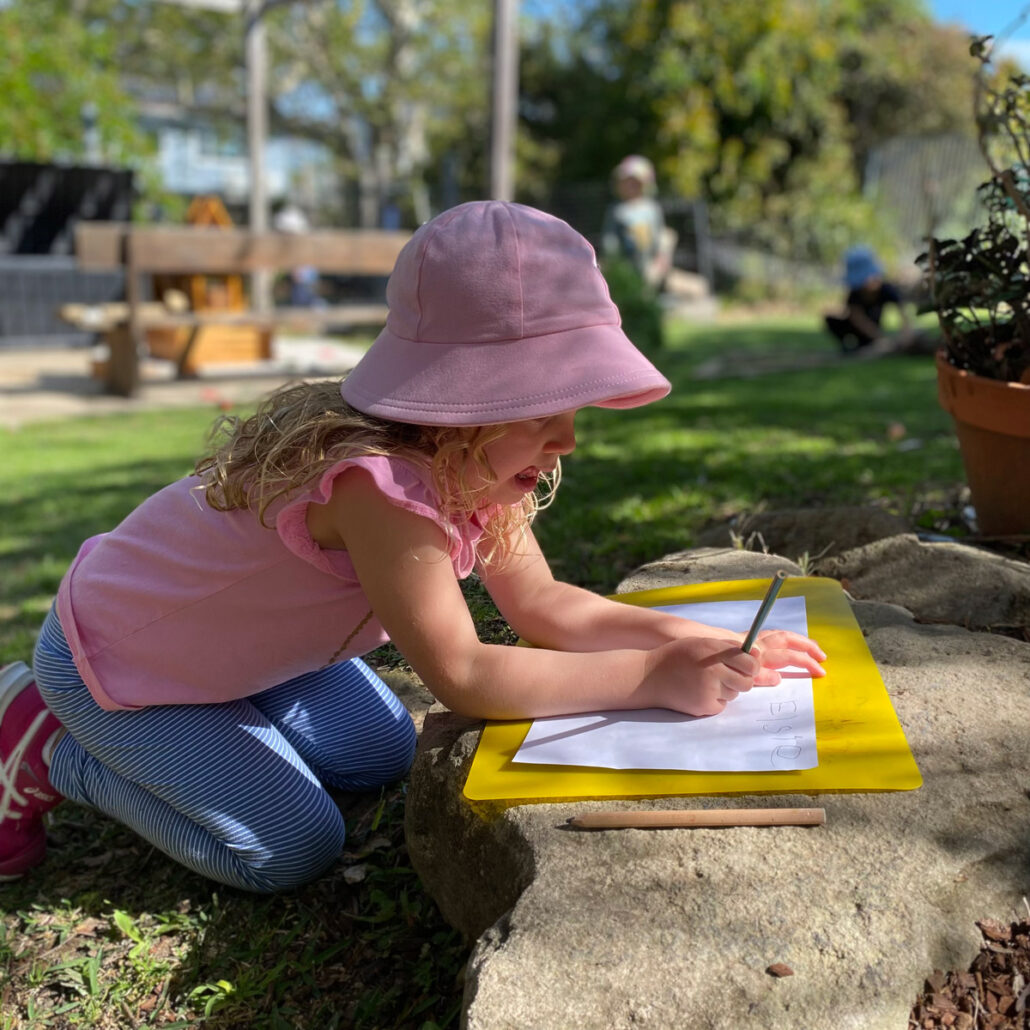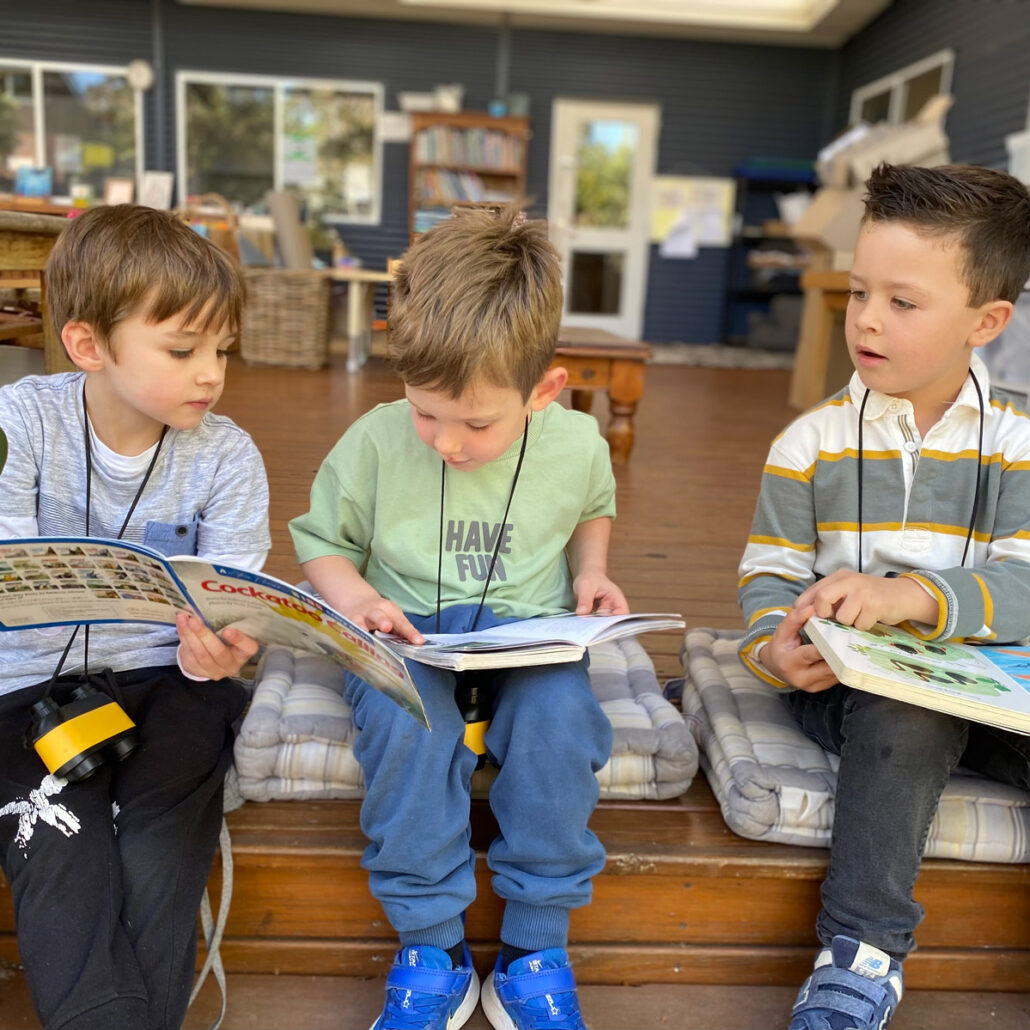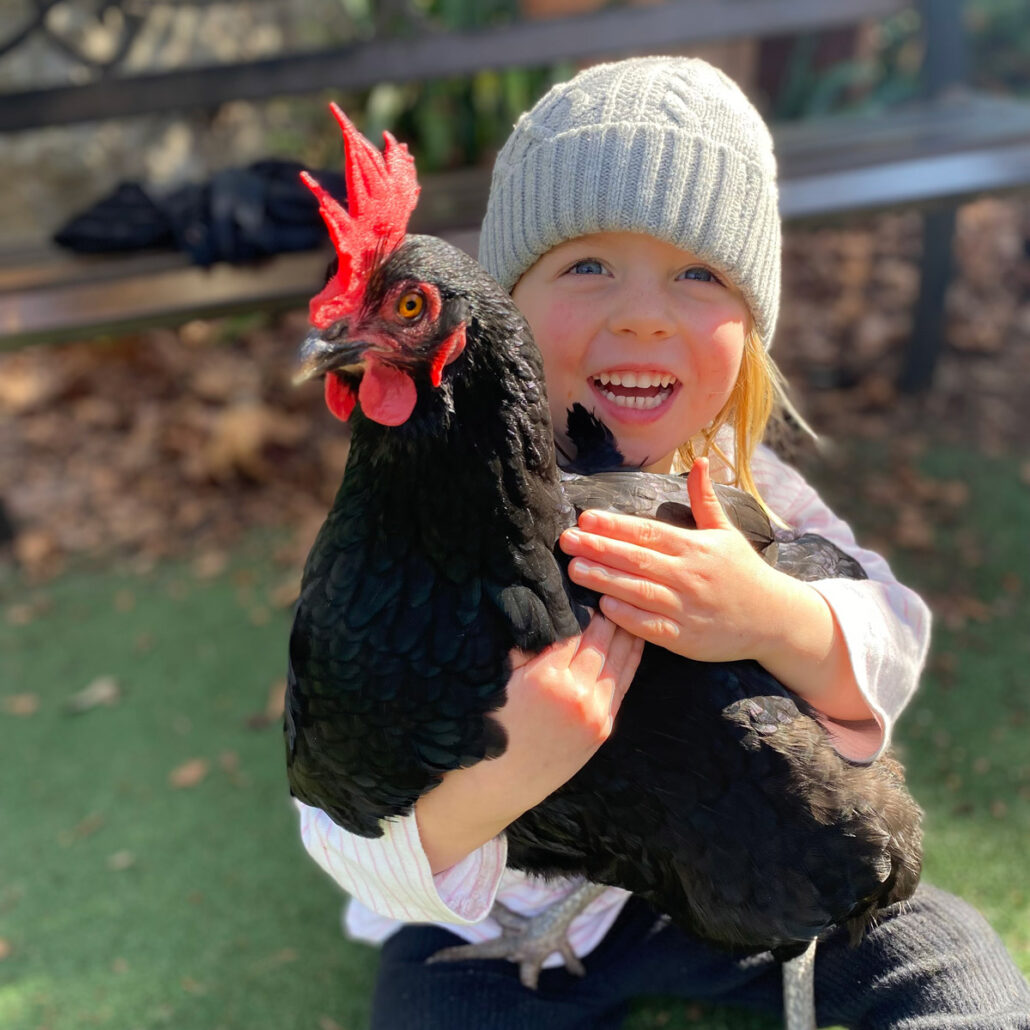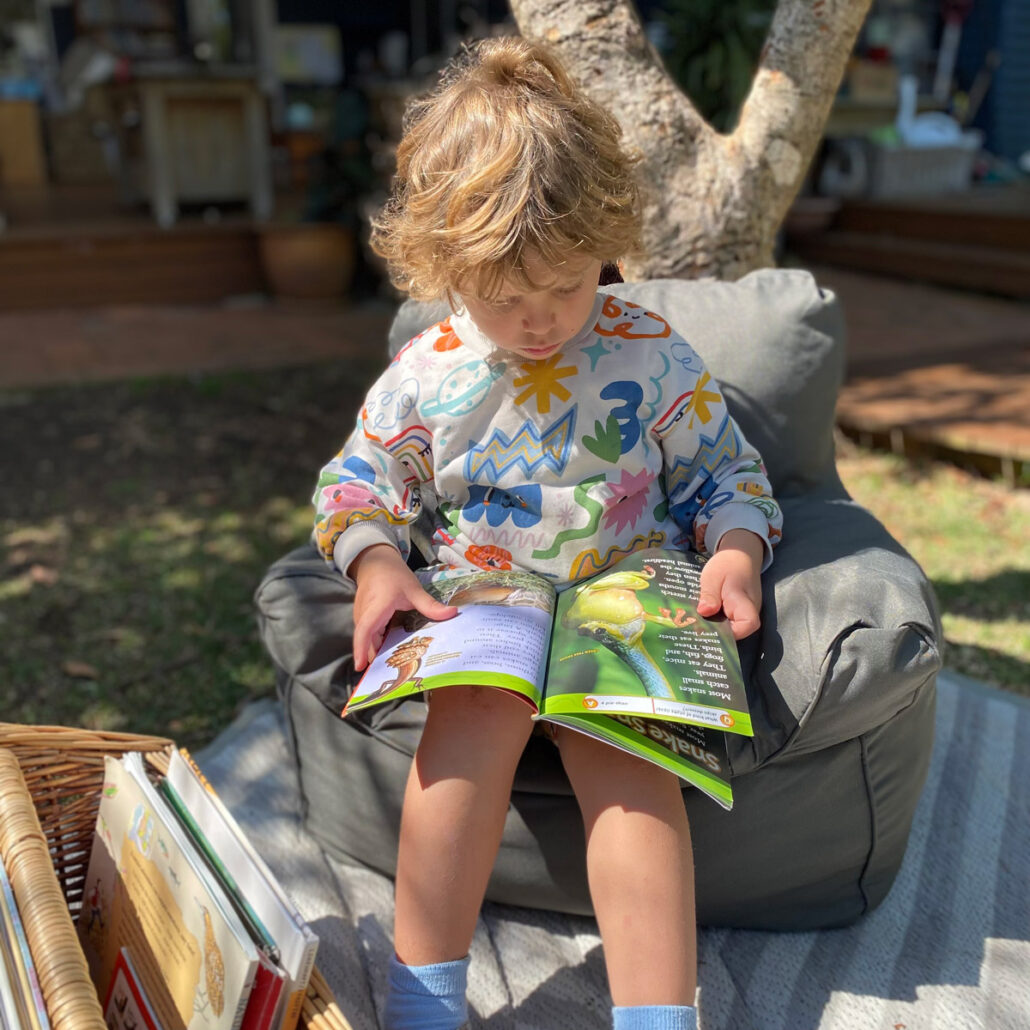 On August 30th, our excursion to the Coastal Environment Centre was an incredible journey of exploration and discovery. The children were amazed by the preserved taxidermy animals, used binoculars to observe birds, learned about water's impact on the environment, and took part in activities highlighting the human impact on coastal areas. We also enjoyed a walk along Turimetta Beach and explored the North Narrabeen Rock Platform, which was a real highlight. It was a sun-filled day of adventure and learning that enriched both children and educators.
We want to express our gratitude to all the fathers who joined us for the Father's Day morning tea. It was wonderful to see dads spending quality time with their children, taking pride in their work. Your presence made the day special, and we appreciate your active involvement in your child's education.
We also took the time to discuss the remarkable life and work of Maria Montessori, whose innovative educational approach has inspired educators worldwide. To honour her memory, we gathered the children and read a book that encapsulated her vision for hands-on, child-centred learning, igniting their curiosity and enthusiasm for learning.
In language activities, the children explored Jeannie Baker's unique collage-style picture books, which was a new and exciting experience for them. They sharpened their storytelling skills, showcasing impressive observations and an understanding of narrative elements. They then had the chance to create their own collage-style picture books, pouring creativity into these projects. Sharing their stories with peers highlighted their growth and empowerment, underscoring the positive impact of encouragement and support.
During our math activities, the children explored geometric shapes in both 2D and 3D. They eagerly identified these shapes in their surroundings and had a great time creating their own 3D shapes using popsicle sticks and blu tack. This made learning both fun and engaging.
— Samantha.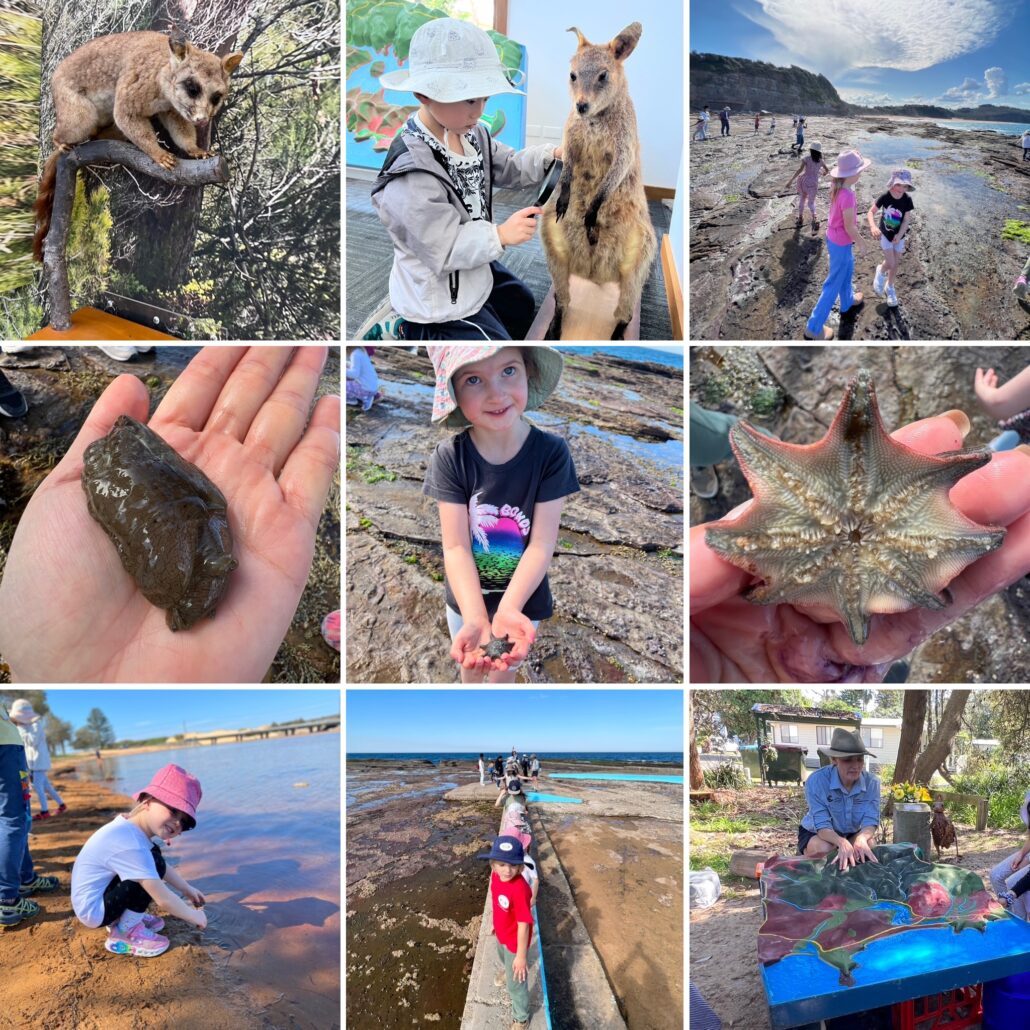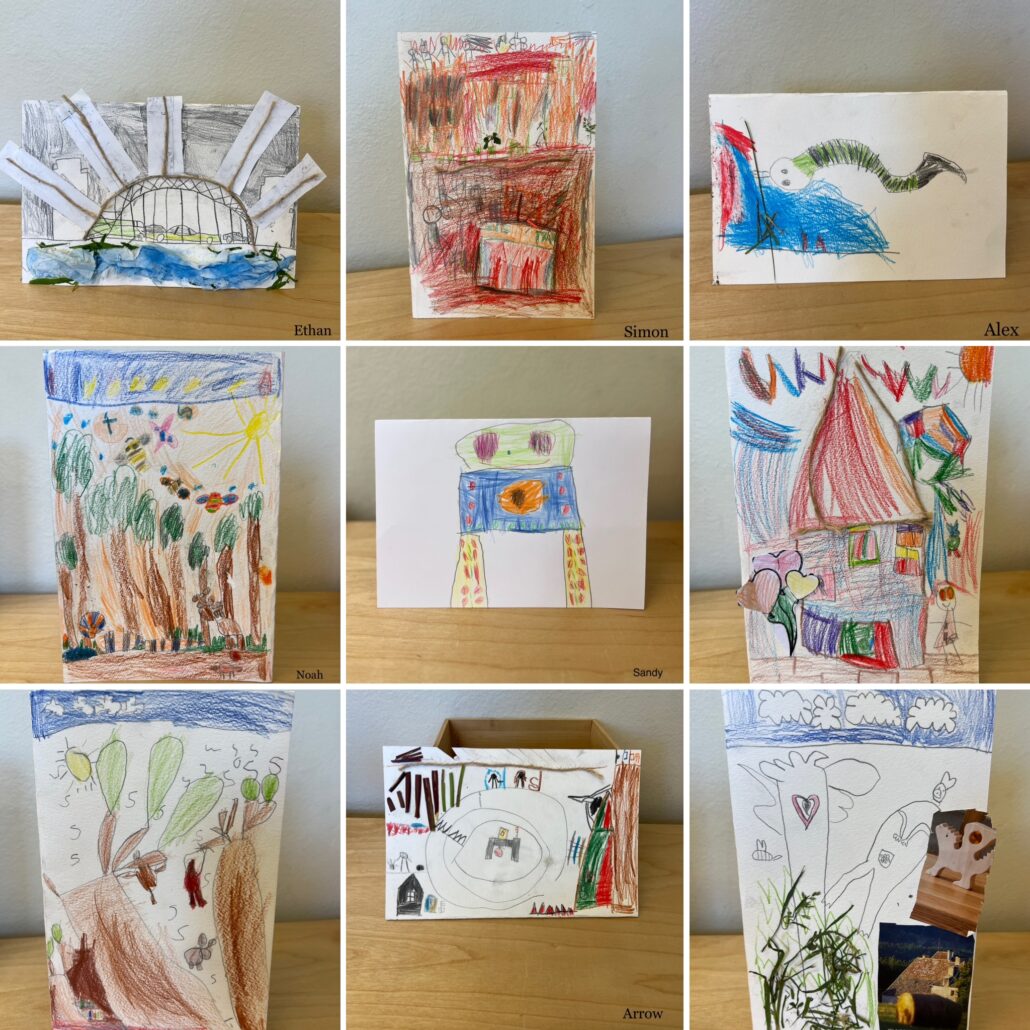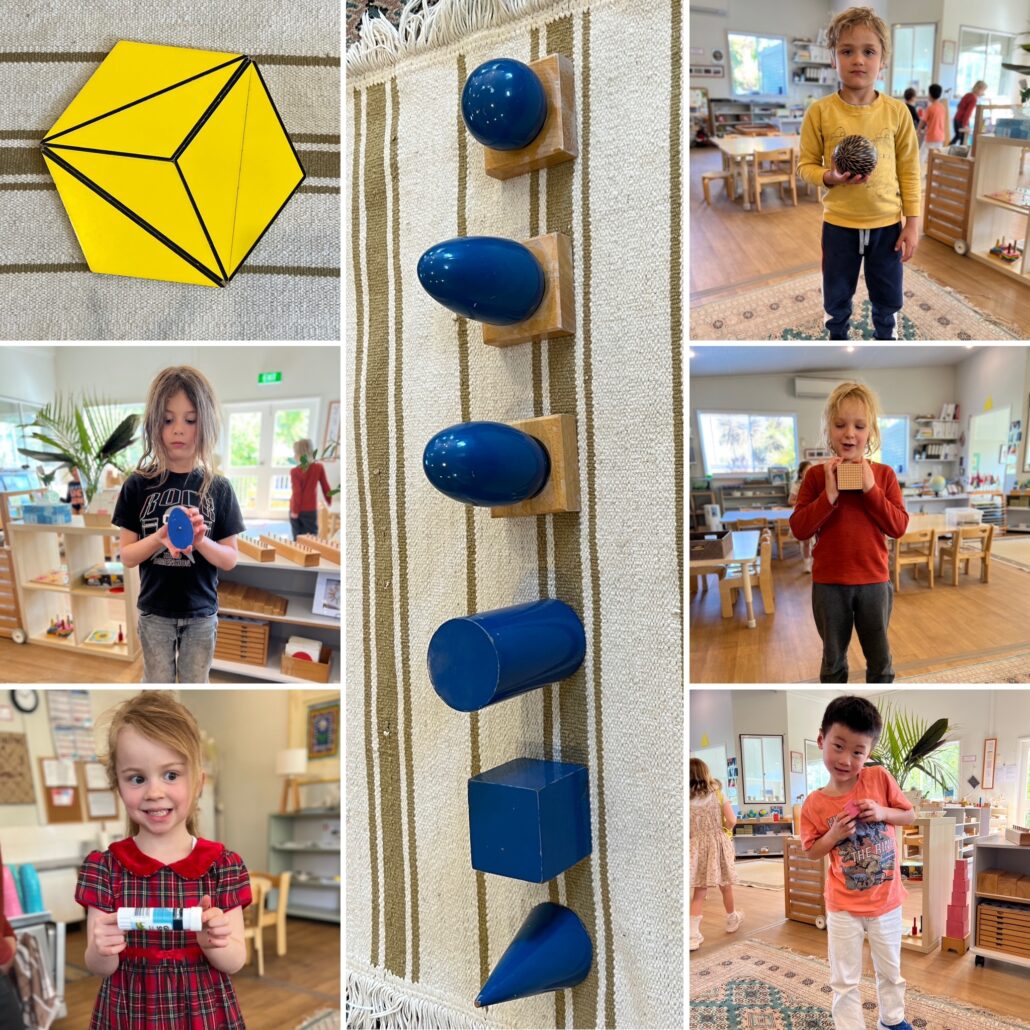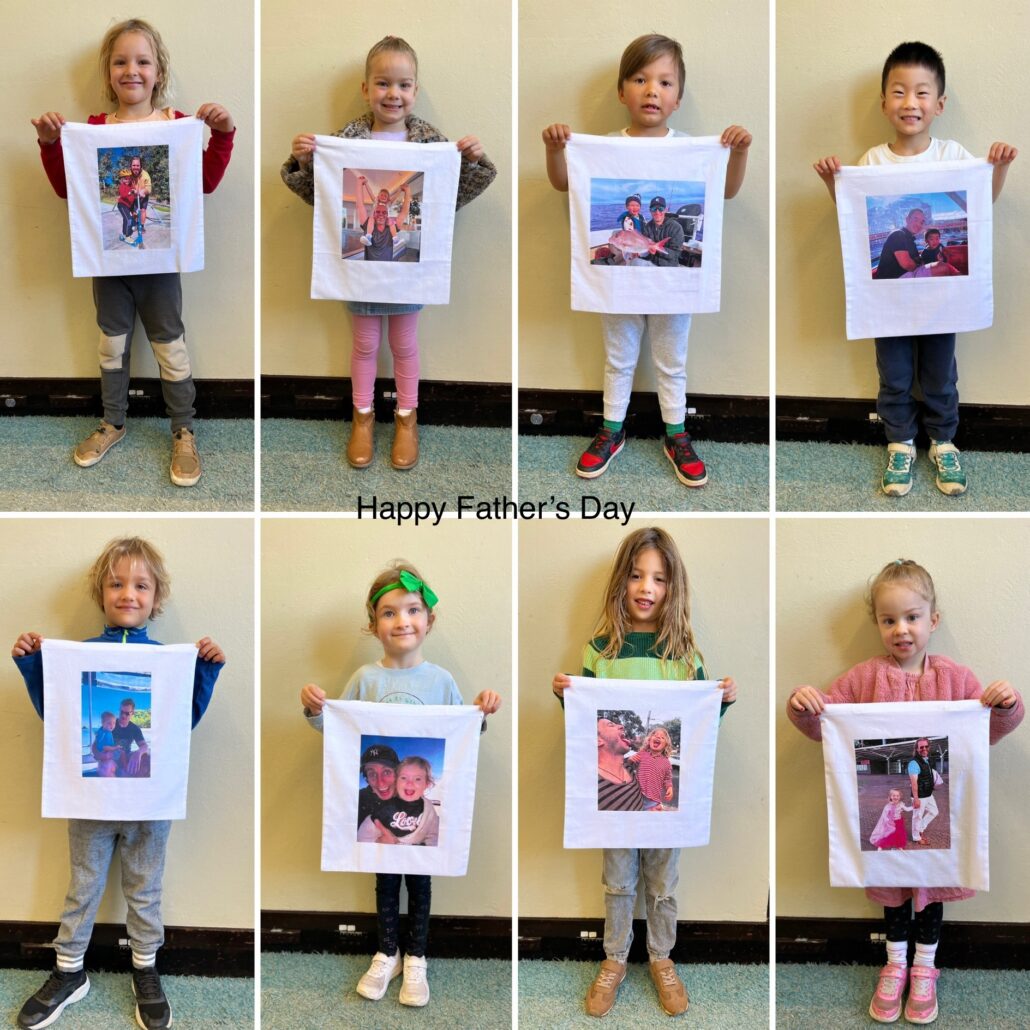 We hope this newsletter finds you well and filled with the joys of the changing seasons. It's been an exciting and eventful couple of weeks here at Aikya. We're thrilled to share our latest adventures and discoveries with you.
Excursion to Coastal Environment Centre in Dee Why
We started our recent activities with our excursion with the Kindergarten children to the Coastal Environment Centre in Dee Why. We explored the wonders of our coastal ecosystem, from rock pools teeming with marine life to the rich history of the area. Our students engaged in hands-on learning experiences, deepening their understanding of the natural world. It was a fantastic opportunity for them to apply their knowledge and curiosity beyond the walls of our classroom.
Father's Day Morning Tea: 
One of the highlights of the past two weeks was celebrating the wonderful fathers in our community with a heartfelt Father's Day morning tea. It was a heartwarming experience to see the joy on their faces as they shared their workcycle with their fathers and other special guests. It was a lovely reminder of the importance of family and the bonds that make our community so special.
Independent Learning and Montessori Materials
Our children continue to thrive in their independent learning journey. The Montessori materials play a crucial role in fostering their development, and it's a joy to witness their increased confidence and proficiency in using these materials. Their ability to engage in self-directed work and problem-solving is truly inspiring.
Celebrating Maria Montessori's Birthday
Maria Montessori's birthday was an occasion for meaningful conversations with the children about the philosophy that guides our classroom. We reflected on her profound educational contributions and discussed the importance of nurturing each child's unique potential. The children were eager to share their thoughts and observations about their own learning experiences.
Guided Bushwalks and the Arrival of Spring
As we welcome the arrival of spring, we look forward to embarking on guided bushwalks in our surrounding area. Exploring seasonal growth and observing nature's transformation is a wonderful way to connect with the environment and deepen our appreciation for the world around us. It's a great opportunity for the children to observe the changing seasons up close and to connect their learning to the natural world.
We are filled with gratitude for the vibrant learning community that surrounds us, and we can't wait to continue this journey of exploration and discovery with our wonderful students.
Thank you for your continued support and enthusiasm for Montessori education at Aikya. Together, we are nurturing inquisitive minds and fostering a love of learning that will last an lifetime.
—Toby, Amy and the Aikya Children.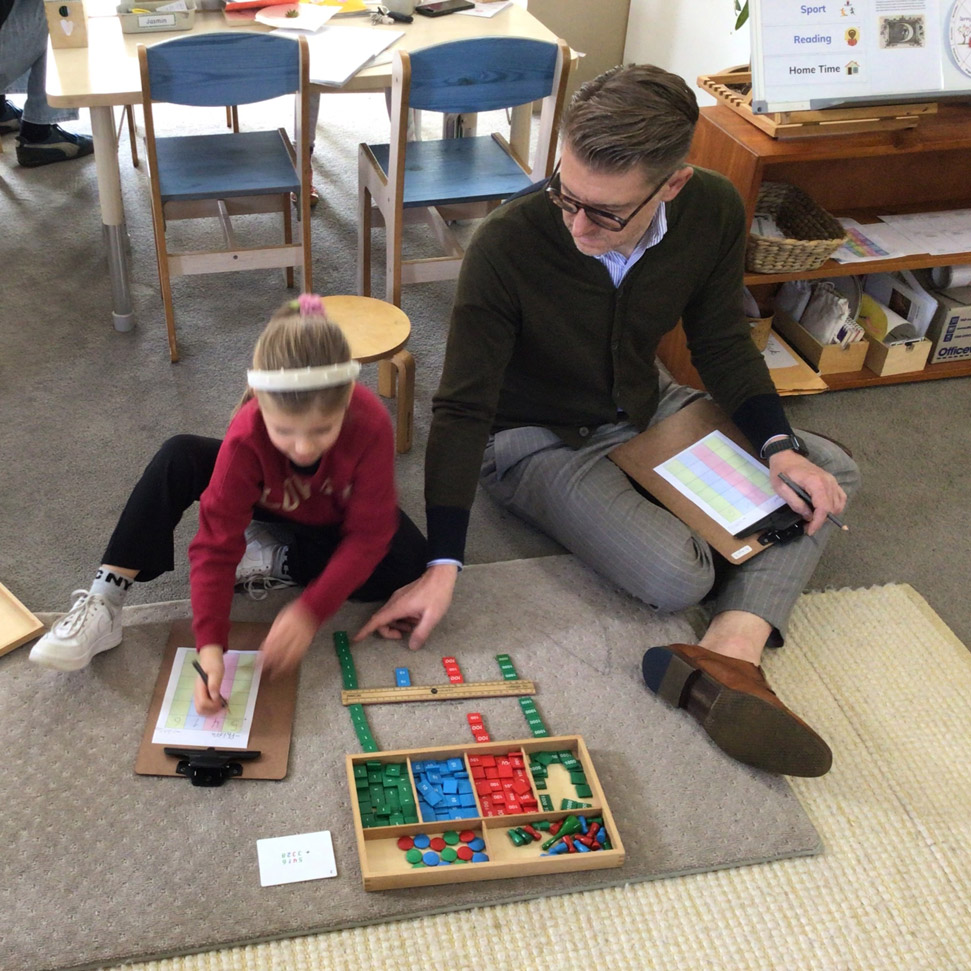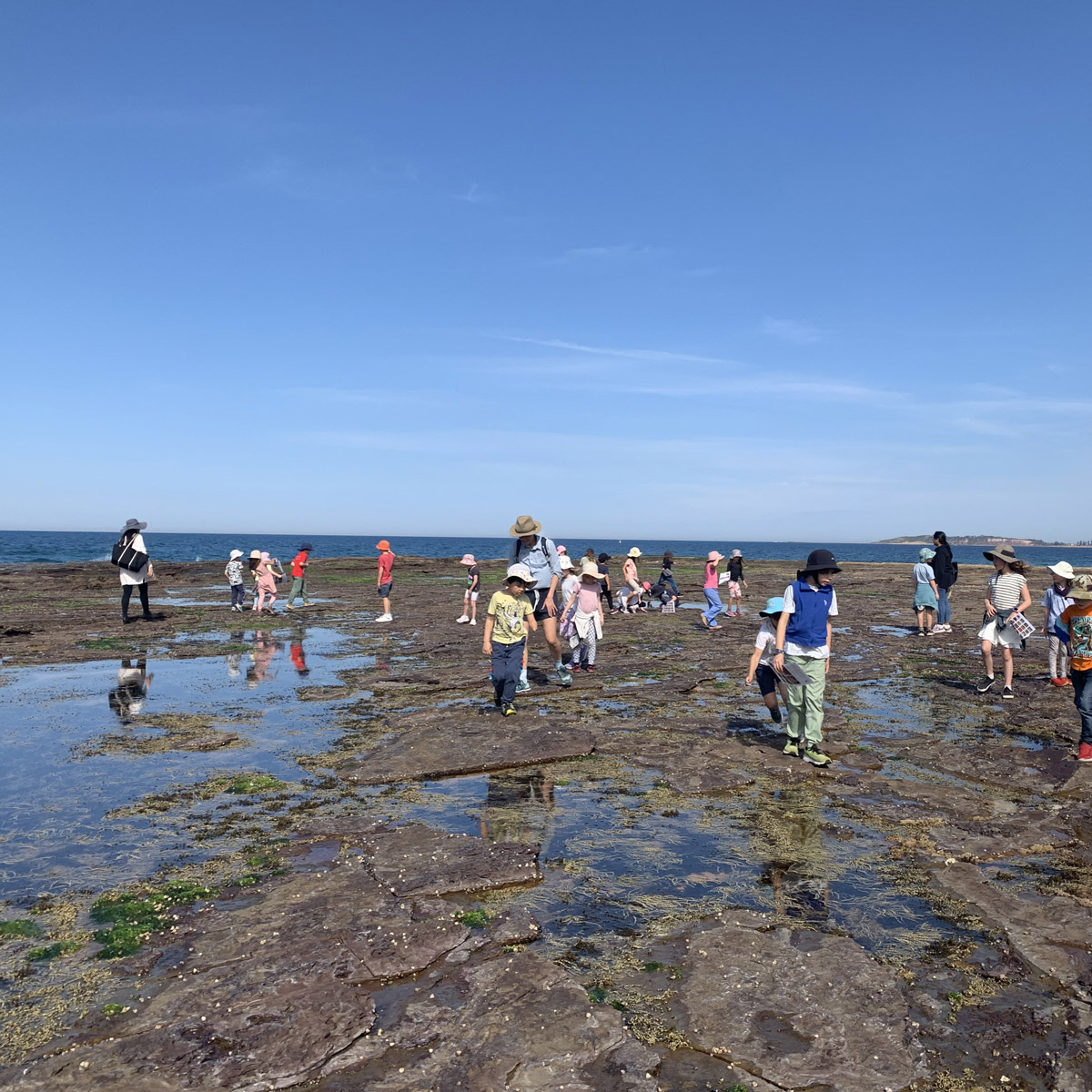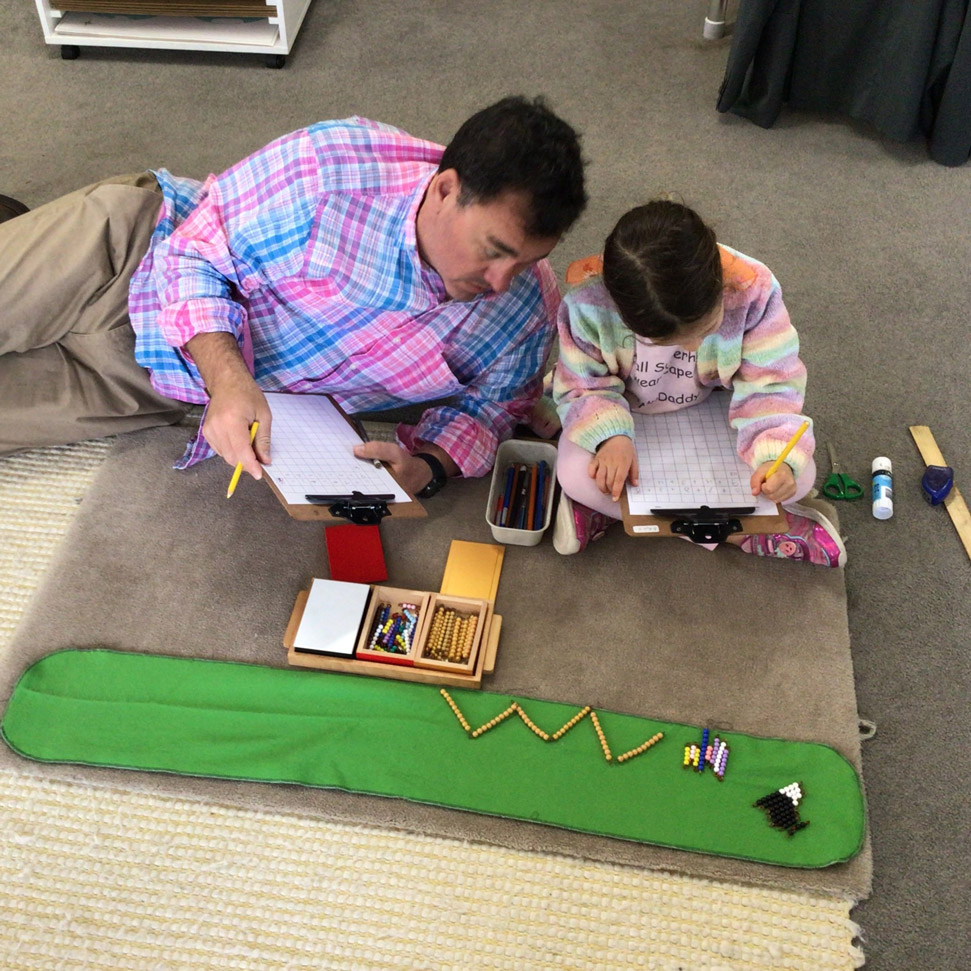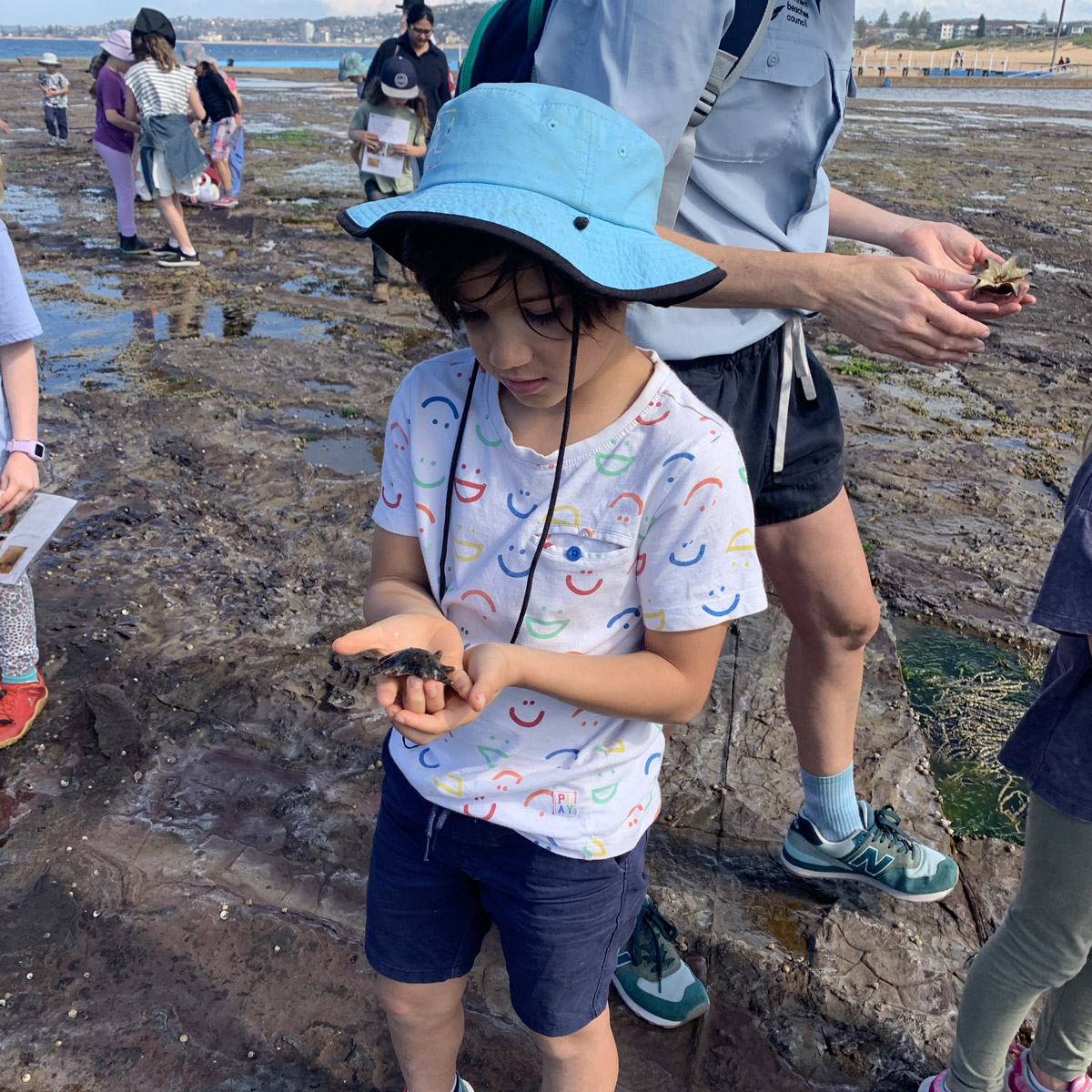 Dear Families,
As always, we have a lot of wonderful updates to share with you as we come to the end of another great term.
Children Raising Funds through the Cake and Book Stall at the Open Day – The young members of the Yani community actively contributed to the success of the recent Open Day. They took charge of coordinating a cake stall, book stall, and art station. Their meticulous planning and effective execution yielded positive results, thanks to the generous support of our community. The Open Day not only allowed the children to actively engage with the visitors but also served as a wonderful platform for them to demonstrate their creativity and teamwork skills.
Slovakian Food Cooking Session by Children – The children have been celebrating diversity and embracing cultures from around the world through cooking projects this term. For their Food Safari last week, our students had the unique opportunity to explore Slovakian cuisine in a fun and educational cooking session. In preparation for the cooking, they participated in a going out session to shop the ingredients. Our enthusiastic young chefs prepared and served the dish 'Lokse'. It was a delightful experience and we look forward to more such opportunities next term.
The Study of Leaves – As part of Botany, the children have embarked on a fascinating study of leaves and have been exploring the diversity of leaves found in North Head. The study involved identifying various leaf shapes, sizes, and textures, as well as understanding their functions and ecological significance. The children have undertaken unique projects and art to further their understanding of leaves.
We look forward to welcoming Laura back in our classroom and excited for camp next term.
—The Yani Team.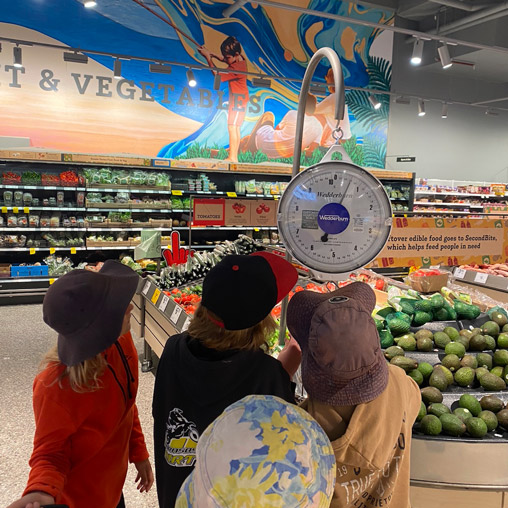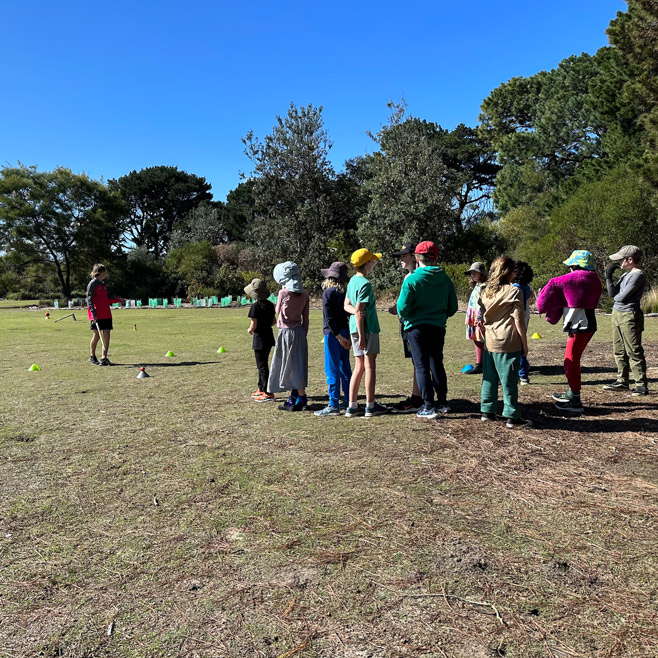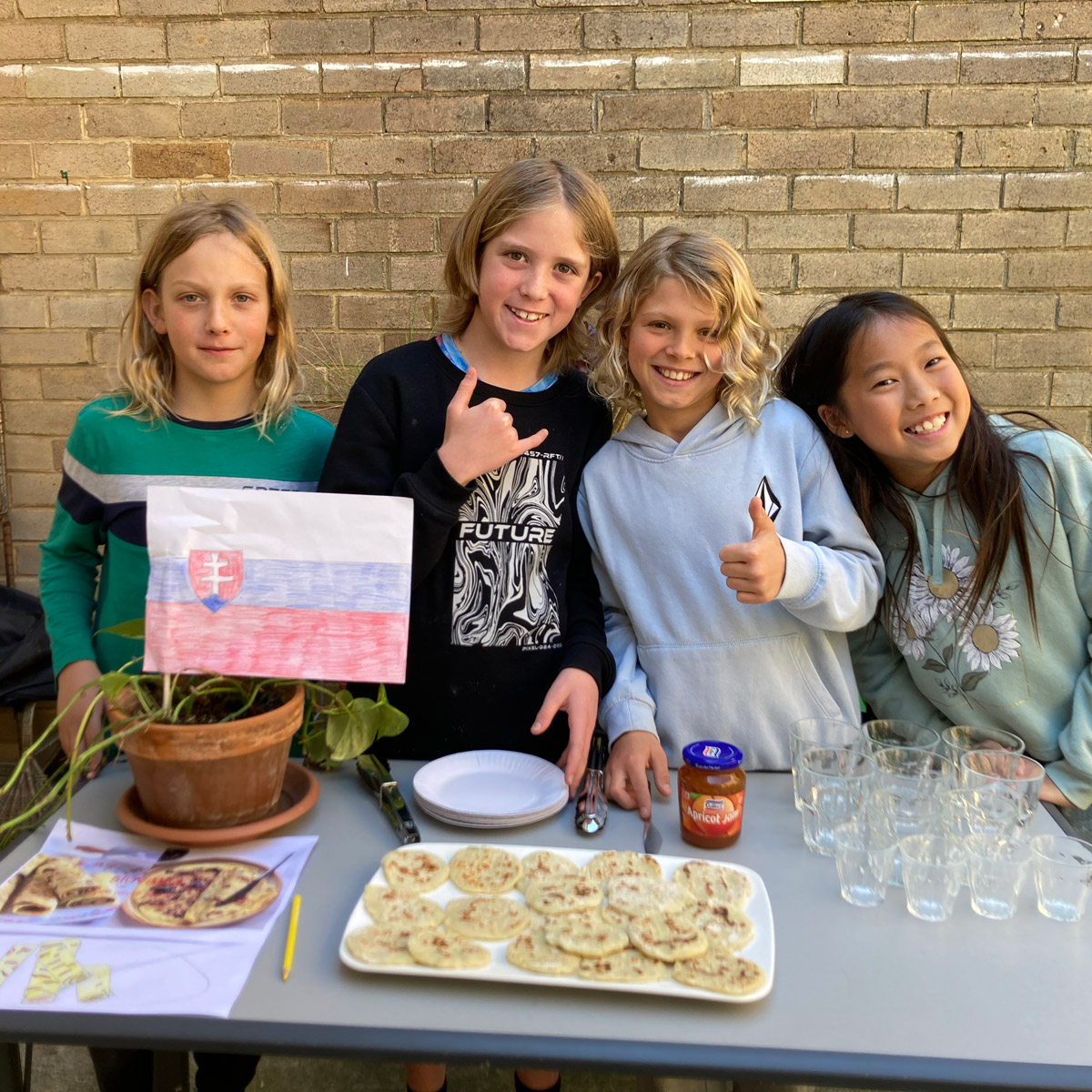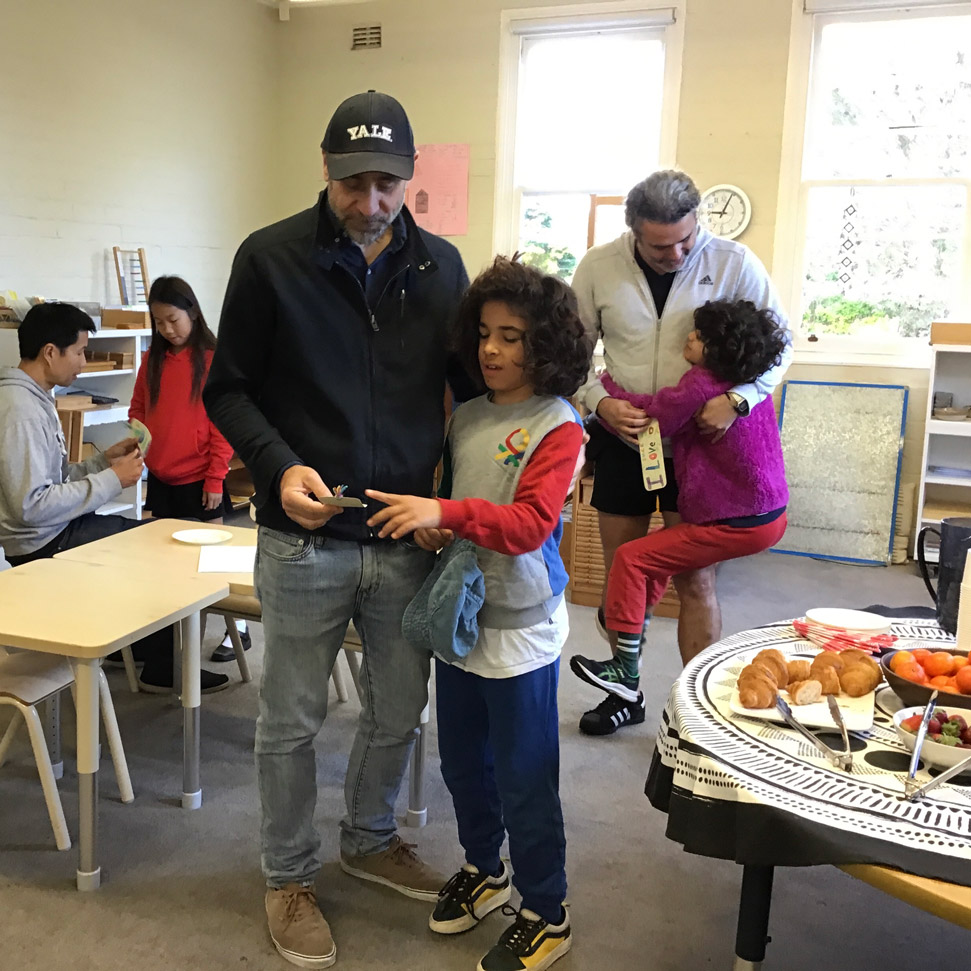 Preschool Music (North Balgowlah)
We have had a wonderful time this term learning all about the different instruments in the Orchestra family and of course singing our special Orchestra song.
Next term we'll be looking at creating our very own music! Exciting!
North Head Campus
We wrap up our term focus which has been The Beatles. Ash has really enjoyed working with each of the 3 classes and has been pleased with how each group has been progressing and getting stronger on the instruments they've been playing. Next term will see more of a focus towards understanding notation more and incorporating this with a bit of general theory (all while having fun and making music!).
Mixed Ensemble
Our Mixed Ensemble have started a new tune which will take them through the holidays (remember to keep the practice up!). Sadly our last band session wasn't able to go ahead due to the weather forecast and the school needing to close. The group is all set to work on performing a short set in Term 4 for the whole school – details to be communicated in the new term.
Have a safe and wonderful holiday break, and we'll see everyone back in Week 1 Term 4.
—Deb, Ben, Ash, Andy and Angie.