DISCOVER THE DIFFERENCE OF
MONTESSORI
LEARN MORE ABOUT MONTESSORI EDUCATION
EDUCATING THE
WHOLE CHILD
10 REASONS TO CHOOSE A MONTESSORI EDUCATION
A LIFELONG LOVE OF
LEARNING
BOOK A SCHOOL TOUR TODAY
EDUCATING
THE WHOLE CHILD
The Farmhouse Montessori School is an independent, non-denominational school on Sydney's Northern Beaches providing Montessori education programs for children aged 2-3, 3-6 and 6-12. A Montessori school aims to provide both creative and stimulating intellectual and artistic experiences for children at each stage of development. We strive to cultivate each child's natural desire to learn and to foster his/her natural curiosity and love of knowledge.  
Our school's philosophy is to teach respect for ourselves, others and the environment, a lifelong love of learning and independence. The primary school teaches the NSW curriculum using the Montessori method and is registered with the state government education board in NSW (NESA).

At Farmhouse Montessori School we provide a community committed to developing the whole child through the Montessori philosophy from ages 2 years to 12 years.
Farmhouse has two campuses: we offer Preschool to Kindergarten for children aged 2 to 5 in North Balgowlah, while our Primary campus on North Head, Manly, is for children aged 6 to 12 years.
We work hard to ensure our students and graduates develop the skills and confidence to be life-long learners, by providing a safe and nurturing environment.
Our education focus is on the rich, student-centred Montessori philosophy. This places the students at the heart of what we do. Our aim is to develop students to be global citizens with care and respect for themselves, each other, and the planet.

Montessori 3–6 Lead Educator (Part-time or Full-time) Permanent Position.
An exciting opportunity exists for an exceptional Montessorian to join the Farmhouse Montessori School team as Lead Educator in the Cycle 1 (3–6) classroom at North Balgowlah. Early Childhood Teaching qualifications and a Montessori 3–6 Diploma are required. Commencing Term 4, 2023 or earlier.
MONTESSORI PRIMARY & PRESCHOOL
EDUCATION IN SYDNEY
We teach children using the Montessori method across our two beautiful campuses on Sydney's Northern Beaches. This means that your child will grow and learn in an environment that is surrounded by nature and offers endless opportunities for them to explore a path for learning that they choose. 
Farmhouse Montessori's Sydney preschool is located in North Balgowlah and nurtures children so they can find the confidence and learn essential skills for life. Our highly-trained educators are passionate about working with the Montessori method and this shows through their deep respect for each child in the classroom.   
Our primary campus is located in Manly and boasts some remarkable scenery. Located in North Head National Park, Manly, classrooms are situated in heritage-listed former artillery buildings and provide the perfect backdrop for curious minds. From historic architecture to stunning trees and fauna, Farmhouse Montessori is a truly magical place.
2022 Annual Report
The 2022 Annual Report can be accessed
HERE.
The Farmhouse Montessori School's philosophy follows the educational approach founded by Maria Montessori.
Every child is different. Each with their individual personalities, traits and attitudes. At Farmhouse Montessori, we take all of these into consideration when designing our education plans to match each child's individual needs. We not only focus on the academic side of school life, but also understand that the emotional, social and physical aspects are equally as important.
Together, these four attributes form 'the whole child', and as a Montessori school this is something we understand. Each attribute is unique and independent but as these aspects overlap, we find ways in which to link the curriculum outcomes. From public speaking to confidence building, conflict resolution to emotional stability, and physical wellness to a positive attitude.
As each child embarks on their educational journey, Farmhouse Montessori understands, observes and educates to make sure every child blossoms to their full potential.
You can find out more about our curriculum here.
Learn about our Montessori school in Sydney, and our Manly and North Balgowlah campuses, by getting in touch with the Farmhouse Montessori team. Our primary and preschool approach to Montessori education offers a way of learning that is unique and truly special.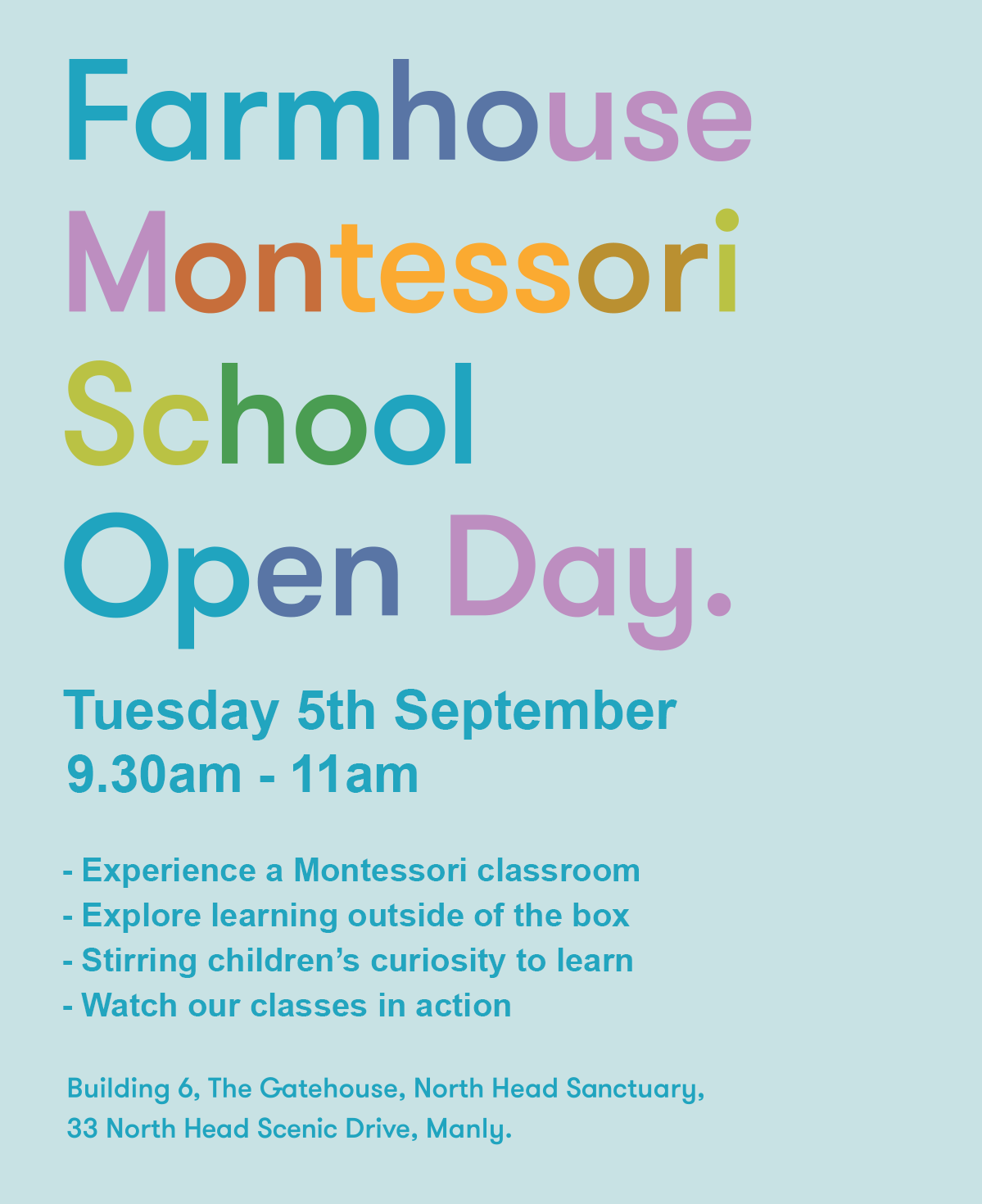 PRESCHOOL CAMPUS
9 Bardoo Ave, North Balgowlah, NSW 2093
p. (02) 9949 1008
PRIMARY SCHOOL CAMPUS
Building 6 (The Gatehouse), Nth Head Sanctuary,
33 North Head Scenic Drive, Manly, NSW 2095
p. (02) 9977 6790
ALL ENQUIRIES
enrolments@farmhousemontessori.nsw.edu.au