Key Principals
of the Montessori classroom
When you enter the Montessori classroom, the first thing that strikes you as a parent is the secure and harmonious environment. It's this environment that is key to developing the children's sense of well-being. Montessori Schools have no ethnic or religious boundaries. They are multi denominational, recognising that the education of our children is fundamental and should be accessible to all.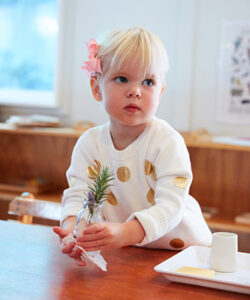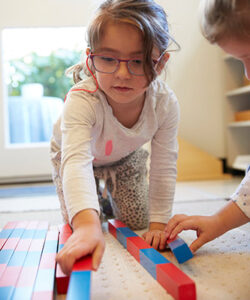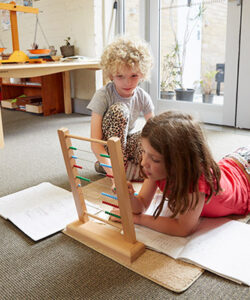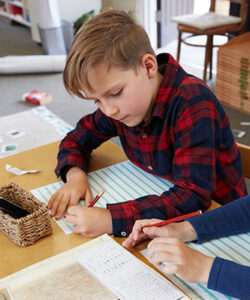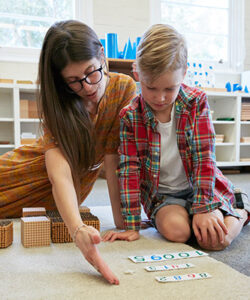 Independence
The classroom is prepared to enable the child to become physically independent of the adult. The environment allows for choice and self-direction in the way that the materials are prepared and in the approach of the adults.
Indirect preparation
Although activities are prepared with their own developmental aim in mind, they are building blocks to prepare for what comes later in the child's development. Sometimes this preparation is for the next progressive activity, but often that learning may occur much later, e.g. the sensorial base for mathematical understanding in the abstract, or moral development.
Order
Order is the foundation of a Montessori classroom. In pre-primary, the physical order of the prepared environment is obvious, but order also underlies all of the less tangible aspects of the environment, e.g. the consistency of the adults and their approach, the order of presentation, etc. For the older child, the social order becomes more important.
Freedom and choice
Essential to the prepared environment is the child's freedom – to choose to work for as long as they want to, to not work, to work without being interrupted by other children or by the constraints of a timetable, etc., as long as their activity does not interfere with other children's right and freedom to do the same.
Mixed Age Range
Composite classes of a 3-year age range allow for children to learn from each other in a non-competitive atmosphere and directly prepares the child for living in society. Grace and courtesy are instilled from an early age due to the leadership and responsibility that a mixed age classroom promotes.
Movement
Children are not allocated to a fixed desk and may choose to work at a desk, on the floor, with others or solo. Freedom of movement within the classroom is an important component of allowing access to materials and learning self-management within the environment and time.
Materials and the control of error
The environment and its materials are prepared in a way that allows the child to become aware of their mistakes and to correct them for themselves so that they understand that it is alright to be wrong and that we can learn from our mistakes.
Role of the Adult
The role of the adult in a Montessori environment is to facilitate the child to teach themself by following their own internal urges that will lead them to take what they need from the things and people around them.