STAGE 2 |
The second plane of development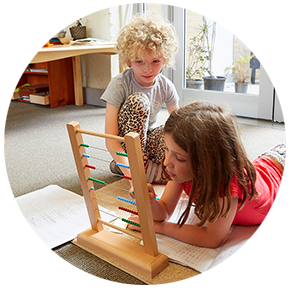 PROGRAM
Full day 8.45am – 3.00pm
5 days: Mon to Fri
Out of school hours care at the primary campus:
Before School: 7 – 9am
After School: 3 – 6pm
The child in the lower primary environment
Maria Montessori described the second plane of development (6-12 years old) as a "calm phase of uniform growth".  This is an intellectual period of mental growth, reasoning and development of imagination. Children become social explorers and there is nothing they can not achieve as long as they have a large number of opportunities and the proper conditions to learn.

A child's 'absorbent mind' gradually changes to the 'reasoning mind' in stage 2. Their goals evolve from functional independence to intellectual independence. Children start to explore all sides of issues. They want to understand things for themselves, not just accept facts as facts. They want to use their own rationale and judgment and make their own decisions.
The curriculum
The lower primary curriculum (6-9 years) takes advantage of this natural enthusiasm for learning and lays the foundation for skills needed at the next level. The Five Great Stories play an essential role in the classroom, providing elementary primary Montessori students with a 'big picture' of the world and life. They spark the imagination and lead children to contemplate not only the past but also the future. It is through telling these Cosmos stories that students are motivated to further research, initiating them into exploration and discovery. These stories comprise: The Beginning of the Earth, The Coming of Life, The Coming of Humans, The Story of Writing and The Story of Numbers.
Social and emotional development
During this stage, children are eager to learn about topics such as morality and justice and will build social groups organised by different rules. Maria Montessori emphasised the importance of 'going out' throughout these years. These children can not be confined to the four walls of the classroom; they need to be exposed to a vastness of culture, wide social contacts and the open environment in order to grow into independent and responsible individuals.
Transitions
Transitions to the next 3-year learning environment are a unique feature of the Montessori environment. Farmhouse has a flexible transition policy in which the child's readiness is closely monitored to determine the timing of their move into the next 3-year classroom. Readiness will be evident towards the end of the cycle when they start to demonstrate the physical, social and cognitive behaviours of the next 3-year phase of development.
The timing of transitions may happen throughout the year and are not restricted to the start of the school year. Transitions are not considered disruptive in Montessori, but rather beneficial as they don't delay a child moving on when they are clearly ready. They are planned in consultation with children, teachers and parents and there is an emphasis on preparing and familiarising the children with their next environment to ensure a smooth move.
Join a school tour to experience the wonder of a Montessori education.