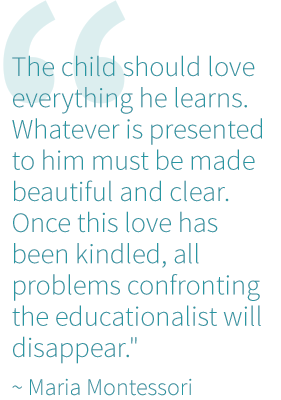 Montessori is an educational framework that supports holistic development of the human being, helping each child to achieve their own unique potential. The Montessori approach offers a vision of education as an 'aid to life'. As an educational system, it is used in more than 22,000 schools worldwide, and has a longer track record of success than any other educational approach in the world. In the context of our rapidly changing world, it is perhaps even more relevant today, giving students life skills for both collaborative and independent learning.
The Montessori approach was developed by Dr Maria Montessori, a physician, anthropologist and pedagogue, through intense scientific observation of children from many ethnic, cultural and socio-economic backgrounds from birth to maturity. It is based upon a deep understanding of child development.
Montessori education is centred on the child with the Educator guiding, rather than teaching. The approach believes that each child has a natural love of learning, that they are competent, inventive, imaginative and brimming with ideas and theories about the world around them. It encourages each child's natural desire to learn and fosters their natural curiosity and love of knowledge. Educators are facilitators in the process of learning and our Educators present the information to the child in a climate of mutual respect.
The development of self-esteem, tolerance, mutual respect and concern for others are traits that are nurtured in this environment. Educators have a deep respect for each child and therefore nurture their individual learning process by recognising potential and provoking thought, action, and collaboration through observation and planning.
Montessori honours our sense of place as a learning experience and provides an environment that encourages and supports the child's awareness of their importance in caring for each other and their role in caring for the Earth and its inhabitants. Maria Montessori's ultimate goal was to achieve world peace by developing children of the world.
Read more about the key principles of the Montessori Classroom.