2022 Newsletter Term 03 | Issue 04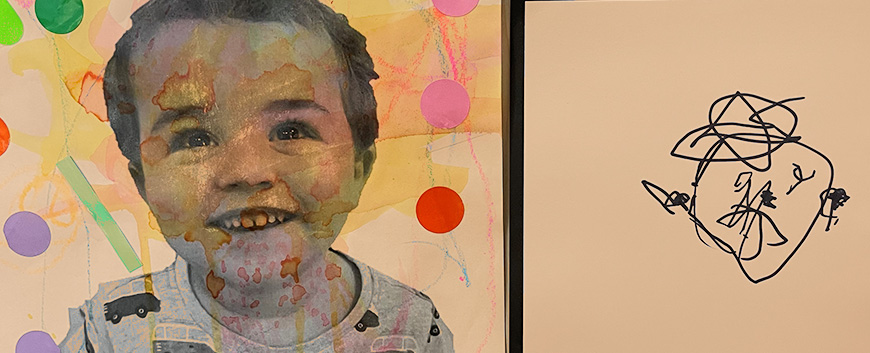 Upcoming events & Important Dates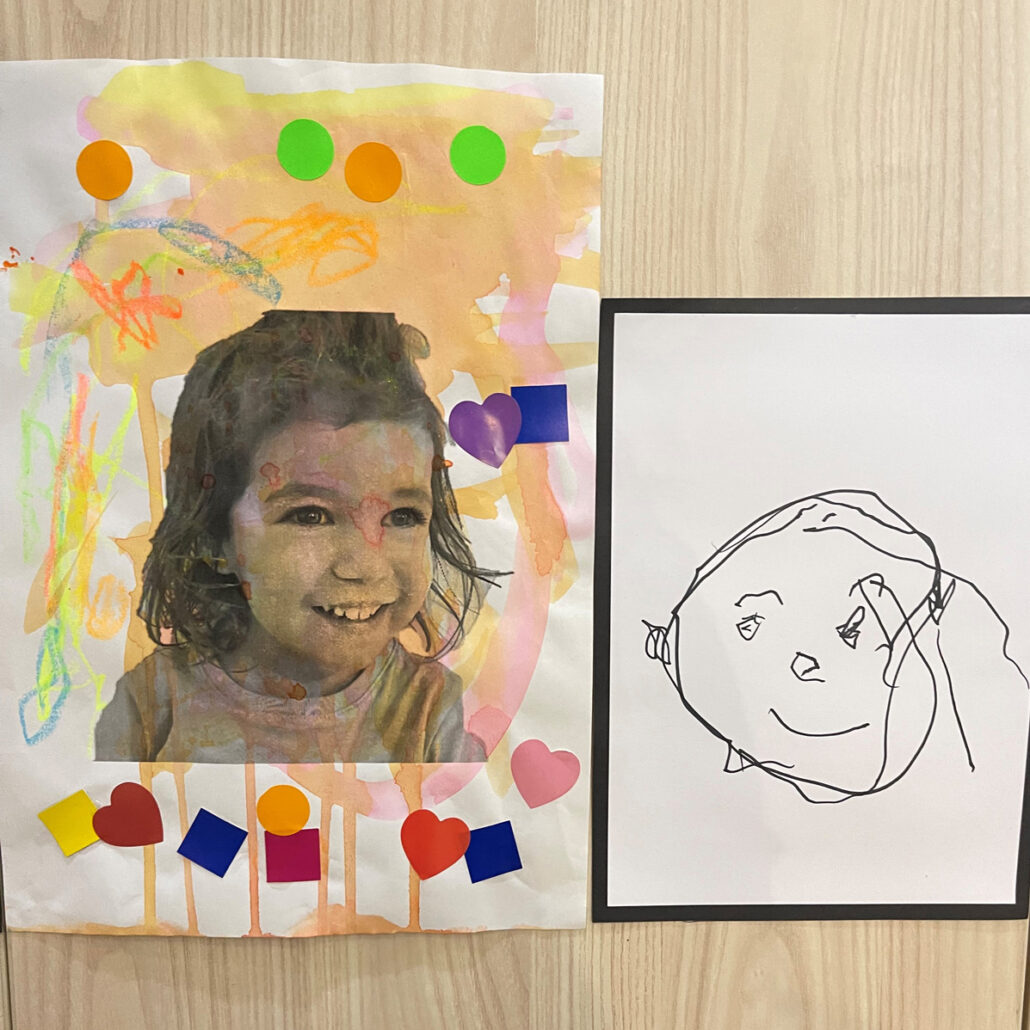 SEPTEMBER
Fri 23rd – Last day of term
OCTOBER
Mon 3rd – Labor Day
Mon 10th – All students return
Thurs & Fri 20th & 21st – Transition to School Conferences: Cooinda (Catalina)
Mon 24th – Fri 28th – Transition to School Conferences: Burbangana & Kindergarten
Wed 26th – Primary School Tour – 3:15pm
Click HERE to see further calendar dates.
Principal's Message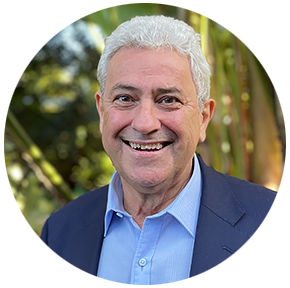 Dear Farmhouse Montessori Families,
Welcome to the last newsletter of Term 3 and what a Term it has been. In my very short time at Farmhouse, I have become extremely impressed with the teaching, student learning, the classroom setting, the dedication of our wonderful staff towards all students and the promotion of Montessori education, and to our amazing parents. Thank you.
Learning experiences of the wonders of our world comes in many forms. The presence of hatching chickens and ducklings is proving a sense of excitement, fascination, and wonder for students at North Head. On Thursday 15th Aikya, through the collaboration and organisation by Toby with Sydney Harbour Trust, will experience planting a variety of native trees and shrubs on the oval at North Head. While on Tuesday 20th Yani will have an excursion to the Zoo.
This week a Parent Teacher evening was held by classroom teachers of North Head campus. The focus was exploring the Montessori teaching approach of Mathematics. Thank you to parents who attended and to our staff who gave of their time.
The Preschool Campus held their annual Art Show. This has resulted from our term study on identity. All of the students have enjoyed inviting their parents into the school to their very own art exhibition displaying their 'self portraits'. It was lovely to see all this amazing creativity stemming from our early childhood students.
The School Board has commenced the process of developing the School Strategic Plan. This process takes time and will engage a breadth of the School community. The initial processes commenced during the past two weeks with conversations and initial plenary sessions with our staff. A combined Strategic Planning meeting with parents and staff is scheduled for 22nd October. Details will be provided closer to this date.
The School has commenced the process of marketing the School. A Board Sub-committee, the membership is representative of parents, staff, and Board members has been established. A framework on the direction of marketing the School has been developed. Initially marketing focus will be North Head Campus. It is important to capture the eye of the walkers and those who attend Night and the Barracks concerts and alert them there is a School at North Head. Connections have been made with Sydney Harbour Trust for the placement of signs promoting Farmhouse Montessori School on the school building. An Open Day for North Head Campus will be held on 22 October from 10.30 to 1.00pm. It will be a simple affair: and will include tours of the classroom, cake stall, BBQ or something similar. This will be a great opportunity for our current parents and students to assist with the operation and promotion of this Open Day. Details will be completed and share in the coming days.
A reminder of the public holiday, declared by the Prime Minister, Mr Albanese for the mourning of Queen Elizabeth, on Thursday 22 September. On this day the School will be closed.
The last day of Term will be Friday 23rd September. Classes resume for Term 4 on Monday 10th October.
School Term dates for 2023 have been placed on the School website.
During the week I wrote to parents advising them that Jenny Bensted will be on Long Service Leave for the remainder of the year. Her last day is Thursday 15th September. I know that you will join me in wishing Jenny a wonderful, restful, safe, well-deserved break after her long and dedicated service. Jenny will return to us at the commencement of 2023.
I wish everyone a very happy and safe holiday.
Bruce Rixon  |   Interim Principal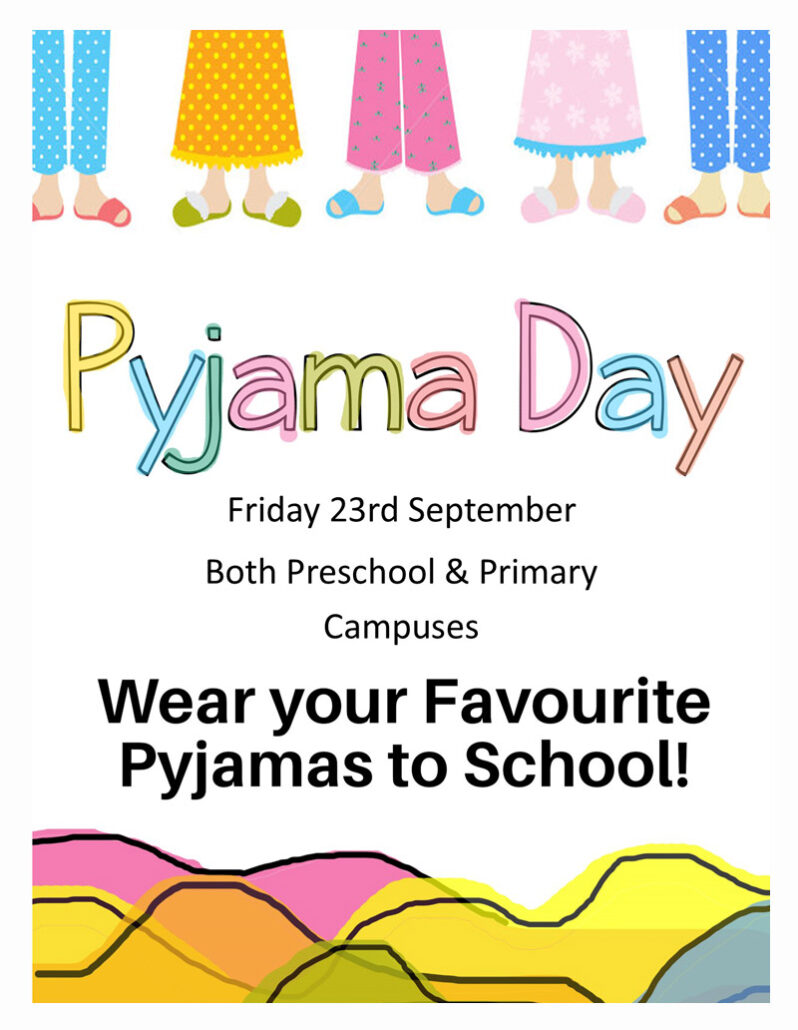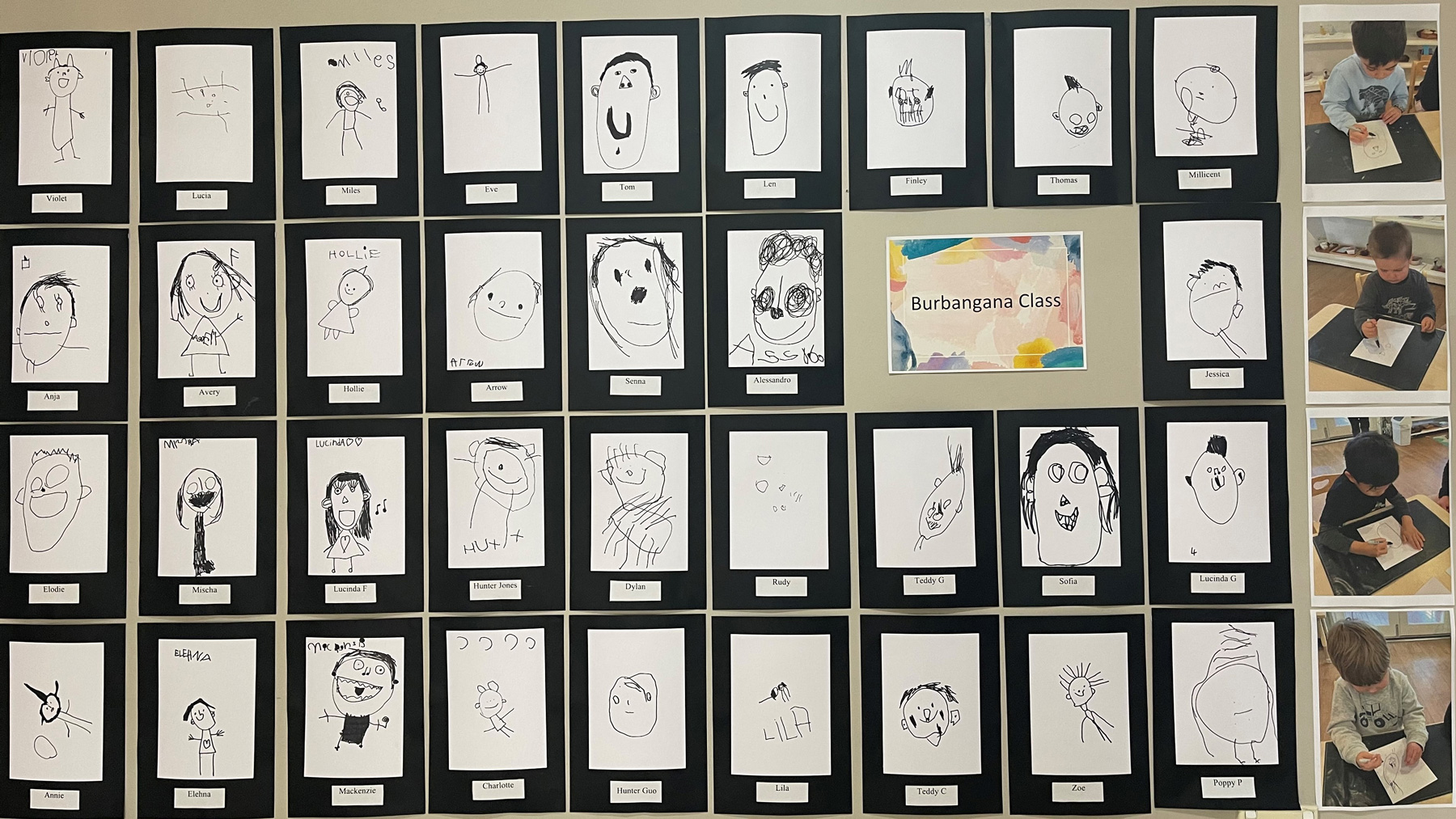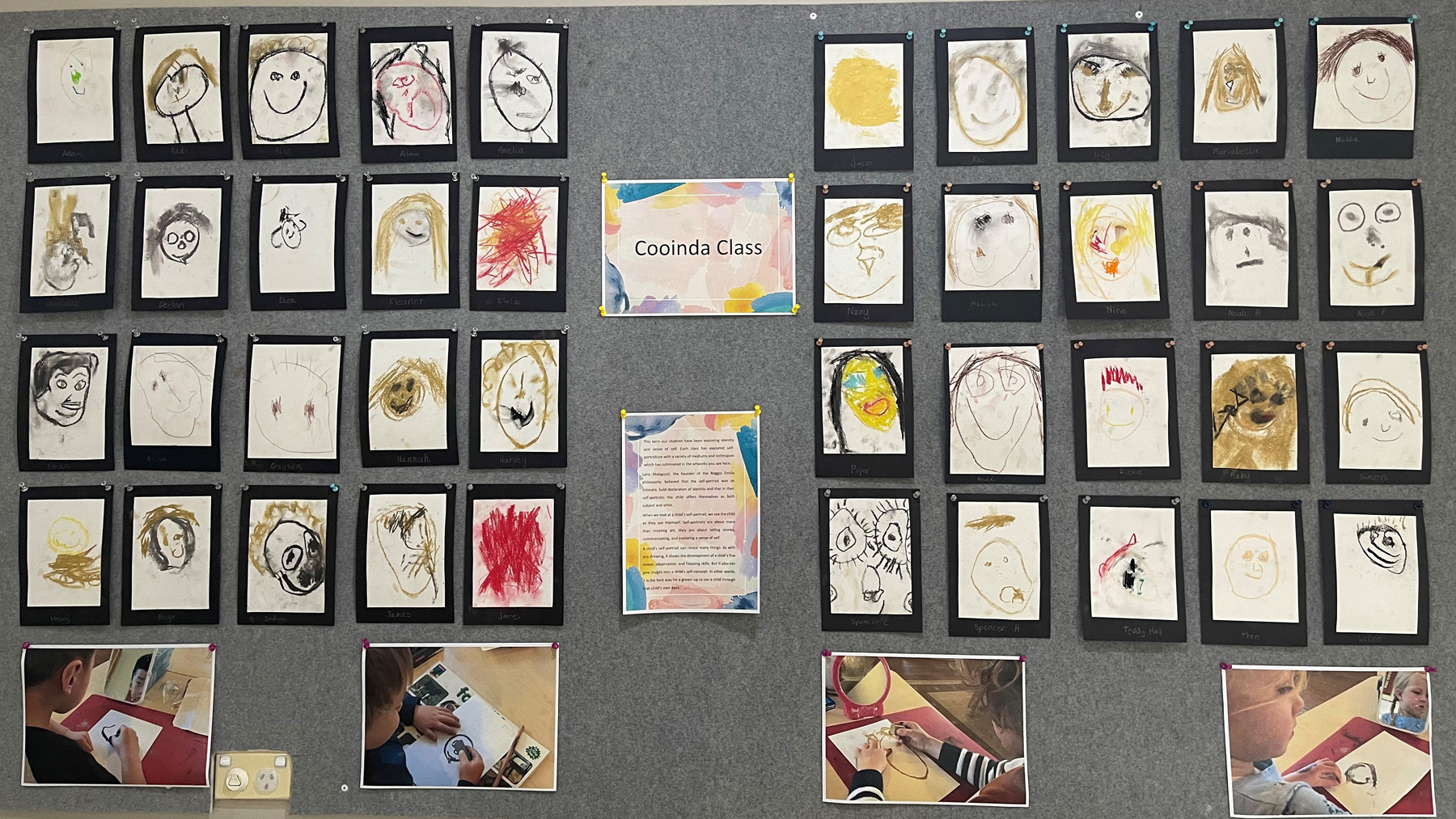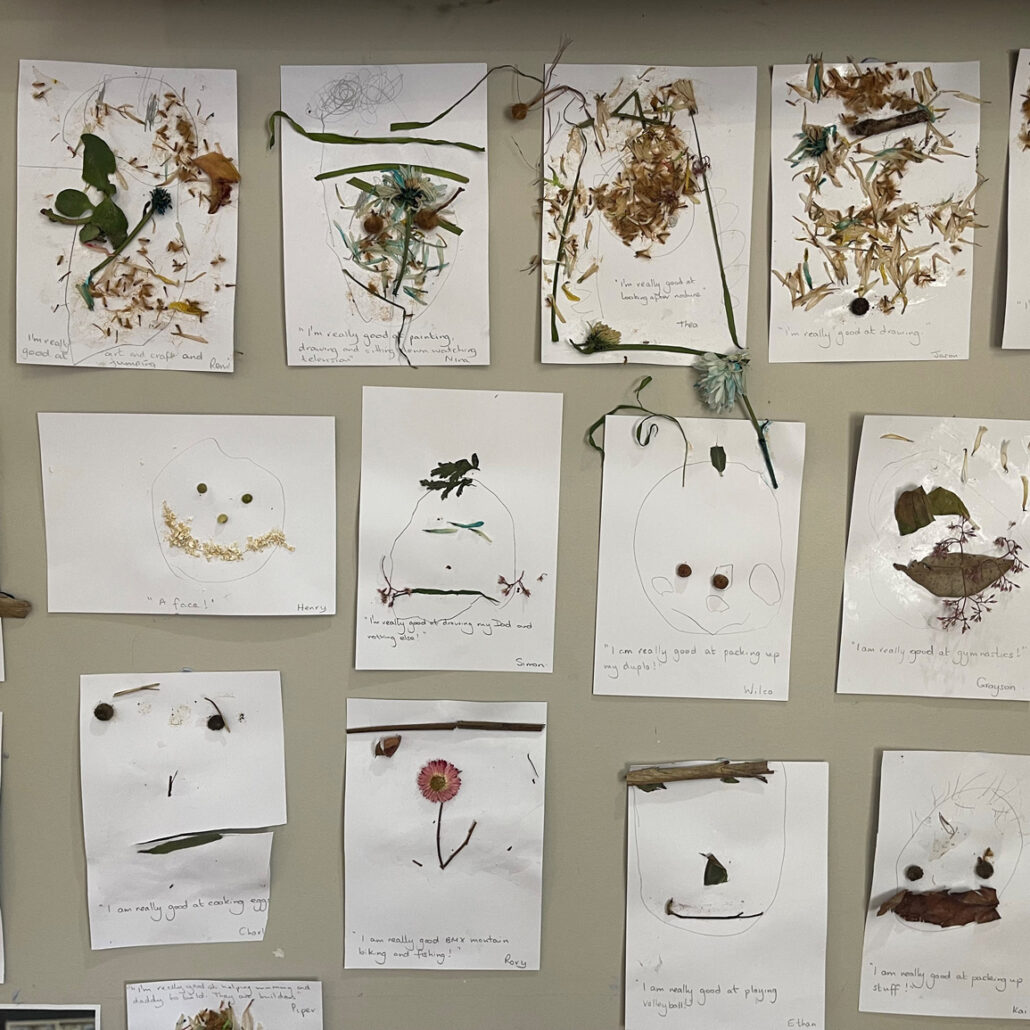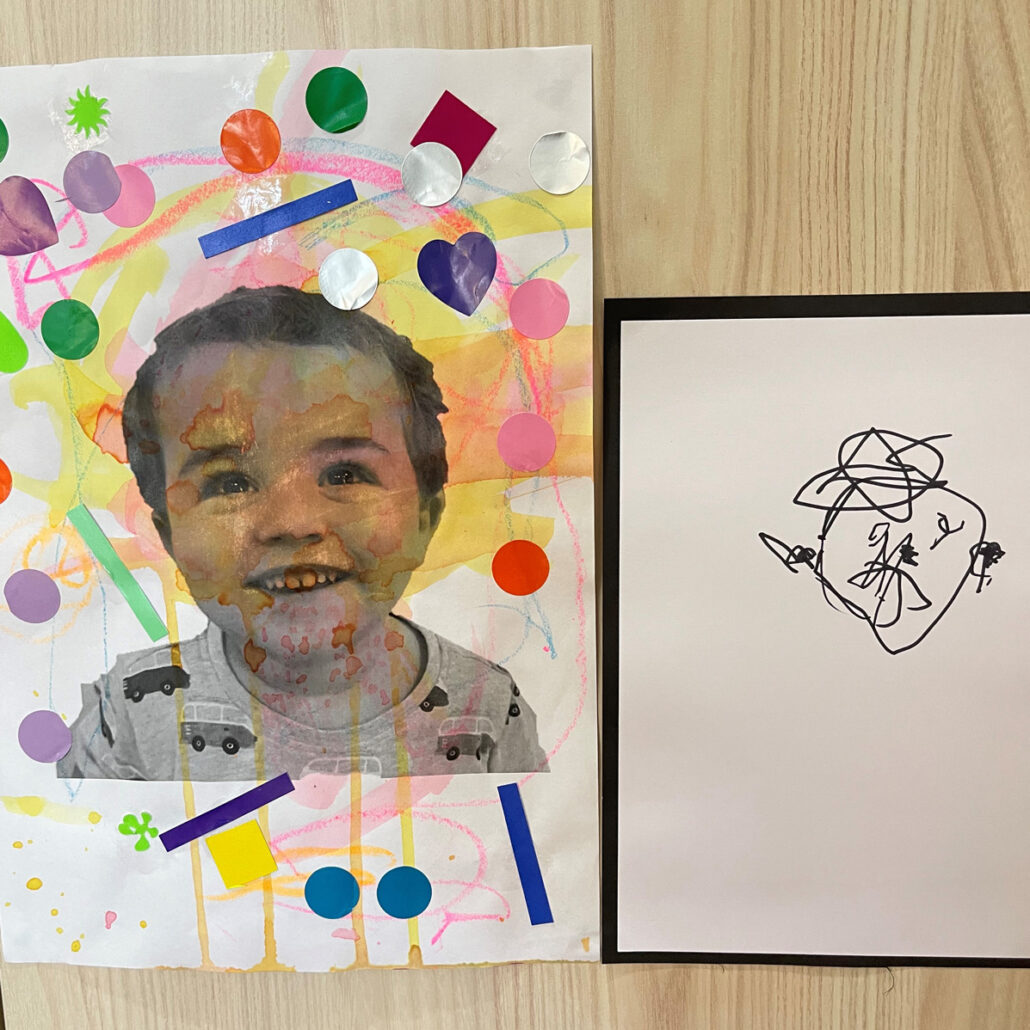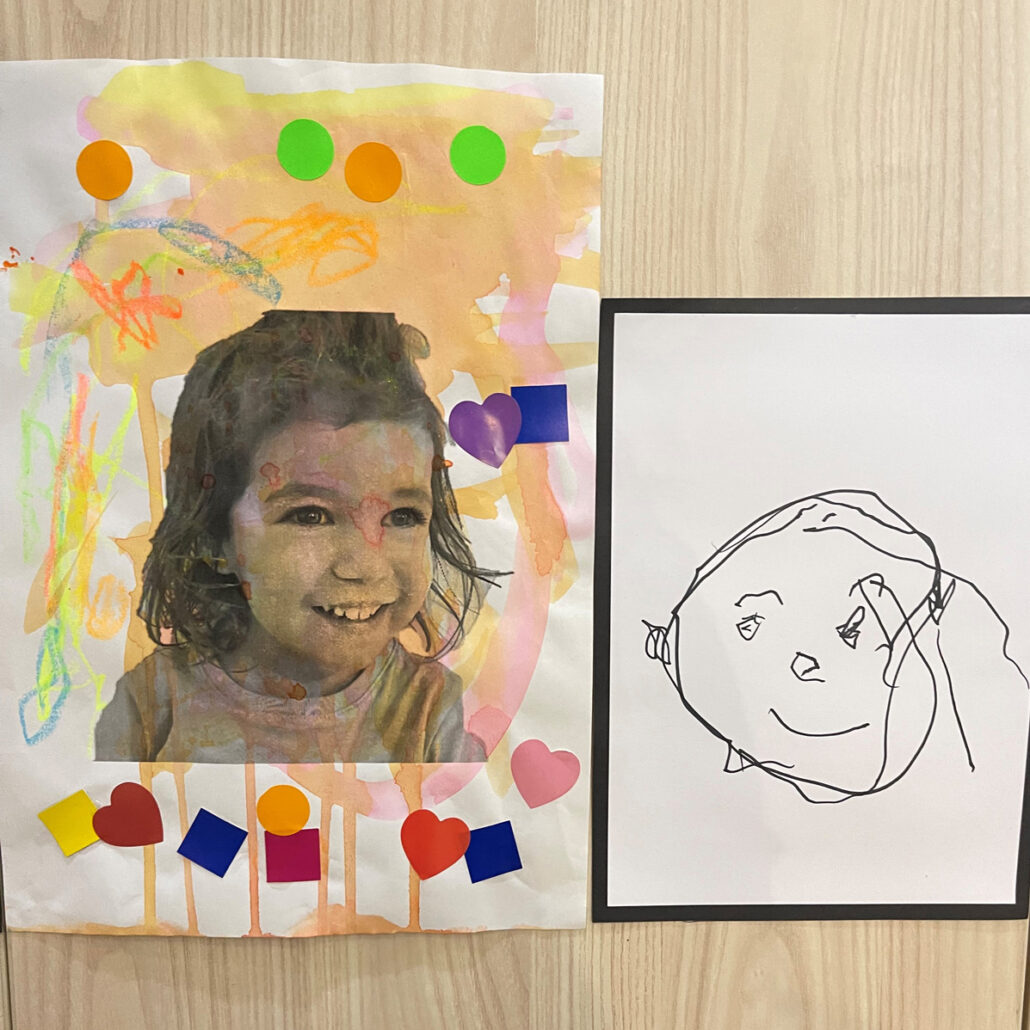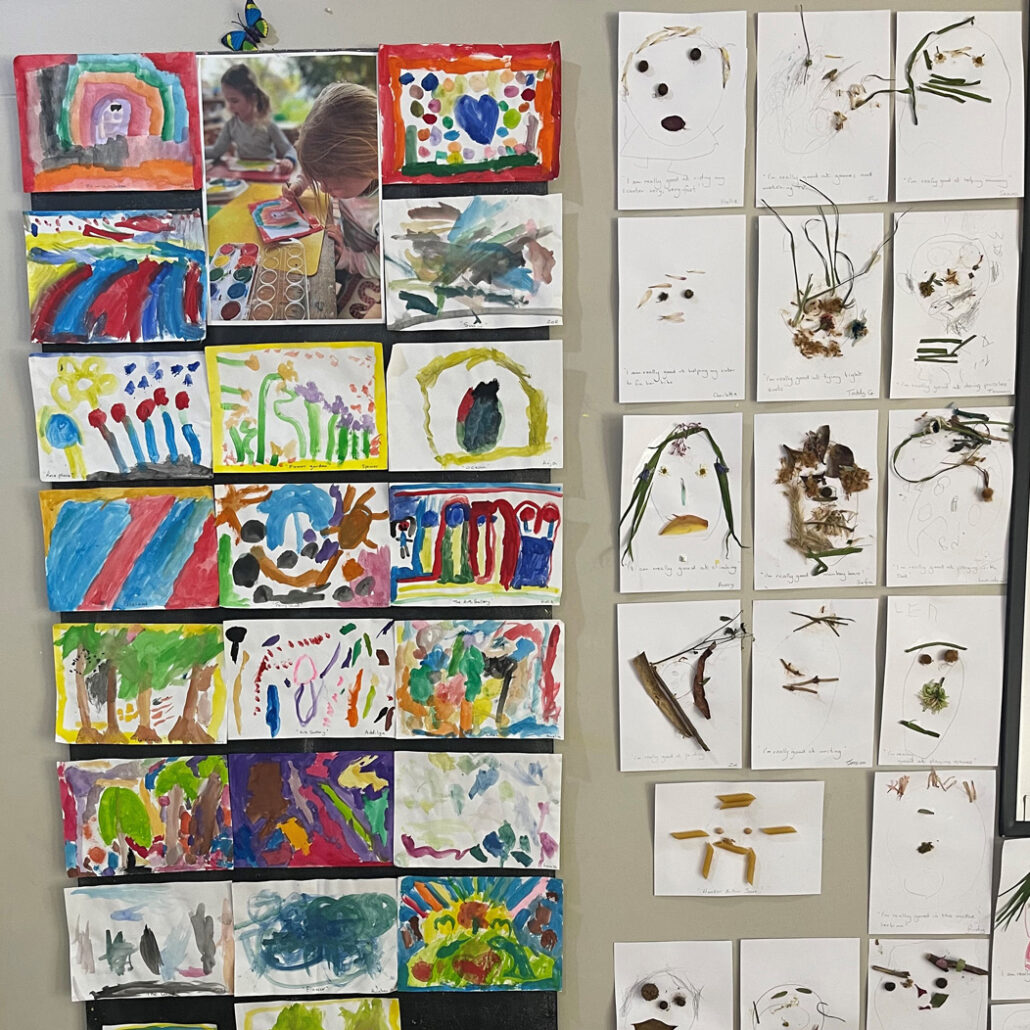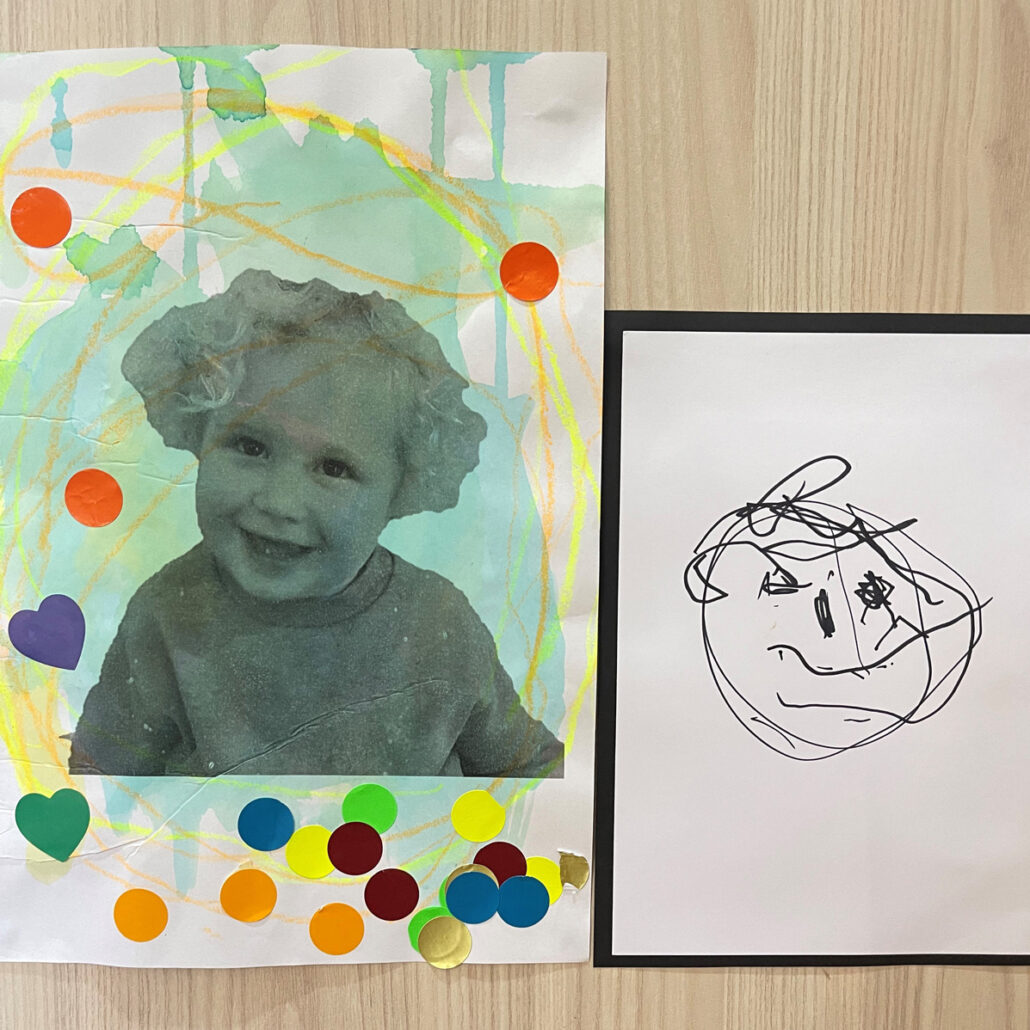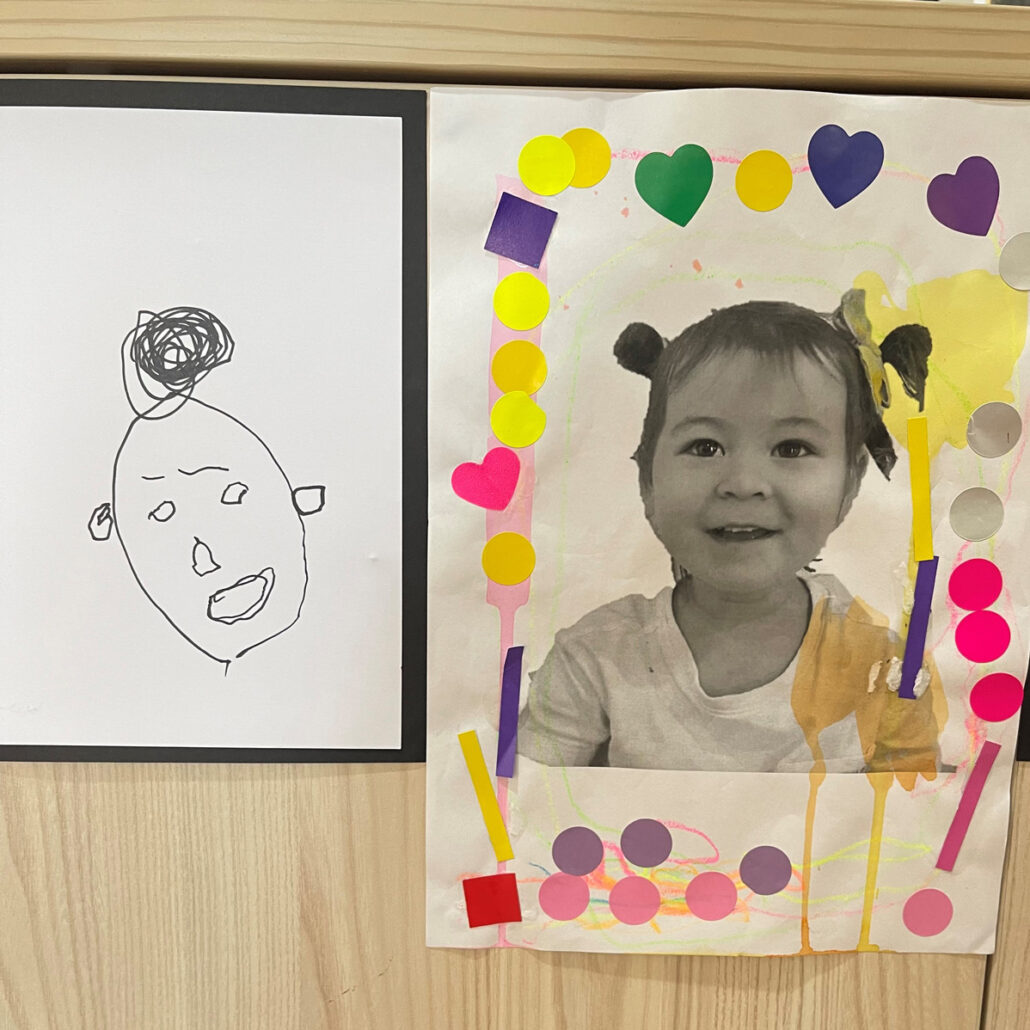 ELOUERA | Stage 1 Infant Community
This week in Elouera we have been exploring patterns. Patterning is a critical skill that allows children to develop both language and mathematical concepts. Creating, mirroring, and duplicating patterns allows the child to develop pre-reading skills such as visual discrimination, tracking, and working from left to right. The child is also using early math skills such as problem-solving, positioning, and predicting to create patterns.
— Corinne, Nina & Rachel.
Language Cards
This activity is designed for early language development. It supports the child in developing their ability to classify and match. The exercise gives the child the opportunity to learn the names of objects such as vegetables.
In the video the children are playing a memory game. One card is removed and they have to guess which one.
The language cards is one of the first exercises within the language area that the children will work with. As time goes on different games are introduced so the material is not static.
— Helen, Teresa & Claire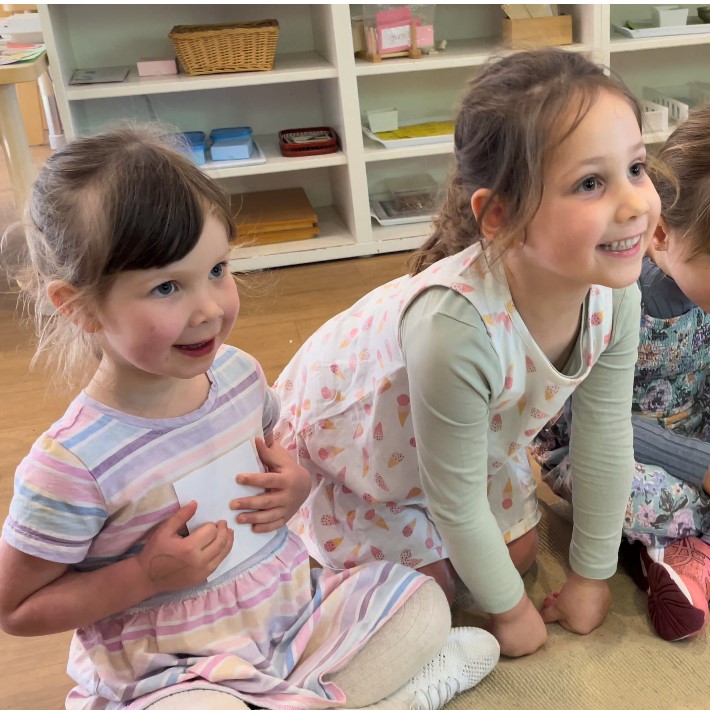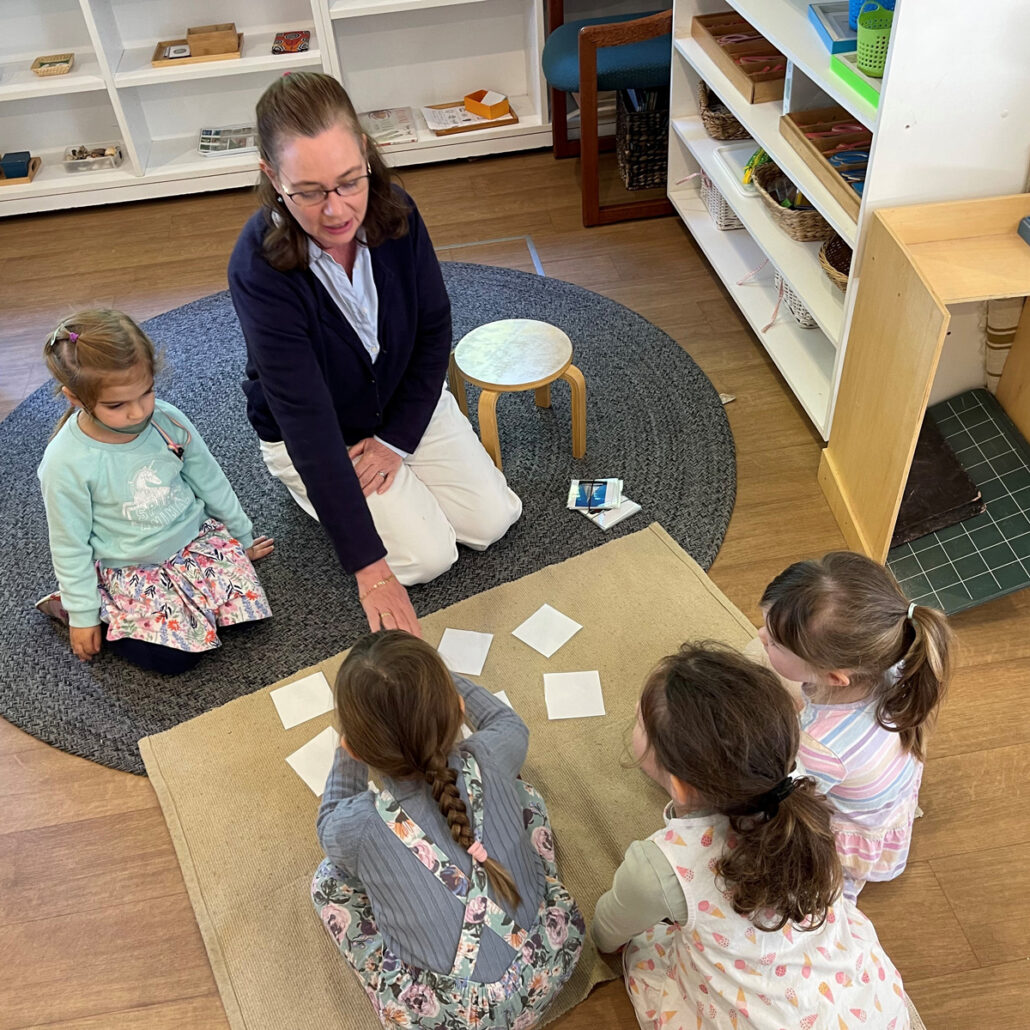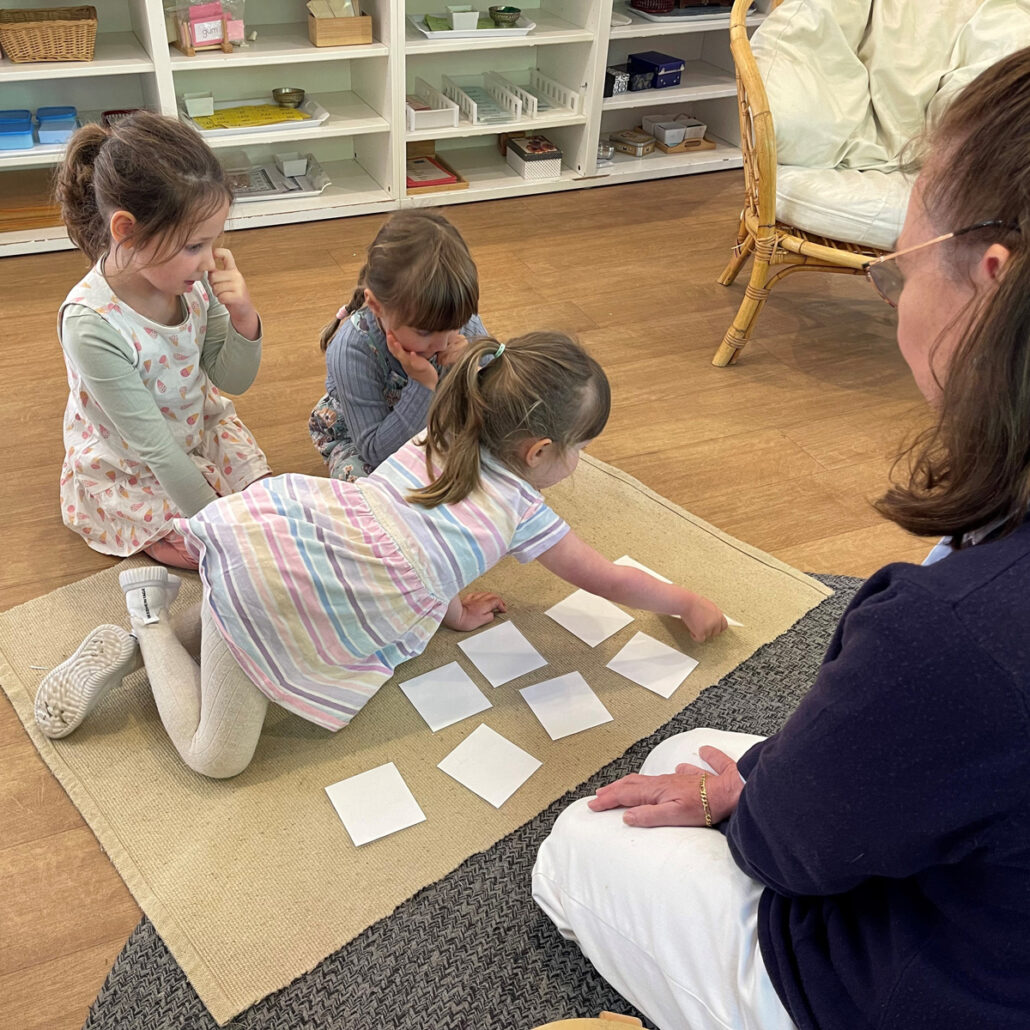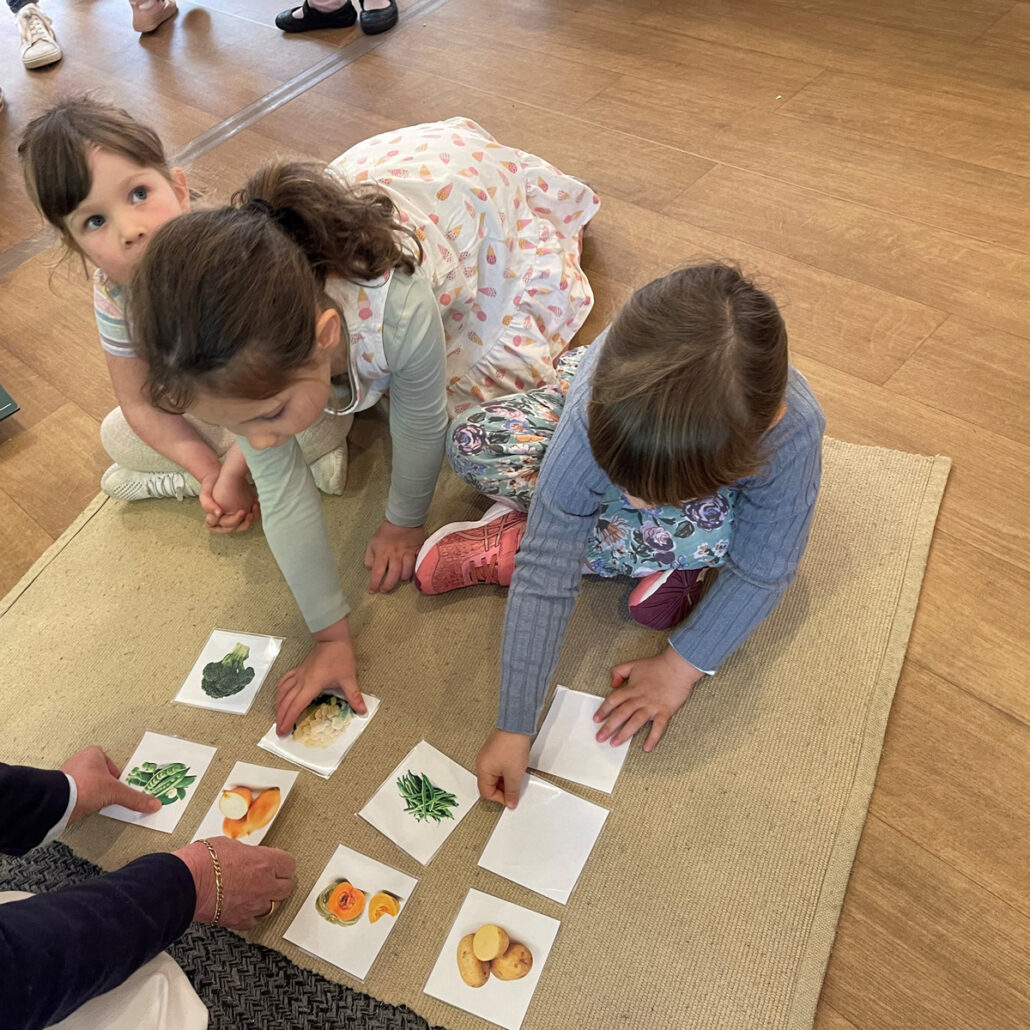 Dr. Montessori believed that language development was a crucial component for supporting the child's learning journey. She observed that children have the desire to form letters before they can learn how to read. Therefore, preparatory works in the Practical Life and Sensorial areas are offered to every child in the 3 to 6 environment to prepare their hands and minds prior to writing and reading. A very popular activity at the moment in Cooinda class is The Metal Insets which are a continuation of the work with the Geometric Cabinet, with the difference being that children are now using a writing device such as coloured pencils. Children can spend countless hours of work on the Metal Insets, tracing around different shapes and frames which is ideal for practicing hand eye coordination and pencil grip. Through this material the children are also encouraged to explore patterns and create beautiful art designs.
— Jenny, Catalina, Jo & Angela.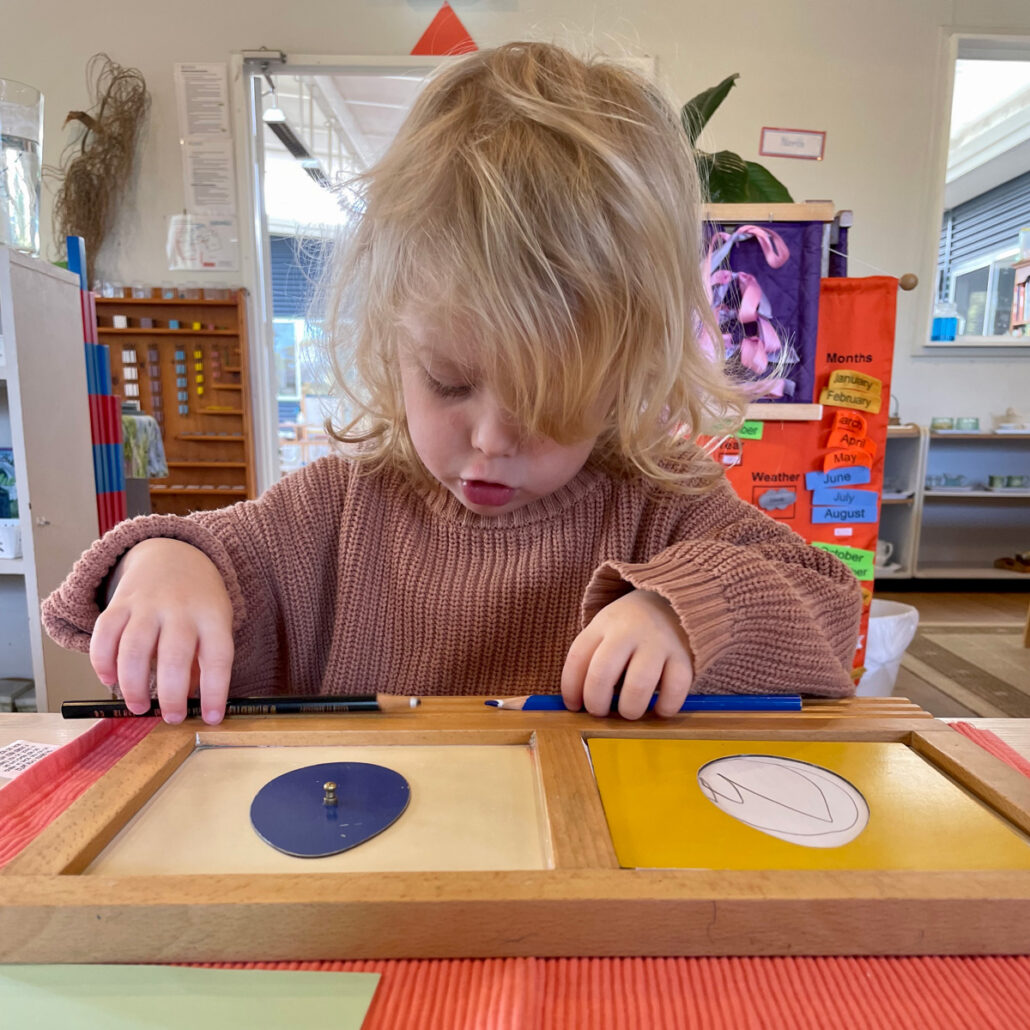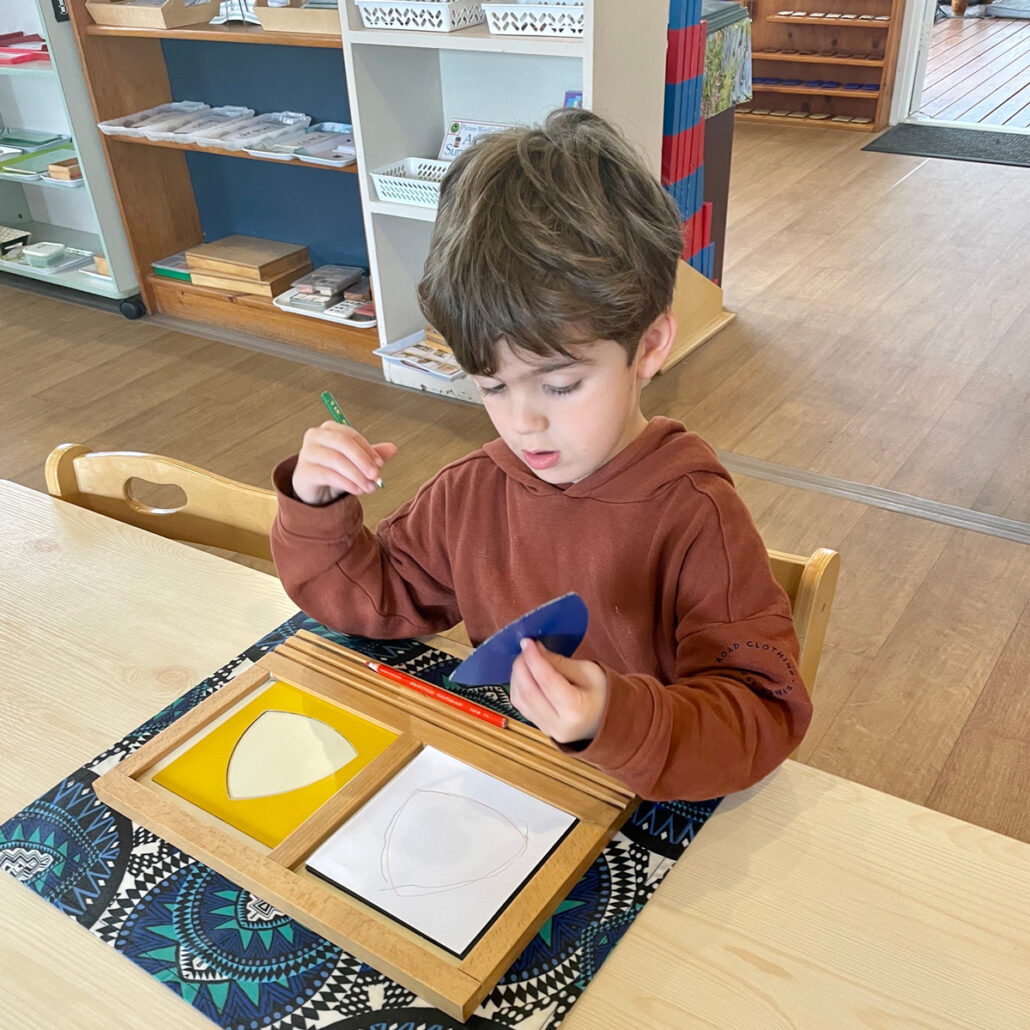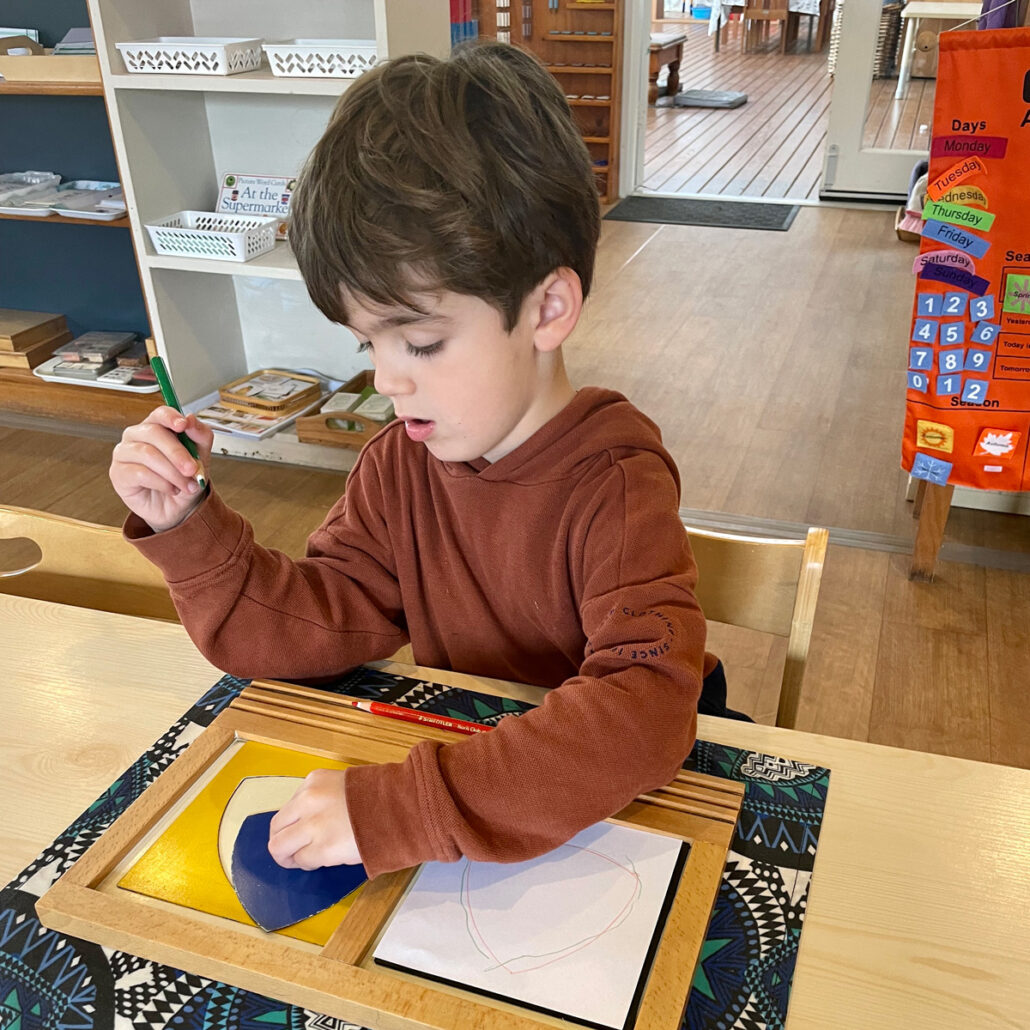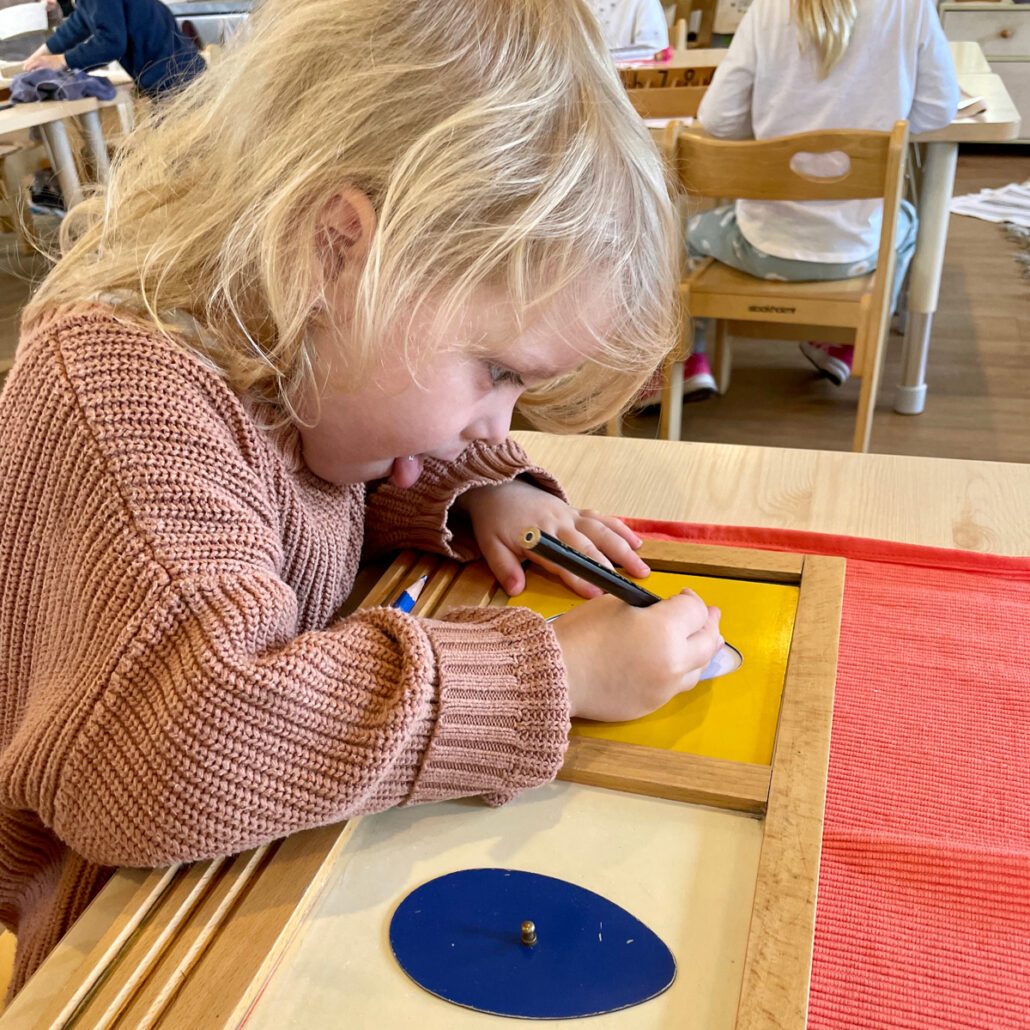 AMAROO | OUTDOOR CLASSROOM
The natural world is a giant open-ended learning opportunity. Giving children the freedom to care for their environment and the creatures in it helps nurture their innate curiosity and love of the outdoors. Encouraging children to care for our chickens; our stick insects; our gardens and the wild birds that come to visit helps develop responsibility, empathy and a respect for the incredible biodiversity of our planet.
– Dawn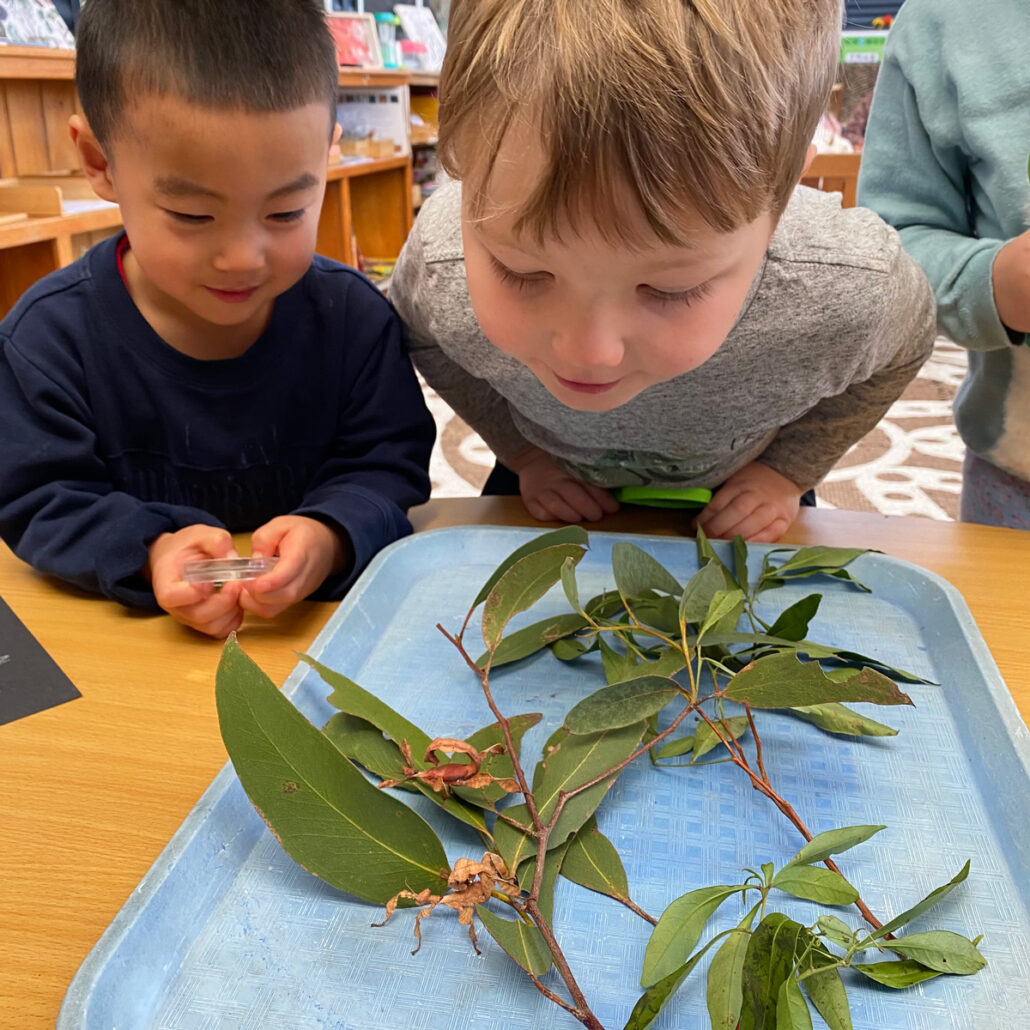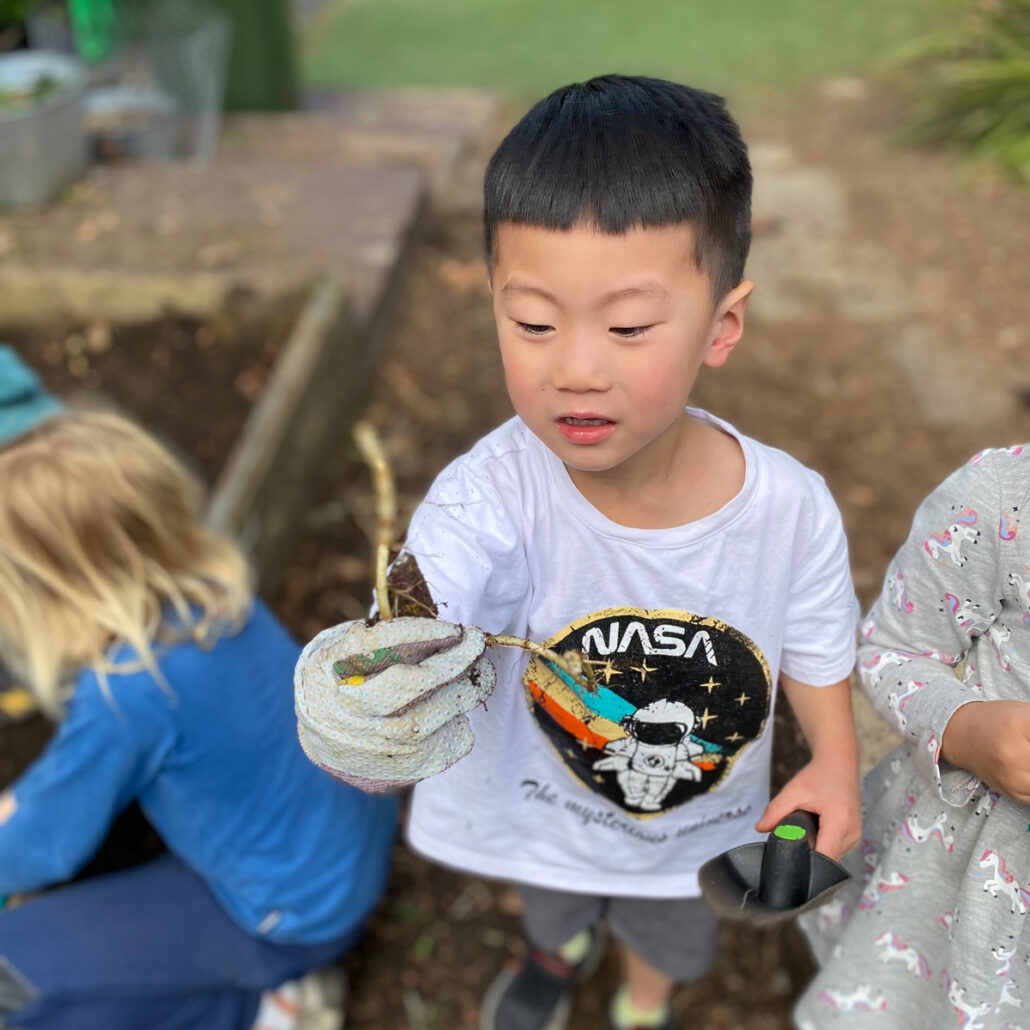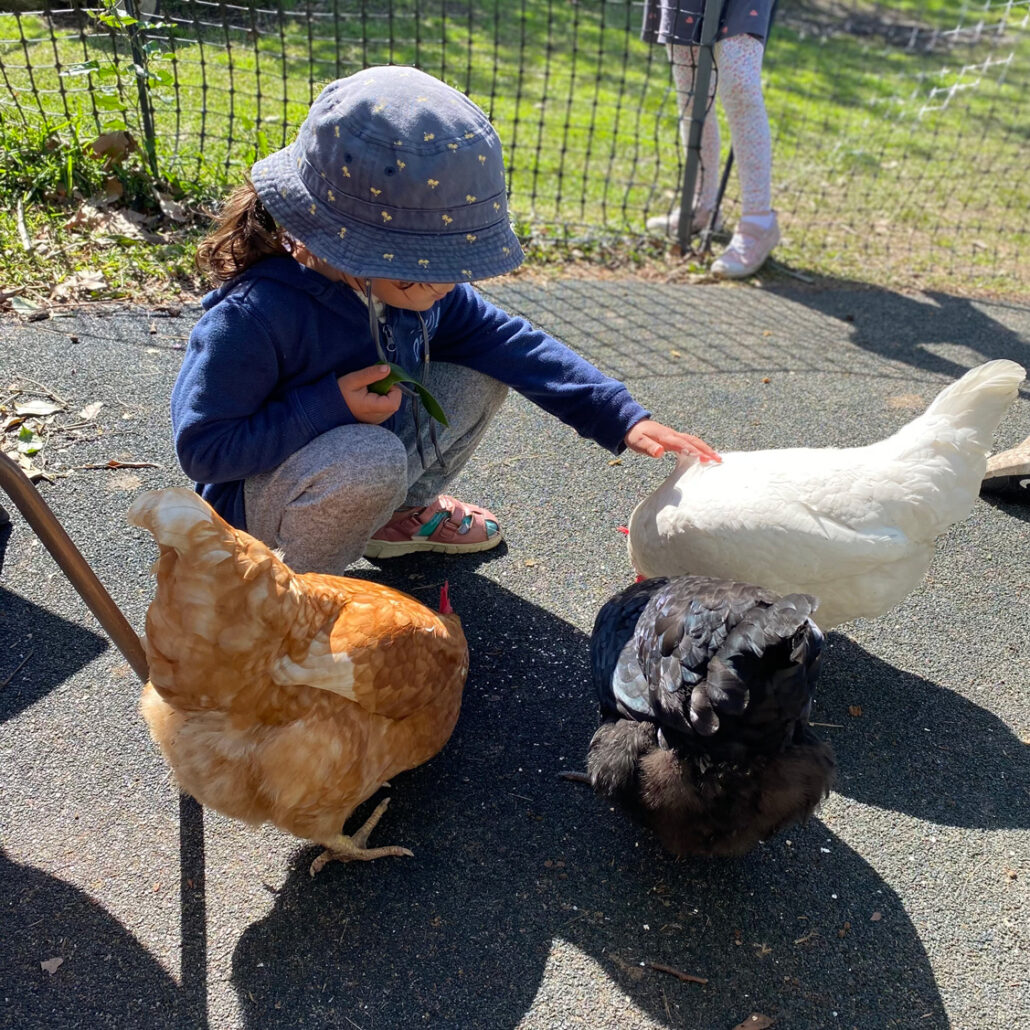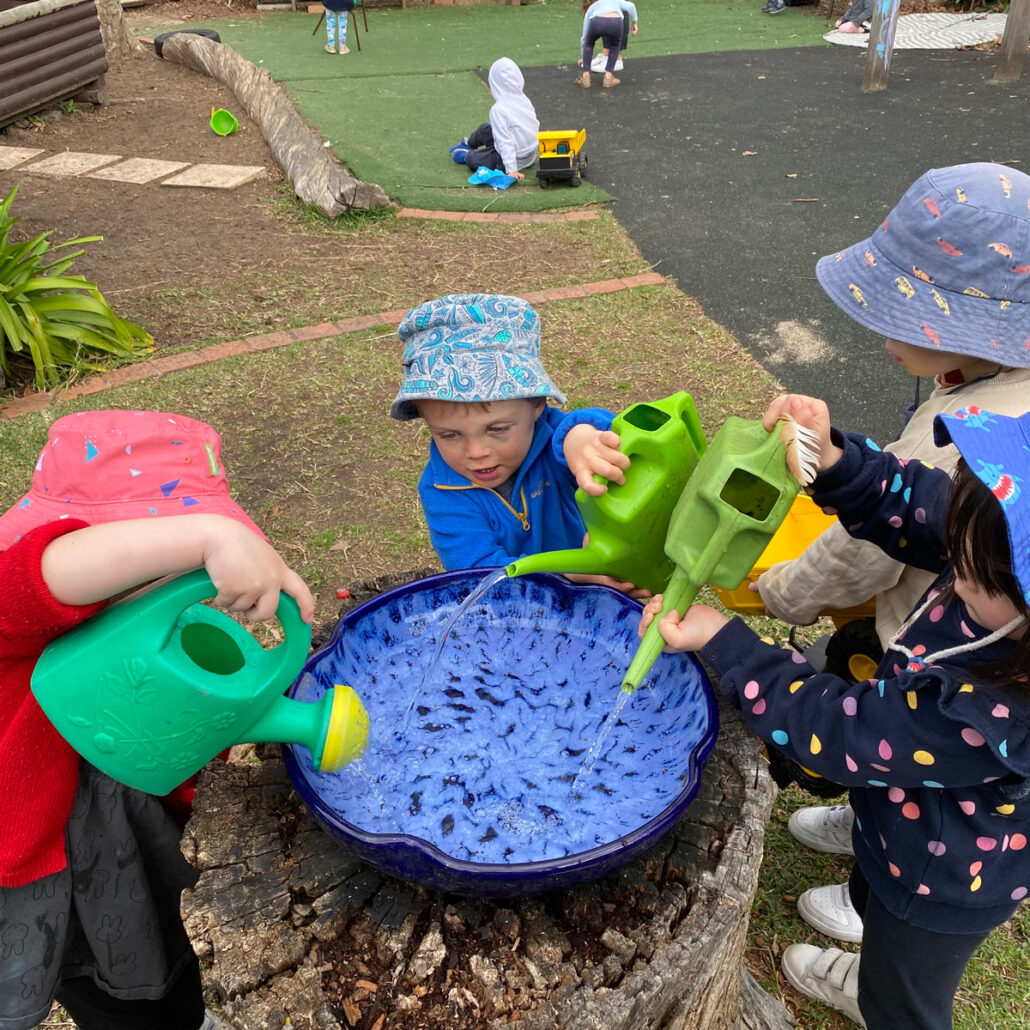 The kindergarten children are a part of the 3-6 community, regularly working alongside the younger children in the classroom and the outdoor garden. In a mixed age group, older children can validate their learning by becoming the 'experts' in the room. Peer teaching occurs when the older children share their knowledge and skills, take on the role of the caretakers of the classroom and provide role models for younger children. Younger children find a group of willing people ready to help them when help is required. They are also further inspired and motivated to learn as they see older children working on the next step in the progression of lessons.
— Helen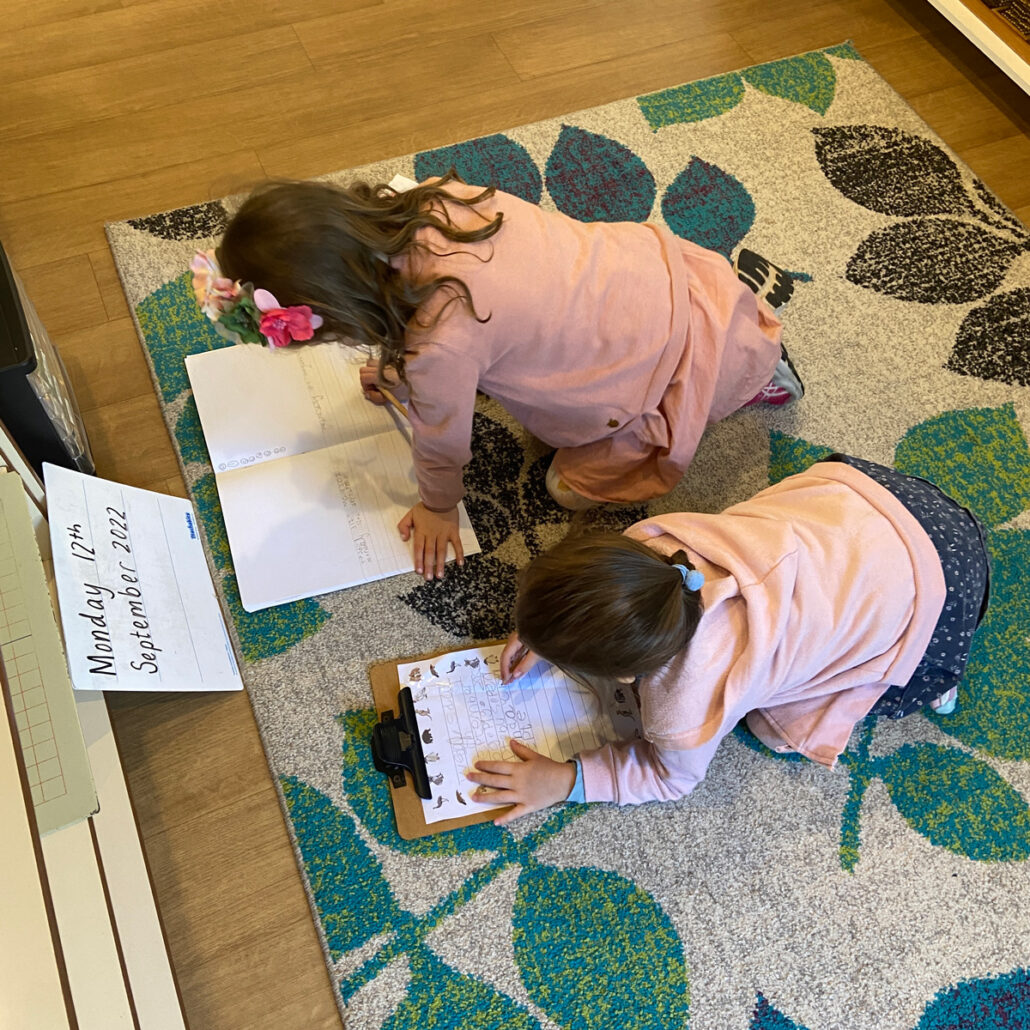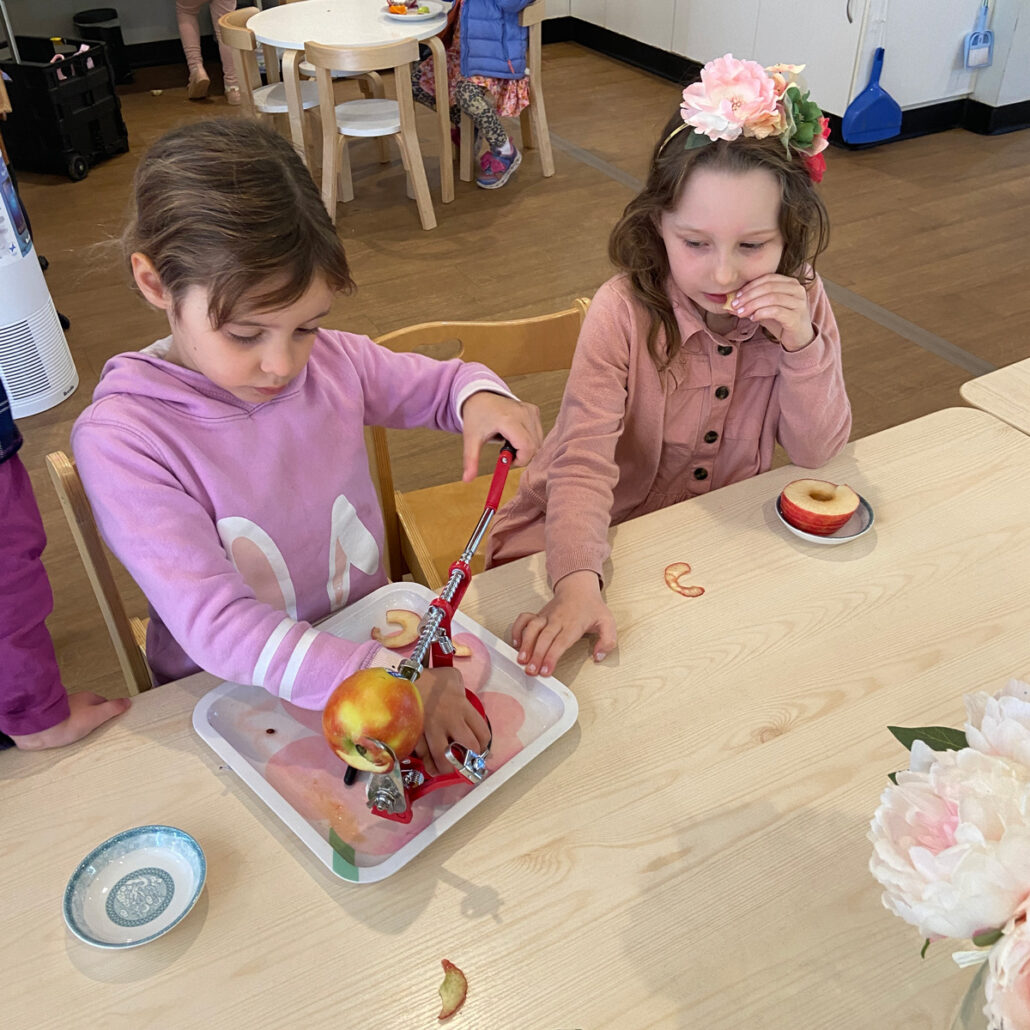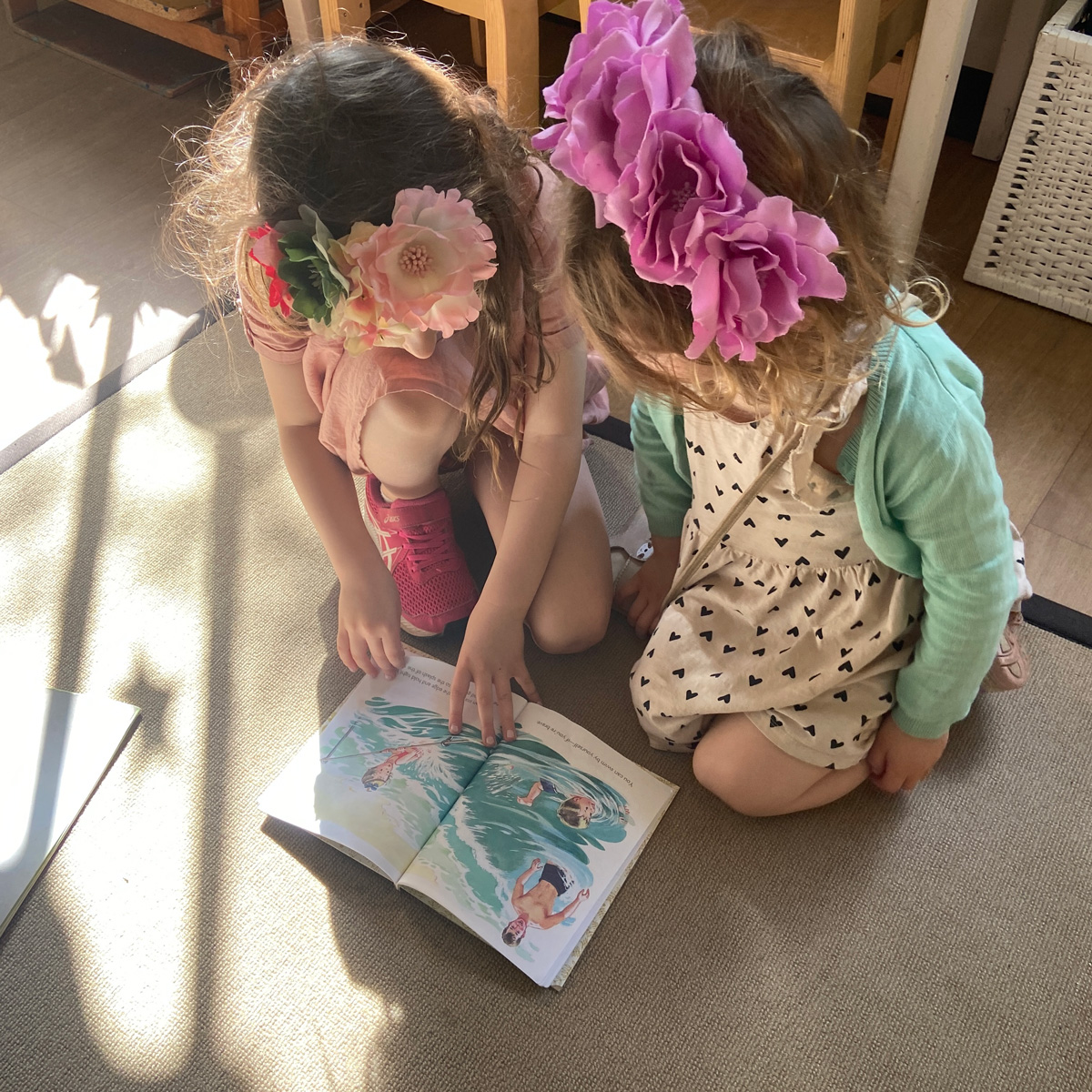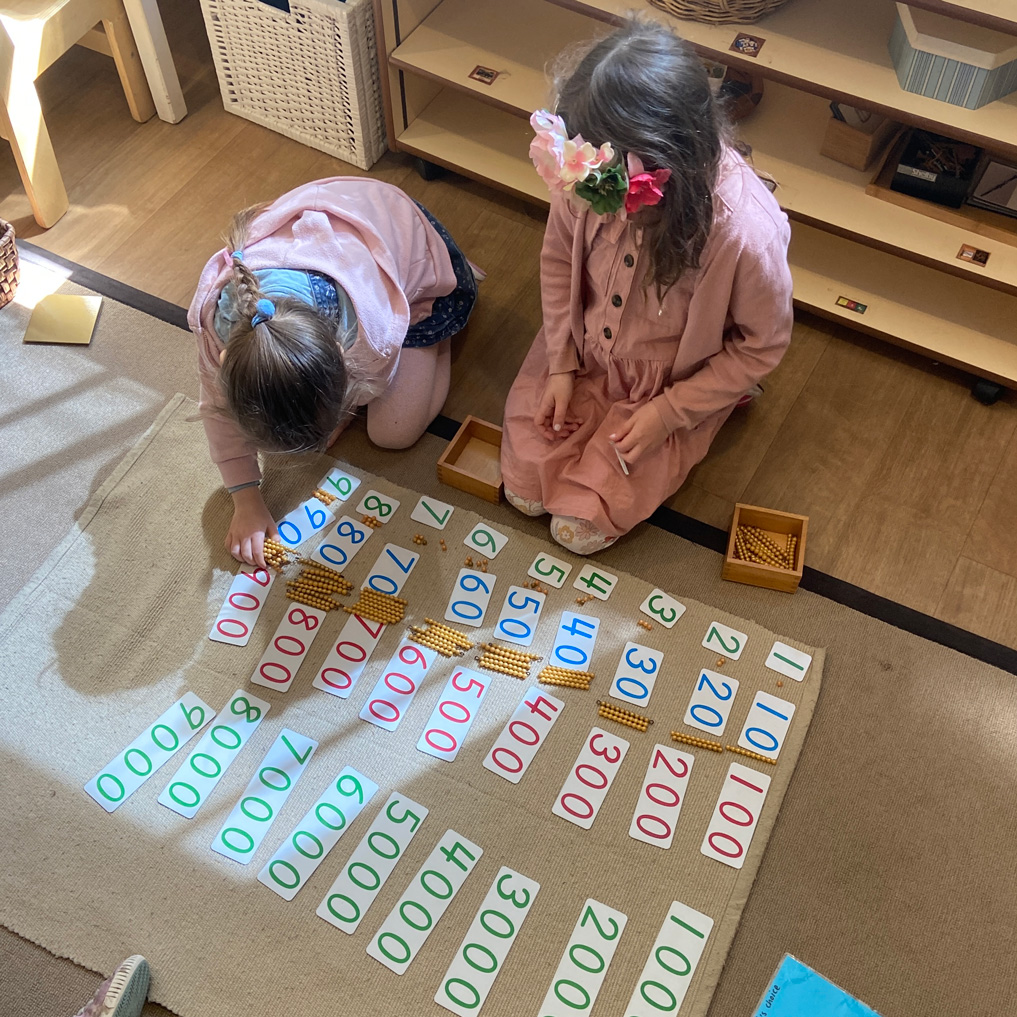 This fortnight has seen plenty of events happening in Aikya. From our Poetry Night held on the grass outside our room, the arrival of our adopted chickens as a  2-week project, and Father's Day morning tea, the classroom has been a buzz of activity and visitors to accompany our learning.
We would love to thank our parents who visited for our Father's Day morning tea. The children were so proud to have you in the classroom and to show how they work within the learning environment.
Peer Mentors have been another highlight to reflect upon this term. Its been so wonderful to welcome the older students from Yani weekly to host lessons on wellbeing, resilience and relationships in purposeful and impactful ways. The Aikya children have looked forward to it each week.
We have also been lucky enough to visit St Pauls over the past few weeks to enjoy and utilise their beautiful sports hall for our Athletics sessions. It's been a fulfilling way to finish the weeks.
Furthermore, we have genuinely enjoyed the engagement and inspiration provided by our adopted chickens this past fortnight. Children were enthralled daily, observing and studying their growth. Most days, we welcomed a new chick, and the children looked forward to this surprise every day. The children were also naming them through a diplomatic approach.
Aside from being cute and exciting to watch, our adopted chickens brought a lot to the classroom. Teaching moments around responsibility, compassion, empathy, and an understanding and respect for other living things. Also, the chickens have inspired topics around the value of life and the natural growth and life cycles observed daily. Another benefit is the mindfulness moments experienced from observing and petting the animals, from which the children and the animals benefited.
– Harshitha, Toby, Alison & Amy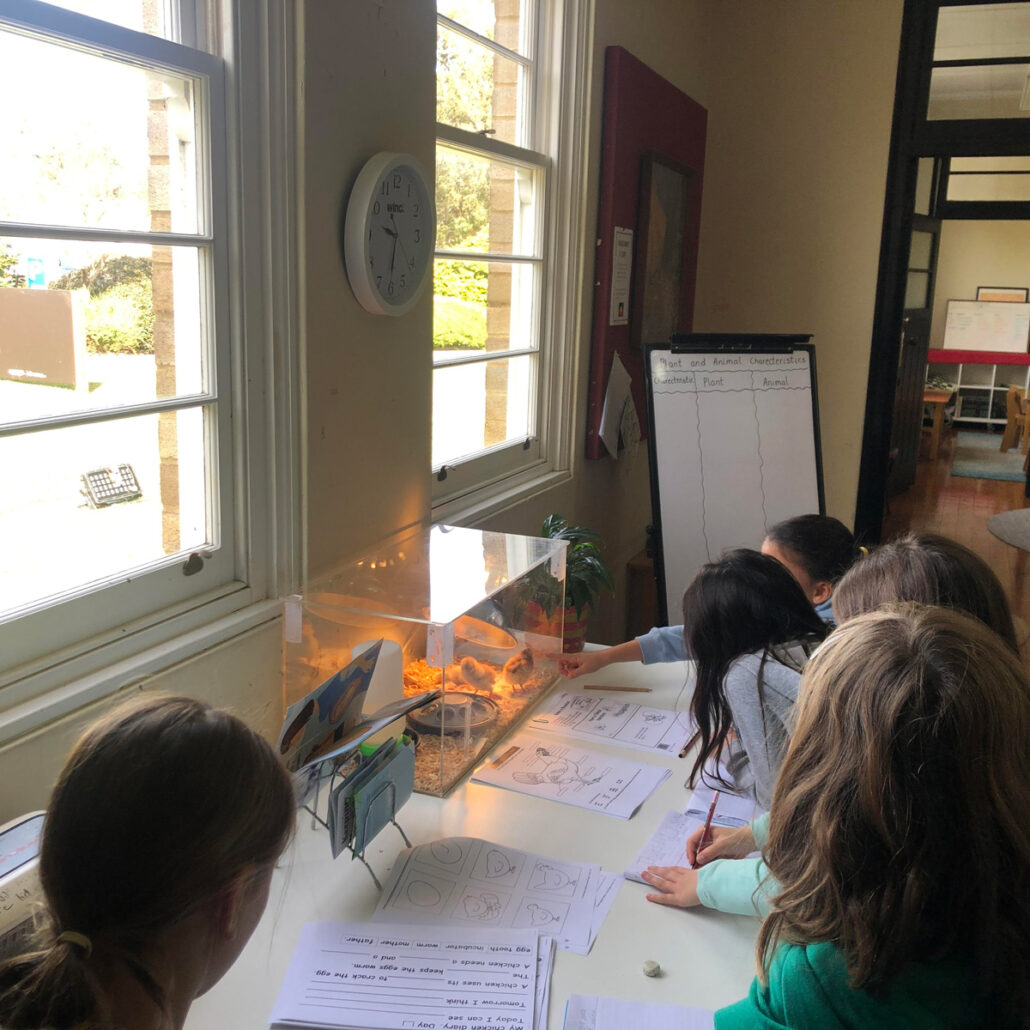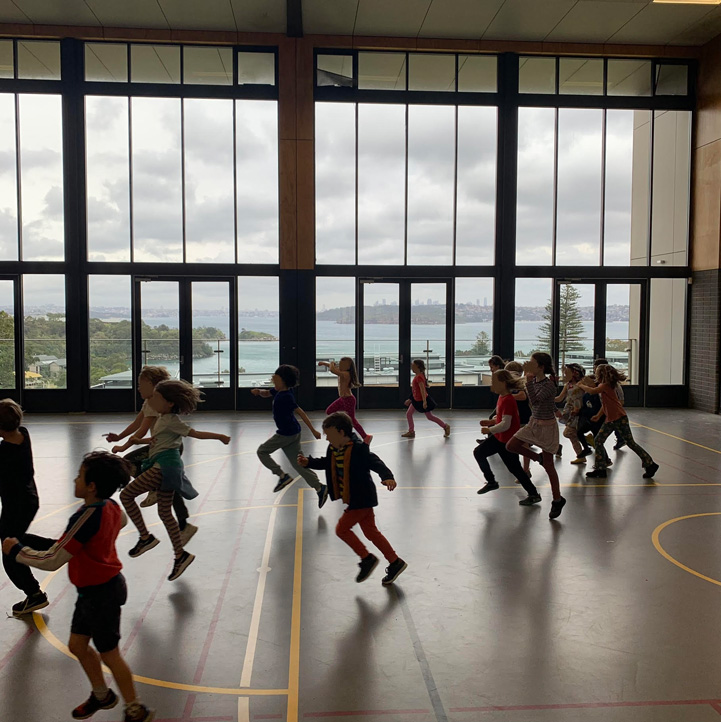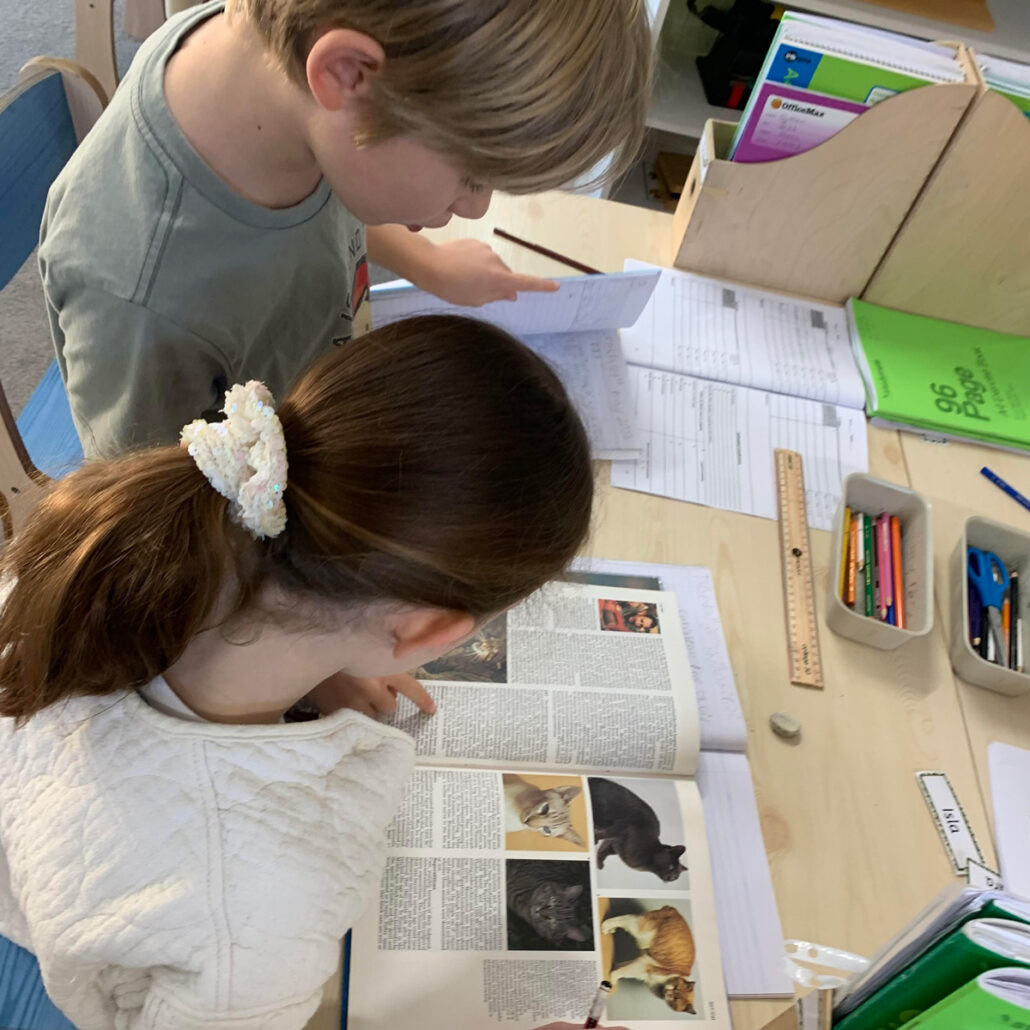 Dear parents, we are at the home stretch of Term3 and how fast it has gone! We have had an interesting term filled with bush walks, chickens and poetry! Recently the Yani classroom received their very own chickens and ducks. They have been much loved by their student carers who have enjoyed having them immensely. The naming of the chickens and ducks was a blast. Students placed possible names on post-it notes which they then placed on the chart of 12 possible eggs to hatch. If students chose right based on their observations they had the chance to draw three names from the bowl and then decide as a collective what they would name the chicken or duck.
So far our chicken names are Pesto, Eggward, Paper, Teriyaki, Nugget, Cuddles, Fluff. We take our hats off at the creativity the students put into these fantastic names and are looking forward to the ducklings who are yet to hatch.
In other news the Yani children have ordered and built our new equipment for our playground. This was a very engaging process where some of the Year 5 and Year 6 students used the equipment afterwards to complete a task around collecting data and representing data with graphs.
— Thomas, Nick, Amy & Ella Lee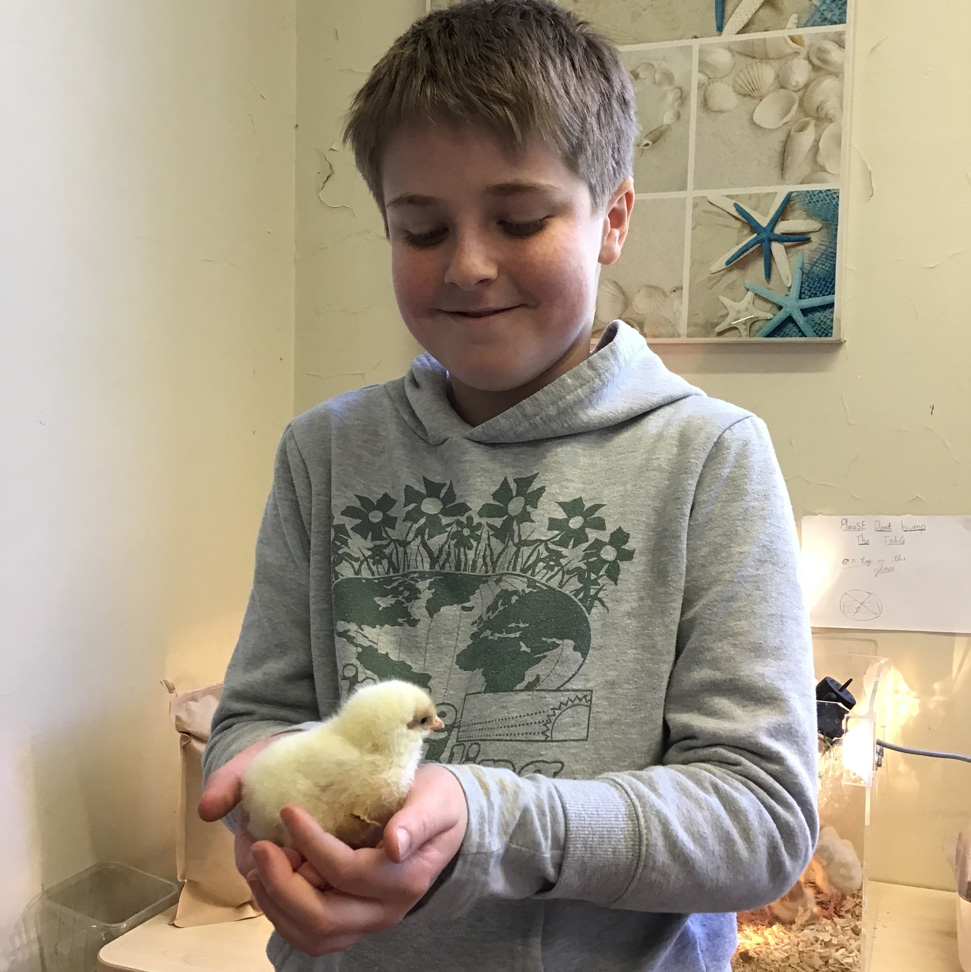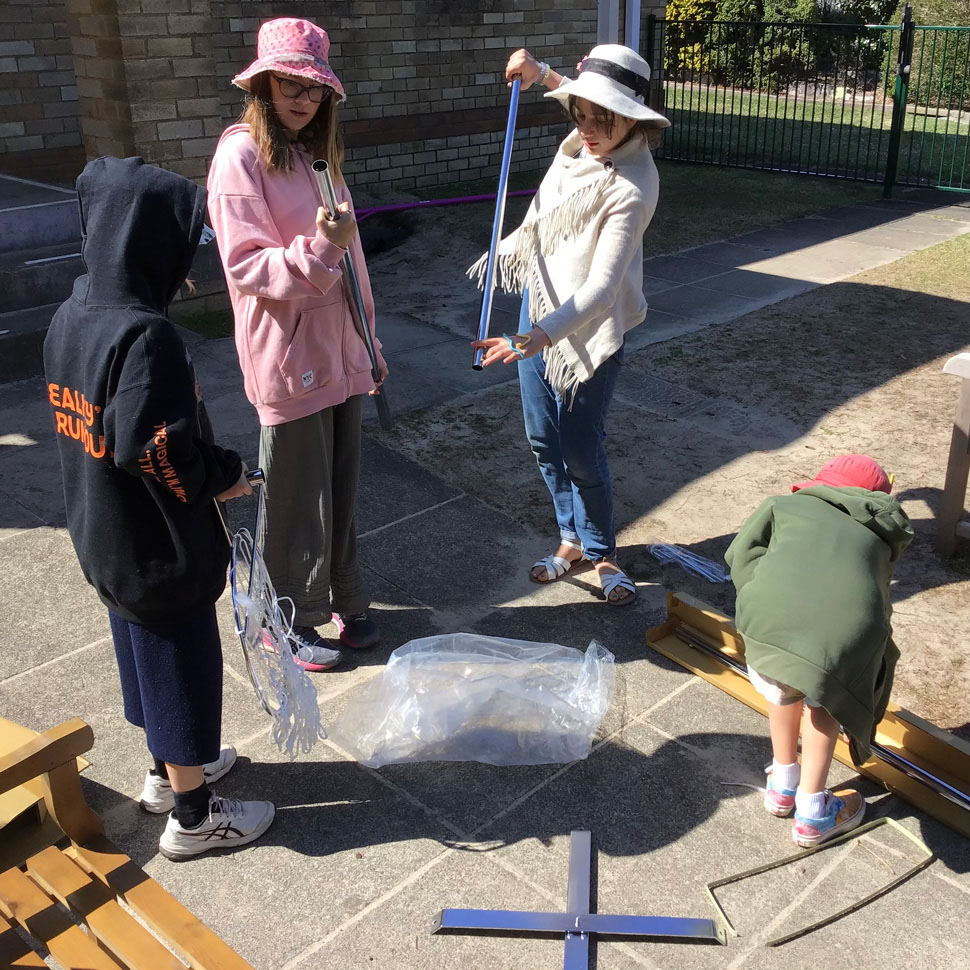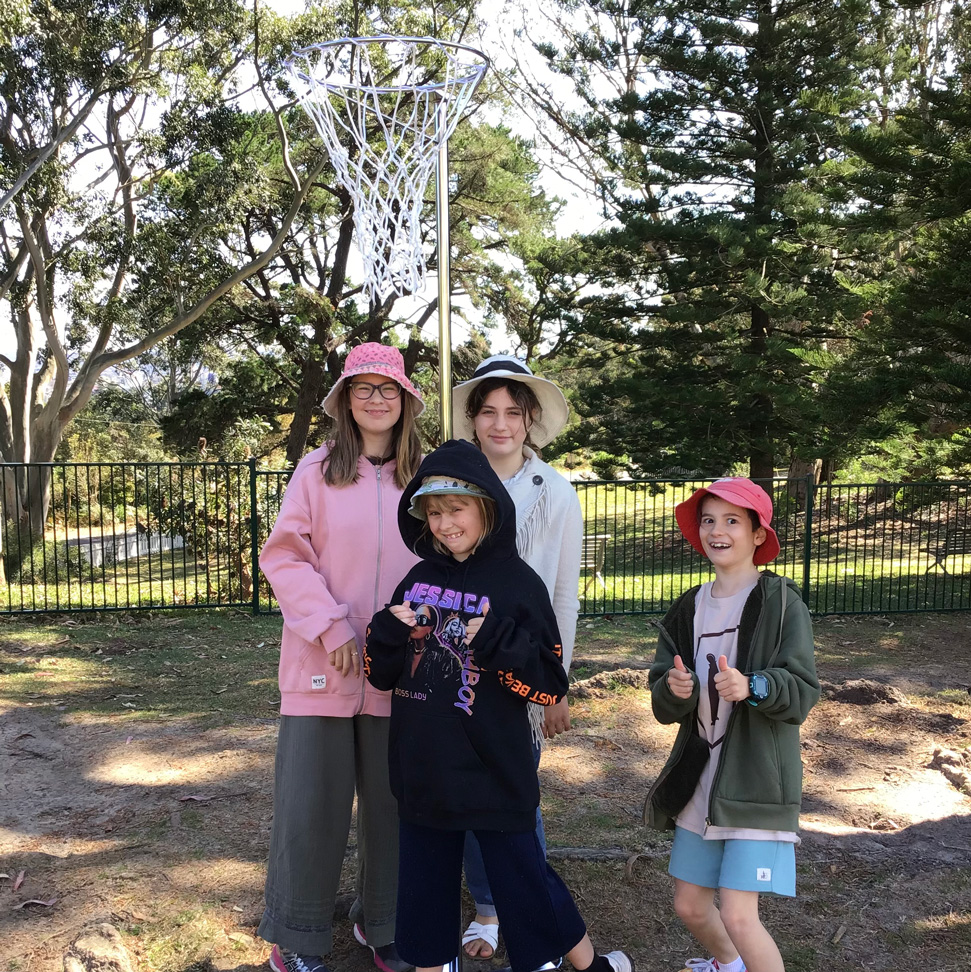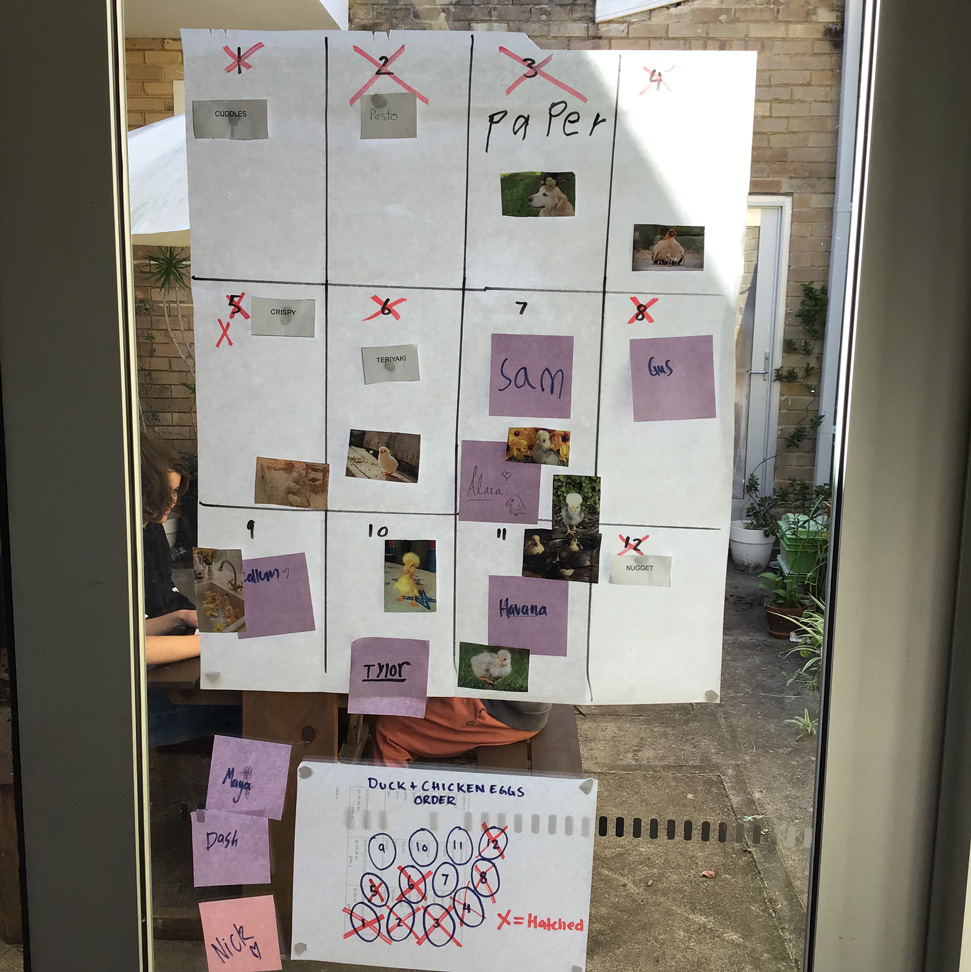 AIKYA & YANI
For the end of the term , we did a big revision of LA FAMILLE with the 7 familles game and this week we played Guess Who in french " QUI EST-CE?
This game was really fun and helped practicing French sentences with verbs and physical description.
We will organize a full game session for the last lesson of the term next week .
— Delphine.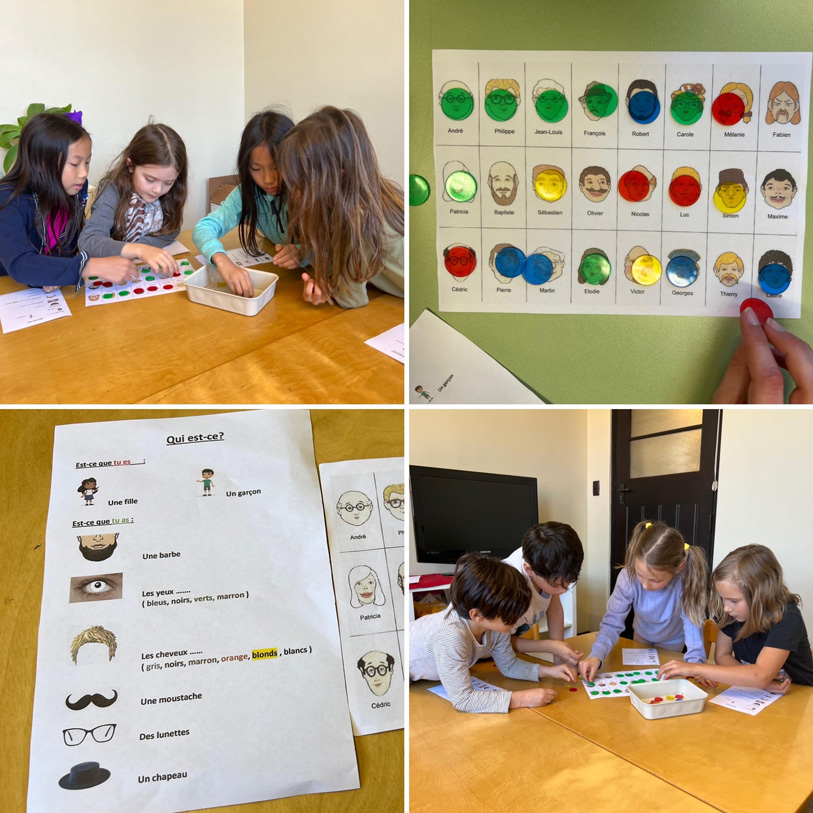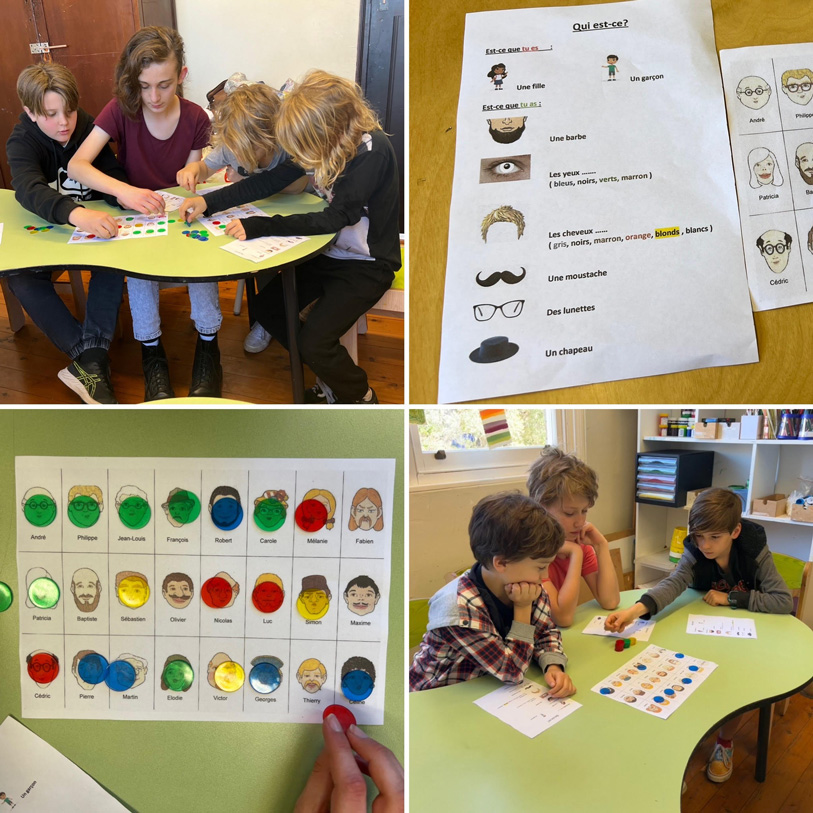 PRE-SCHOOL CAMPUS
This week we're going to be looking at a very special String instrument…the upright Bass! We will even have a go at playing it – it's super big, and has a very low sound when you pluck the strings.
NORTH HEAD CLASSROOM MUSIC
Our in class music is wrapping up the last few weeks with fine tuning what we've learnt on Xylophones and Ukuleles. Looking forward to our next topic in the coming term.
–James, Angie, Ben & Deb.
The Evergreen Music Team