2021 Newsletter Term 02 | Issue 04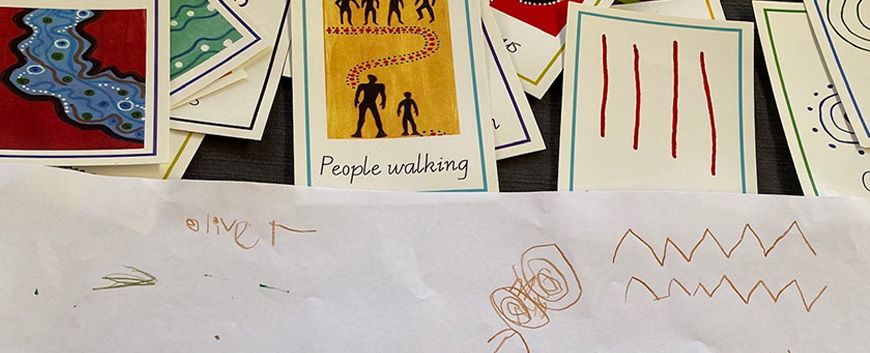 Upcoming events & Important Dates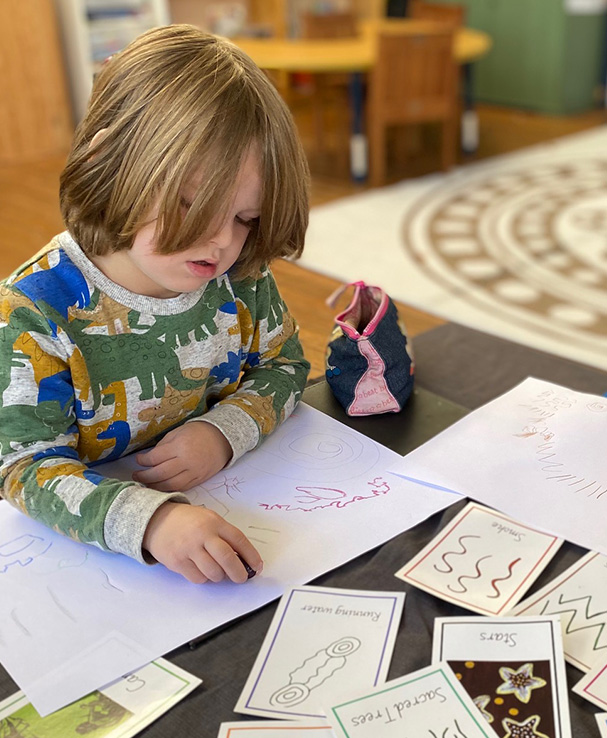 JUNE
Fri 11th – Fees Due
Mon 14th – Queens Birthday – School closed
Thurs 17th – School Tour: Primary Campus 9.30am
Fri 25th – Last Day of Term
JULY
Mon 12th – Staff Development Day – School closed
Tues 13th – ALL Students return
Thurs 22nd – School Tour: Primary Campus 9.30am
Monday 26th-28th – School Camp: Great Aussie Bush Camp
Tues 27th – School Tour: Preschool Campus 4.30pm
Click
HERE
to see further calendar dates.
Principals Message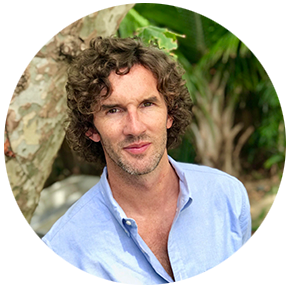 Dear families, 
I hope you are well, keeping safe and looking forward to the long weekend.
As we near the end of term 2, it is important to reflect on the way that our community works together to support the students in our care and enrichment of the journey we call education. Parent teacher conferences were a great opportunity for us to work collectively, allowing all of our students to reach their full potential.
Over the years, our school has developed a culture of community spirit, transparency and regular communication. Our newsletters, Educa stories and regular emails provide the community with a valuable insight into the inner workings of our school. As a team, we want to make sure that a slice of the classroom appears in everyone's inbox.
At a time when 'keeping our distance' is part of our everyday life, the communication exchange between school and home is even more important.
Our school will continue to keep you in the loop with current events, news and important notices and we thank our team for going above and beyond to reach out in a variety of ways, and also the wider community for engaging with the content we send home.
Just as families relish the opportunity to see what's happening in school, we also appreciate the responses and the feedback you send back to us.
Have a wonderful weekend ahead, stay safe and please remember that even though we are physically distant during this time, we are only a stone's throw away if you need us.
Take care.
– Gavin McCormack
ELOUERA | Stage 1 Infant Community
This week Elouera has had some fun exploring and investigating volcanoes! We read some books about Volcanoes and learnt some new language; "eruption, lava and crater". We watched a video of a real volcano erupting and then we made our own volcano eruptions!
The children had the opportunity to begin to use and practise their early scientific and mathematic skills; such as experimentation, hypothesising, inquiry and investigation.
– Corinne, Debbie & Sarah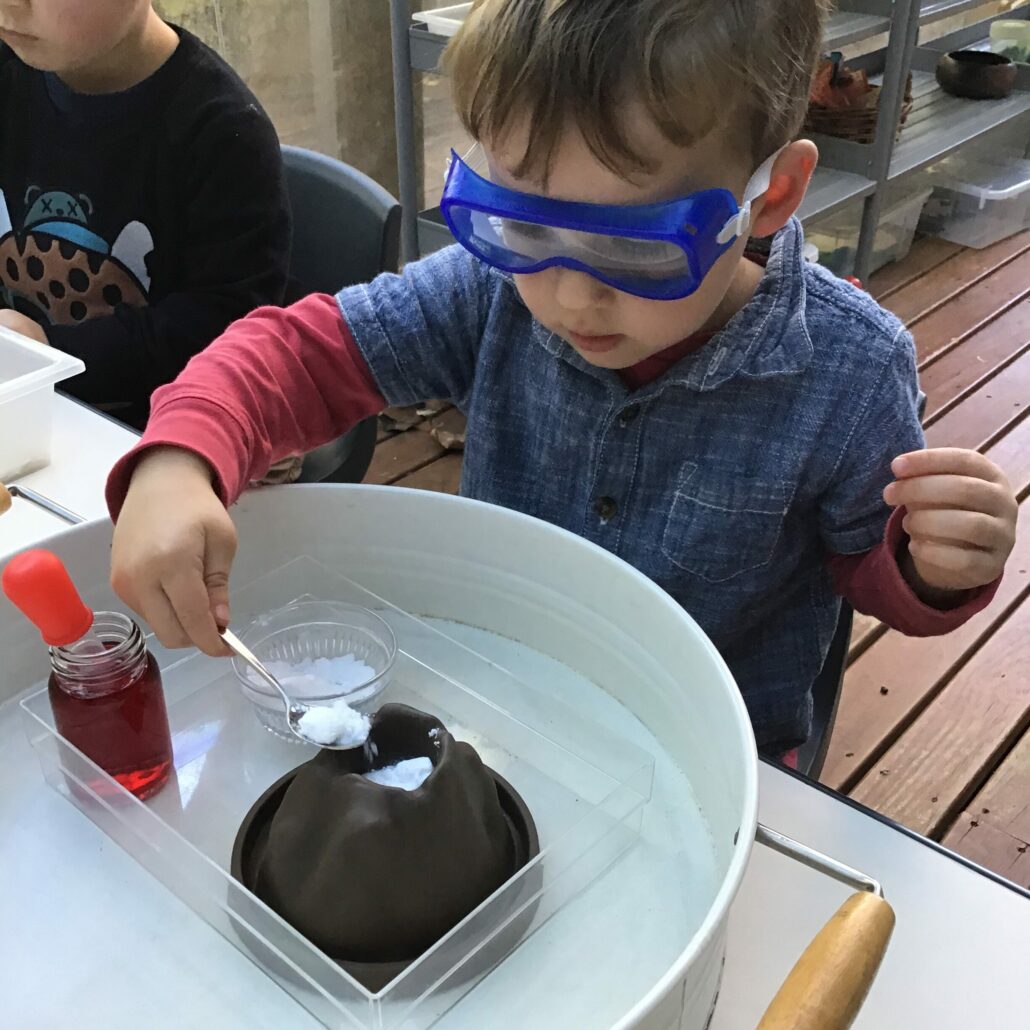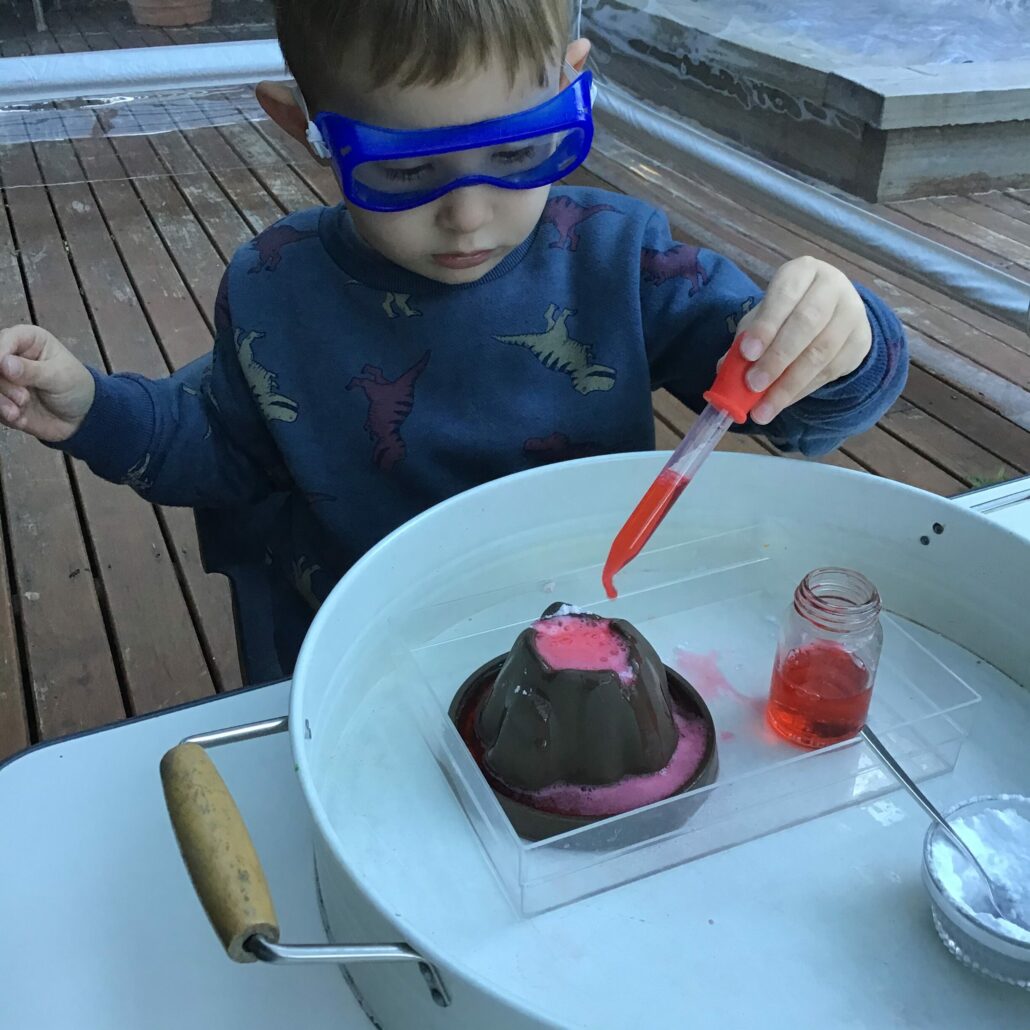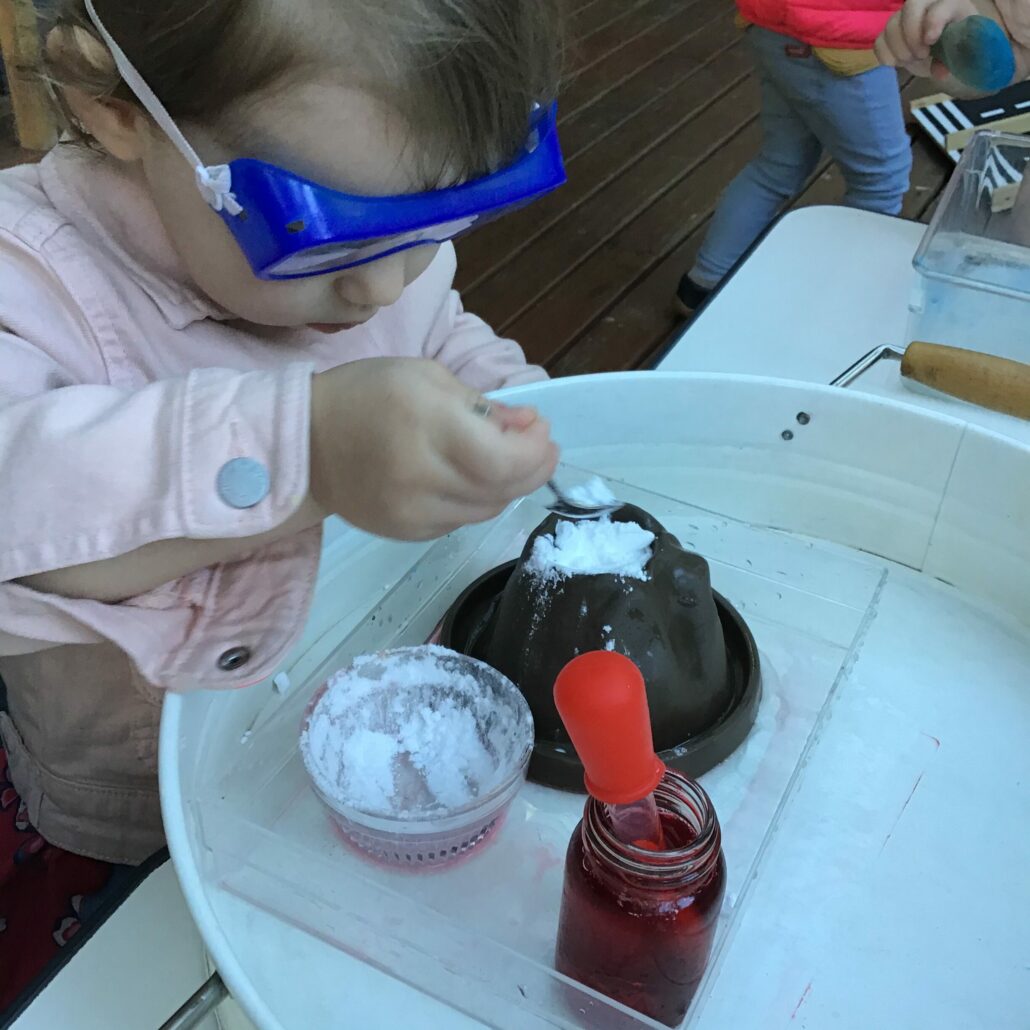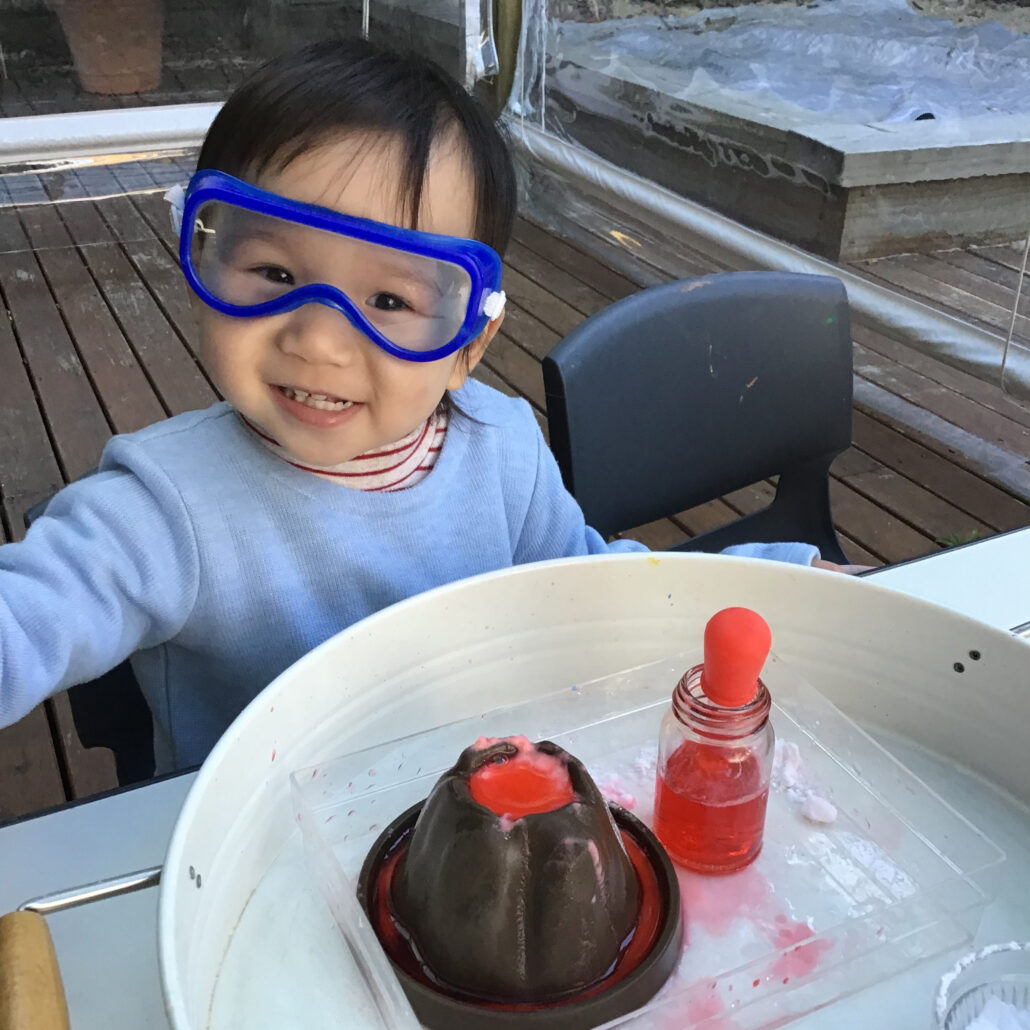 The preschool enjoyed maths week with lots of different activities set out across all classrooms. Maria Montessori believed that everyone is born with a 'mathematical mind'. Children are introduced to concepts in concrete form where the materials can be felt and manipulated so the hand is always involved in the learning process.
As children progress through the materials they are learning numbers and their associated quantities, learning about place value through the decimal system, and are learning about the four operations of maths. Children are also exposed to squaring and cubing through the bead chains. These chains are used by the children to reinforce their counting skills, numeral recognition and the association to multiplication. Most children are able to recognise numbers in the thousands by the time they leave the 3-6 environment.
– Amanda & Teresa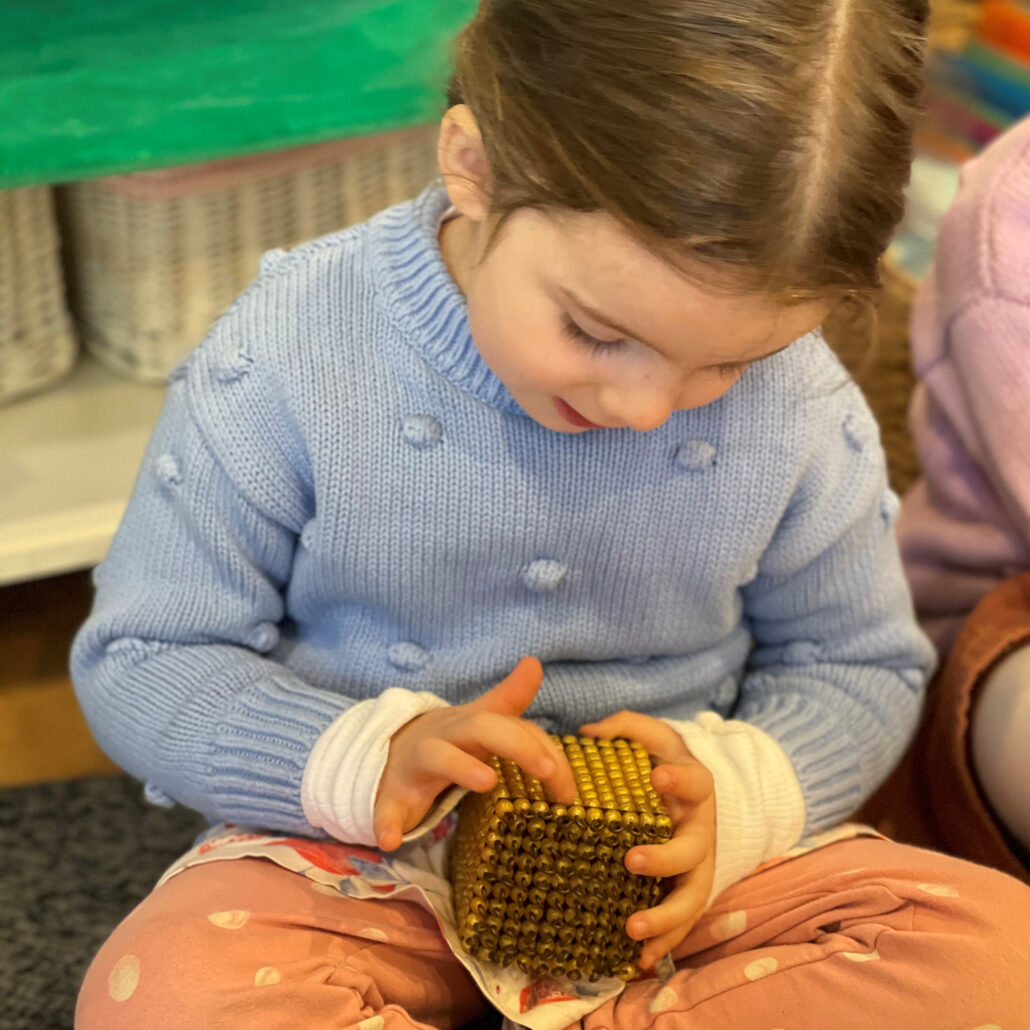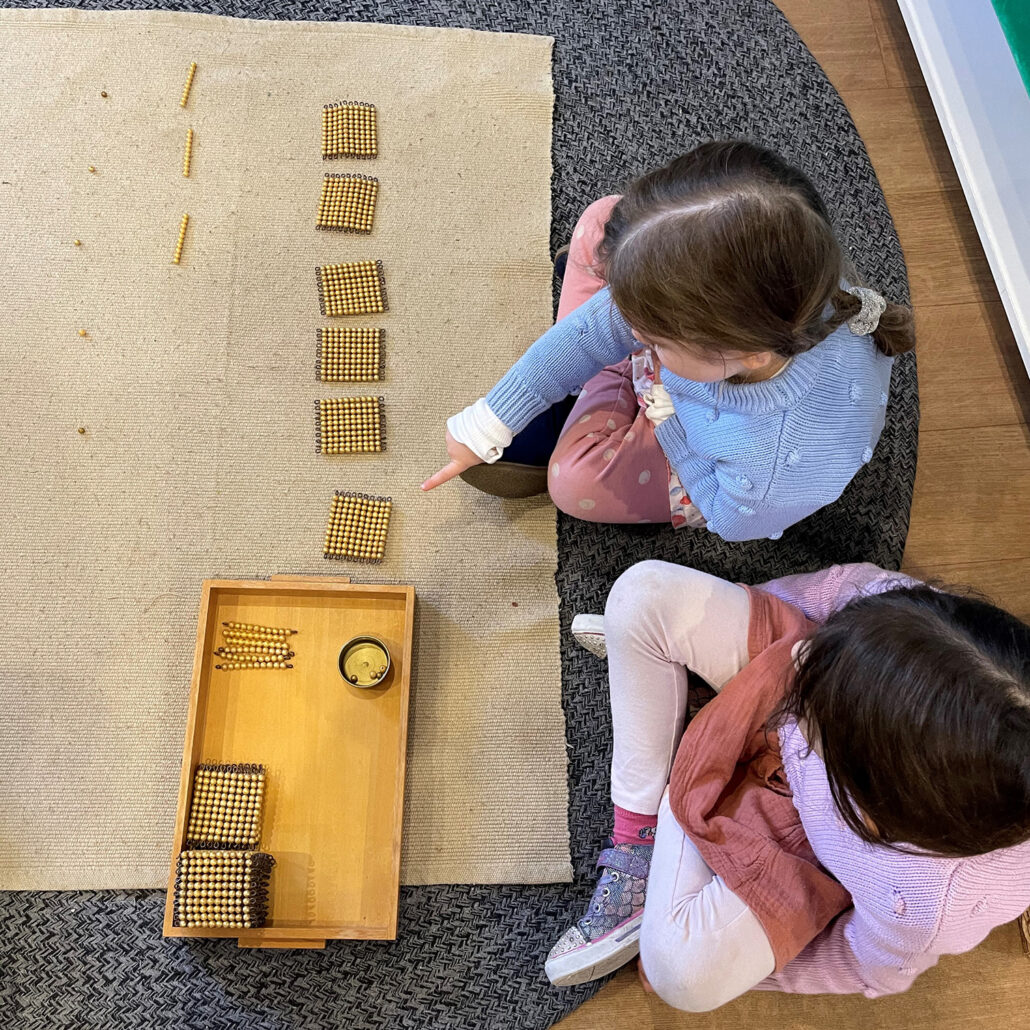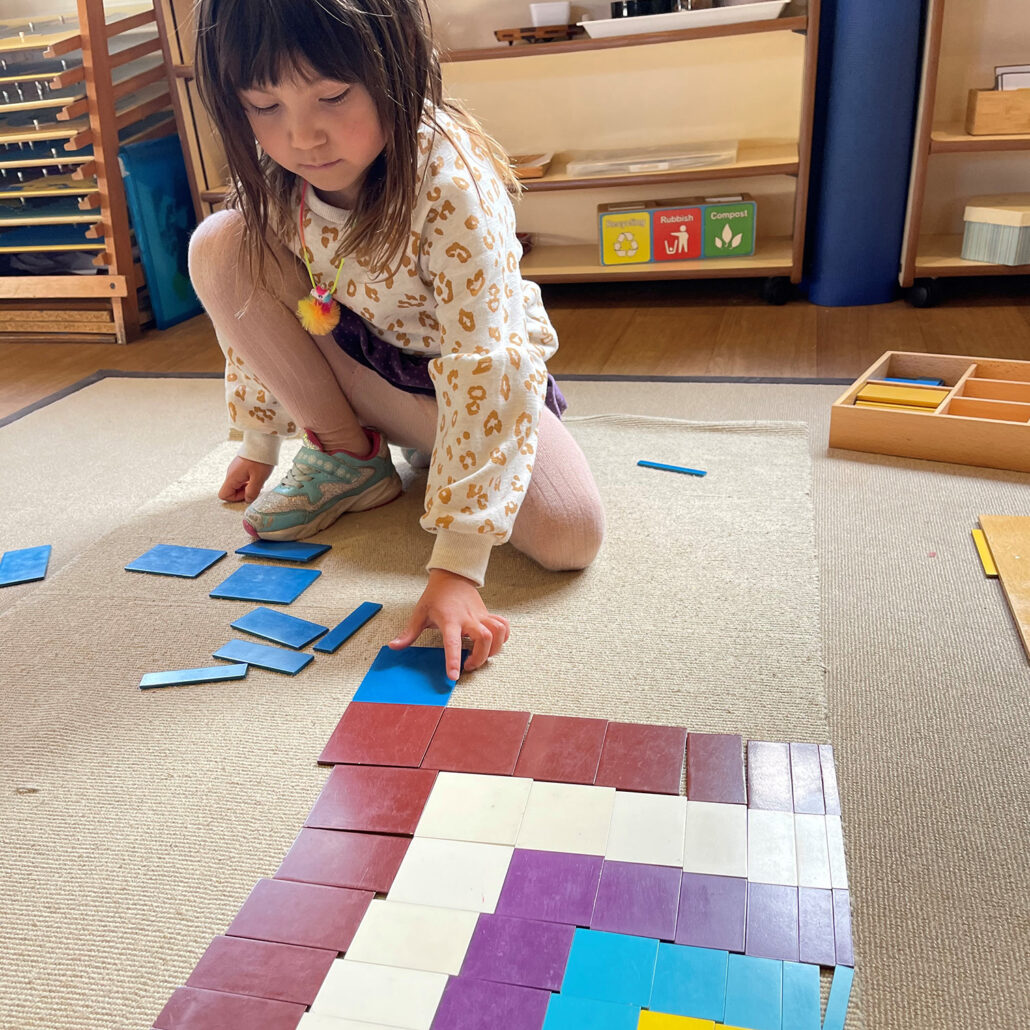 Week 8 Practical life
Children within a Montessori environment are offered the materials to become independent and self reliant. This includes allowing children to take responsibility for their own self needs such as morning tea.  The food preparation area in the kitchen allows the child to choose what they would like for morning tea by choosing different preparation trays. Morning tea preparation offers opportunities to understand volume, size, sequencing, fine motor skills and confidence.
Each tray has a sequence that the child is shown and supported to follow until they are skilled to complete the activity independently.
The children are also encouraged to pick the vegetable and fruits in the garden to put on the morning tea tray. Eggs from the chickens are also collected each morning to boil and add to the egg tray each morning. This allows the children the opportunity to understand the concept of where food comes from. Paddock to plate.
– Jenny, Jo & Angela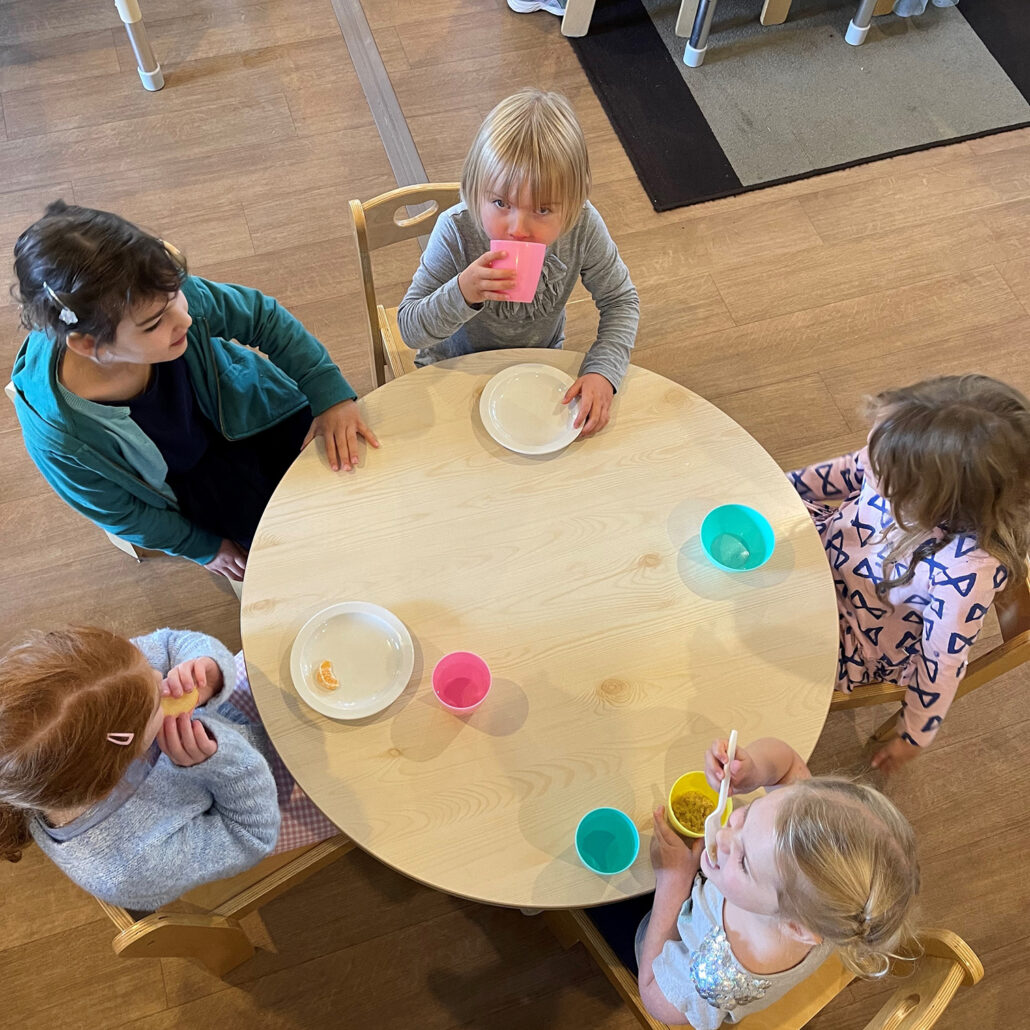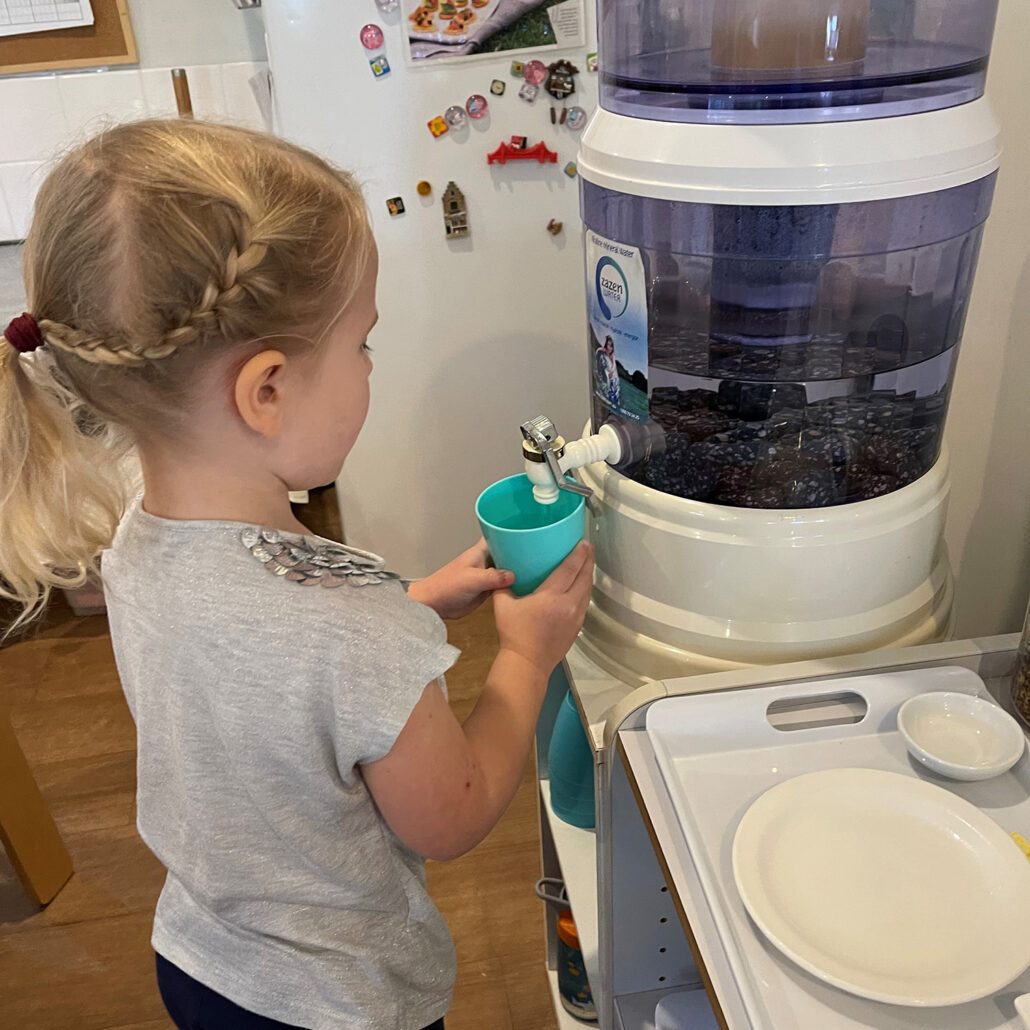 AMAROO | OUTDOOR CLASSROOM
Talking to the children about Reconciliation Week has been a wonderful opportunity to have a positive influence on children's future attitudes. Talking about culture, family, care and respect.  We discussed clan as family, writing stories with symbols and dreamtime.  The children were incredibly inventive sharing stories with each other.
We have also talked about indigenous people being the first Eco Warriors and how they cared for the environment and how we need to do the same.  We painted shades of green as we looked at our garden in amazement of the different leaves and colours we could see. Sometimes it's good to stop and just take notice of what is right in front of us and be grateful to the people that came before us.
– Dawn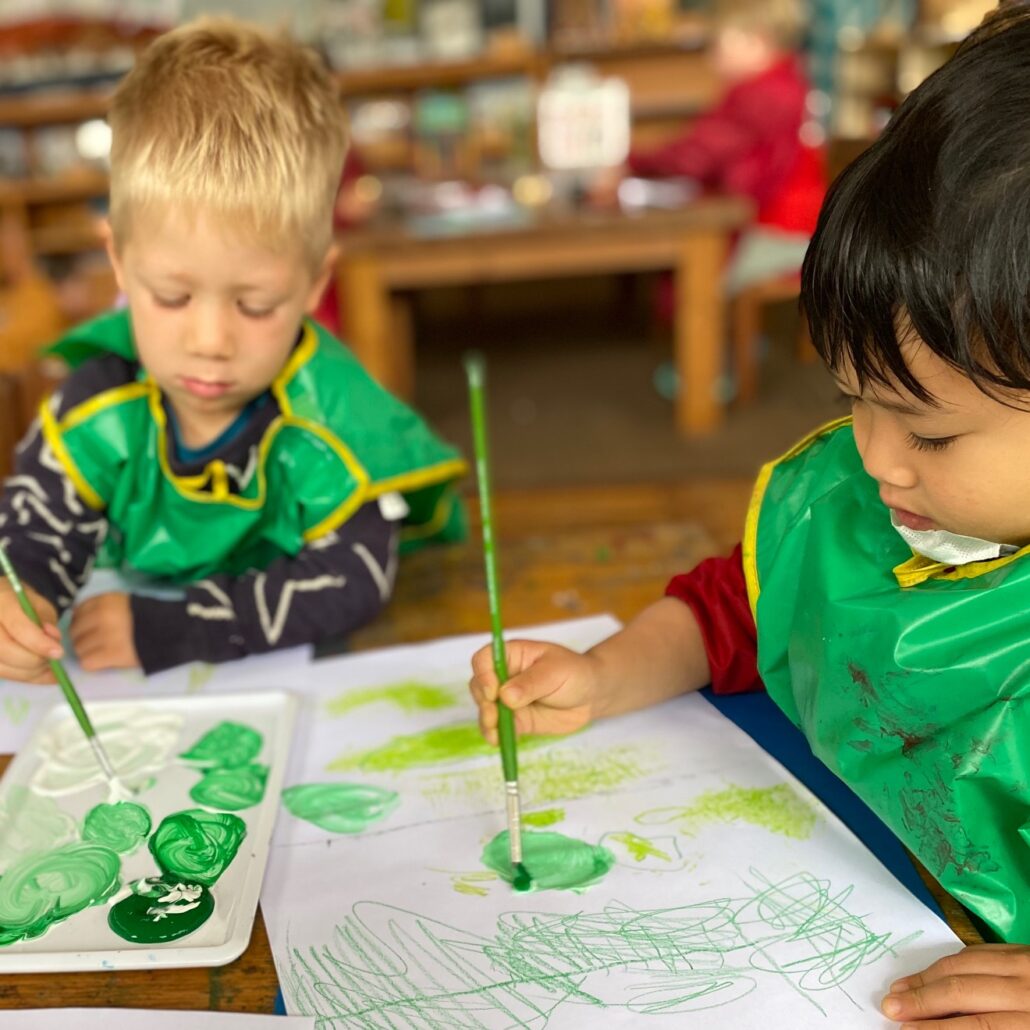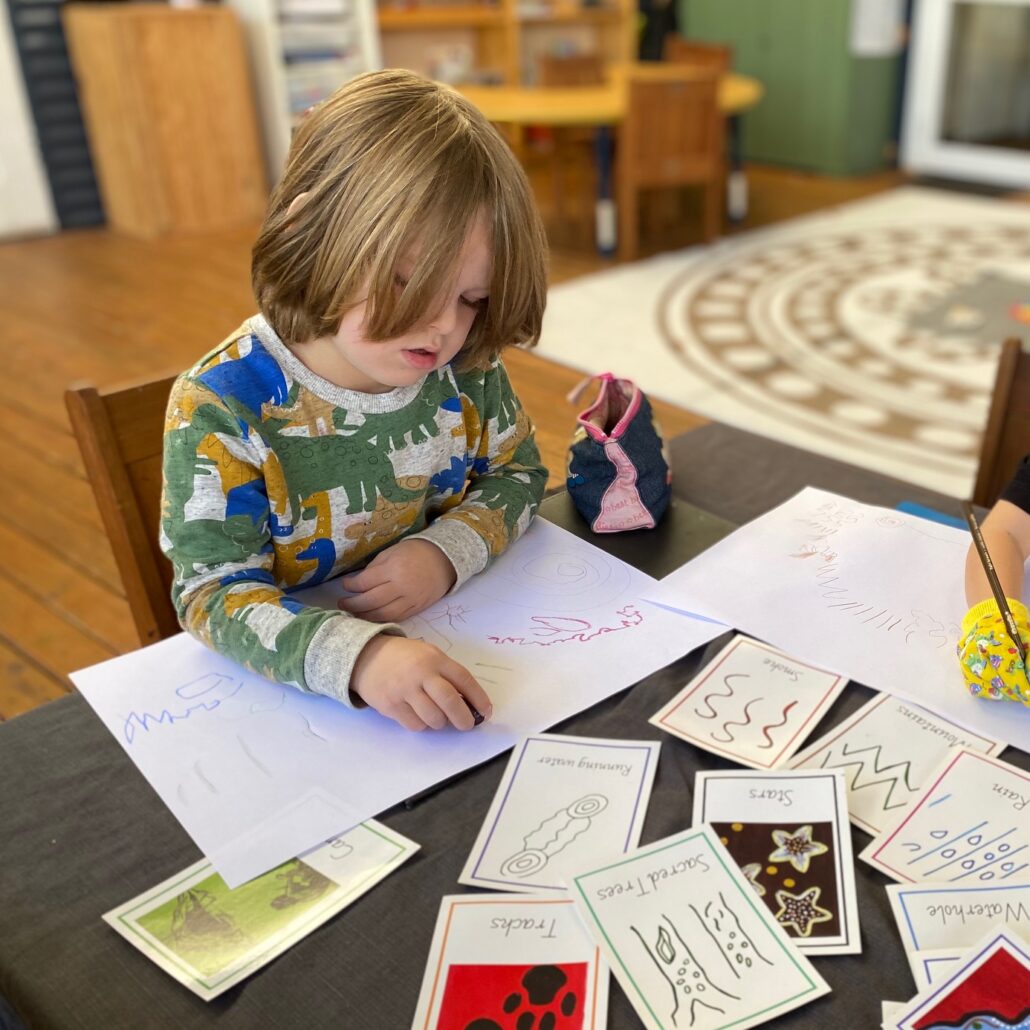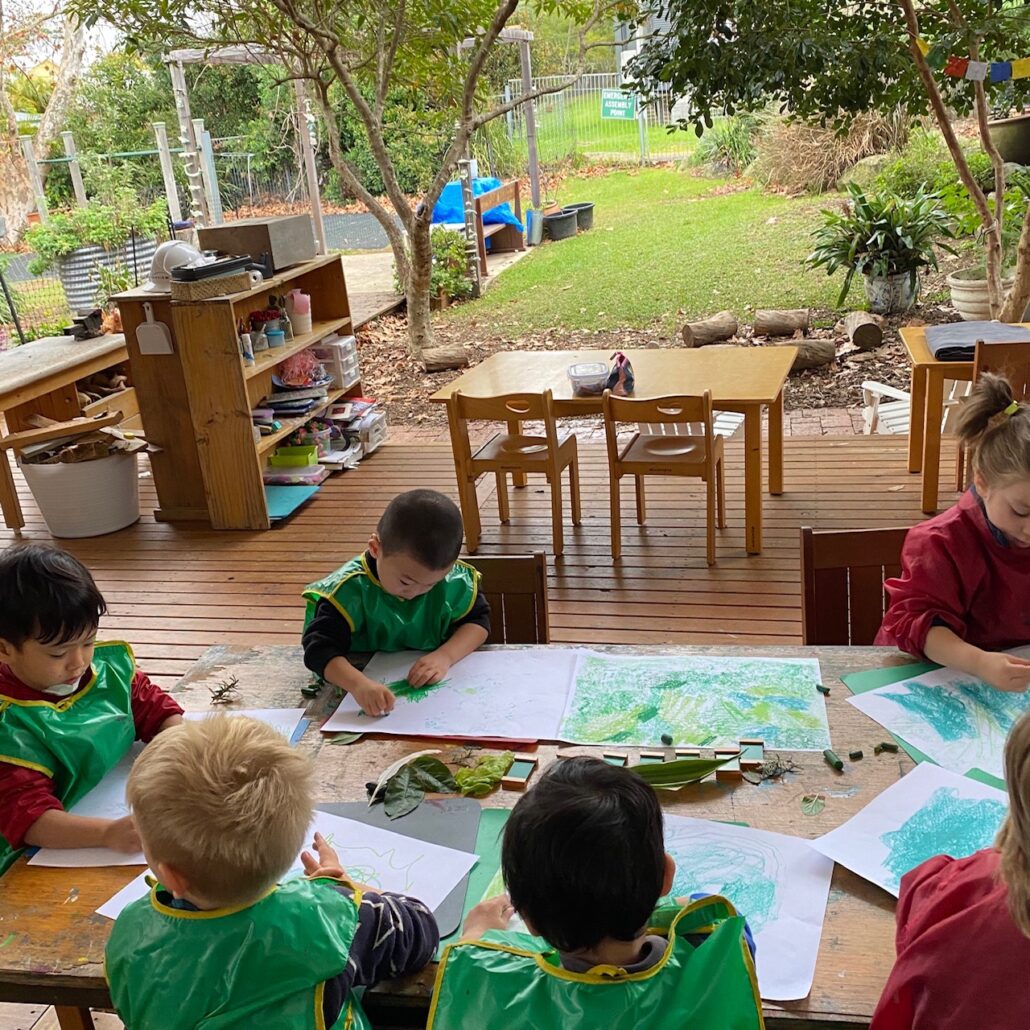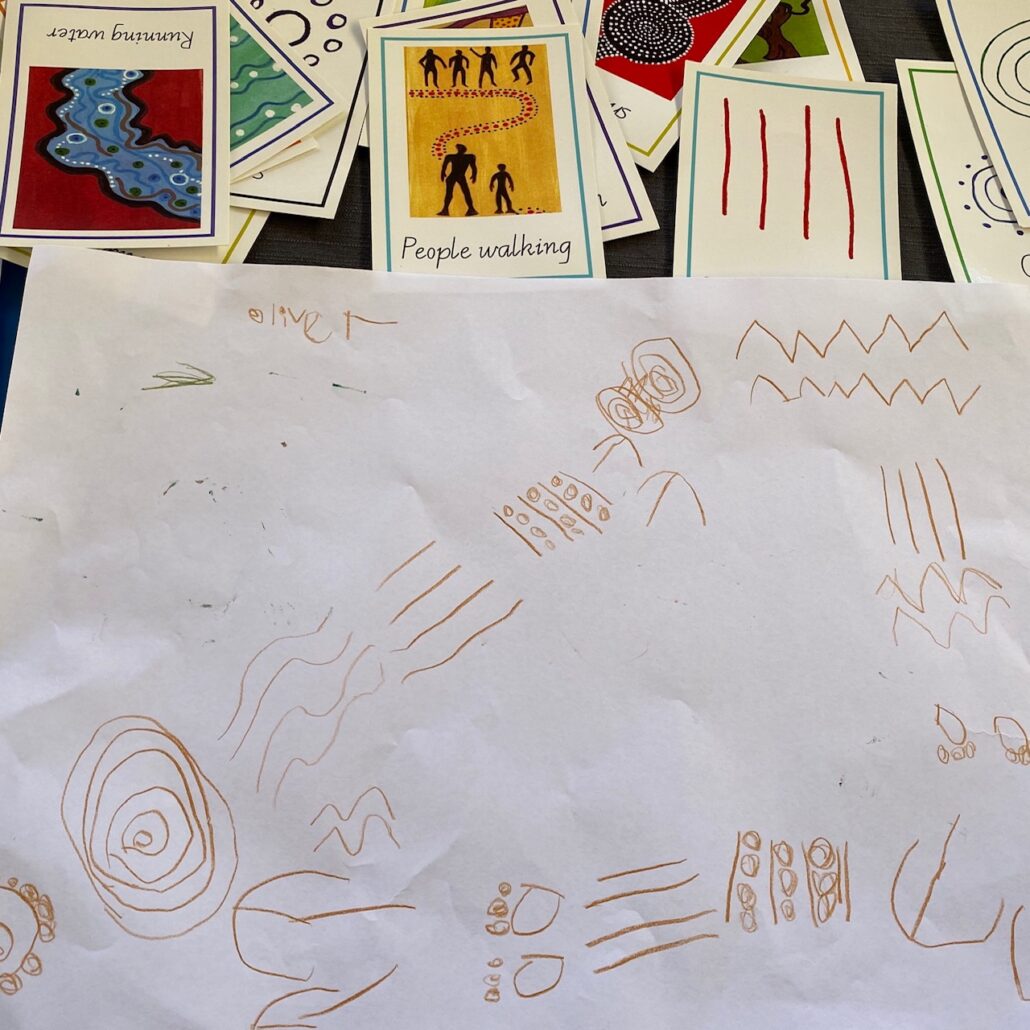 With many sunny days, we have had the opportunity to bring our learning outside. We have had discussions about connecting to the land and how we can benefit from being outside. On a local walk, we found an Aboriginal rock carving of a fish. There were many questions about how the carving came to be, who carved it and why. We could also see across to Manly Dam, and spoke about how precious water is.
During reconciliation week, the Kindergarten children looked at Indigenous seasons, different ways to tell stories, and acknowledging the first people who owned the land in Australia. The children created their own stories and told them in a way of their choice. This could be through drawings, writing, drama or natural materials.
– Elizabeth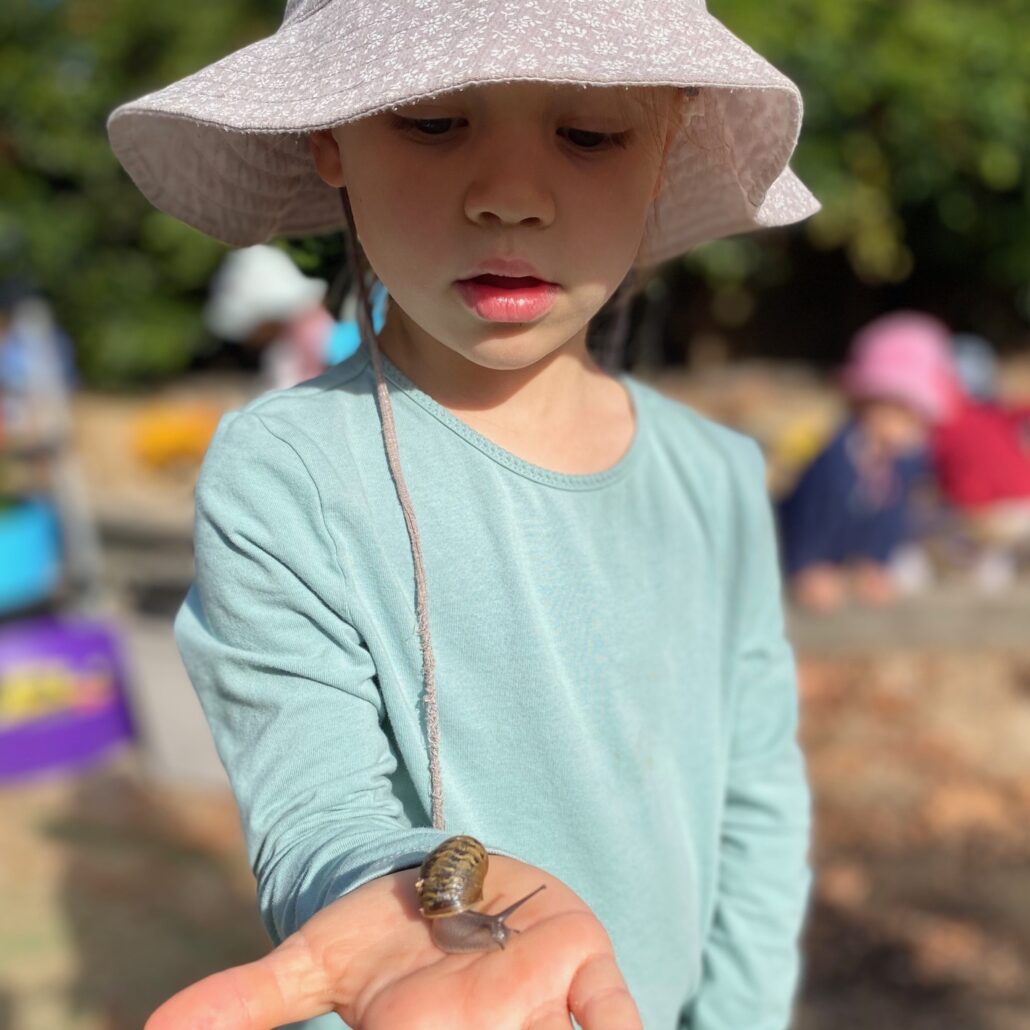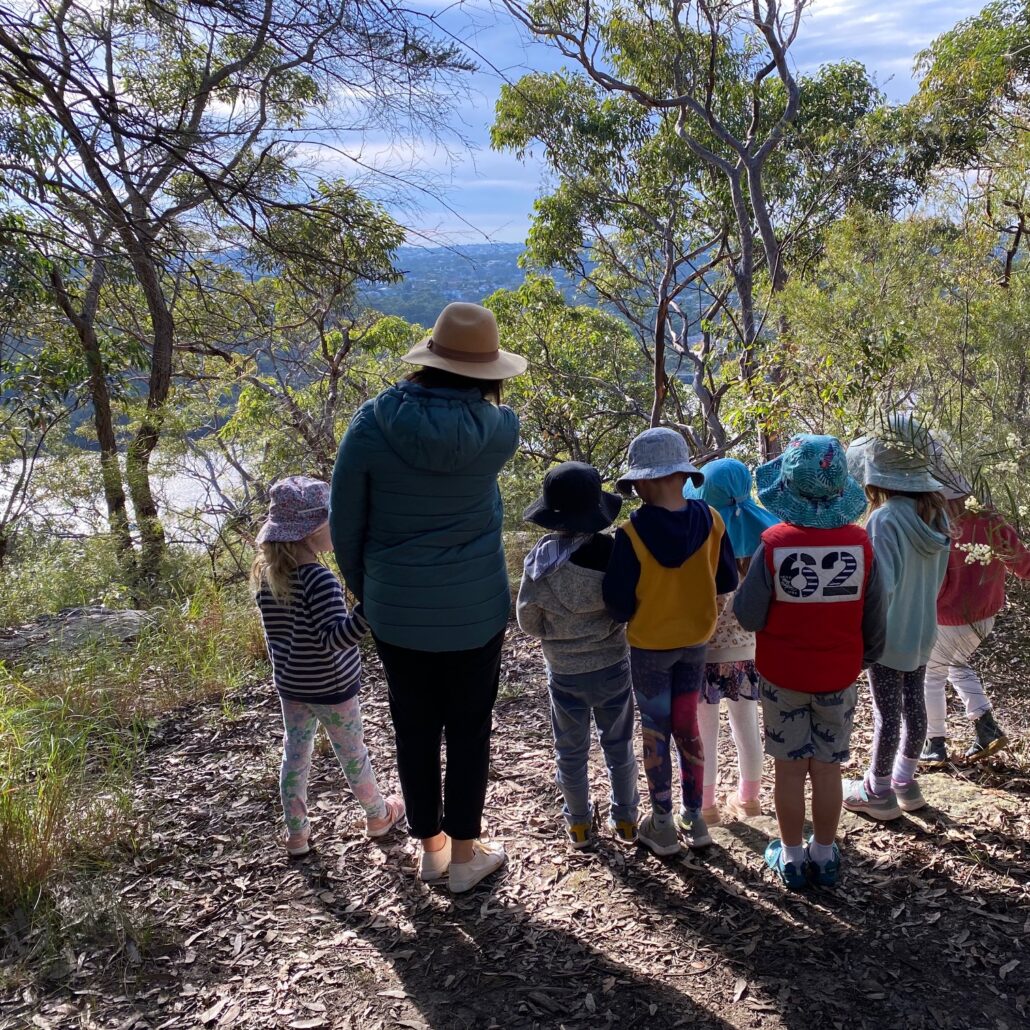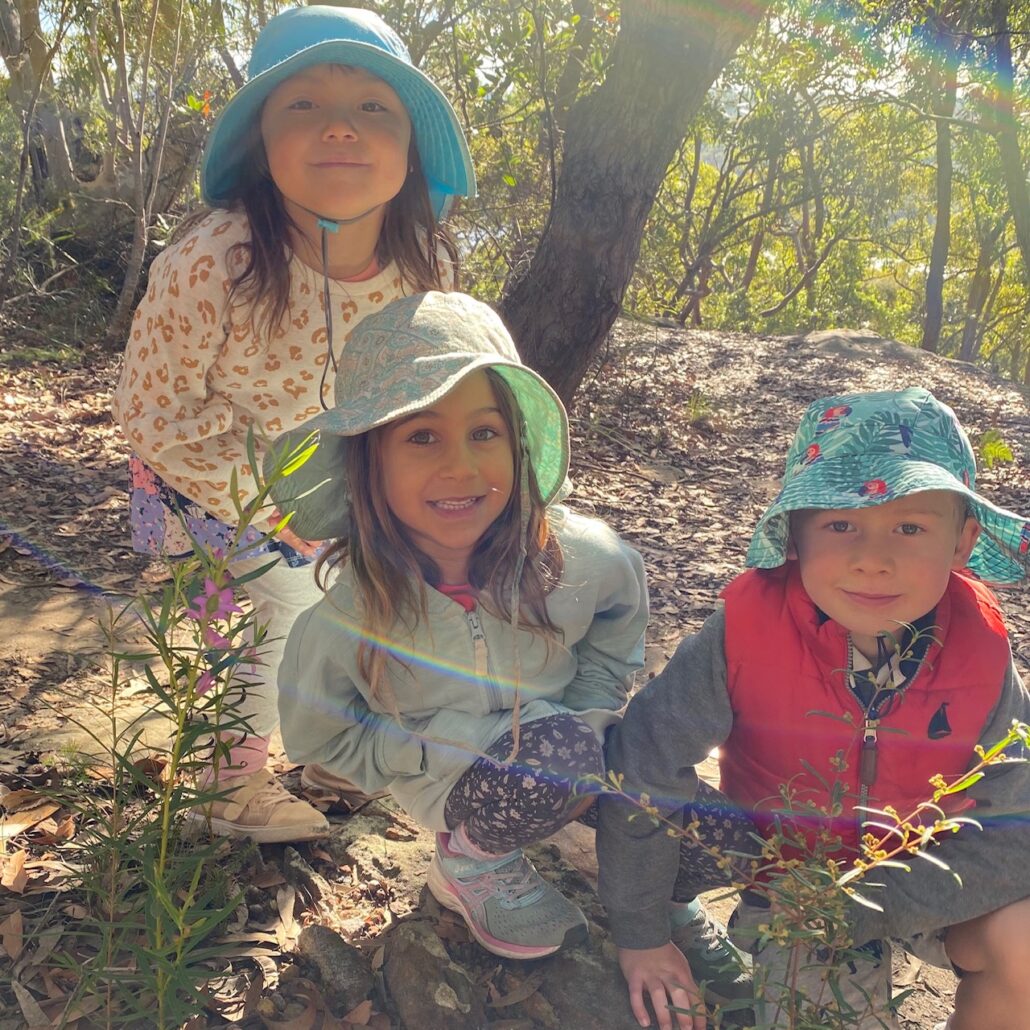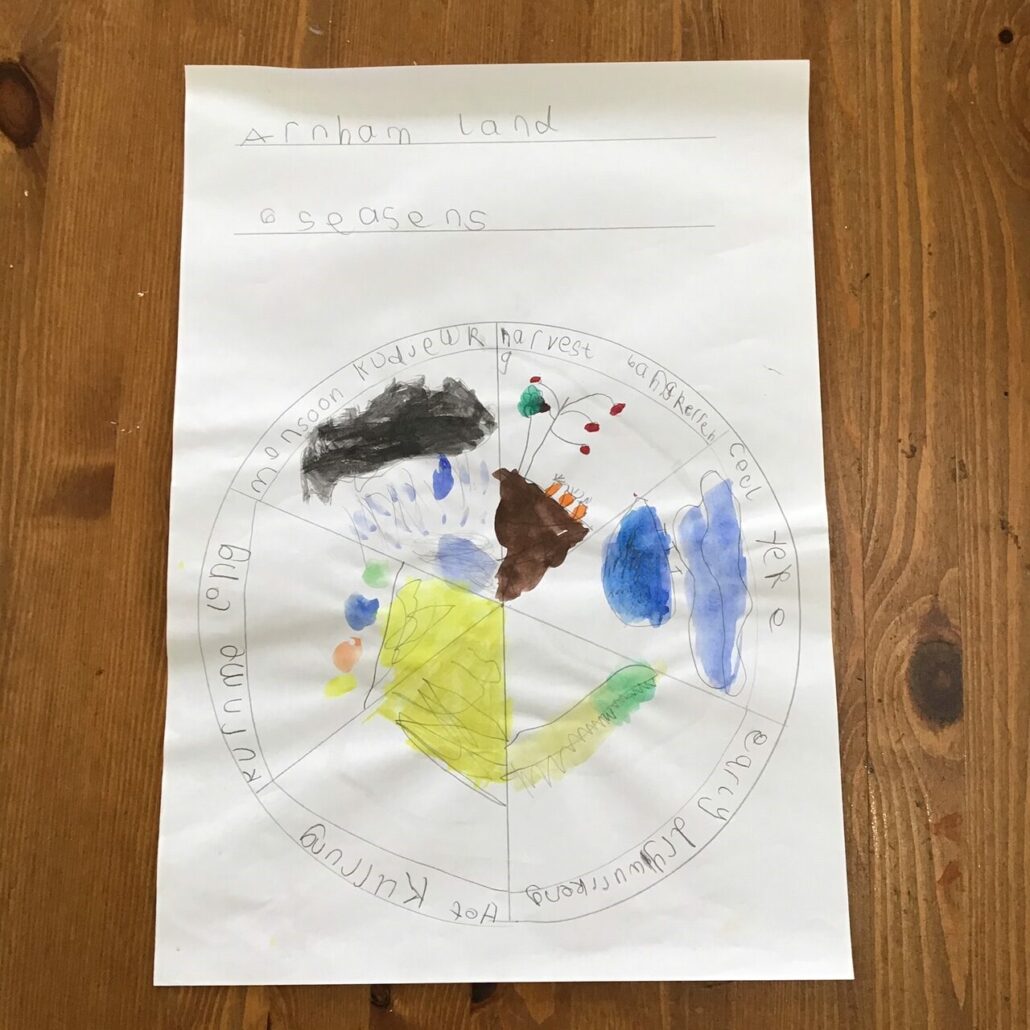 Featuring this fortnight for the Aikya class was an enthralling excursion to the Sydney Botanical Gardens. Upon arrival, we were met by our tour guide. She was so lovely and knowledgeable and gave us such an engaging and insightful tour of the grounds, plus offered some fantastic facts about the life and times of the plants we passed. It was great to see many of the children relate their in-class learning and plant experiments to what was being witnessed in the botanical wonderland. A big thank you goes to all the parents who came along in support.
At school, botany studies begin with looking at the life cycle of plants and presentations that explore plants' importance to human and animal life. Students are encouraged to look at the many ways that plants provide for our fundamental needs. Botany studies continue with presentations of nomenclature and impressionistic charts, which detail the basic requirements of plants, their parts, and the functions of these parts. Students study roots, stems, leaves, flowers and fruits. They learn about plant reproduction, pollination, photosynthesis, seeds and how they travel, and alternate means of regenerating. They learn about the system of scientific classification with materials such as the Five Kingdoms Chart and the Plant Classification Chart.
All botany studies are supported by experiments that illustrate how the plant meets its needs, how plant systems function, and the importance of plants to the ecosystem. Students are actively involved in growing, caring for and observing plants in the classroom. Botany work also parallels studies in geography, history and zoology that explore the role of plants on Earth. It is our goal that the children understand, from these studies, the interdependence of all life forms and the custodial role humans must assume to protect and preserve life on Earth.
– Harshitha, Toby, Thomas and Hannah.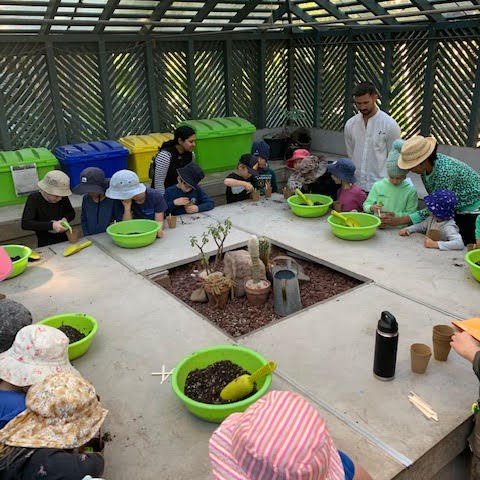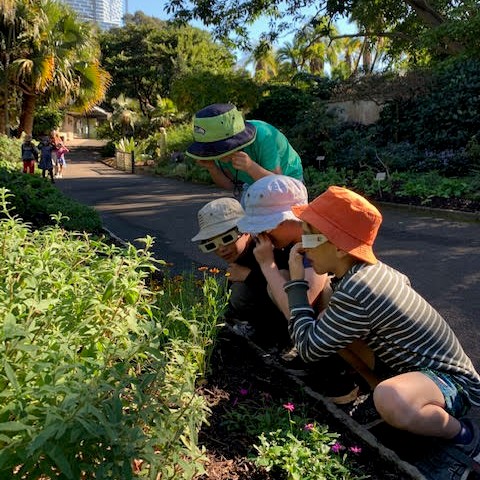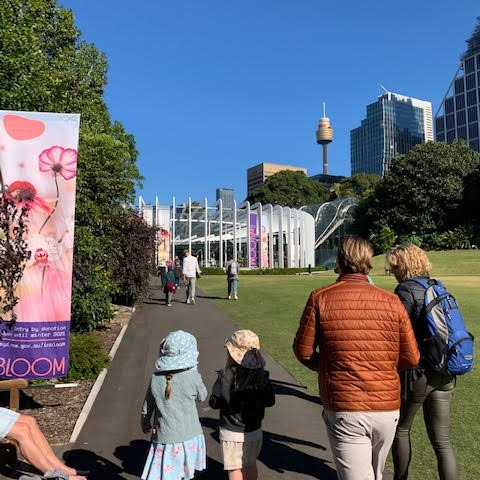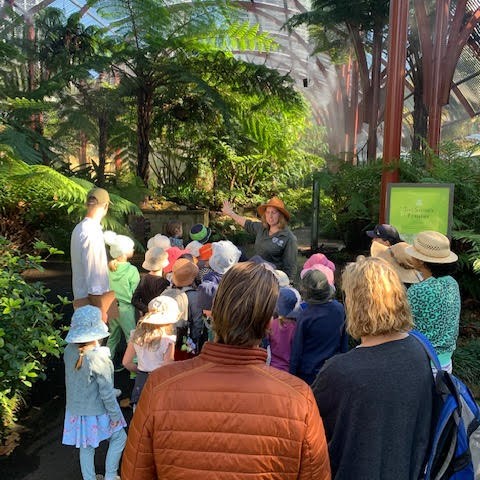 Music this week we have been singing and playing the piano and ukuleles to a song called Smile Mona Lisa by Will.I.Am. This has been going well, we've enjoyed playing the different instruments and experimenting with the different sounds on the piano.
In French we have been learning about the names of the human body, we sang "heads, shoulders, knees and toes" in French and exploring the colours of our eyes. These lessons have been a lot of fun.
We started a coding club a couple of weeks ago, it's worked out well and it's fun. Some of Stage 3 students have been helping the Stage 2 learn how to code on computers. Stage 2 are quick learners and we have enjoyed teaching them.
By Jasper, Havana and Billy
– Laura & Jessica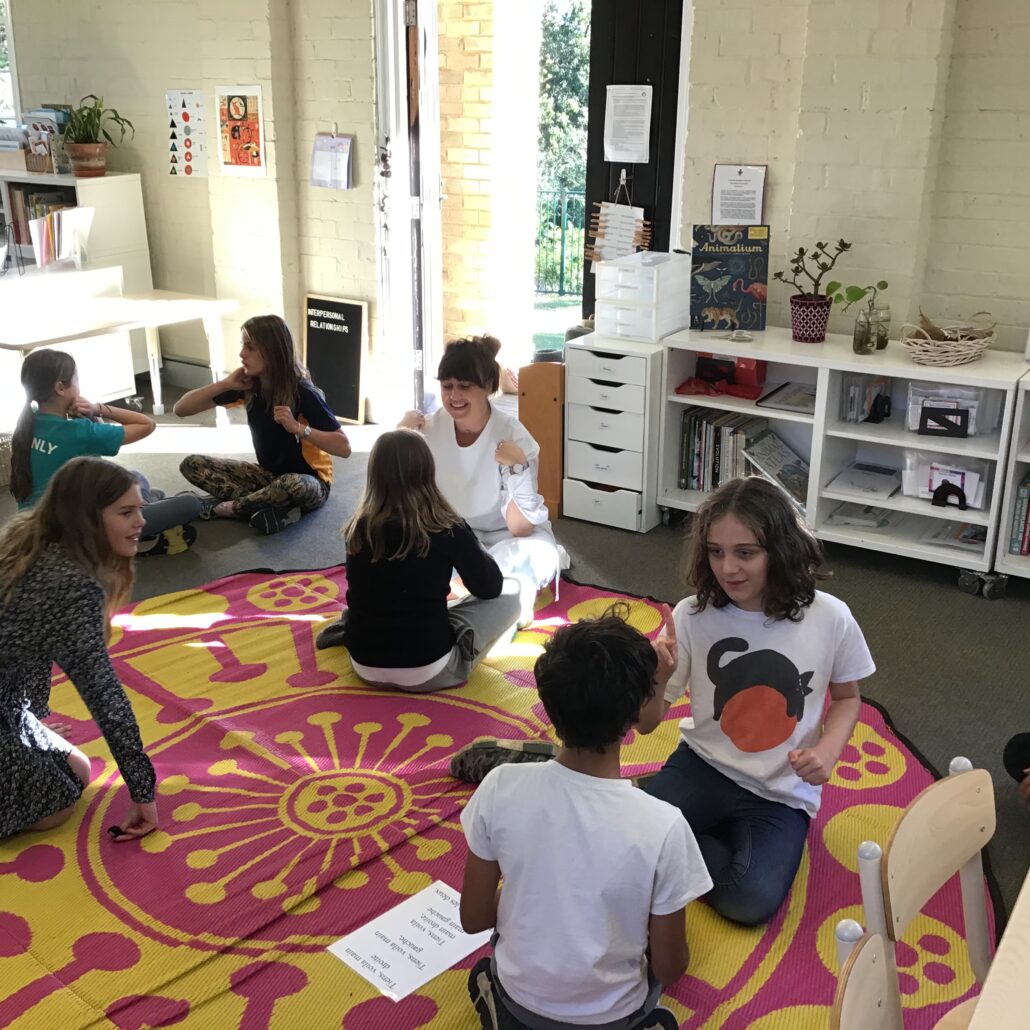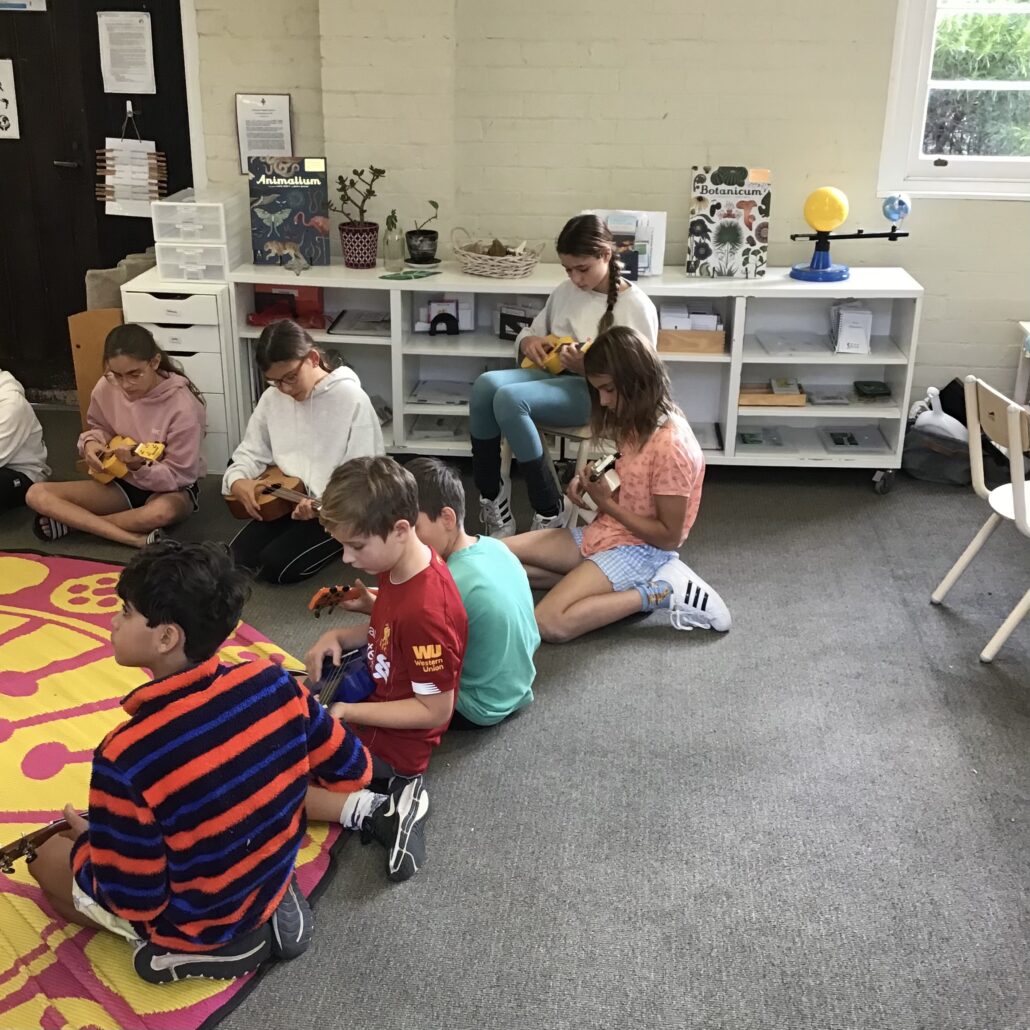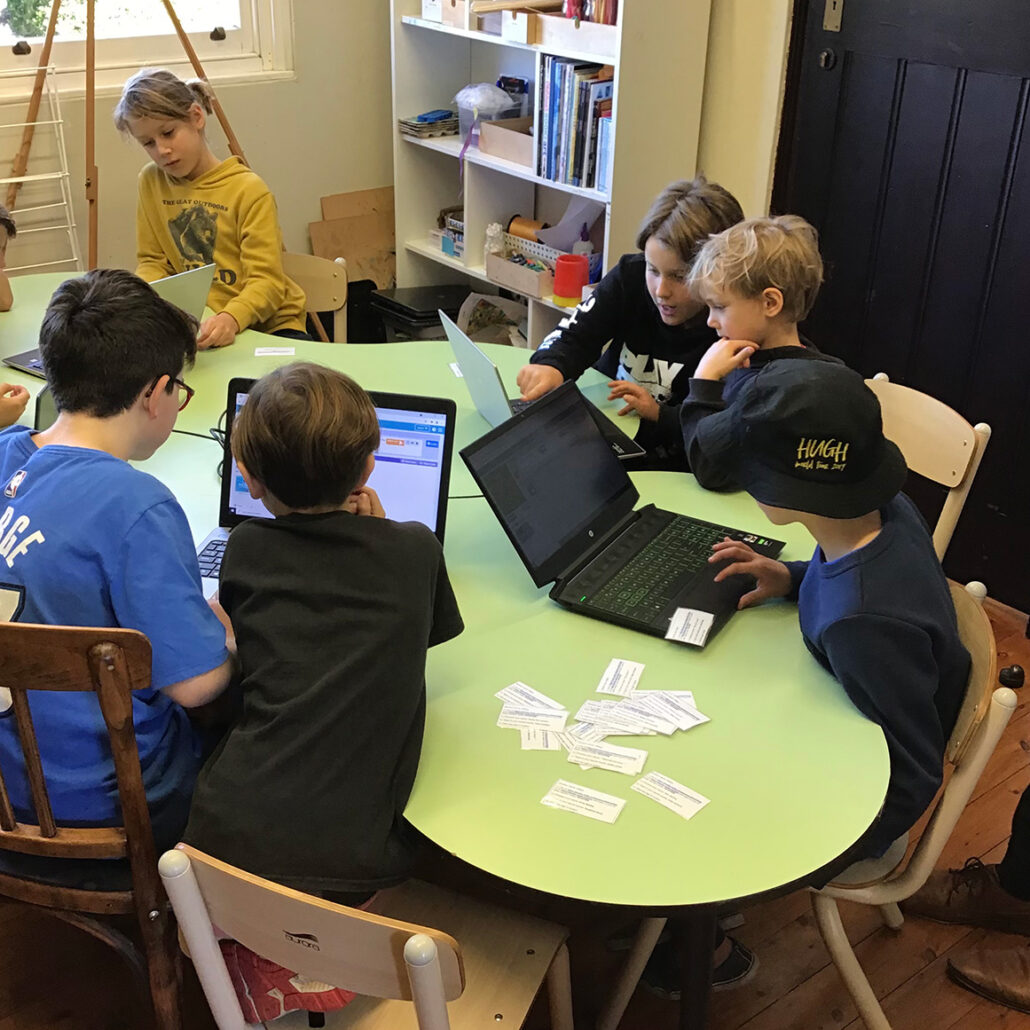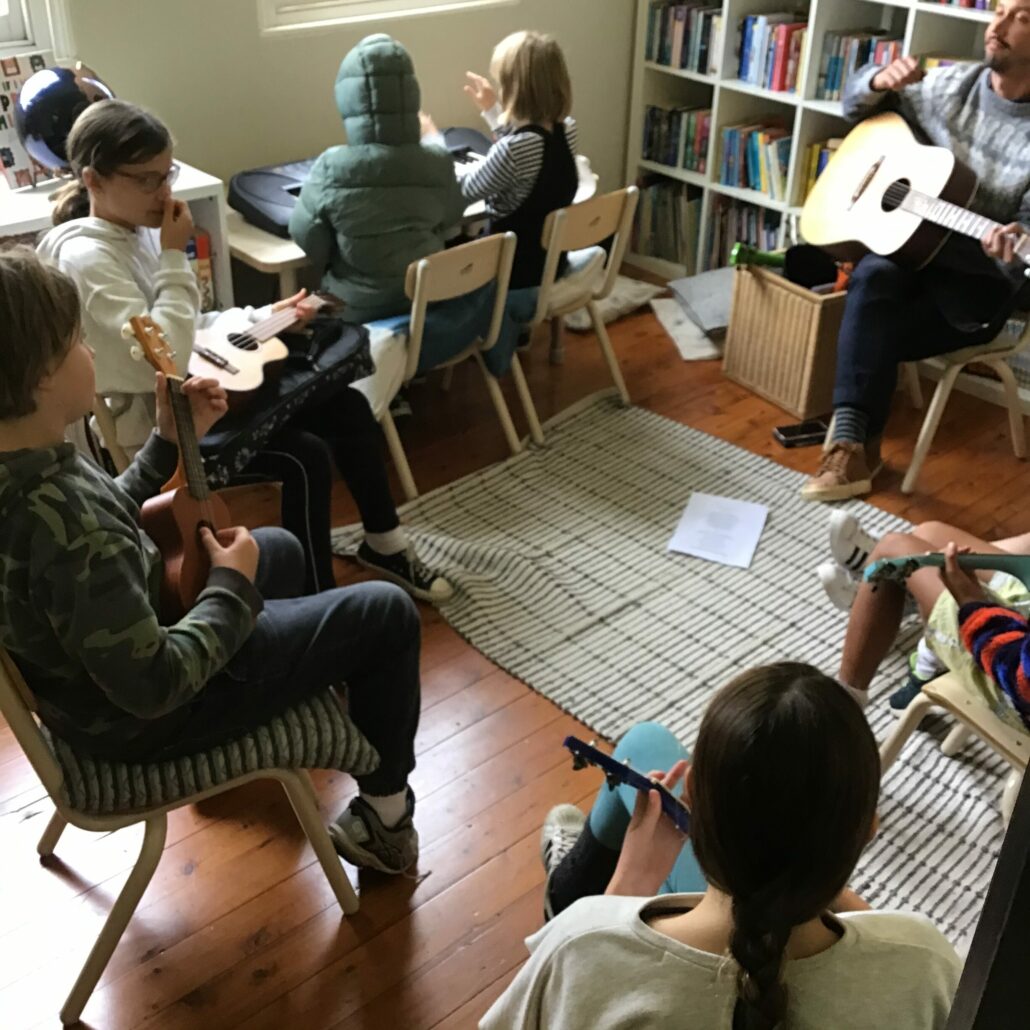 FARMHOUSE | PRIMARY OSHCARE
We have continued our Food Safari meets Cooking Club in Africa cooking Moroccan style Beghrir, also known as semolina honeycomb pancakes.  The yeast in the batter causes hundreds of bubbles to form and break on the surface of the pancake as it cooks, giving it a honeycomb appearance- hence the name. The kids are getting good at their measuring skills and collaboration, taking turns to mix it all up and taste test the batter!
We have also been working on our Reconciliation Week poster for the past week- it has now been entered into a competition among Primary OSHCare centres at different schools, fingers crossed! The kids completed their own sections of the poster that we put all together, representing our diverse community all coming together as one. The Rainbow Serpent, which is believed to be the Mother and creator of Life in Indigenous culture, is running through each piece of the artwork, representing what brings us together. The kids loved exploring Indigenous art and cultures over the week, and we will continue to develop this interest.
Next fortnight…
Tuesday 15th  Cooking Club- Turkish Gozleme with spinach and feta.
Wednesday 23rd  Walk & Explore
Tuesday 22nd  STEM Club
Friday 25th June  Last day of term!