2021 Newsletter Term 02 | Issue 02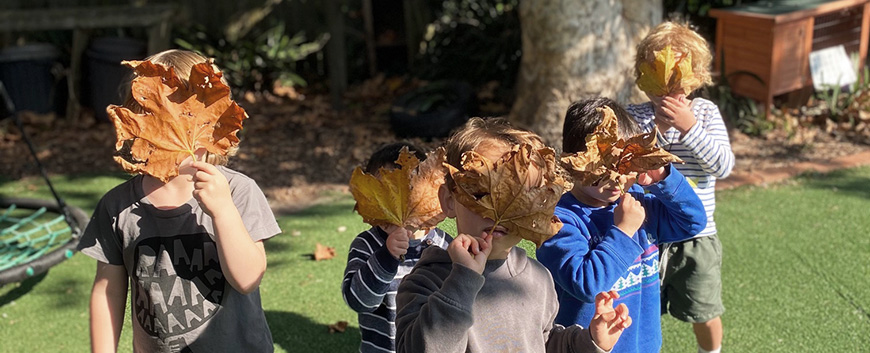 Upcoming events & Important Dates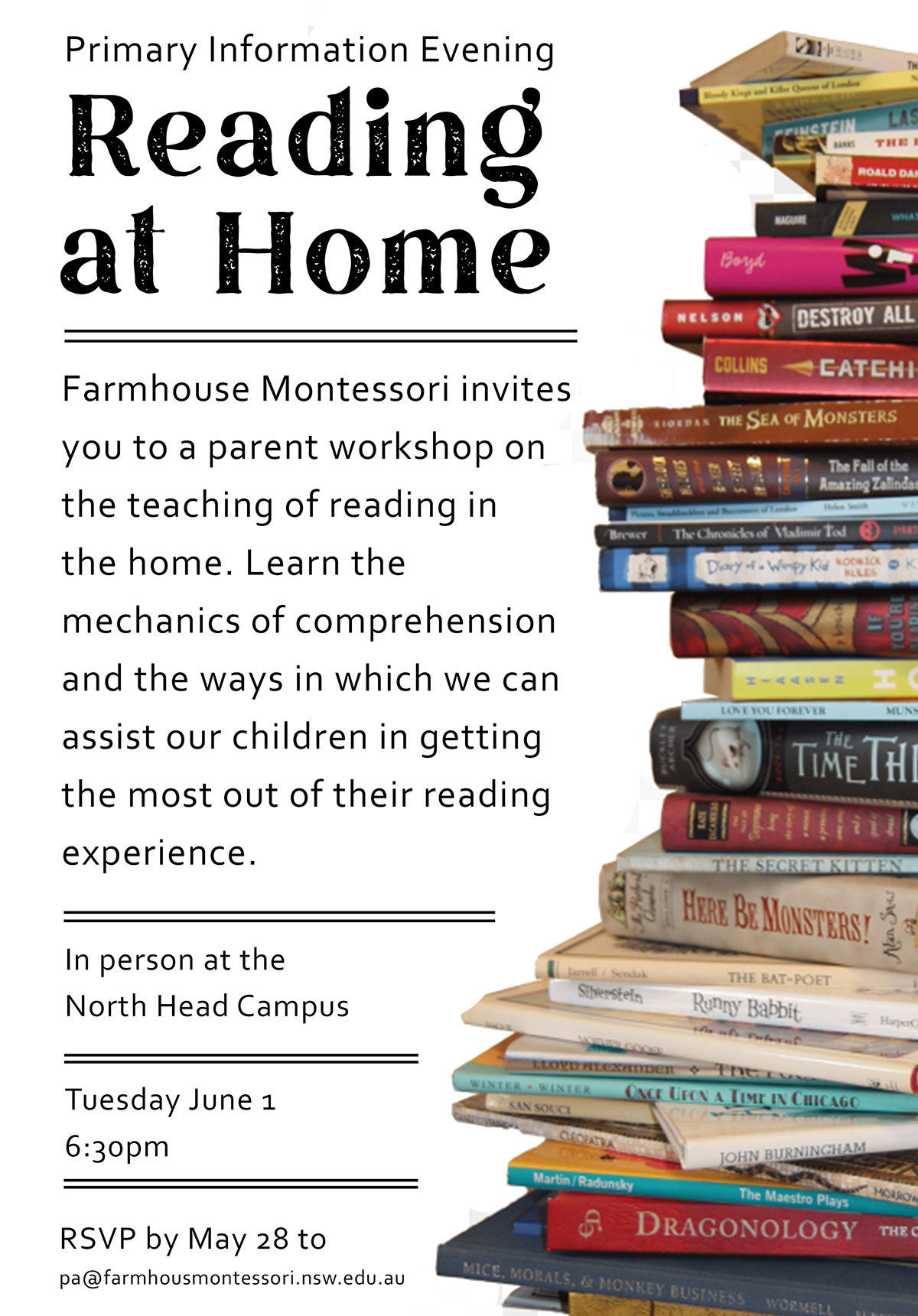 MAY
Mon 3rd – 7th – Parent Teacher Conferences Burbangana & Elouera
Thurs 6th – School Tour: Primary Campus 9.30am
Mon 10th – Fri 14th – Parent Teacher Conferences: Kindergarten & Cooinda
Tues 11th – Fri 21st –  NAPLAN
Thurs 20th – School Tour: Primary Campus 9.30am
Mon 24th – Fri 28th – Parent Teacher Conferences: Yani & Aikya
Tues 25th – School Tour: Preschool Campus 4.30pm
Tues 25th – Combined Sports Carnival (North Head students only)
Wed 26th – Sorry Day
JUNE
Tues 1st – Reading in the Home (Parent Workshop) 6:30pm 
Mon 31st – Fri 4th – Reconciliation Week
Thurs 3rd – School Tour: Primary Campus 9.30am
Fri 11th – Fees Due
Mon 14th – Queens Birthday
Thurs 17th – School Tour: Primary Campus 9.30am
Fri 25th – Last Day of Term
Click
HERE
to see further calendar dates.
Principals Message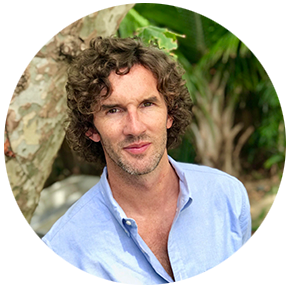 Dear families, 
I hope you are all well and having a lovely term so far.
Every morning at Farmhouse Montessori, we see children arriving with huge smiles on their faces eager to get into the classroom and get stuck into their work cycle. They run to school excited for what the day may bring, and why? Because they have had an opportunity to discover 'the love of learning.' 
Discovering the love of learning is no easy task. The prepared environment must be right — it must allow freedom within limits and the children must be allowed to have responsibility for their own actions. The development of this love comes from the way the Montessori philosophy allows for children to explore, to experiment, and to fail. When things go wrong, there is a deep reflection into what happened and why it happened. "How will we change it next time?" might be a question that a teacher asks.
But the secret for me is the understanding that while children are attending our school, they find their niche, their forte, or their passion. Lessons are delivered in a way that allows children to embark on a journey of discovery, and whilst on this journey they find what it is that they genuinely enjoy.
Once they have found this joy of learning, our job as a school is to make observations, reflections, and adaptations to the way our children are taught. Our goal is to find a child's inner passion and use this as a catalyst to scaffold future learning. Once discovered, the rest is easy. Links are made to all aspects of the curriculum allowing the child to feel that each day, they have a chance to work on something that makes their heart sing. Whether it's WW2, Turtles or Volcanoes, once observed, we find a way to make sure that these passions are somehow tied up within the curriculum.
And thus, our children come to school smiling and they leave feeling a deep sense of achievement in a subject that they chose. It is this kind of autonomy and independence that makes Montessori education so unique.
As Montessori said, 'Never help a child with a task that they are able to do themselves.'  And for us, deciding on a child's passion is no-one's task but theirs.
Have a wonderful weekend ahead.
– Gavin McCormack
ELOUERA | Stage 1 Infant Community
Some new friends have started  in Elouera this Term. The children have introduced them to the Daily making of our Bread. We start with labelling our utensils then begin the process .They are learning skills that will assist their independence, ability to follow a complex process and work as part of a team.
– Corinne, Debbie & Sarah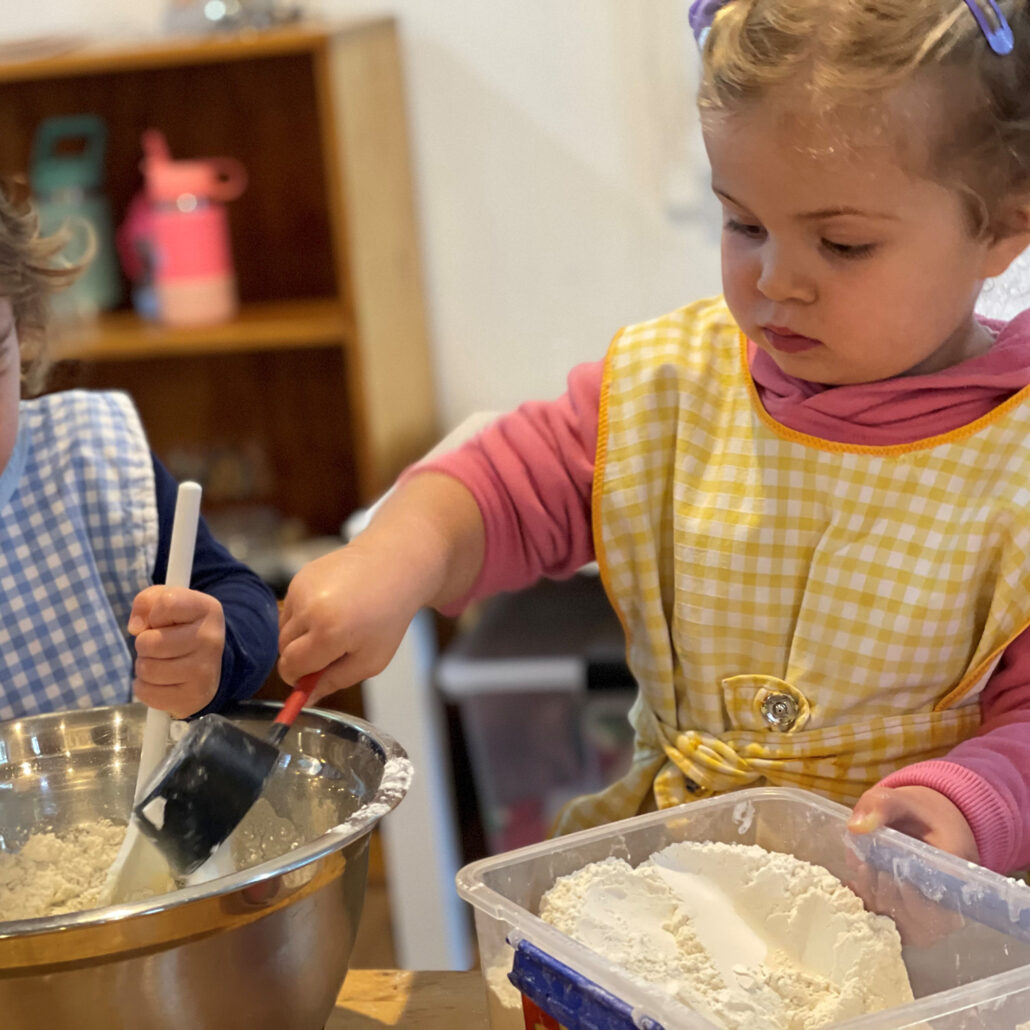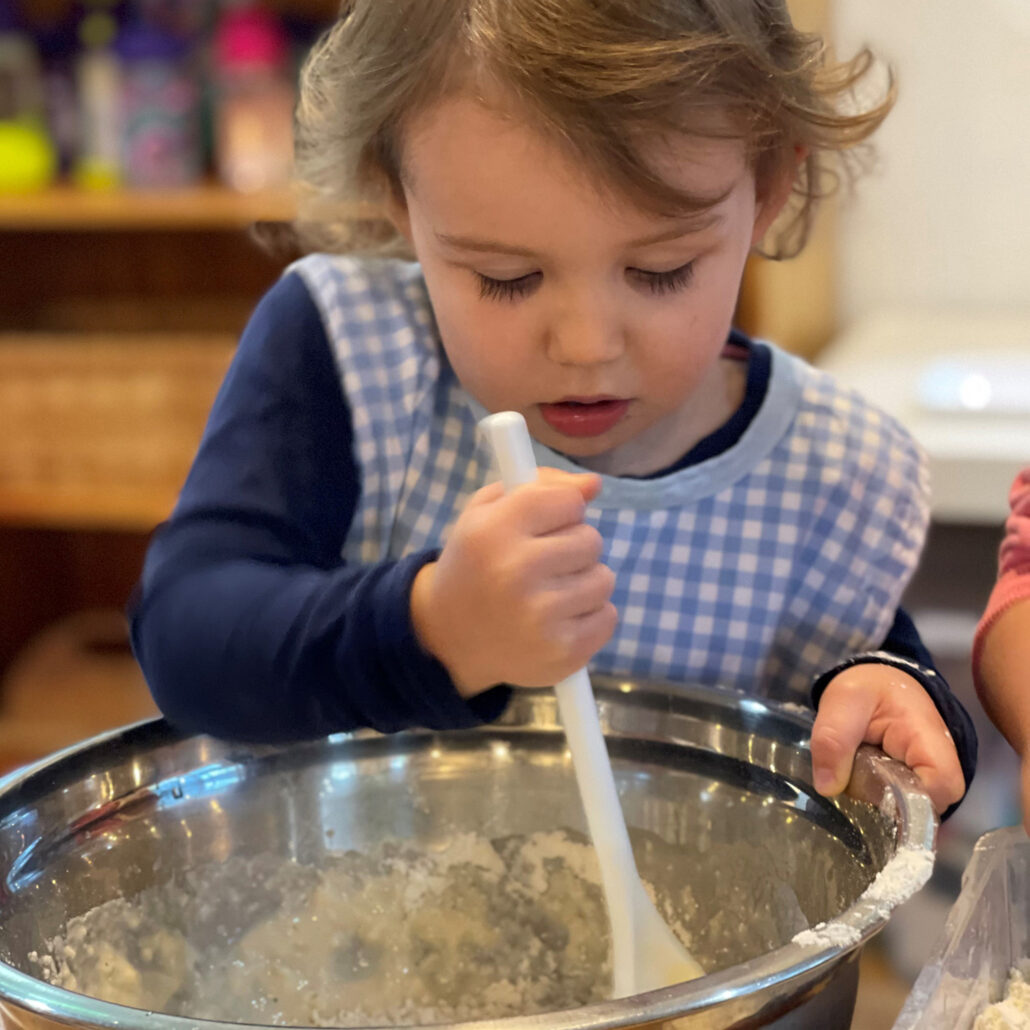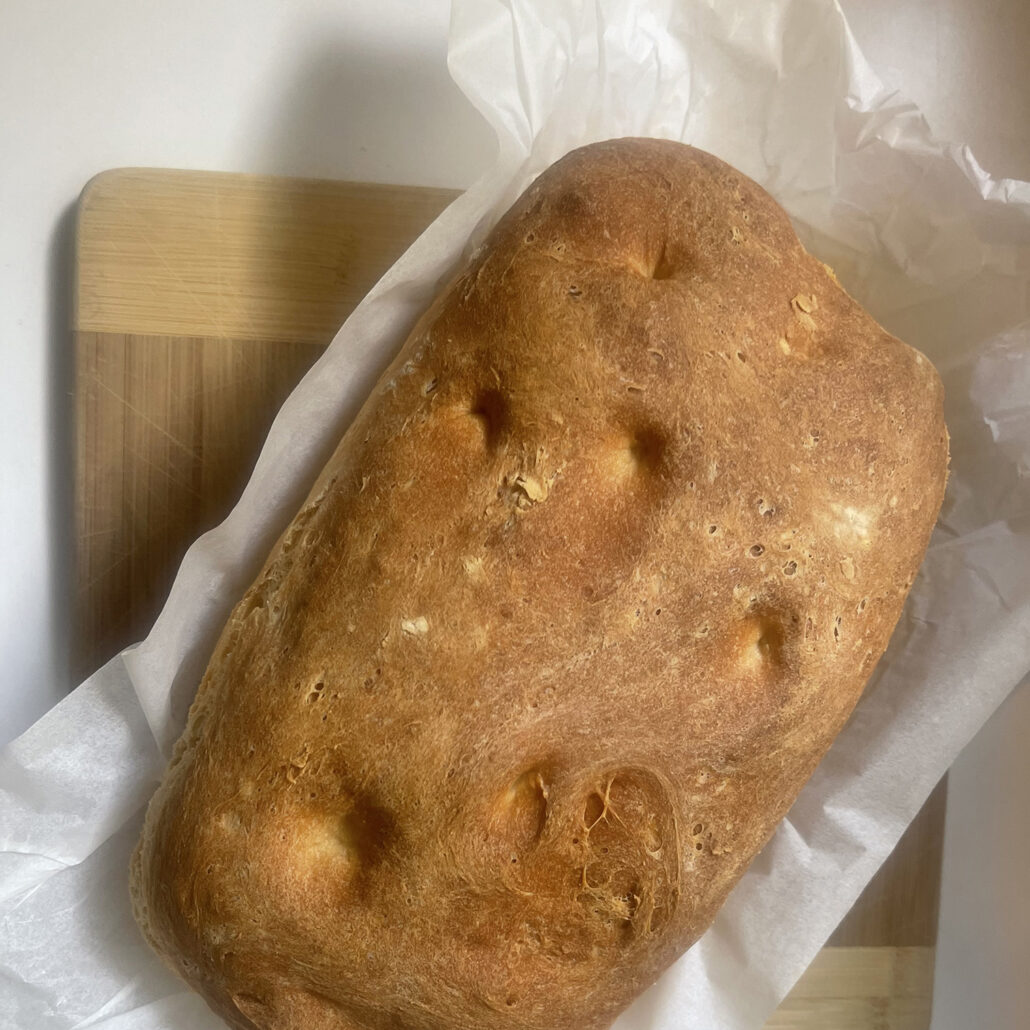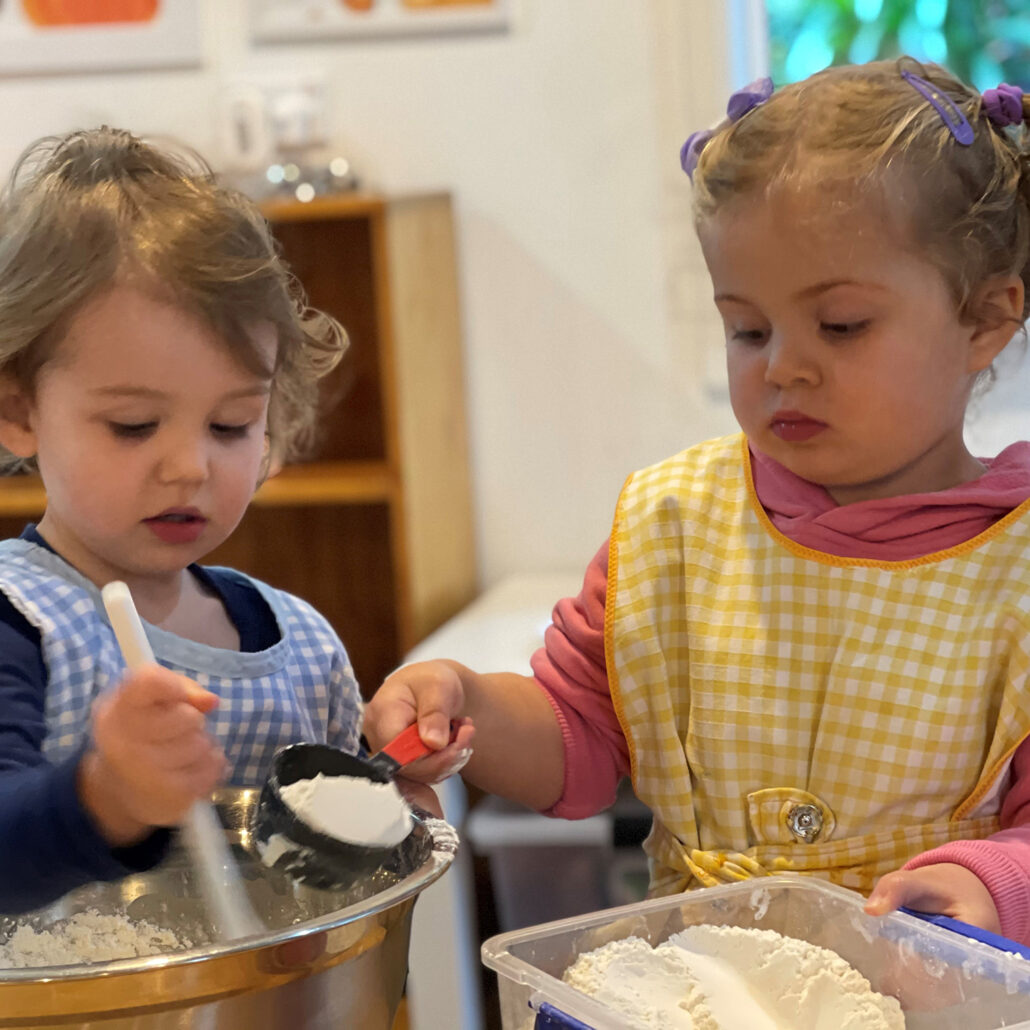 For the children, the marking of the seasons is a time of observation and a natural opportunity to learn about nature and animals.
In the playground, we have been watching as the leaves slowly change colour and fall to the ground. Leaves have been a topic of both conversation, art and science in the classroom. We have turned leaves into puppets, painted Autumn pictures, studied their veins and used them as stamps to create pieces of art.
We have also talked about changes in the weather and with it becoming colder, how plants and animals get ready for the winter. The children have also observed the changes in the clothes they wear, jumpers and coats, to keep warm.
Following the children's natural curiosity about seasons, nature, and animals can help foster their love for the environment and their place and time in our world.
– Amanda & Teresa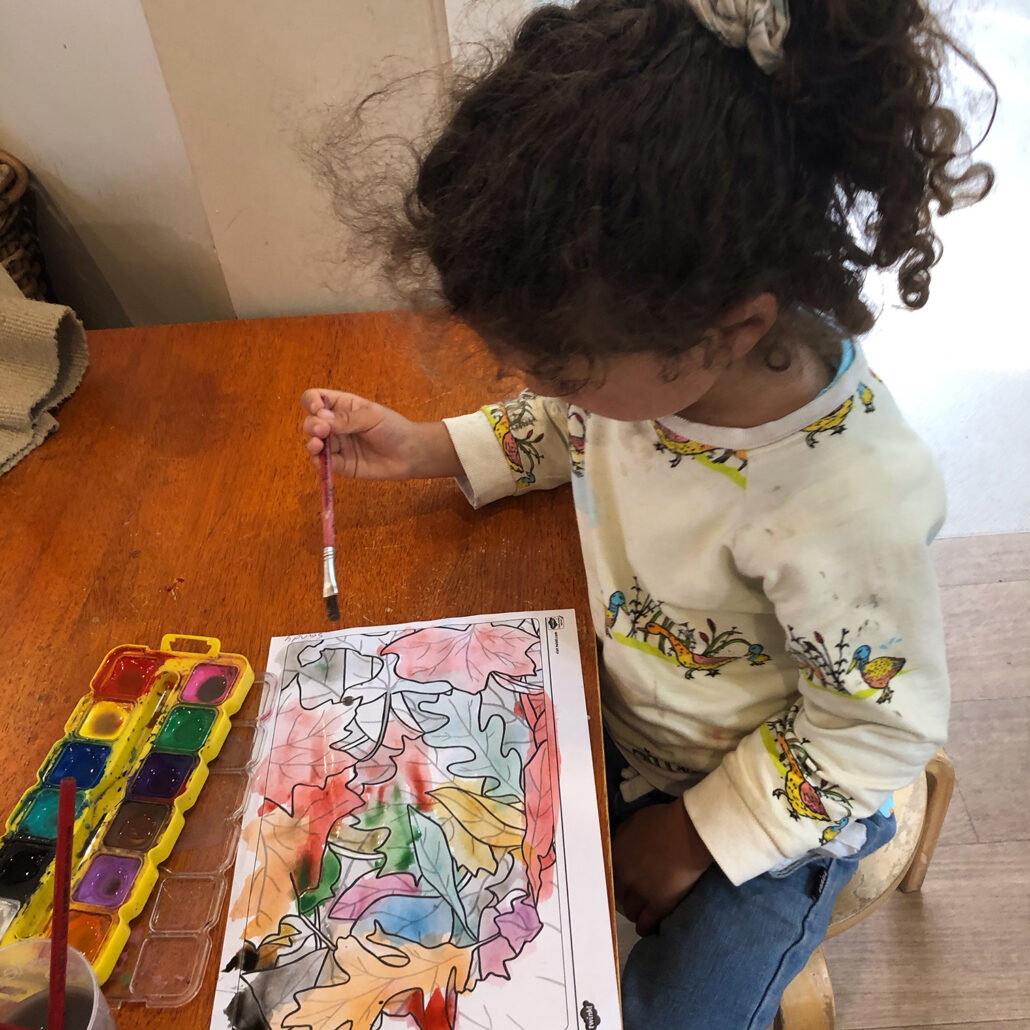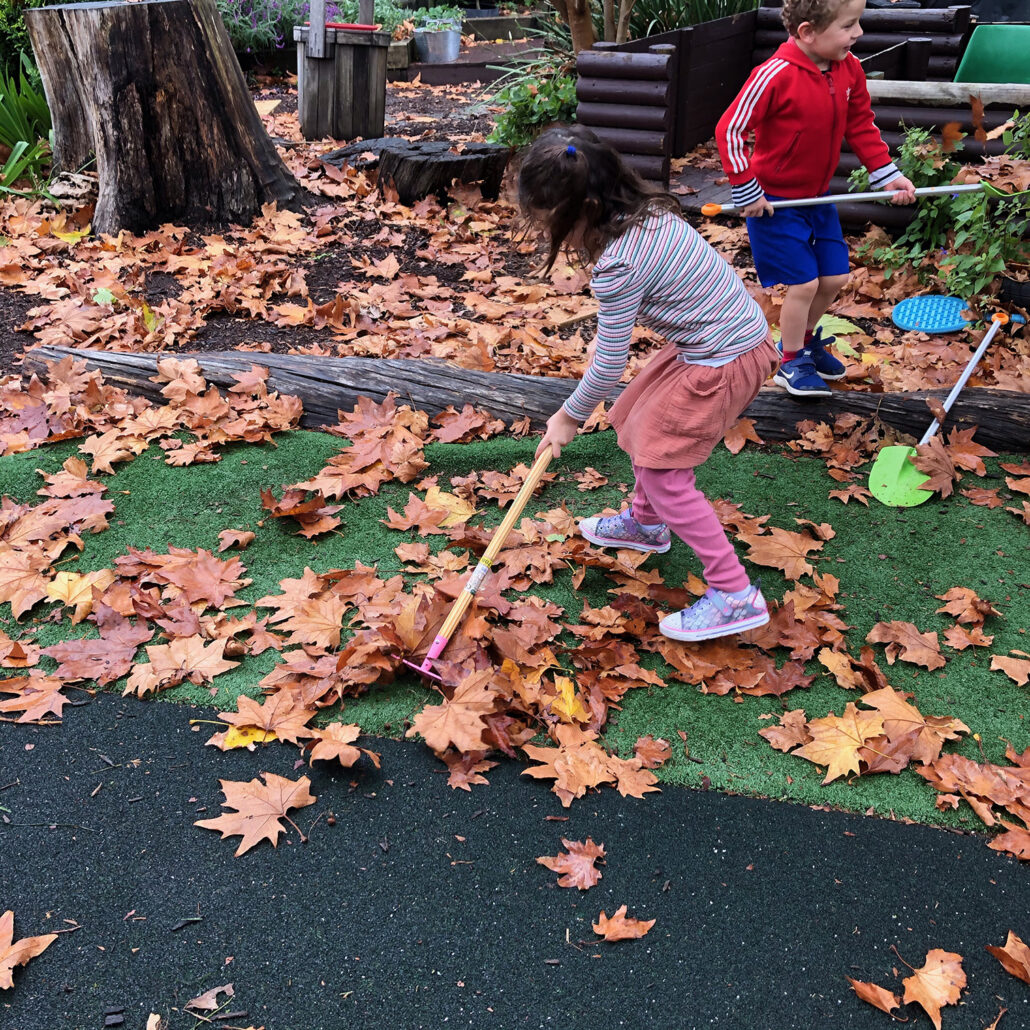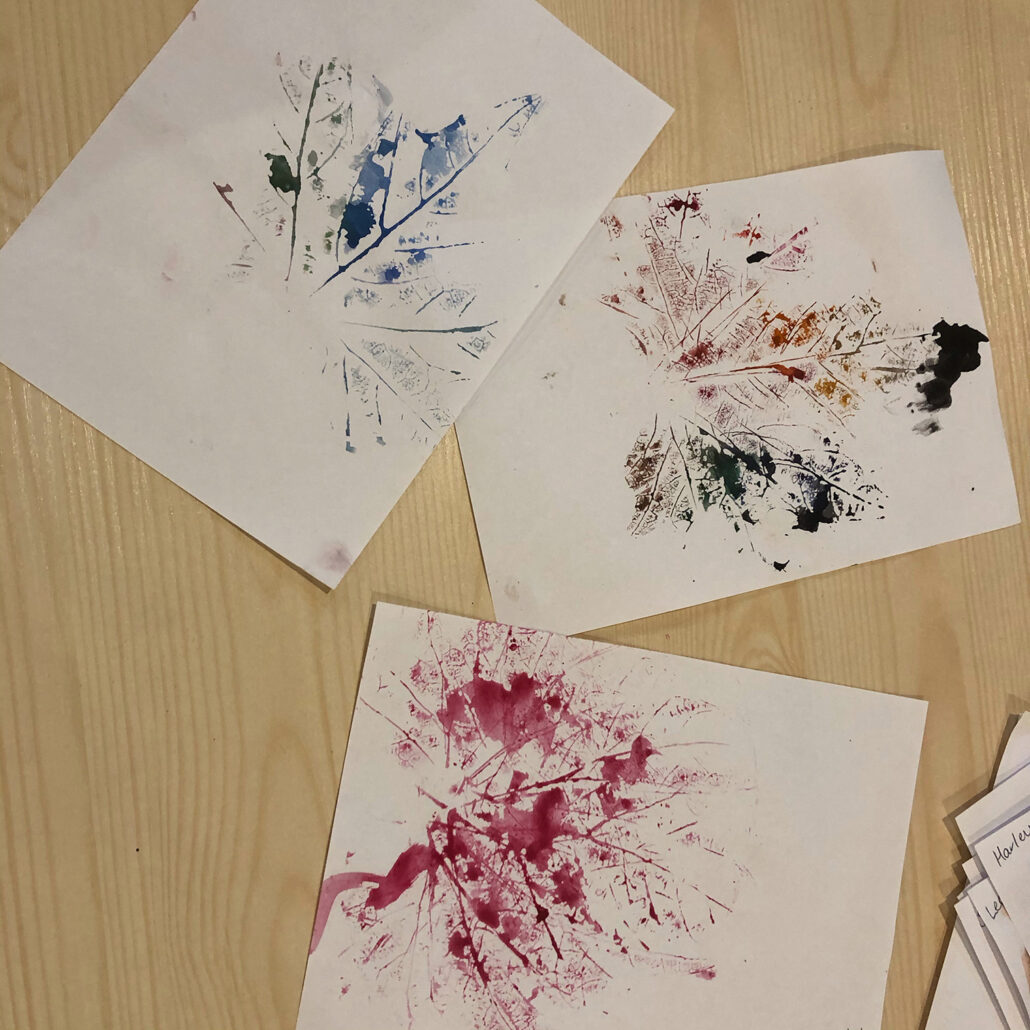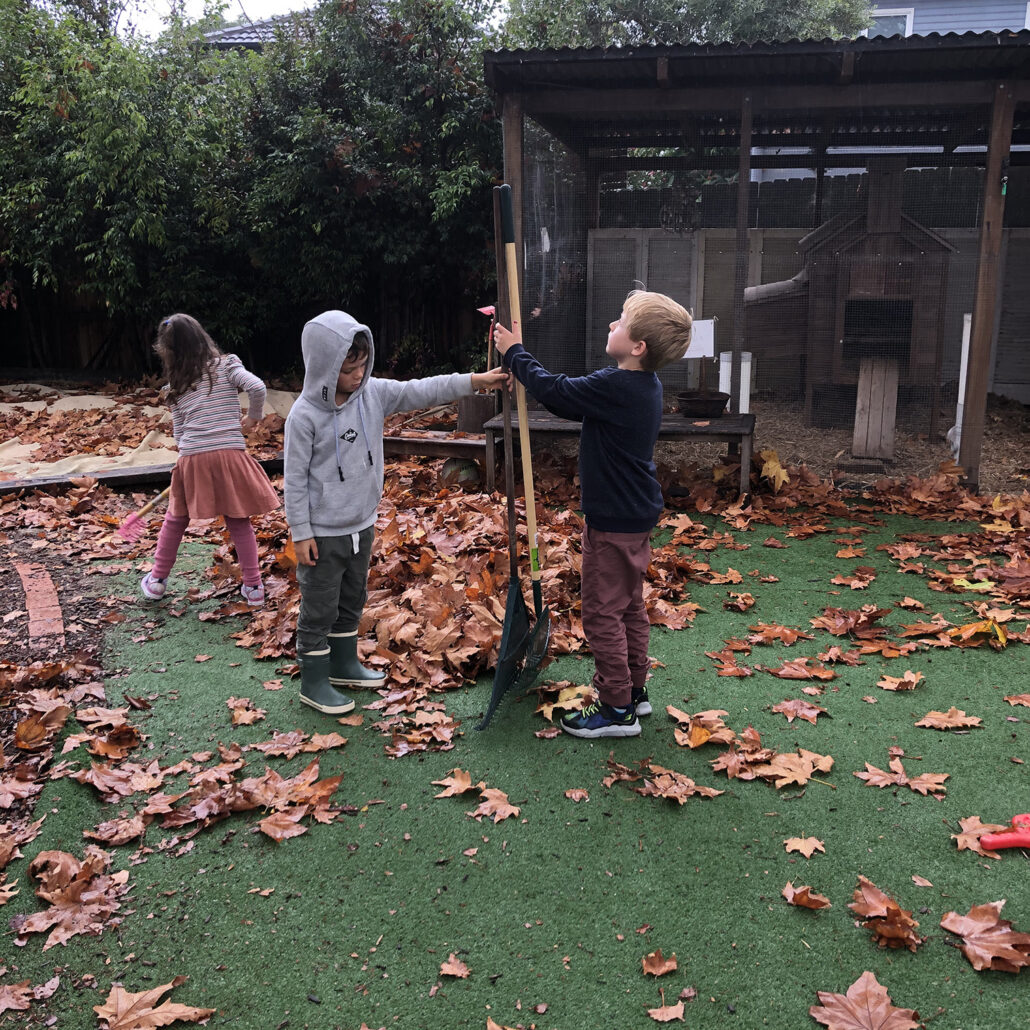 The Practical life curriculum in a Montessori environment is an area that looks like it is filled with simple activities. However, these materials have many complex aims.
The Practical Life area of a Montessori classroom covers two main areas of development: care of self, and care of the environment. In each of these areas there instils in a child a sense of order and independence. Children work with materials that allow them to take responsibility for their own well -being and the environment around them.
Although the child learns how to care for themselves with activities such as buttons, zippers and bow tying there are also other skills being refined such as sequencing, concentration, fine motor co ordination and an introduction to materials that reflect cultural diversity.
Care of the environment curriculum also allows the child to take responsibility of their environment. Maria Montessori describes this classroom as the child's house and showing children how to care for this environment allows them to take ownership of their school.
– Jenny, Jo & Angela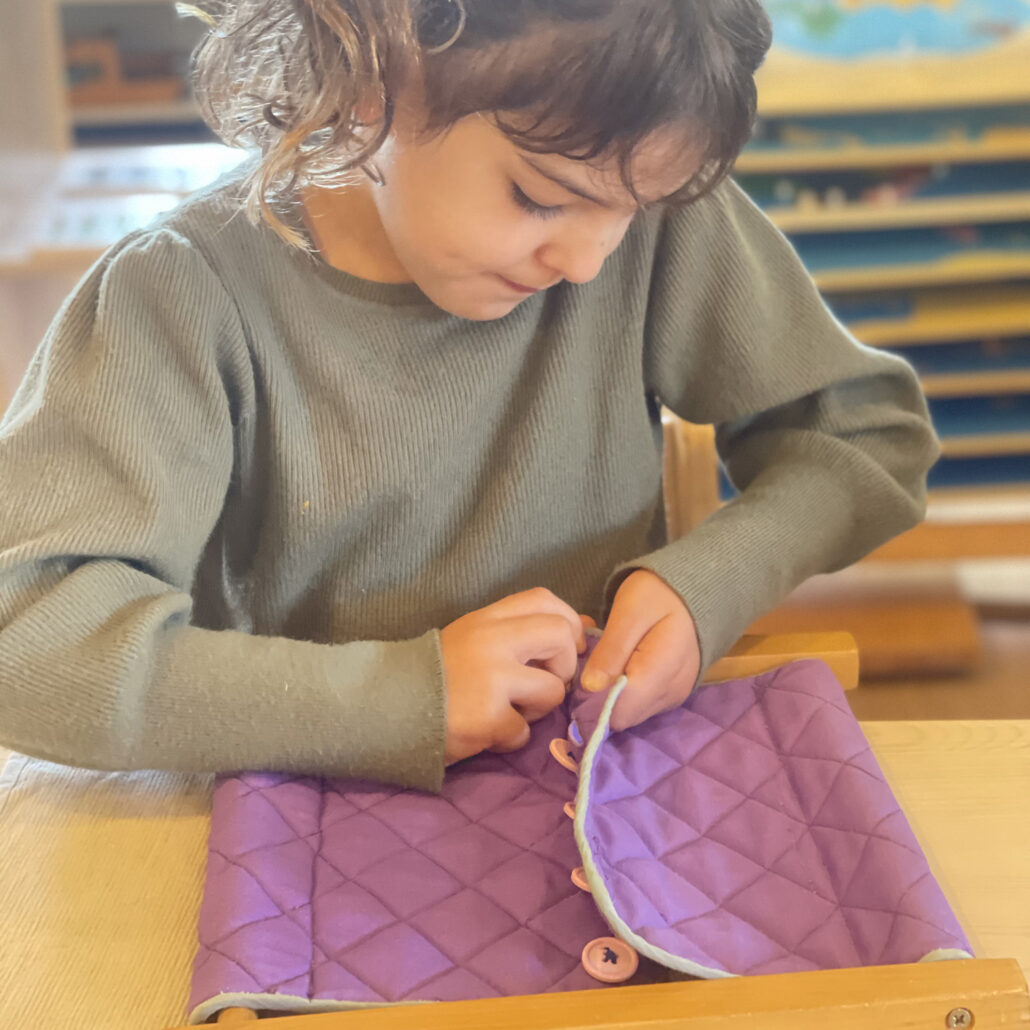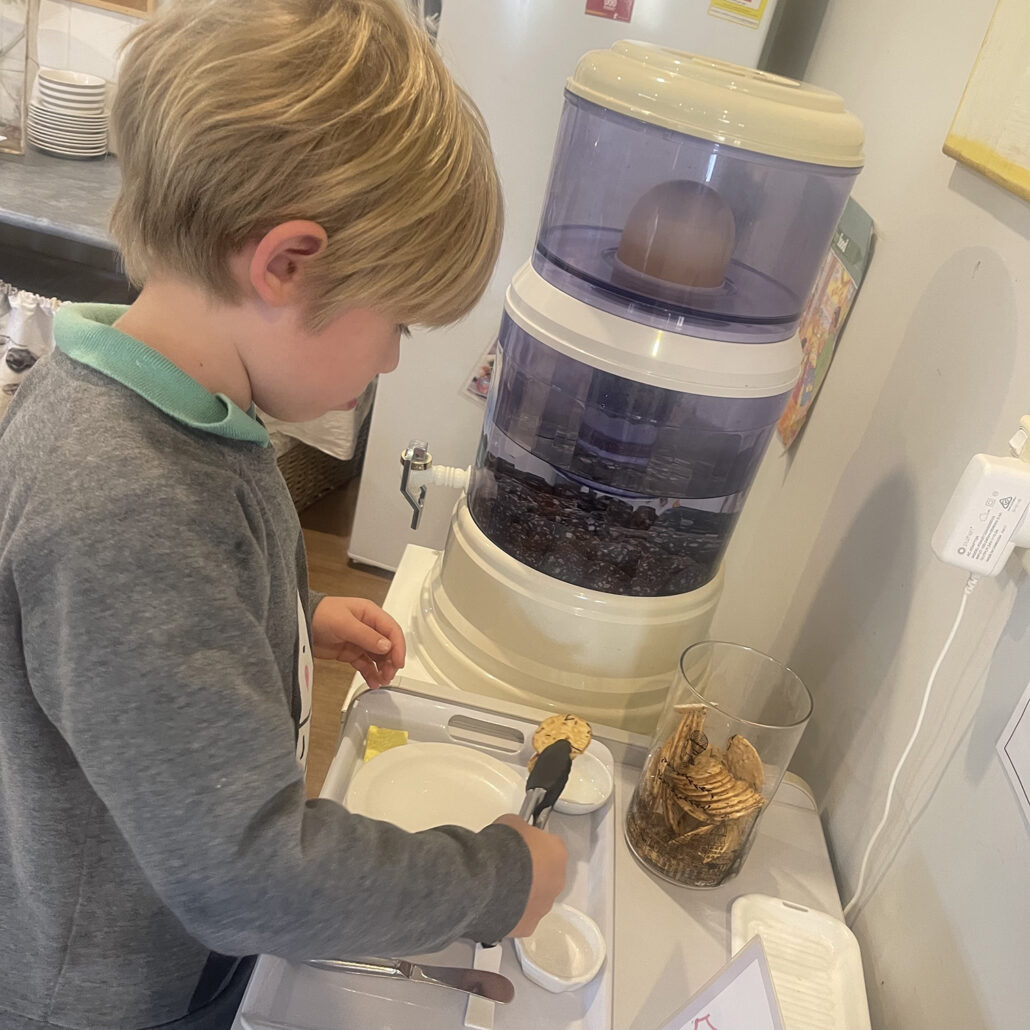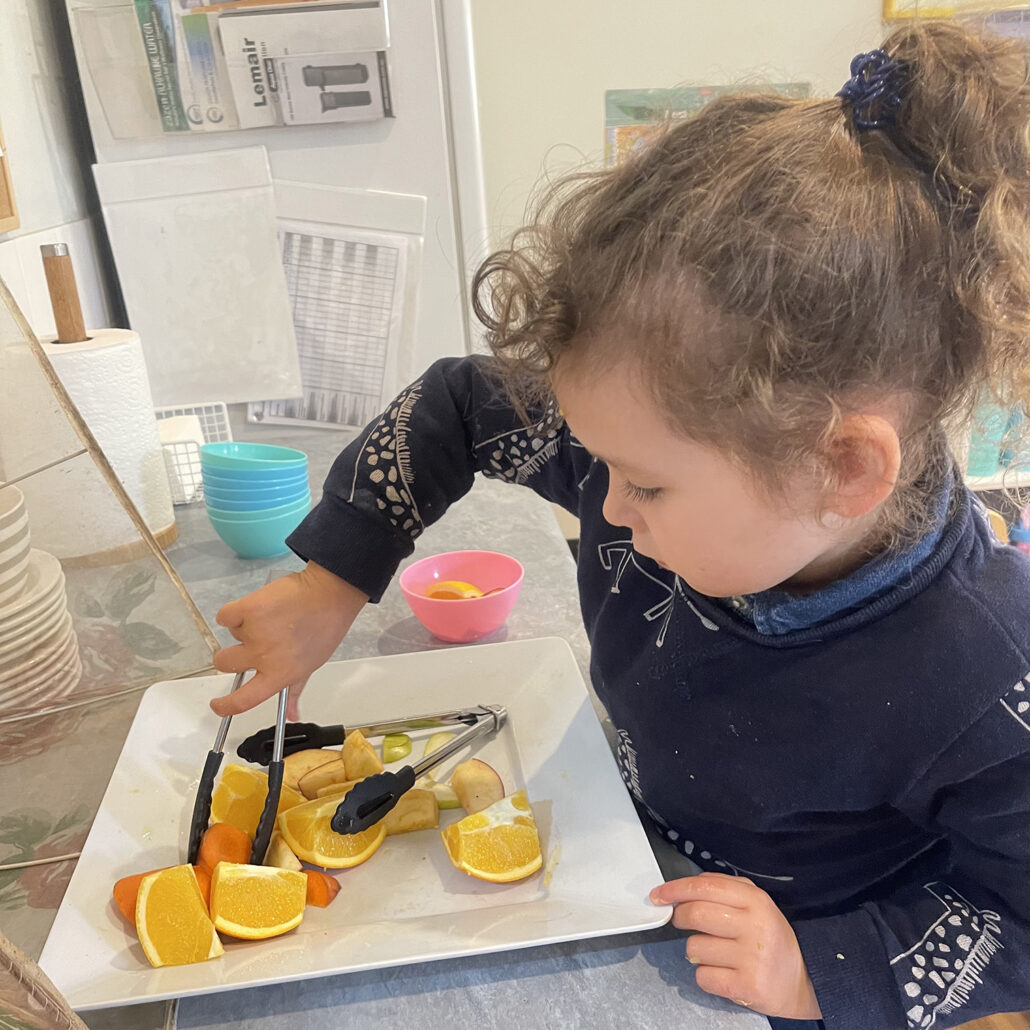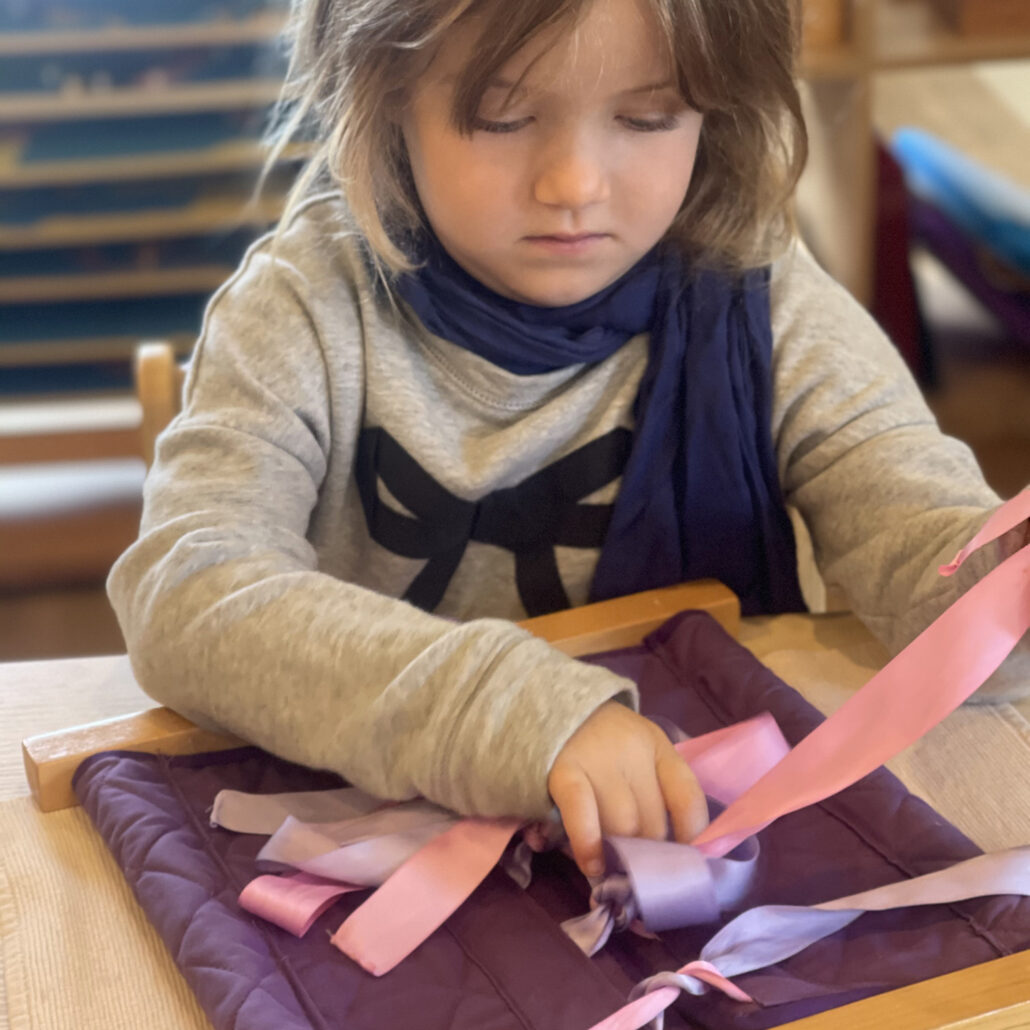 AMAROO | OUTDOOR CLASSROOM
Autumn is such a beautiful time of year to be outdoors.  We have been loving the colours of the trees and all the learning opportunities this provides.  Looking at parts of trees, why they are important to us, how we can look after them and even giving them a hug.  Children have also been very helpful raking leaves into piles so that everyone can have fun jumping in them.  We have examined the shapes of different leaves and created pictures with the sticks, leaves and seeds we have found on the floor.
– Dawn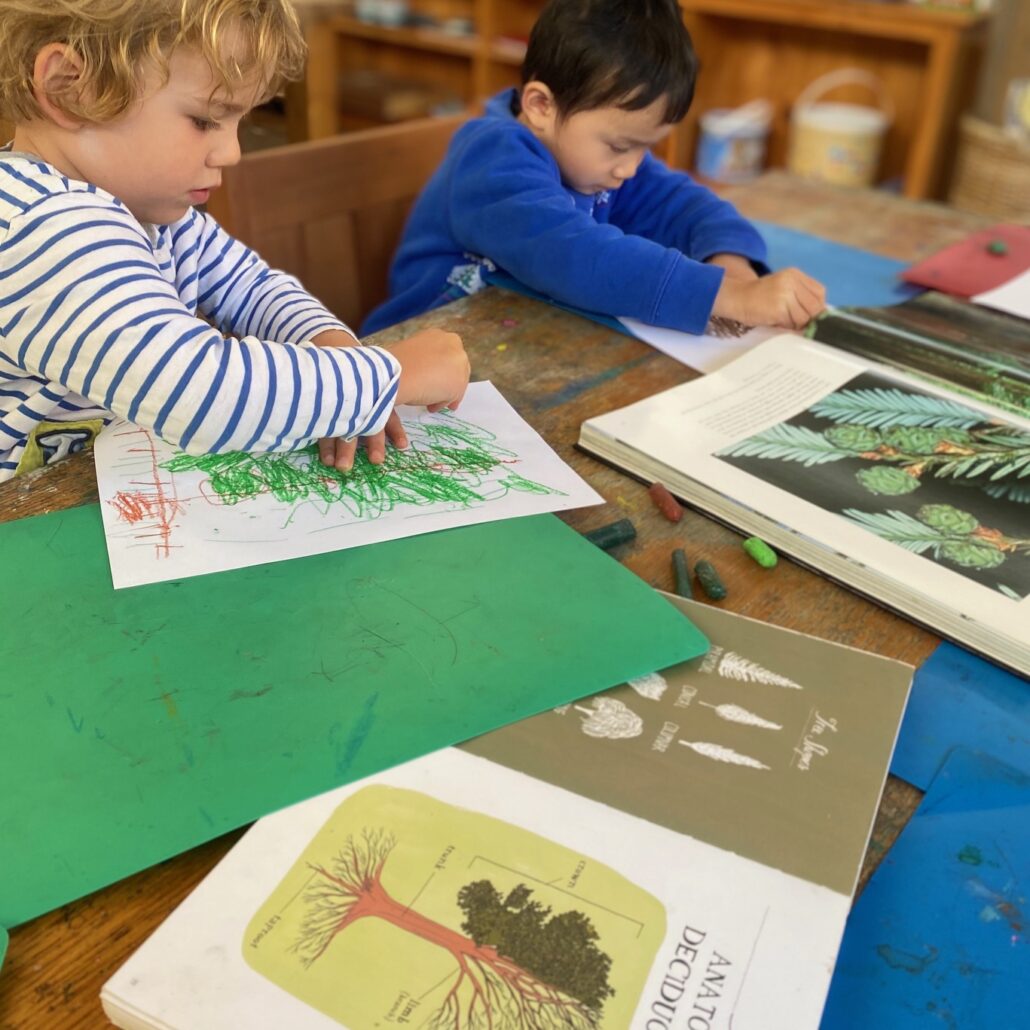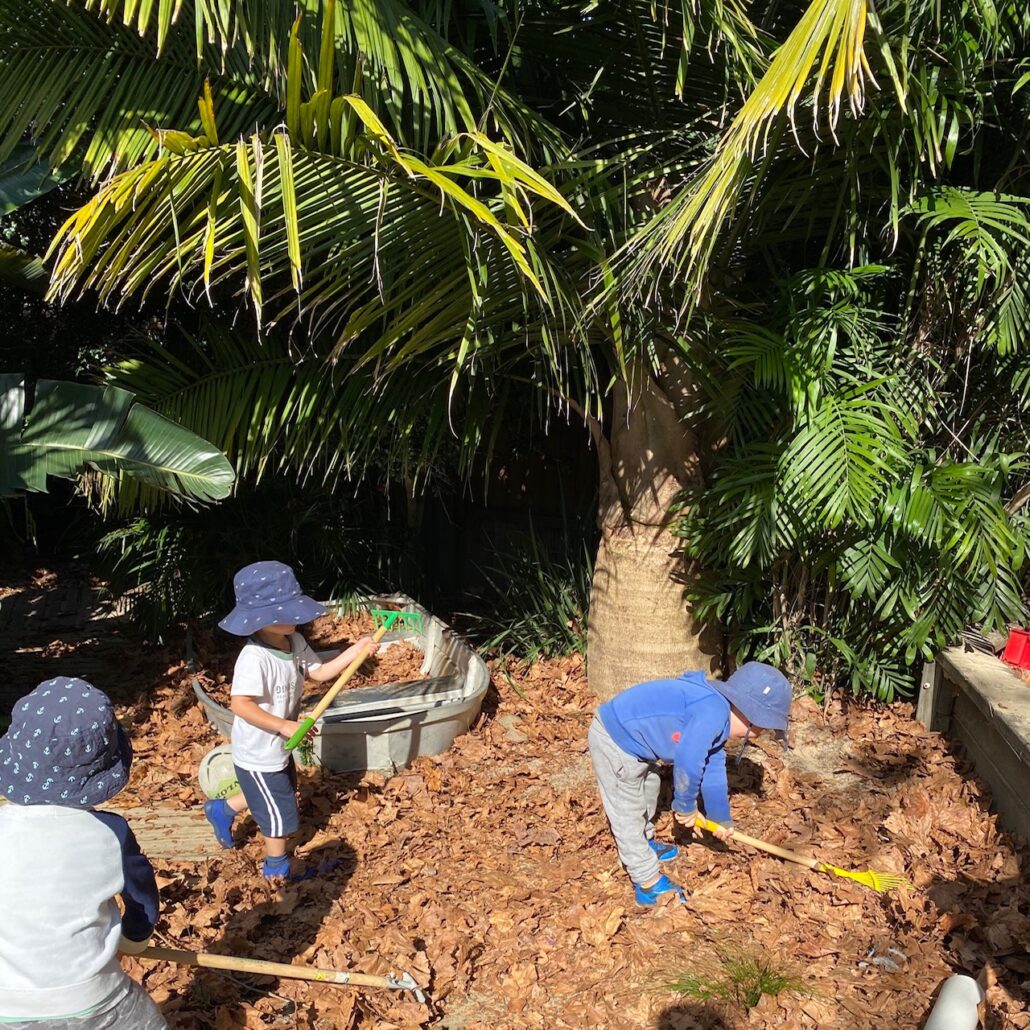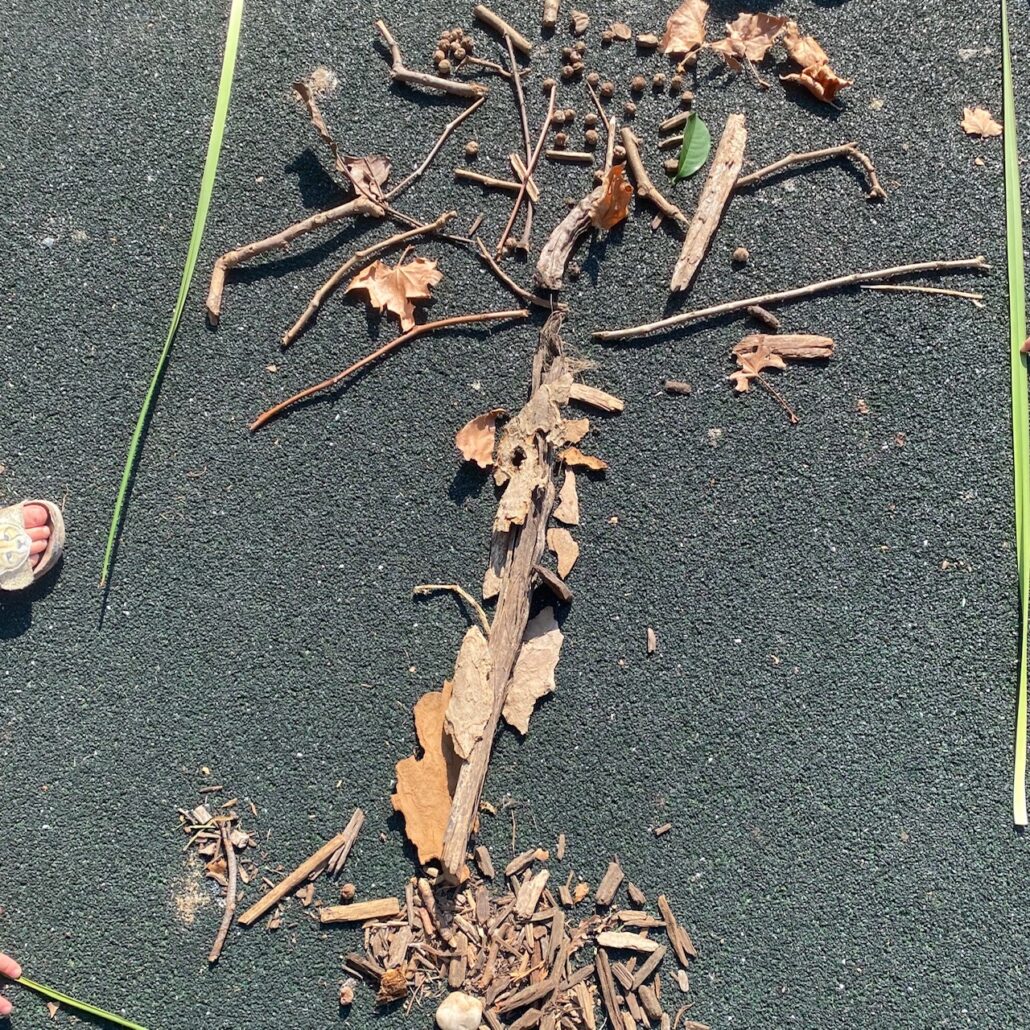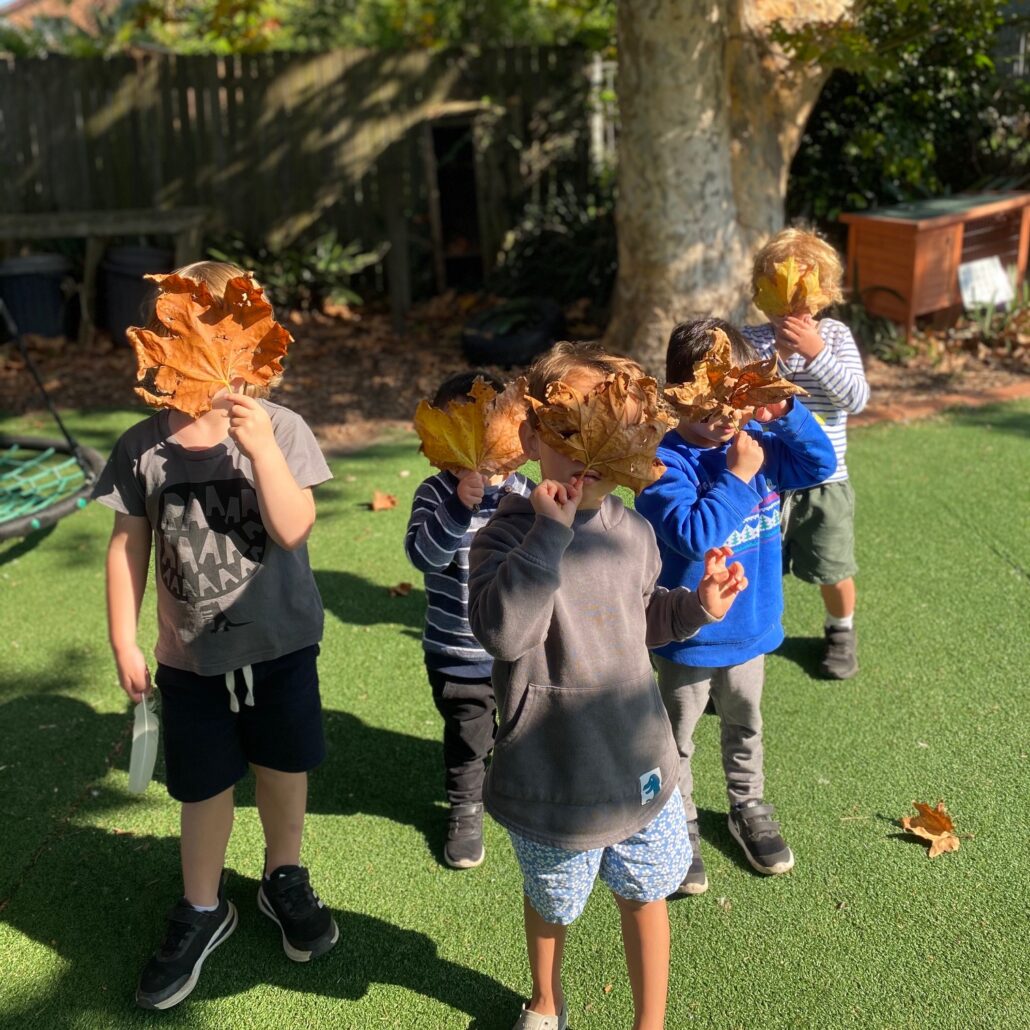 In the Montessori curriculum, Geography helps children to gain a sense of where they belong on Earth and fosters a love of oceans, people, animals and many beautiful environments. The Kindergarten children have been learning about and exploring our place in the world.  We have been discussing where we live,  what makes a place special and how we can look after places.  We have been looking at our local area on walks, states of Australia and where Australia is in the world. Our learning has been through exploring globes, maps and a compass.  By looking at google maps, we started to understand how to see places from above and the bird's eye view. This led to making maps of the classrooms and garden and to understand how to read simple maps.
– Elizabeth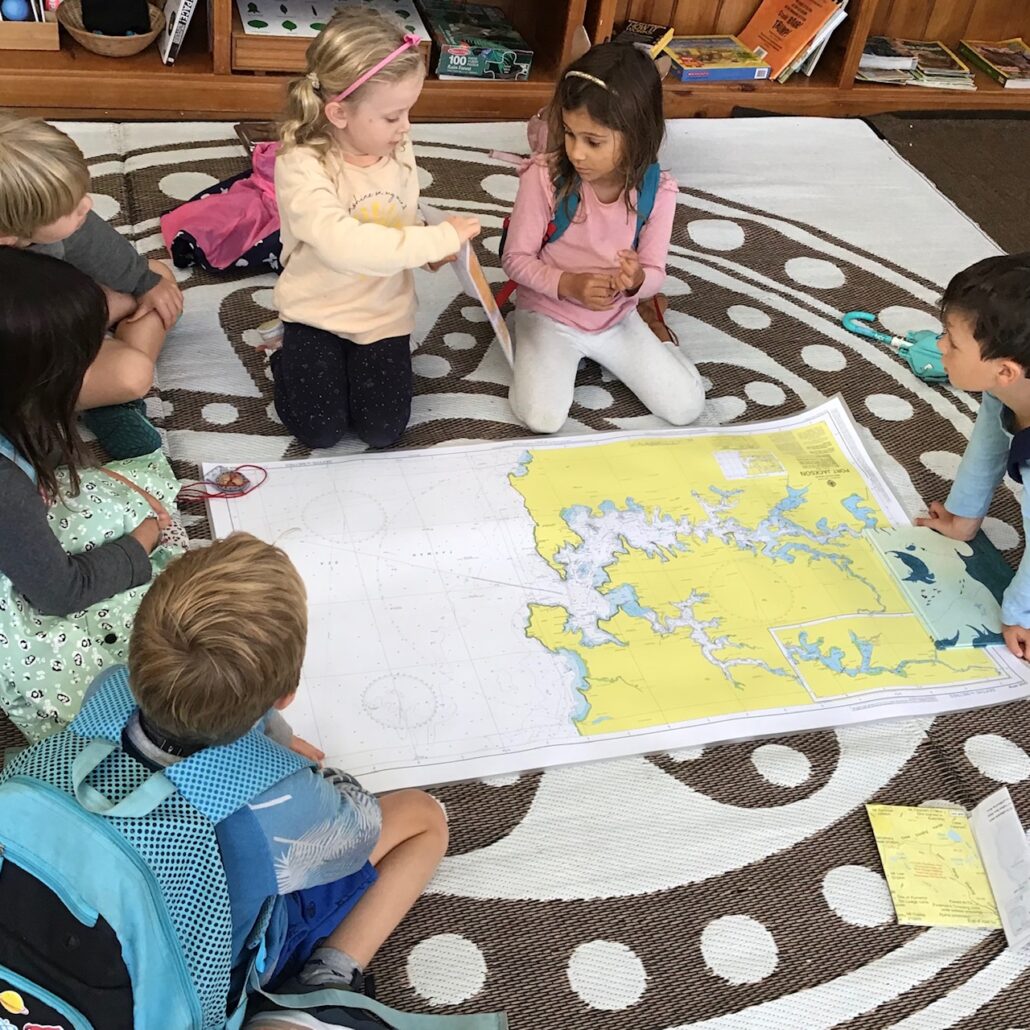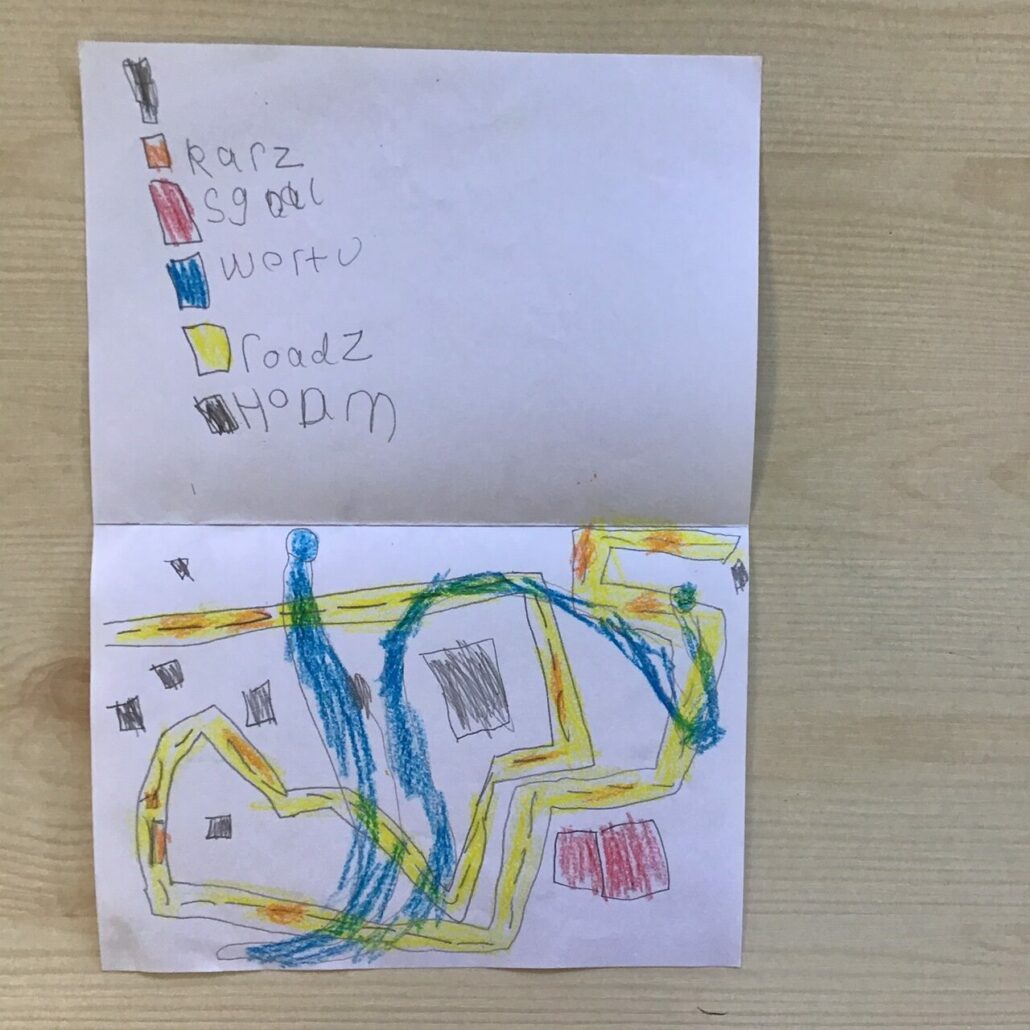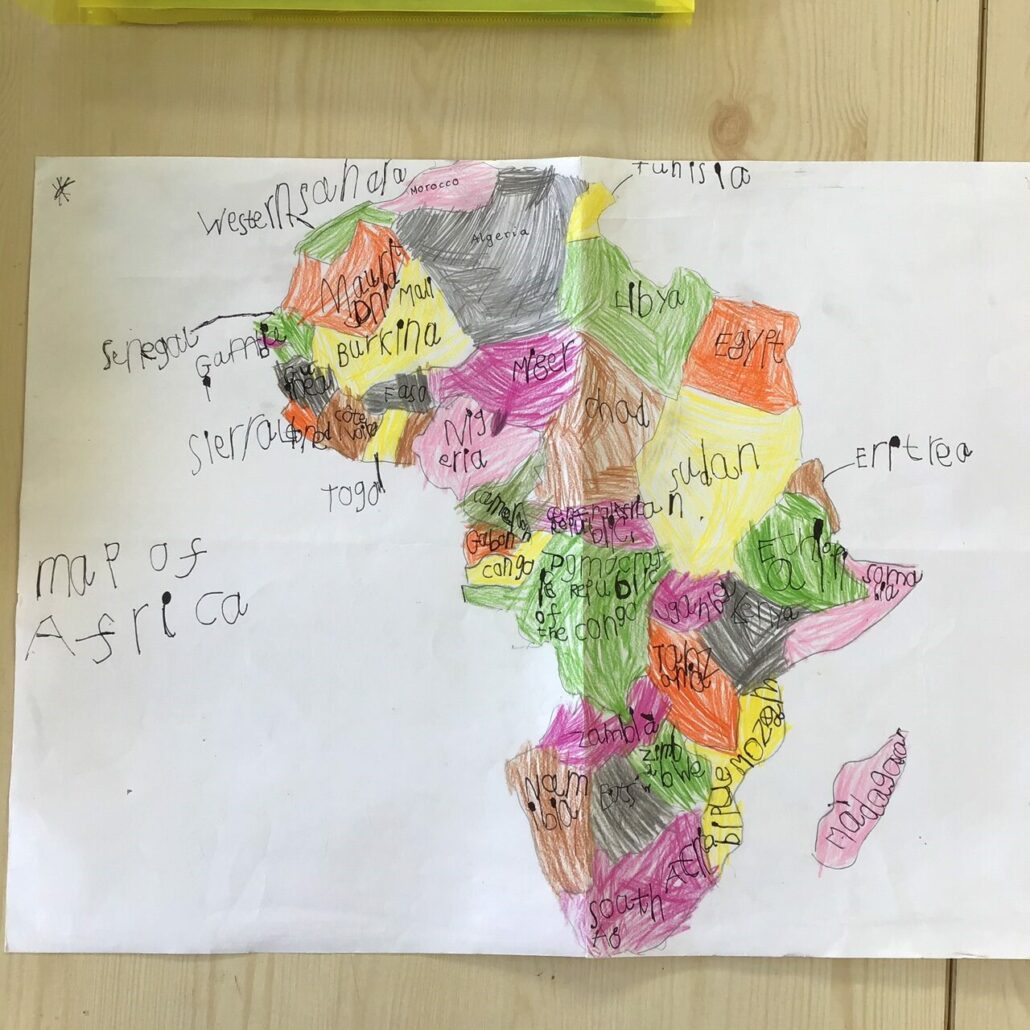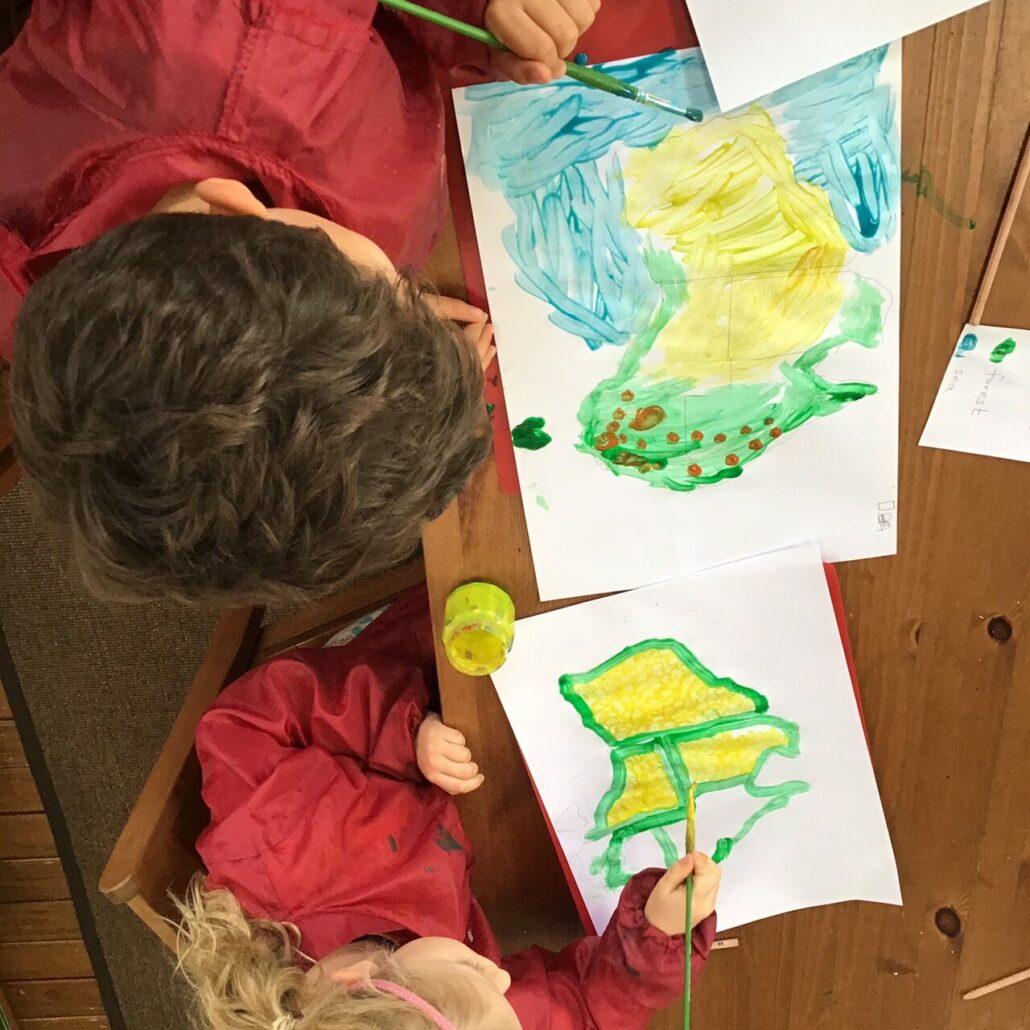 Nature provides one of the most significant driving forces of curiosity and exploration while offering rich experiences for children. For this reason, nature has always been an integral part of the Montessori learning process. Children appreciate nature and all that it has to offer as it contributes to their perseverance, problem-solving, critical thinking, leadership, teamwork, and resilience.
Dr Maria Montessori considered the outdoor environment an extension of the indoor classroom. According to her philosophy, the natural world provided endless possibilities for experiential learning. "Only through freedom and environmental experience is it practically possible for human development to occur," she wrote in The Absorbent Mind.
At North Head, we are lucky enough to be surrounded by a national park and engage with our surroundings at Aikya through regular bushwalks and some outdoor lessons this term. As the children have become more accustomed to our routines, class community and culture, it is a welcomed time to incorporate the surroundings with our learnings from class.
We welcome all our families to term 2 at Aikya as we continue our learning journeys.
– Harshitha, Toby, Thomas and Hannah.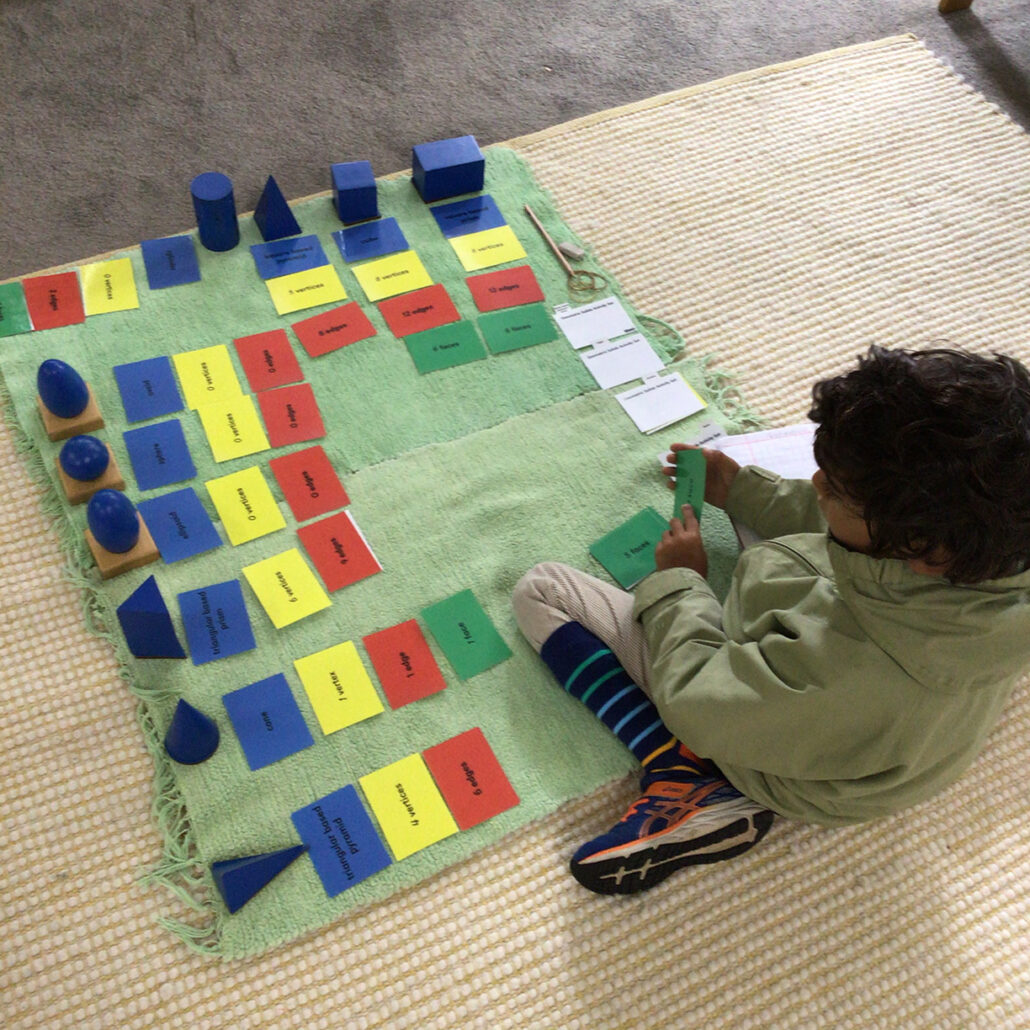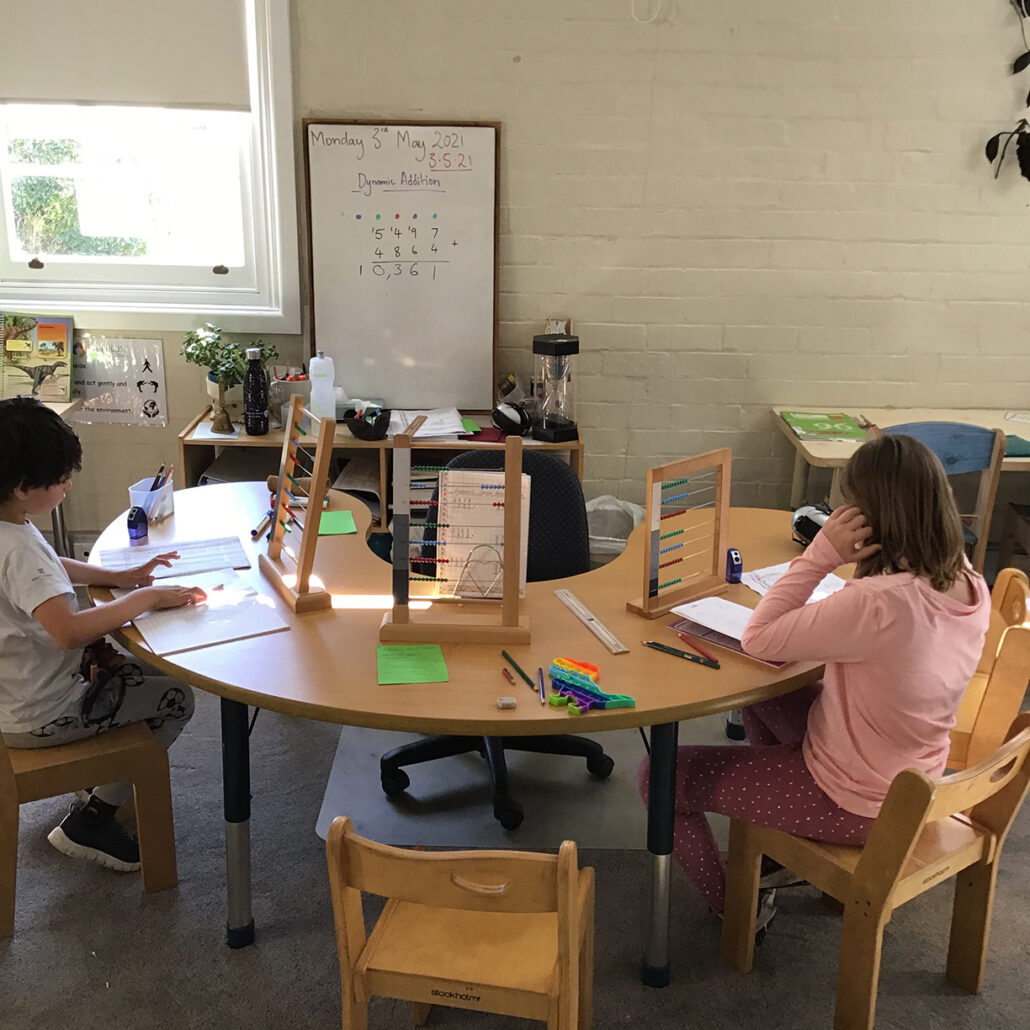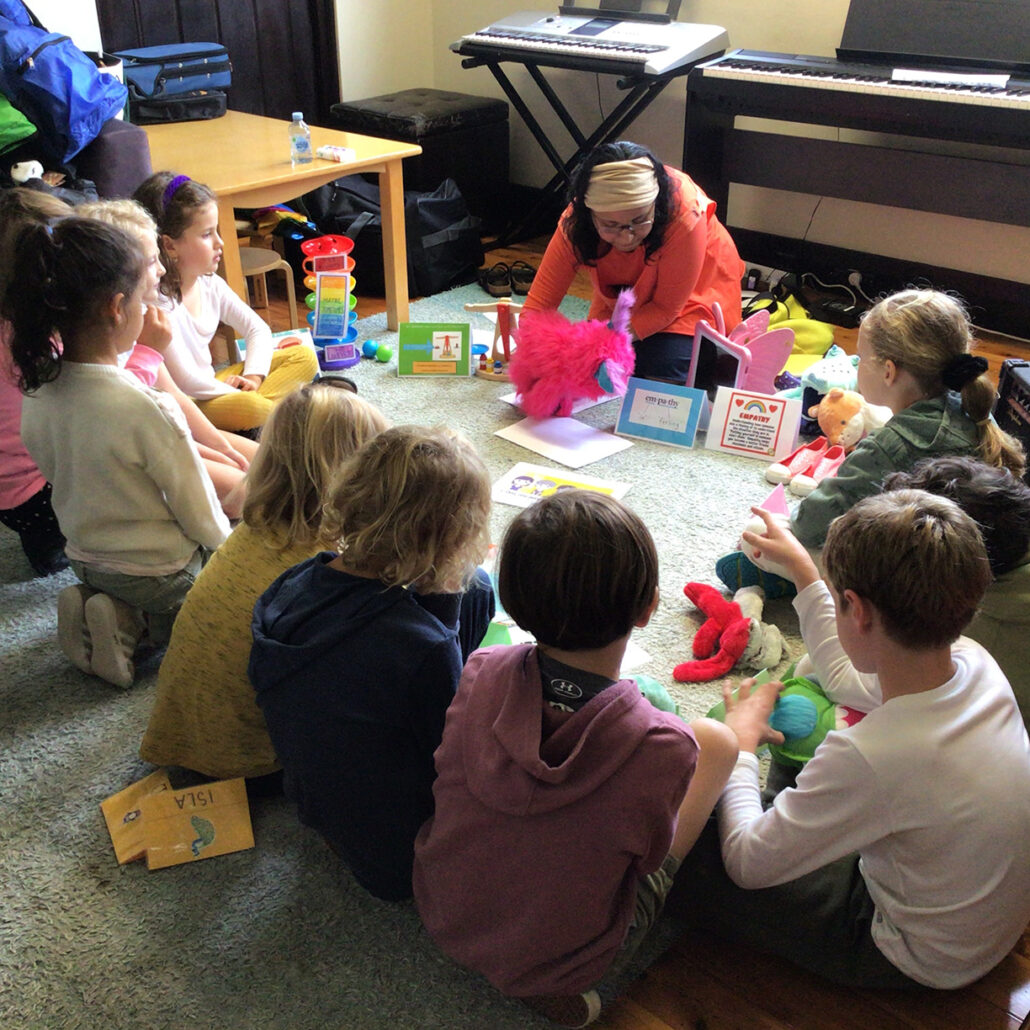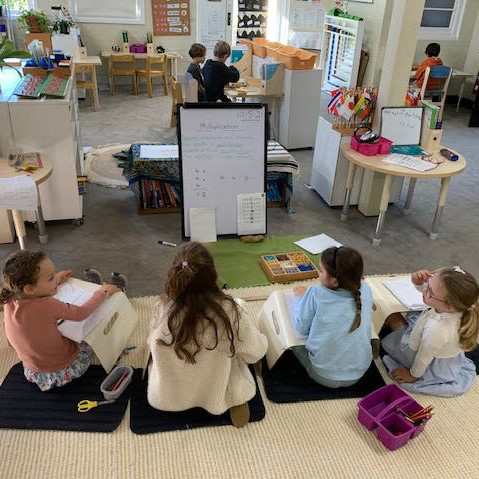 It was Havana's birthday last so we got to have mango sorbet for dessert so we had a bit of a sugar rush from the natural sugars and because it was raining we couldn't go outside to play to use up our energy. We decided to take advantage of the rainy weather and have a dance party for inside play. We danced and sang to 'let it go' and 'astronomia'. Every student got involved and we are already looking forward to our next rainy day so we can do this again, it was so much fun.
We've been working on the great wave picture and working as a team to help other students with their wave drawings, it has been a lot of fun learning all the teaching ideas and seeing everyone's own perspective on the great wave.
We started Ethics with Renee last week and the topic was about our childhood. We discussed what was the best part of their childhood, we heard amazing and interesting stories. Everyone was laughing and had a lot of fun by the looks of it, it was an amazing experience of what everyone does with their families and what their hobbies are.
Today we saw a big echidna walking around school. There have been many around lately and we love to watch them. Sometimes we find holes in our playground from echidnas digging for ants. Our teacher heard something rustling in the leaves and freaked out because she thought it might have been a snake, it was so funny. They are fascinating animals and it was so cute.
By Havana and Darcy
– Laura & Jessica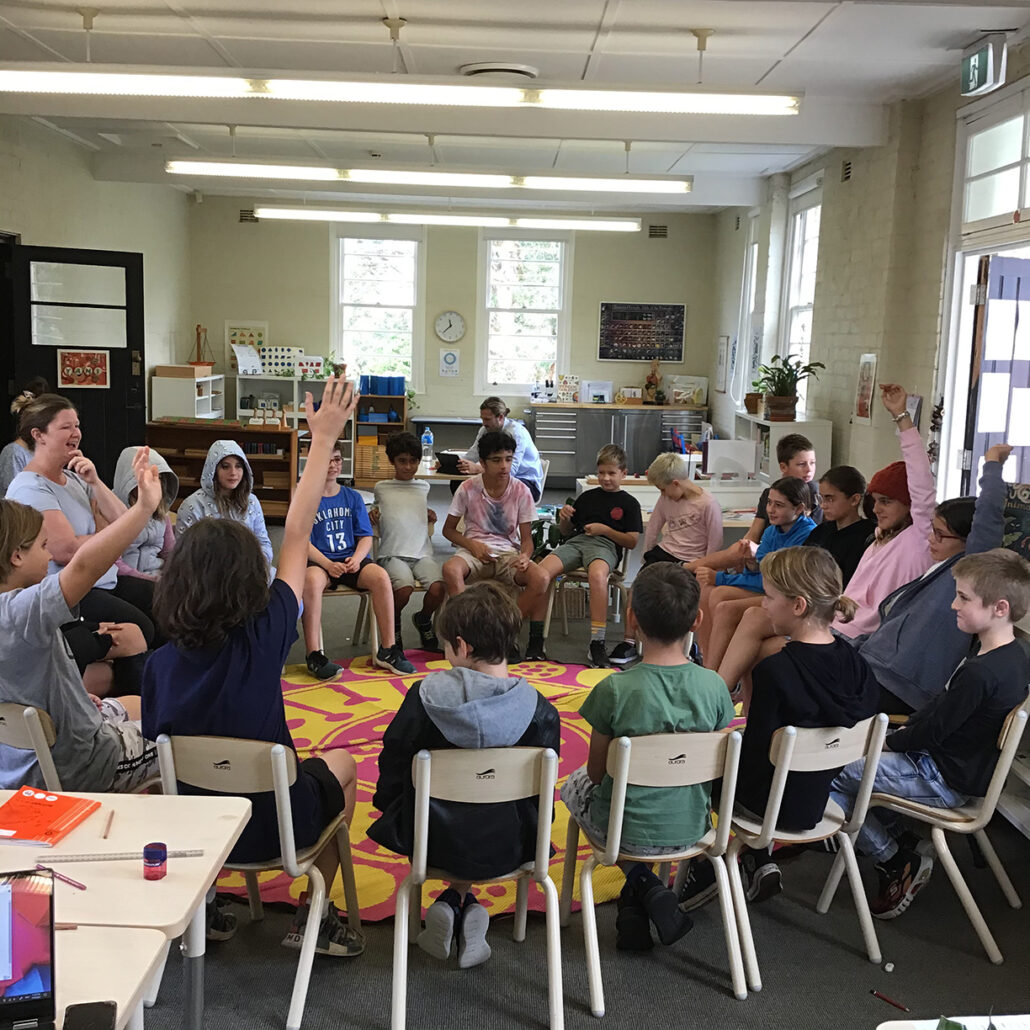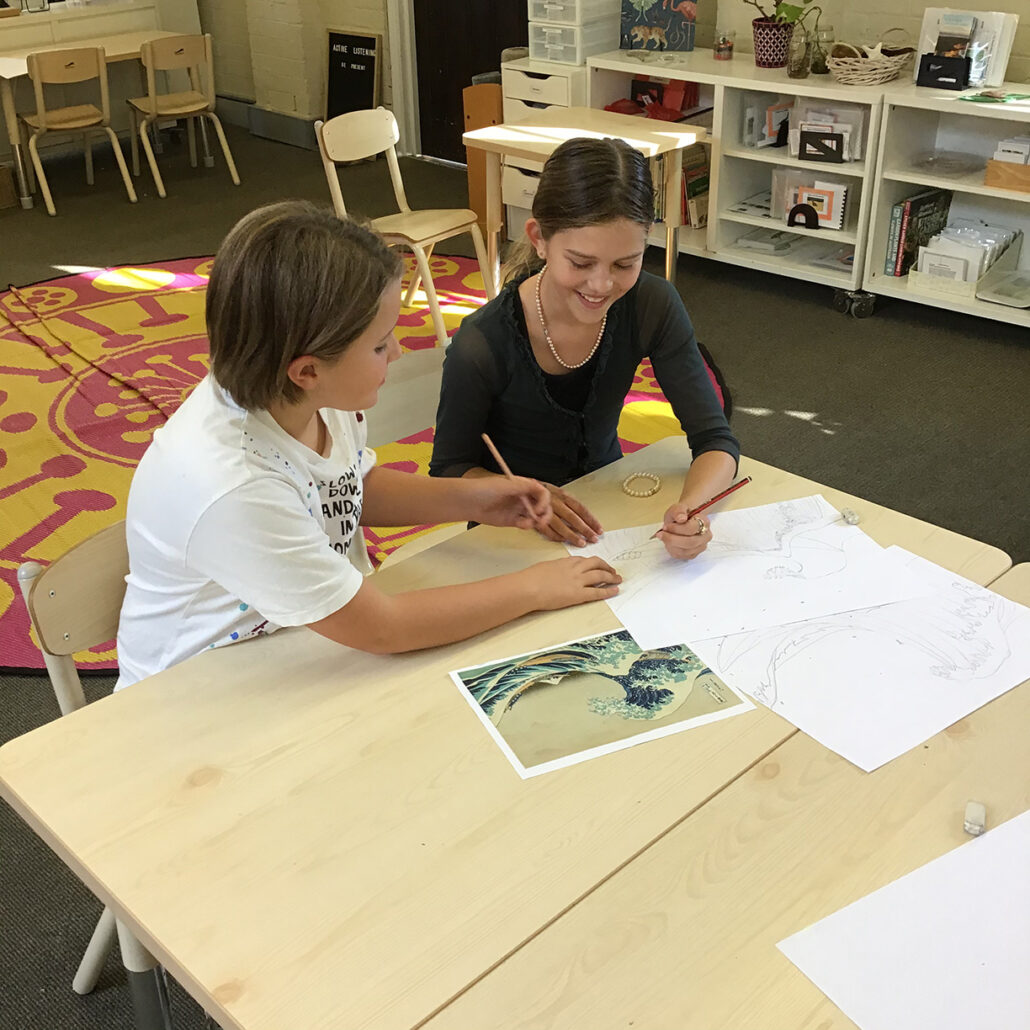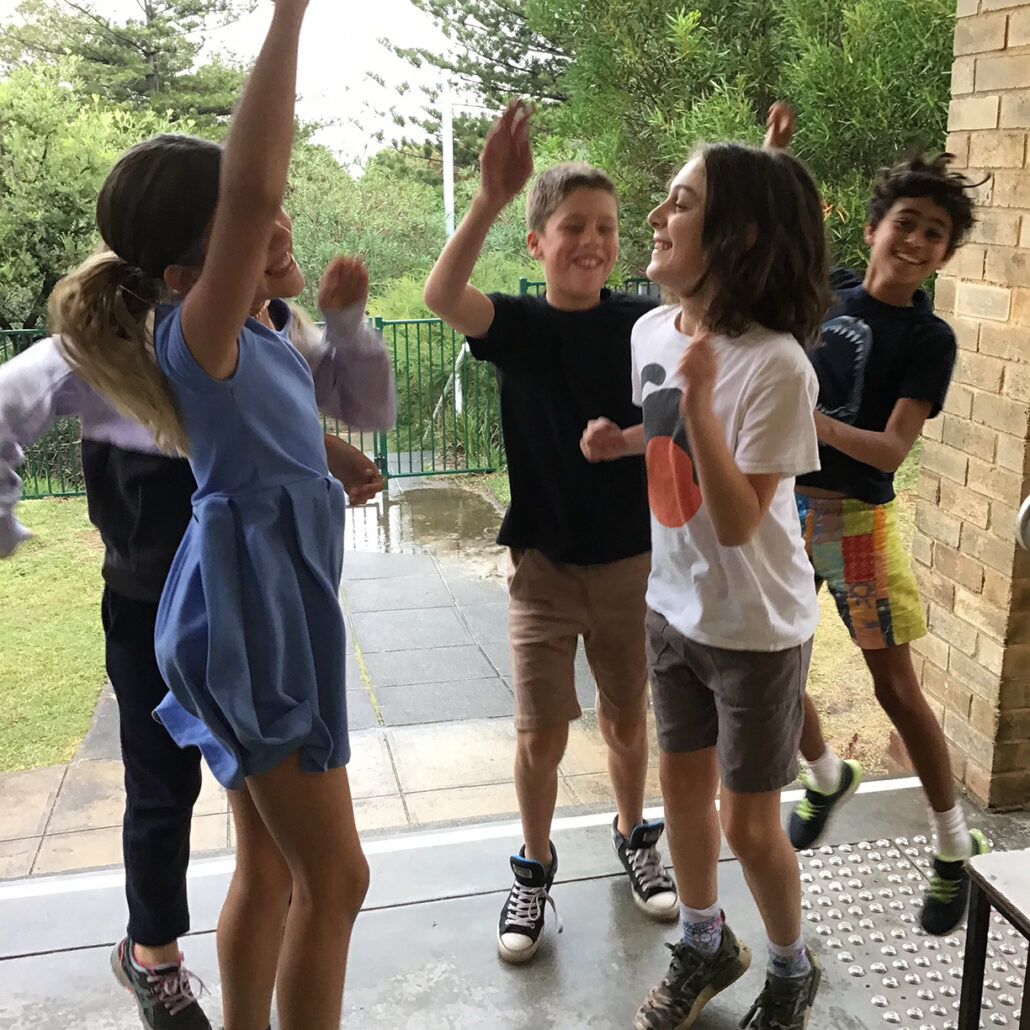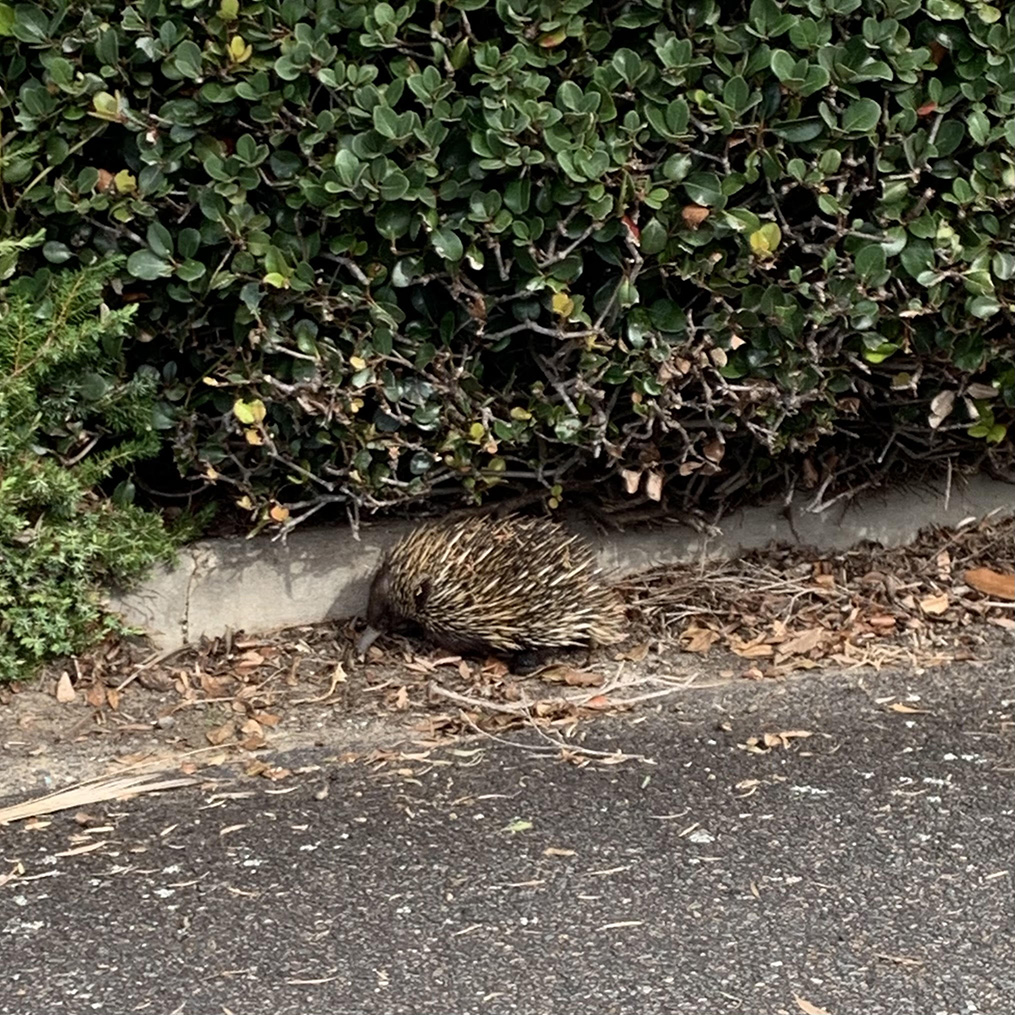 FARMHOUSE | PRIMARY OSHCARE
Inspired by Paul Klee's quote, "a drawing is simply a line going for a walk", we took our pens on a little journey with a Single Line Drawing activity.
For our Food Safari meets Cooking Club we made West African Tsire Koftas and Flat Bread from scratch! Minced lamb, onion, yoghurt, plus fragrant fresh mint, ground ginger, nutmeg and cloves was the flavour profile for the day. With clean wet hands, the children worked their koftas on to skewers and before long, we had a platter full of interesting looking koftas!
As we ate, we participated in an Africa Fun Facts & Trivia session – this group of animal-loving children were especially excited to learn about the Big 5!
On the STEM front, the children engineered their own Parachutes using materials of their choice, built mini-Catapults out of paddle pop sticks and rubber bands, and they produced a chemical reaction out of vinegar + bicarb to make a Hot Ice Tower.
If you were one of the lucky mums that received a lovingly handmade book of vouchers for Happy Mother's Day we hope you are enjoying your vouchers!