2021 Newsletter Term 01 | Issue 03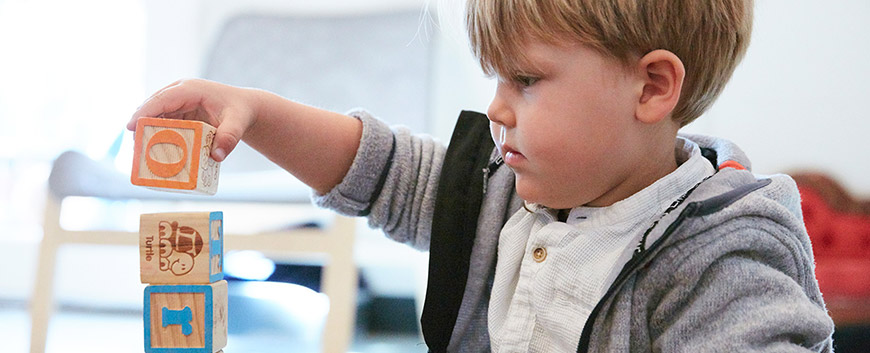 Upcoming events & Important Dates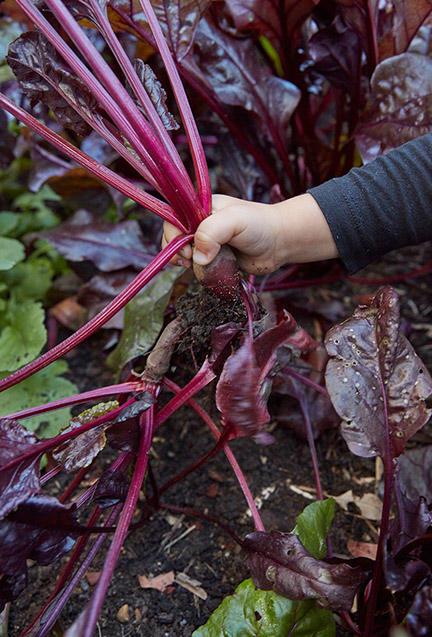 MARCH
Wed 17th – Bridging the Gap 2-3yrs Information Evening – Preschool Parent Workshop VIA ZOOM 7.30pm
Wed 17th – Montessori in the Home 3-6yrs Information Evening – Preschool Parent Working VIA ZOOM 7.30pm
Thurs 18th – School Tour: Primary Campus 9.30am
Mon 22-26th – Harmony Week
Thurs 25th – School Annual General Meeting  7:30pm
Fri 26th – Fees Due
APRIL
Thurs 1st – Last day of term
Fri 2nd – Good Friday
Mon 5th – Easter Monday
Mon 19th – All Students return
Click
HERE
to see further calendar dates.
Principals Message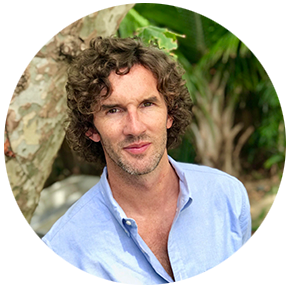 Good afternoon families,
I hope that you are all well and safe.
As a community based around the Montessori philosophy and pedagogy, it is important to remind ourselves of the true meaning of a Montessori education. Maria Montessori had many ideas, many reasons for dedicating her life to Education. Among other things, Maria Montessori understood that children had a huge amount of potential from an early age, she observed that they strived for order and sequencing but for me, the most important aspect of her research was that she prioritised the importance of Independence in our children.
In reflection of her philosophy and pedagogy, as a school, we often ask ourselves questions such as:
How can I personalise the curriculum to meet the individual needs of my students?
How can I free up time to be able to observe my children during the day?
How can I prepare my students for a future we are yet to understand?
How can I allow my students to build their resilience and confidence?
And when we look in depth at these questions, we understand that when we strive for independence within our classrooms and our homes, we allow these questions to be answered organically.
In every area of our school, we have established curriculums and classroom environments that are prepared carefully to bridge the opportunity for independence in our children. Whether it is planting vegetables in the preschool garden, riding your bike to school, packing your own lunch, or sorting out a problem with a friend, Essential skills for life such as: confidence, time management, resilience and communication start almost immediately. And when the environment is prepared in a way that allows children to feel that they have a choice and an opinion, Independence soon follows.
Montessori teachers are often refereed to as 'guides' as their primary role is not to teach directly, but to act as the bridge between the child and the knowledge, thus establishing an independent child. As Principal of this school, I see our amazing community of parents and staff all working towards establishing a cohort of students who have choice, direction, and freedom within limits. I am grateful to work in such a community, with such a dedicated and passionate team and I am sure that we all agree, it is an absolutely wonderful moment when the child looks at you, pushes your helping hand away and says, "I can do it myself,' allowing us to observe in awe of how capable our children truly are.
Thank you for everything you do to encourage independence in our children, thank you for working alongside us and thank you for looking out for each other during these tough times.
Have a wonderful weekend ahead.
– Gavin McCormack
ELOUERA | Stage 1 Infant Community
One of the most important (and most loved!) parts of our toddler classroom is practical life; the care of self, others, and the environment.
Toddlers like all human beings, want to feel like their work is valued, they want to contribute to their community. They really enjoy working alongside adults, as we complete the daily tasks that keep a household (or classroom) running; preparing food, doing the laundry, washing the dishes, watering the plants – in short, they want to be just like mum and dad.
When we think about the toddler like this, as wanting to contribute, and when we slow down, set them up for success, and lower our expectations of the outcome we teach the child so much about being a member of the family and the community, something they will carry into childhood and adulthood.
– Corinne, Debbie & Sarah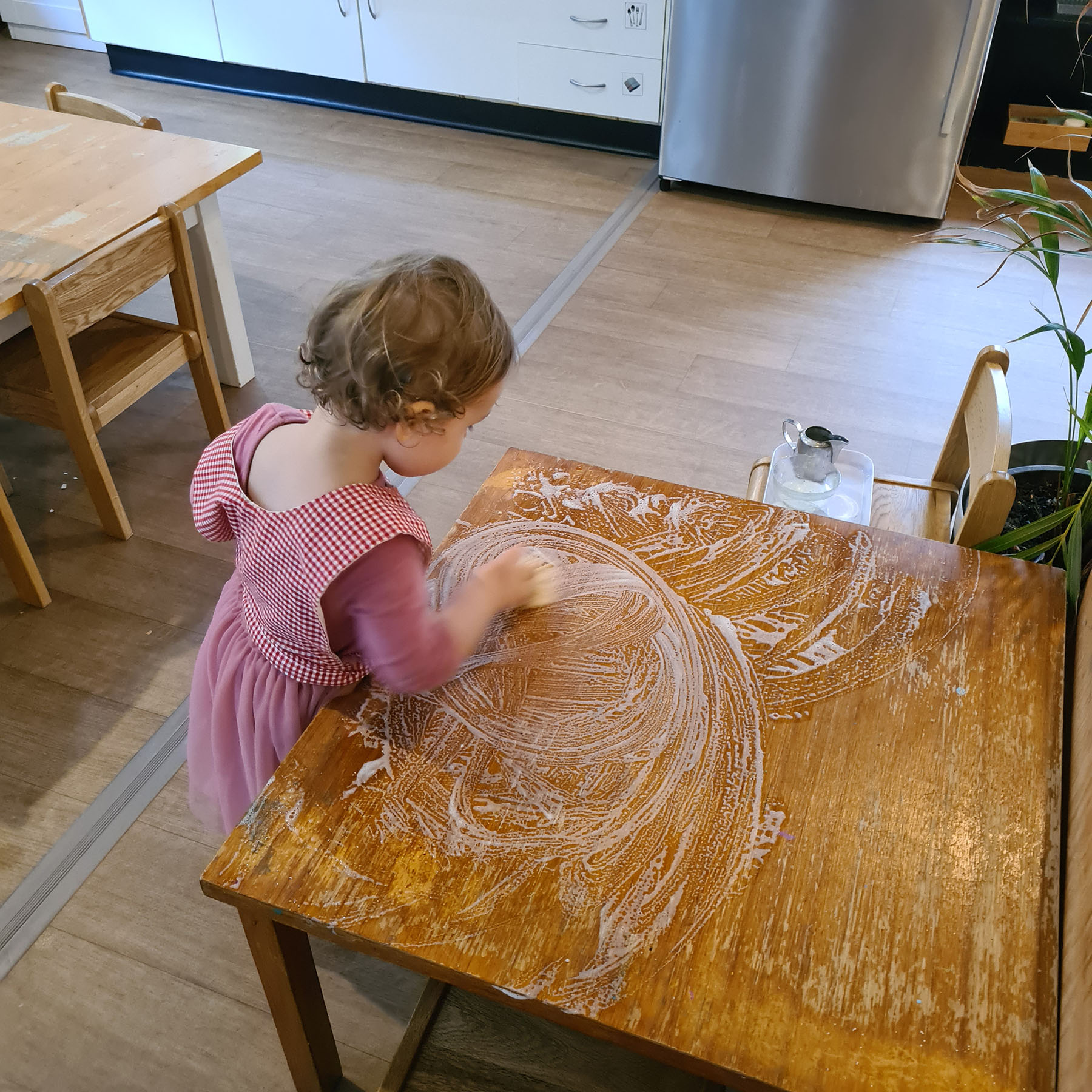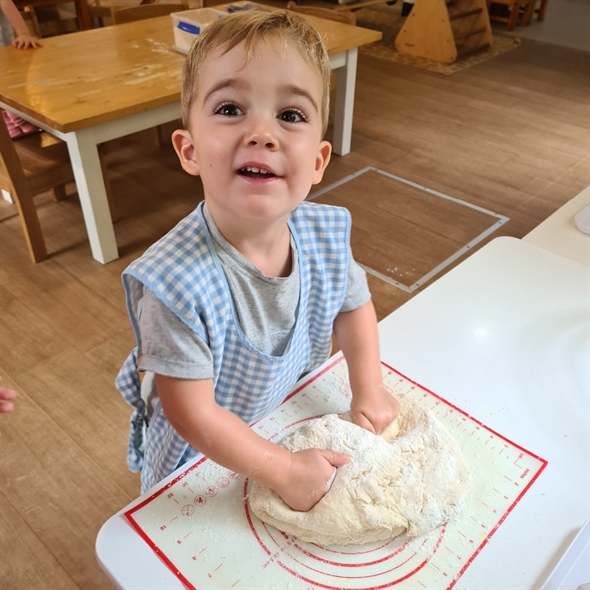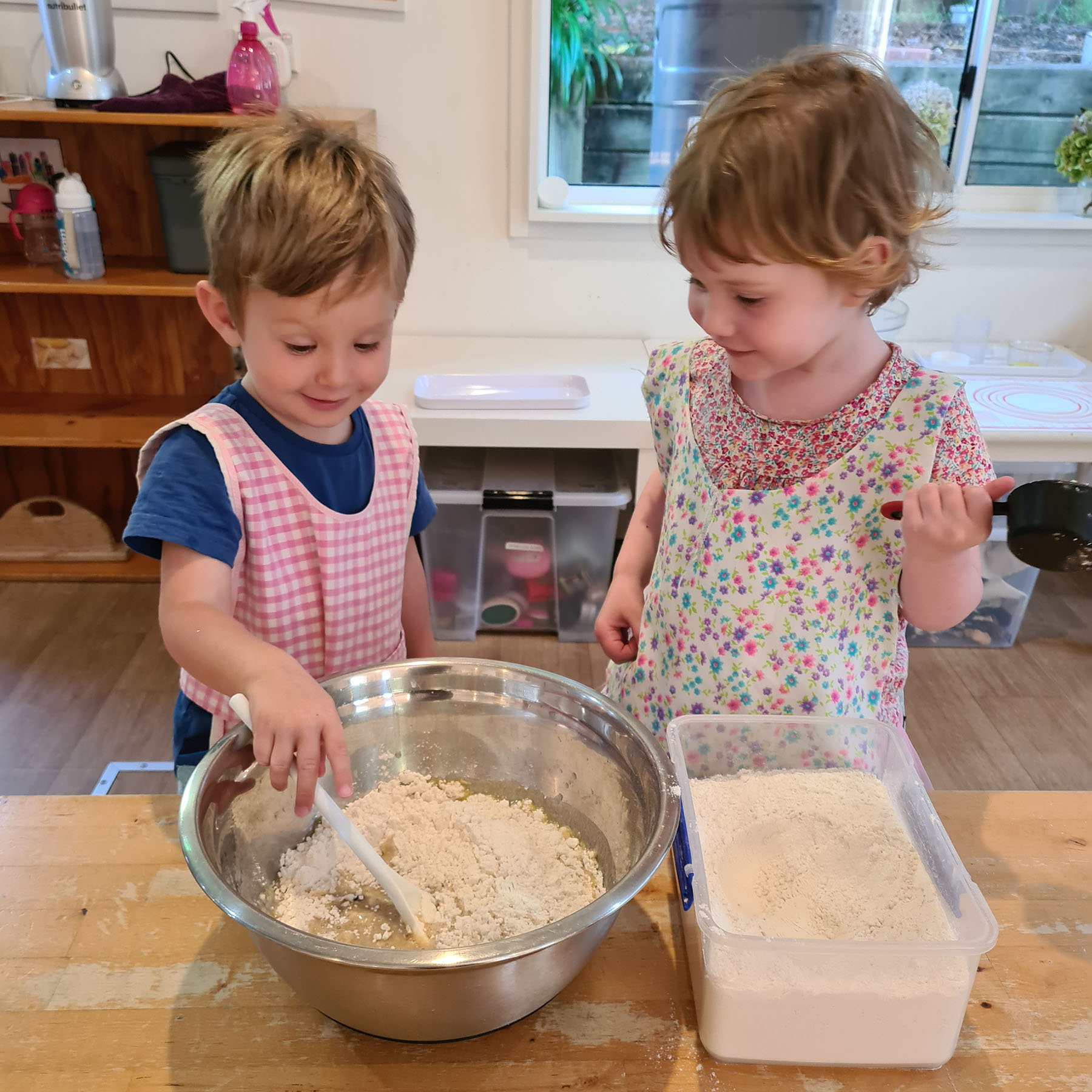 In the Montessori classroom, the elements of art (colour, line, shape, texture, space and form) are integral to the learning environment through the materials. From the colour boxes and knobless cylinders in the sensorial area to number rods and bead chains in the maths area, colour enhances the child's knowledge of key concepts.
The Burbangana class have been looking at elements of art, with a main focus on colour. We have explored different patterns with the colour boxes, observed primary colours mixing secondary colours before our eyes, studied artwork from Kandinsky and Matisse by looking at how they used colour in their pieces. Not only did we look at the colours within the classroom (including enjoying a rainbow fruit platter at snack time), we took our learning outside and found some beautiful colours in our garden. The children asked to take photos of the flowers and we used these images to create flower collages, practicing our cutting skills at the same time.
– Amanda & Teresa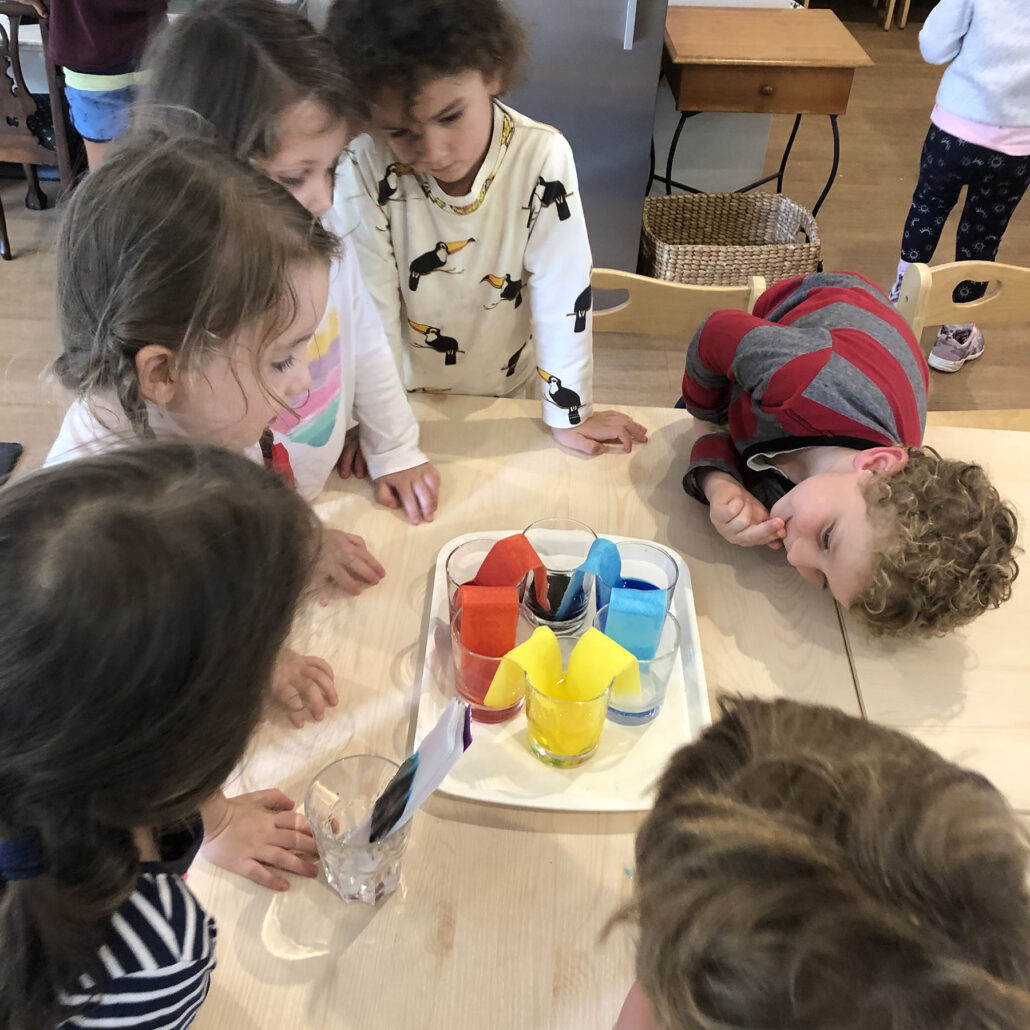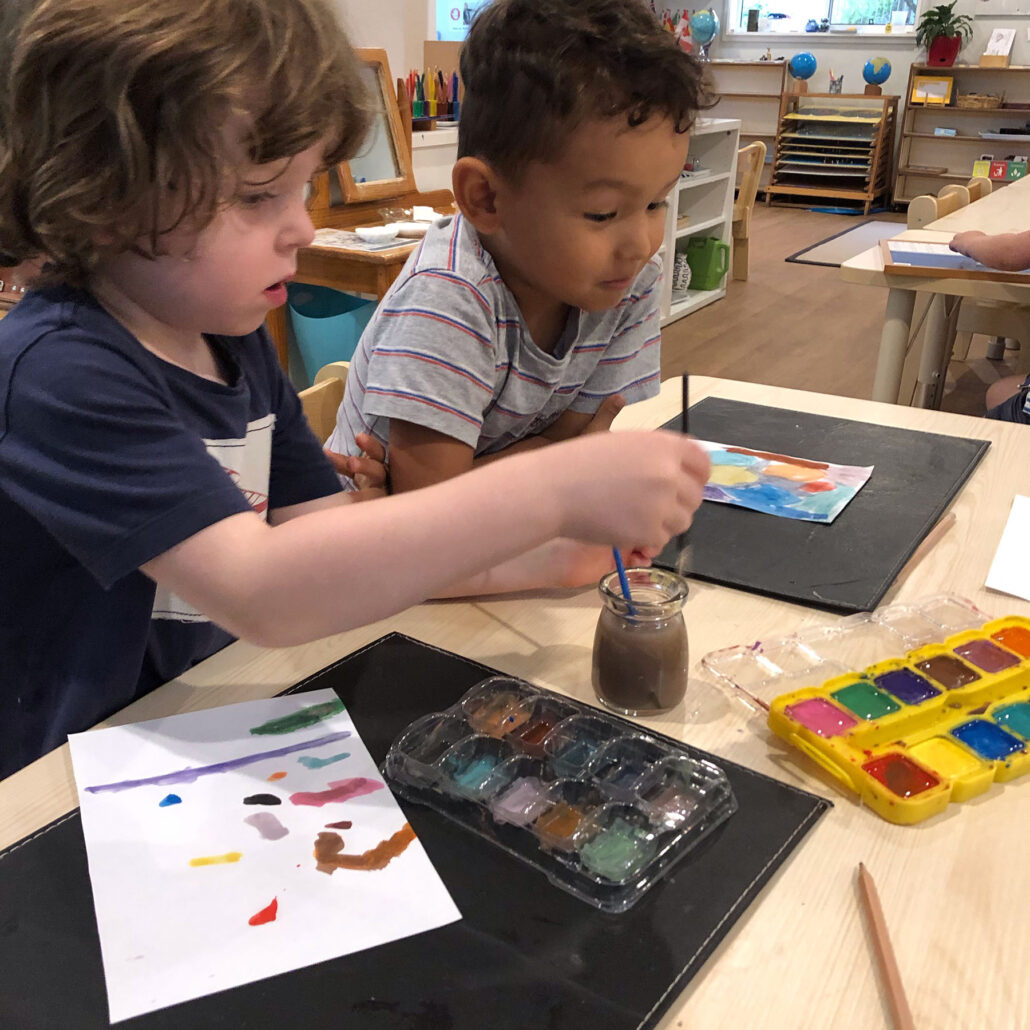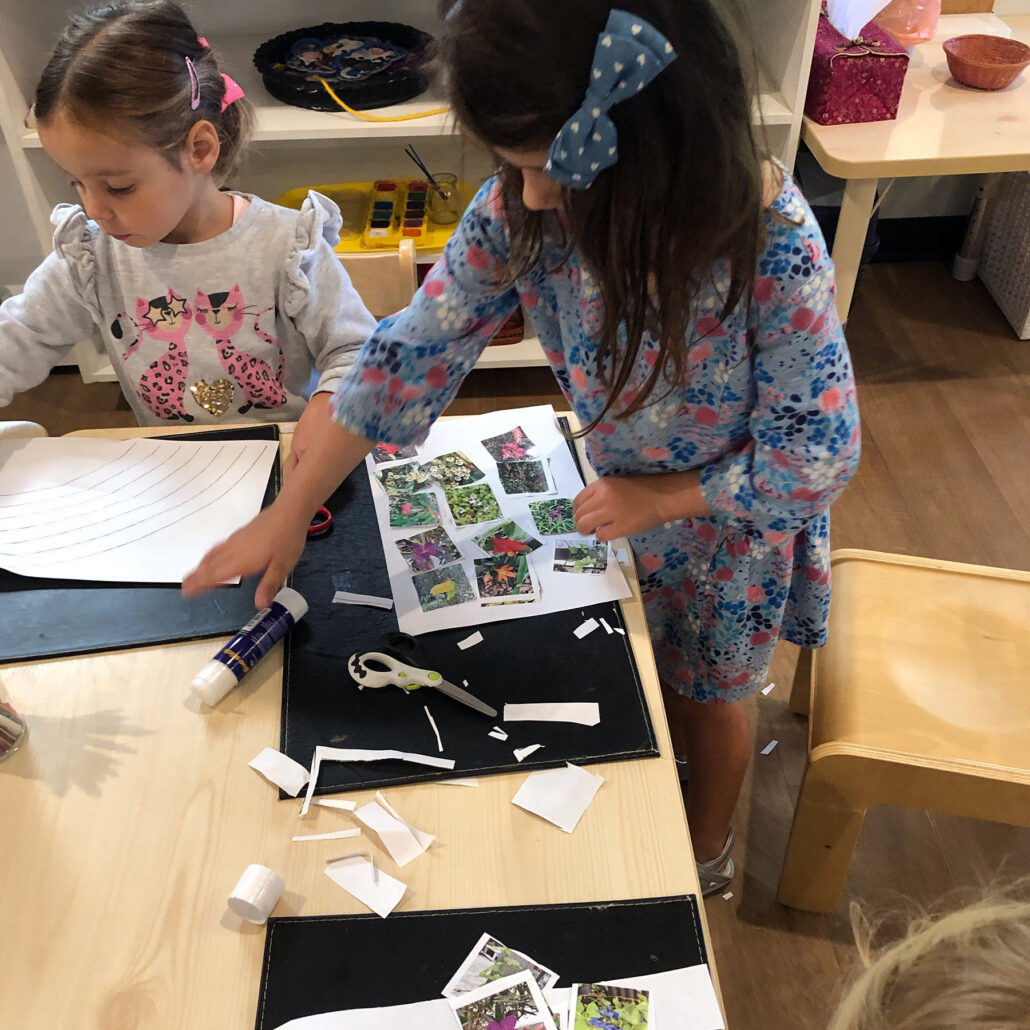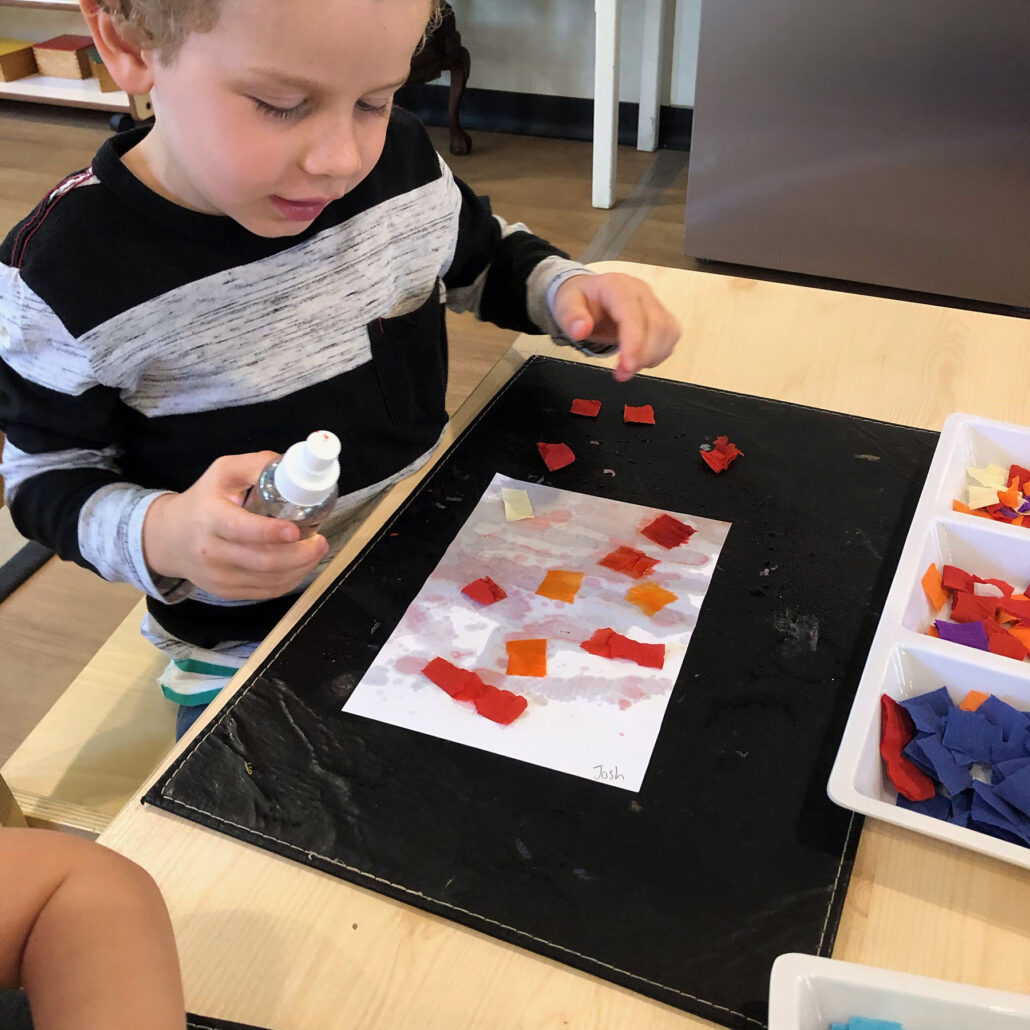 A Montessori classroom has a mixed age group of 3-6 years. This allows for a wonderful working environment for children to be leaders as they teach younger children. Maria Montessori was also aware that when older children teach younger children they are revisiting materials that allow for deeper understanding and cements the concept. It is also a time to build social connections and a sense of caring. Our classes really become a family unit.
– Jenny, Jo & Angela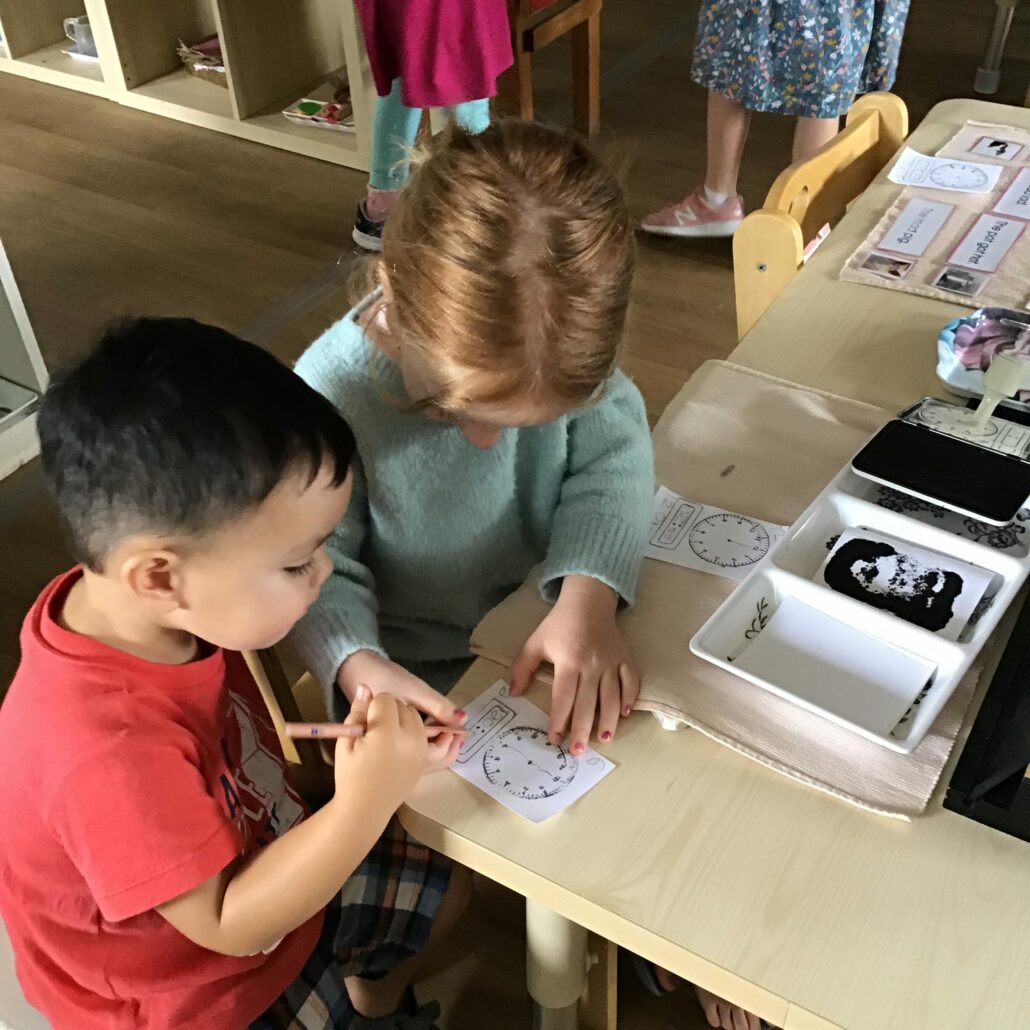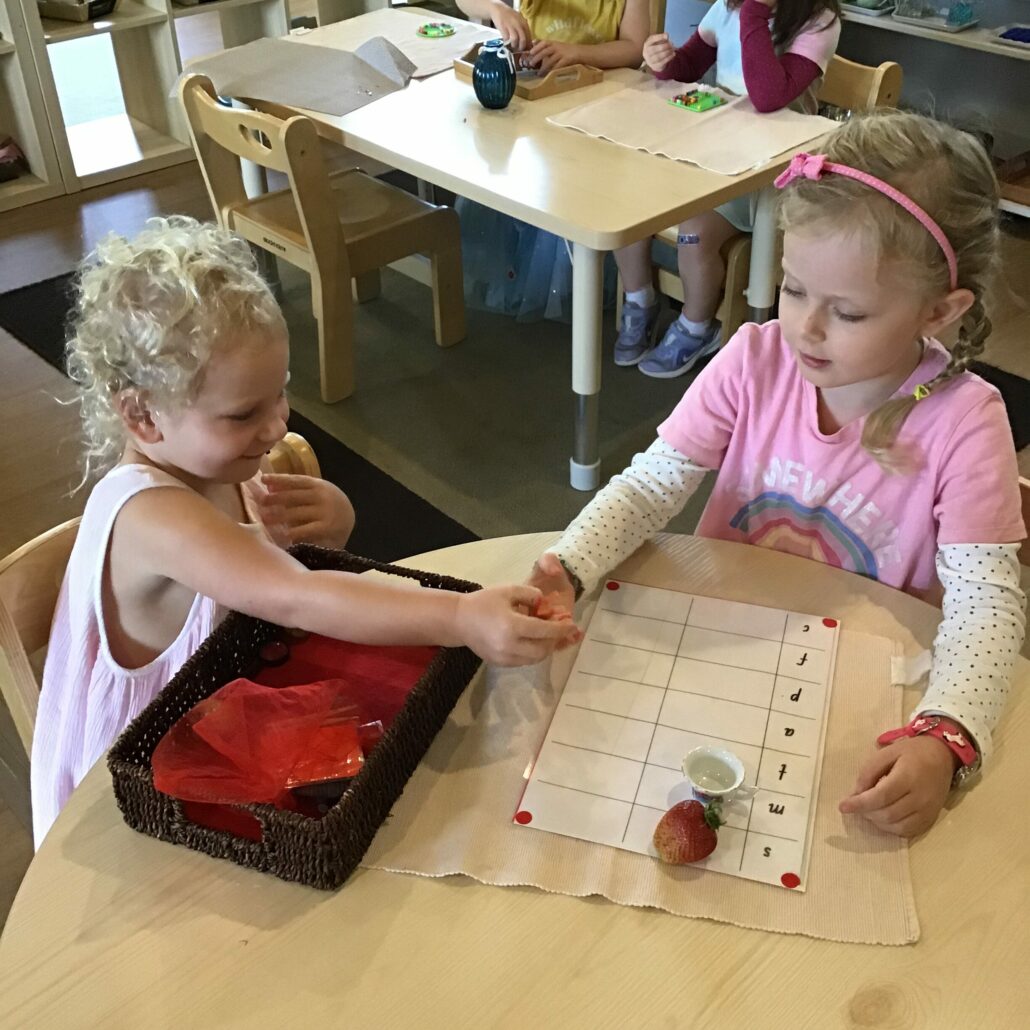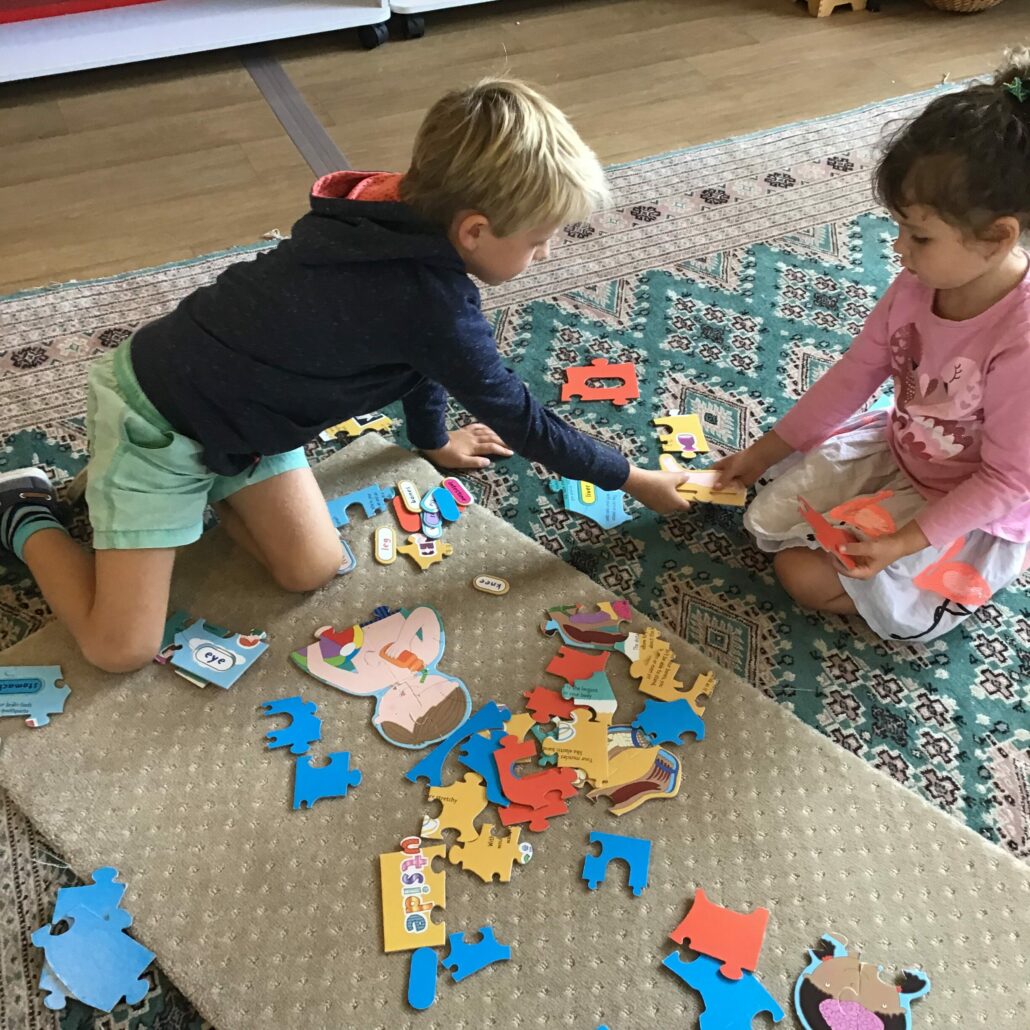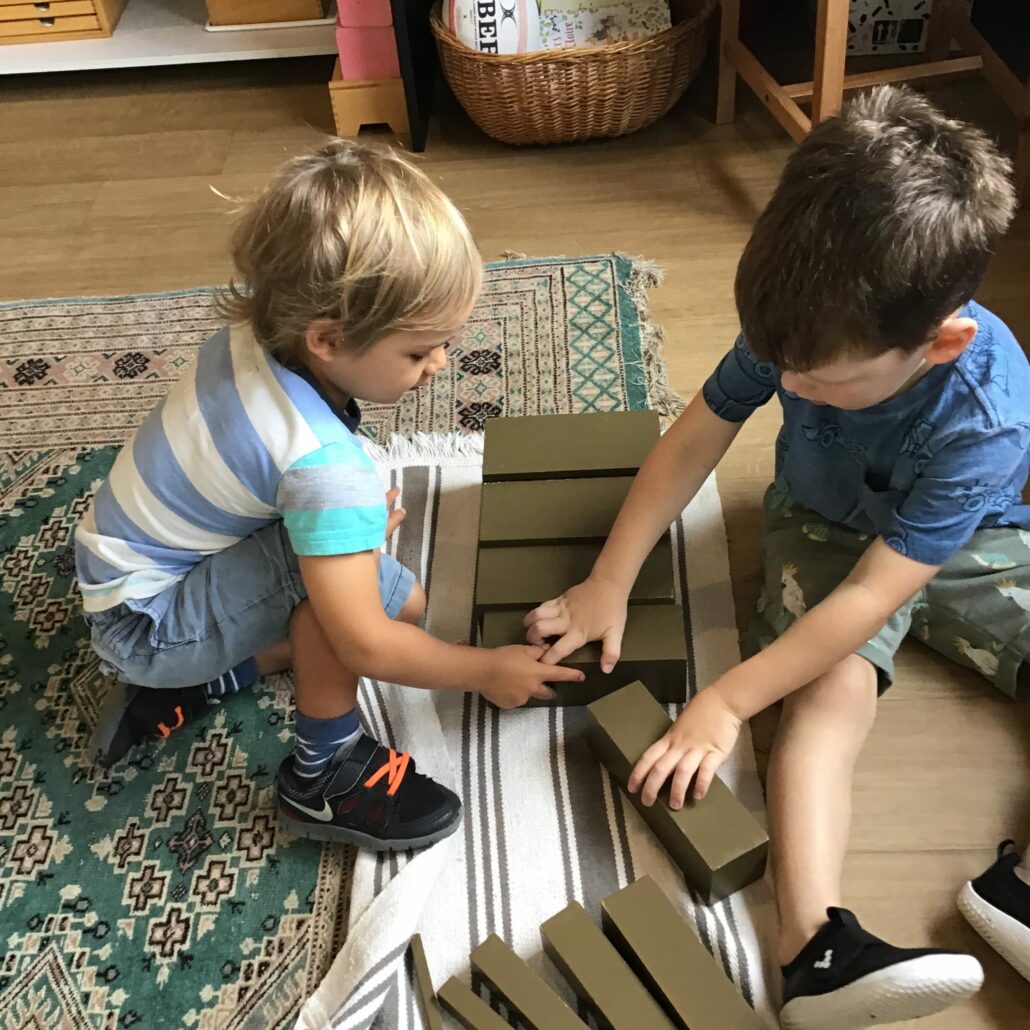 AMAROO | OUTDOOR CLASSROOM
Our little Eco Warriors have been out in force again!  To participate in the Clean Up Australia initiative everyone was involved in a general clean up of our gardens and playground.  The children sorted the rubbish to be placed in the corresponding recycling bins.  Everyone was so enthusiastic and excited to find anything as we do a good job of keeping our areas free of rubbish, as one child said "we do this every day not just on the clean up Australia Day!"  So true.  We not only pick up rubbish in the garden but also the local park and we have several recycling projects happening all year round.  So if you have any bread tags, old toothbrushes or toothpaste tubes, socks or pens and markers we'd love you to bring them in and we will organise getting them recycled.  Our little Eco Warriors are passionate about saving the world even if it is one small piece of rubbish at a time they all know every little helps.
– Dawn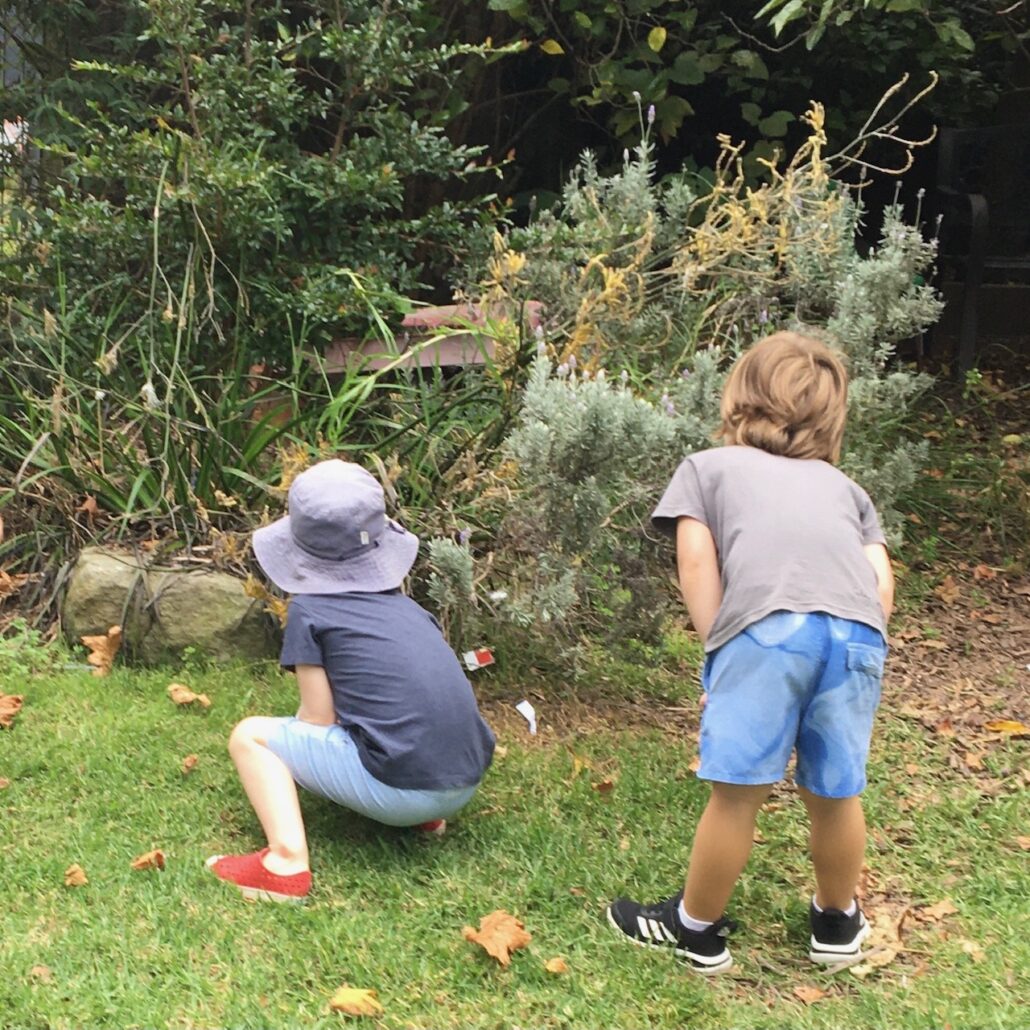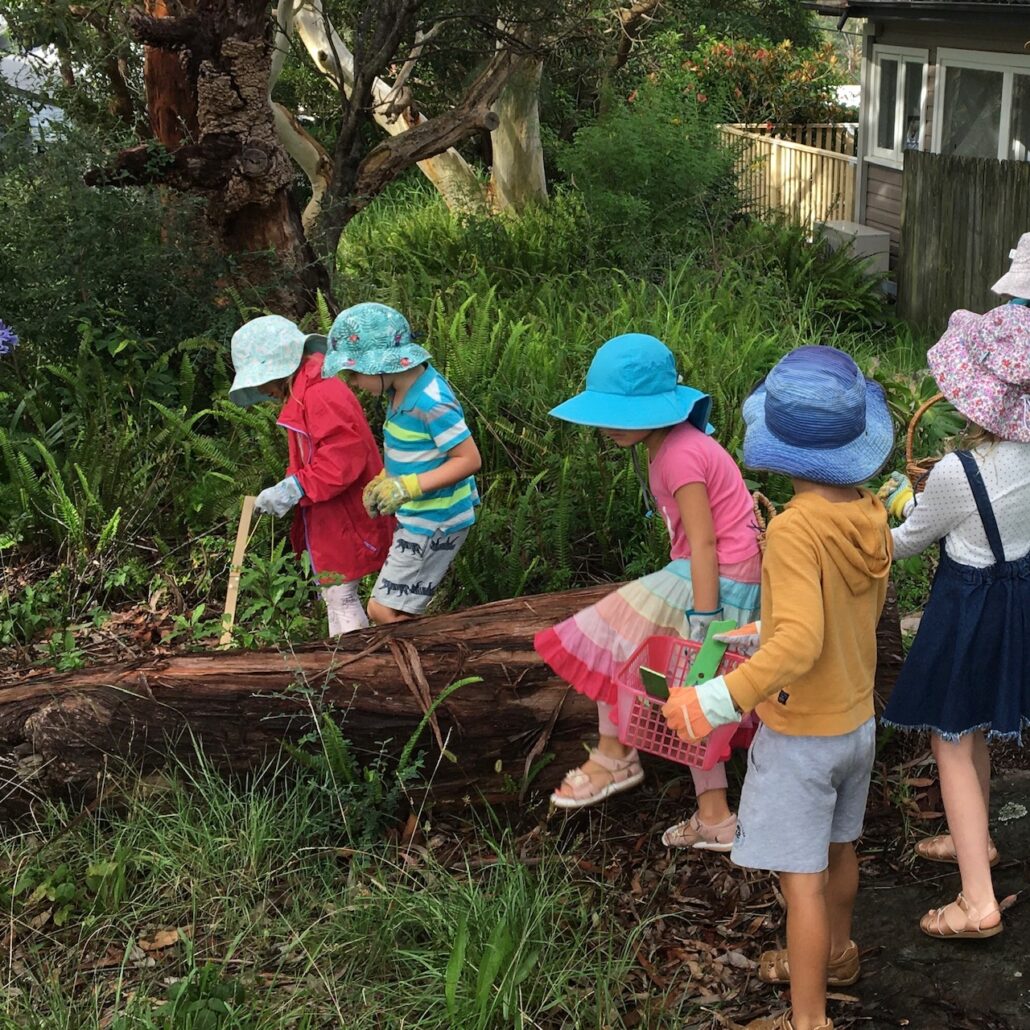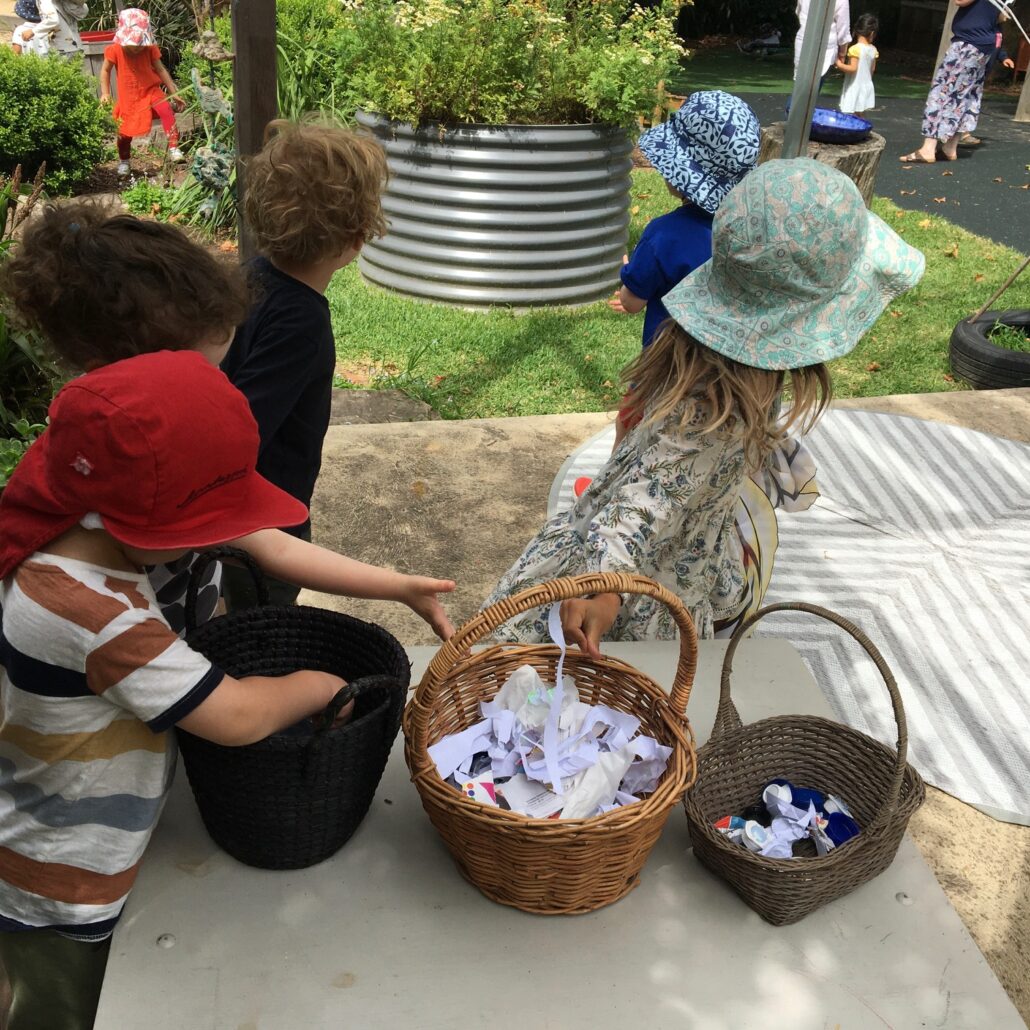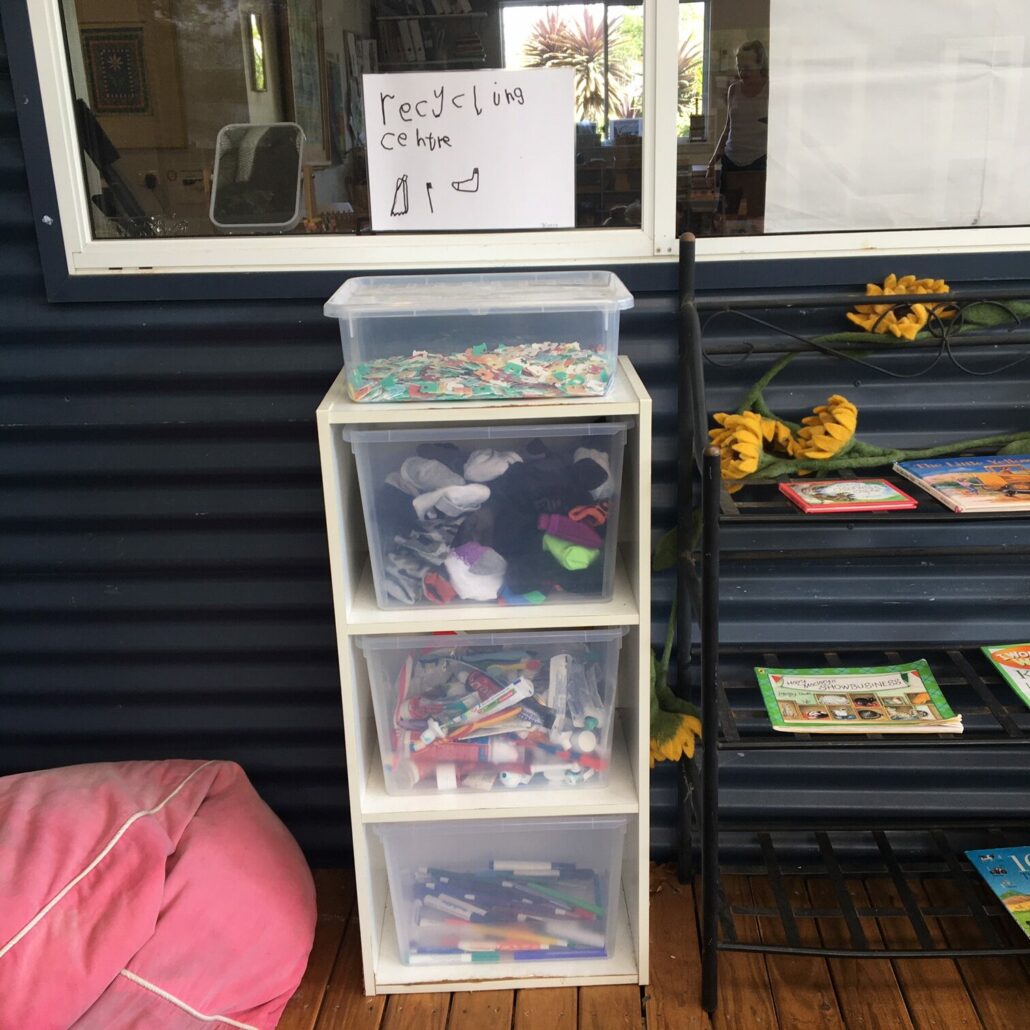 The Kindergarten children have been learning about looking after the places that are special to us. "I can hold onto rubbish when I go bush walking, especially when windy."  "Keep places neat and shiny".
We unpicked the question 'What is pollution?', and looked at noise, soil, water and air pollution. This was followed with ways we can help to protect our beautiful environments.  We walked to the local park and collected rubbish that we found.  Looking at the storm drains, we could see how rubbish could flow in and end up at the ocean. Back at school, we made books about ways to protect their special places.
– Elizabeth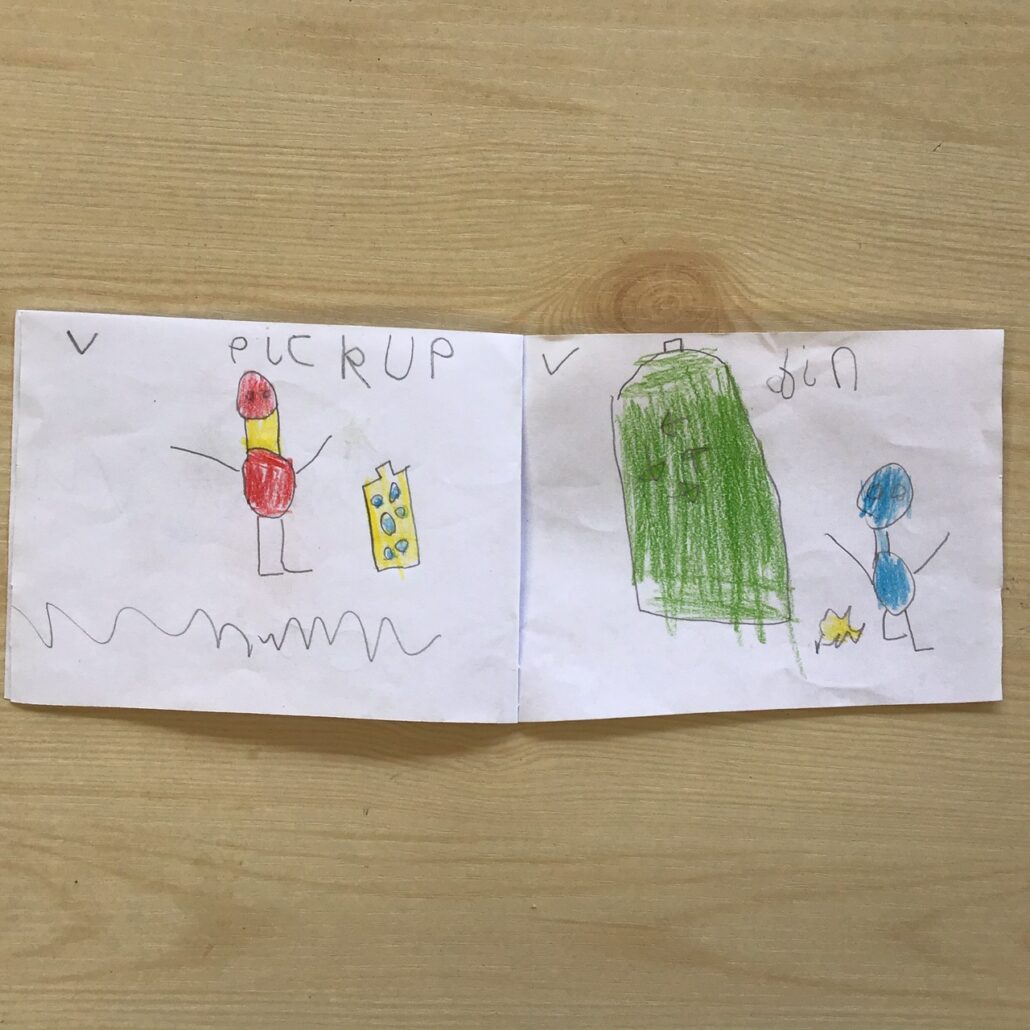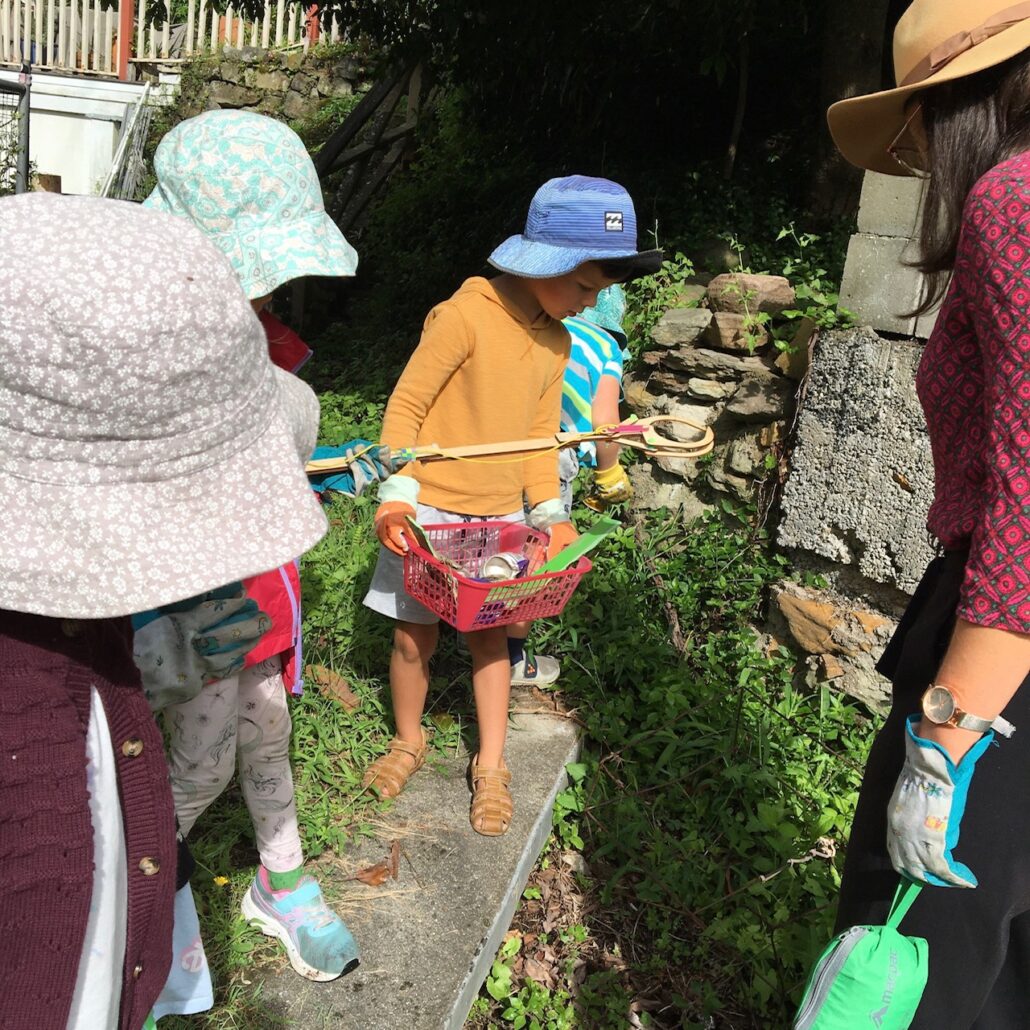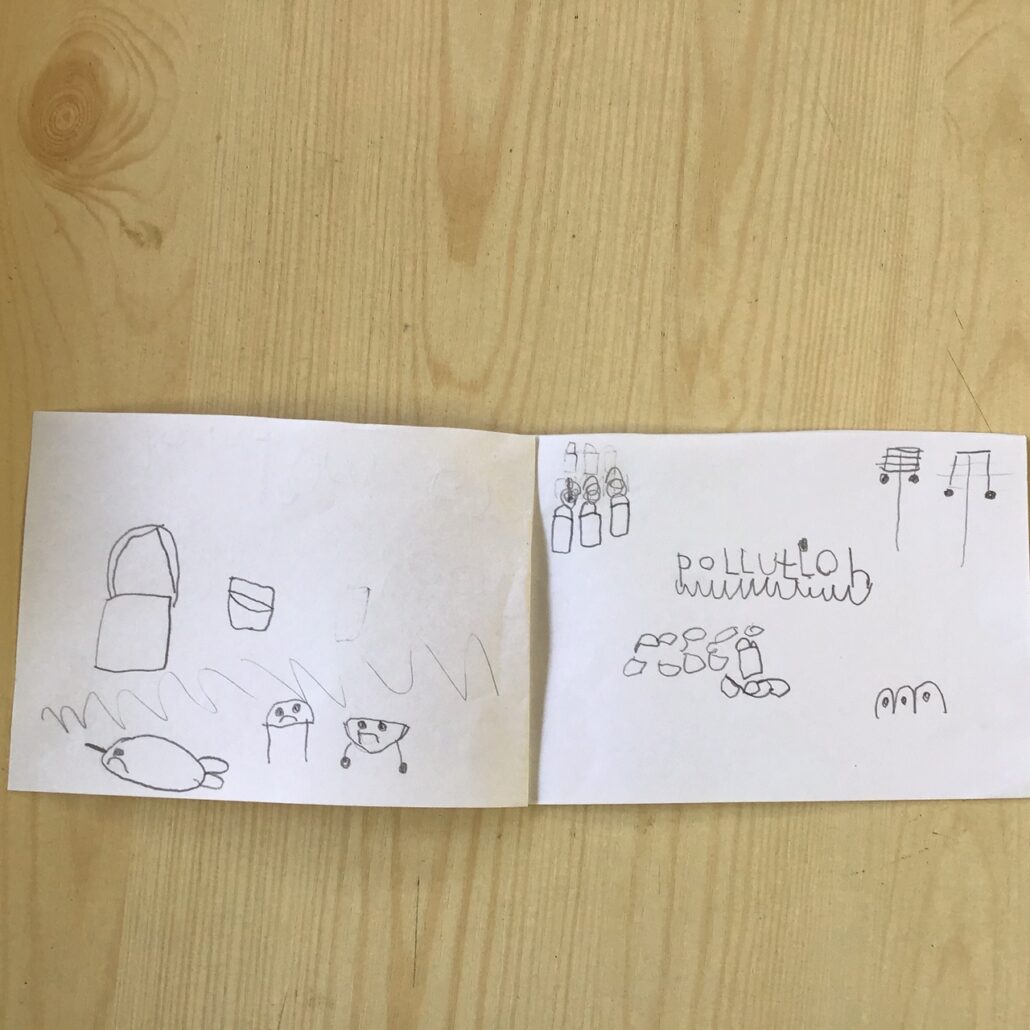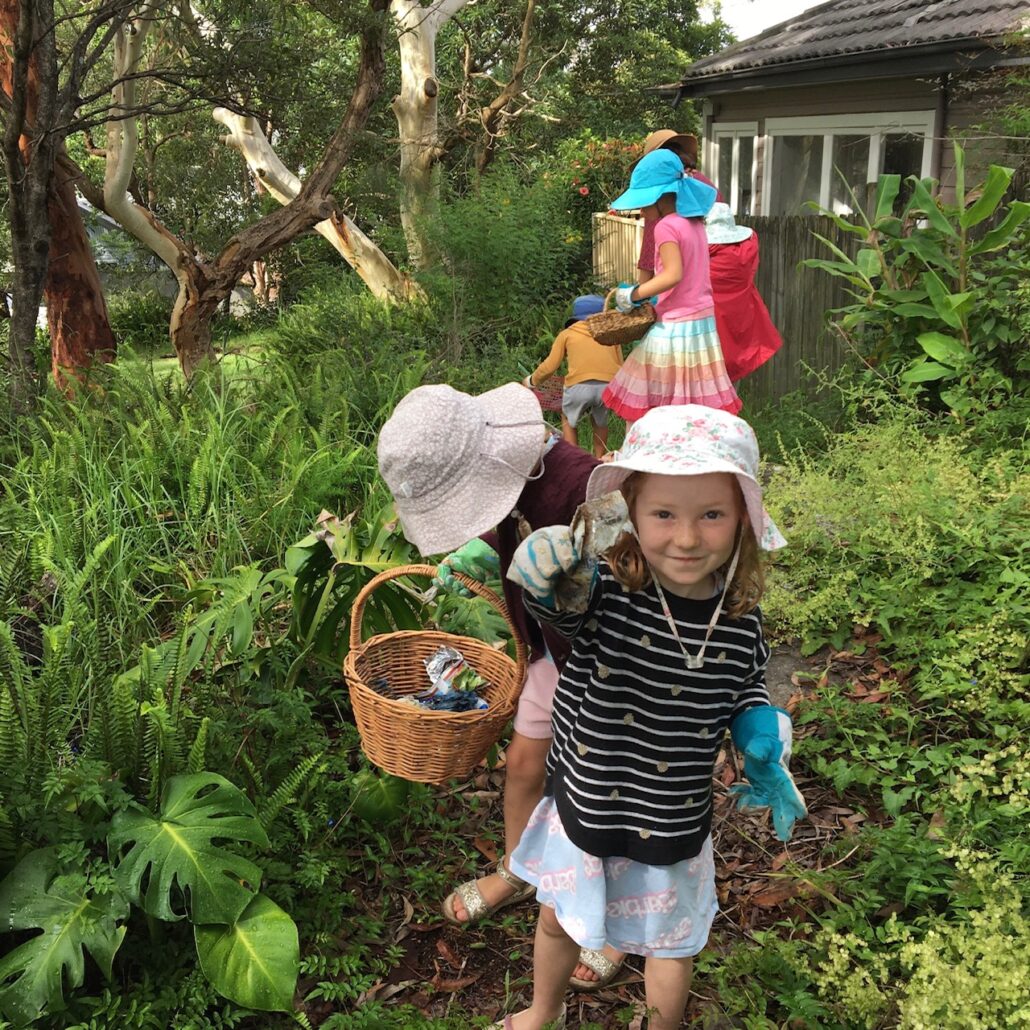 The Montessori tradition of storytelling and inspiring children through the Great Lessons has had effect as of late in Akya and come to life through the growth in Project Based learning and other "Big Work" led by the children. Since the beginning of this year we have covered The Coming of the Universe and Earth, The Coming of life and the Story of Plants. The Children have since then been busy performing their own research, designing projects and hosting their own lessons to the class. Some featured topics have included Space, Dinosaurs, Underwater Worlds, Native Plants and Animals and other Flora and Fauna.
Of note, this fortnight also included our first excursion of the year to the Australian Museum to visit the featured Tiranossaurs Rex (meet the family) Exhibition and the Dinosaur Gallery. This was a full day out with much excitement filled with inspiration to take the children's learning journey to further depths with interactive and immersive experiences. Thanks must be given to parents Cherie, Belinda, Zena and Danica for coming along and making the day such a success.
– Harshitha, Toby, Thomas and Hannah.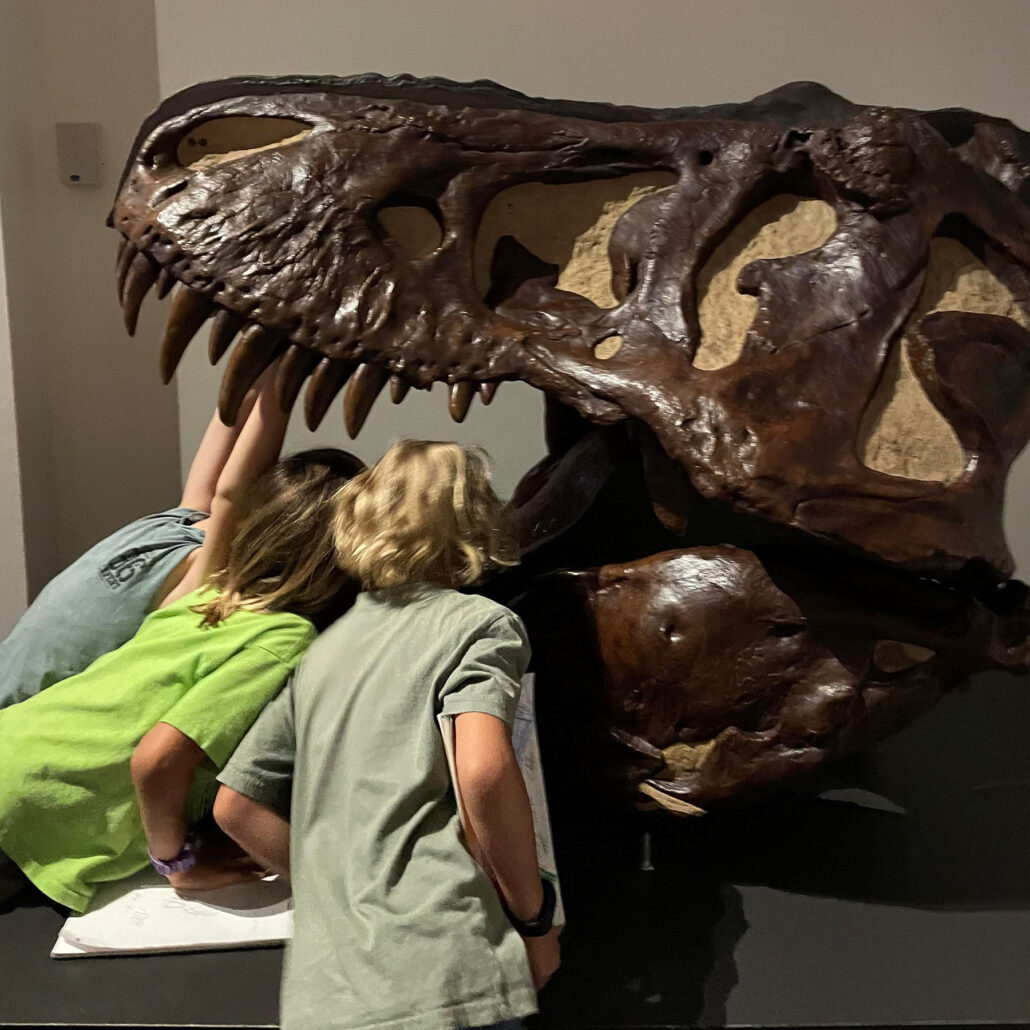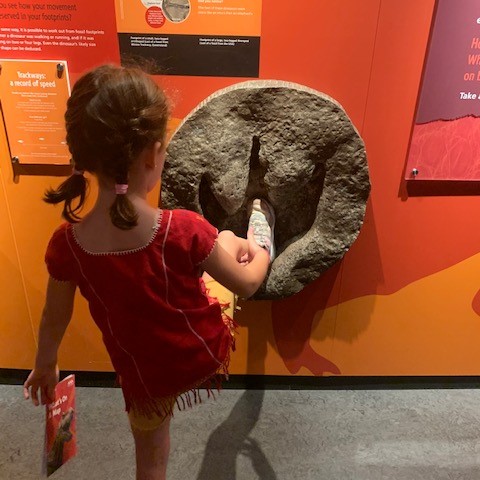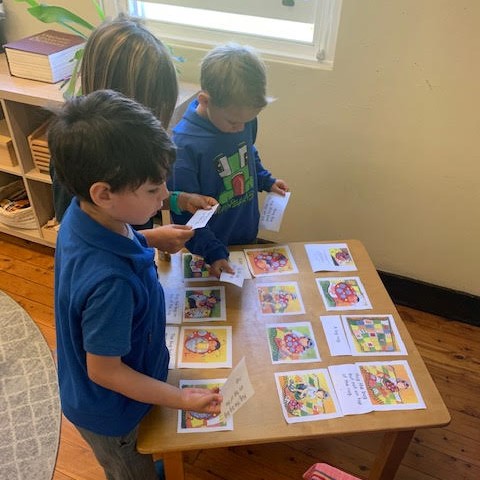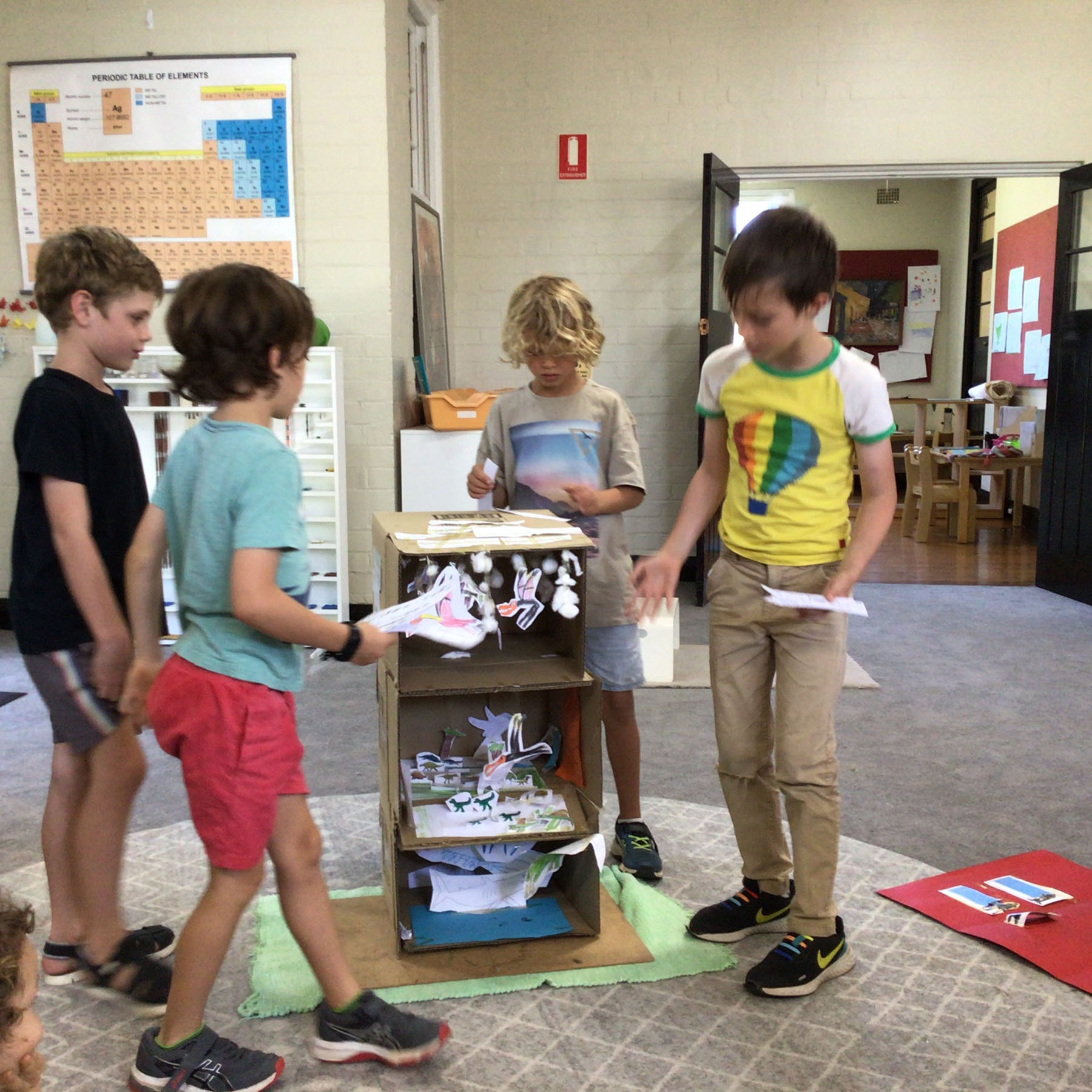 The last two weeks the Yani class have been extremely busy in the kitchen. We had Billy and Dash present us with a three course meal they made as a follow up to their passion project on Thailand. They made Miso soup as a starter, Pad See Ew as a main and for the dessert they cooked Sweet Sticky Rice. Sam, Mac and Luca also cooked us a meal as a follow up for their project on Italy. They made garlic bread and pizza, it was delicious! Both groups did extremely well and we are looking forward to more cooking.
We had a special visitor come to our school, her name was Pippa. She told us about her time during Tour De France, it was very inspirational as a woman riding in a race that is only allowed for men. We spoke about how great riding is for our health and fitness and for the environment. We are hoping everyone in our school community can get together to ride to school at least once a week which will be a lot of fun.
By Yani Classroom
– Laura & Jessica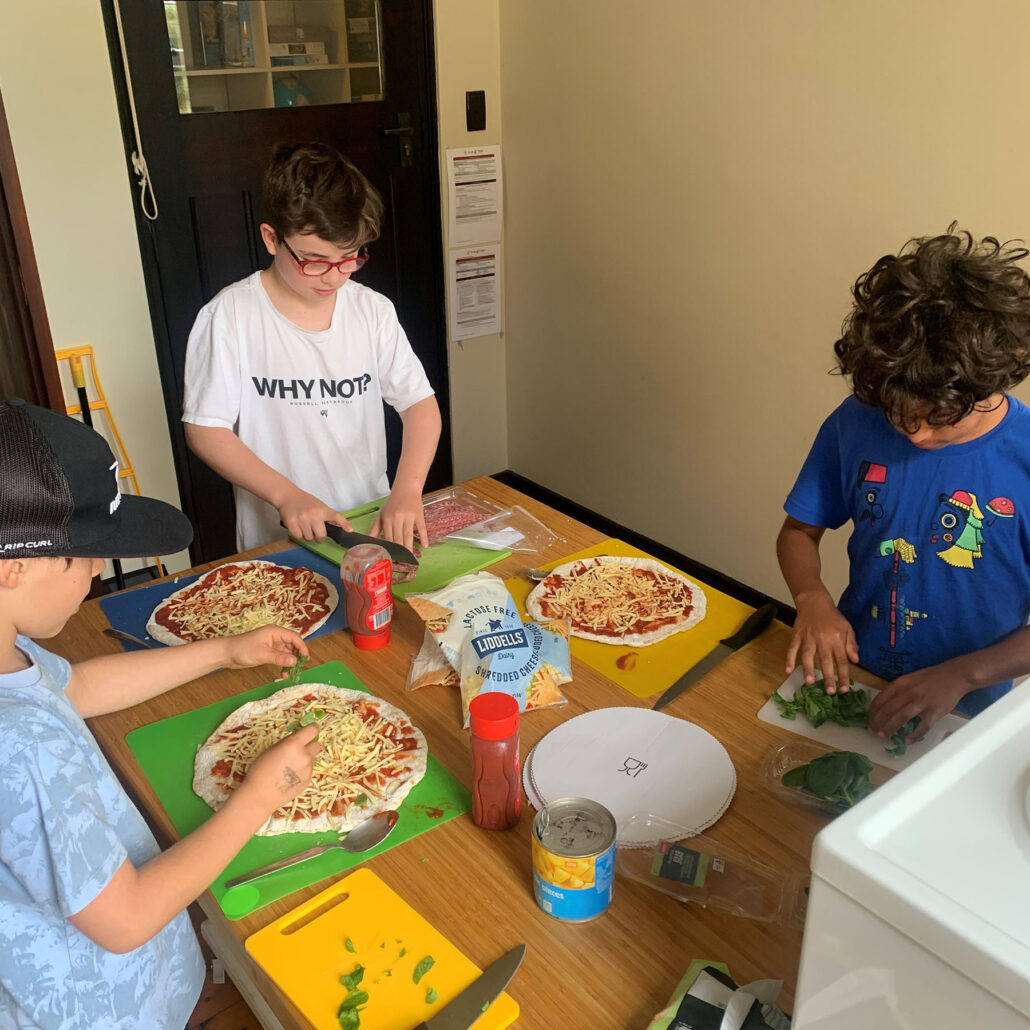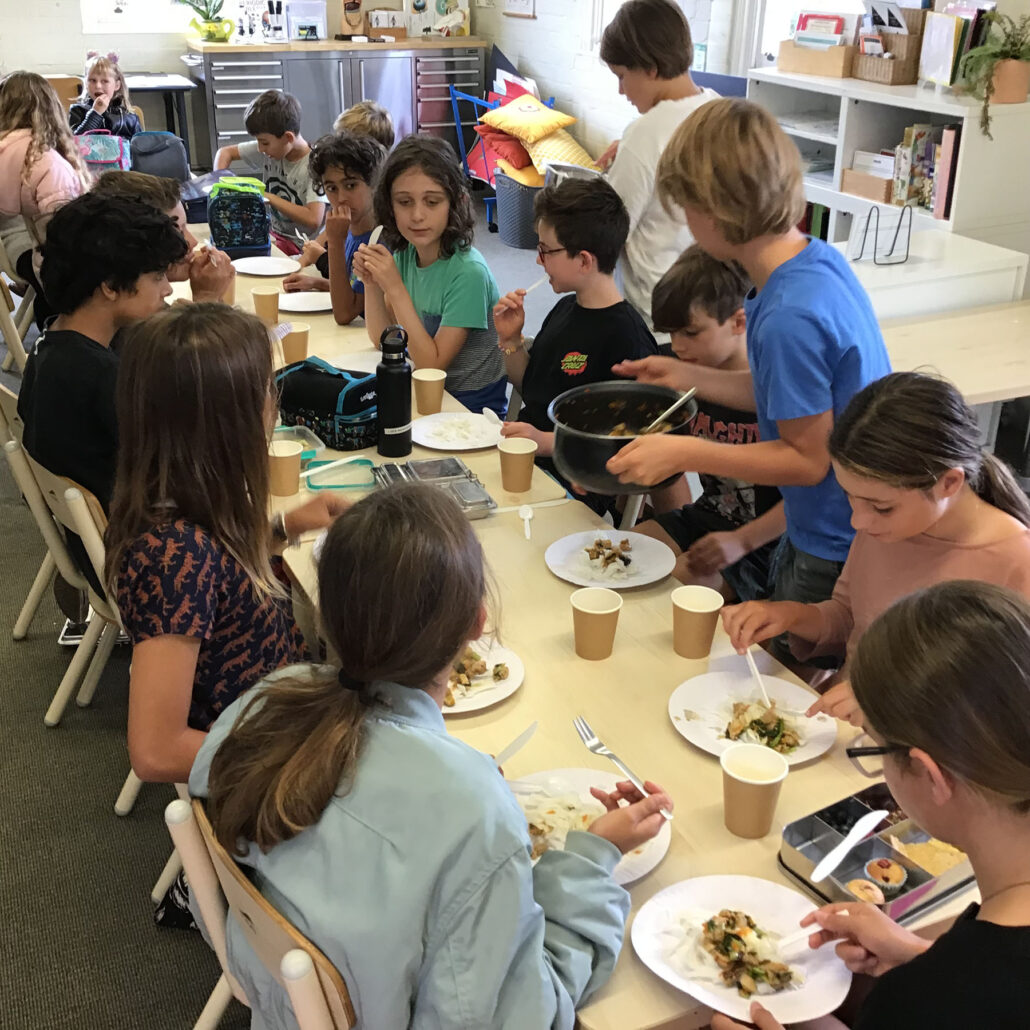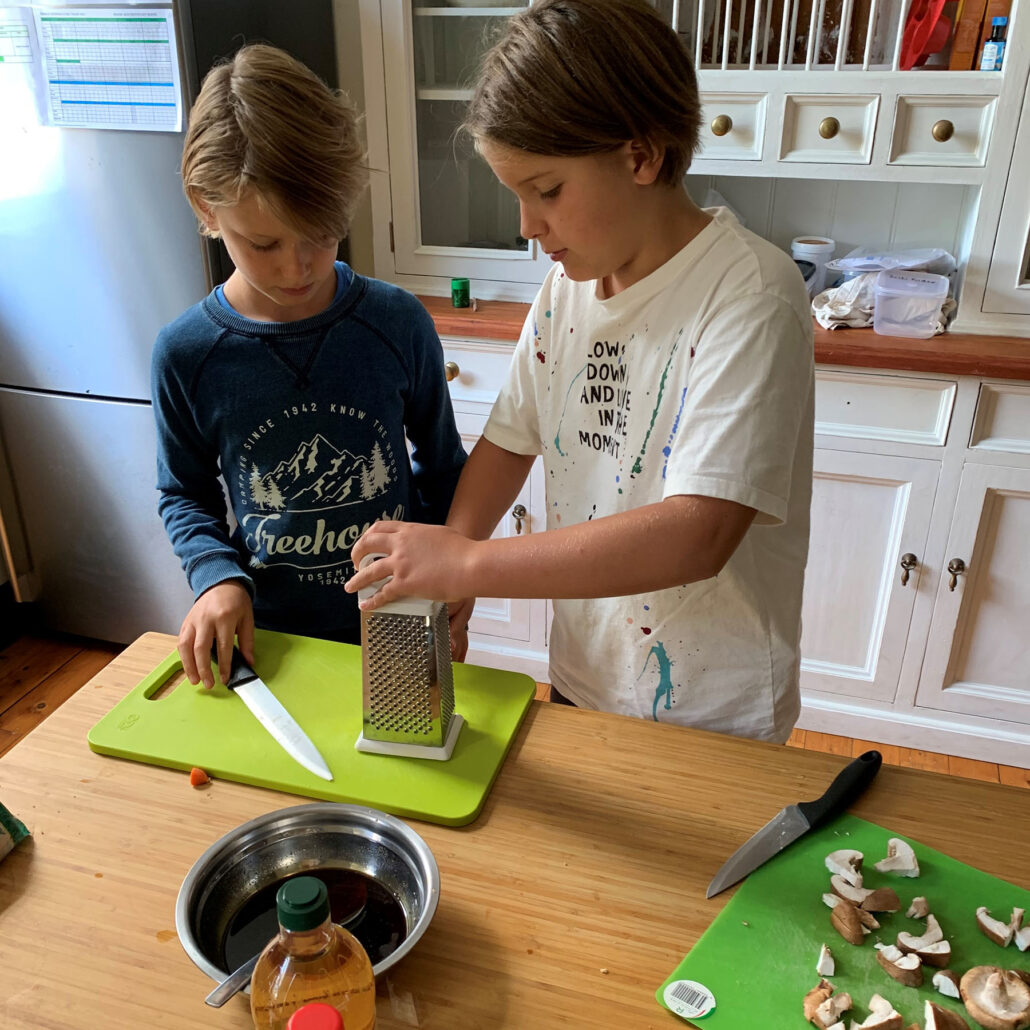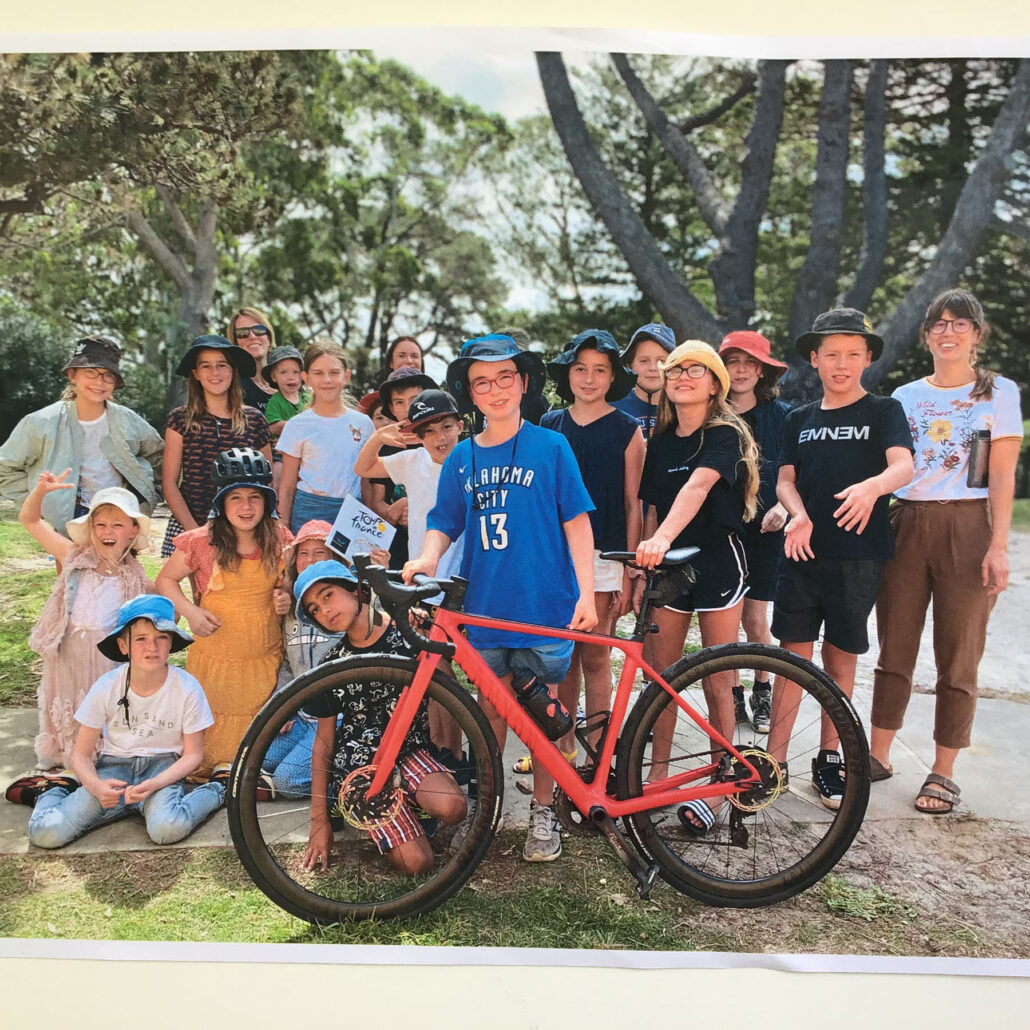 FARMHOUSE | PRIMARY OSHCARE
We've had a busy fortnight of fun activities at OOSH! For Cooking Club Ella made crumpets with Javier and Malin. They learned about activating the yeast using warm water and sugar, and how it caused the mixture to rise and foam a bit, and causes the bubbles in crumpets. They were delicious with jam and honey on top! STEM Club was a major hit last week, where we made ice-cream in a bag to demonstrate how salt causes ice to melt but also lowers its temperature, which allows the ice cream to freeze. We put ice-cream ingredients into a small zip-lock bag, which then went into a large zip-lock bag filled with ice and salt, and spent 10 minutes running around the playground shaking the bags to churn the ice cream. Next time the kids have asked to make different flavours.
Our Walk and Explore Club on Monday tied in with Clean Up Australia Day. We walked from school with Maya, Anuuk and Alara to Collins Beach, armed ourselves with plastic bags, and picked up as much rubbish as we could find. The girls showed great knowledge and care for the environment, and we discussed why it is so important to properly recycle, and to make sure we never leave rubbish behind. 
Next fortnight… 
Tuesday 16th March – Cooking Club meets Food Safari- making dumplings
Thursday 18th March – STEM Club making fizzy lemonade
Tuesday 16th March – Magic Milk experiment
Thursday 25th March – Walk & Explore Club