2021 Newsletter Term 01 | Issue 02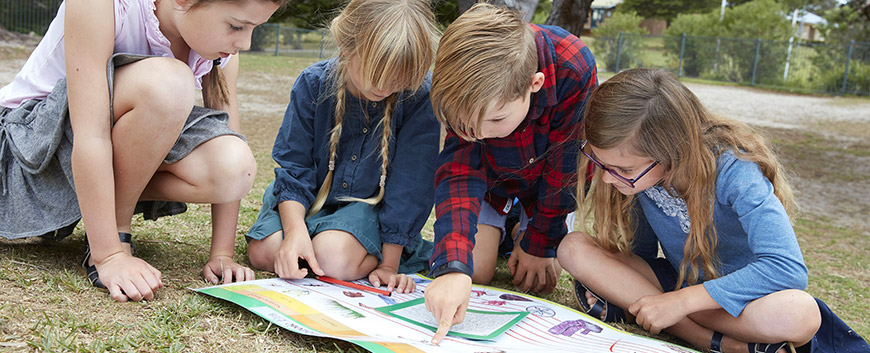 Upcoming events & Important Dates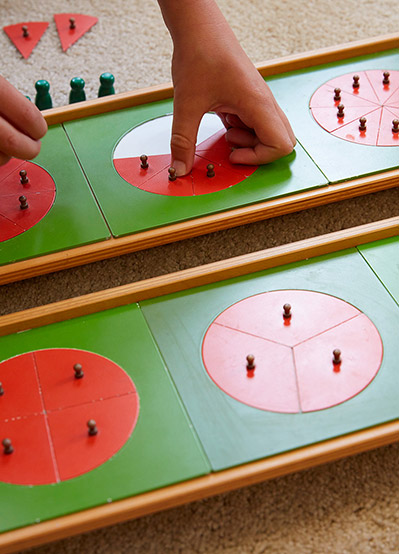 MARCH
Tues 2nd – School Tour: Preschool Campus 4.30pm
Tues 2nd – A Journey Through Montessori (Mathematics) – Parent Workshop – Primary Campus 6:30pm
Thurs 4th – School Tour: Primary Campus 9.30am
Wed 17th – Bridging the Gap 2-3yrs Information Evening – Preschool Parent Workshop VIA ZOOM 7.30pm
Wed 17th – Montessori in the Home 3-6yrs Information Evening – Preschool Parent Working VIA ZOOM 7.30pm
Thurs 18th – School Tour: Primary Campus 9.30am
Mon 22-26th – Harmony Week
Thurs 25th – School Annual General Meeting  7:30pm
Fri 26th – Fees Due
Click
HERE
to see further calendar dates.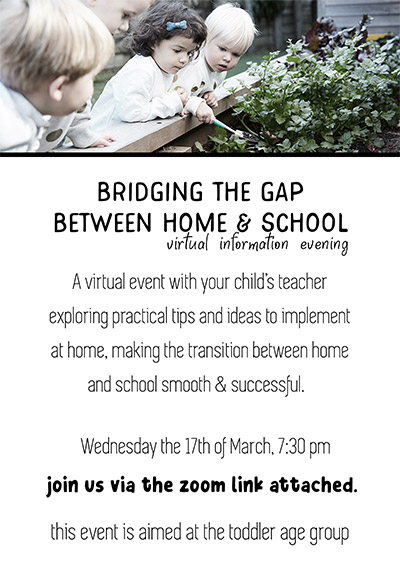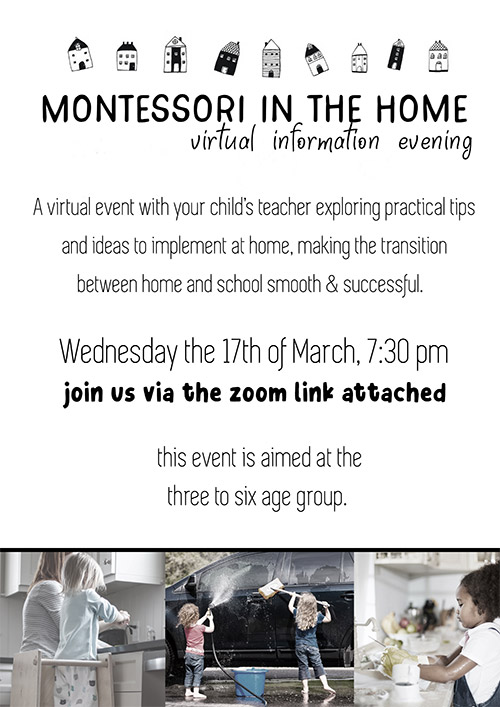 Principals Message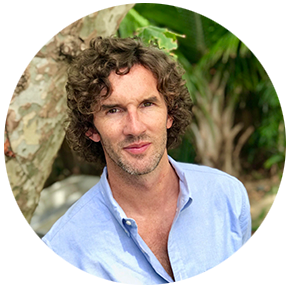 Good afternoon families,
Welcome to Term 1. Hasn't it been a wonderful start to the year? The children are thriving, the community is safe, and the school is doing what it does best. Educating your children to become independent and responsible citizens of the world.
The Montessori curriculum is a continuum that starts on the day the children are born, and continues through into adulthood. As teachers, we are fortunate enough to see these wonderful developments in school every day, however, the importance of independence in a Montessori environment is one of the cornerstones of Maria Montessori's pedagogy.
During the earliest years of a student's journey at our school, we see our children baking bread, choosing activities for themselves, and developing a sense of preference and understanding for what makes them excited to learn. Carefully guided by the educators, the students move into pre-primary and start to understand the true meaning of choice and compromise. They start to collaborate and communicate effectively whilst completing projects and research.
With these wonderful foundations of independence established, once the children move into the primary school, they have a clear understanding of the kinds of subjects they want to explore further. They make preferences with regards to how they would like to learn and in what ways they will represent their research. They absolutely understand what it means to learn for a purpose and link the intention behind each lesson.
This week we saw why it is so important to be guided by the students and the crucial role that independence plays in the development of the whole child. Several children in Stage 3 decided that to represent their research on Thailand, they would like to cook the class a three-course meal. Soup, Pad See Yew and sticky rice. They researched the recipe, sourced the ingredients, researched the bus timetable, wrote a risk assessment, and with the help of several adults they went to the supermarket. Together they purchased the ingredients for the meal and after returning to school, they cooked a three-course meal for 20 students and served them during lunch. The reviews were excellent and the inspiration to the rest of the class was overwhelming, but more importantly the learning was real, it was tangible and aligned with almost every part of the curriculum.
These kinds of activities are testament to the way our teachers work together from start to finish to establish a pedagogy that allows our students to become independent learners with the choice and freedom to take their learning in a direction that enriches the learning experience for everyone.
As a school, we are always looking for new ways to enrich the learning experience for our students, but it is sometimes student-inspired experiences like these that allow us as educators to understand that what our school is providing will make a fundamental difference in tomorrow's child.
Have a lovely weekend ahead.
– Gavin McCormack
ELOUERA | Stage 1 Infant Community
In the Elouera classroom, art and creative expression are a big part of our mornings! Similar to all the other work in our classroom, our art lessons are designed for one artist at a time. Each shelf has a variety of activities: gluing, watercolors, acrylic painting, markers, and crayon activities are available all the time, and others like stamping, cutting and clay vary from month to month.
Our (very independent!) children are responsible for their work from start to finish, which includes collecting paper or water and cleaning up any spillages. It also means carefully transferring a wet piece of artwork to the designated "drying rack" or cleaning glue out of a glue brush. This responsibility allows our children to learn to "complete the cycle" from start to finish and to grow confident in their work.
Colouring, cutting, and gluing are part of life in an active Montessori classroom and it's important that the children learn to do so independently, safely, and with confidence.
We want our children to love art! We want them to love color and texture and shapes and lines. It is our hope that they learn that art is one of many creative outlets and that it's fun!
– Corinne, Debbie & Sarah
Cooking experiences form part of the weekly program in the Burbangana classroom. These experiences combine the skills from practical life with links to the science of combining ingredients to form a mixture and then adding heat to cook. The children really enjoy the process of preparing the ingredients (chopping, mashing), cooking, seeing the finished dish and then eating it. They also enjoy sharing the food with their peers across both classrooms which is another opportunity to practice our grace and courtesy skills with children they don't regularly interact with.
– Amanda & Teresa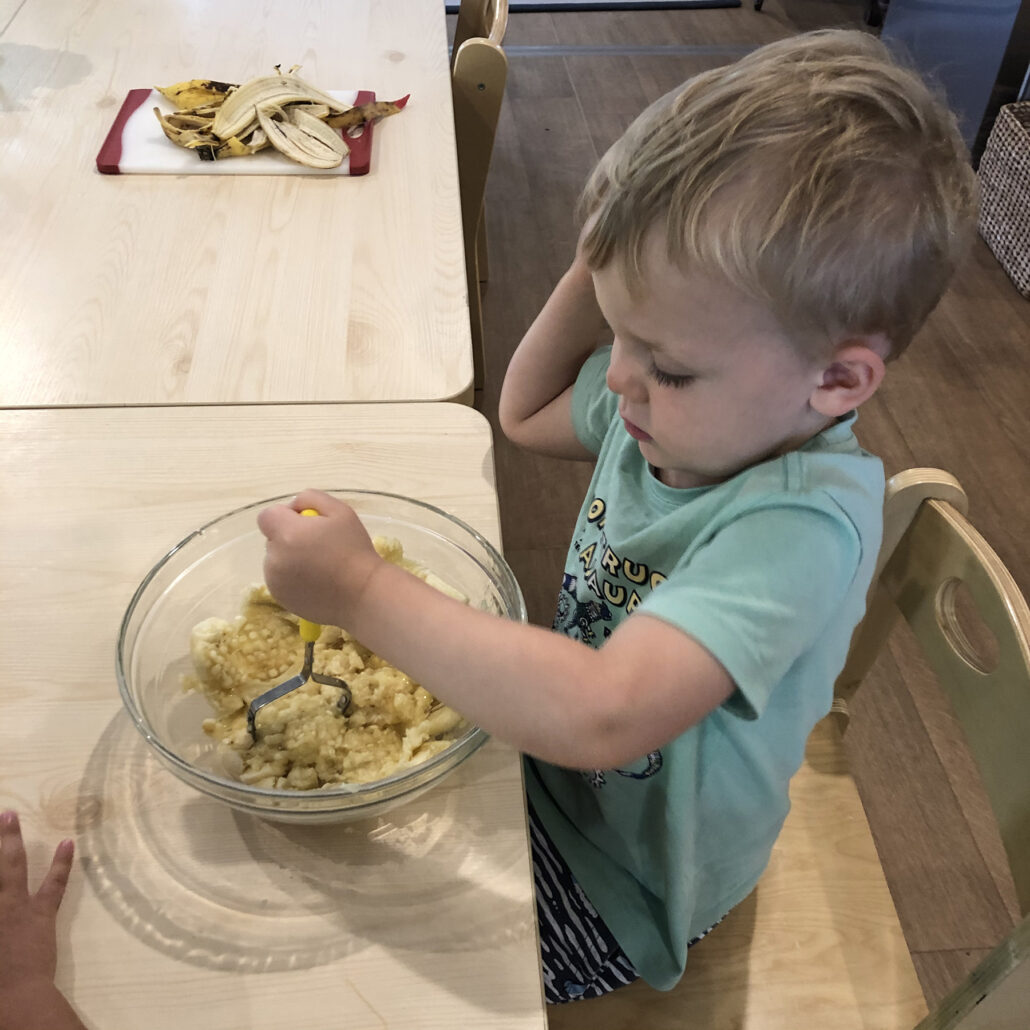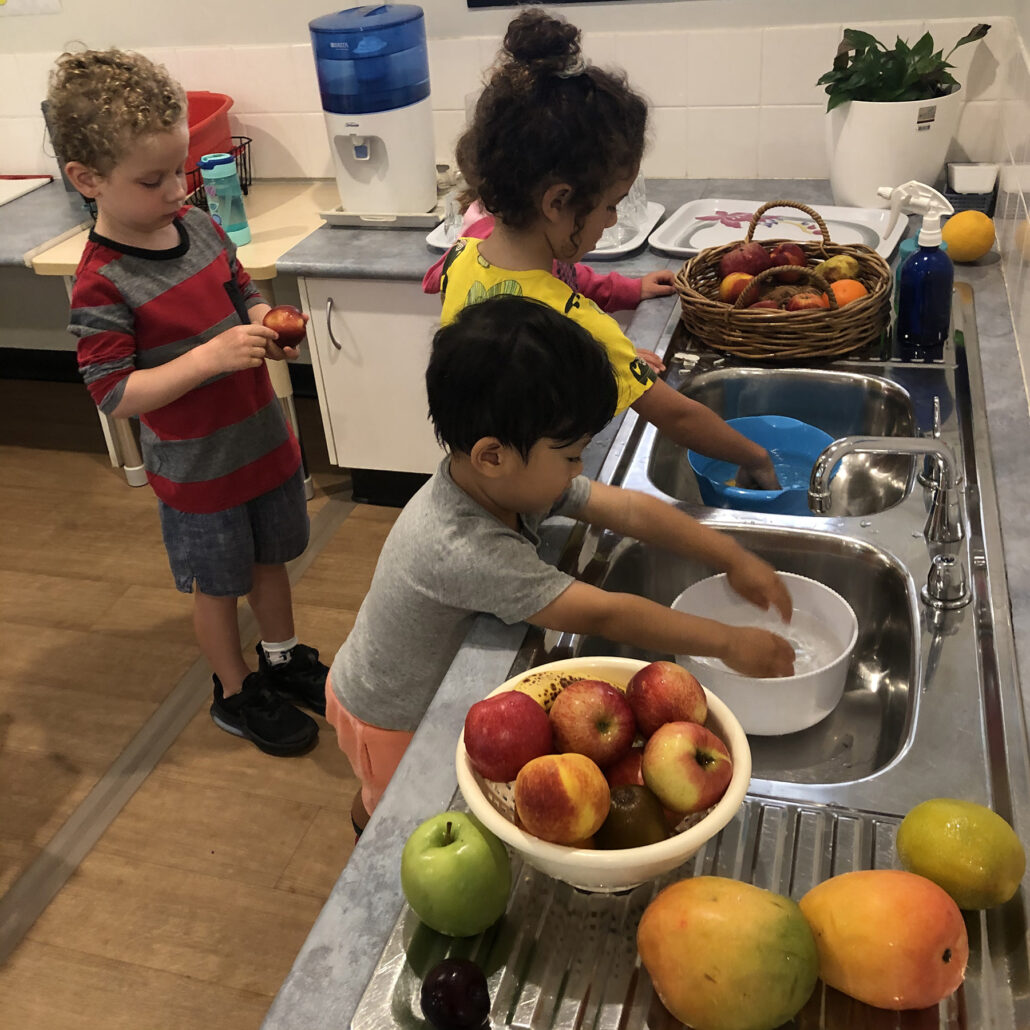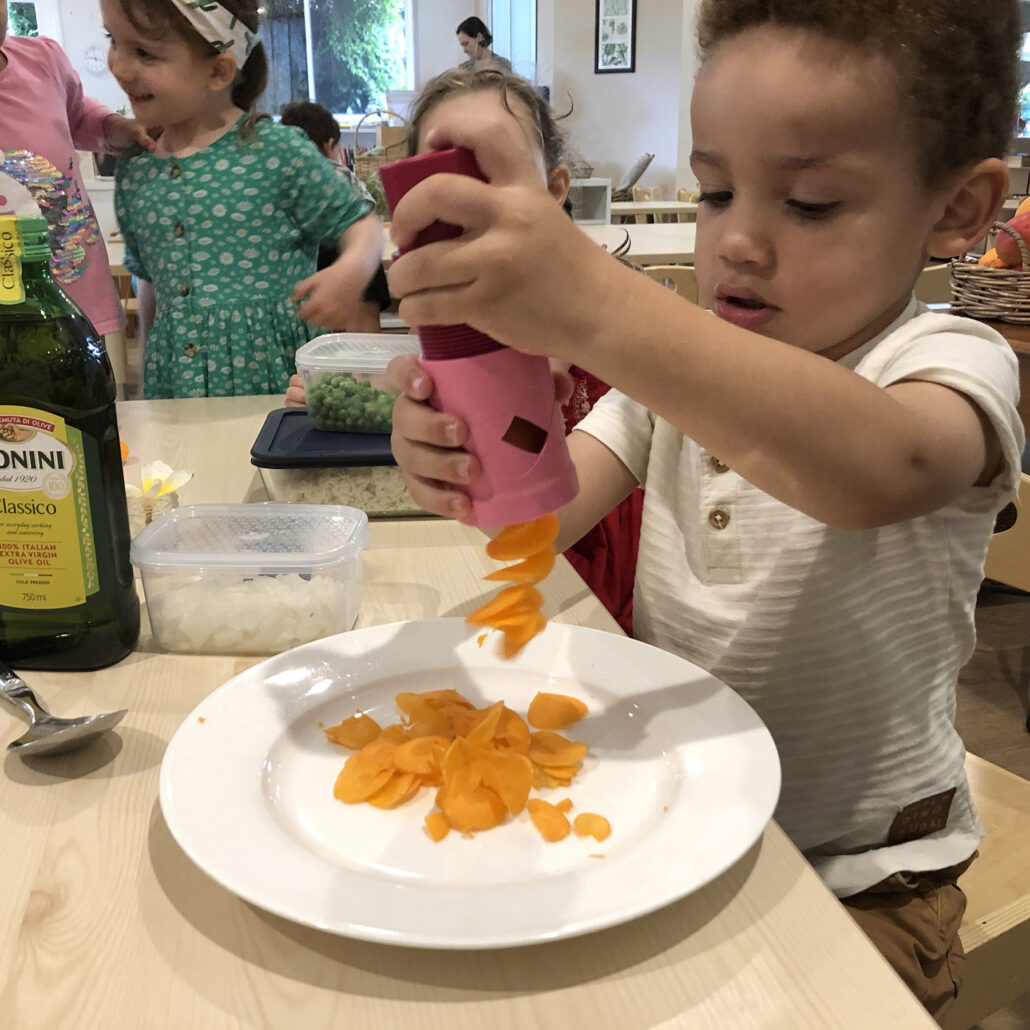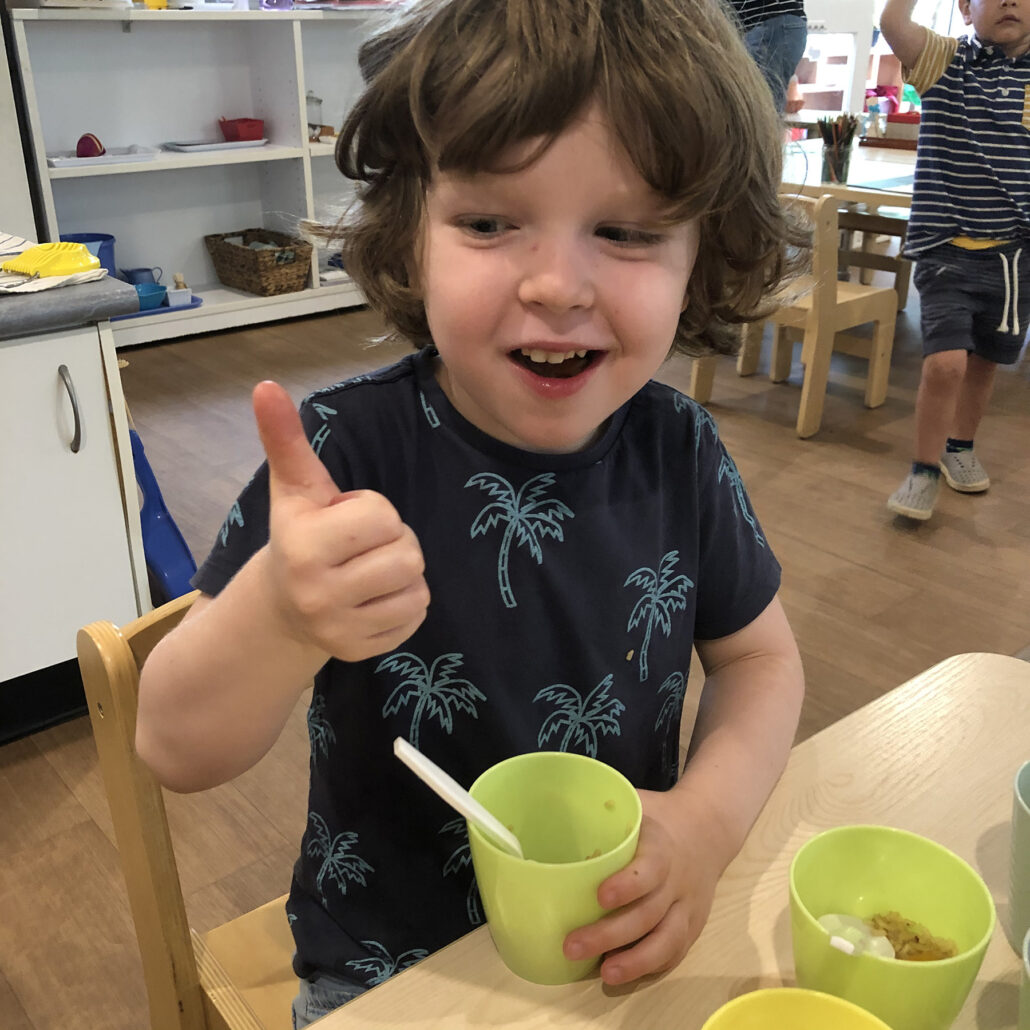 During our celebration of Chinese New Year we have eaten, investigated, made Chinese lanterns and danced. Celebrations of other cultures link children to their wider community. Children are by nature inquisitive about the world around them and celebrating festivals allow children to understand the differences and the sameness in every community. We have loved celebrating Chinese New Year. The children were asked to brainstorm what they now know about this festival and about China. Their answers were though, factual and filled with excitement. We continue to share other festivals during the year especially celebrations that are linked to the cultural diversity of our school. Kung Hei Fat Choy
– Jenny, Jo & Angela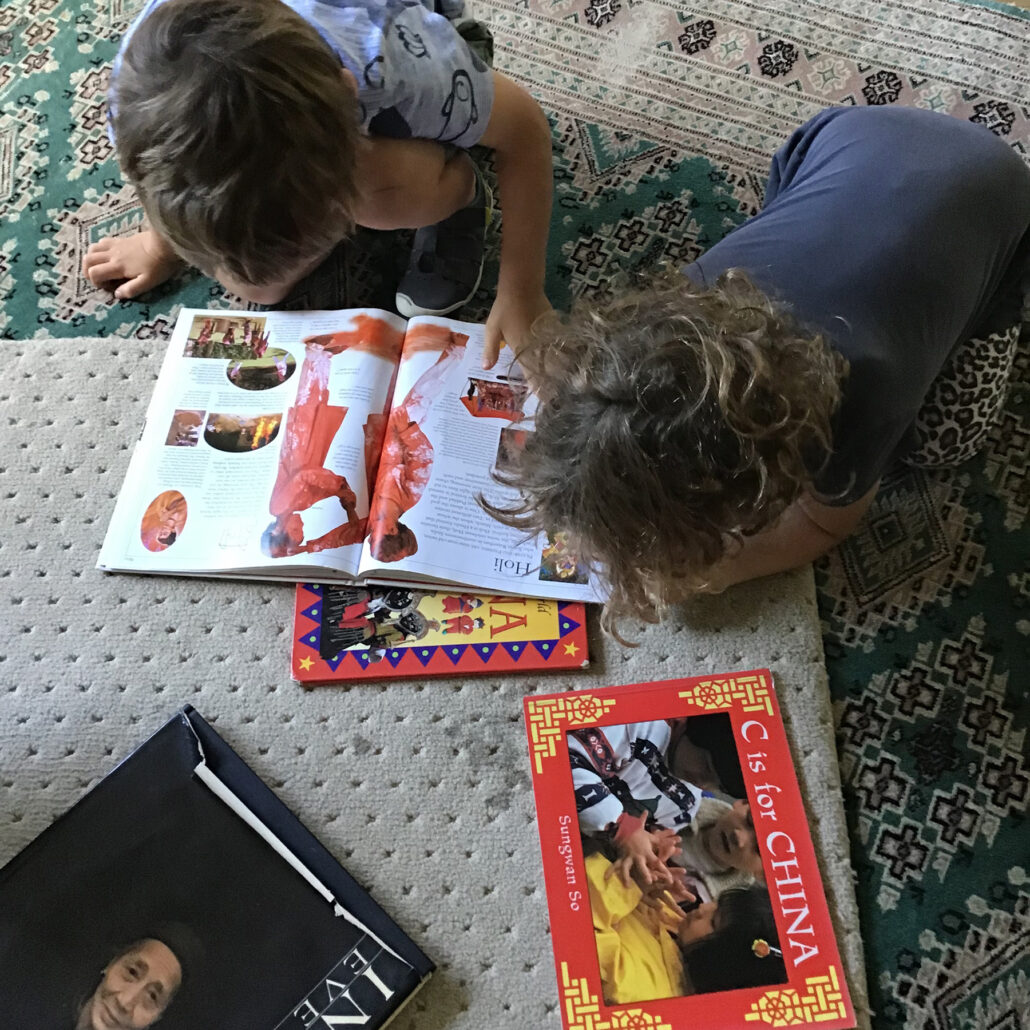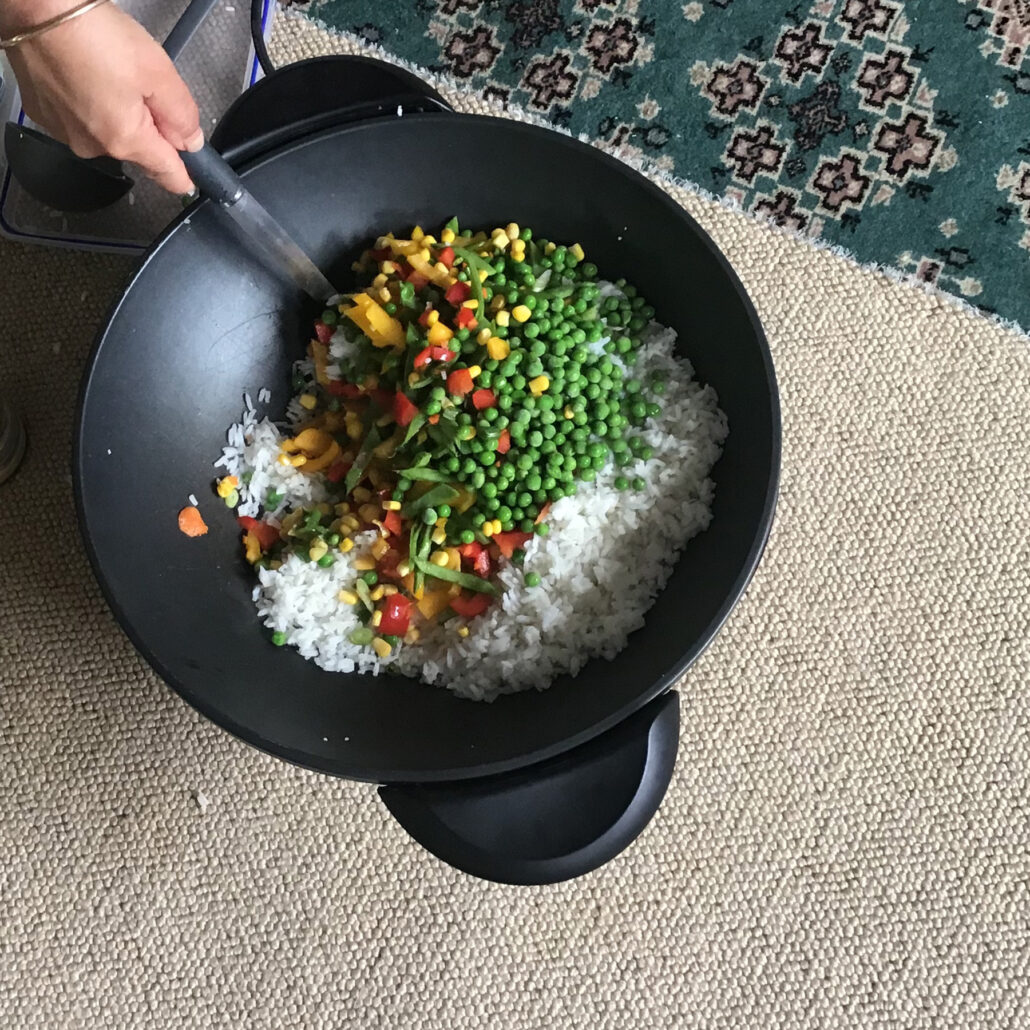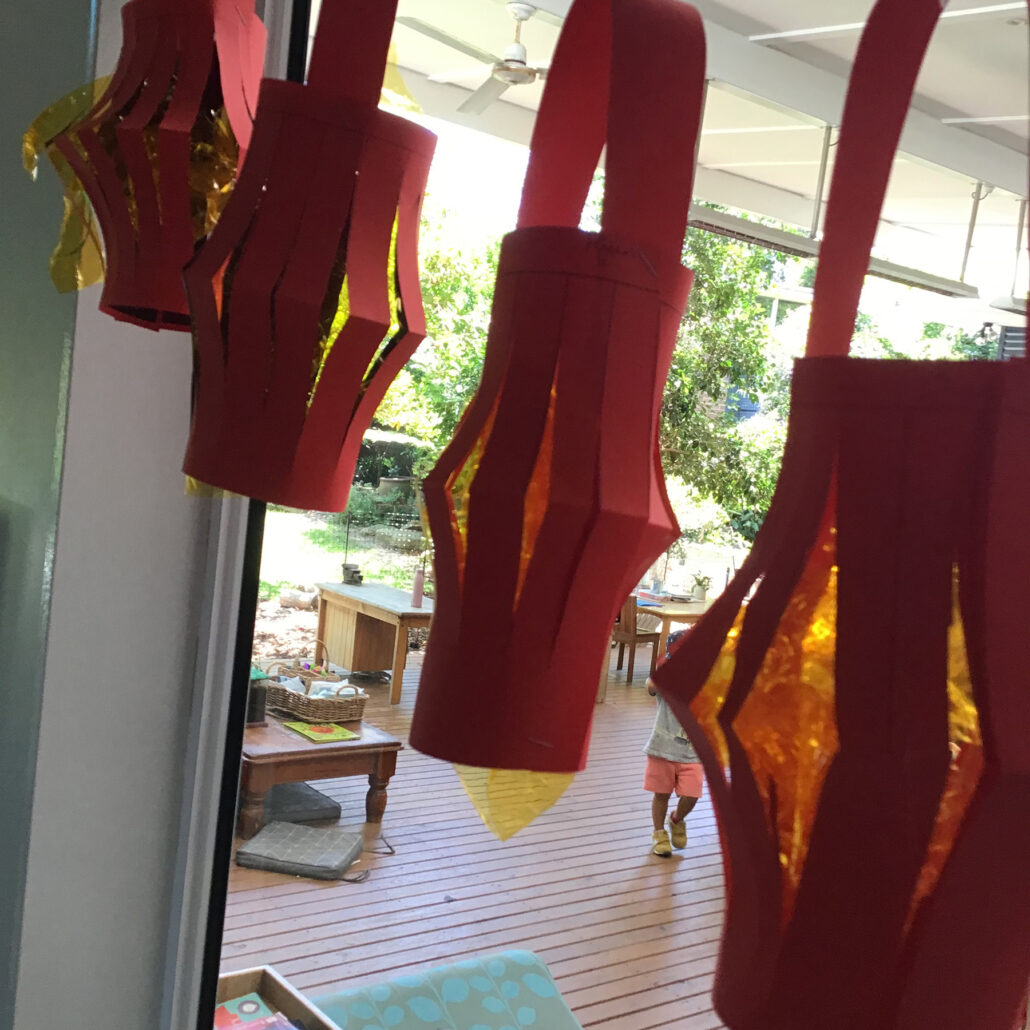 AMAROO | OUTDOOR CLASSROOM
From the beginning of term we have followed the children's interests with various animals, insects, birds and habitats.  Our process is usually, research, looking at books, lots of discussion and sharing of knowledge, watching national geographic videos, then drawing, practise writing, colouring, cutting and glueing to create their own representations. No matter the subject this helps the children develop muscles in their hands and fine motor skills for writing.  The development of concentration and focus is often evident on their faces.  Although the end product gets taken home it's the process that is important, along with the shear enjoyment of discovery and learning.
– Dawn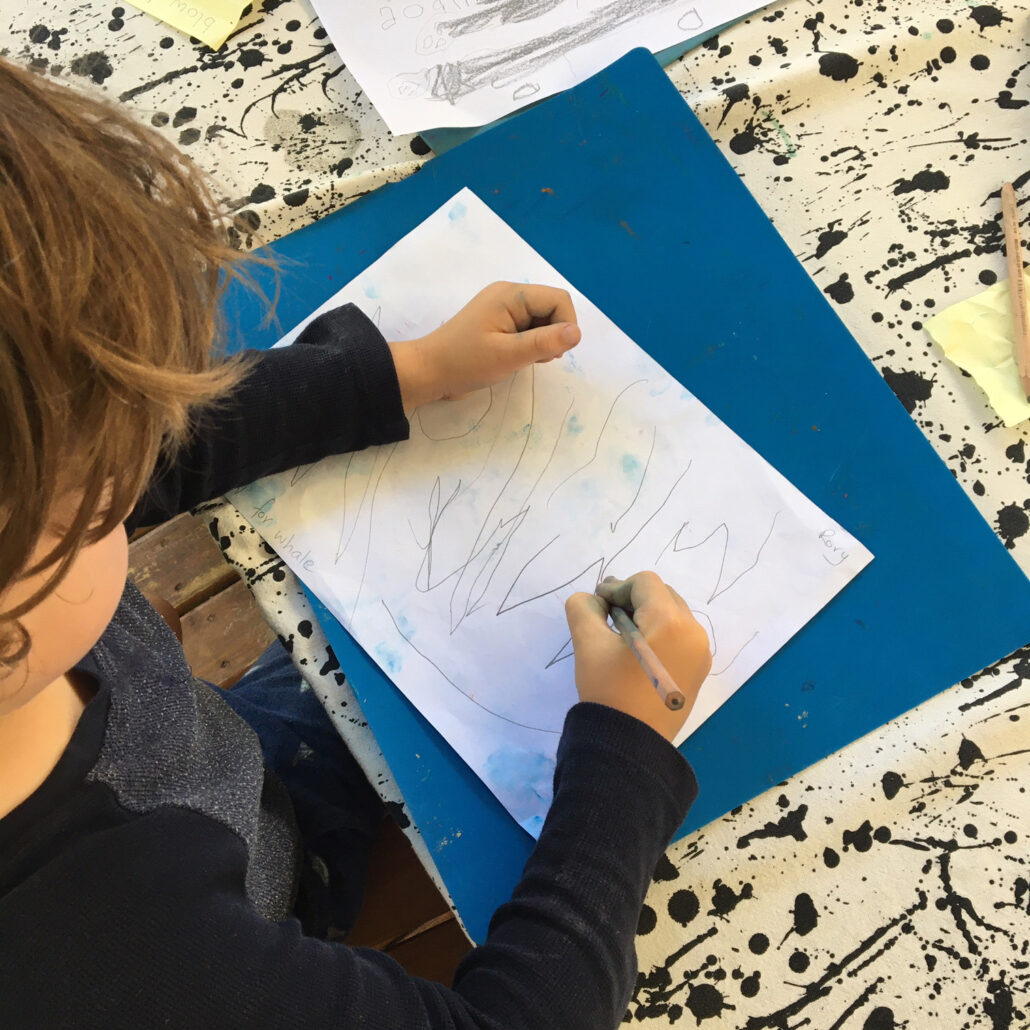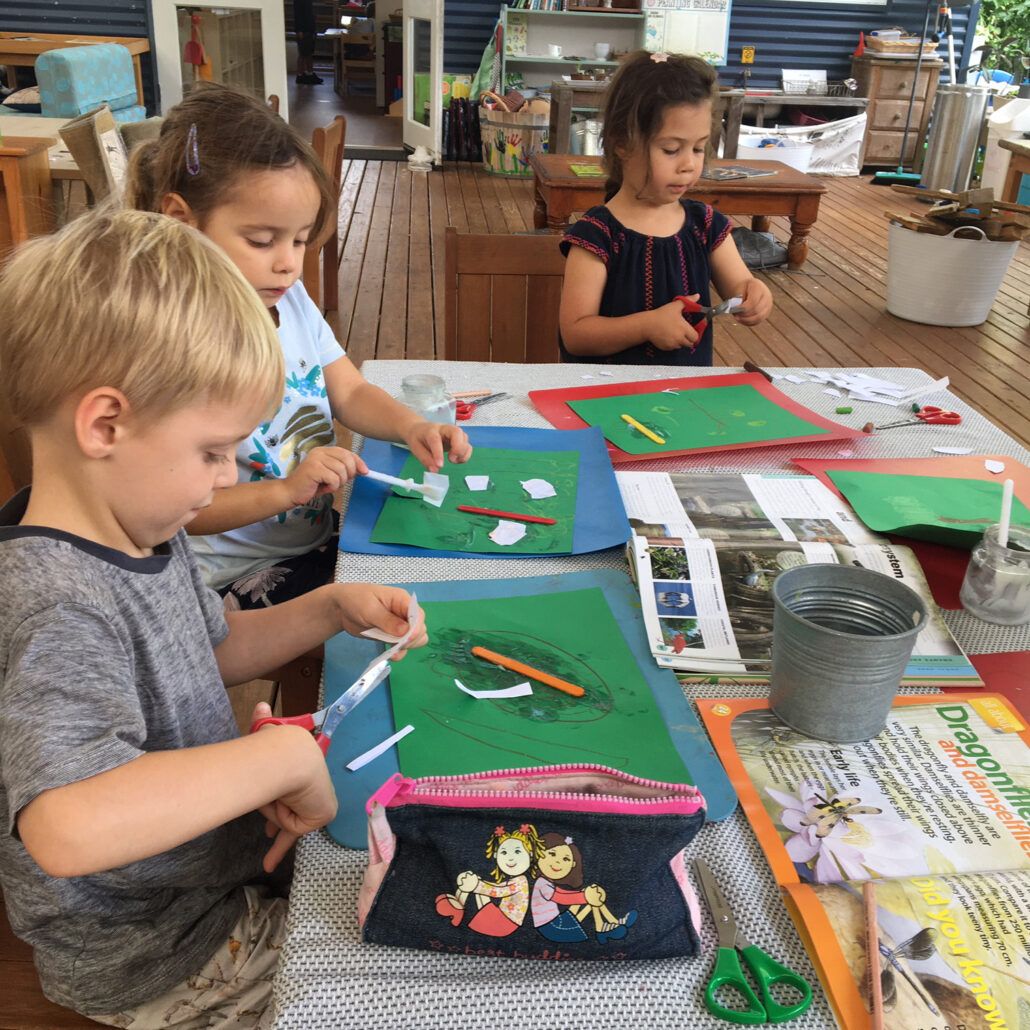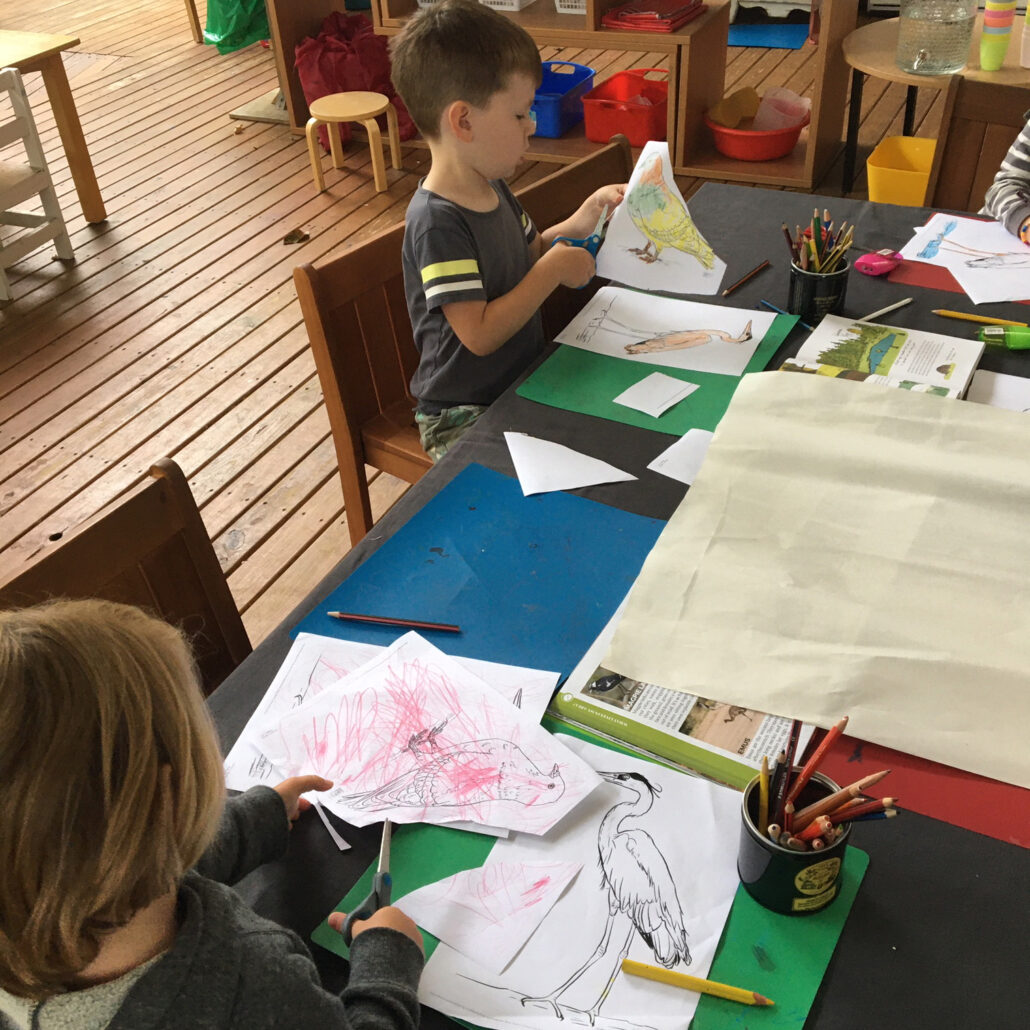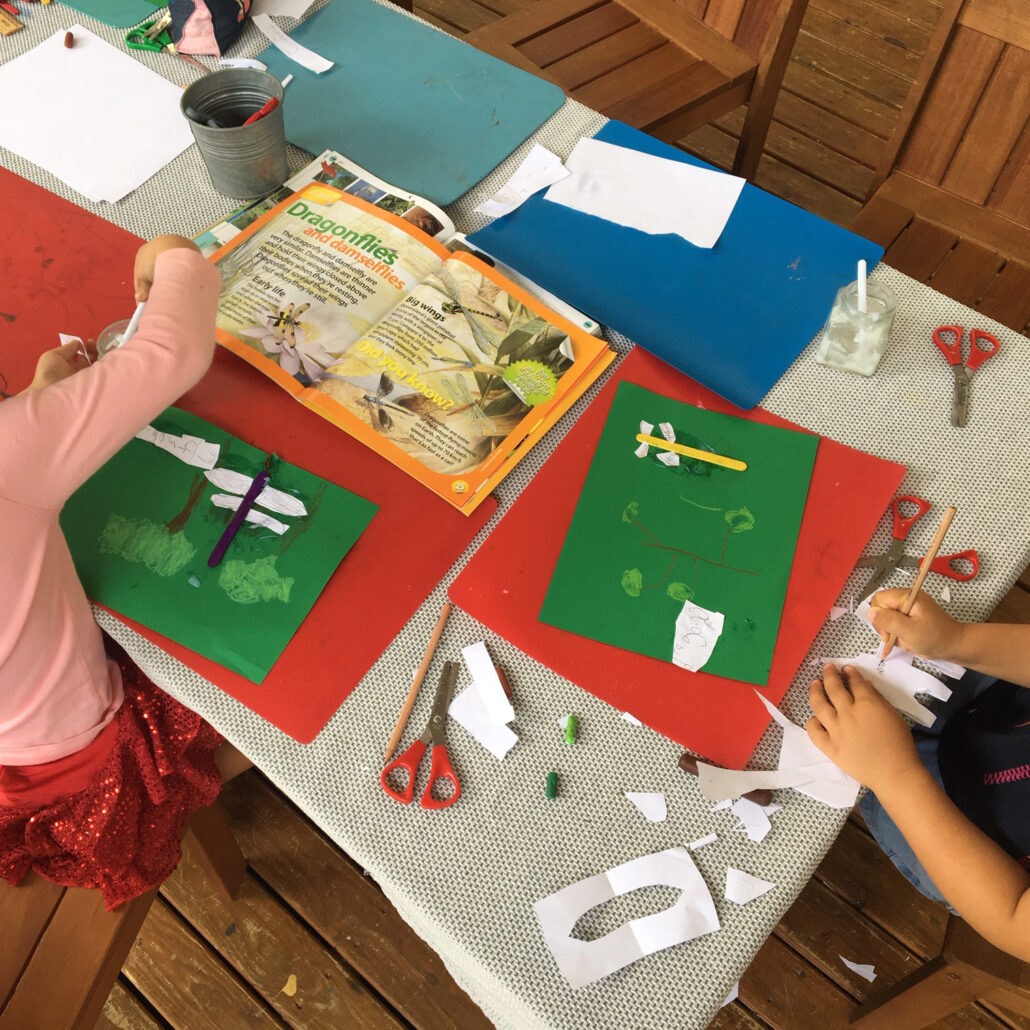 Reading skills
In the Montessori literacy area, we start with initial sounds. This involves playing games to think of the sounds that words begin with. We also go on sound hunts around the school and garden. This is followed by putting sounds together to create short cvc words. We use the alphabet box, pictures and word cards to help segment and blend sounds together.
In the last week, the Kindergarten children have been learning digraphs- 2 letters making one sound. These are sounds such as: sh, ch, oo and ee. We think of words with these sounds in. We have also been hiding tricky words around the garden and putting them into a sentence when we find them. The early reader books have been popular too and we are excited to find the tricky words in the books.
– Elizabeth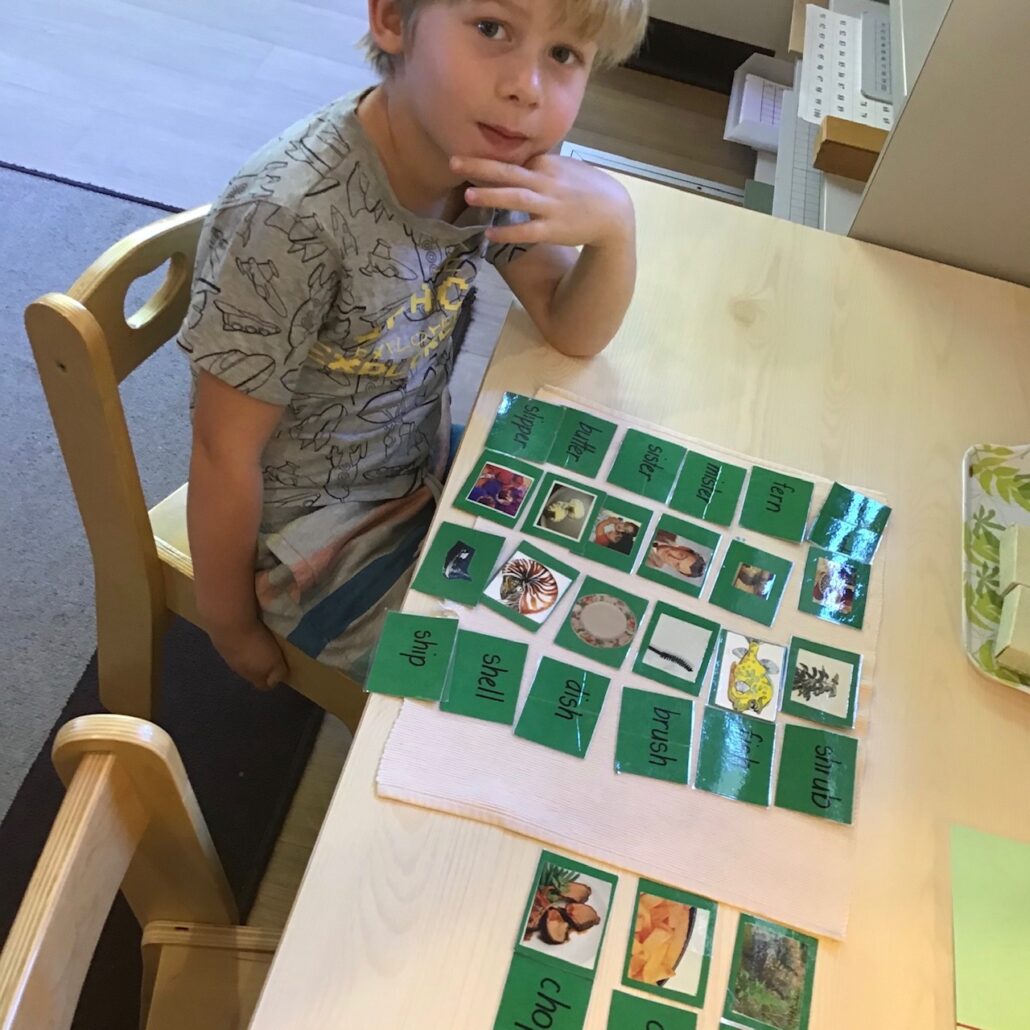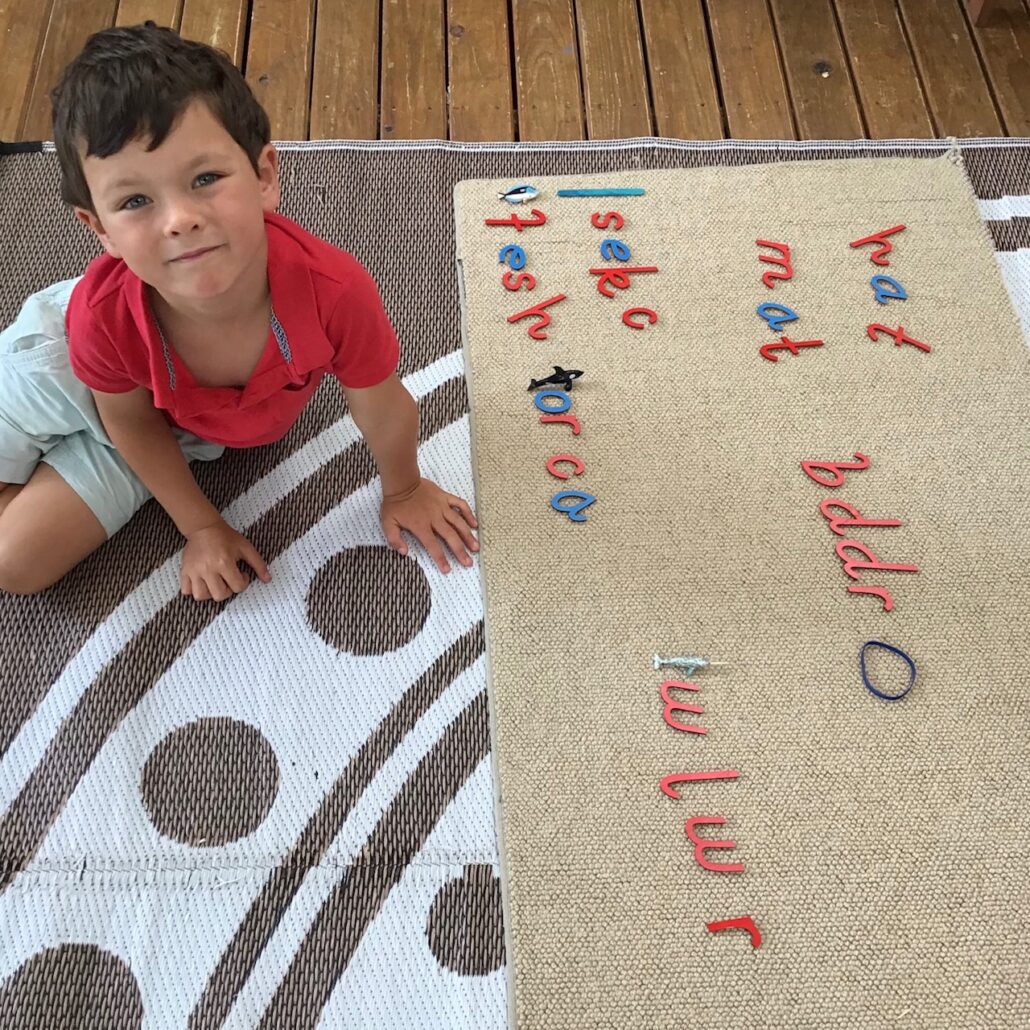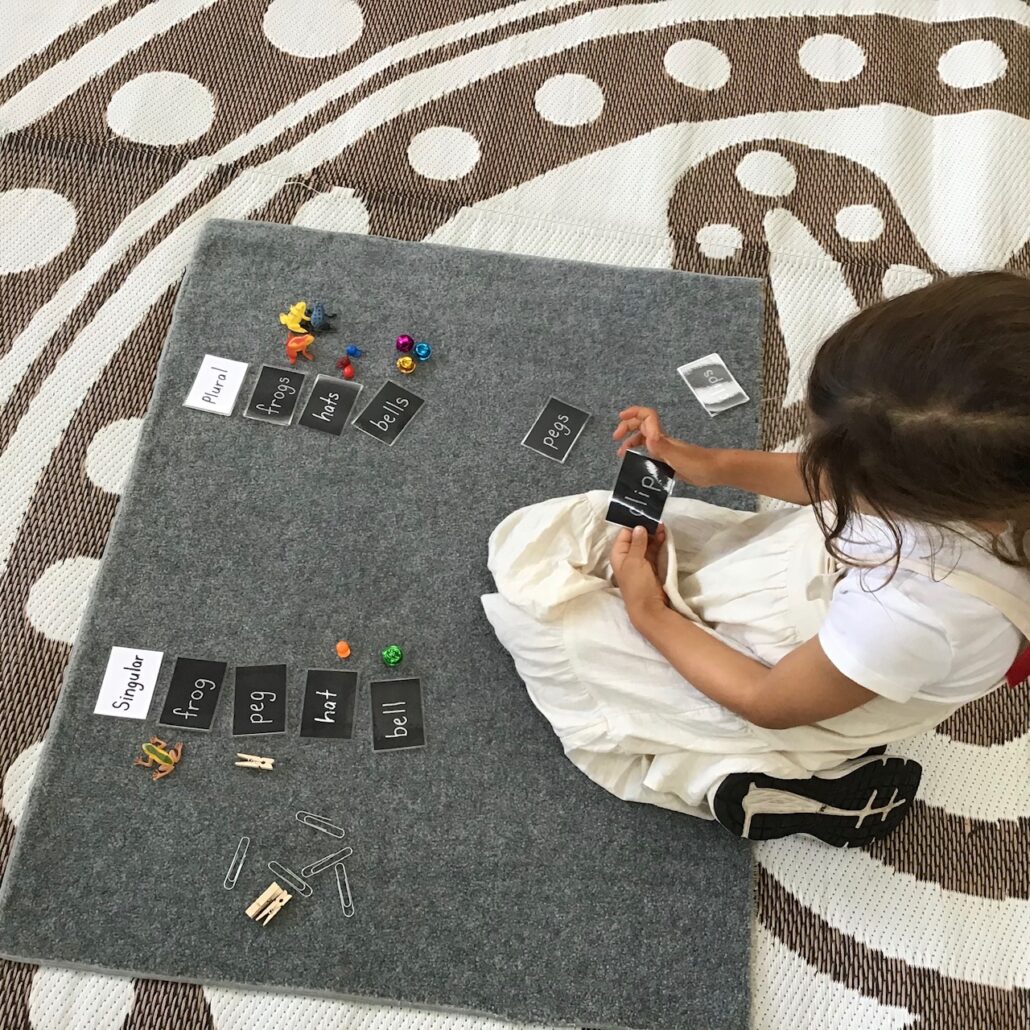 The children in the Aikya have established some lovely friendships with their peers over the last few weeks.
This fortnight the 'Coming of Life', a story about The Evolution was introduced. While some children took interest in gardening to study about plants, the others explored the characteristics of Amphibians.  The children continue to explore Life on Earth through interest led projects, activities and discussions.
Lunar New Year and its significance was explored through stories, art and cooking lessons. The children thoroughly enjoyed the process of making wontons and savouring them.
The children had the wonderful opportunity to be part of an incursion around Bike Riding and Safe Riding Practices. They enjoyed interacting with Julie-Anne Hazlett (Tour de France cyclist) as she spoke about Bike Races. We thank Kristina Rivers and Nick Rivers (an adventure cyclist) for organising and running this programme.
– Harshitha, Toby, Thomas and Hannah.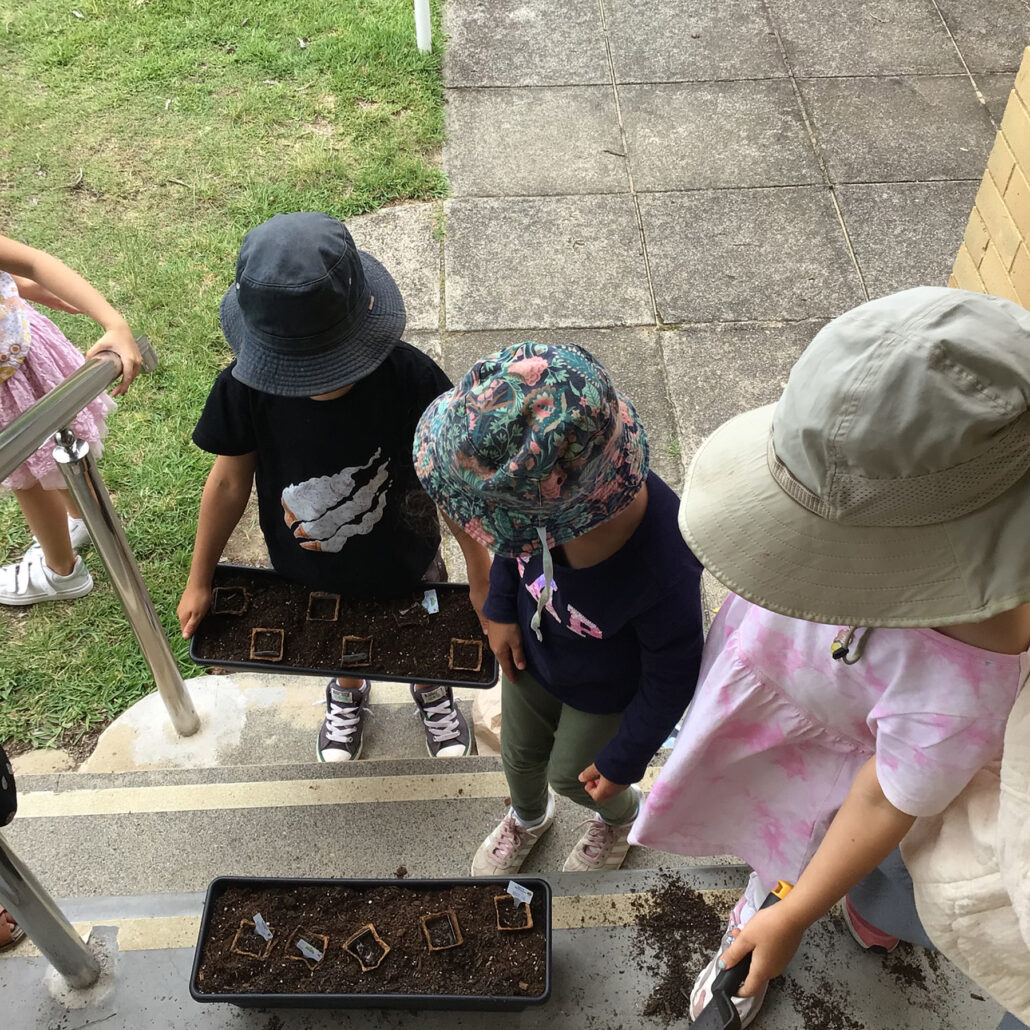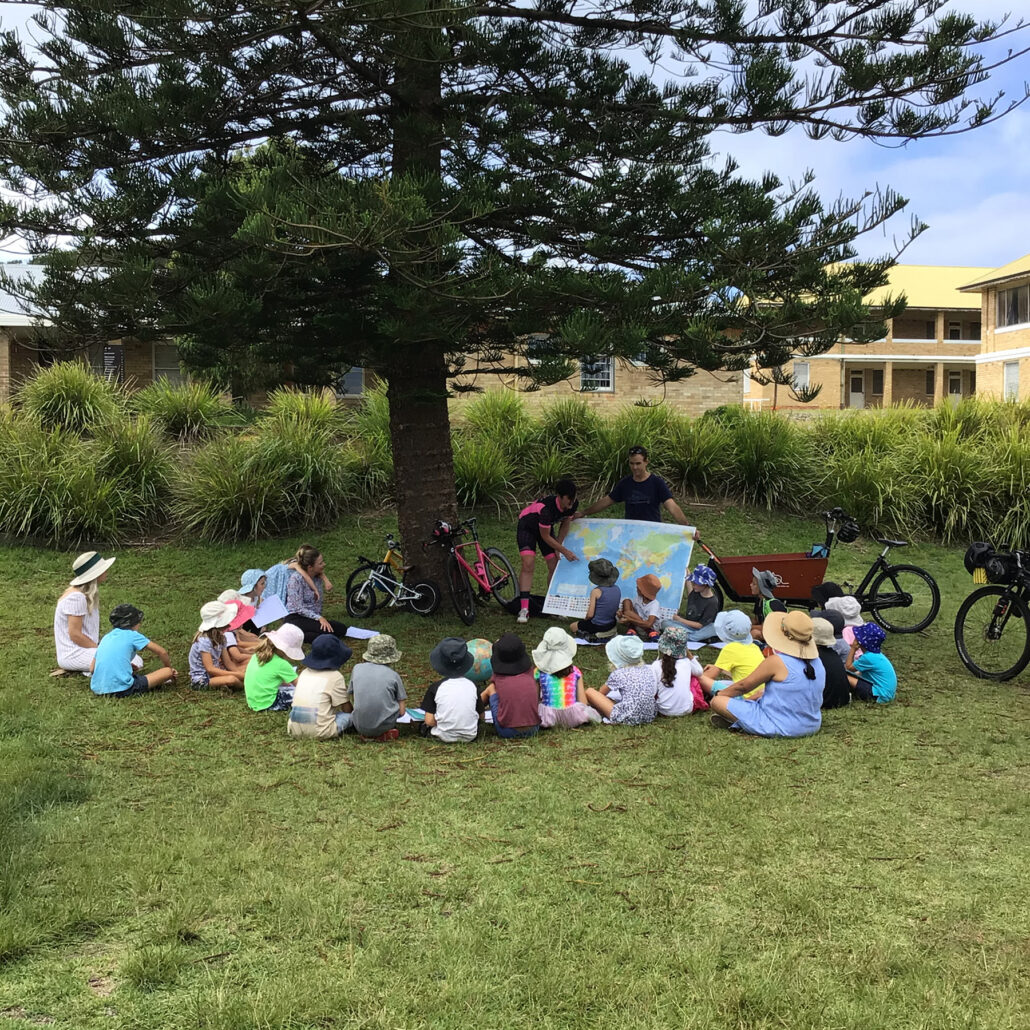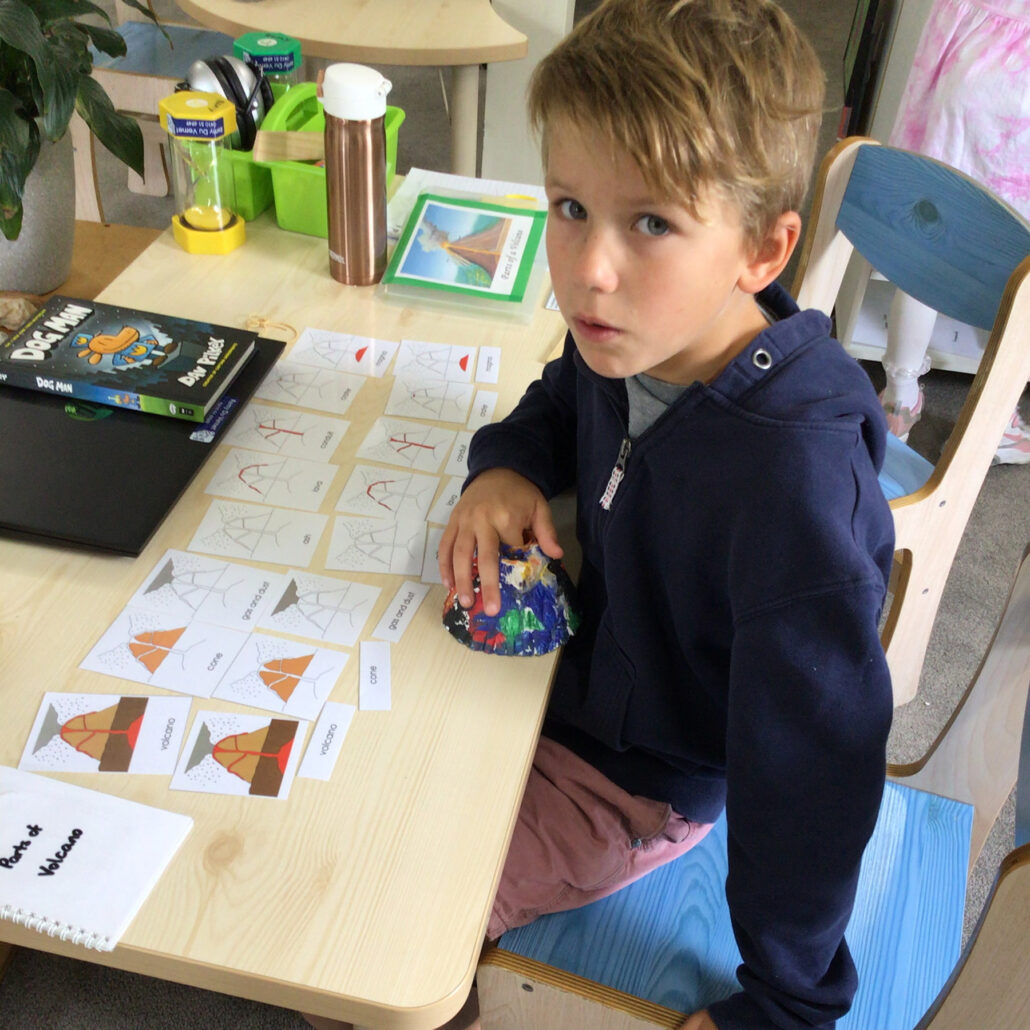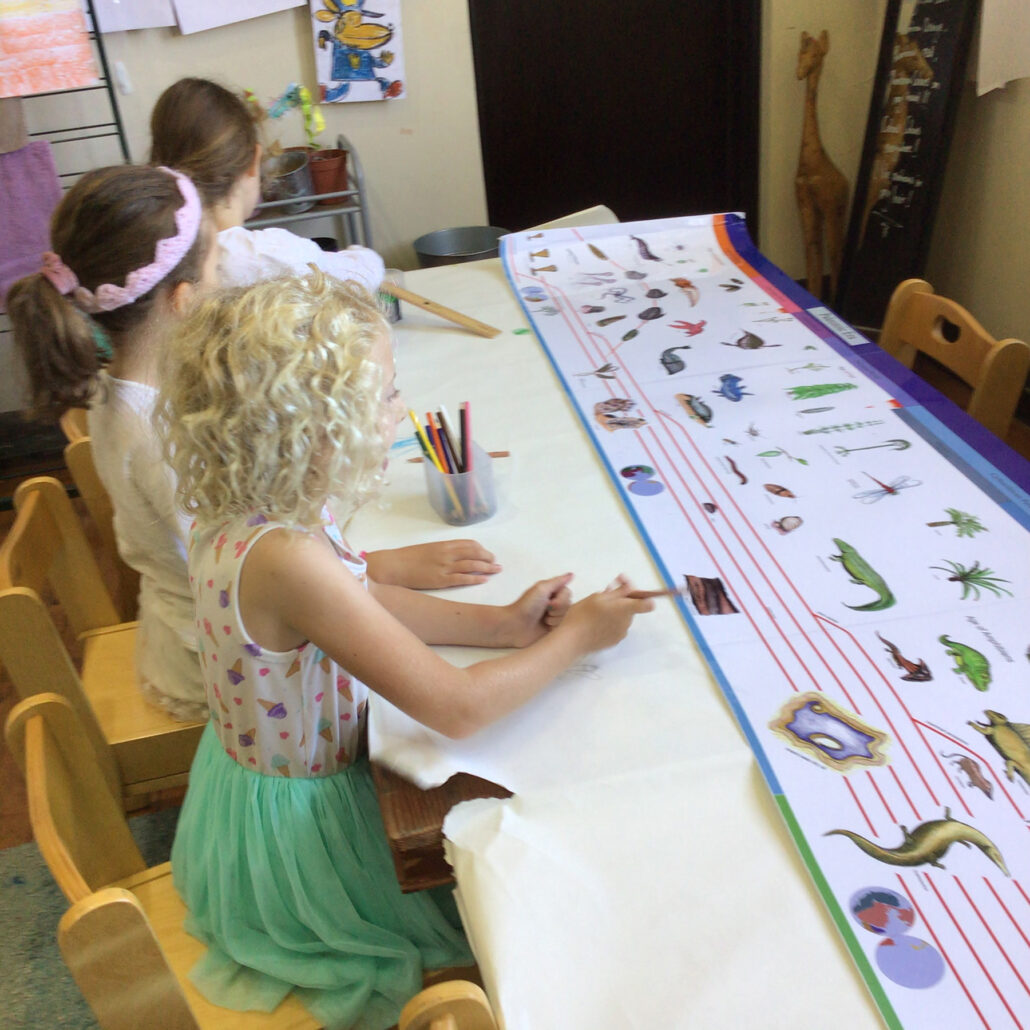 Last week Oona from Aikya came to visit Yani to show the fish she caught on the weekend with her Dad and her brother. She said it was a big fish, she had to catch a squid first to use as bait to get the fish and told us all how she caught the squid and fish. It was really exciting for all of us, Oona is a big talker for her age and very adventurous and best of all a fisherwoman!
On Monday Amarine, Claudia, Milly, and Mena hosted a bake sale. The purpose of the bake sale was to raise money to buy backpacks, pencil cases, and water bottles. Each family (if they would like) will receive one of these backpacks and will be required to fill it with school supplies like stationery, books, and a maximum of one toy\teddy or game(everything you put in must be in good condition, gender-neutral, and not at all related to violence.) The bake sale was highly successful as we raised $420.90 in total! Thank you to everyone who brought something in or bought treats. If you want more info ask Claudia, Amarine, Mena, or Milly.
Mena found a dead pray mantis at Little Manly Beach and brought it in to show the class. We used a magnifying glass to study and label its different parts. We were all extremely interested so feel free to bring in any cool things you find ( they must not be living).
In music, we are all playing a song called From St Kilda to Kings Cross by Paul Kelly. Everyone was into it, singing and playing the guitars. We all took turns playing the guitar because there isn't enough for everyone, we were all participating in music and we find it is a very great song and we all enjoy James teaching us.
By Havana, Claudia, and Amarine
– Laura & Jessica