2021 Newsletter Term 01 | Issue 01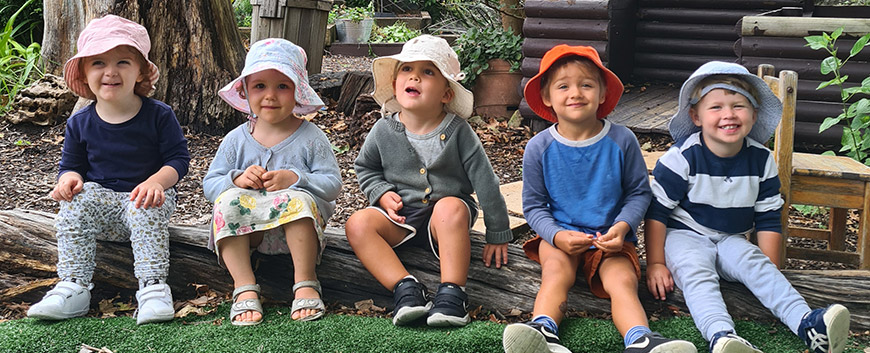 Upcoming events & Important Dates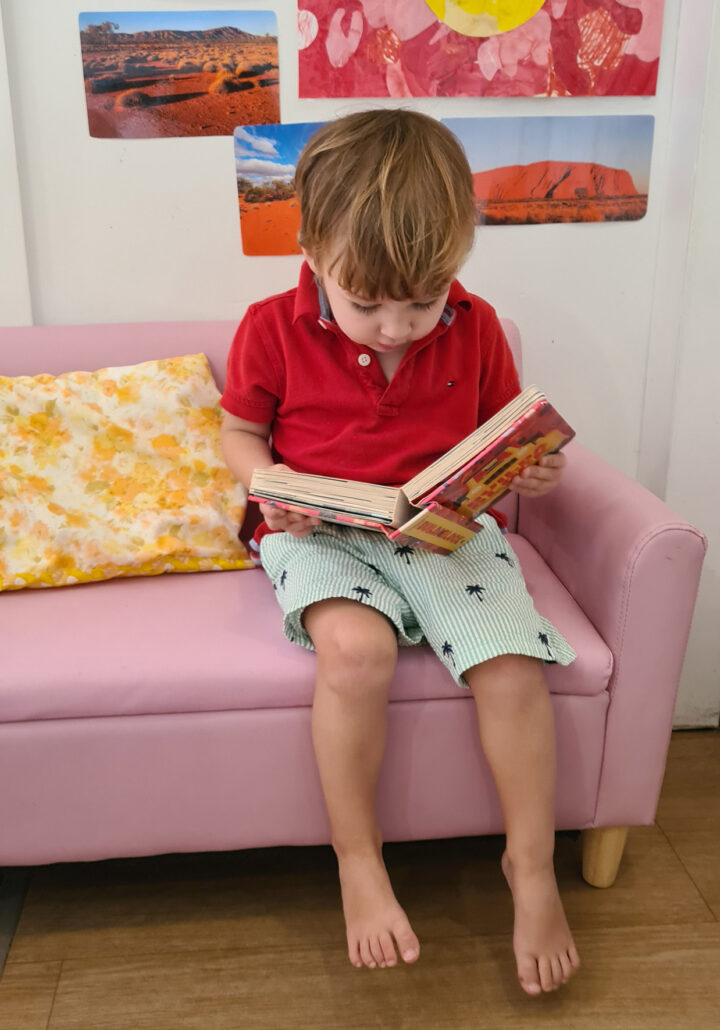 FEB
Thurs 11th – School Tour: Primary Campus 9.30am
Wed 17th – Naplan Information Session – Primary Campus 3:15pm
Thurs 25th – School Tour: Primary Campus 9.30am
MARCH
Tues 2nd – School Tour: Preschool Campus 4.30pm
Tues 2nd – A Journey Through Montessori (Mathematics) – Parent Workshop – Primary Campus 6:30pm
Thurs 4th – School Tour: Primary Campus 9.30am
Wed 17th – Bridging the Gap 2-3yrs Information Evening – Preschool Parent Workshop VIA ZOOM 7.30pm
Wed 17th – Montessori in the Home 3-6yrs Information Evening – Preschool Parent Working VIA ZOOM 7.30pm
Thurs 18th – School Tour: Primary Campus 9.30am
Mon 22-26th – Harmony Week
Thurs 25th – School Annual General Meeting  7:30pm
Fri 26th – Fees Due
Click
HERE
to see further calendar dates.
Principals Message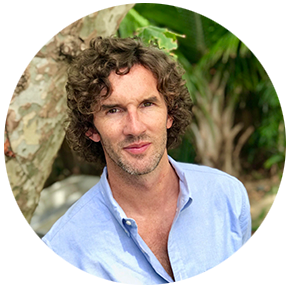 Dear families,
It is wonderful to have the school back together again with the life and laughter of the children in the classrooms, the buzz of excitement in the parent community and the continuous inspiration of our students as they move through a school, we are all proud to call home.
During the holidays, the staff worked hard to make sure that upon opening the doors to 2021, the children and the families could return safely in the knowledge that no matter what the pandemic brought to our doorsteps and no matter how 2021 evolves, the mental health of our children and the continuity of their education would be affected as little as possible.
Education is a two-way street. School is a place of exchange, where the children learn from us, each other, and the prepared environment, but we also learn a lot from them. Through our careful observations of how our students interact, learn, and adapt, we understand more and more about how children foster a love of lifelong learning, develop independence, and overcome difficult situations. We understand the importance of order, routine and consistency and above all else, we truly know what it means for children to enjoy learning. The education of our children is everyone's responsibility, and we all have a role to play. Something we, as a community do so well.
Here at Farmhouse Montessori School, we see that by working together and being aligned, we can get the most out of our children's time here at school. The more we work together the greater the impact will be.
Although our school has been off limits for parents on campus over the last year, we are still here to listen to your suggestions, take heed of your needs and wants and adapt accordingly to support you and your family in any way we can. The children, staff, parents, families, and board members all play a vital role in how our school operates.  If you feel that you have something to offer our school community, whether it is a skill you would like to share, a suggestion you have or an idea that has been brewing inside for some time, then we'd like to hear from you. The only constant in education is change, and we are it.
Alternatively, you may wish to be more involved in the school as a potential board member. Nominations are currently open and if you feel that you would like to be involved in the school from a board perspective, please ask for a nomination form at either campus' reception, or refer to a recent letter from the Chairman of the Board in your email. The closing date for Nominations is 26th February.
Have a wonderful weekend ahead and take care.
– Gavin McCormack
ELOUERA | Stage 1 Infant Community
Welcome back to Elouera! We have had a beautiful start to the year and all our new friends are settling in well. It has been a busy first week exploring the environment, working inside and outside, and visiting the big garden to see our new chickens! This is such a big transition for our little two-year-olds and can be overwhelming at times, please keep in mind that a little extra patience, more hugs, and downtime might be needed over the next few weeks.
– Corinne, Debbie & Sarah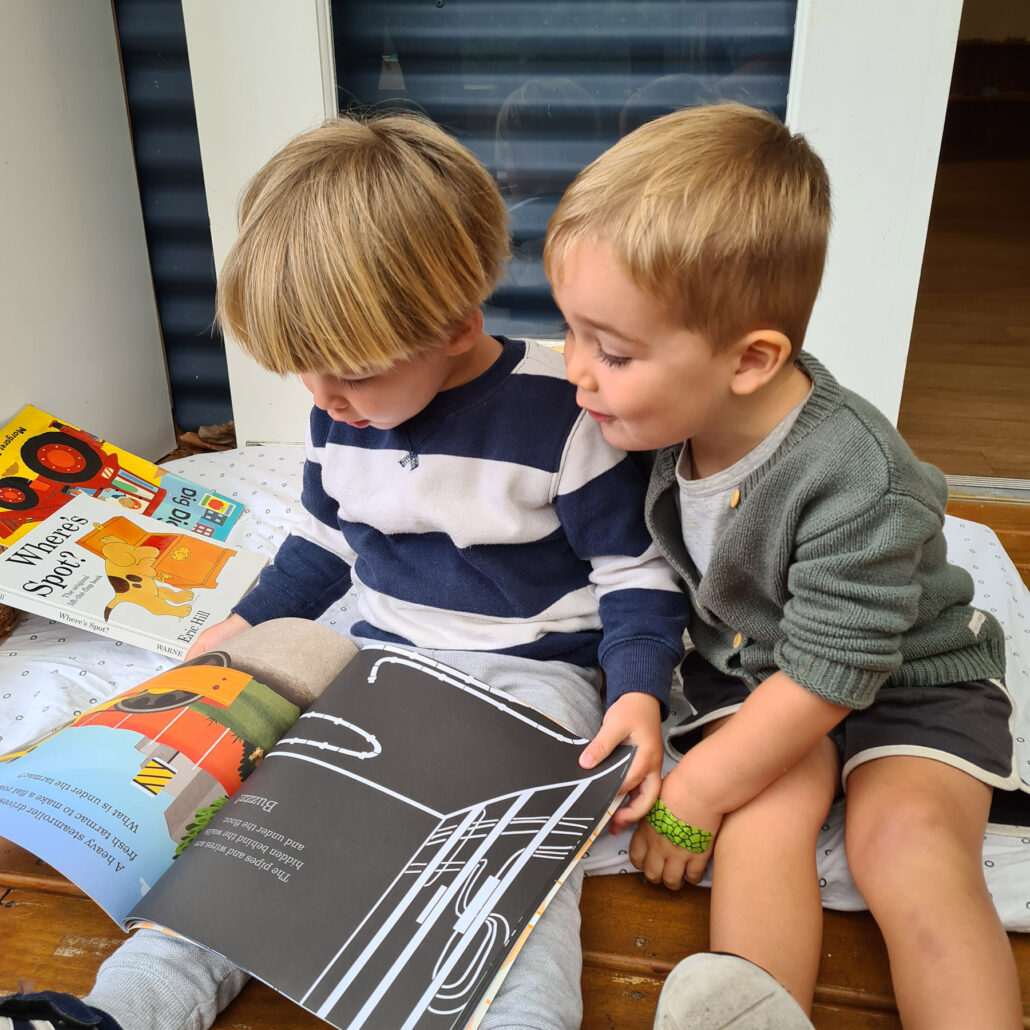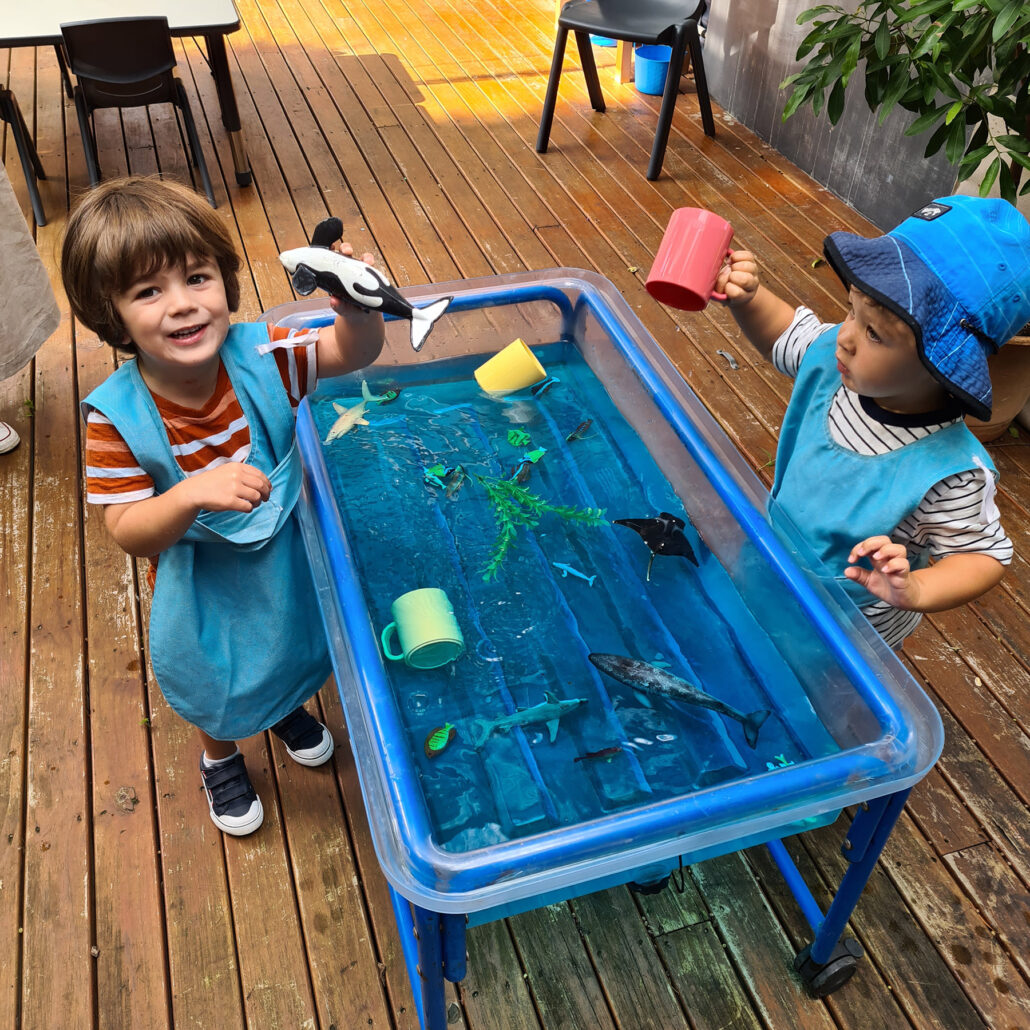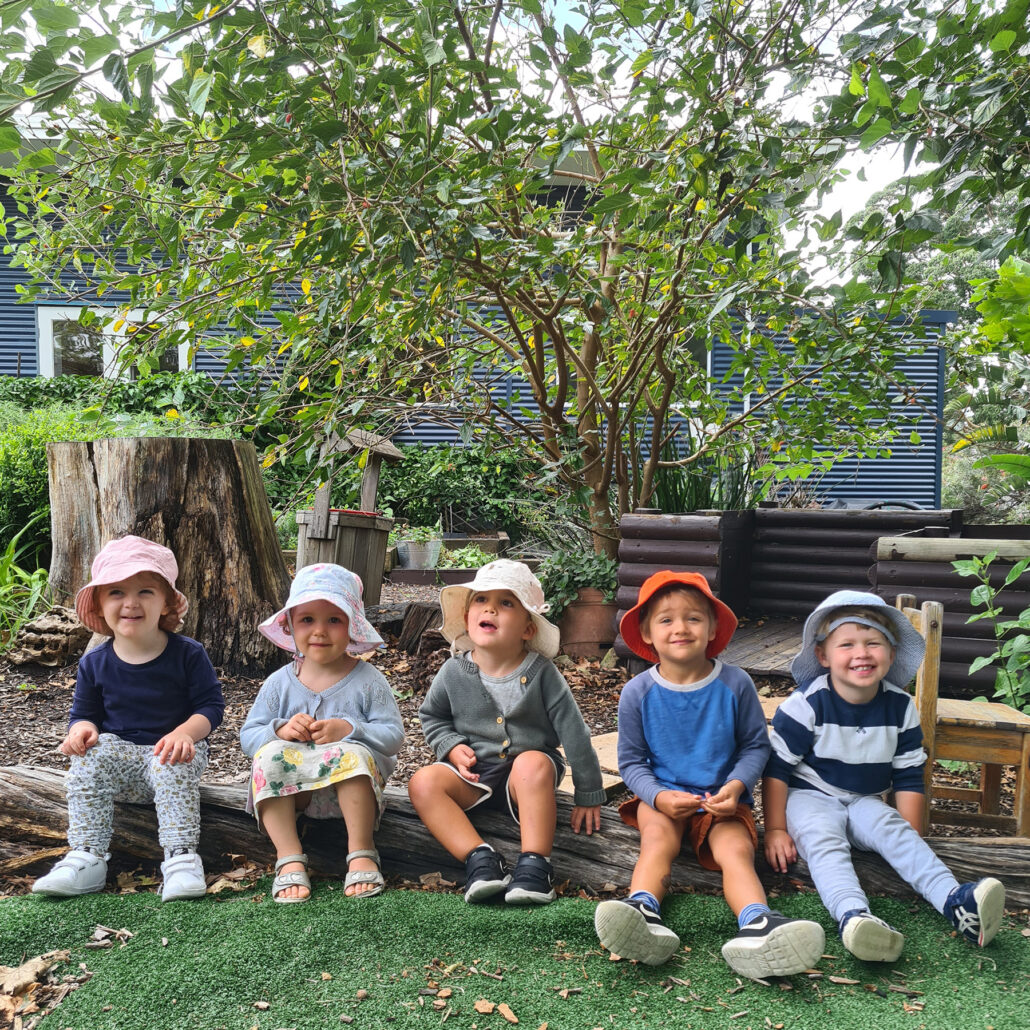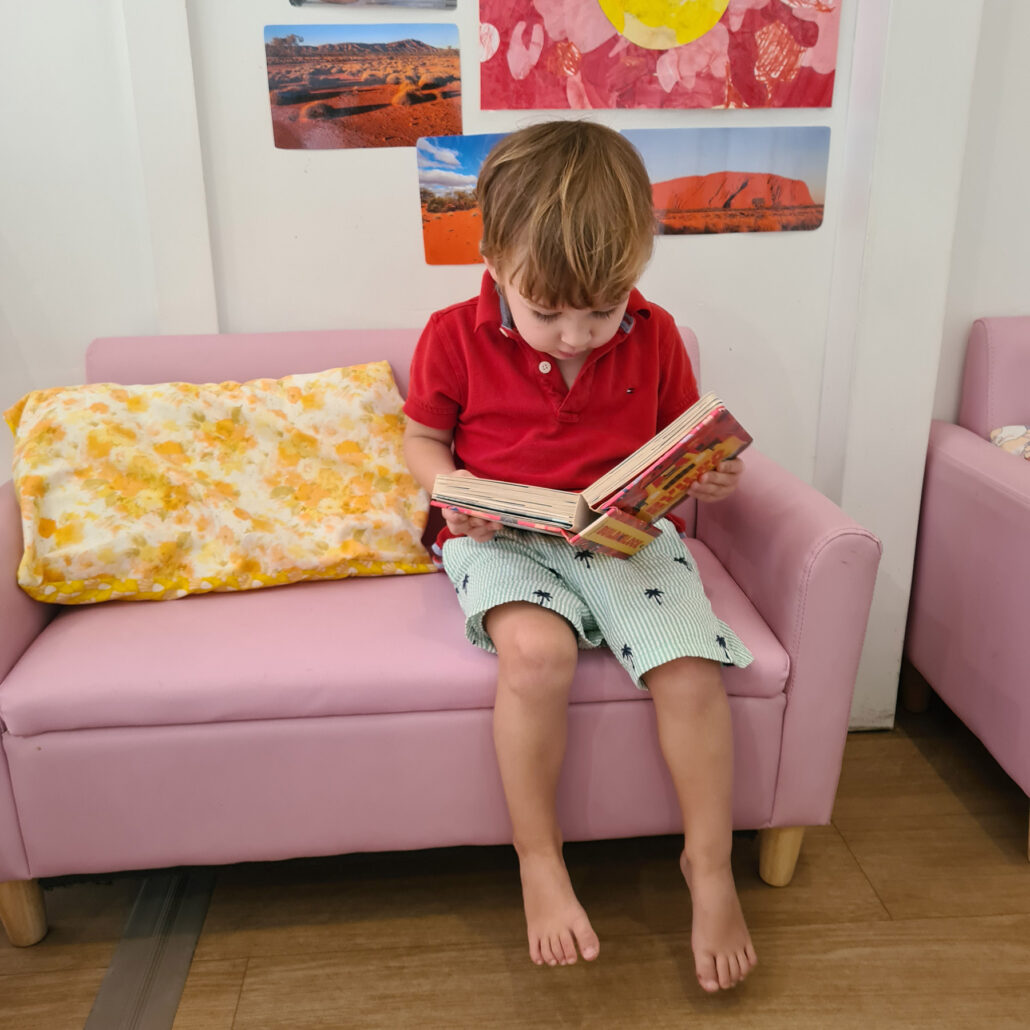 Welcome to 2021! We are looking forward to many exciting experiences in Burbangana this year. It has been lovely hearing all about holiday adventures and the children have all settled back into routines, ready for learning.
The beginning of the school year we focus on friendships and social skills, classroom routines, care of self and belongings, which we call grace and courtesy. Lessons on greeting a person, walking around a mat (rather than stepping on someone's work), speaking quietly indoors, and waiting quietly rather than interrupting, are all examples of important grace and courtesy skills. There isn't an exact order to introduce a specific skill but based on the needs of the classroom.
In the Burbangana classroom we:
Are kind to one another.
Walk in the classroom.
Use a quiet voice in the classroom.
Use a mat when working on the floor.
Use materials carefully.
Put our work away when we are finished with it.
Push our chair in when we are finished working at a table; roll up your mat and put it away when we are finished working on the floor.
Respect everyone in the classroom and allow others to work without interruption.
The older children in the classroom are enjoying the responsibility of teaching their younger peers and will monitor the classroom to ensure everyone is working in harmony.
– Amanda & Teresa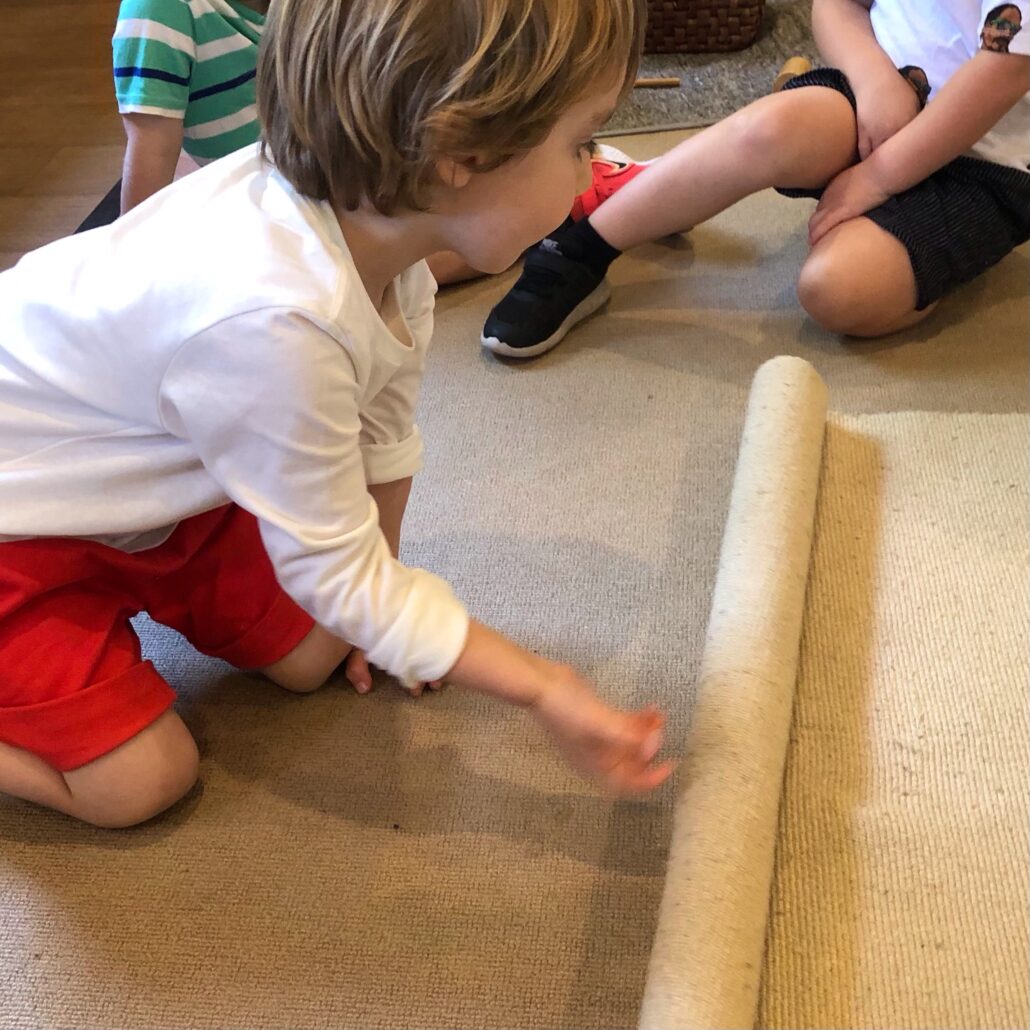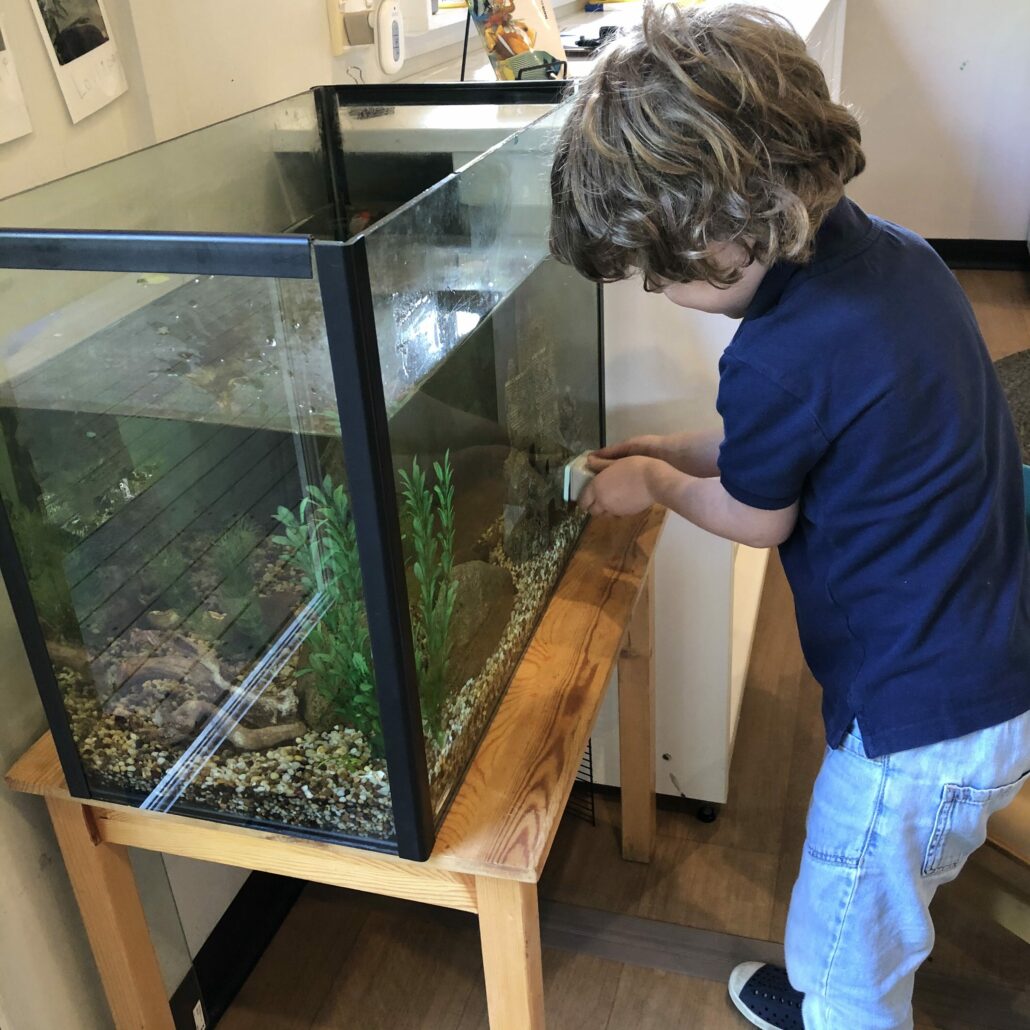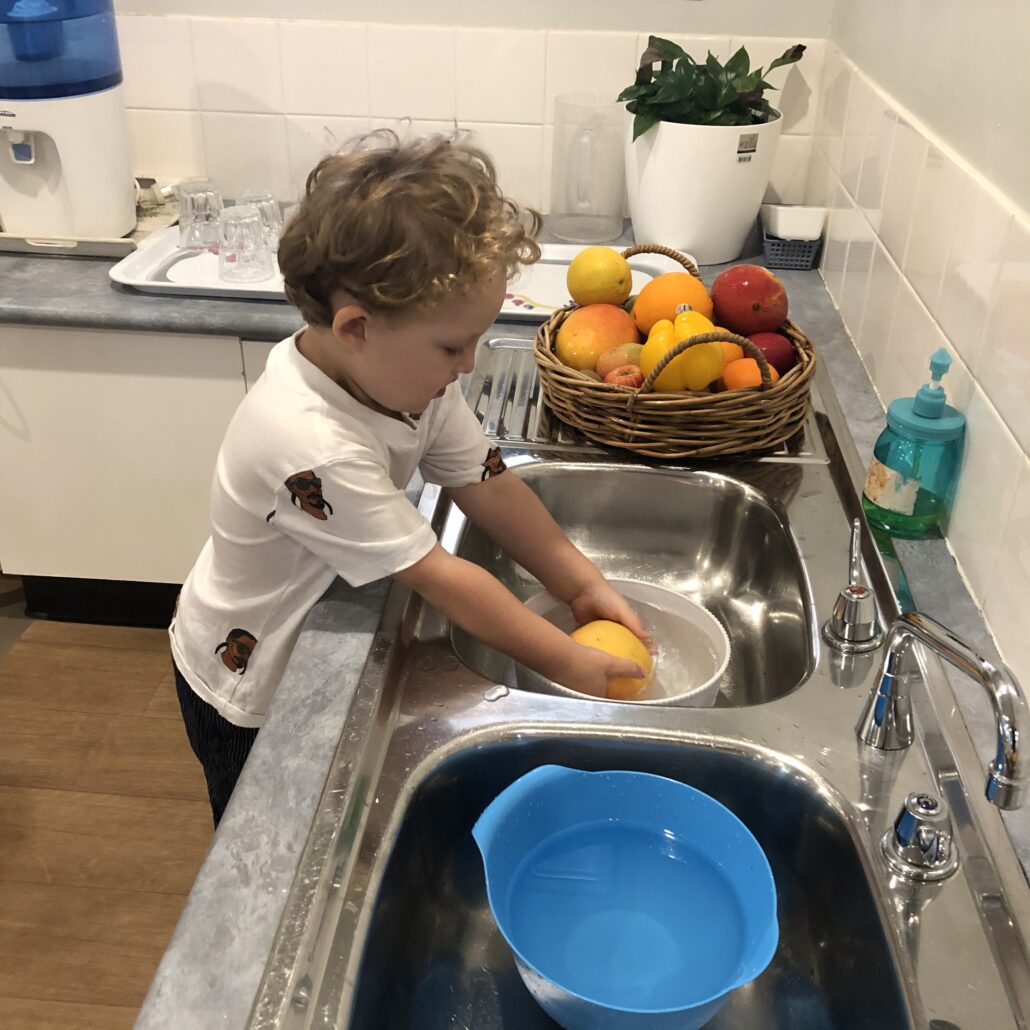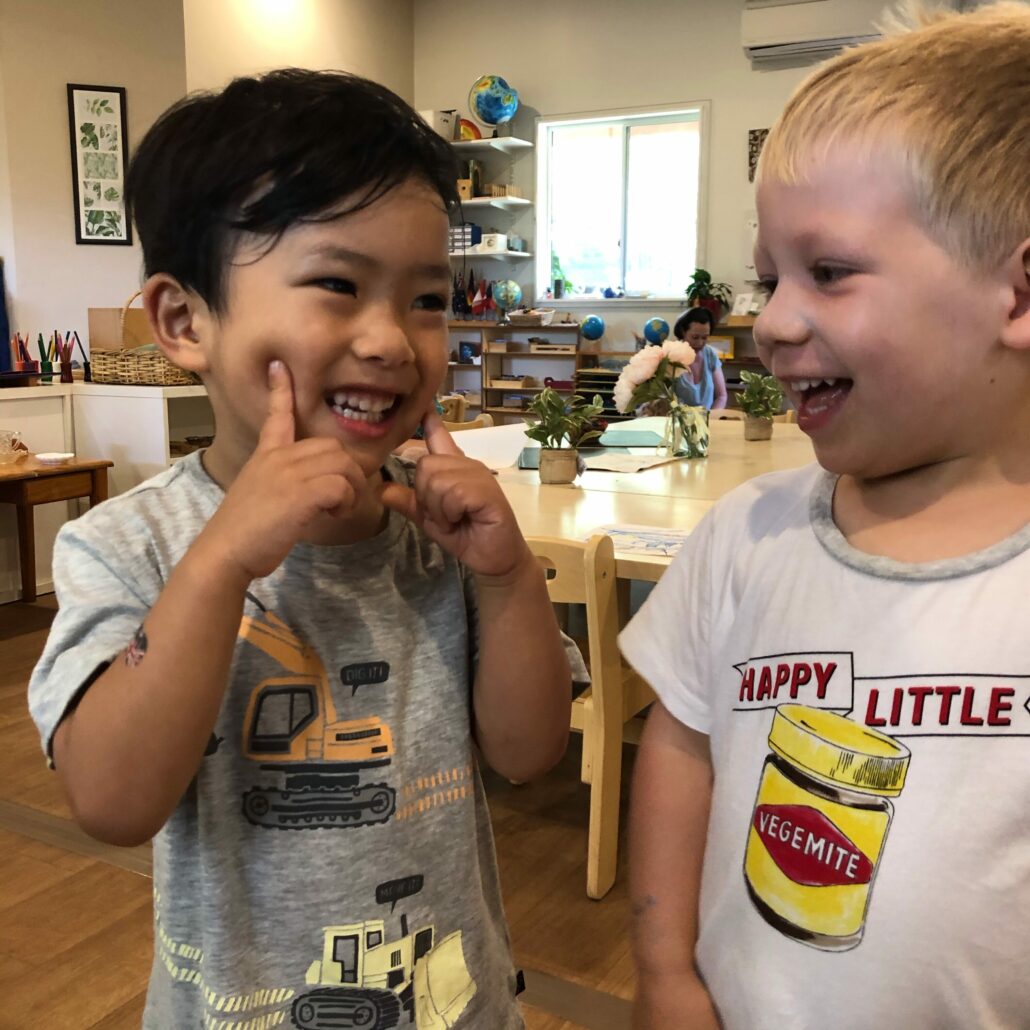 The return to school has continued the children's composting, growing and harvesting interests. This is a natural occurrence at the Farmhouse and it is so lovely to see the children from last year become the leaders of this year. I watched while these leaders lead the new children to collect our compost bins and take them to the worm farm and the communal compost bin. It is always wonderful to listen to the language of young children as they explain the purpose of composting to their younger classmates.
– Jenny, Jo & Angela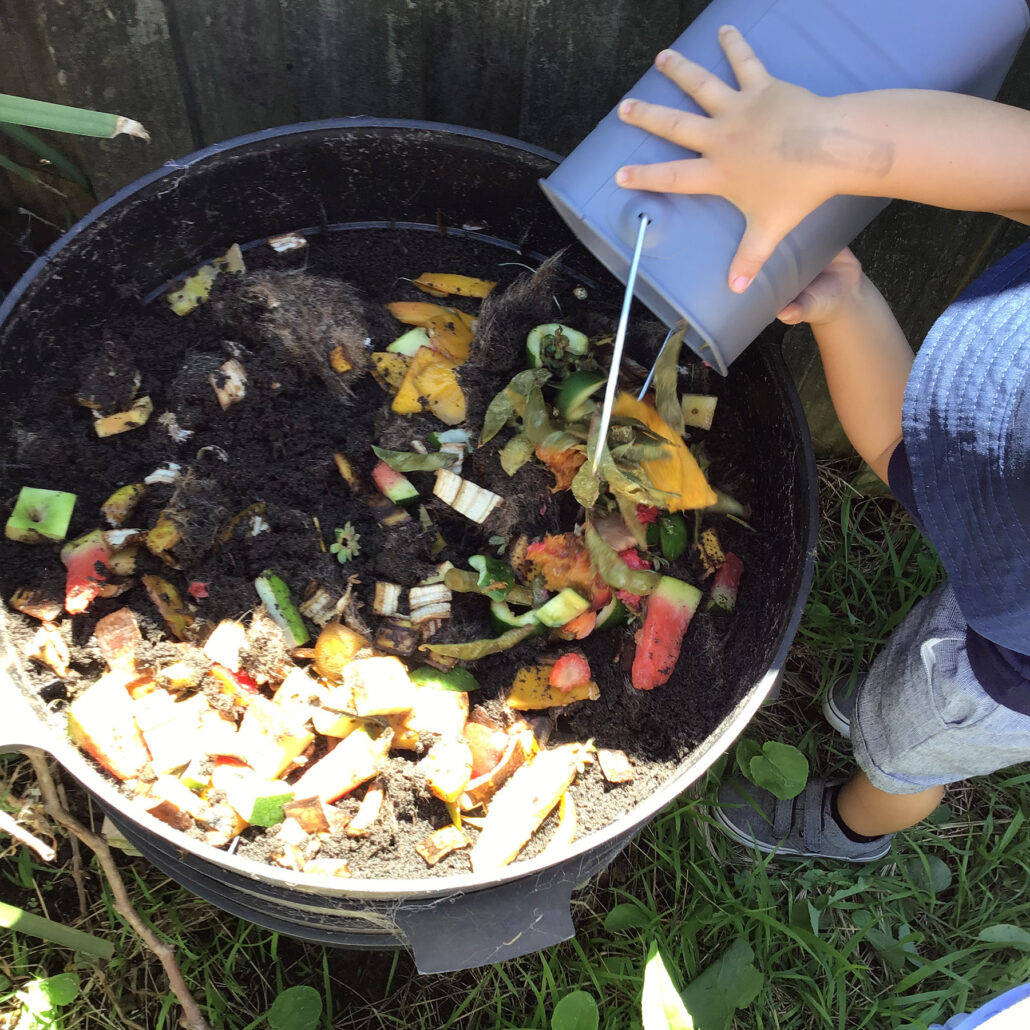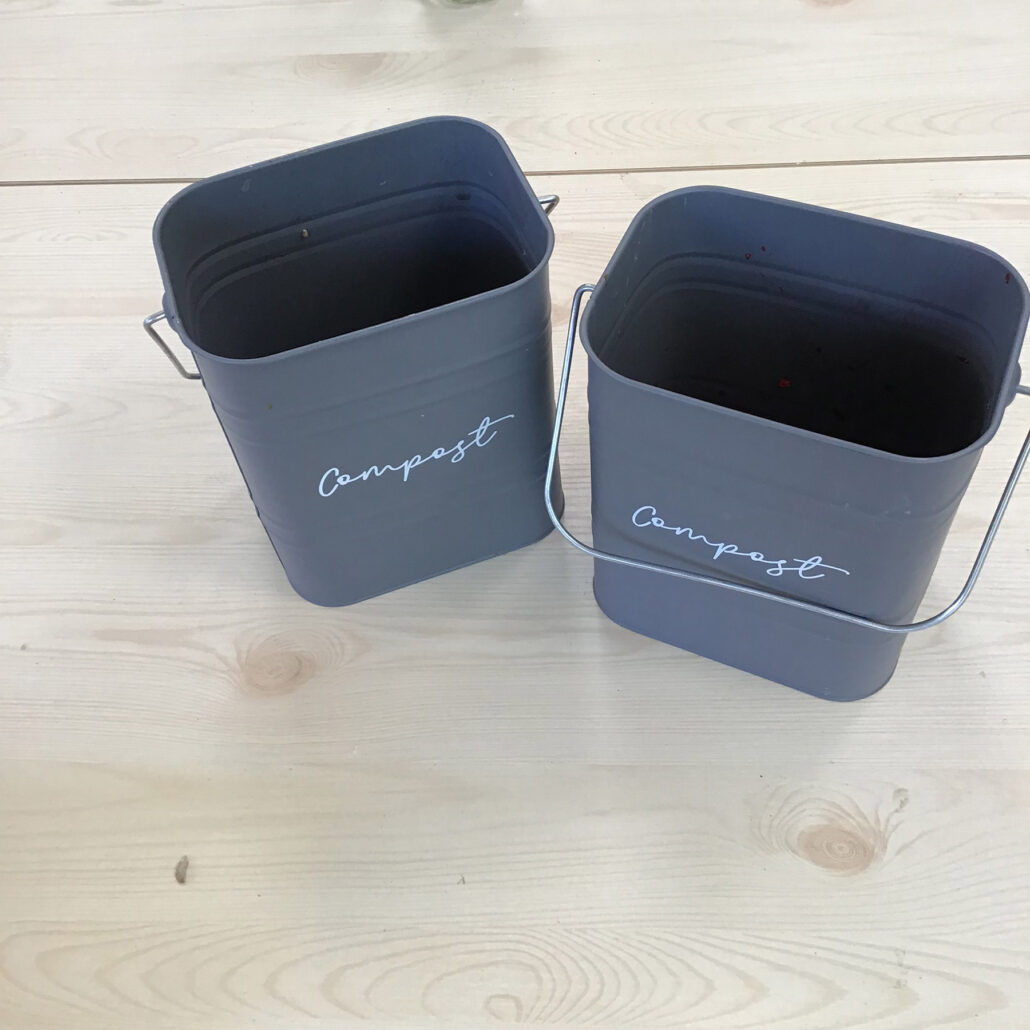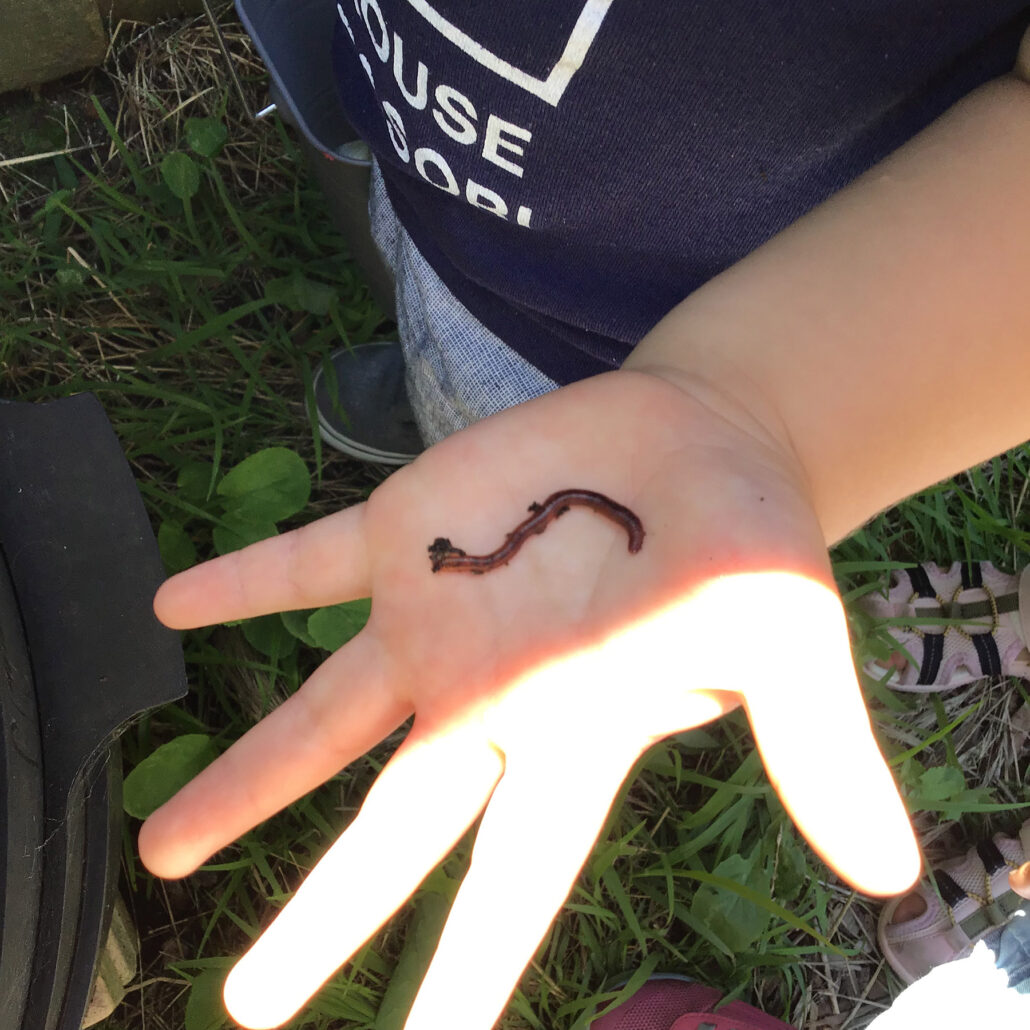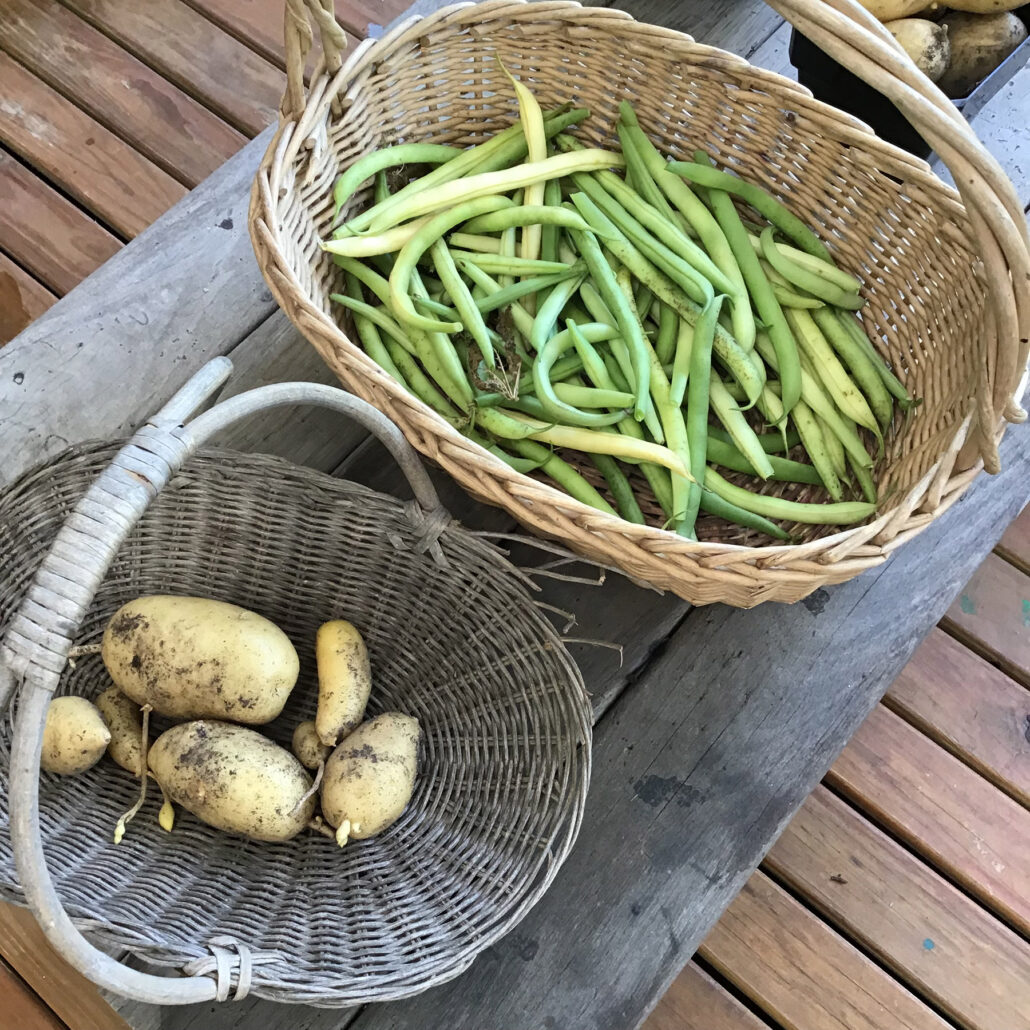 AMAROO | OUTDOOR CLASSROOM
It's so wonderful to welcome new students and older students back to the outdoor classroom and we've had a great start to the term.  We celebrated World Wetland Day by introducing the children to firstly what is a wetland and why is it important.  We sang a rap about wetlands which was great fun but the best was discovering the animals and birds that may live in a wetland.  We used our beautiful reference books to research information and look at some amazing photographs.  Children drew pictures of their own, those that could labelled their illustrations and we also worked together to paint a picture for the wall.  Everyone loved the crocodile and alligator book in particular which led to lots of new facts and questions. Did you know an alligator has eyelids that move sideways! Children pretended to be an alligator in a wetland with only their eyes above the water.  Nurturing the children's curiosity of the world around them supports an enquiring mind.
– Dawn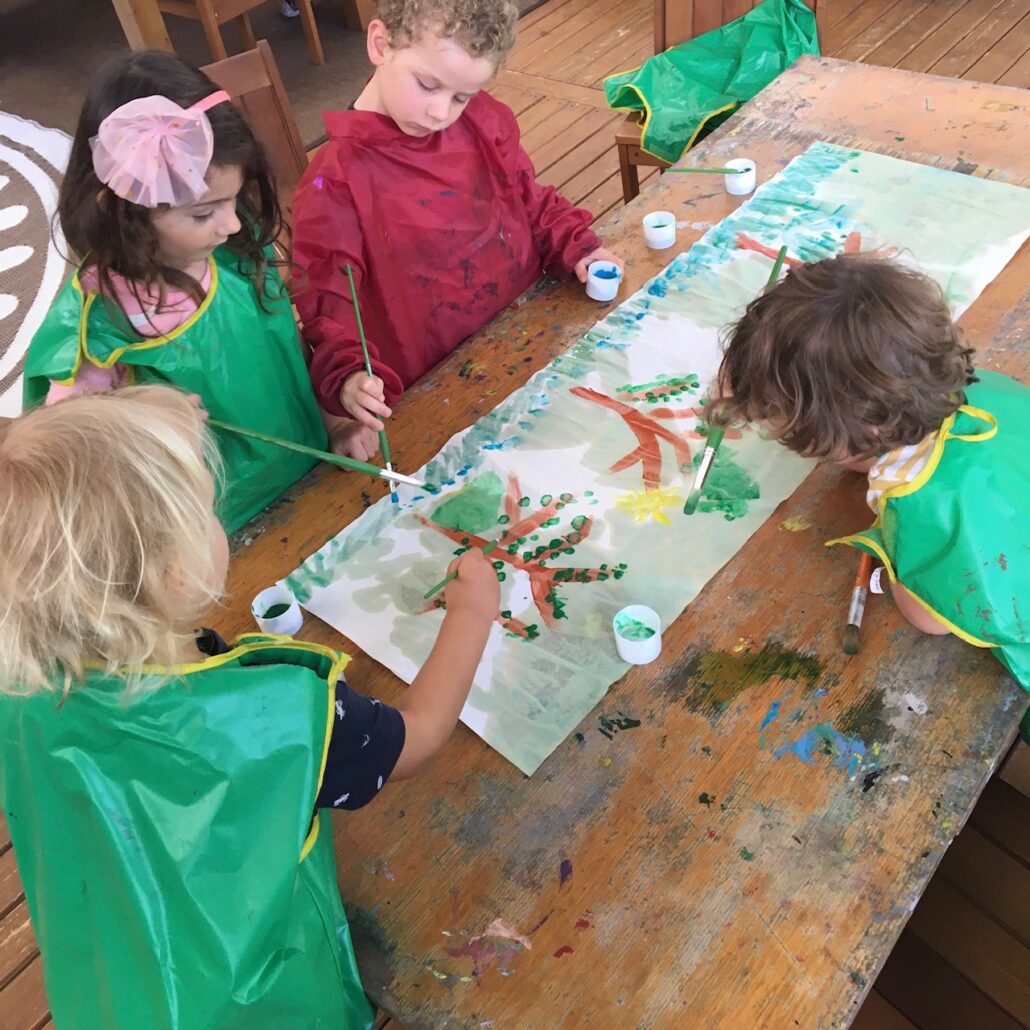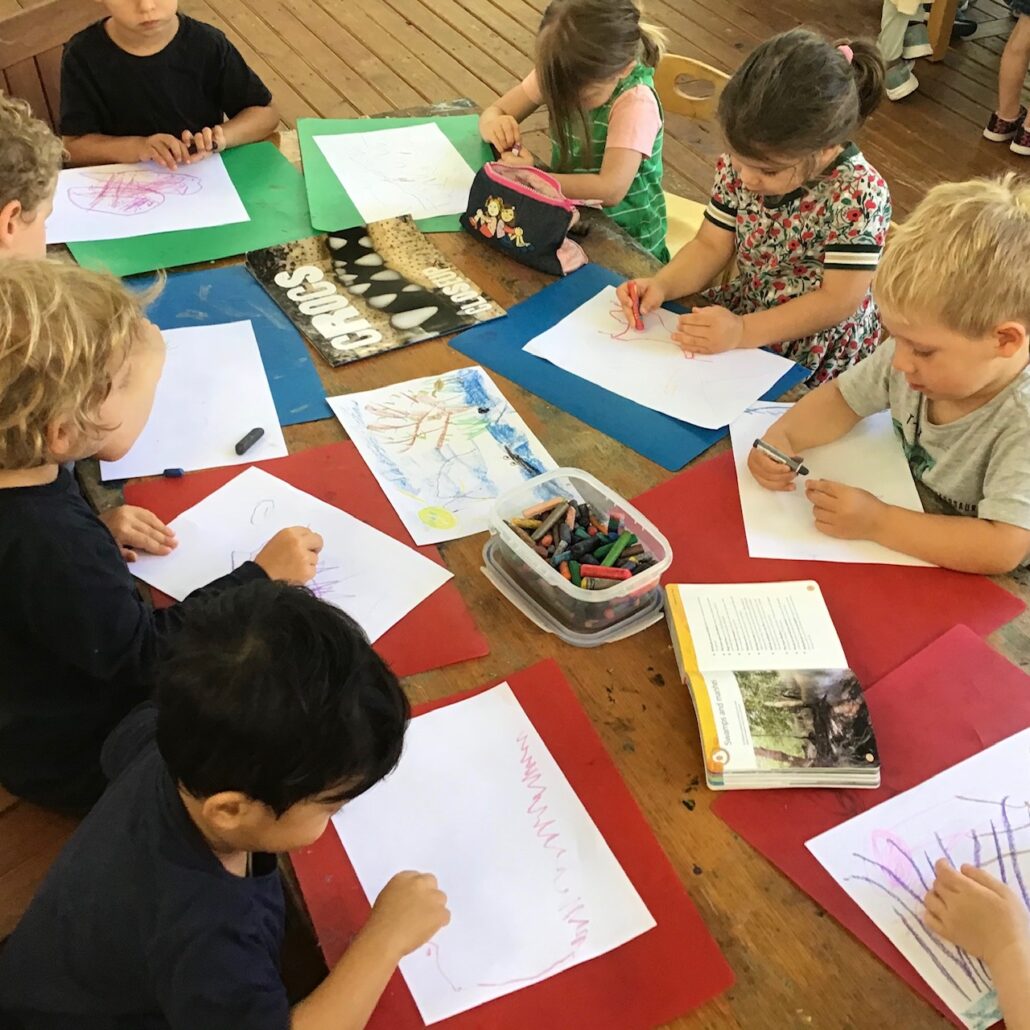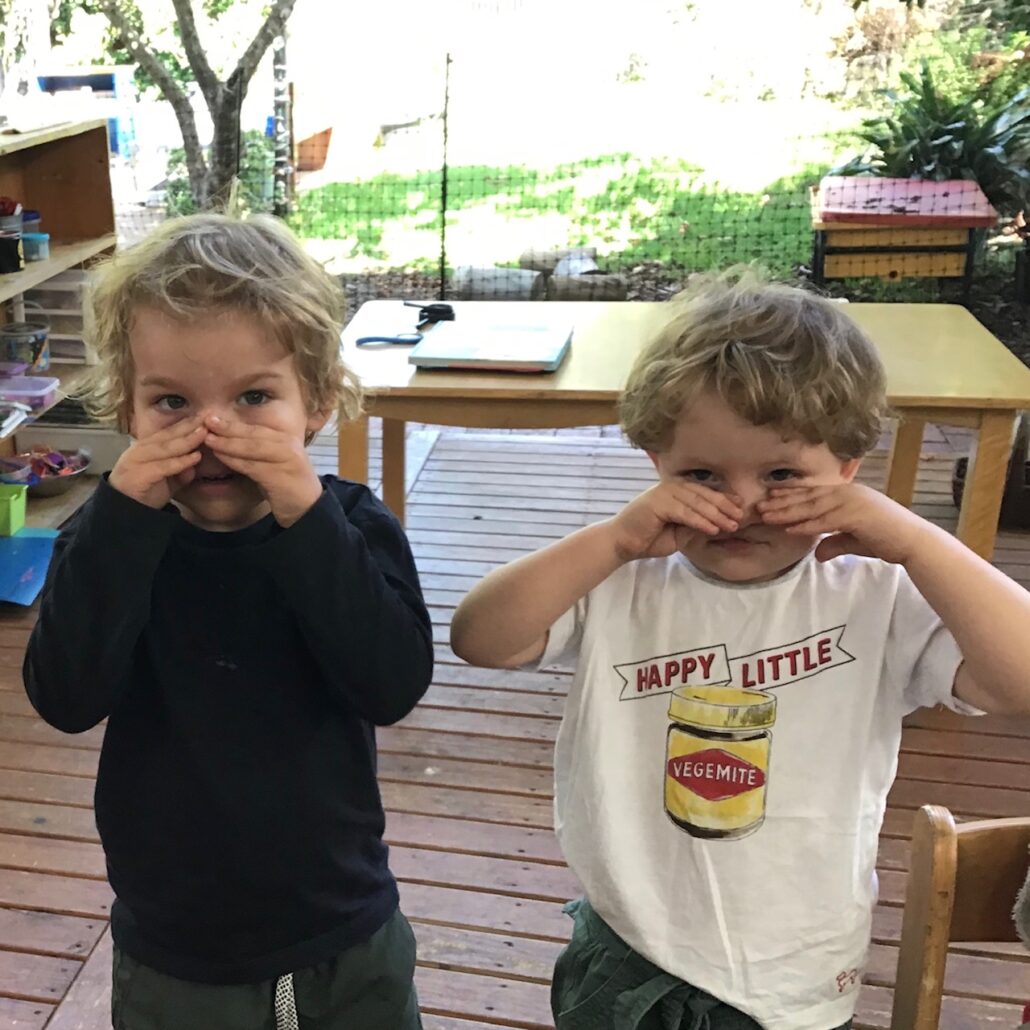 The Kindergarten children have settled in well to the first term. Science has been a popular subject to explore and we have found lots of science experiments we would like to try. During the morning, Tristan put lots of the plastic flower shapes together in a chain. Jenny said "that looks like a DNA helix". We had a discussion about what DNA is.
This led to looking at the science experiment book and finding an experiment to see the DNA of a strawberry. Everyone helped to crush the strawberries and strain to make a juice. We separated the DNA in the strawberry by adding salt, hot water, soap and antiseptic liquid. The DNA appeared at the top of juice as a white cloud. Using a wire, we could pull the strands of DNA out of the juice. After, by using a microscope, we could see the DNA in fine detail.
– Elizabeth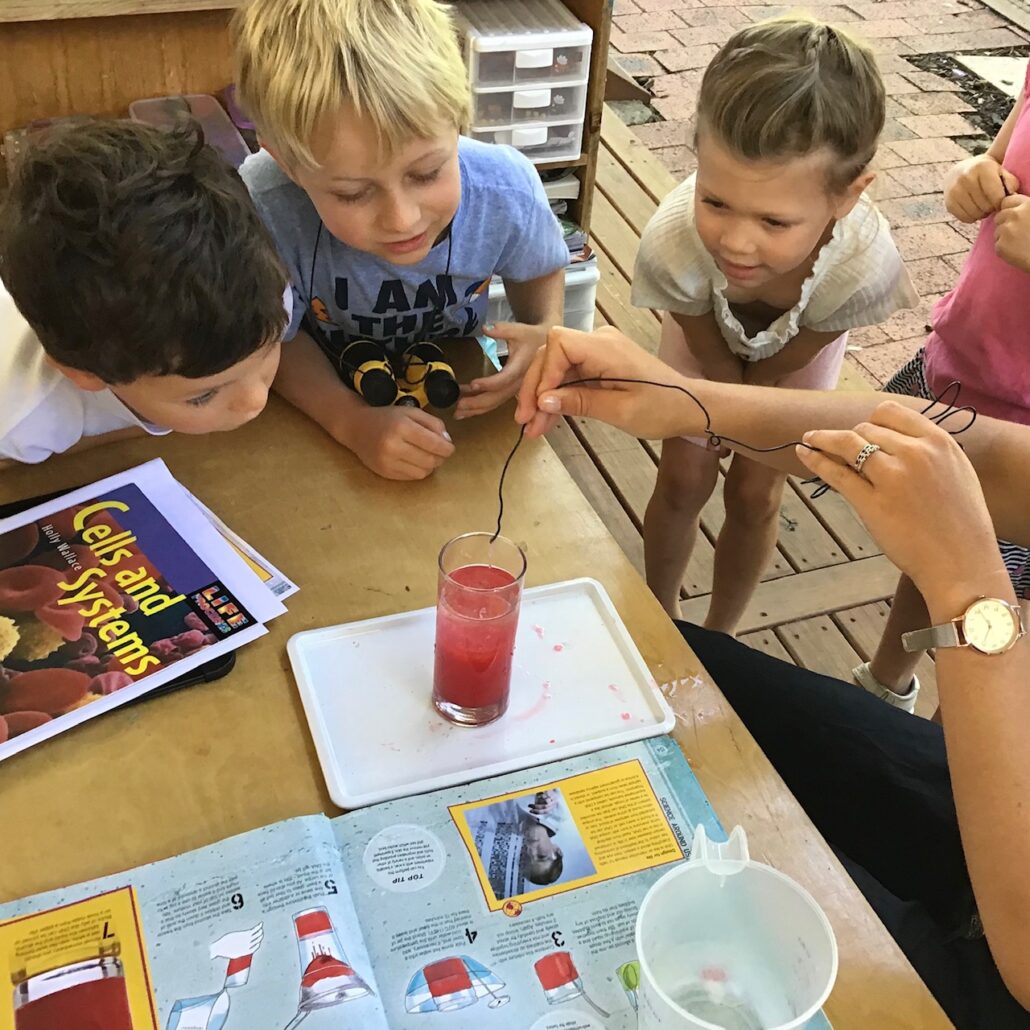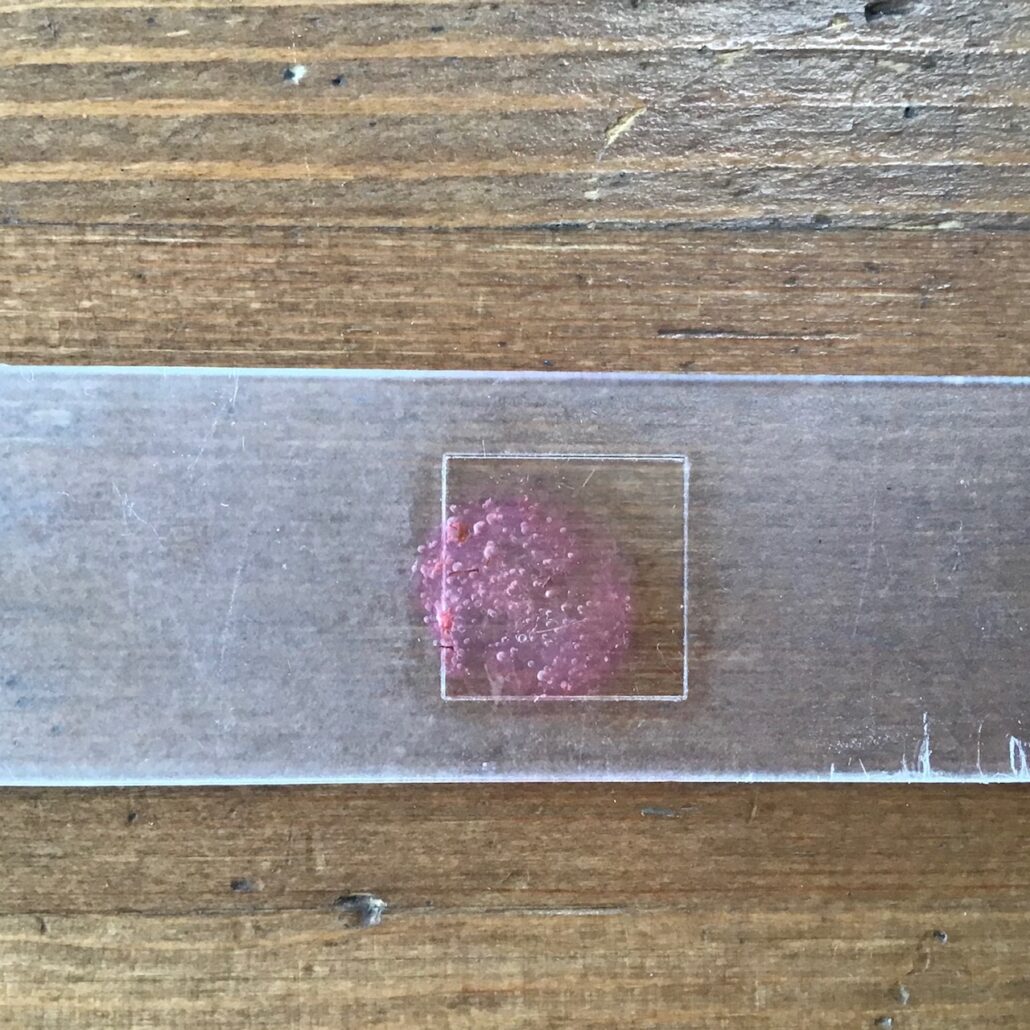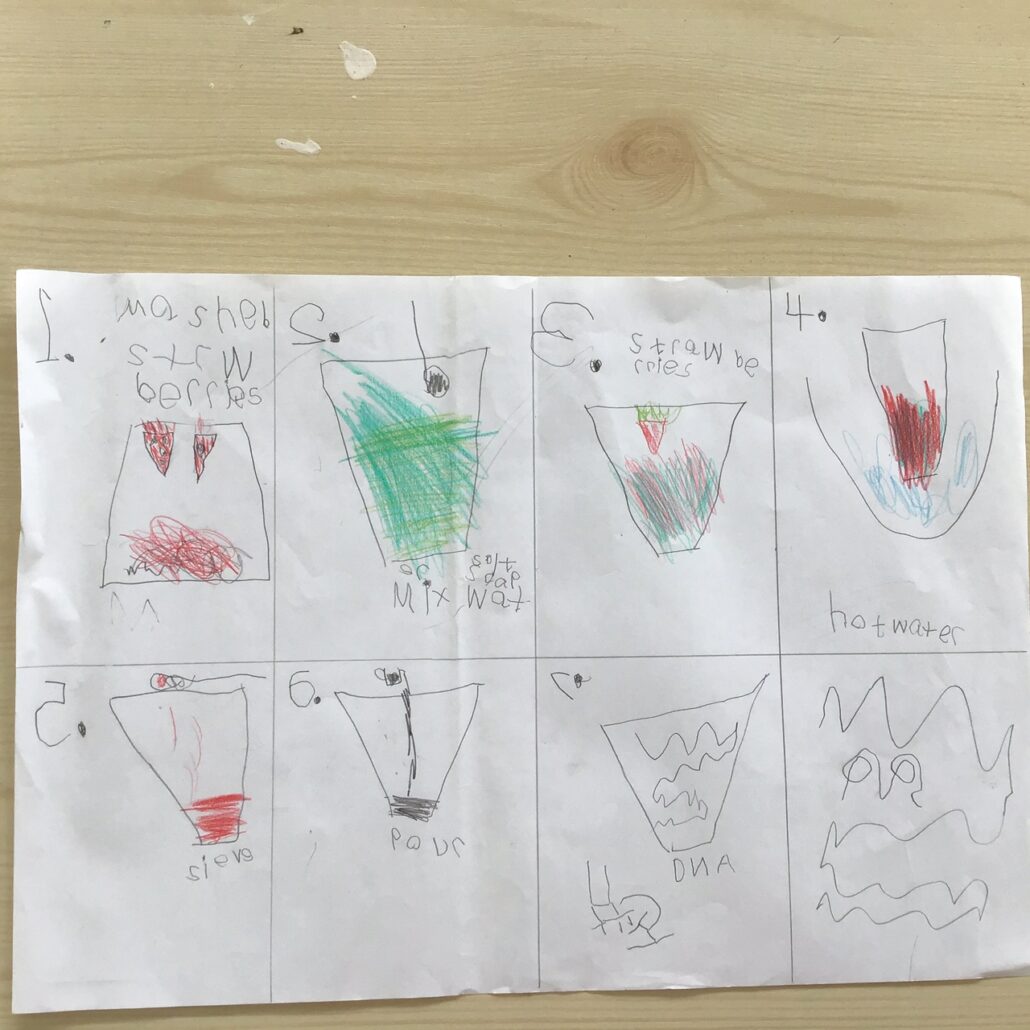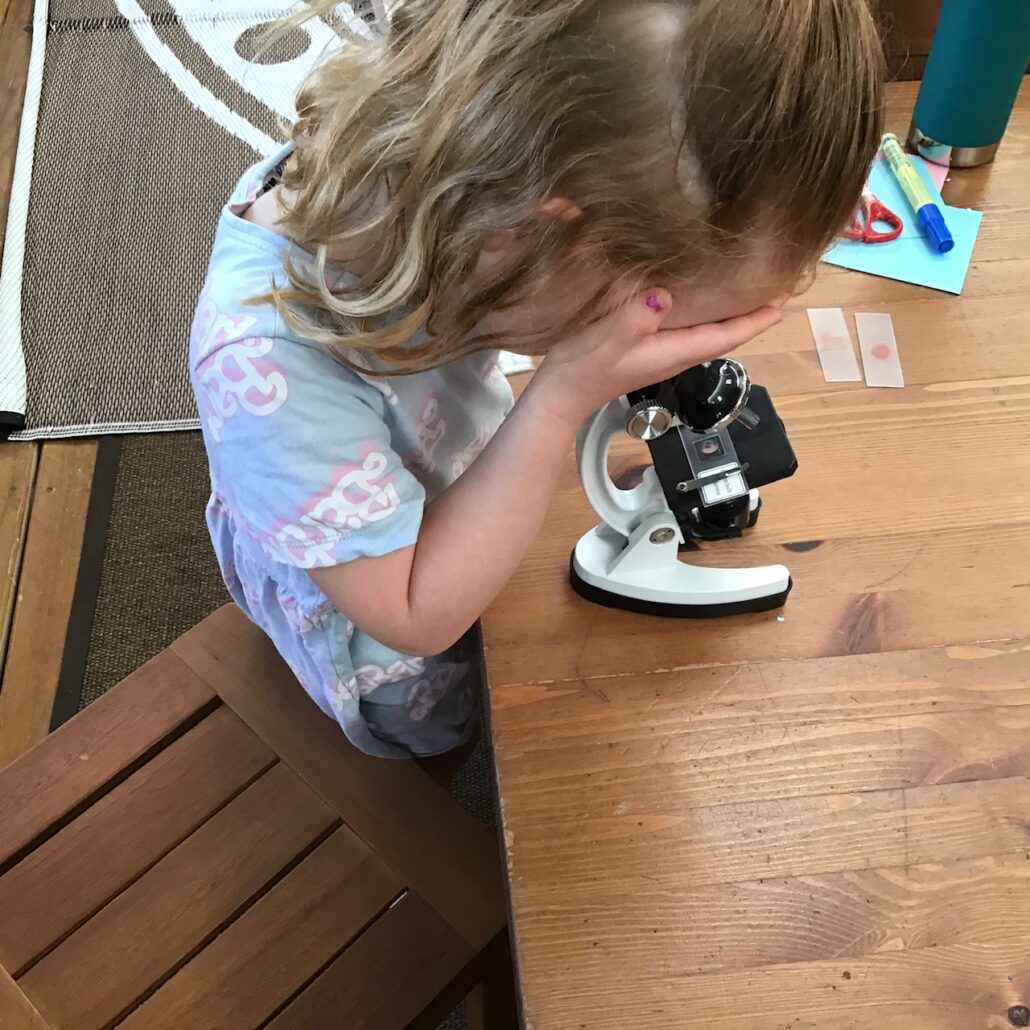 A warm welcome from the Aikya.
We have had a lovely start to the year by welcoming new children to our class.
It has been amazing to see the older children step up and support their peers through the initial days of following routine and working independently.
We have introduced the 'Story of the Universe', an impressionistic lesson that talks about The Big Bang and the Formation of Planets. This has enthused the children to explore and research concepts such as Gravity, States of Matter, Solar System and other elements of cultural studies.
Our Classroom and Our Role, Parts of the Body, Work of Wind and Portraiture are the other areas of interest that we have been discussing over the past few days.
We look forward to more days of activity and excitement.
– Harshitha, Toby, Thomas and Hannah.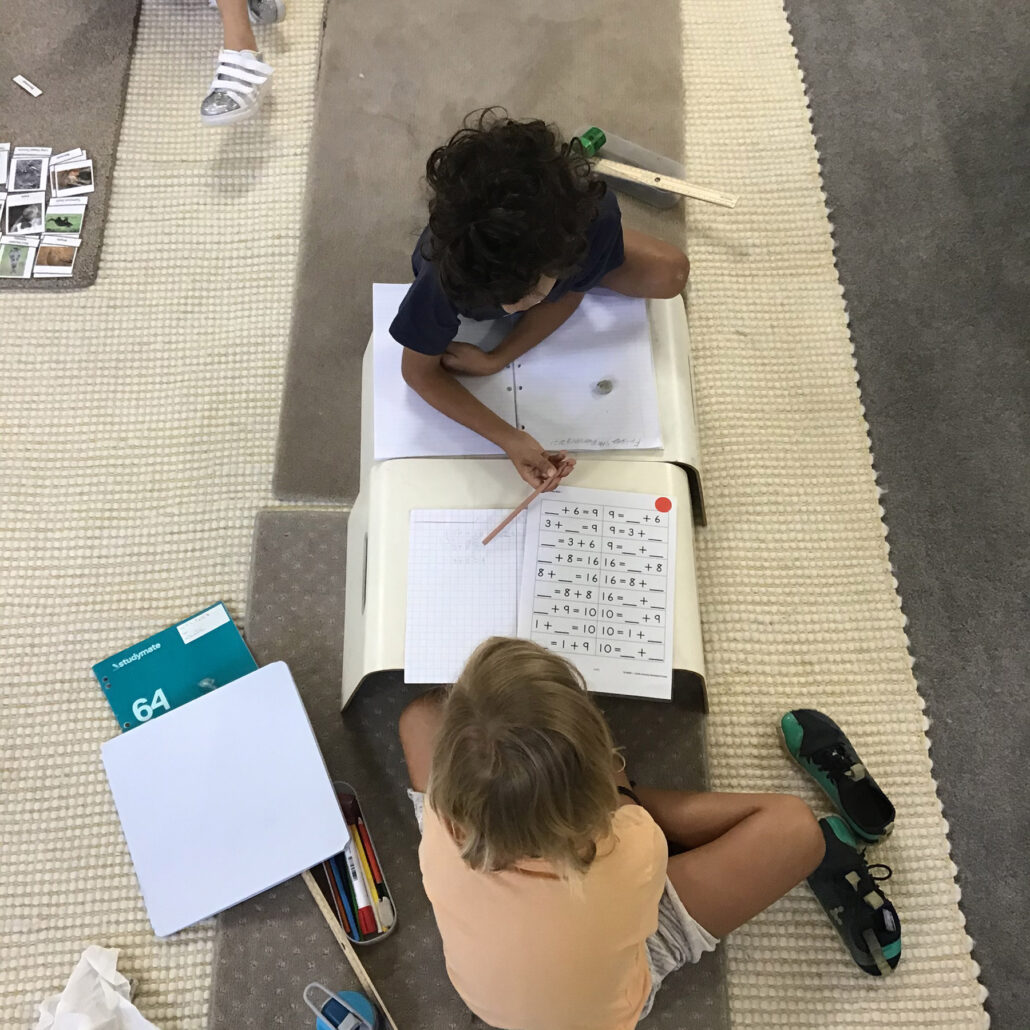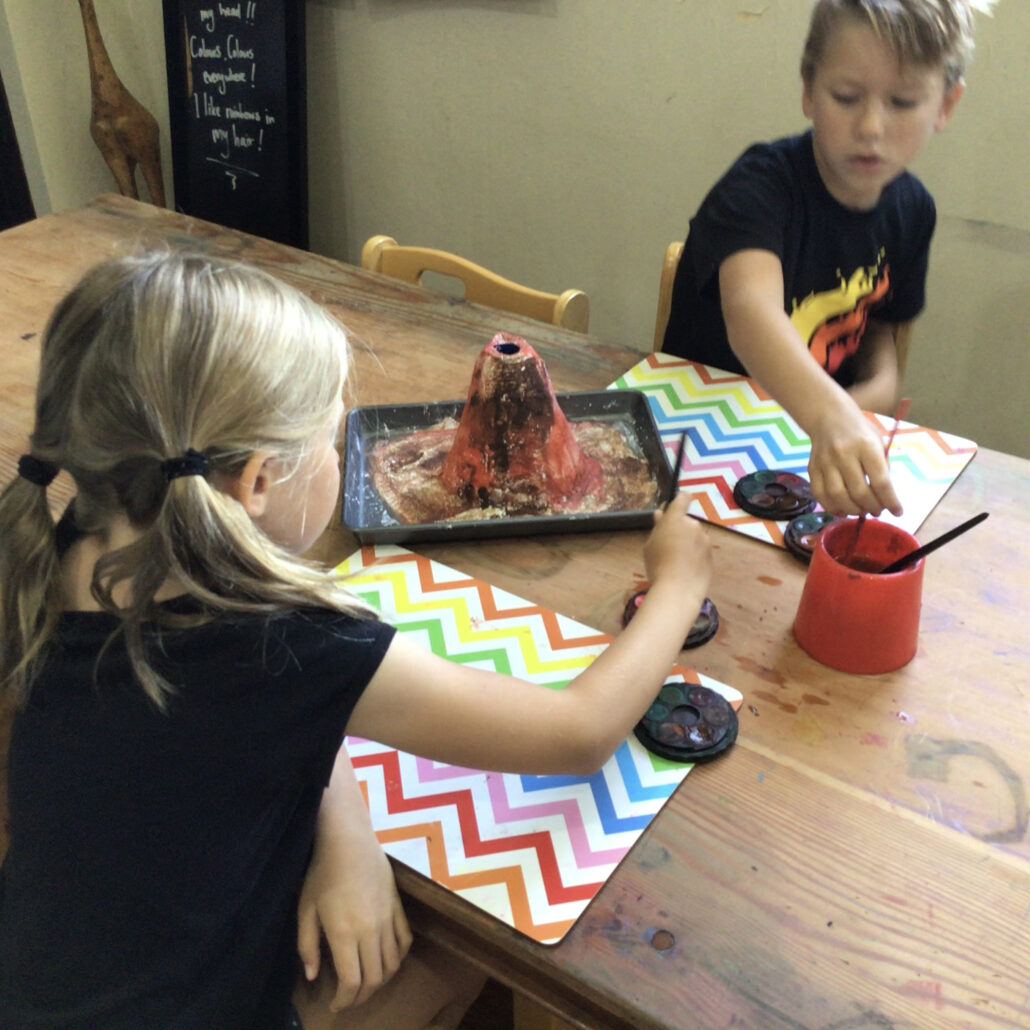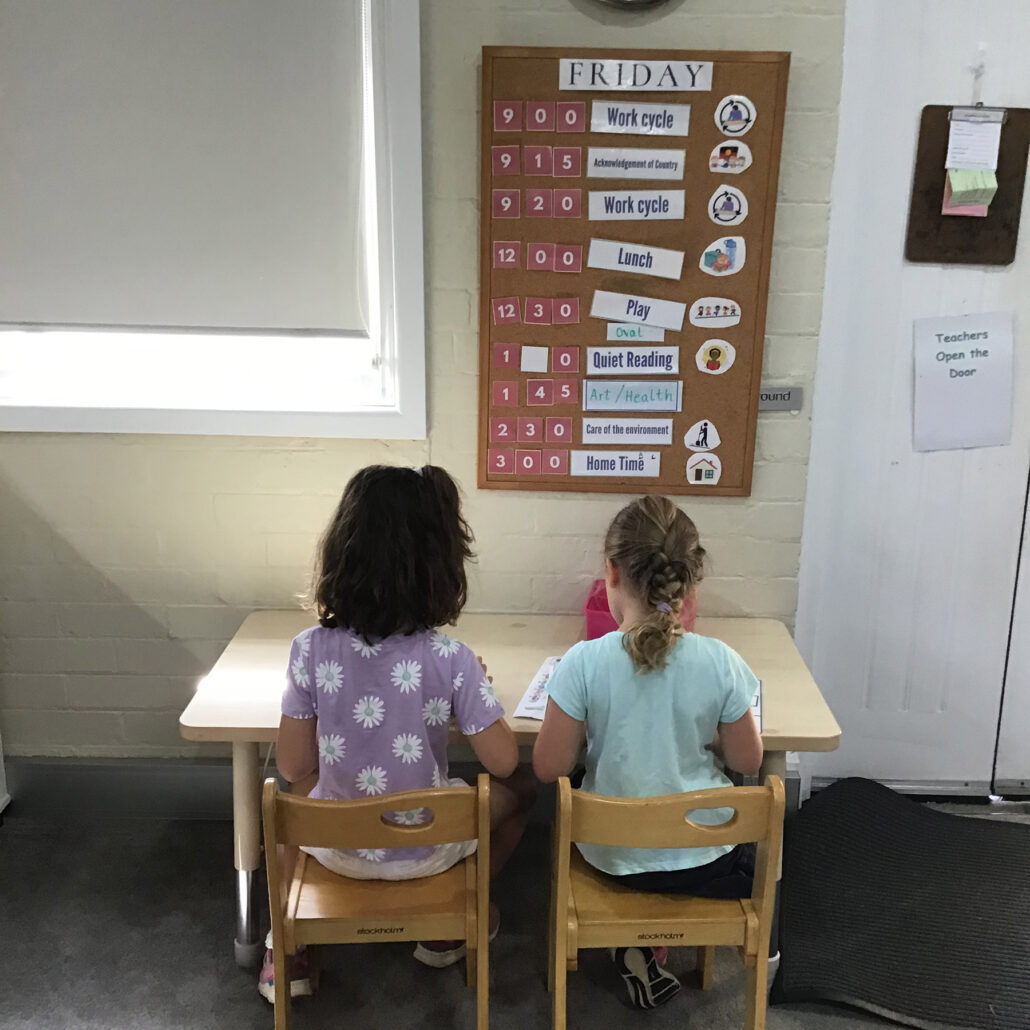 It's a new year and we have welcomed new students into Stage 3 who are; Mac, Luca, Havana, Alara, Oscar, Macleay, and Jasper. They have settled in really well; they are doing really good work and are having loads of fun.
Last week Xavier had his own rocket experiment to show the class. Xavier got gift cards from some relatives and he bought a rocket with the gift cards. We all had to stand far away from the experiment while Xavier pulled the string that caused the rocket (half-filled water bottle) to shoot high up in the sky. It was so cool seeing how far the rocket went flying!
Instead of Ethics we are doing Health this term which is talking about leading a happy and healthy life. We are paired up with people we don't usually work with discussing the healthy and unhealthy choices we may make. We are also learning more about our friends and about the subject.
Due to recent events, we read a nice story/poem called "And the people stayed home" which is inspired by the coronavirus pandemic. It talks about the life we have been living recently, learning the new ways of school, playing and working for our parents. This led us to a discussion about the things we haven't enjoyed as much, like not being able to see family members who live overseas and the things we have enjoyed, such as having our parents at home with us more. Hopefully 2021 will be a healthier and happier new year!
By Maya and Sam
– Laura & Jessica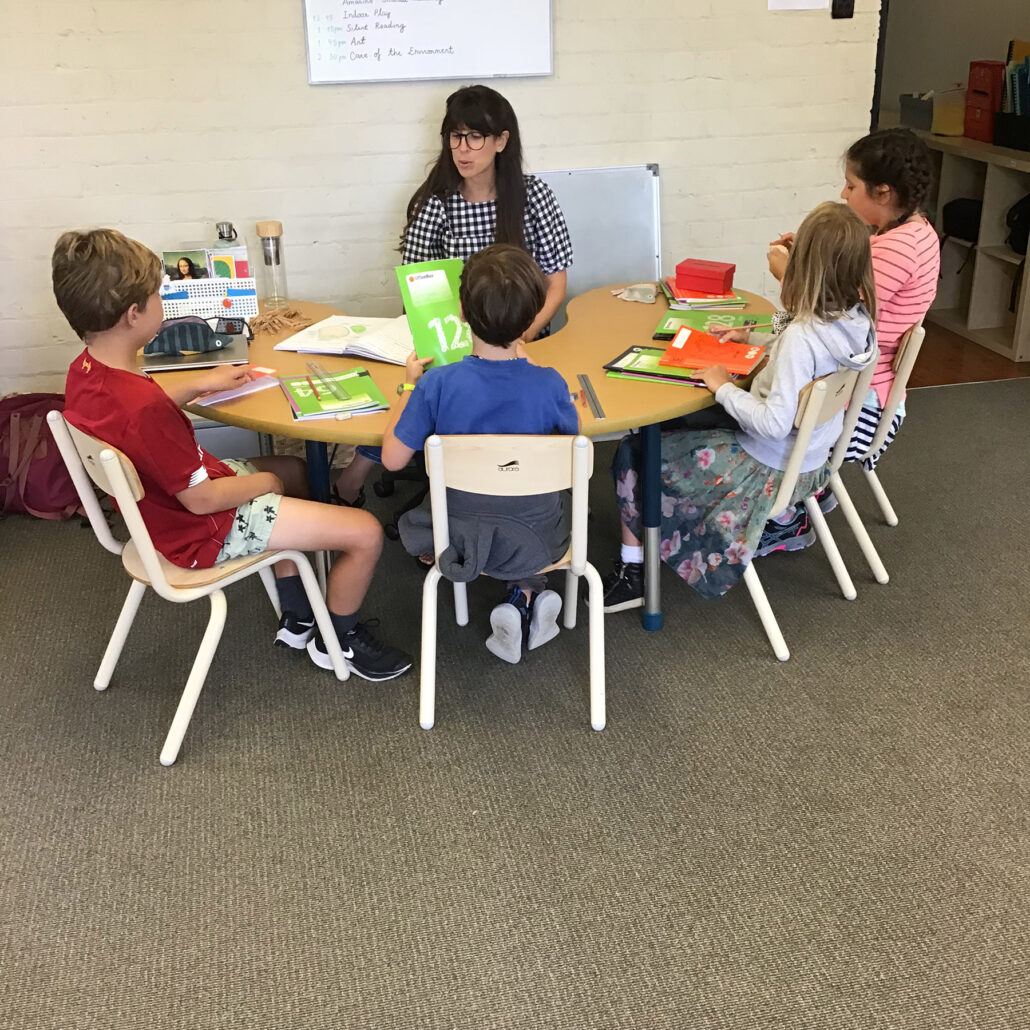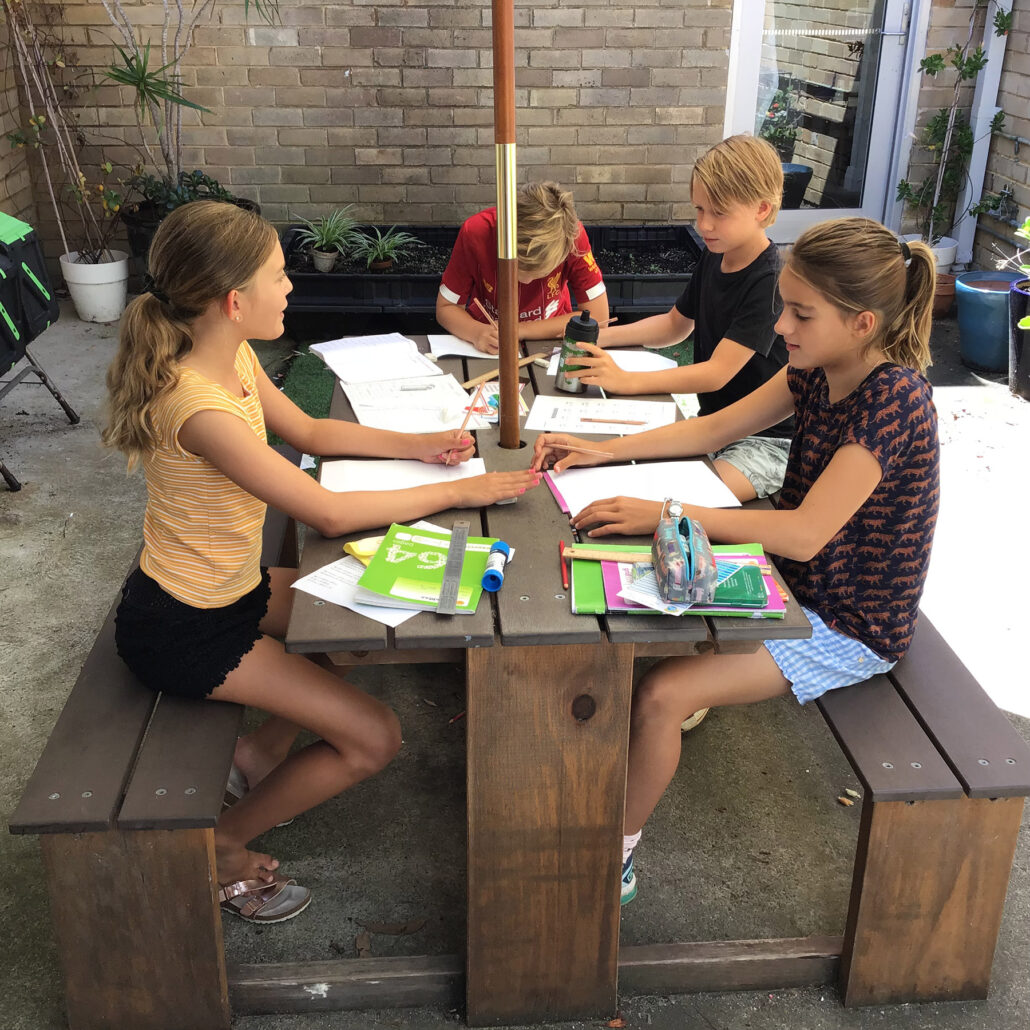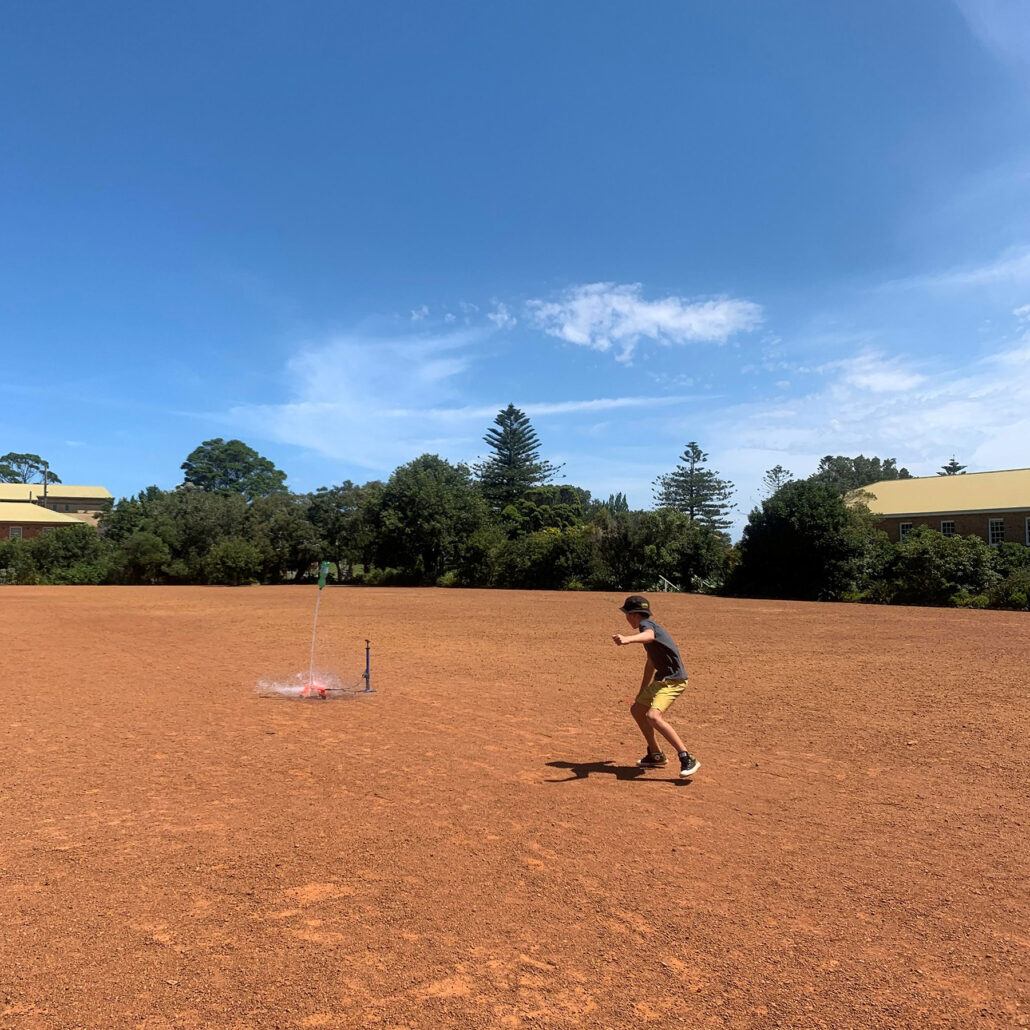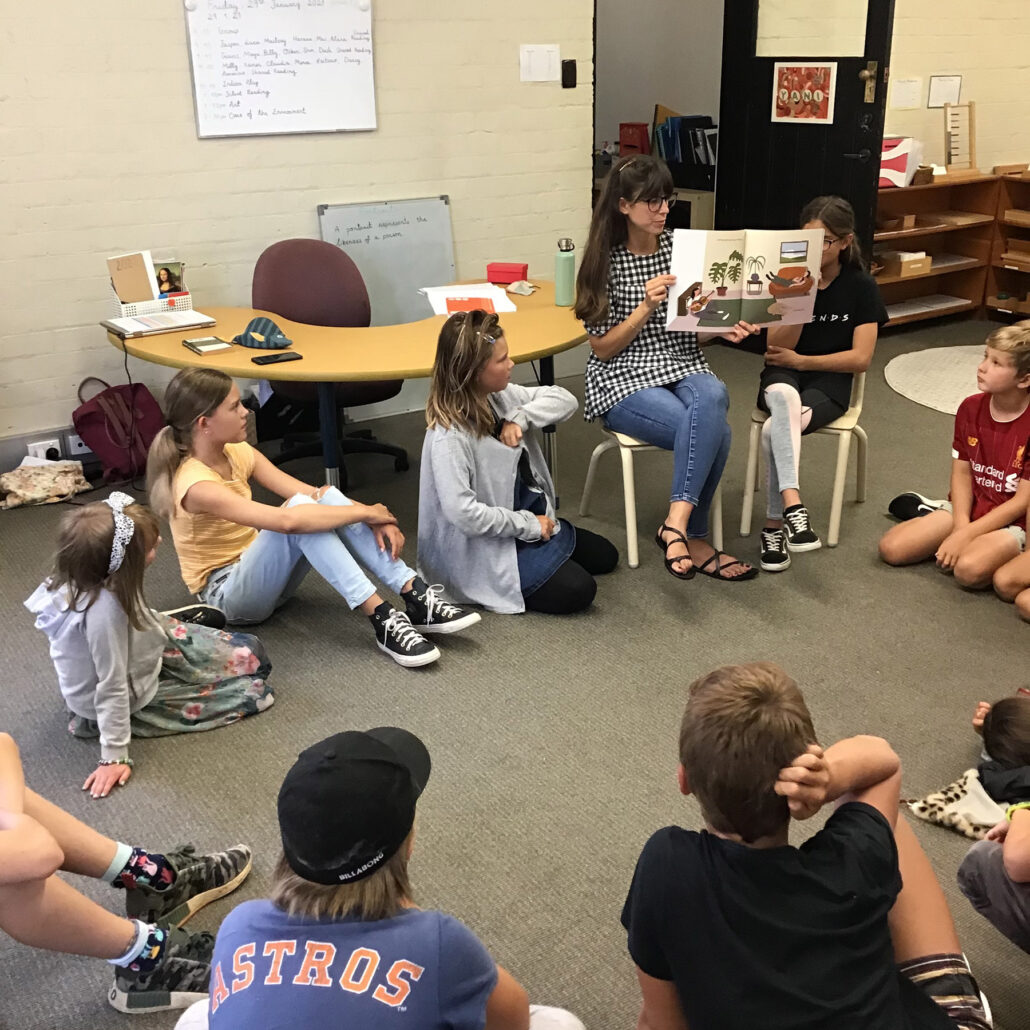 Farmhouse | Primary OSHCare
Dear Families,
We have had a great start to the term and 2021! Thank you for the welcome to Farmhouse, I enjoyed starting to get to know the kids over the last two weeks, and we have talked about lots of exciting projects and activities to do together this year.
We have spent these first two weeks of term getting to know each other and settling into a new year at OOSH. The children completed All About Me profiles, while we chatted about their favourite things, games and activities, the things that make us happy, and what we want to do and see at OSH this year. A popular one that we will be doing a lot of is Walking and Exploring Club.
Our art focus this week has been to create self portraits, using nature items we found in the playground. The children collected leaves, gumnuts, sticks and bark to create their faces, and displayed on the wall in centre.
On our first Walking and Exploring Club, we found an echidna! Javier said he is the same one that visits his Grandma's backyard, and named him Spike. You will notice him on our Faces of OOSH wall in the centre with the kids self portraits. On our next Walking and Exploring Club, we will be learning to identify some of the different plants in North Head Sanctuary, and Indigenous uses for them.
If you would like more information about Primary OSH Care or our centre and how to enrol, please visit our website www.primaryoshcare.com.au
From Sarah, Ella and all the OSHC staff at Farmhouse Montessori OSHC Centre