2019 Newsletter Term 03 | Issue 01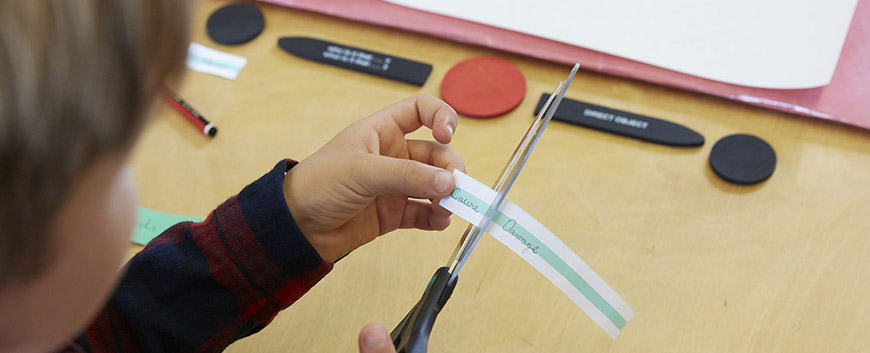 Upcoming events & Important Dates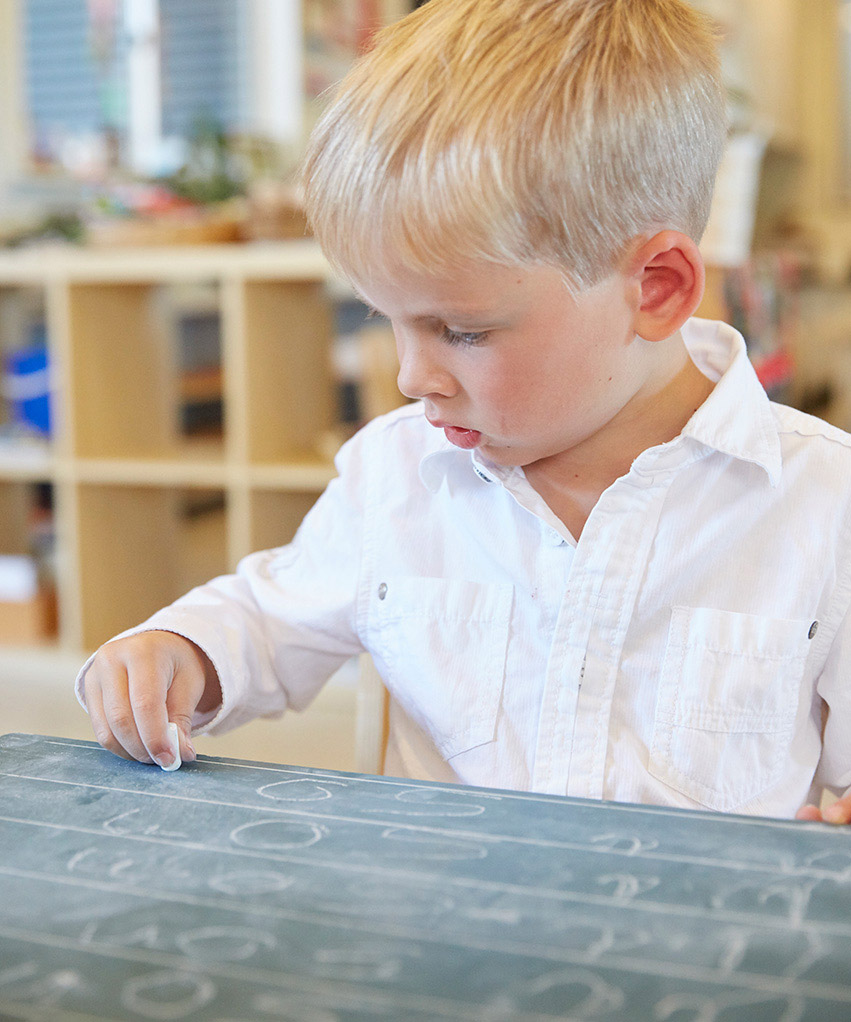 15th August – 9.30am Primary Tour – Primary Campus
19-23rd August – Science week
26-30th August – Book week
28th August – 10am Preschool tour – Preschool Campus
29th August – 9.30am Primary Tour – Primary Campus
30th August – Father's Day breakfast: Preschool Campus
31st August – Maria Montessori Birthday
2nd September – Father's Day breakfast – Primary campus
3rd September – Father's Day breakfast – Preschool Campus
3rd September – Music & Poetry Afternoon – 2.30pm Preschool Campus
5th September  – Music & Poetry Afternoon – 2.30pm Preschool Campus
Click HERE to see further calendar dates.
Principals Message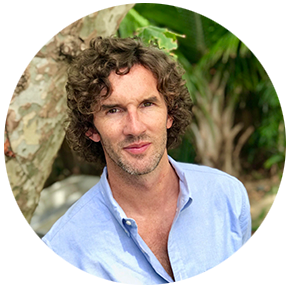 Dear Parents and Carers,
I hope that you have settled into the new term well and are enjoying the wonderful activities taking place in the classrooms so far. With events such as Stage 3 camp, poetry and music nights and parent information evenings, it is important that you save the dates attached to each newsletter to your calendar, to ensure that you don't miss anything.
I would like to dedicate this week's message to the team at Farmhouse Montessori School. Maintaining a high level of pedagogical knowledge, providing safe and secure environments and always putting the child first, our team go above and beyond, to ensure that students have the best possible start to life. As well as many other things, they foster independence, celebrate individuality and provide learning environments that promote independence, following the Montessori approach.
At the end of term 2 the North Balgowlah campus went through an assessment and rating inspection from the NSW Department of Education. This process happens every five years and is an intense inspection that begins with a Quality Improvement Plan that must be submitted a few months prior to inspection. The school is then inspected by the Department during a visit by assessors. The school is assessed in the 7 Quality areas.
Quality area 1. Educational program and practice
Quality area 2. Children's Health and Safety
Quality area 3. Physical Environment
Quality area 4. Staffing arrangements
Quality area 5. Relationship with the children
Quality area 6. Collaborative partnerships with families and communities
Quality area 7. Governance
The school is then graded into Working towards, Meeting or Exceeding. It is with great pride that I can announce that Farmhouse Montessori School received the highest possible rating of 'Exceeding'.
For the school to achieve this rating we must achieve exceeding in all Quality areas. It is very difficult to achieve this rating and it is something we are very proud of. Our staff, our children and the parent community combined, makes our school what it is today and it is this formula that brings such success. A huge thanks to Jenny and the entire team, who work very hard each and every day to provide the best possible learning outcomes for our children and a big thanks to the extended community for all that you do.
Have a wonderful weekend ahead and thank you.
– Gavin McCormack
ELOUERA | Stage 1 Infant Community
As part of our unit this term on family, community and identity the Elouera class has begun exploring self-portraiture. Using a mirror the children studied their face, practiced expressions and pointed out their features. Then through guided drawing the educators talked them through each element of their face.
Malaguzzi, the founder of the Reggio Emilia philosophy, believed that the self portrait was an intimate, bold declaration of identity, and that in their self portraits the child offers themselves as both subject and artist. When we look at a child's self-portrait we see the child as they see them self. Self-portraits are about more than creating art, they are about telling stories, communicating and exploring sense of self.
At the end of term three, on Tuesday the 24th and Friday the 27th, we will be inviting our families to an art show and afternoon tea to view our self portraits and journey through identity.
– Corinne, Debbie & Sarah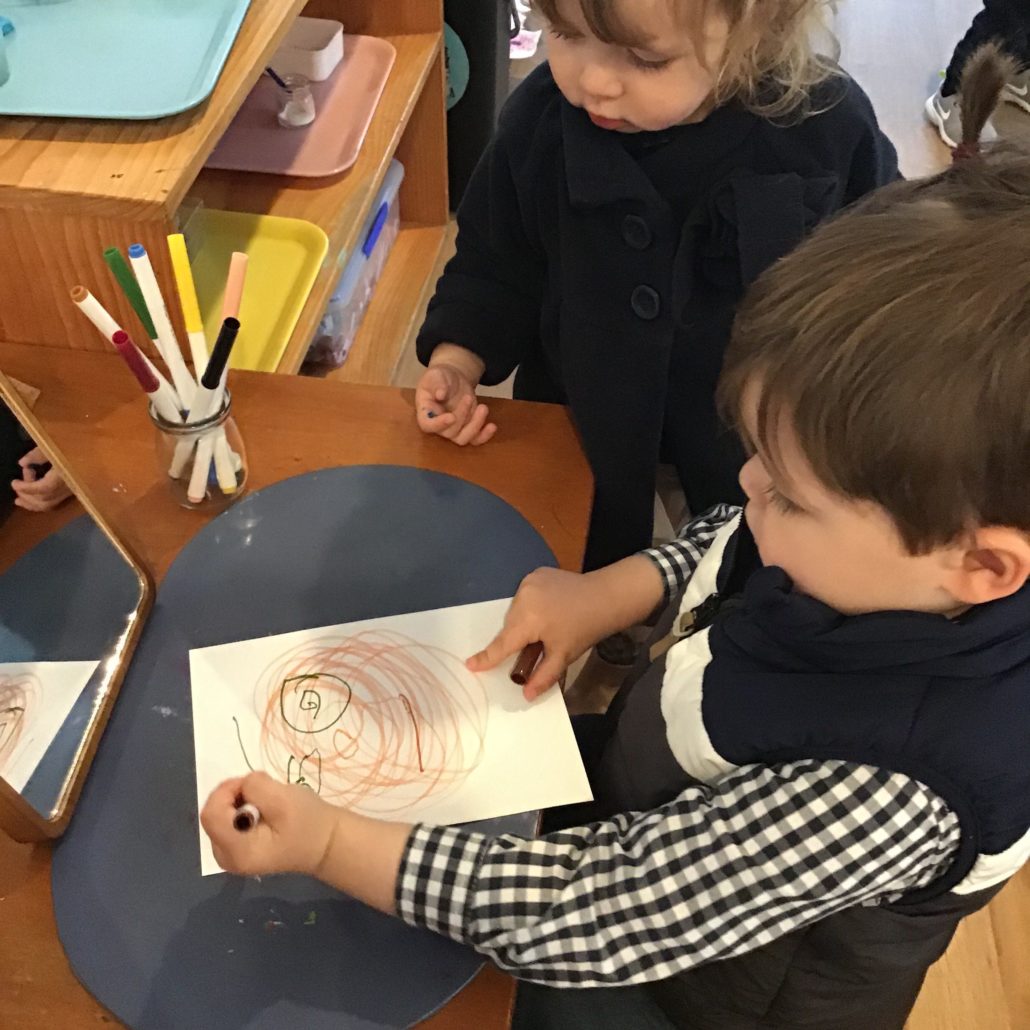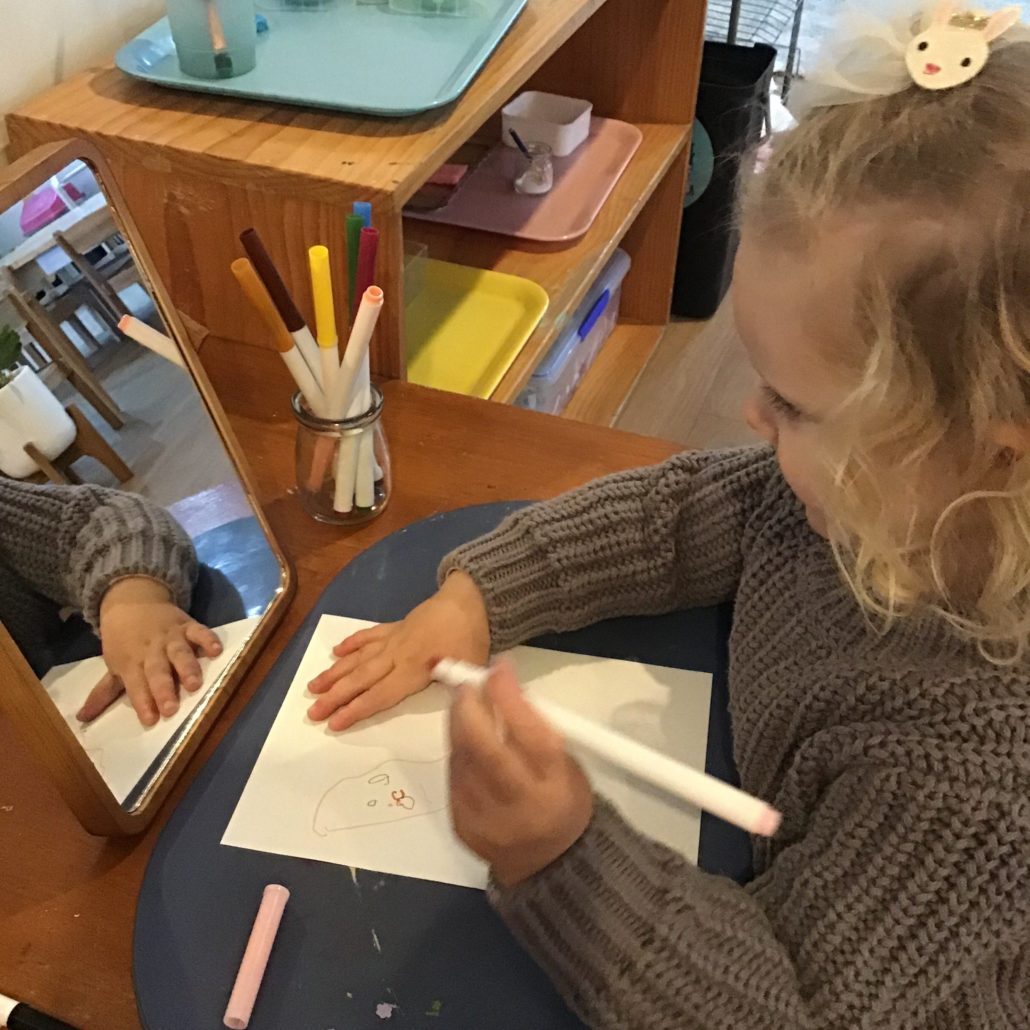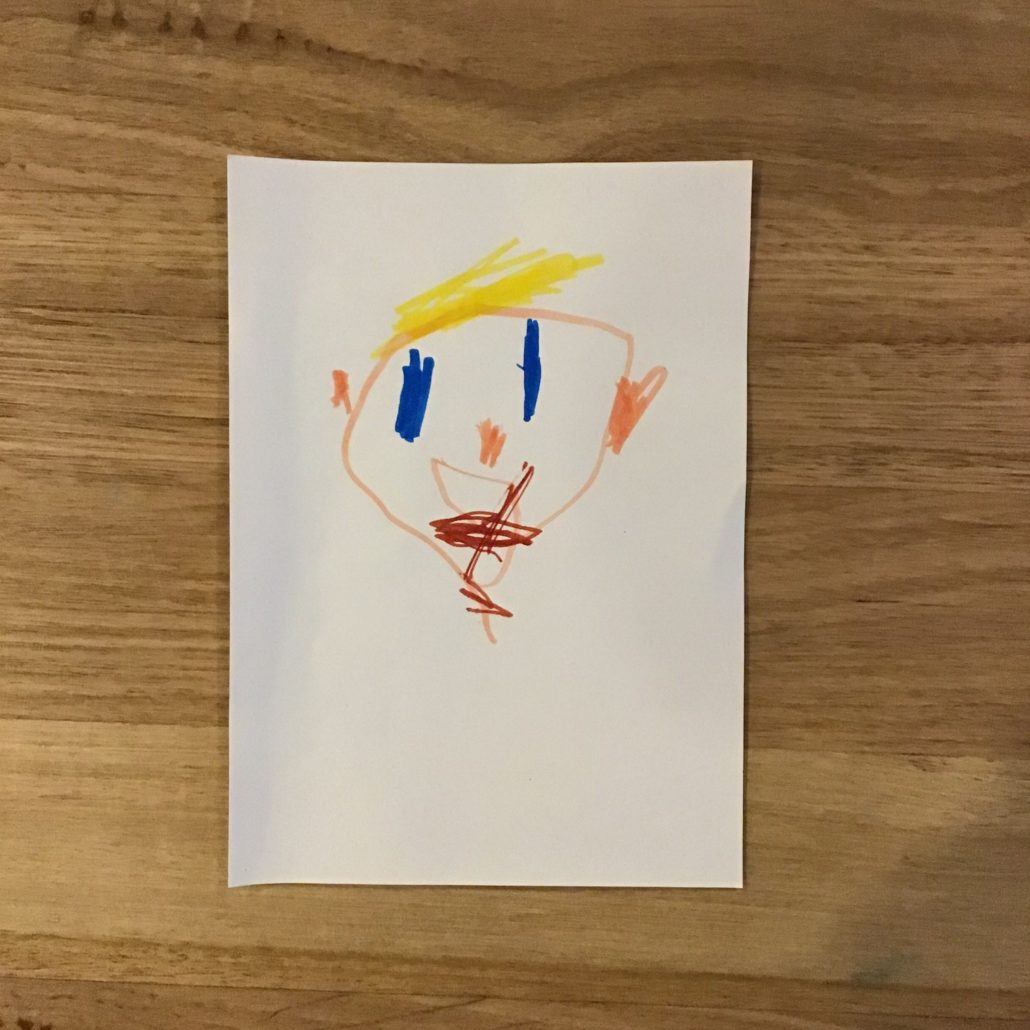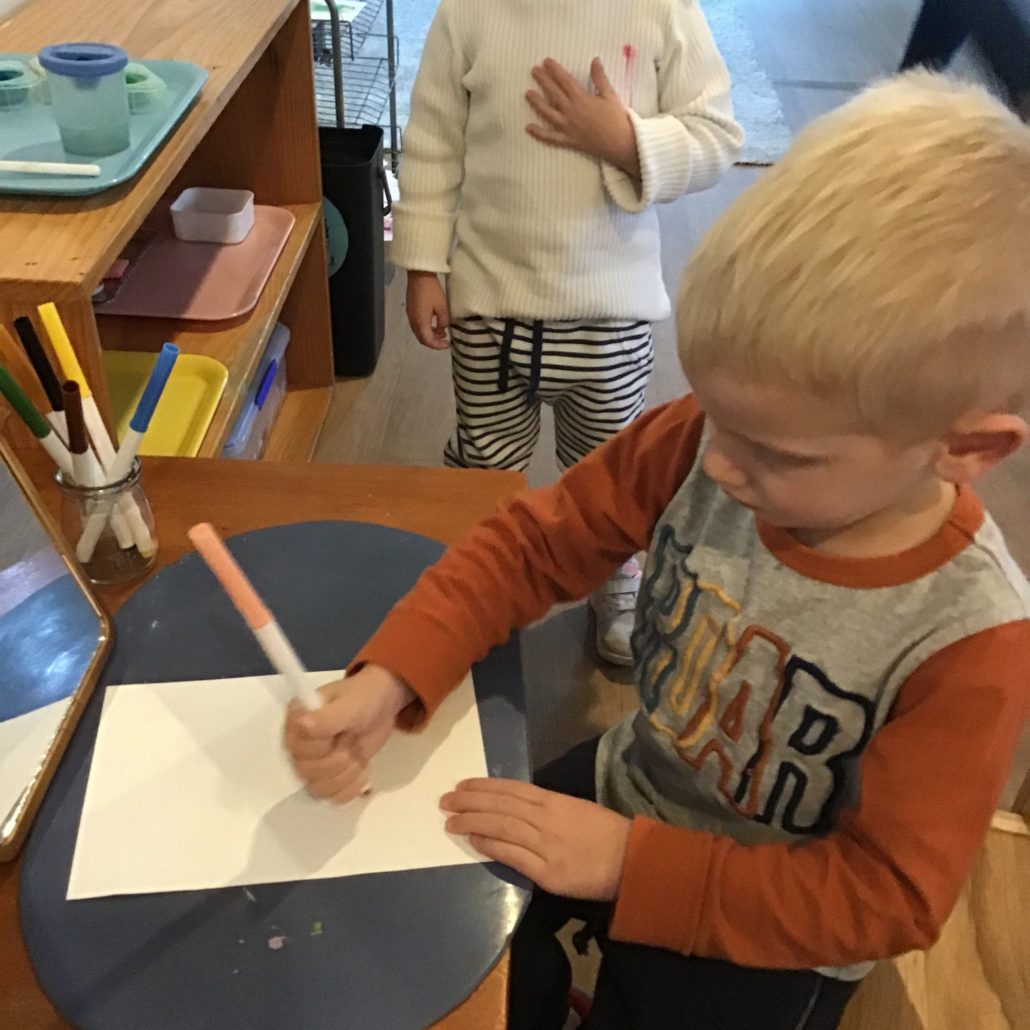 Welcome back to all our families for Term 3 and a special welcome to William and Finlay (and families) who have joined the Burbangana class this term.
Over the past couple of weeks we have been settling back into our routines and are very busy during our morning work cycle. We have explored rocks and crystals along with volcanoes with lots of discussions about the layers of the Earth. Our crystals are growing well with the children eager to see the progress each morning. Writing has also become an important part of our morning routine with modelling from our Kindergarten children. The younger group look up to their older peers and are very keen to be just like them.
We have seen the Masked Lapwing chicks make the daring leap from our roof, explored treasure maps and made some delicious potato and leek soup. Cricket lessons have been met with great enthusiasm with throwing and catching skills improving each week. In Music we are learning about keeping beats by saying simple chants and are working on our own composition.
– Amanda & Teresa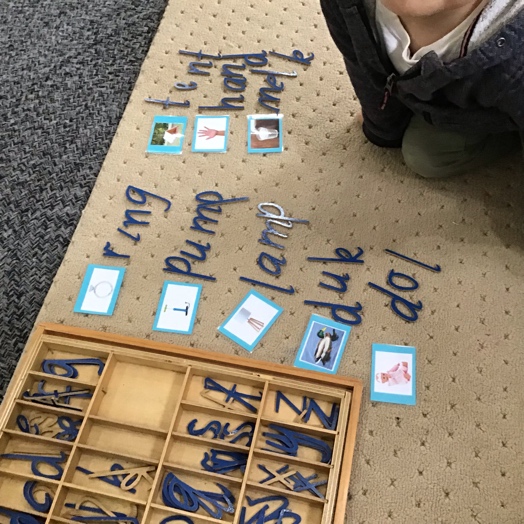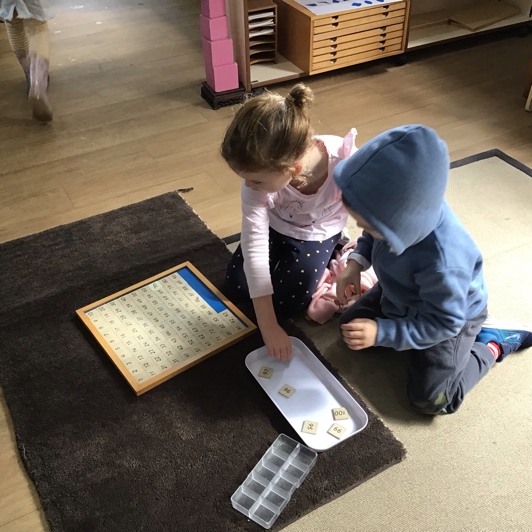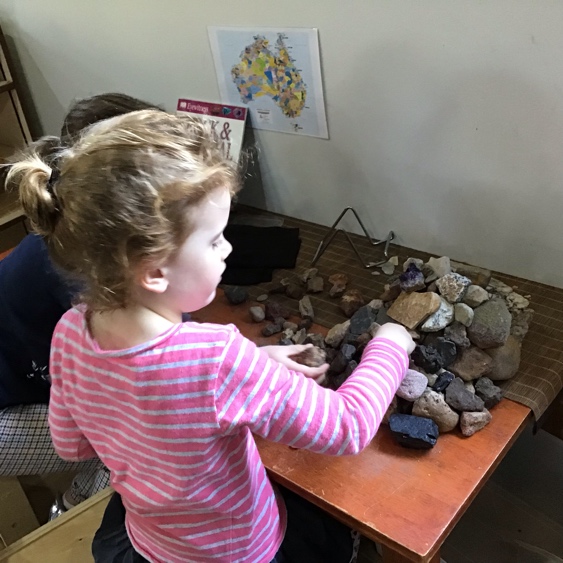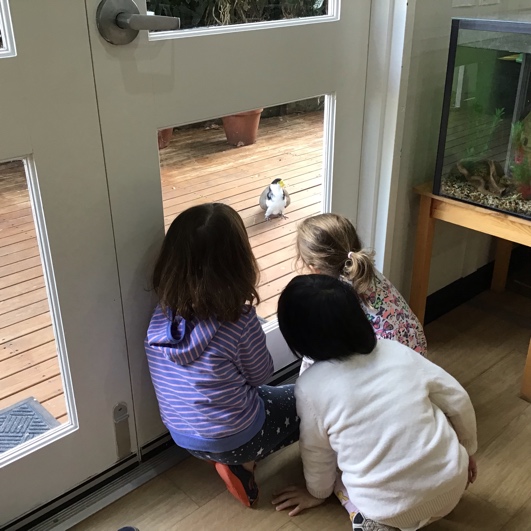 After the rain part of the garden became wet and there was a small patch of mud. The children utilised this opportunity to increase the size of the mud using large amounts of water in their watering cans. Children at this age learn through concrete interactions.  During this interaction with mud the children were working with dispositions such as curiousity, creativity, problem solving cooperation, inquiry, experimentation, hypothesising  and investigation.  Maria Montessori talks about the importance of interacting in the natural environment. "It is necessary for his psychical life tp place the soul of the child in contact with creation, in order that he may lay up for himself treasure from directly educating forces of living nature." (The Montessori Method). This week the children certainly did just that.
– Jenny, Jo & Angela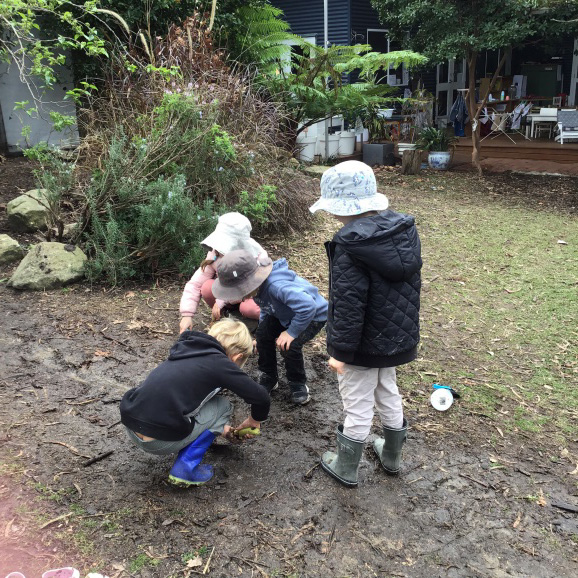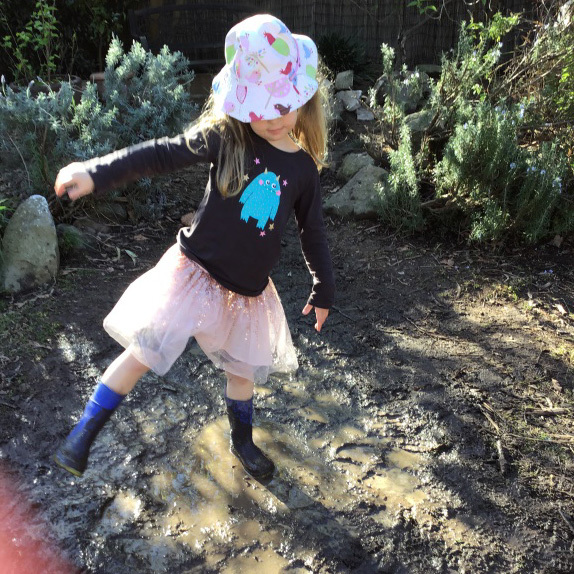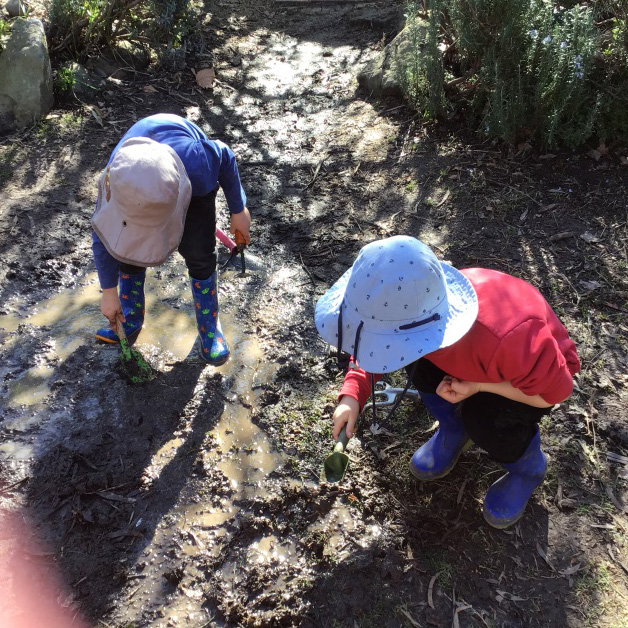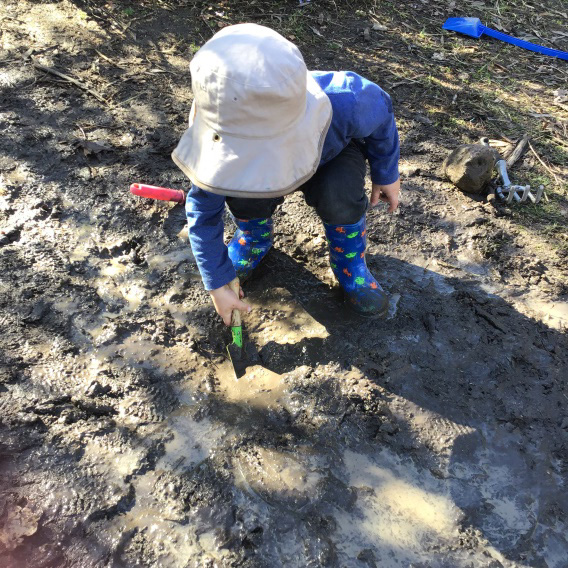 AMAROO | Outdoor Classroom
Welcome back everyone!  We've had a very exciting time back at school as we researched the First Moon Landing.  Children have been fascinated by the story of Neil Armstrong being the first man to walk on the moon, watching the launch and seeing the first footage of the landing.  We have looked at the parts of the Apollo 11, drawn pictures, labelled them and even made our own!  But that wasn't enough as 'we can't get inside!'   So using a huge box the children created The Eagle and acted out "The Eagle has landed".  Using their imagination they added buttons and levers, made headsets and walkie talkies, even maps so they could find their way back to the Earth.  The children extended this further looking at books about space finding out about other planets, the options are endless and still ongoing.  Don't know where we are off to next, maybe Mars!  
– Dawn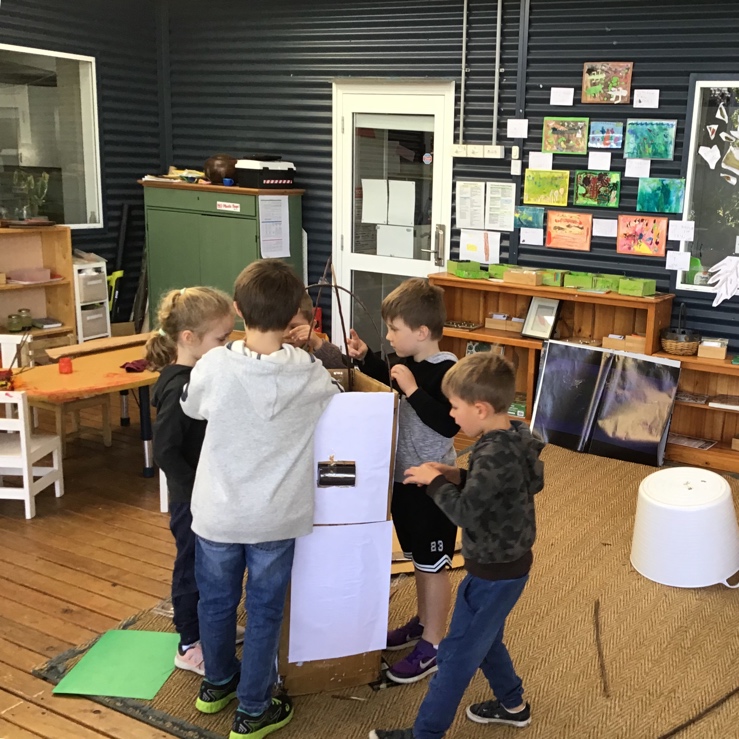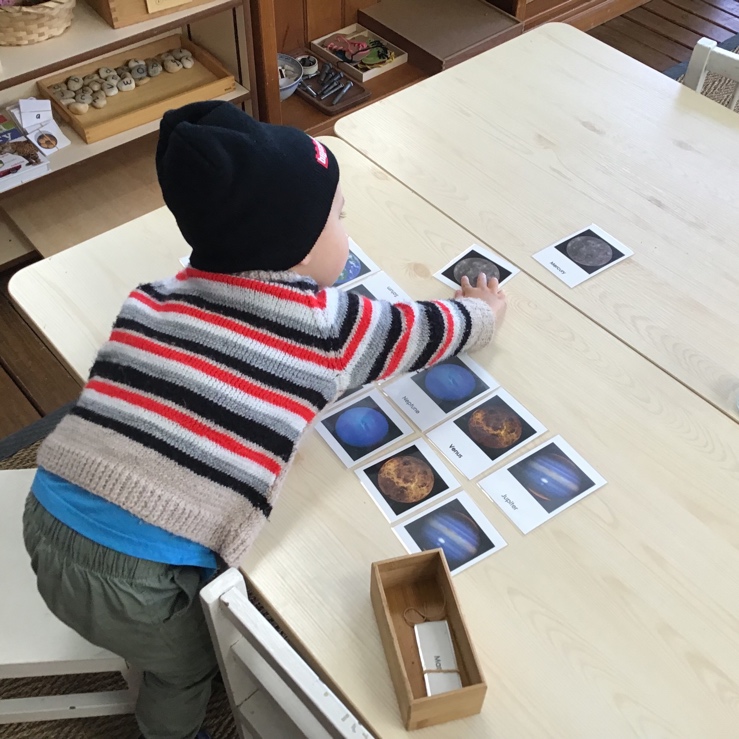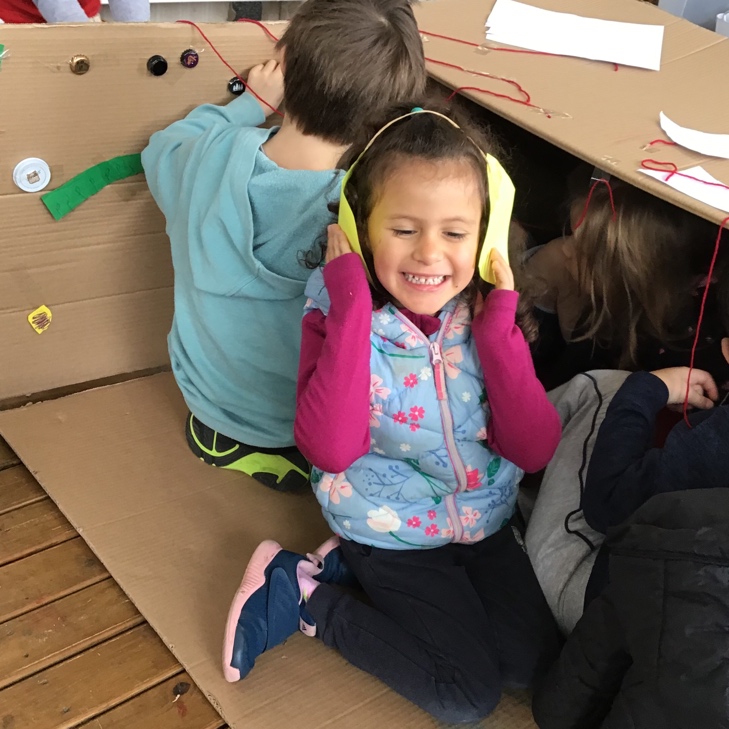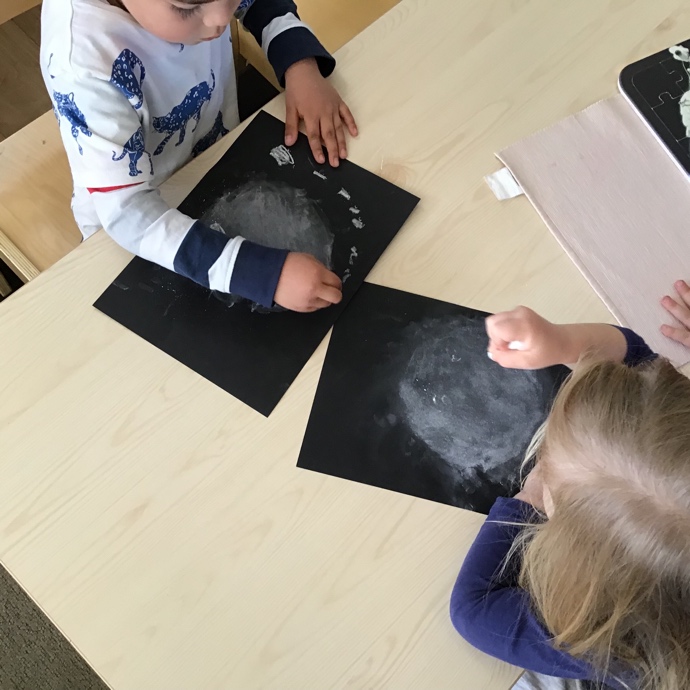 We are in week three and time flies. Learning continues in Aikya's classroom and the children had many fun and engaging lessons on the composition of the earth, leaf, human body, time and fundamental needs of people.
In the afternoon we continued music lessons on Mondays, Ethnic on Tuesdays, French on Wednesdays, Mindfulness on Thursdays and Sport on Fridays. For sport, we had basketball this term at St. Paul's Catholic College. Year 10 students led the children throughout the game in small groups learning new skills of playing basketball. The children rotated in groups to learn different skills.
The children have also been working very hard behind the scene for our upcoming poetry night and they cannot wait to showcase their performance to all the parents.
We purchased new equipment for the outdoor play. The kids enjoyed a variety of options and were having a great time playing together.
We would also like to welcome Byron Dawson and his parents Katherine and Phillip to Farmhouse Montessori School. 
– Samantha & Laura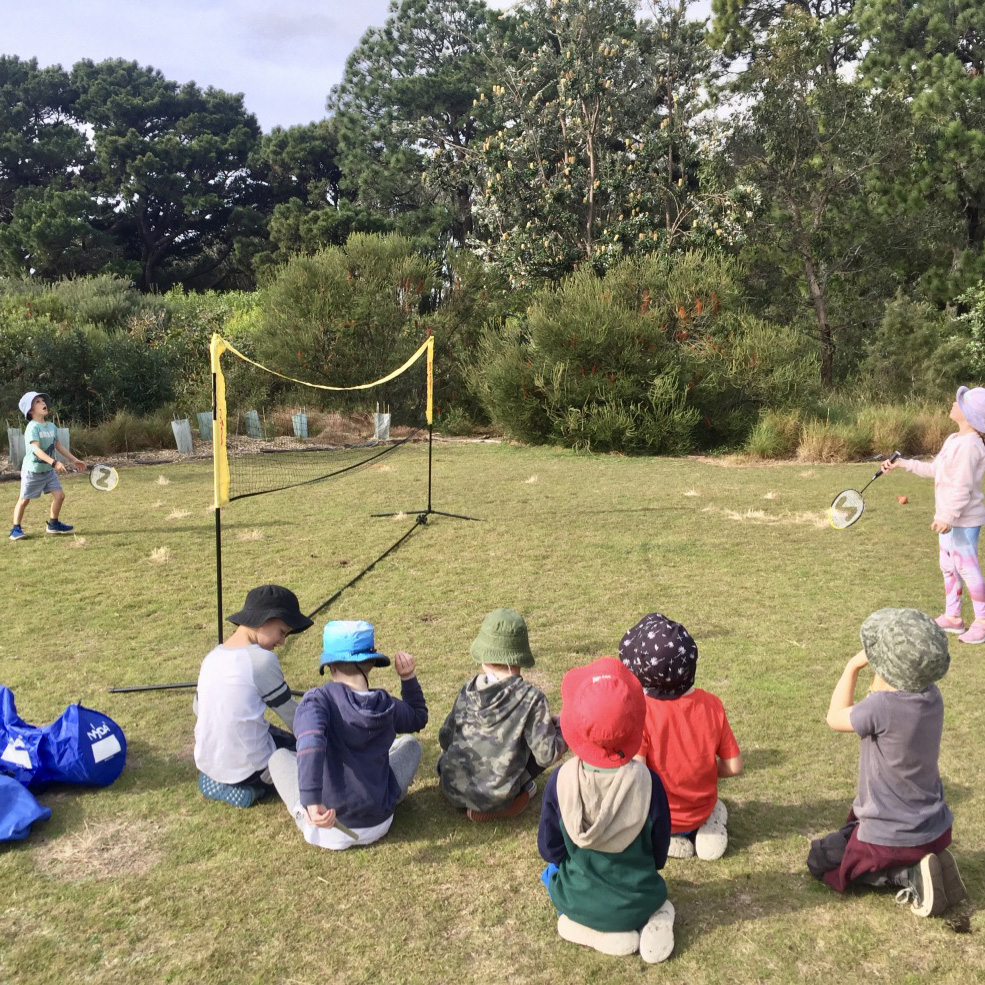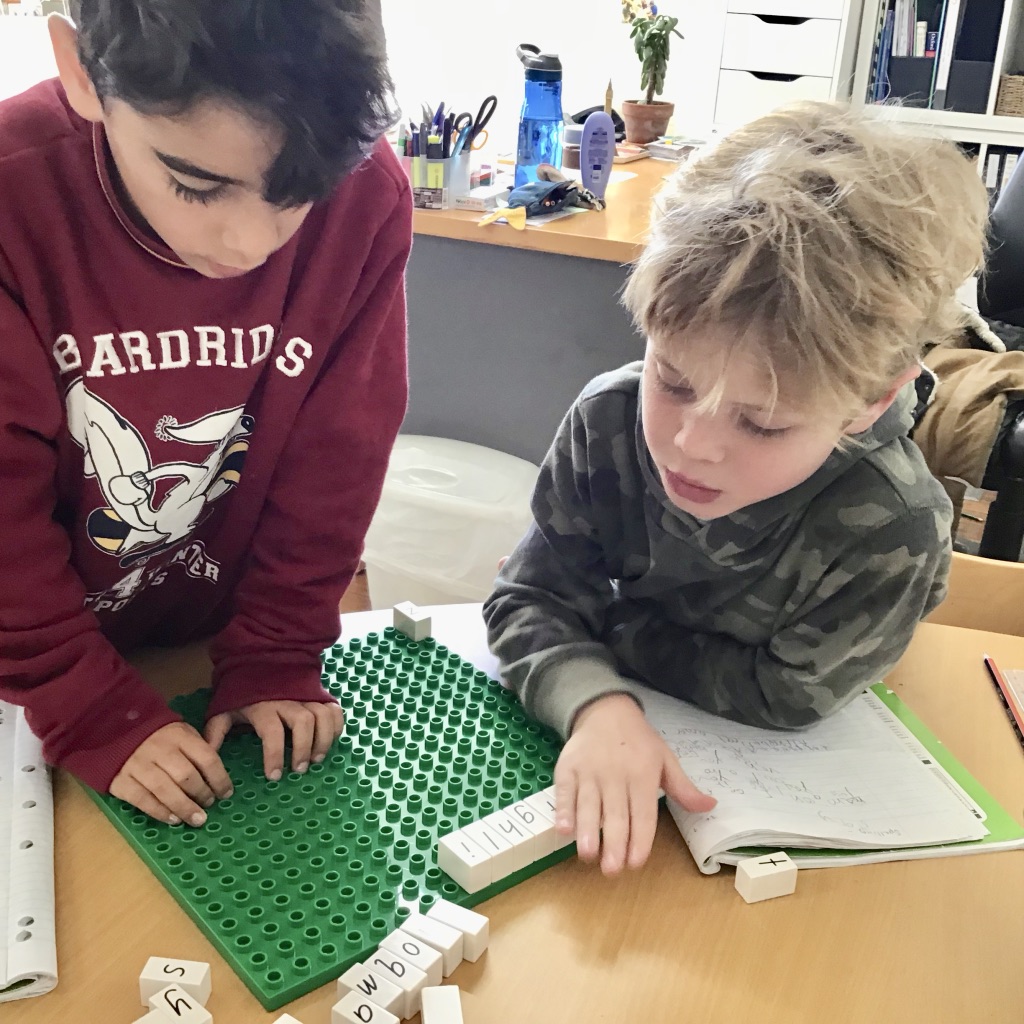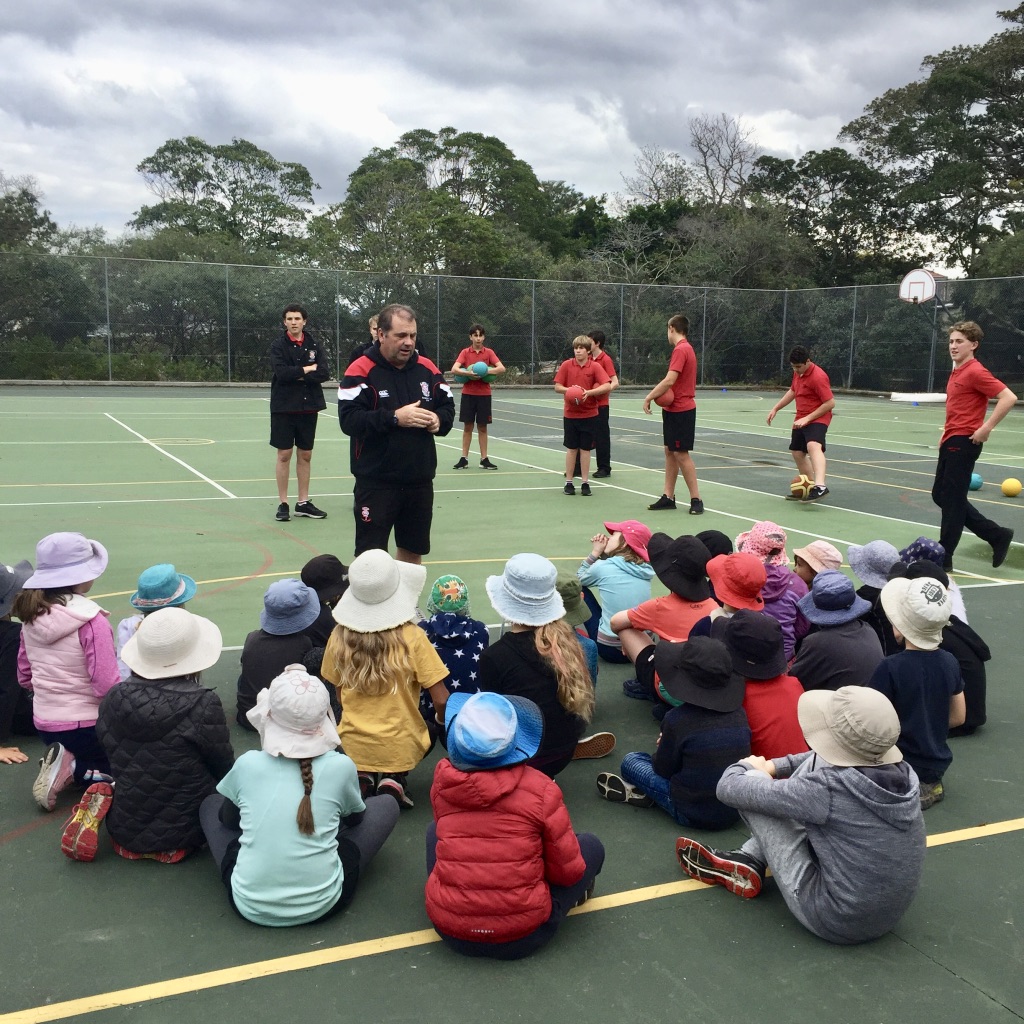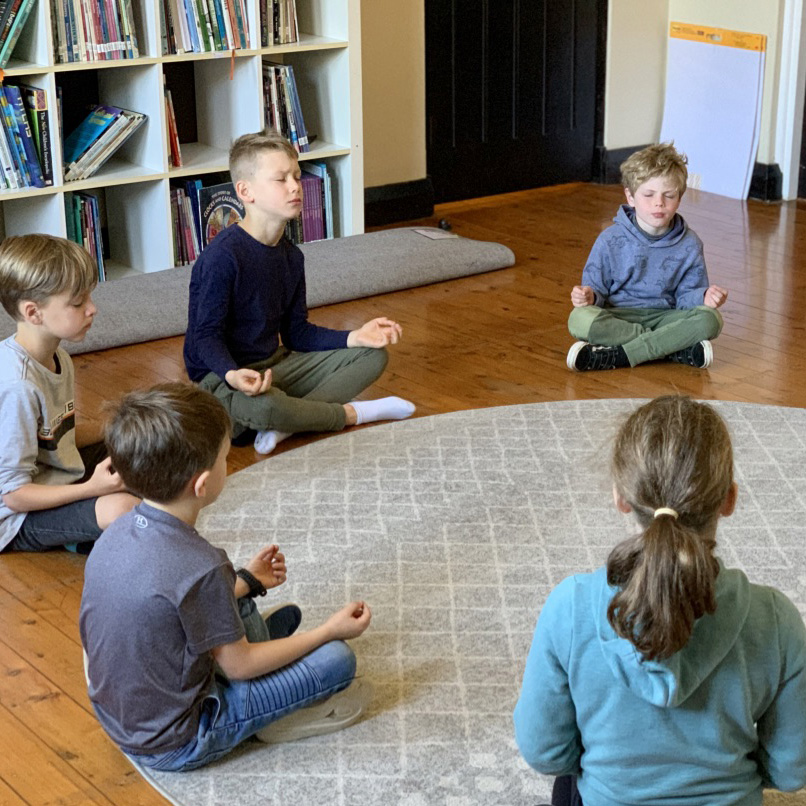 Last term Leo Landers, Keitario Franchi and Leo Matchett went on a bushwalk. We saw lots of things including: 7 golden orb spiders, 3 bees, orange fungi, a bunch of hornworts, 3 egg and bacon trees, 2 bird nests, 1 pink wax cap, lots of banksia trees, ferns, a pond, 2 grass trees, 14 wattle trees and maybe even a snake that was rustling in the grass.              
Yani painted recycled bottles and Toby's mum Emma showed us how to plant some succulent flowering plants in our painted bottles. It was very fun, we hung them on the wall for display. Some bottles were painted as a penguin or a cat. 
Everyone was happy to see each other after the holidays. People shared their holiday experience. 
We made a sketch book for art history. We chose a cover and decorated it, folded paper for the pages and we bound our books with string. 
Written by Keitaro Franchi and Leo Landers
– Claire, Cheryl and Philippa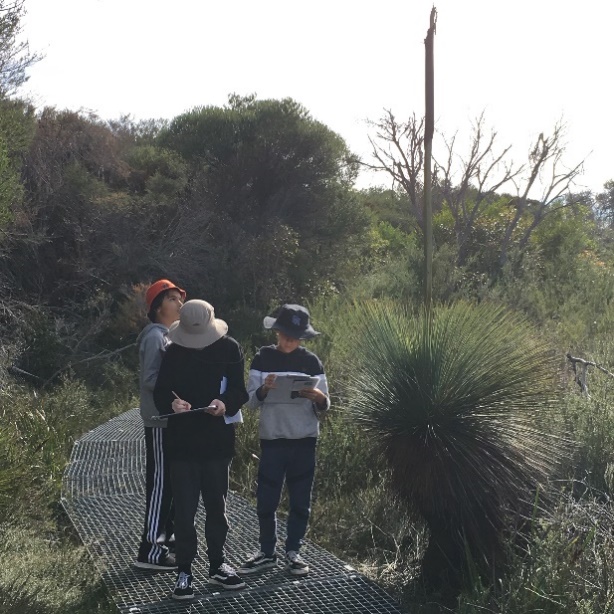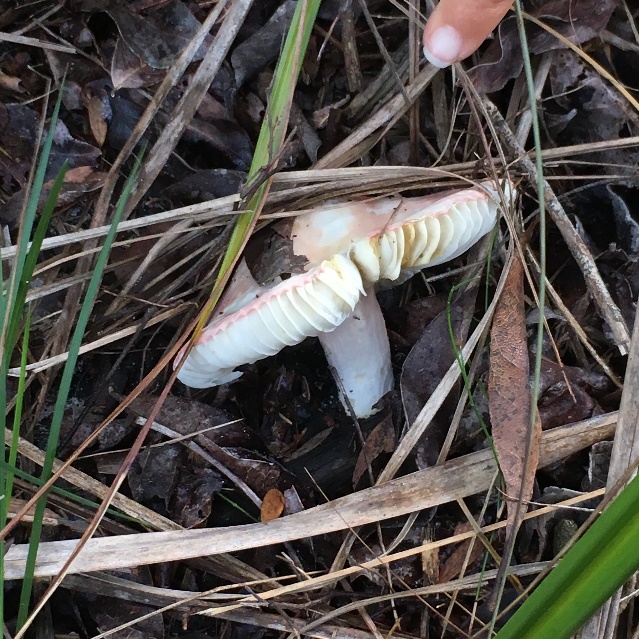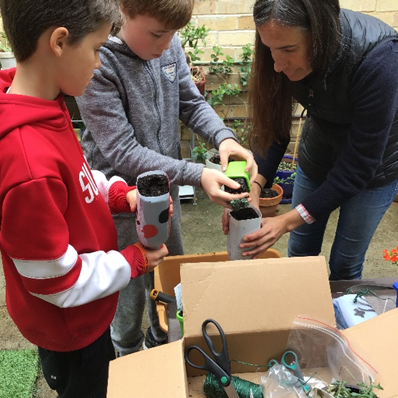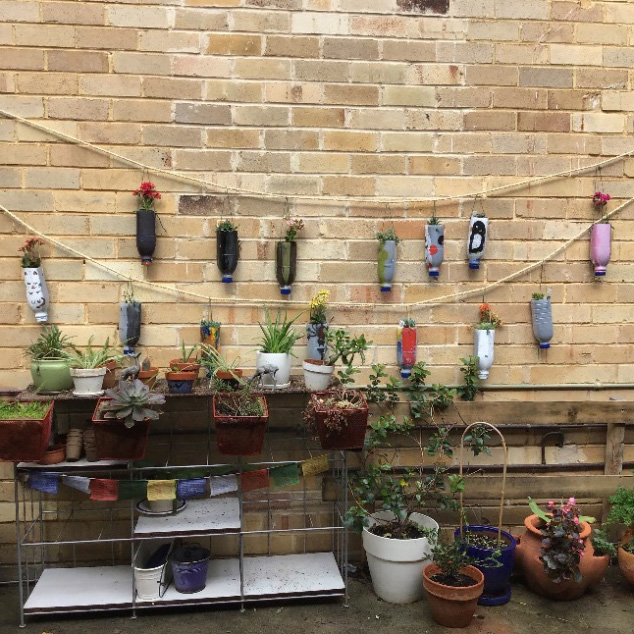 Farmhouse | Primary OSHCare
Dear Families,
Thank you all for Such a great vacation care! We look forward to our next one and would appreciate any feedback you have. This term our Health & Well-being program will start back up on Monday the 5th of August in the afternoon session. The sessions will run from from 4:00pm-5:00pm every Monday for five weeks. During this the children will learn various sporting skills and the importance of staying active and healthy. If you would like to join in on the fun, book permanently via QK Enrol or casually via the My Family Lounge APP.
This week the children all settled back into the groove of term 3, sharing all their exciting stories of what they got up to in the holidays. A big hit this week has been group games of soccer out in the play area, the children all enjoyed playing all together with an educator on each team. The children also enjoyed experimenting with a water filtration kit uncovering the process of turning dirt contaminated water back into its original state. The children are also eager for the startup of Health & Well-being; beginning on Monday the 5th August between 4pm-5pm.
Next Week Events:
30th July- Int'l day of friendship
2nd August- National Aboriginal and torres starit islander childrens day
9th August- Int'l day of the worlds indigenouse people
9th August- Red nose day
If you would like more information about Primary OSH Care or our centre and how to enrol, please visit our website www.primaryoshcare.com.au
From Amanda, Kim, Jack and all the OSHC staff at Farmhouse Montessori OSHC Centre