2023 Newsletter Term 04 | Issue 02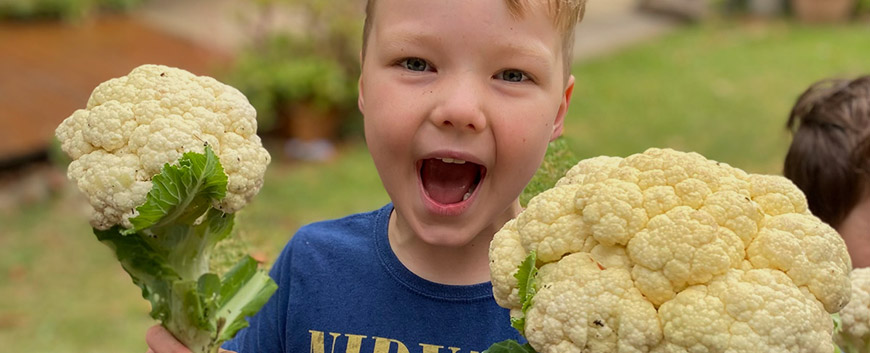 Upcoming events & Important Dates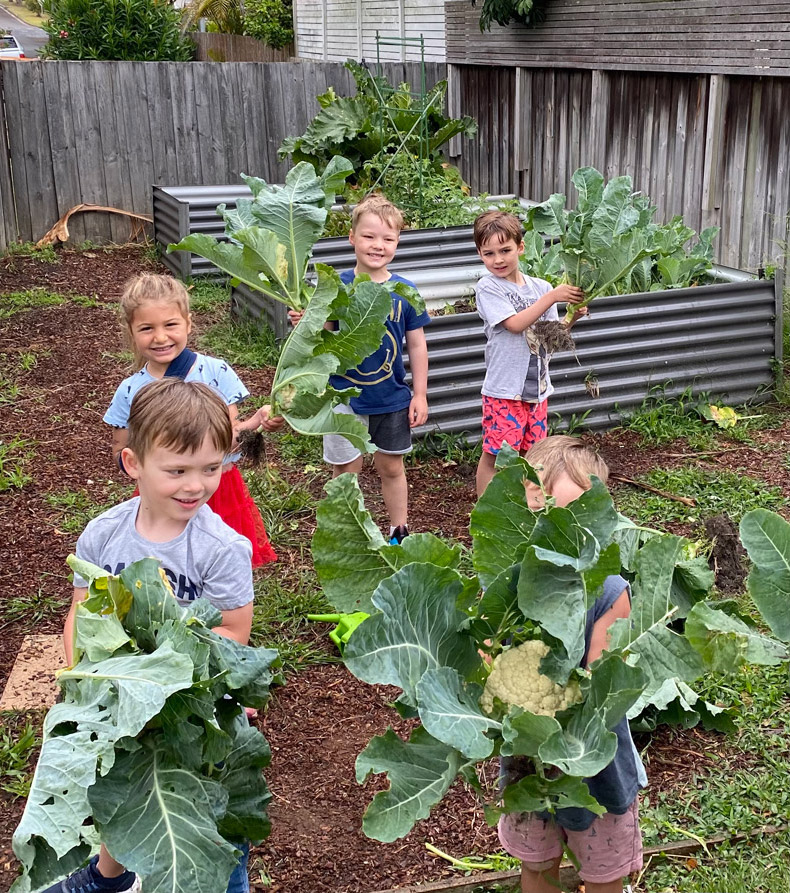 NOVEMBER
Thurs 16th Primary Campus School Tour 9.30am
Wed 22nd Orientation Evening: Primary New-starters: 6-8pm | Primary Campus
Fri 24th Fees Due
Thurs 30th Primary Campus School Tour 9.30am
DECEMBER
Thurs 7th Primary End of Year Celebration and Picnic | Last Day Primary

Fri 8th Preschool Picnic 12noon | Last Day of Preschool
Fri 8th Staff Development – North Head Primary only
Click HERE to see further calendar dates.
Principal's Message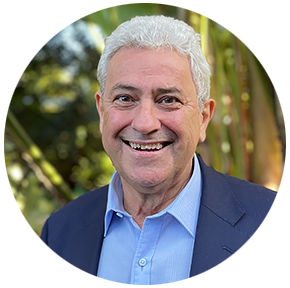 Dear Farmhouse Montessori Families,
Grandparents' and Special Friends' Day
This was a wonderful occasion! Having grandparents and special friends visit a classroom created a unique and heart-warming experience for everyone involved. It's a fantastic opportunity for the children to bond with their elders and share their classroom environment. The delight on the children's faces was priceless. Thank you to our staff for making this morning possible.
Evacuation and Lockdown Drills
The safety of students in any educational institution is paramount. In this regard, recent evacuation and lockdown drills were conducted, showcasing not just the preparedness of the school but also the commendable maturity and responsibility demonstrated by the student body. The success of these drills is a testament to the collaborative efforts of the entire school community. The coordinated execution and orderly conduct during these exercises highlighted the dedication and seriousness with which students approached these vital safety protocols.
I thank the students for their responsible approach and understanding of the gravity of these safety procedures. Such preparedness isn't just about following protocols but also about instilling a sense of awareness and readiness in real-life emergencies. Safety drills are essential in ensuring preparedness for unforeseen circumstances, and the dedication shown by the students serves as a shining example of responsible citizenship.
Opportunity to Donate to Others
As the festive season approaches, it is a time to embrace the joy of giving and spread warmth to those in need. Christmas isn't just about the twinkling lights and merry melodies; it's a season for generosity and compassion. At Farmhouse, parents and students can contribute gifts for Dalwood Spilstead and support the Manly Women's Shelter with much-needed items. Your gifts and thoughtfulness are truly valued and appreciated. Items may be delivered to both North Balgowlah and North Head Campuses by Monday, November 27th.
Promotion of North Head Campus
We have been making videos of Yani and Aikya classrooms to capture the vibrant tapestry of classroom activities that encapsulate the essence of our Montessori teaching. These videos will serve as a window into the dynamic learning environment and showcase the diverse range of educational experiences on our campus. These recordings stand as a testament, emphasising the spirit of curiosity and the pursuit of knowledge that permeates every corner of our academic community. These videos will be used on the school website and social media posts to promote the fine education at Farmhouse. We have only included the students whose parents have provided permission to photograph their child.
Reminder of year events
A number of end-of-year events are being planned. I ask all parents and carers to pencil in the calendared events.
Bruce Rixon  |   Principal
Deputy Principal's Message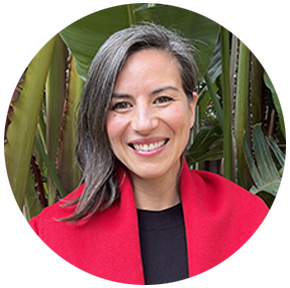 Dear Farmhouse Montessori Families,
The recent Grandparents' and Special Friends' days have created a wonderful sense of community. The combined Self-portrait Art Show at the North Balgowlah Campus was a hit! Thank you for supporting our events. Children enjoyed sharing their everyday experiences, taking loved ones on a tour of their classrooms and outdoor spaces, sharing a treat, and, most importantly, sharing time.
We know that not everyone could have a grandparent attend. Yet, all the children had the opportunity to help prepare the environment on the day and meet extended members of our Farmhouse community. In a couple of conversations, some children mentioned how their grandparents were not with them today and honoured them by sharing memories of them.
With a focus on meaningful connections, we would love to hear your input on how we can collectively continue to build a strong community with each other, educators, and the Montessori pedagogy. As part of a deep dive into our Five-Year Strategic Plan, there will be opportunities on November 23 for online and in-person collaboration focusing on Strategic Pillar #4: Parent Community. Watch your email for an invitation.
Alia James  |   Deputy Principal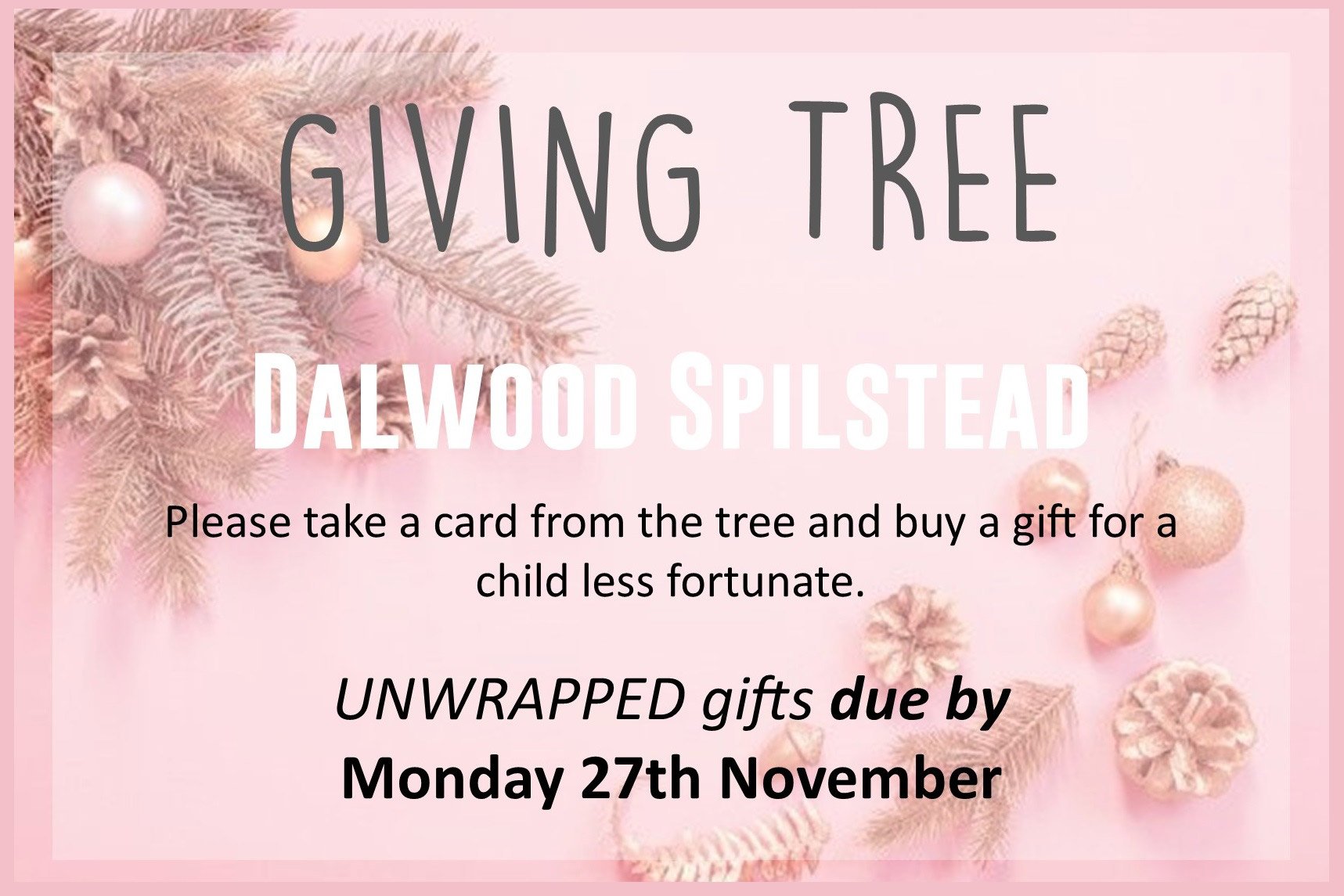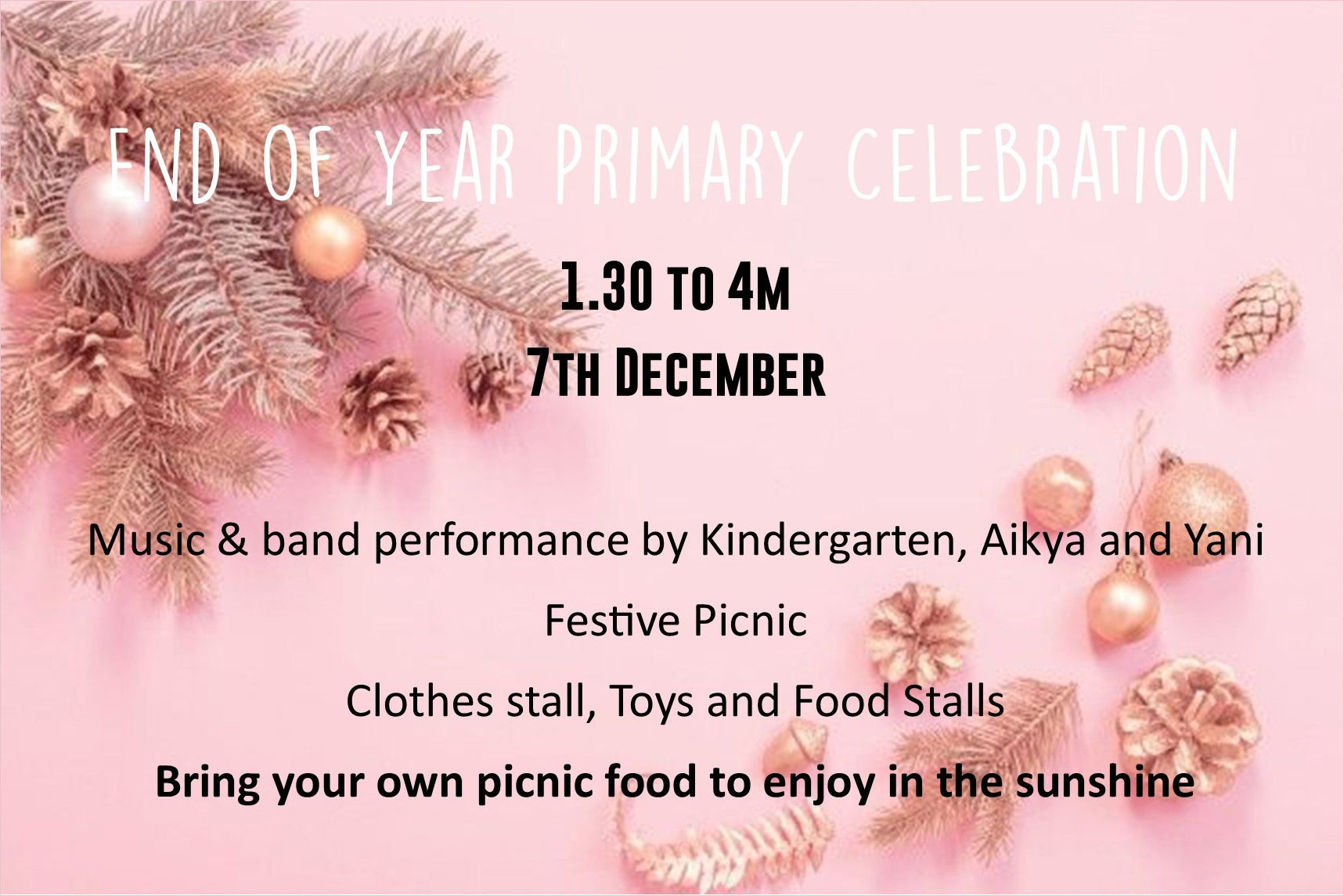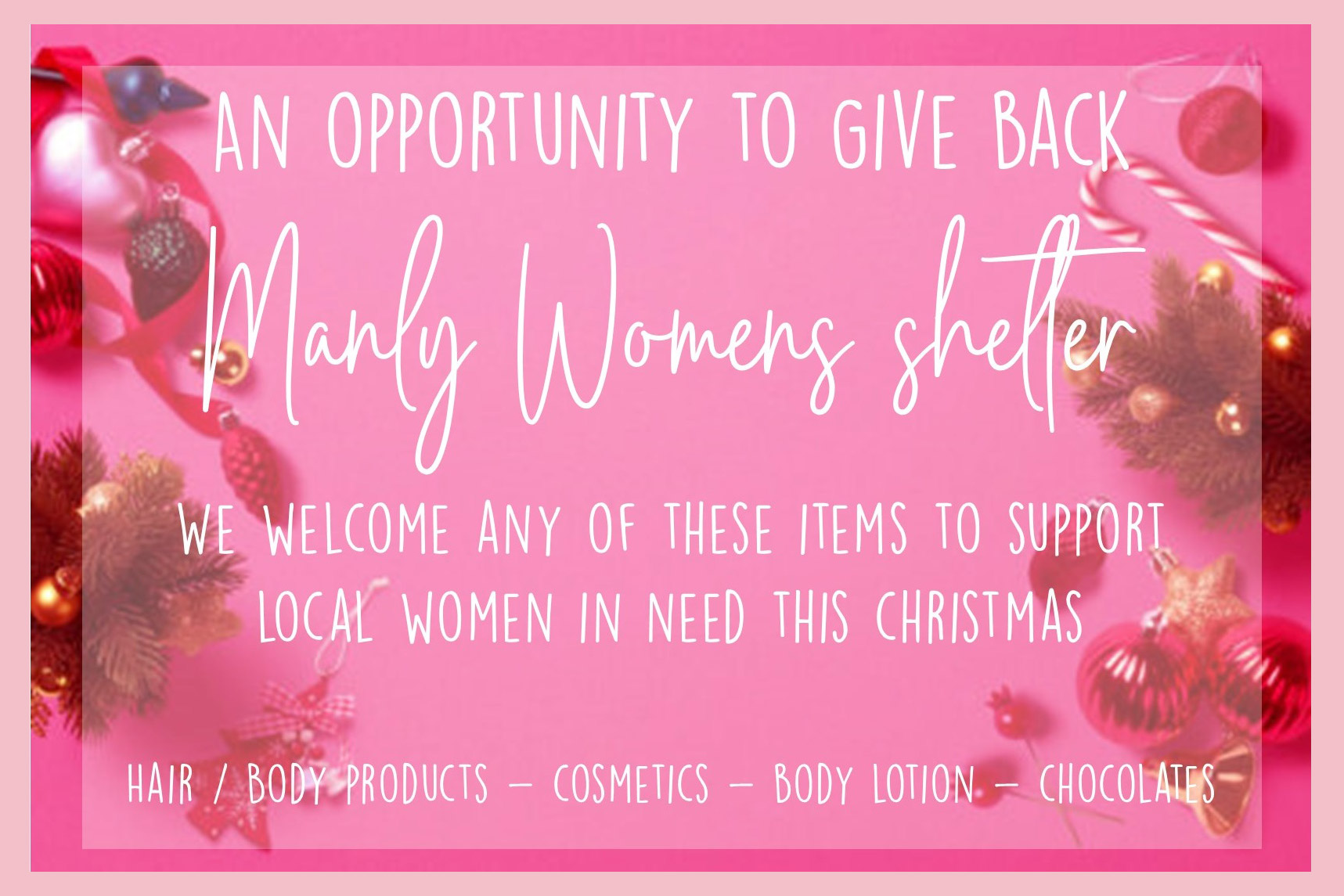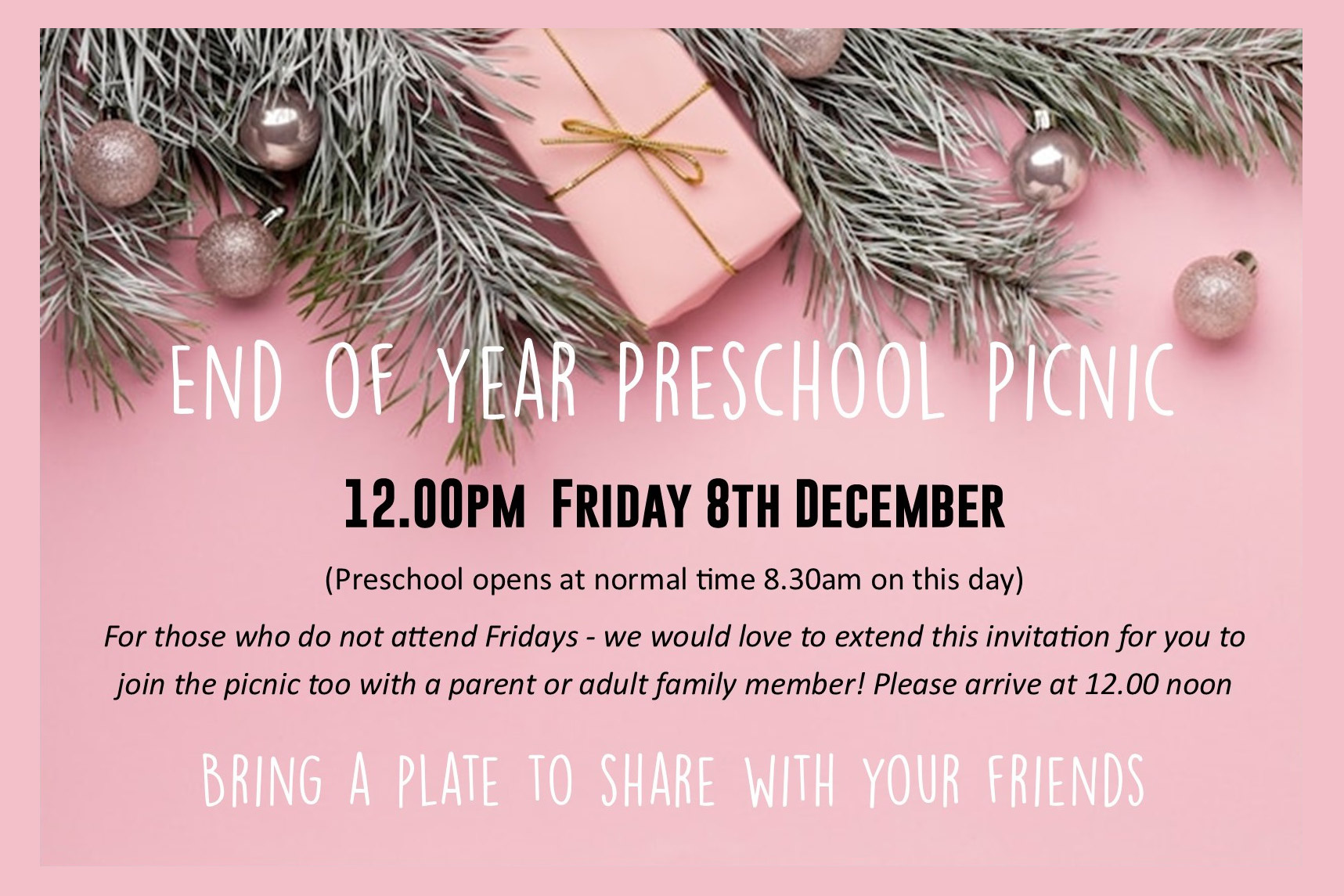 ELOUERA | Stage 1 Infant Community
The Elouera children have been very busy taking care of their environment, cooking with the water beads and using the tools.
The children are great at taking responsibility and remembering to check the plants each day to see if they need to be watered. All the children are very excited to volunteer themselves to water the plants. They are a helpful group of children. Gardening helps children understand cause and effect, build self confidence and develop a love of nature. It also supports the children in developing cooperative relationships and learning about nutrition.
The children loved cooking with the water beads and practicing using the different tools such as screwdrivers, wrench's, Allen keys, hammers and sandpaper. They are very proud of themselves when they know which tool they need to use for which nail/ screw.
— Nina, Rachel, Sarah and Yuko.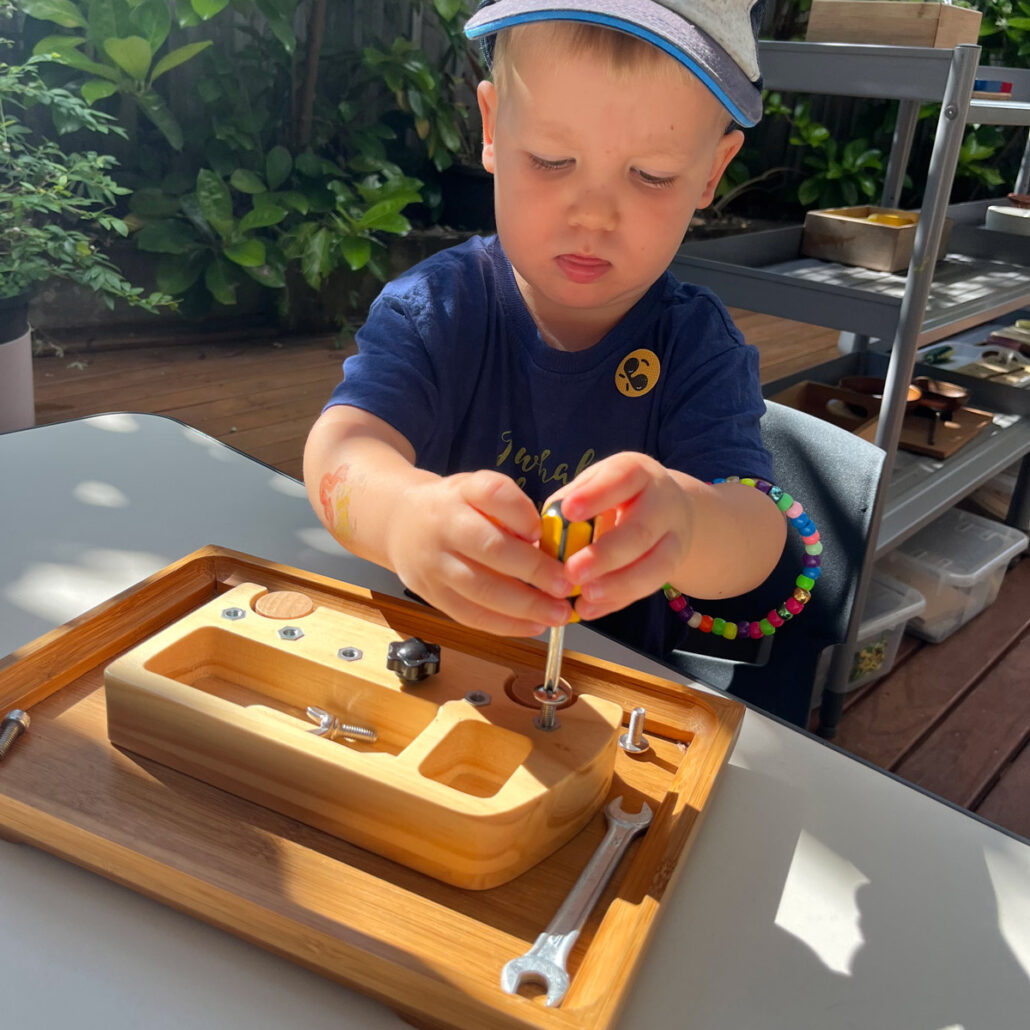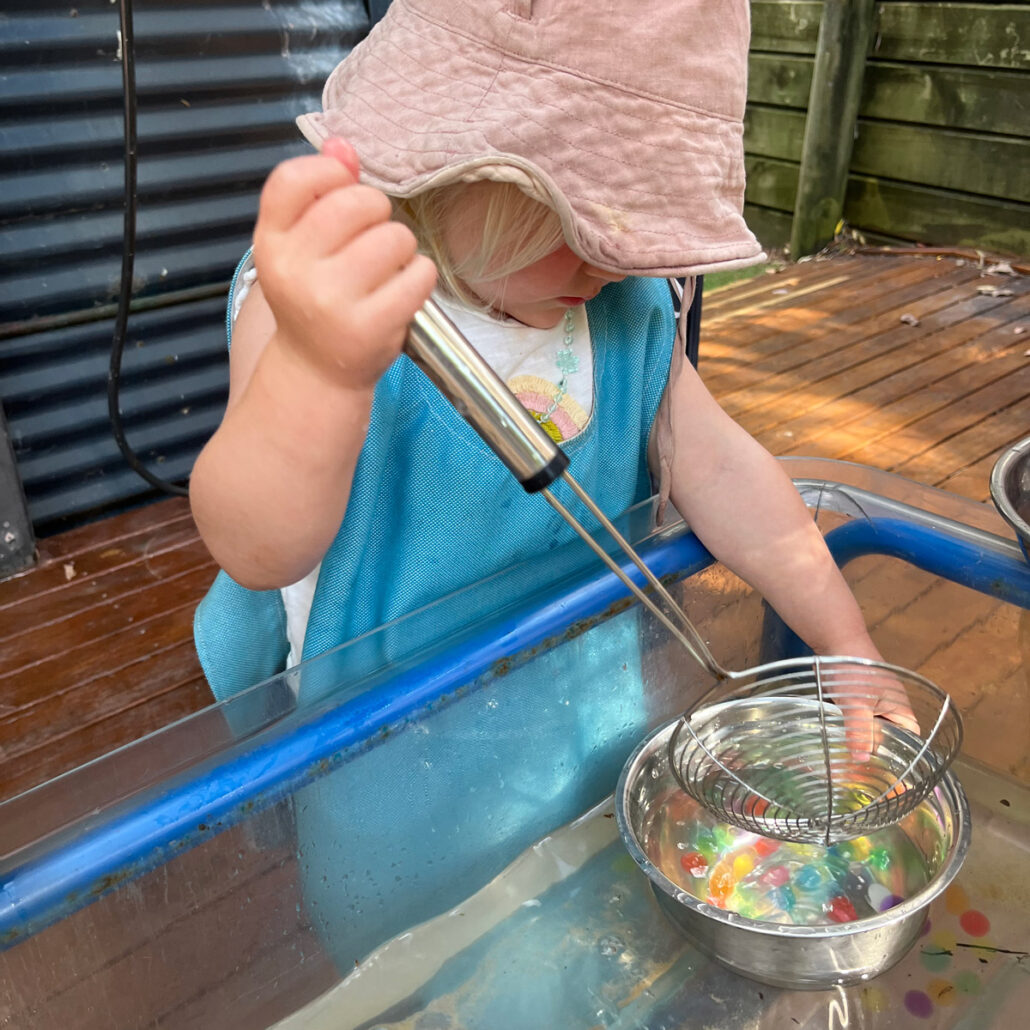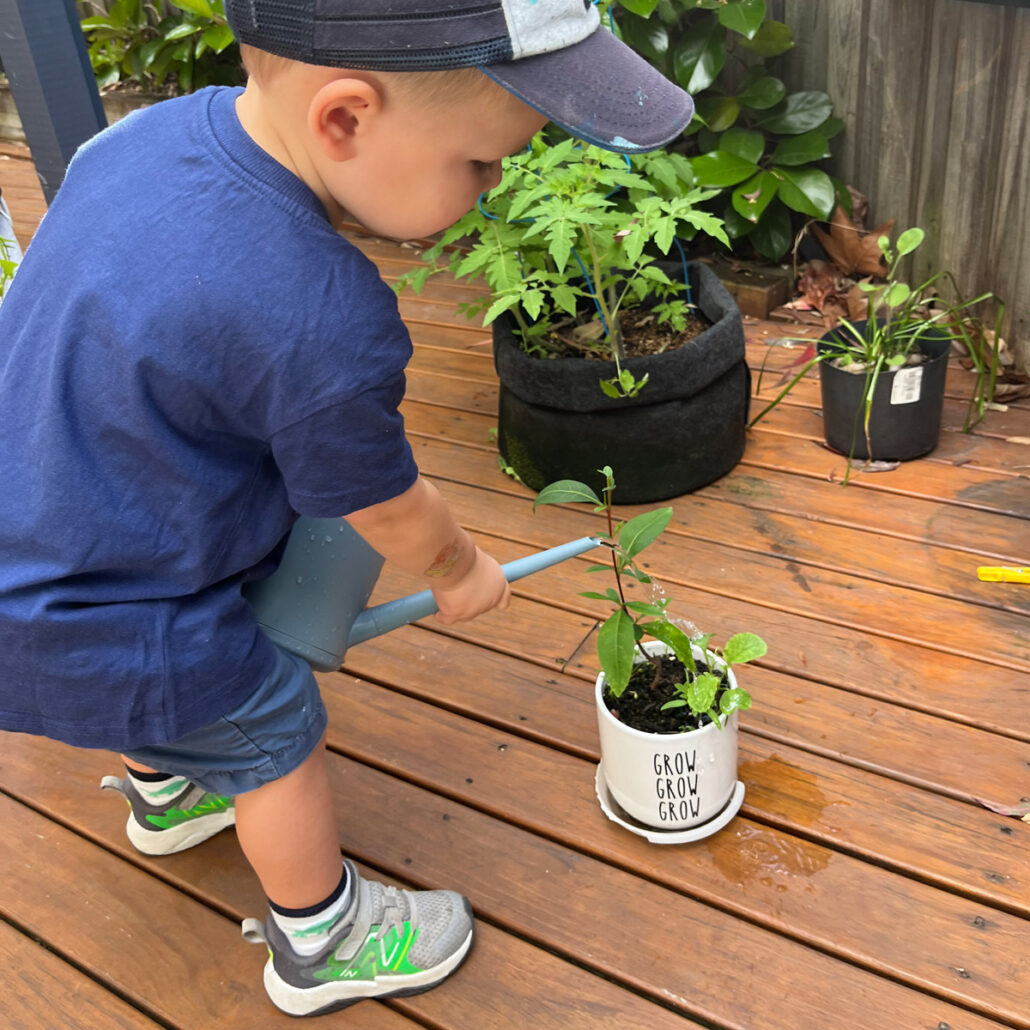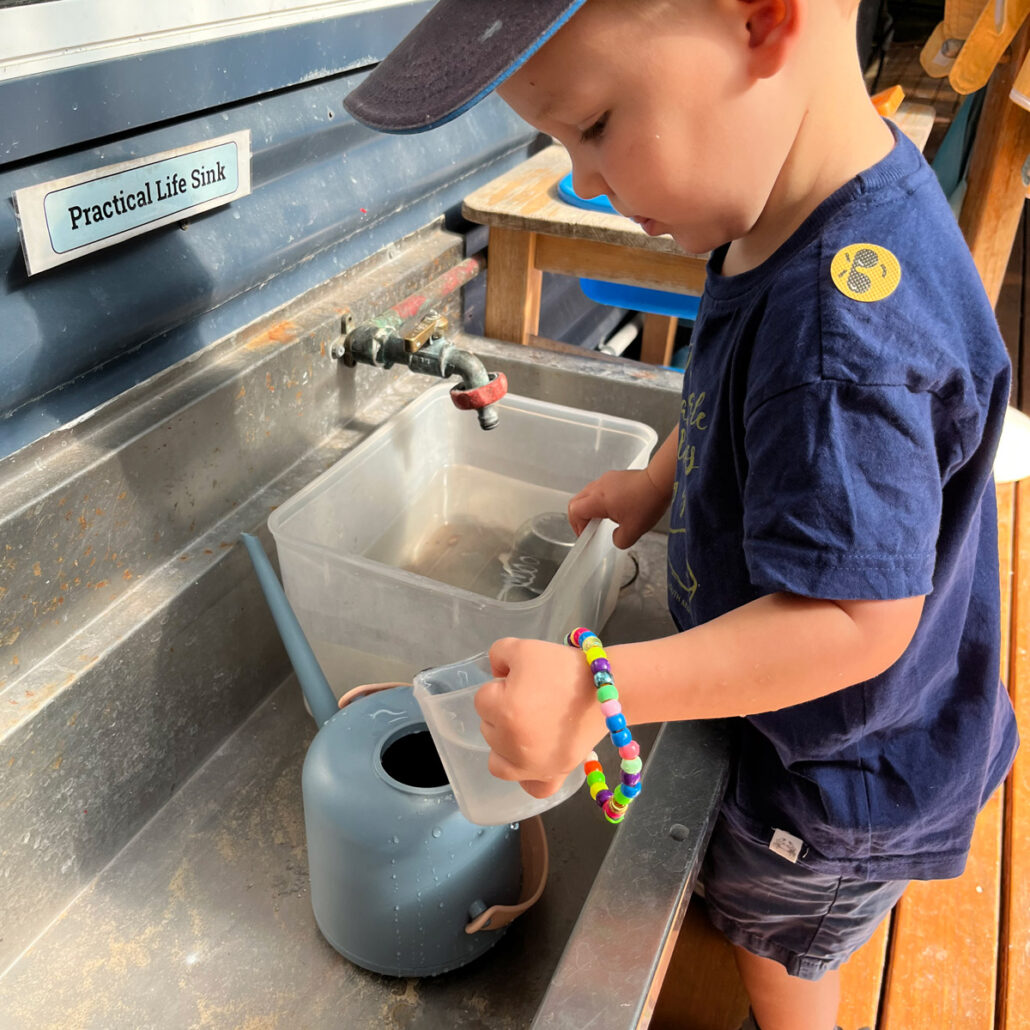 Last week in the Burbangana classroom, the children had the opportunity to share their self portraits with their community. Each child was encouraged and supported to draw a picture of their face. They worked individually and used a mirror to look at themselves and identify their facial features. Exploring individual identity can support the development of a positive attitude towards diversity and difference and help children to develop a sense of belonging in their community.
— Helen, Teresa & Claire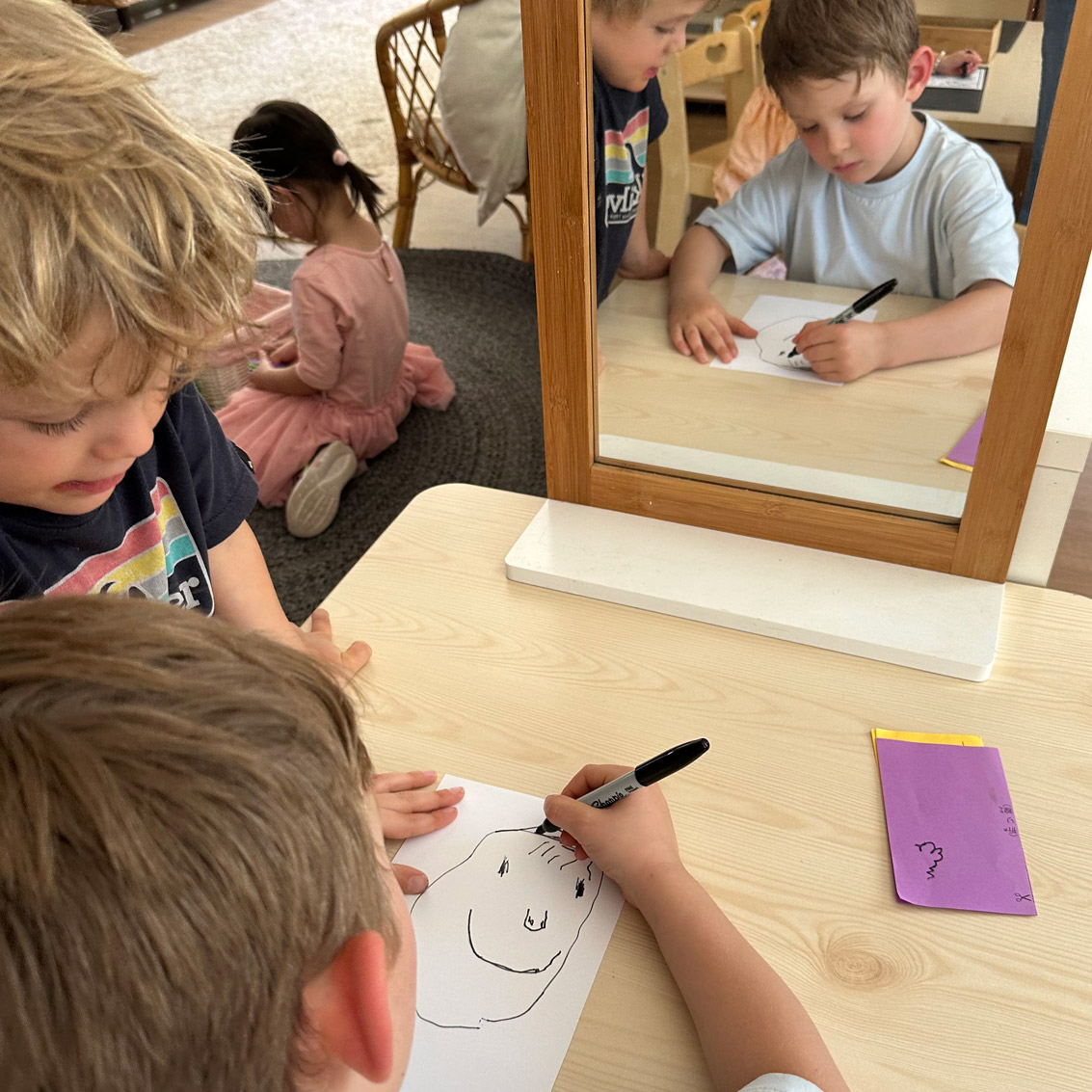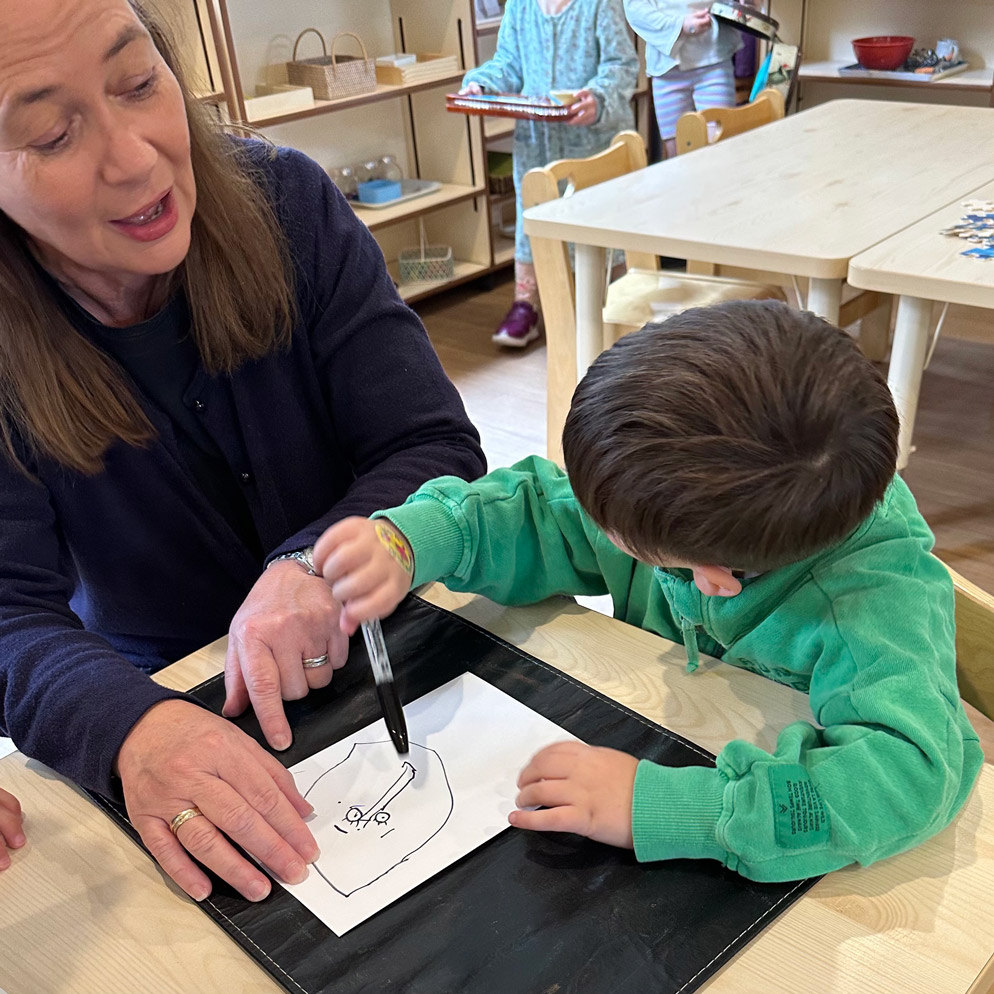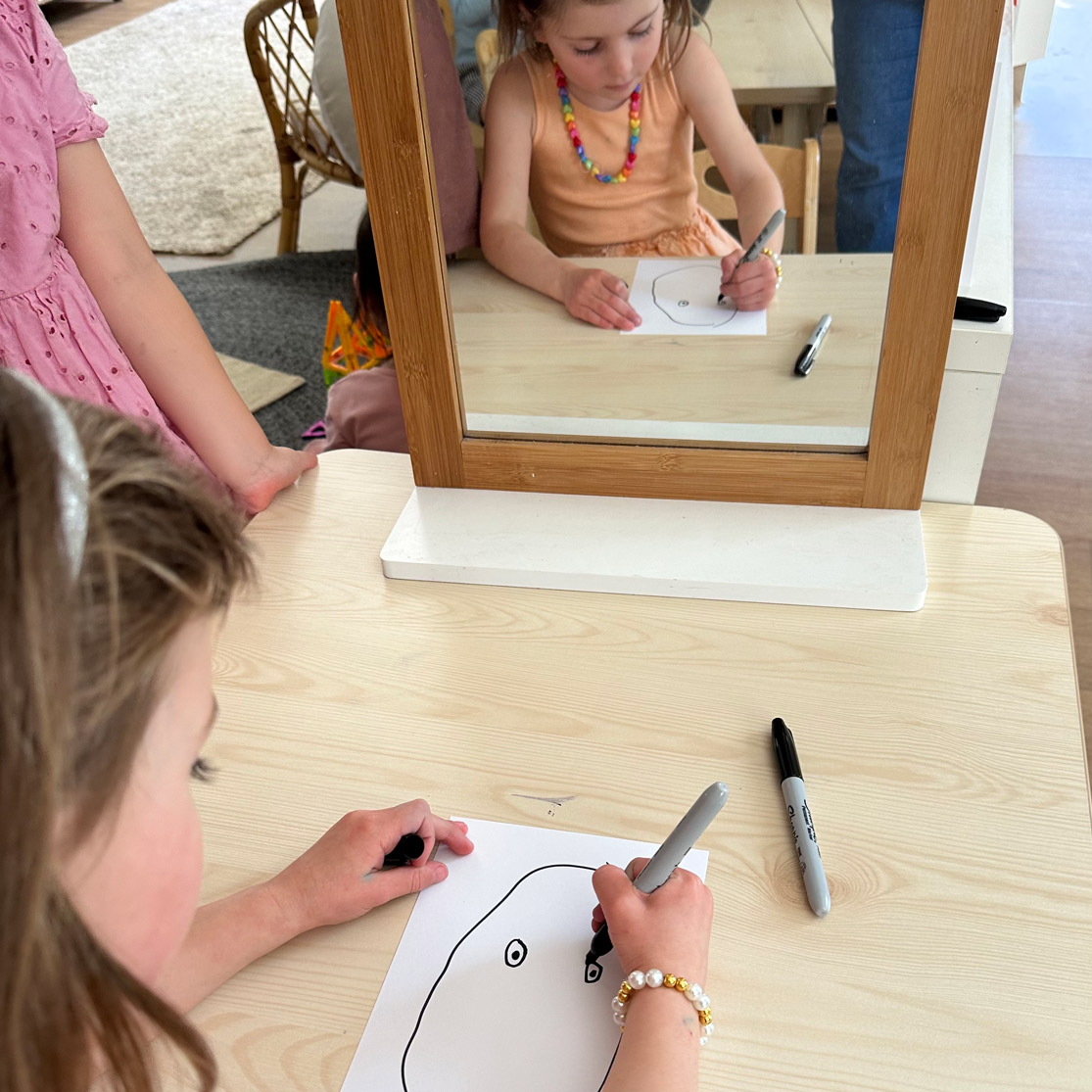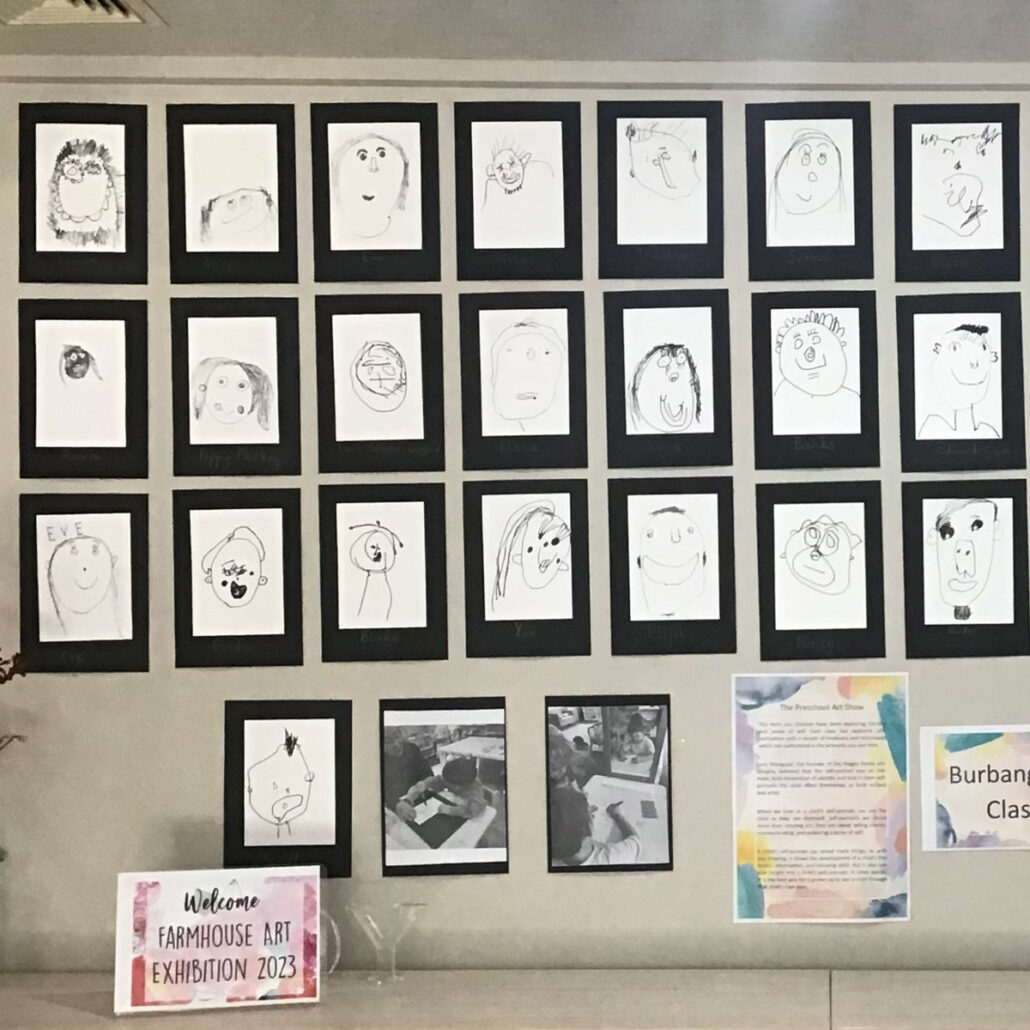 This week in Cooinda, the children were engaged in many practical life activities such as leaf cleaning, practicing how to open and close a zipper, hand washing, and washing dishes after a snack. These activities encourage a sense of independence, confidence, while helping to develop fine and motor skills and longer periods of concentration.
Practical life activities in Montessori environments play a crucial role in fostering the holistic development of children. These activities are designed to teach fundamental life skills that enable children to become more self-sufficient and independent. They also empower children to perform tasks on their own, boosting their self-esteem and autonomy. As children master these skills, they gain confidence in their abilities and their capacity to navigate the world around them.
— Catalina, Katherine, Jo and Angela.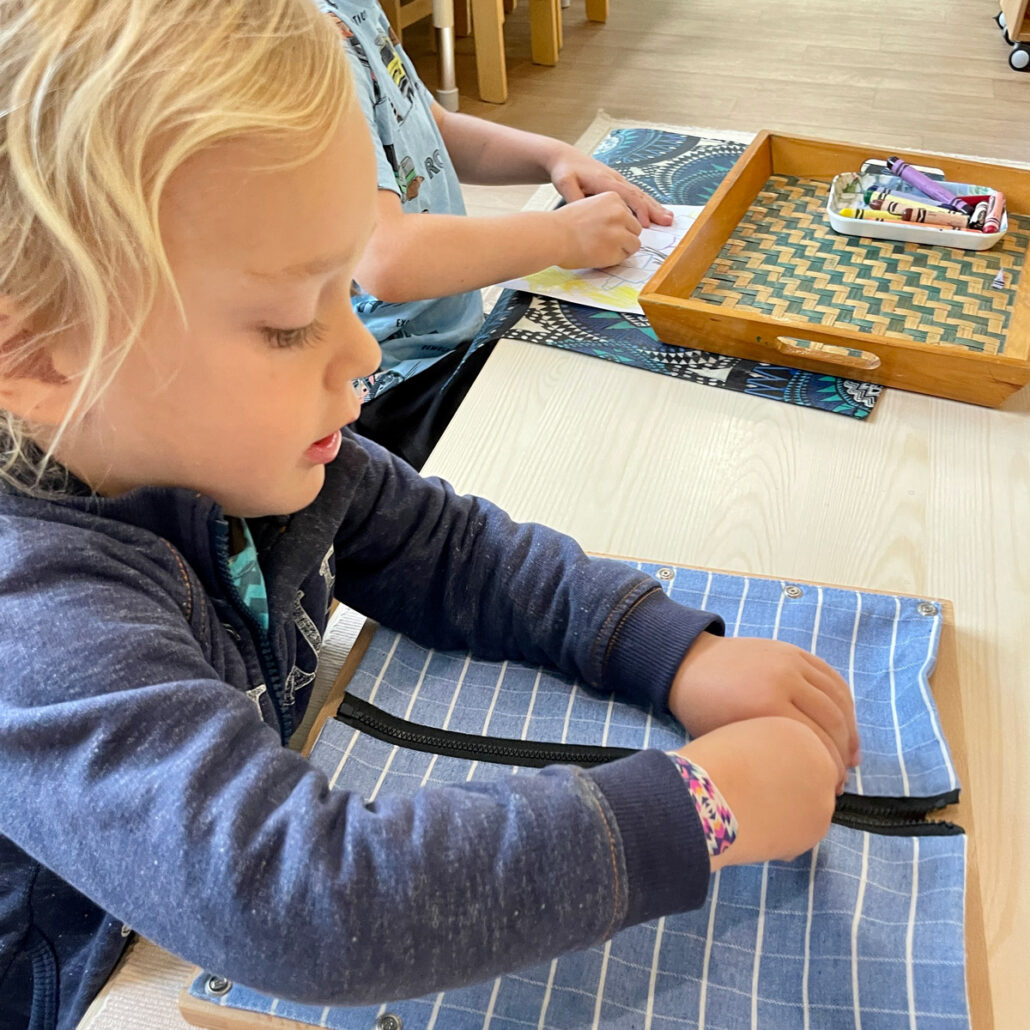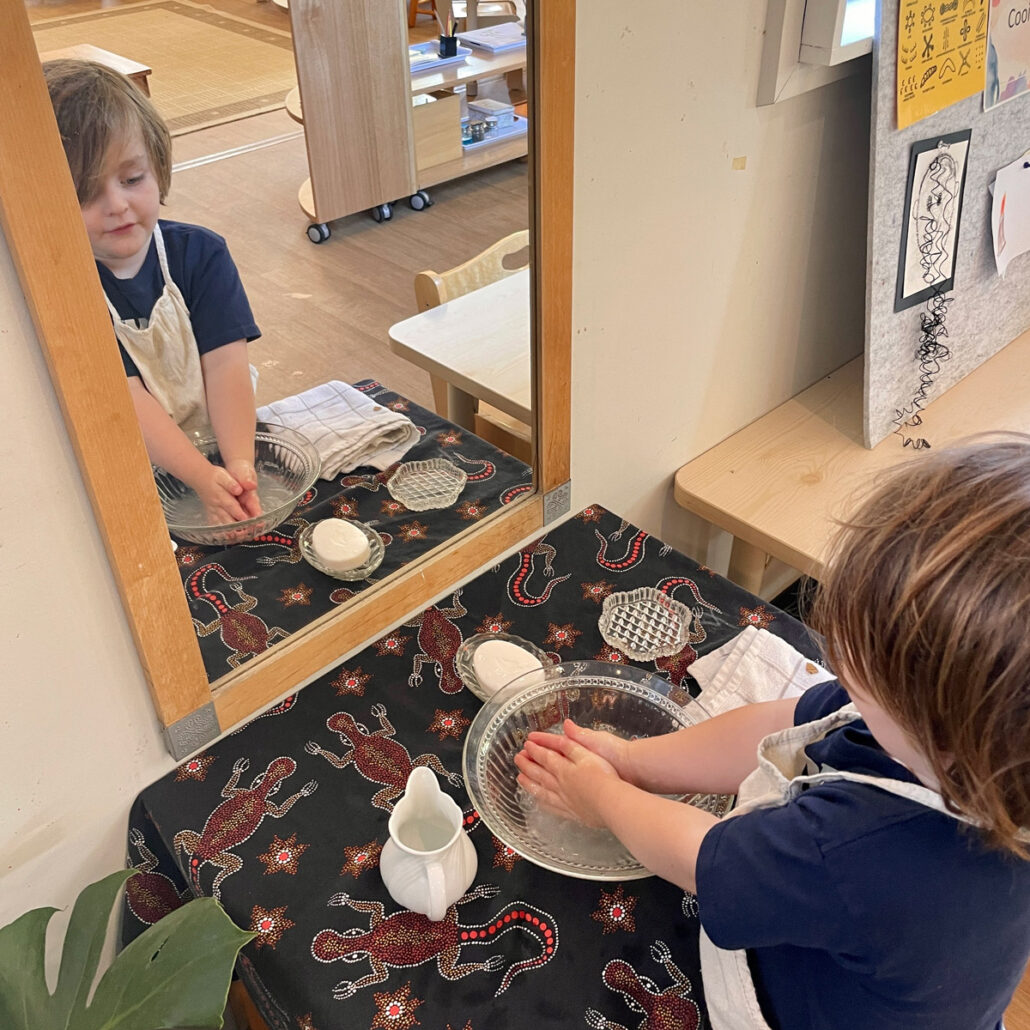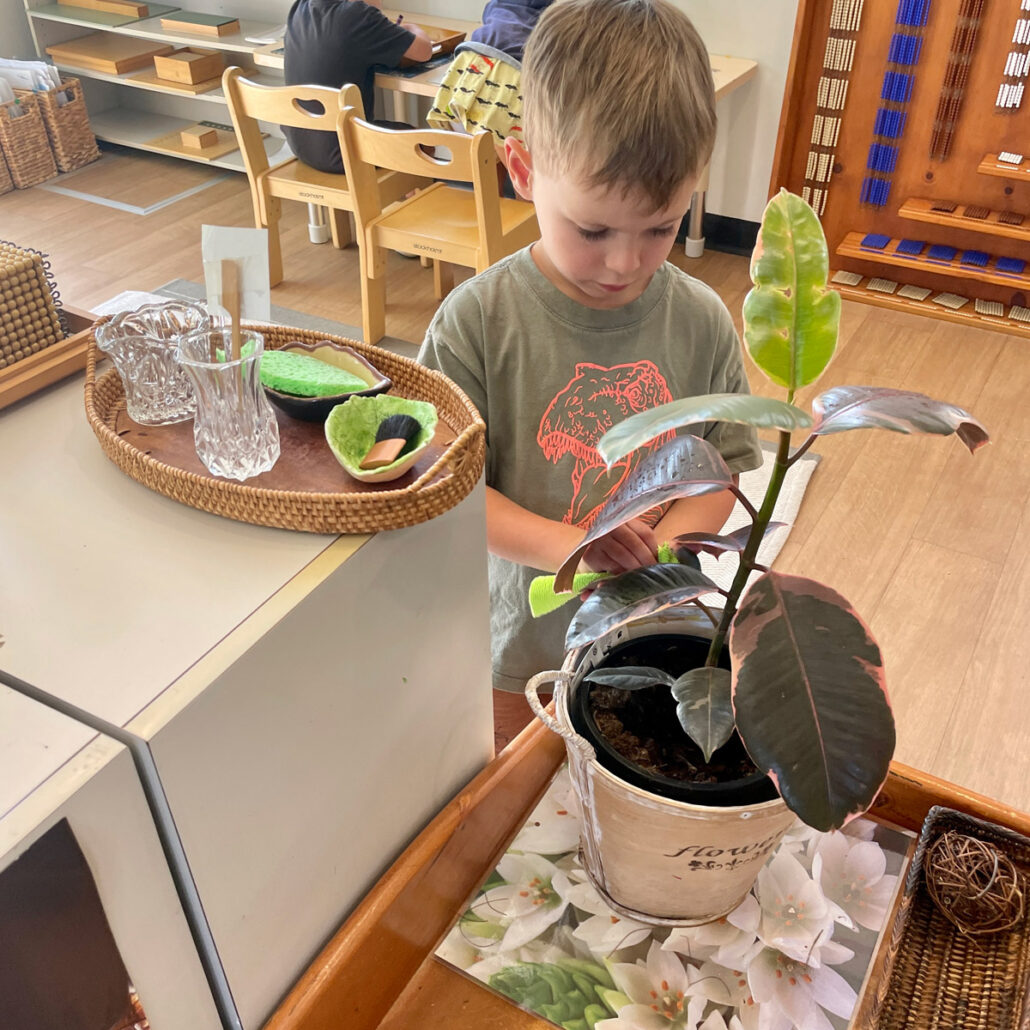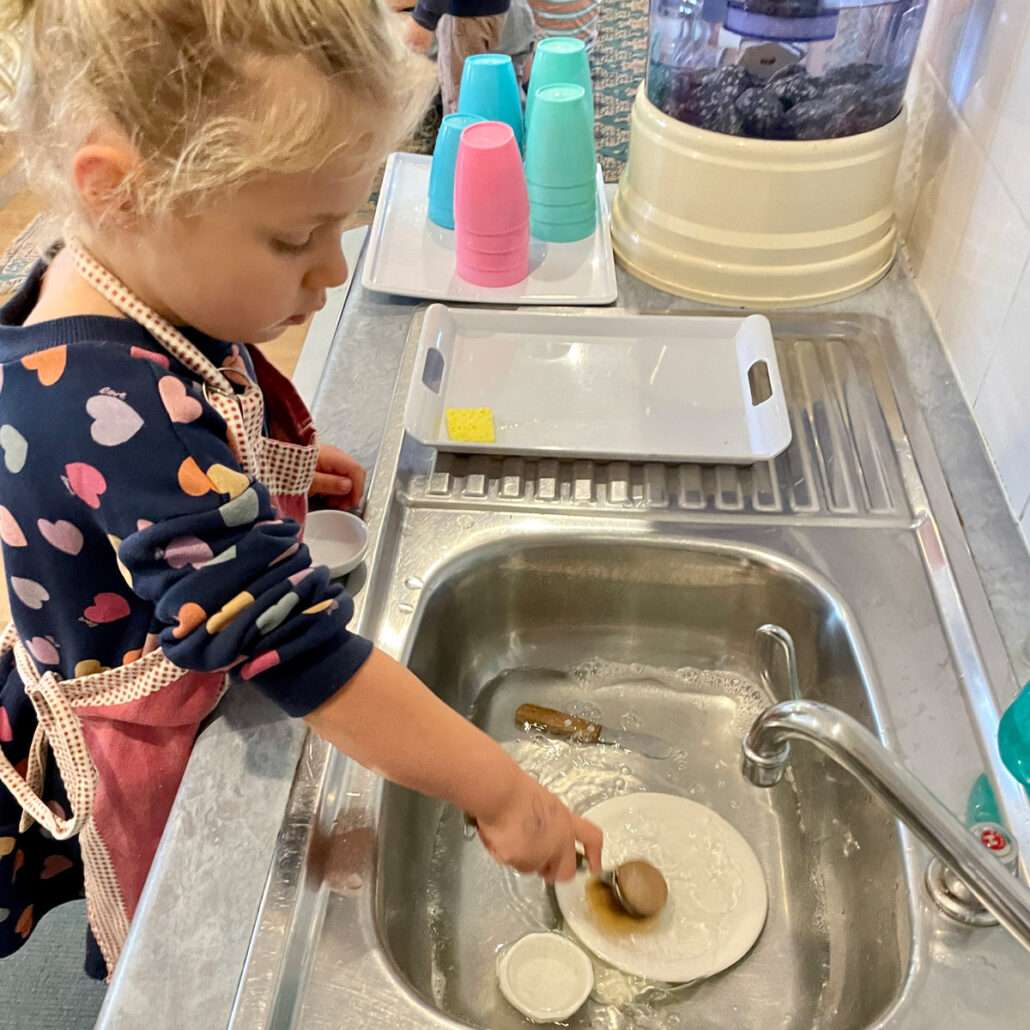 AMAROO | OUTDOOR CLASSROOM
What a bumper crop!  Children were so proud to show off their amazing vegetable gardens to their beautiful grandparents when they visited recently.  Afterwards we decided to do some harvesting.  We had a delicious snack of roasted beetroots and potatoes and who doesn't love cauliflower cheese.
Growing vegetables with children helps them begin to understand cause and effect eg our vegetables need water and sunshine or they won't grow.  It also develops self confidence as they get to achieve a goal, learn to be patient and finally get to enjoy delicious food they know is good for their body.
– Dawn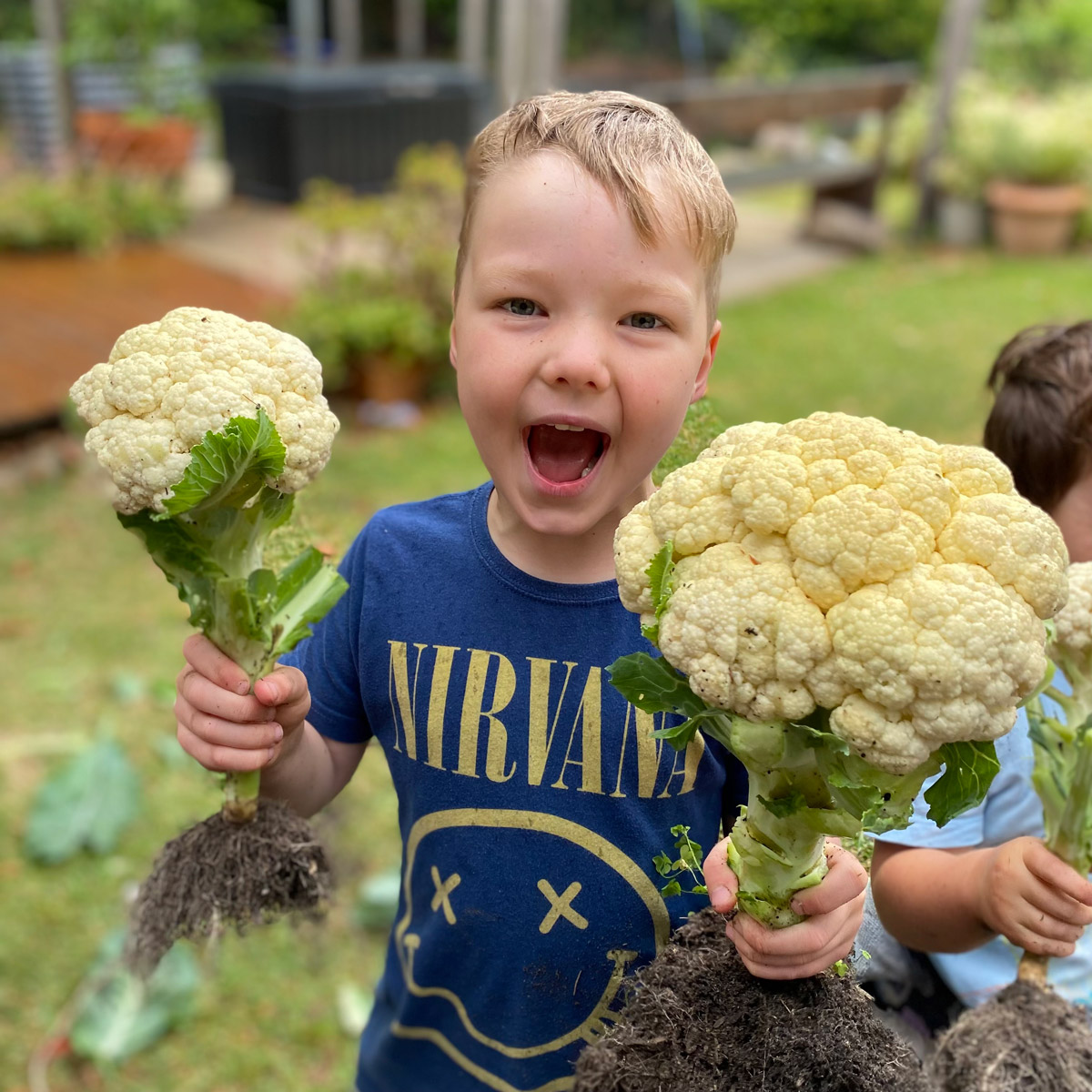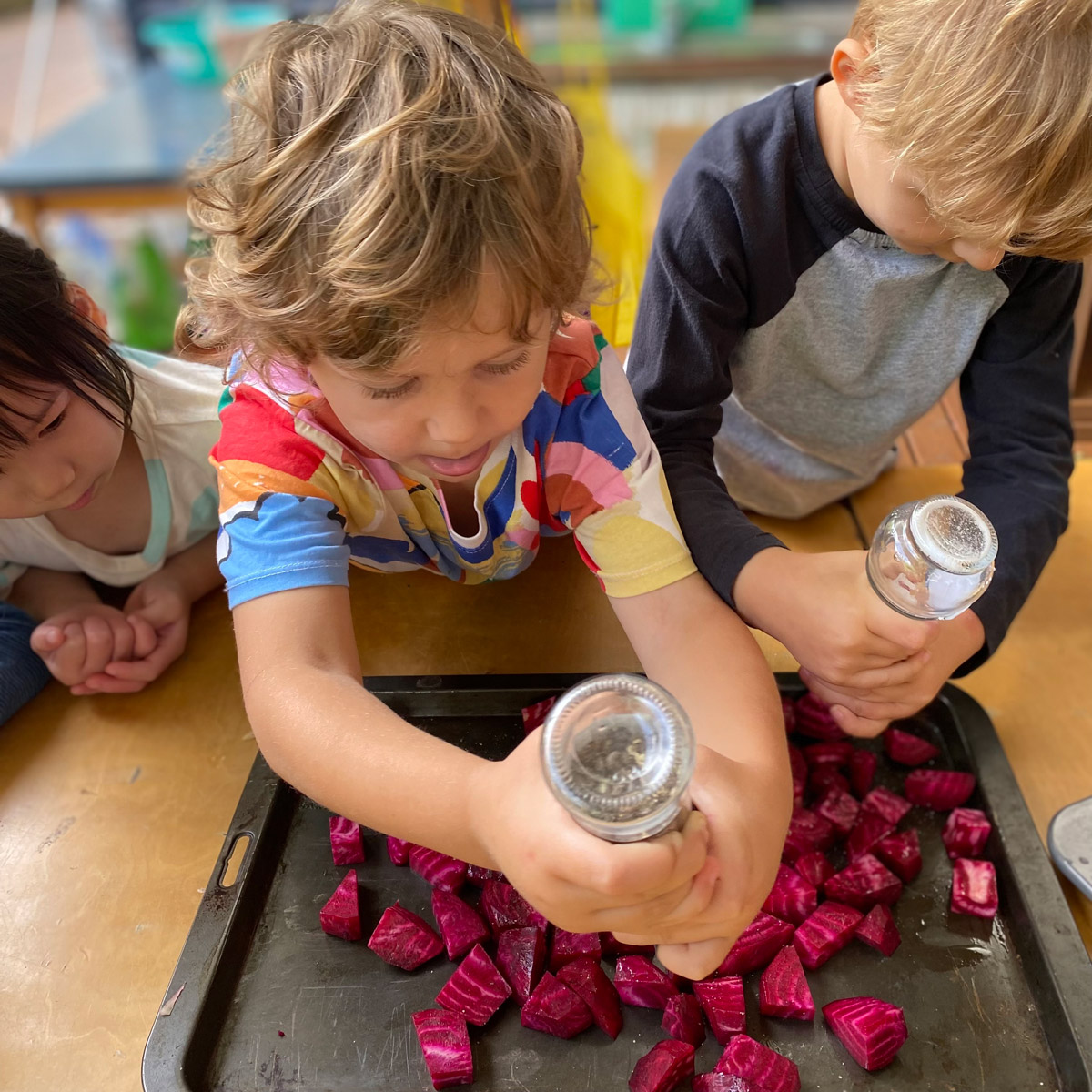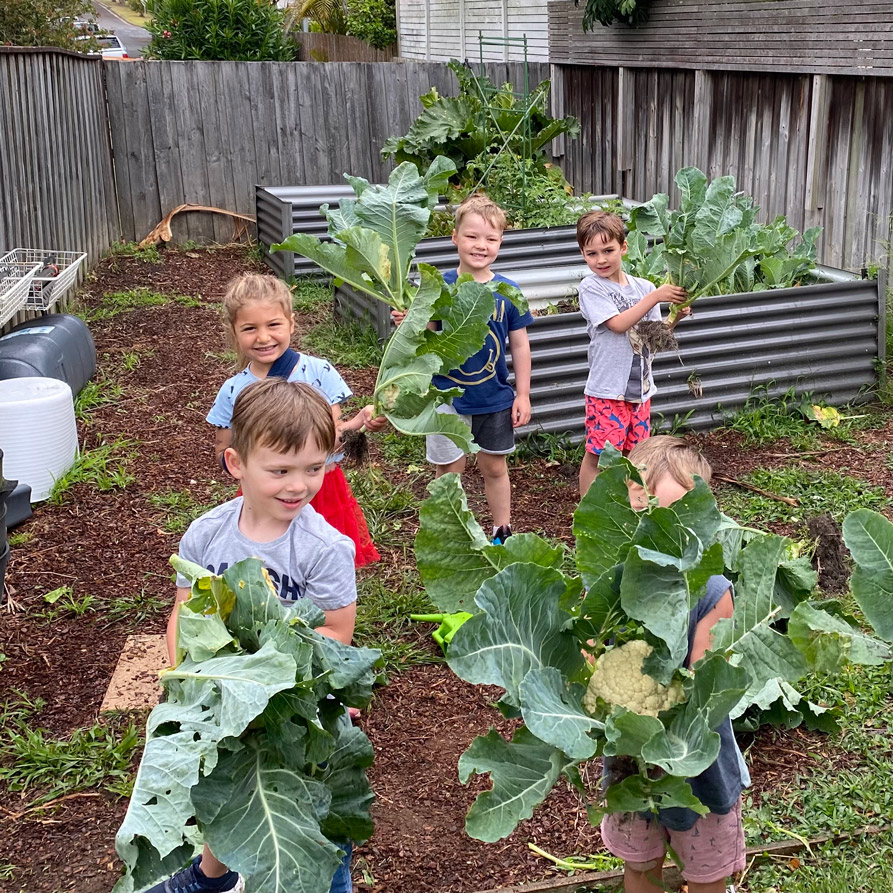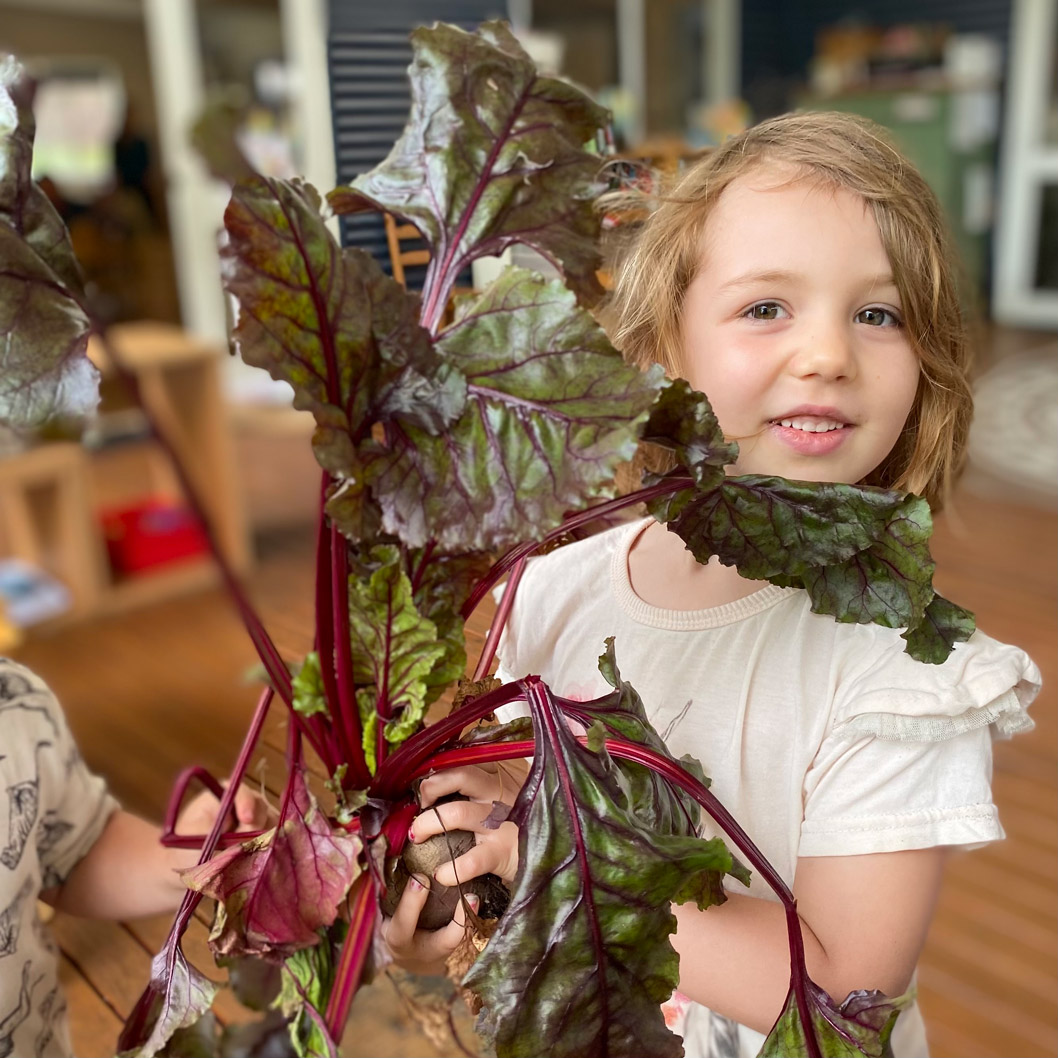 We had a wonderful time celebrating Grandparents Day last week. It was a heartwarming day filled with love and laughter. The kindergarten children had the chance to introduce their grandparents to our Montessori environment and showcase what they have been learning and creating. It was a special day that emphasised the importance of family and community, a core aspect of our Montessori philosophy.
Last Wednesday, the Kindergarten children had an excursion to the Kimbriki recycling facility. The kindergarten children were led on a fantastic tour through various recycling zones and learned about the recycling process. They discovered how different materials were sorted and recycled, from the shiny metal zone to the area where trees and branches transformed into nutrient-rich soil. They also learned that the landfill was currently 80% full, emphasising the importance of reducing waste and recycling.
The adventure continued with interactive workshops such as composting and worm care. They learned the art of composting and even made friends with some slimy creatures: the compost worms! Some children were very brave and held the worms in their hands. Overall, the children had a fantastic time at Kimbriki. The outing allowed them to discover the importance of recycling and caring for the environment. Their inquisitive minds were filled with knowledge about what's recyclable and what's not.
Recently, the kindergarten children had a lesson on how to use a story map. A story map helps them understand and remember the elements of a story or narrative, enhancing their comprehension and cognitive development. Learning to create and use story maps is a valuable skill for kindergarten children, as it enhances their comprehension, sequencing, understanding of main ideas, character development, setting awareness, problem-solving abilities, vocabulary expansion, critical thinking, creative expression, and supports independent reading.
In addition to learning about story maps, the kindergarten children are learning about prepositions, words like 'in,' 'on,' 'between', 'above', 'beside,' and 'under.' These words help make their writing more exciting. Using prepositions, they can describe things better, making their stories more interesting. It's like adding colour to their words! We also play fun games to help them understand and use prepositions effectively.
— Samantha.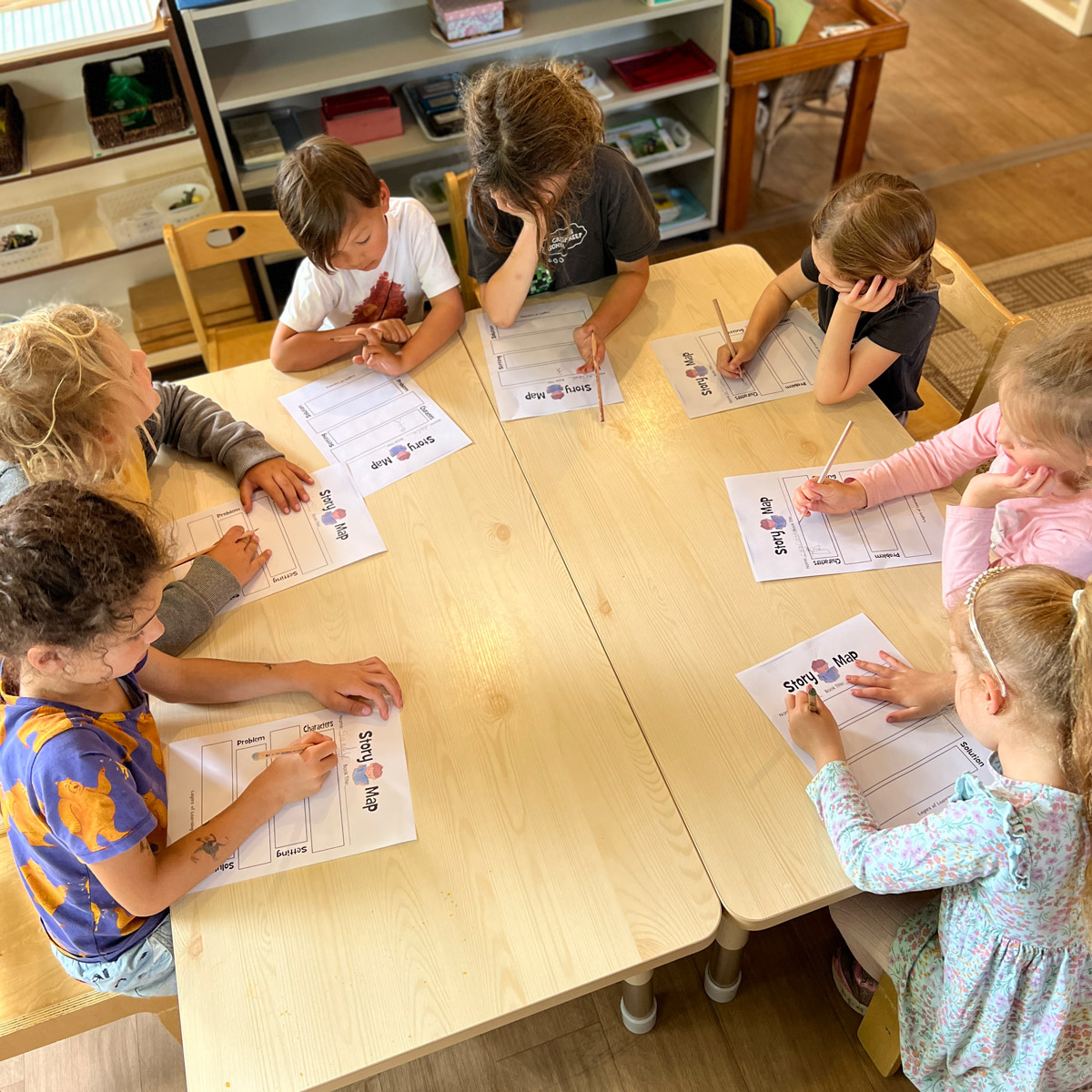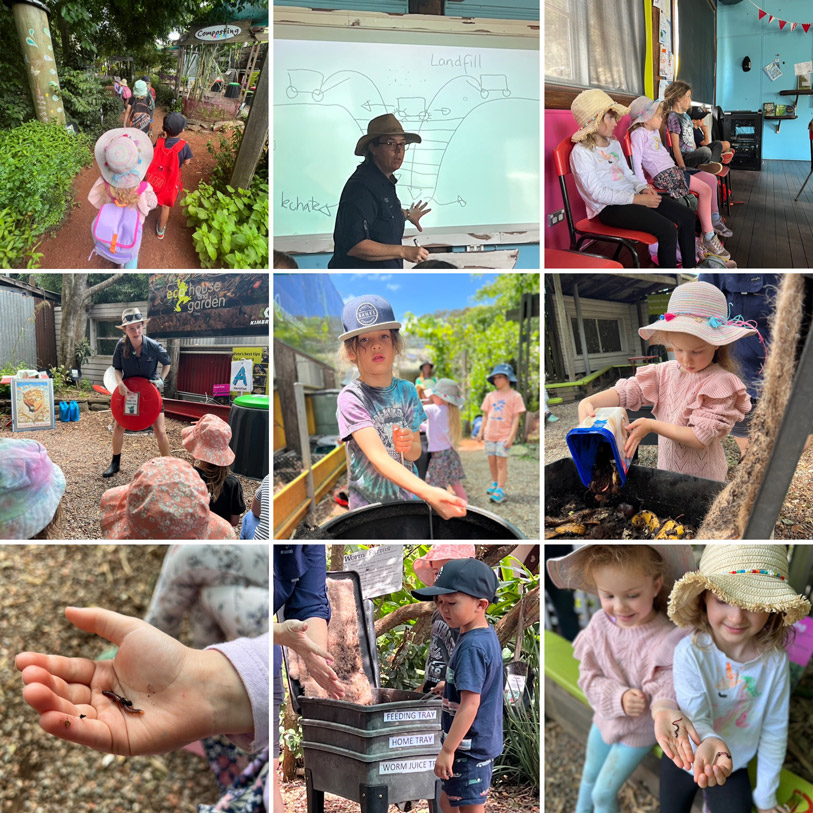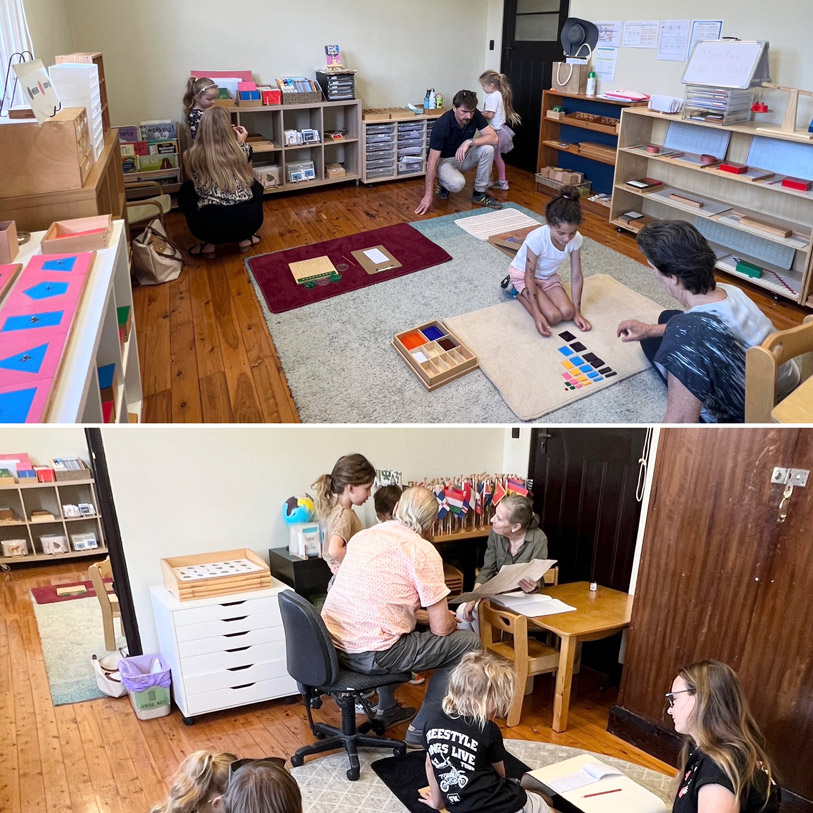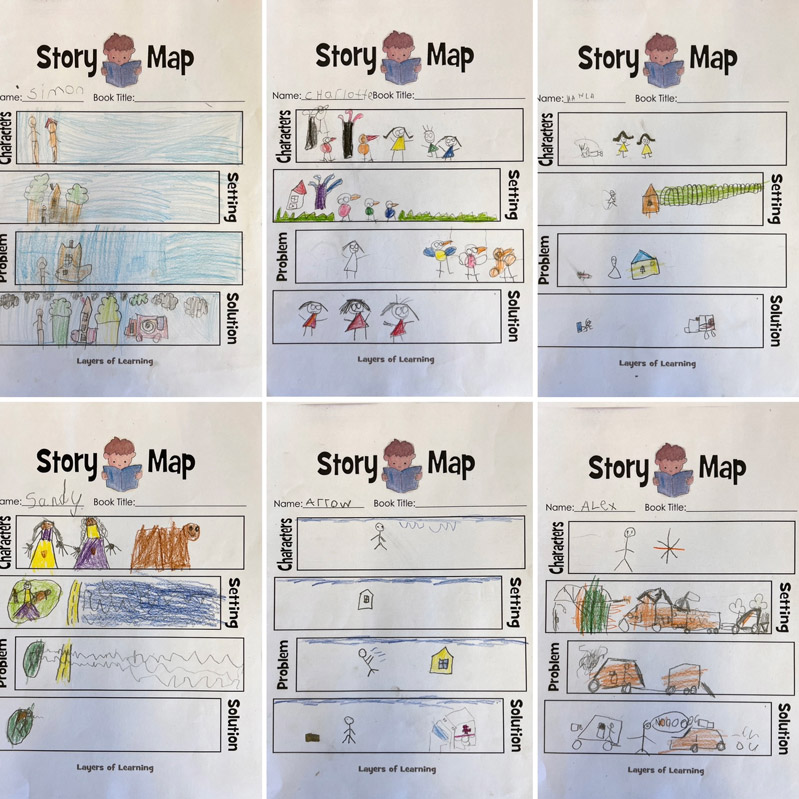 Welcome back to another edition of the Aikya Classroom Newsletter! We are excited to share the latest happenings in our beautiful Montessori classroom over the past two weeks. It has been a period filled with growth, exploration, and connections.
Transitions: Building Bridges of Friendship
The transitions in our classroom have been progressing exceptionally well. We've seen the new children slowly building meaningful relationships with our seasoned Aikya students. It's heartwarming to observe the bonds of friendship blossoming as the children share their knowledge, experiences, and interests with one another.
Additionally, our third-year Aikya children are transitioning seamlessly into Cycle 3, led by our wonderful Yani. The grace they embrace the challenges and opportunities of this next stage of their Montessori journey is truly inspiring. We are excited to watch them continue to flourish.
Exploring Nature with North Head Sanctuary Volunteers
Last week, we had the privilege of embarking on our last guided bush walk of the year with our friends from the North Head Sanctuary Volunteers. The children delved into the intricacies of nature, exploring the shapes of leaves and learning about the unique adaptations of plants to their native environments. It was an enlightening experience that deepened their appreciation for the natural world.
Excursion to the Kimrbiki Tip: Lessons on Sustainability
Our recent excursion to the Kimrbiki Tip was an eye-opening adventure for our students. They gained valuable insights into waste management, composting, and the profound impacts of our waste on the environment. The children now have a greater understanding of their role in preserving our planet and are eager to implement positive changes in their daily lives.
Grandparents Day: A Celebration of Generations
We had a wonderful time celebrating Grandparents Day with our morning tea event. It's a special occasion for the Aikya children to share their Montessori experience with their grandparents. This day not only reinforces the importance of family and community but also celebrates the wisdom, stories, and love that grandparents bring into our lives.
We would like to express our heartfelt gratitude to all the grandparents who continue to support our Aikya community.
Montessori education continues to empower our children to be independent thinkers and lifelong learners. It's a privilege to witness their growth, curiosity, and enthusiasm every day.
With warm regards,
—Toby, Amy and the Aikya Children.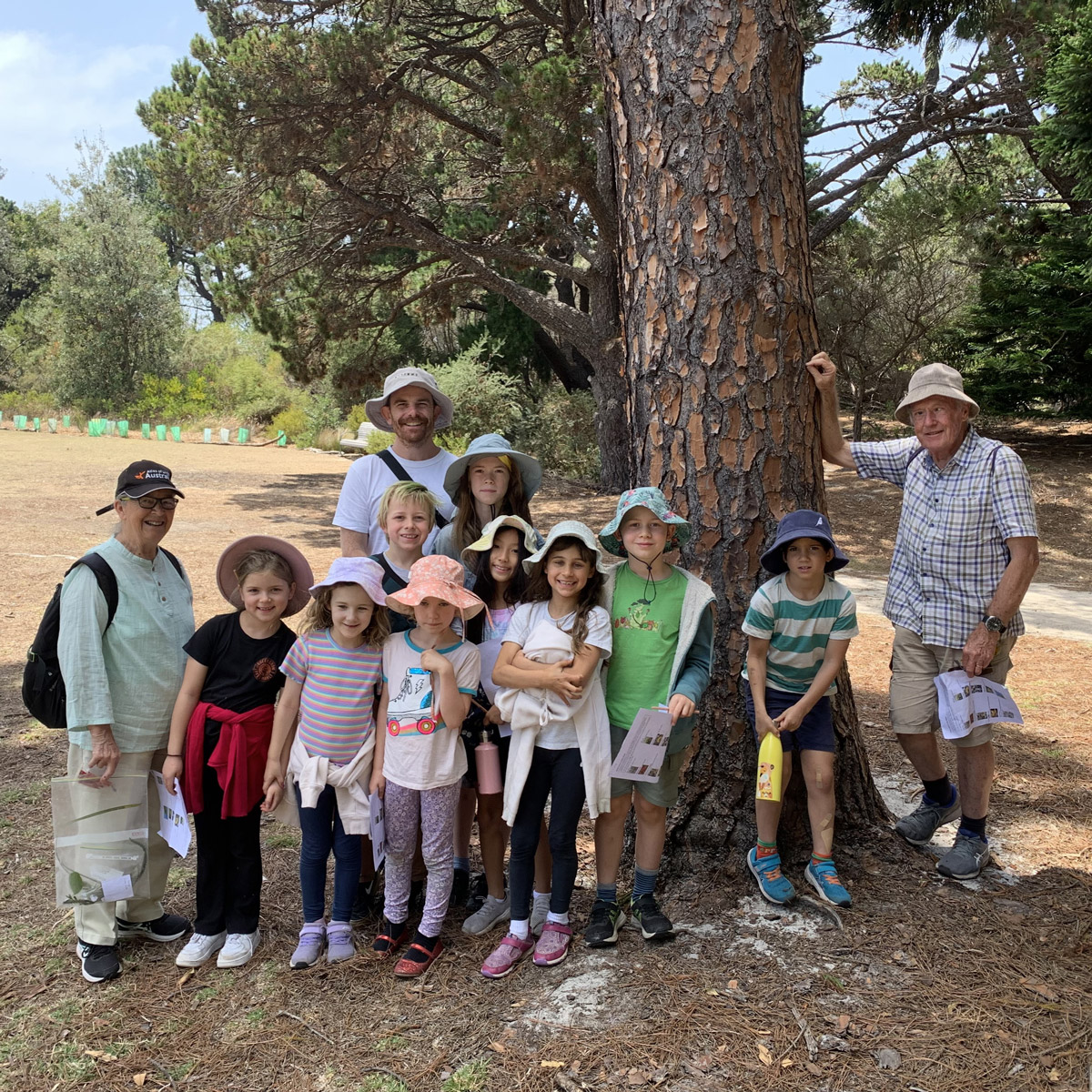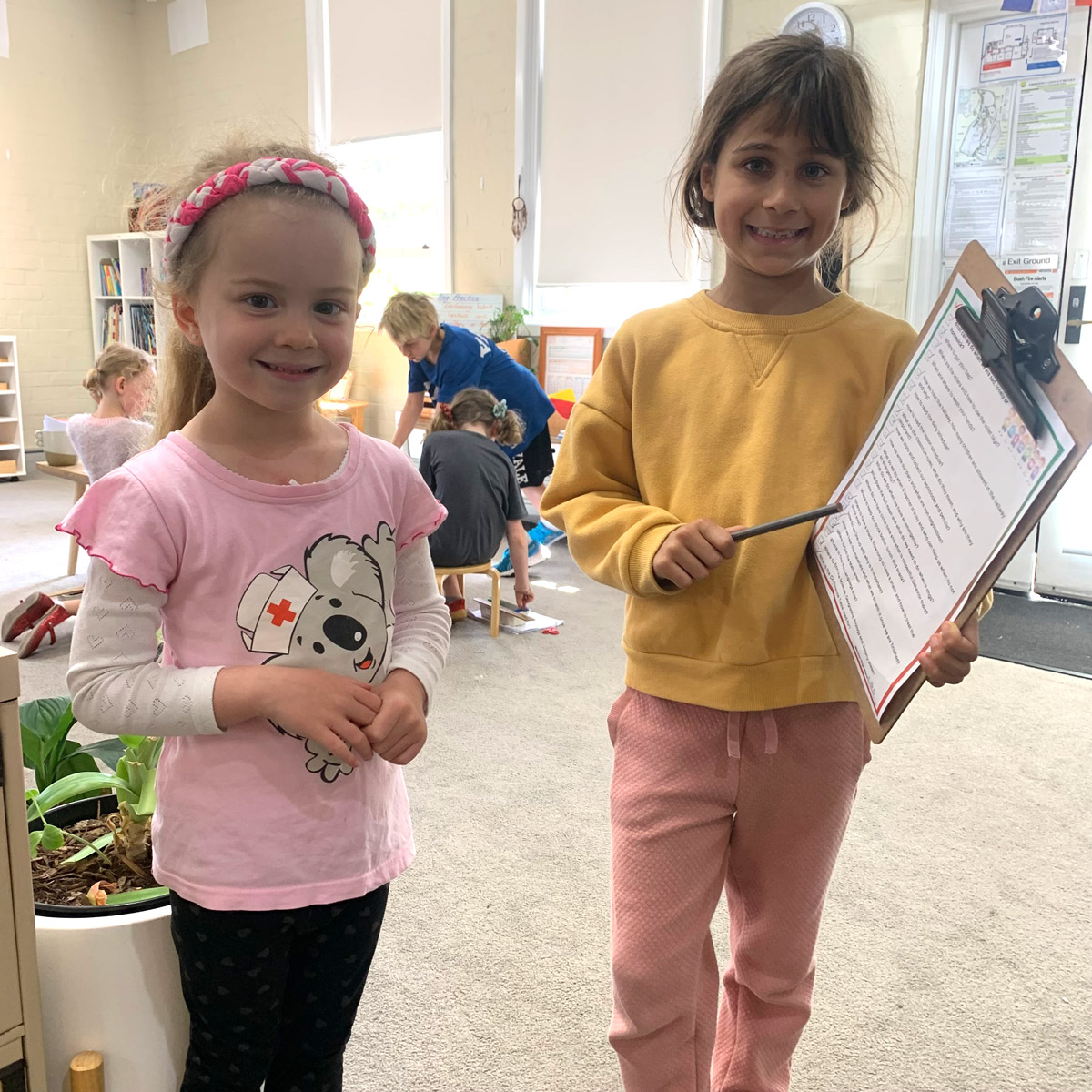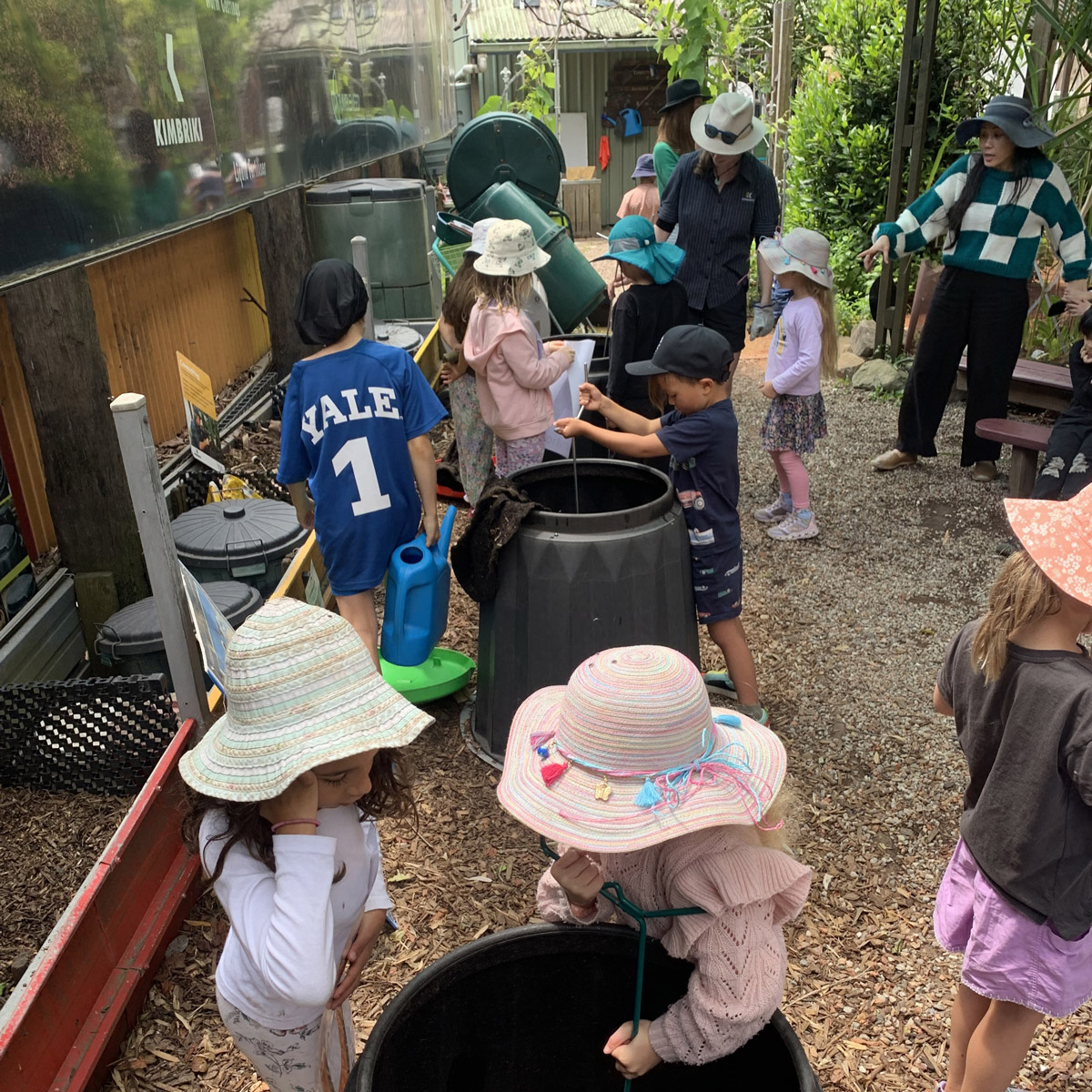 Our recent whole school excursion to Kimbriki was an eye-opening journey for our students. They delved into the world of waste and recycling, witnessing firsthand the operations of the facility, surrounded by immense volumes of waste, recyclables, and recycled materials. At the Ecohouse, they learned about the essential 4 R's (Reduce, Reuse, Recycle, and Rethink), delved into composting, and discovered the crucial role of worm farms in sustainability. This experience emphasized the significance of recycling food waste and sorting it at the source. After the excursion, the children took the initiative to implement a more detailed recycling system within the classroom, ensuring a hands-on application of their newfound knowledge. Byron and Oliver made certain that our worm farm residents were content and well-cared for, fostering a sense of responsibility towards the environment.
Under the guidance of Ella, students have been immersed in exploring different art concepts like form and the vanishing point, leading to the creation of beautiful drawings. Their enthusiasm is palpable as they eagerly anticipate assembling an art portfolio to share their achievements at the end of the academic year. Concurrently, in language studies, the children have been diving into the intricacies of pronouns and prepositions, developing a keen eye for identifying these fundamental parts of speech within sentences.
Last week, we welcomed grandparents and special friends into the Yani classroom. It was a heartwarming occasion filled with joy. The air buzzed with excitement as generations merged, and our young students eagerly showcased their work to their guests. It was a beautiful testament to the importance of family and community in a child's education, leaving lasting memories and smiles on every face.
—Laura & the Yani Team.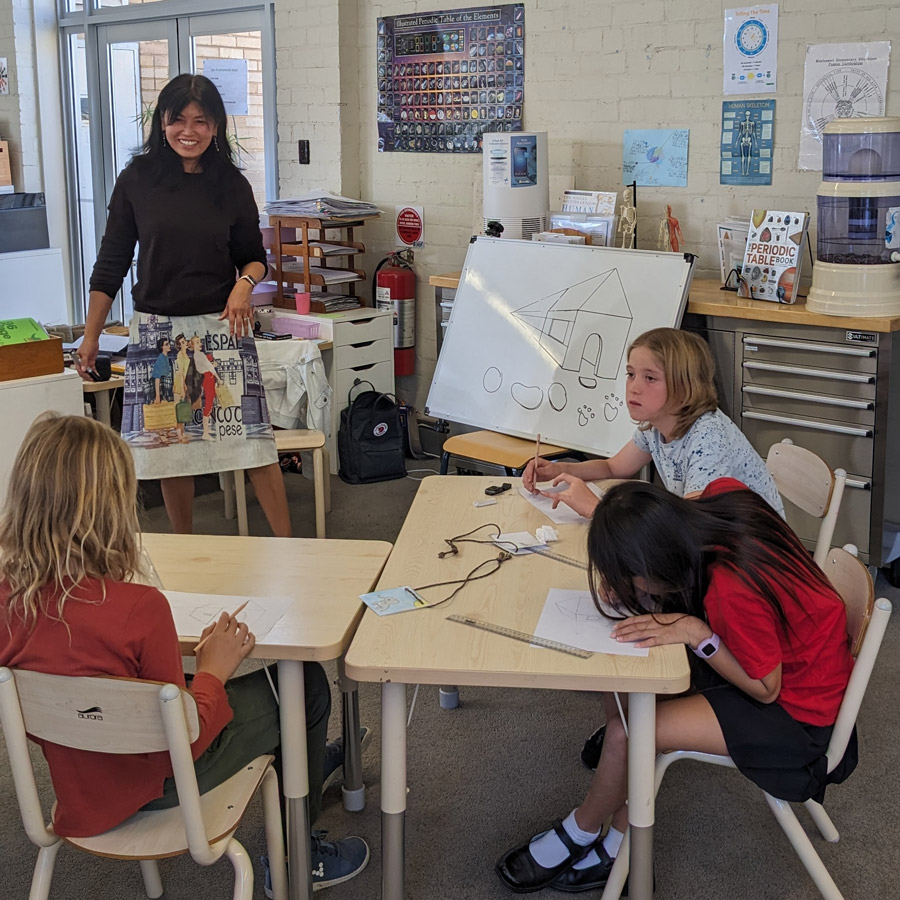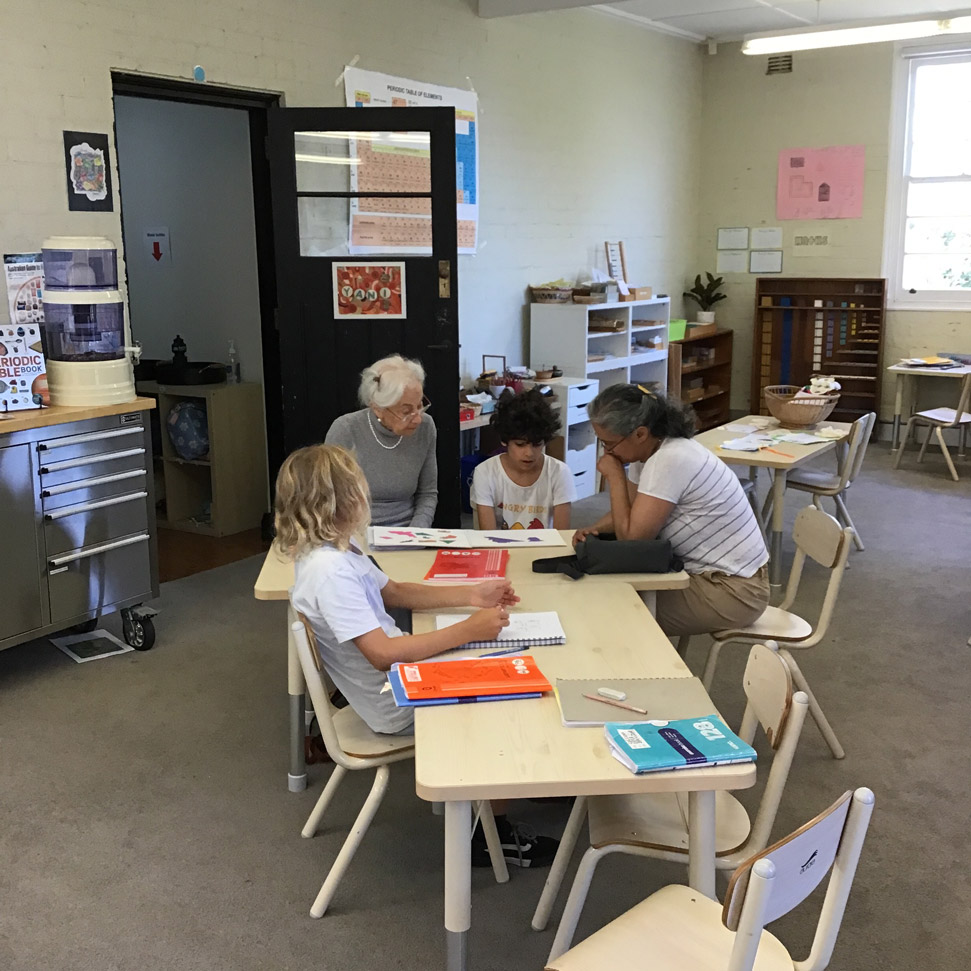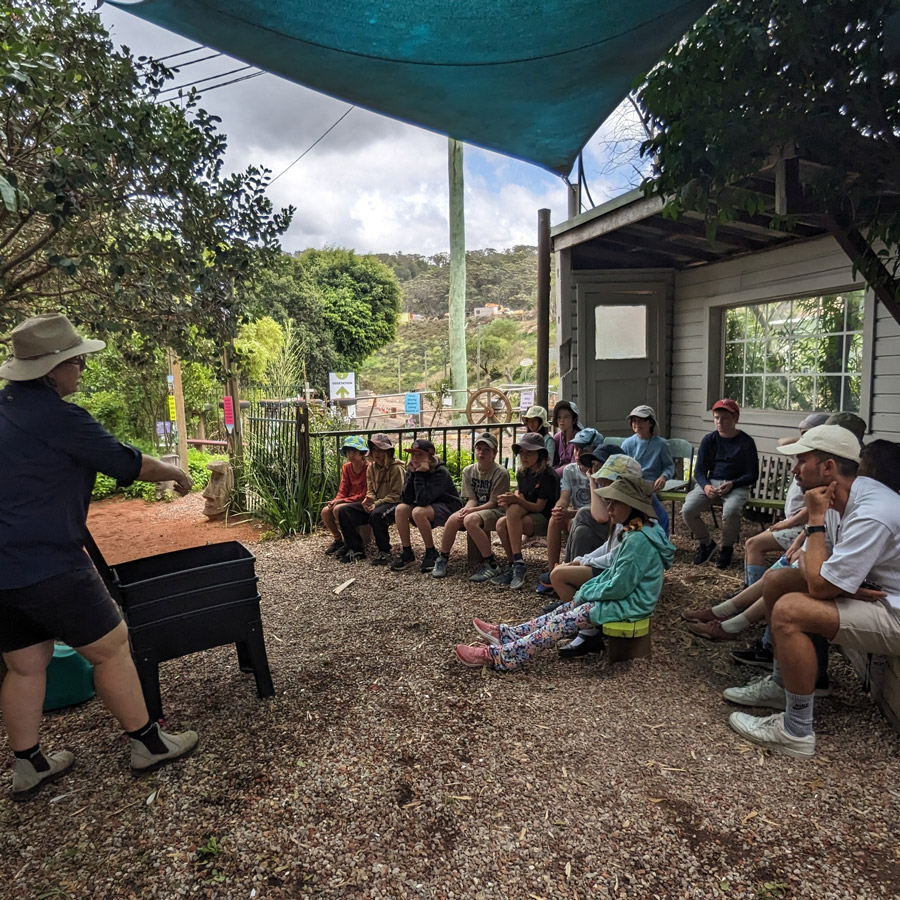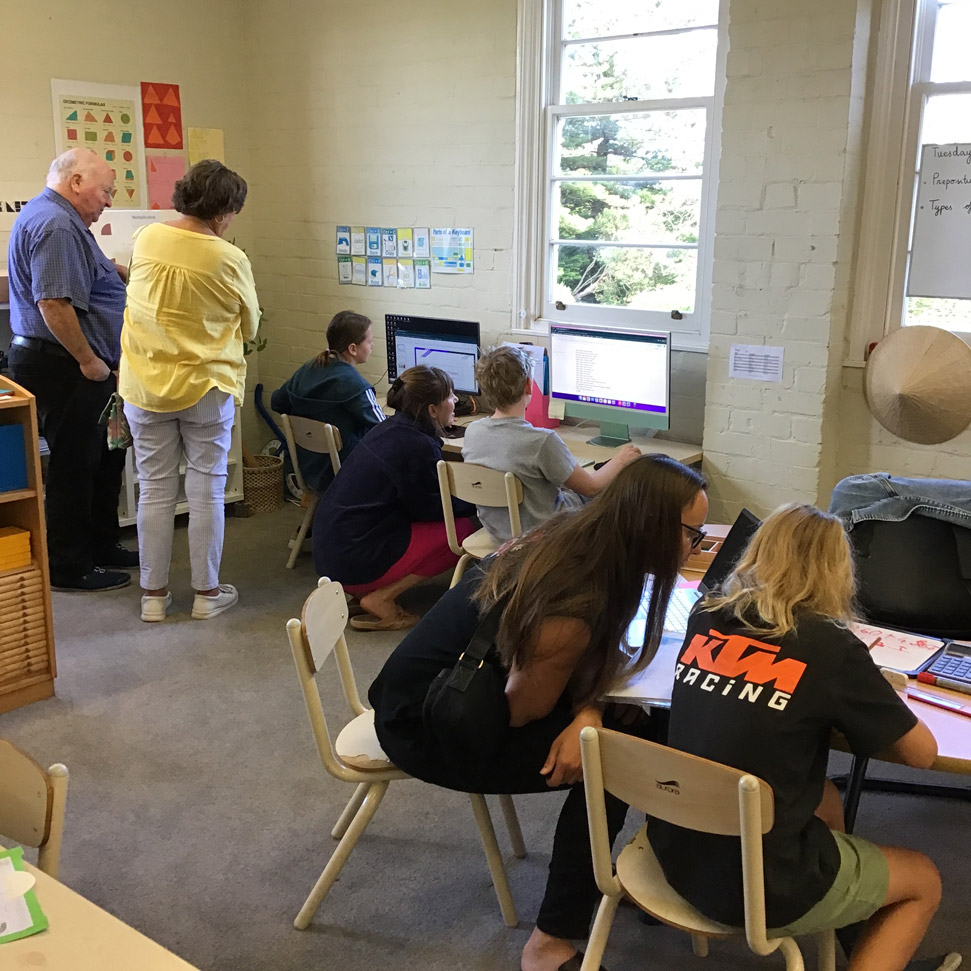 Preschool Music (North Balgowlah)
It's all about creating and composing with our mini maestros!
The delightful Angie is continuing to work with each of the groups and exploring  writing an original song. This activity allows children to experiment with their own sounds, percussion beats, and storytelling in a group setting.
North Head Campus
We are continuing our focus on Major and Minor scales and chords. Students are now able to identify the difference and understand their effect through various listening games and practical activities. We have also started learning to play a song all together incorporating singing, strumming (a ukulele) and striking (a xylophone). We have been working on 'Lean On Me' by Bill Withers as our song with a major feel.
Mixed Ensemble
Wednesday afternoons the North Head halls are filled with some energetic rockstars! Coached by Andy, the group are fine tuning a few tunes to perform for all the families and school before the end of the year. From Riptide, to Seven Nation Army, to the Theme from Jaws….and a couple more.
We'd love to see more kids join the school Mixed Ensemble in 2024 – for those interested, children need to be undertaking lessons in their chosen instrument outside of the Wednesday rehearsal times. We prepare arrangements of tunes with the musical level of students in mind, and with regular practice at home, it allows for the band sessions to be about working together and creating an epic sound.
—Deb, Ben, Ash, Andy and Angie.