2023 Newsletter Term 02 | Issue 04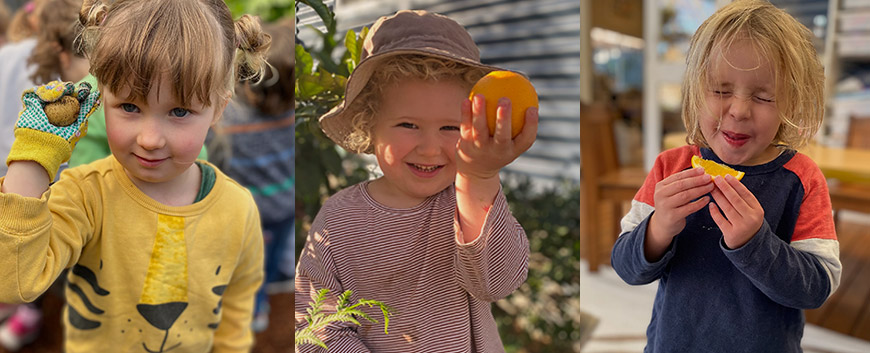 Upcoming events & Important Dates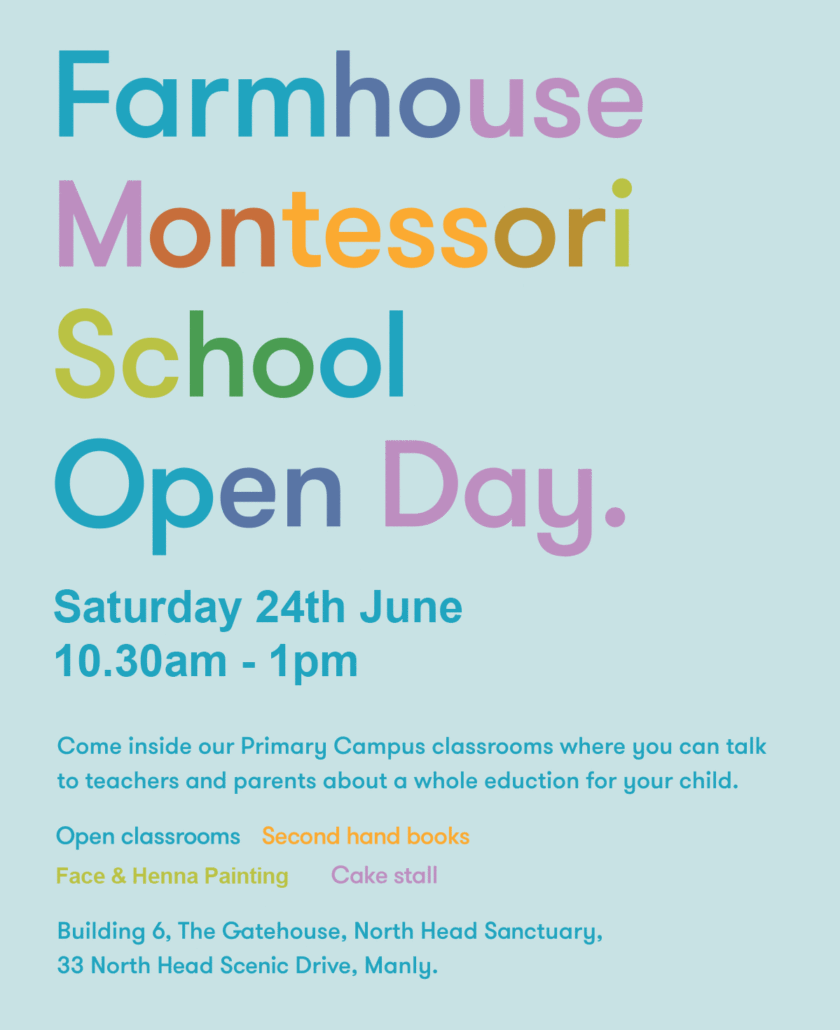 JUNE
Fri 9th Pupil Free Day K-6 (Preschool normal day) – Staff Development Day
Mon 12th King's Birthday
Fri 16th  Parent Social Event at Ruby Lane 5.30pm to 8.30pm
Tues 20th Primary School Campus Tour | 9.30am
Fri 23rd Fees Due
Sat 24th Open Day North Head Campus 10.30am to 1pm
Fri 30th Last Day Term
JULY
Mon 17th
 Preschool Students Return
Mon 17th
 Staff Development Primary Campus K-6
Mon 17th
Kindergarten
 (2023 Class)
 Orientation Morning 9-10am – at Primary Campus
Tue 18th
 Primary K-6 Students Return
Wed 19th
 Kindergarten Excursion
Click HERE to see further calendar dates.
Principal's Message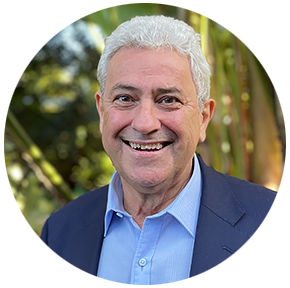 Dear Farmhouse Montessori Families,
Open Day at North Head Campus this Saturday 24 June from 10.30am to 1.00pm
This Saturday is a special Open Day at North Head to promote the Primary sector of Farmhouse Montessori. Both Aikya and Yani classrooms will be open with teachers on hand to answer any question. On the day there will be plenty of fun activities including face painting, henna, cake, book, and craft stalls. Please join us and tell your family, friends, and colleagues of this event. Thank you to our parents for offering to assist. There is an RSVP button on the school website for the Open day that is now live and active for peoples response.
New Kindergarten at North Head in 2024
During the week I wrote to the community with the news that, commencing in 2024, as well as having a Kindergarten class at North Balgowlah, the School is introducing a Kindergarten class at North Head. This wonderful news enables further growth at the North Head campus.
We are focused on preserving the Montessori philosophy of a 3 to 6 program. The introduction of Kindergarten at North Head is the first phase of the journey. With two Kindergarten classes in operation, we will require additional teachers. In time, we will advertise for a Kindergarten teacher.
Please share this significant and historic news with your family and friends. If you would like enrolment information please contact our Enrolment Officer, Alli on 99491008.
Kindergarten Transition to North Head Term 3
I share with you the exciting news the Kindergarten transition to North Head campus will occur on Monday 17 July, the first day of Term 3. Our North Head teachers and students are so looking forward to having our Kindergarteners with us and are excited to share their learning spaces with the youngsters. We understand that the transition will be an adjustment for both our Kindergarteners and their parents. For this reason, we have put a lot of thought into how we can make this new phase as gentle, convenient, and calm for everyone.
The linking of Kindergarten with the Preschool Campus will continue each Thursday engaging in a peer support and reading program, and on Friday: a sporting program.
A staff member will accompany Kindergarten children on bus trips. Conscious of the number of students, we plan for our Kindergarten and Aikya students to have the same lunch break. Yani students will have their lunch break at a separate time.
This is a very exciting time for the school as we move forward to link Kindergarten students of the Year 3 to 6 Program with elements of the Years 6 to 9 program.
On Monday 17 July we will celebrate the first day of the transition with fun activities, cakes, and cutting of the ribbon into the room from 8.45am to 10.00am. Kindergarten children will be able to enjoy their new classroom with their peers and family members before the School Term commences.
Staff Professional Development Day for Primary Staff will be held on Monday 17 July and not Friday 21 July. This will be a pupil-free day.
Staff matters. We welcome Amy back following her accident. Samantha is taking early leave and we wish her a safe journey. I thank Alia for taking on Kindergarten and Harshitha will assume Alia teaching role of Yani for the remainder of the Term.
Primary Reports
I had the privilege of reading Primary students' Semester 1 Reports. I hope parents enjoy reading of the progress your child has made during the Semester. Please contact your child's teacher if you have any questions concerning your child's report and progress. Thank you, teachers, for your fine effort to ensure the best of education is offered to the children each day.
2022 Annual Report
The 2022 Annual Report has been completed and will be uploaded on the School website by 30 June. The Annual Report, a snapshot of the school during 2022, based on 14 themes, is a requirement by the Commonwealth Government for all schools to complete.
This is the last newsletter for Term 2. The Term has been a hive of activity and great learning. I wish everyone a happy, restful, and safe holiday. I look forward to seeing everyone at the commencement of Term 3.
Bruce Rixon  |   Principal
Deputy Principal's Message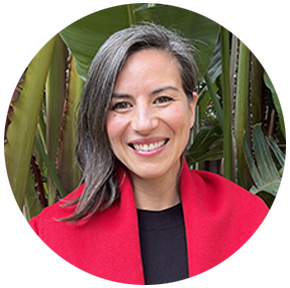 Dear Farmhouse Montessori Families
'A child… more than anyone else is a spontaneous observer of nature.'*
One of the many benefits of each of our campus locations is the natural extension into the outdoor environment, inspiring further work in the classroom and a connection to the world around us.
Bushwalks, orienteering and birdwatching are part of our outdoor classroom experiences. During Term 2, I observed children engaged in flora and fauna classification, collecting leaves, planting seeds, harvesting vegetables, and cooking with our harvest. The engagement with nature is with awe and wonder from the two to eleven-year-olds.
Within the classroom, Montessori materials also highlight Biology and Geography. In the early years, a child might match a leaf from the playground to a leaf shape found in the botany cabinet. Later, a child might ask questions such as, How does the leaf make its food? Why is that leaf-shaped that way? Why are there so many kinds of leaves? Can leaves breathe? In the Primary environment, a child will receive presentations on the above questions with stories, experiments, and impressionistic charts that emphasise form and function and how each part or variety has a specific role in the larger world.
Learning about and through nature, earlier this year, older students in the Primary had the opportunity to design their garden in the courtyard. The children started with planning the garden layout, researching which seeds to plant, planning going out experiences to purchase items before planting, and finally, watching the seeds sprout and grow.
As we prepare for the upcoming holidays, continue these experiences by going on a nature walk with your family, capturing images of varieties of plants or animals, or keeping a travel journal with your children. Whatever you choose to do, we wish you a safe and wonderful holiday.
* Maria Montessori, The Discovery of the Child, p. 72
Alia James  |   Deputy Principal
ELOUERA | Stage 1 Infant Community
In Elouera the children love helping each other to make bread everyday. Cooking is a great way to build confidence and self esteem in children as they learn how capable they are at completing a task; and how good their food tastes when they get to eat it knowing they made it themselves. Cooking allows children to practice their fine motor and hand eye coordination skills. It's a great way for children to broaden their communication and understanding of language while conversing with their friends and teachers about what they are doing now and what needs to happen next. We are also supporting their abilities to cooperate with others while completing a task. Cooking is an amazing way to build independence in young children and the children need to use a great number of skills simultaneously when making their delicious bread.
— Nina, Rachel, Sarah and Yuko.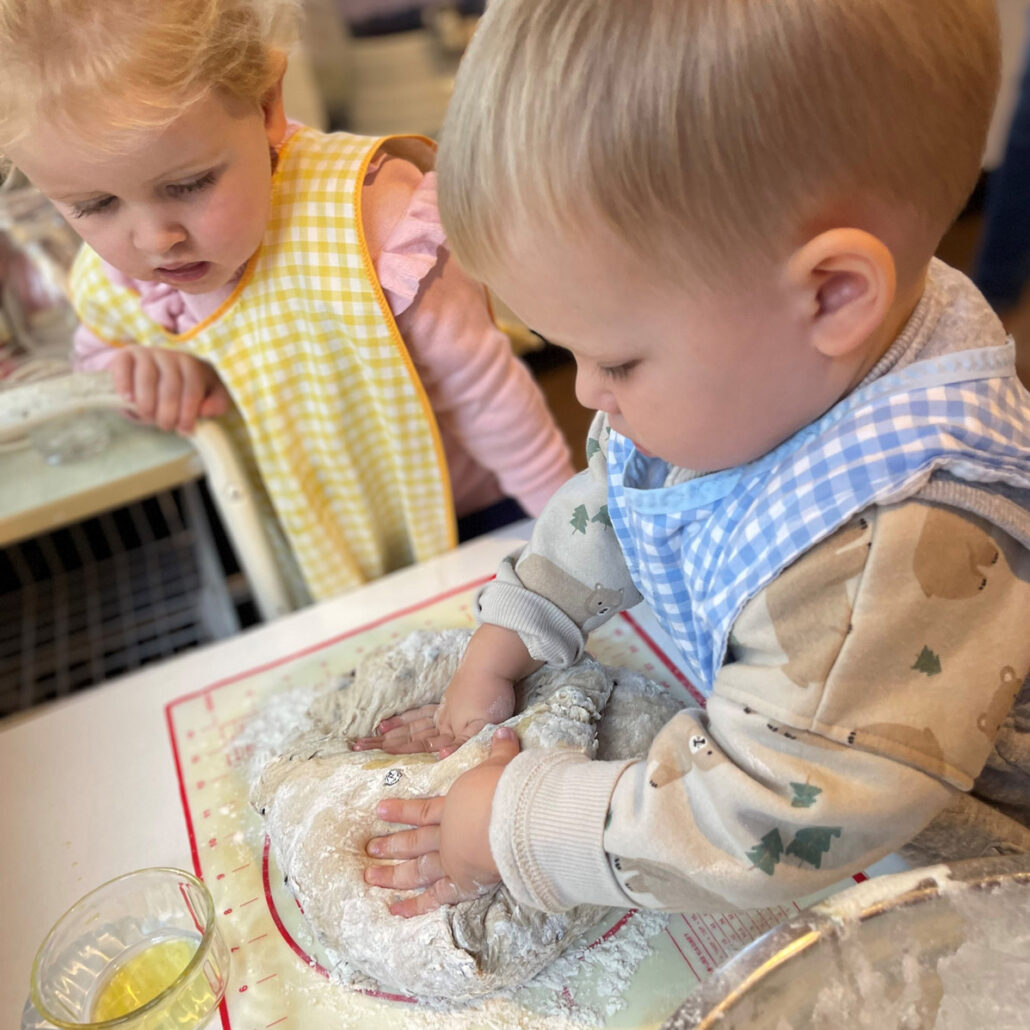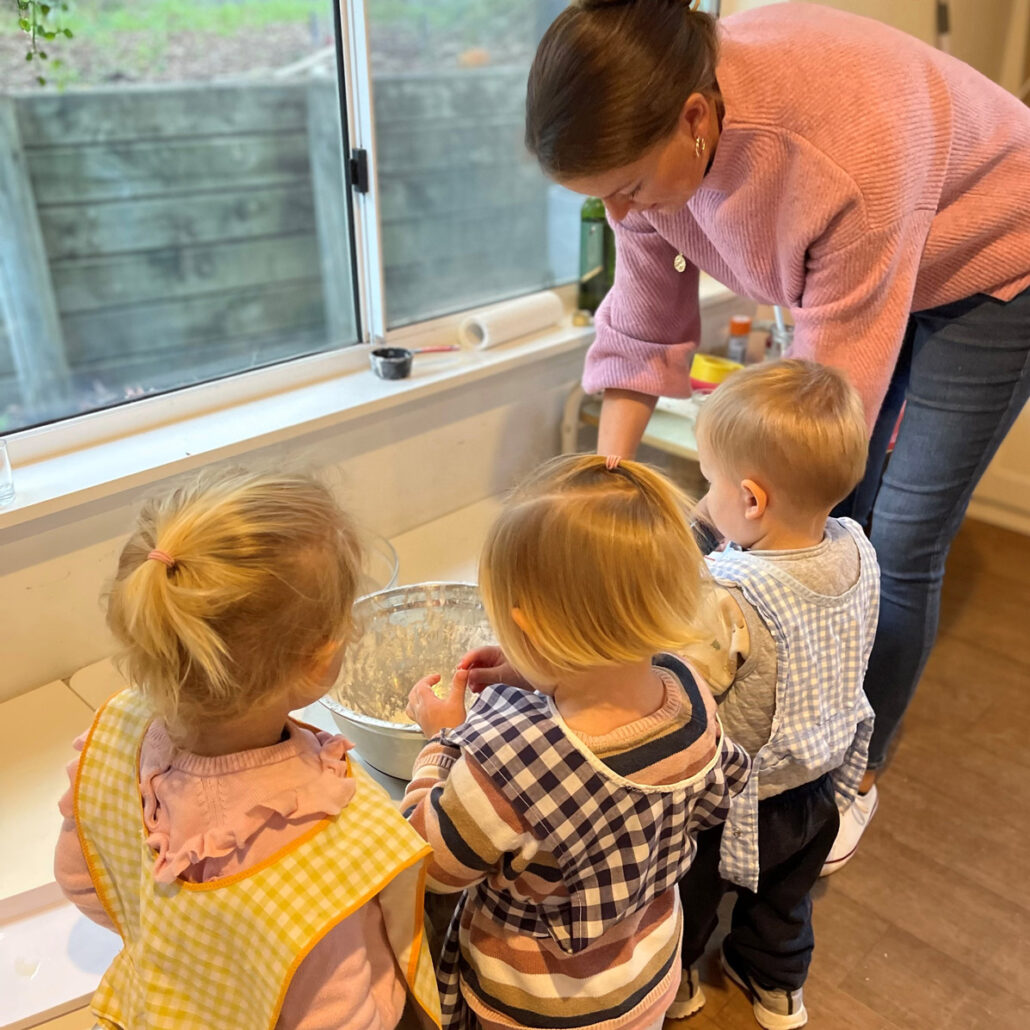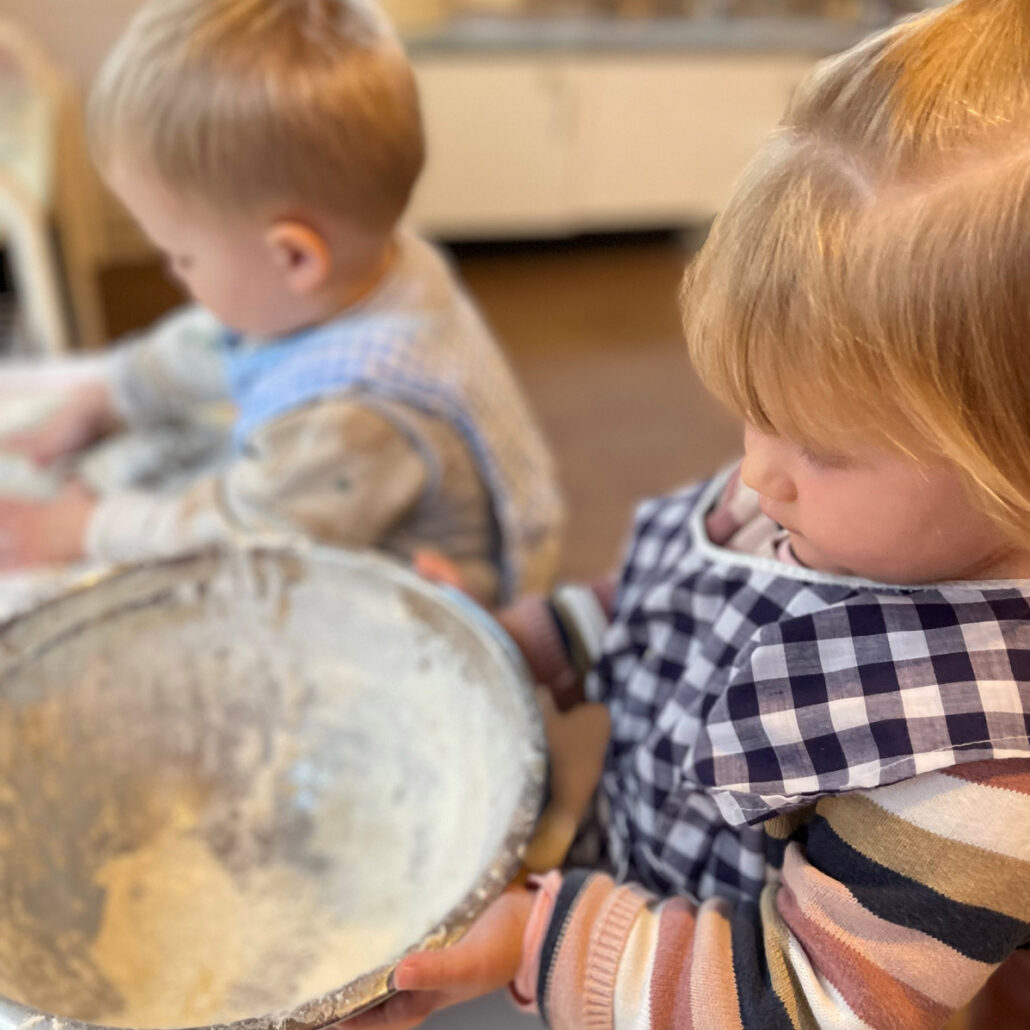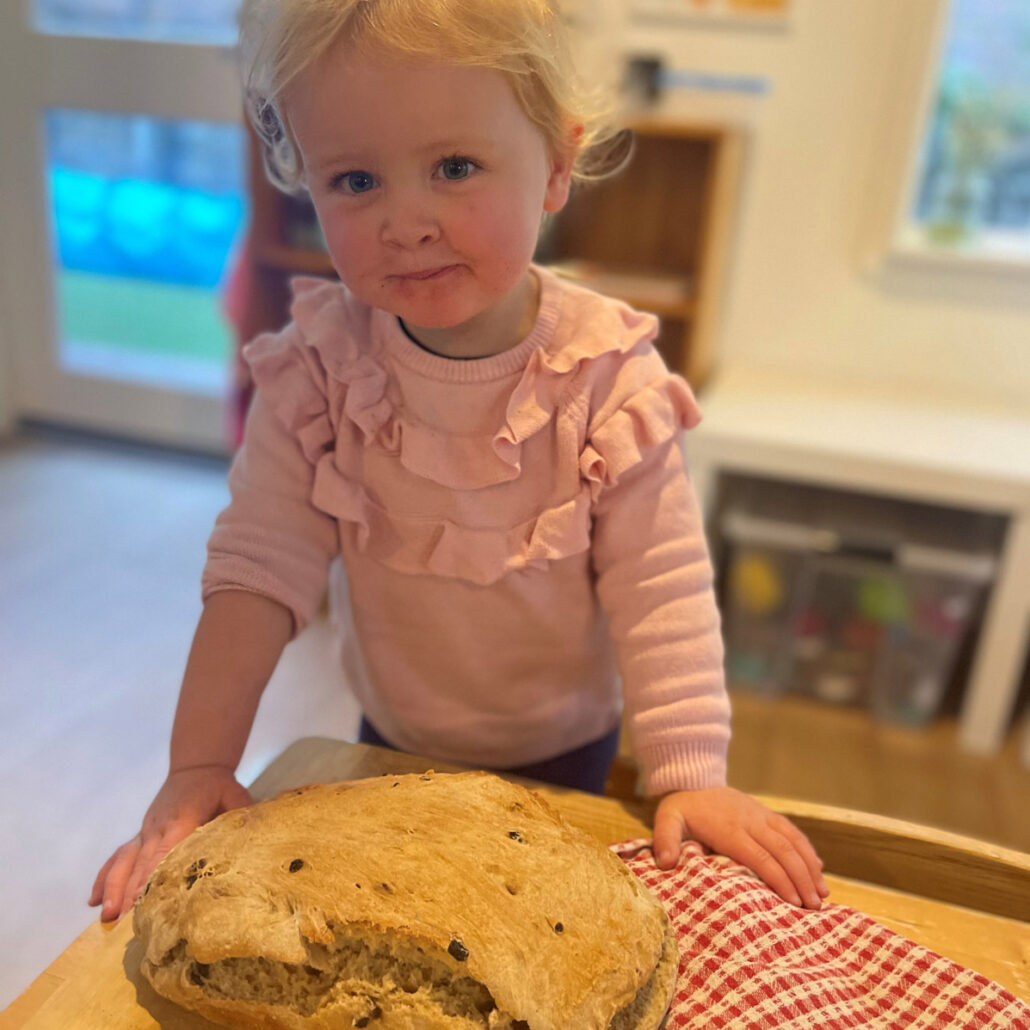 In the Montessori environment, children have the freedom to explore the dynamics of spoken language. Activities and games such as matching objects and pictures, "I Spy," songs, storytelling, and read-alouds develop receptive and expressive language skills.
— Helen, Teresa & Claire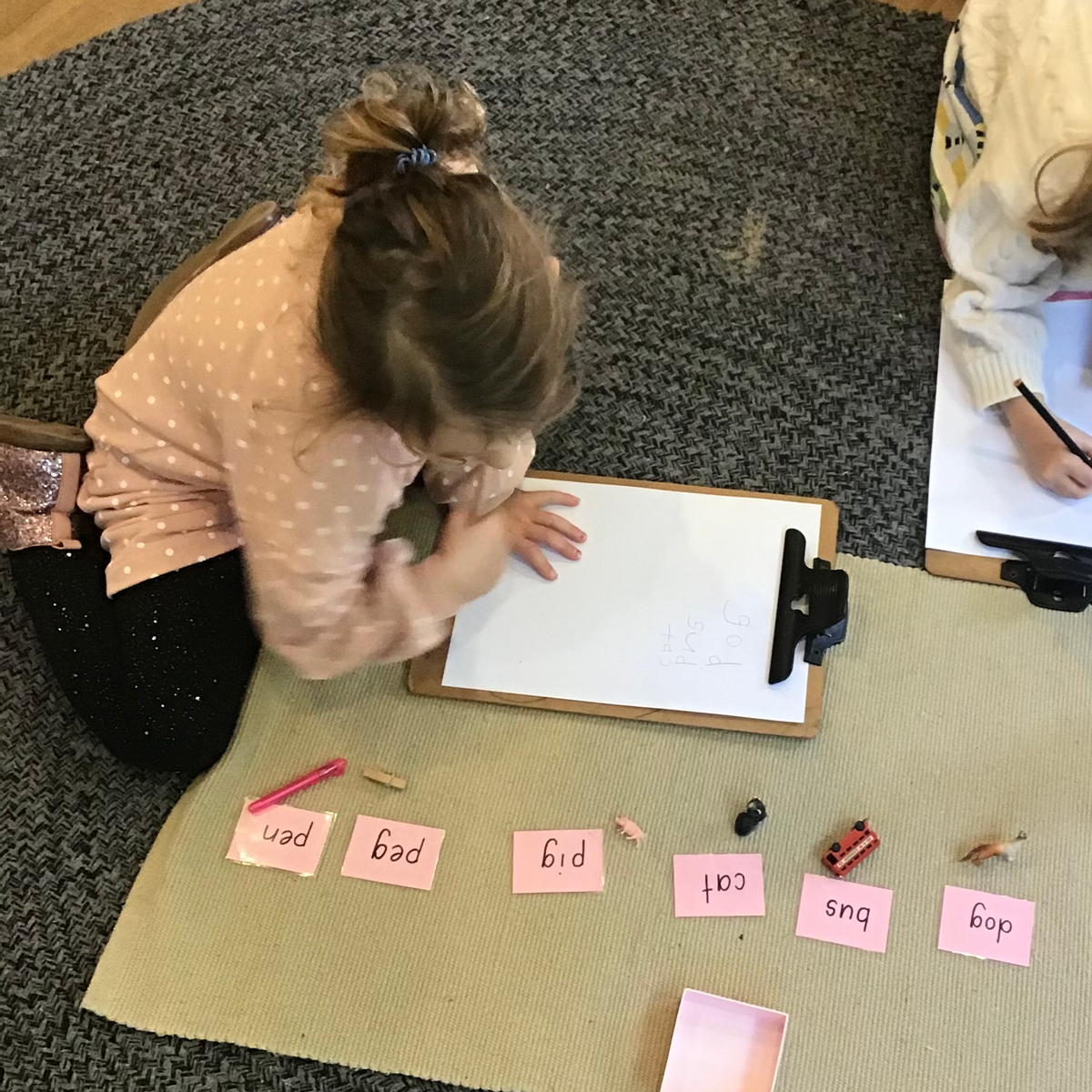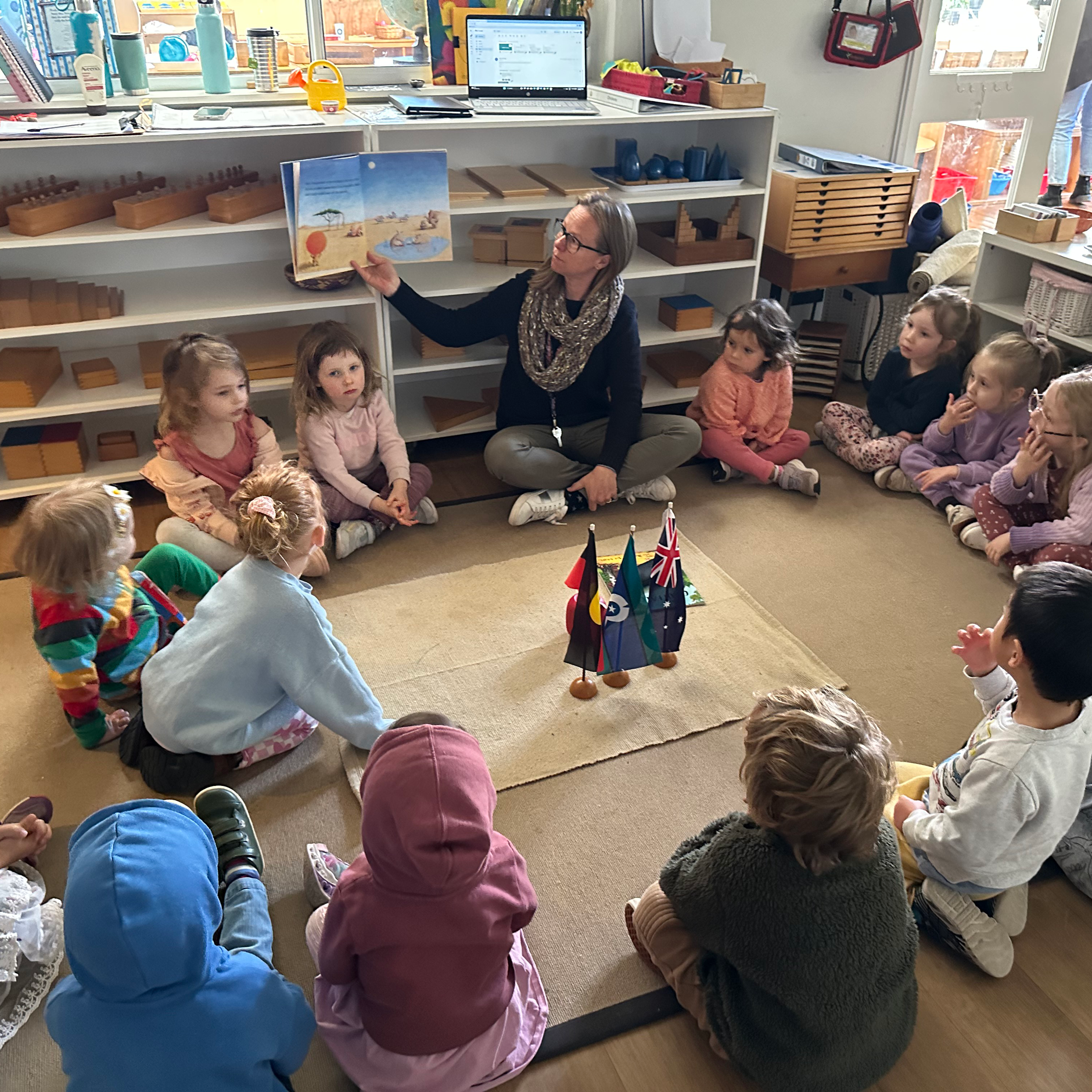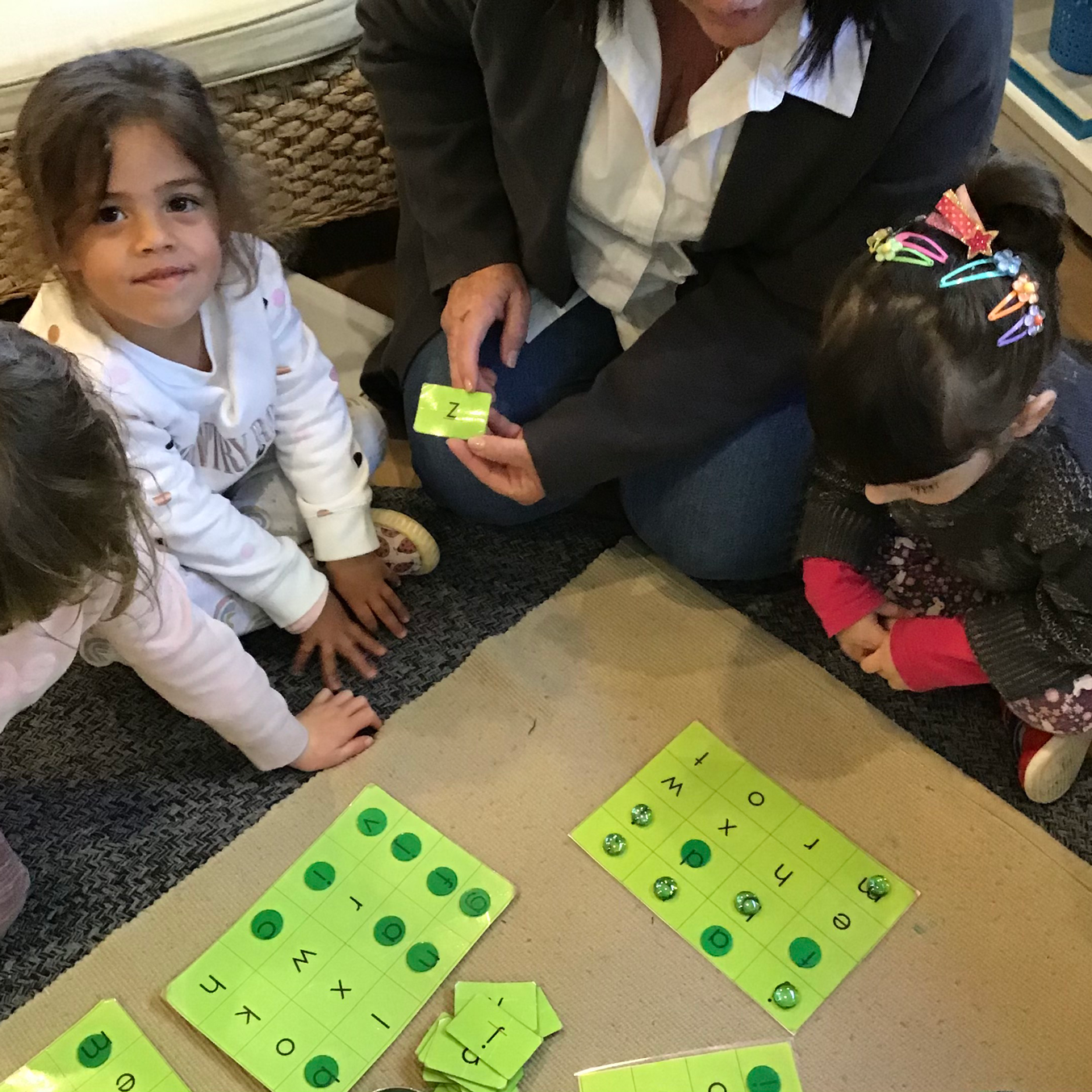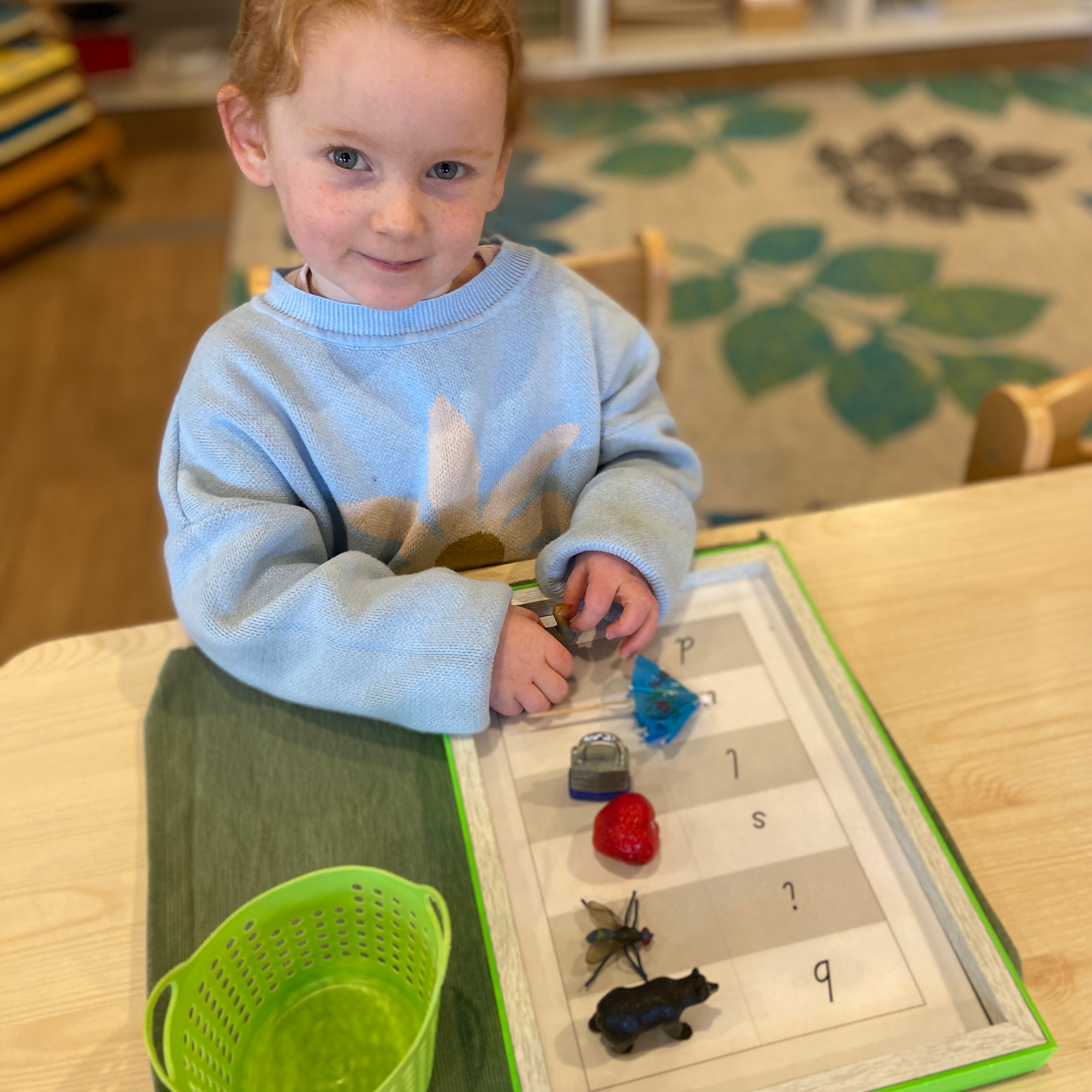 In the Cooinda classroom, we have been looking closely at the natural world.  We have observed plants in the garden and spoke about the different textures, shapes and colours of leaves. There are so many patterns to be found in nature. By pressing leaves into clay, we could see closely the details in the patterns on the leaves. We then turned the clay into small bowls. Some children were looking closely on the ground at petals, seeds, leaves and sticks that had fallen. We made our own frames to examine an area of the garden and look at patterns.
— Catalina, Elizabeth, Jo and Angela.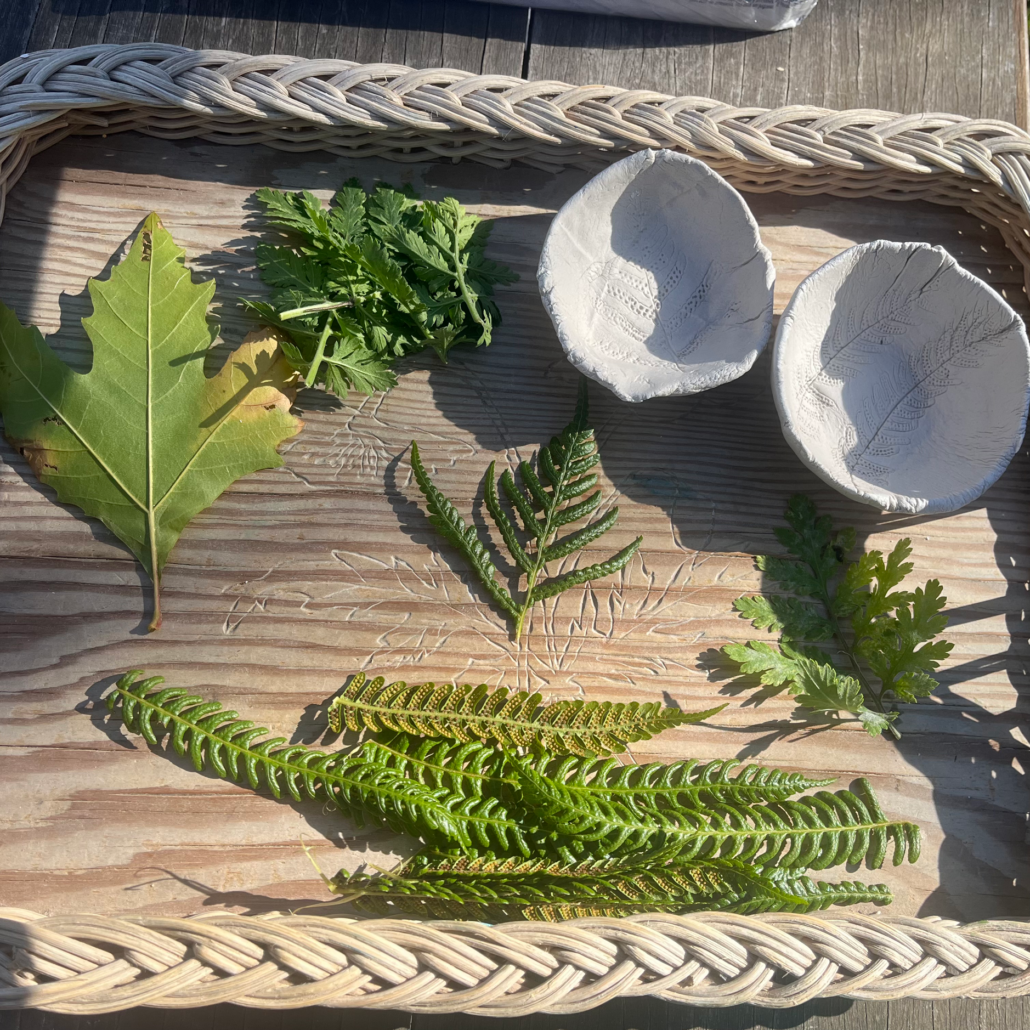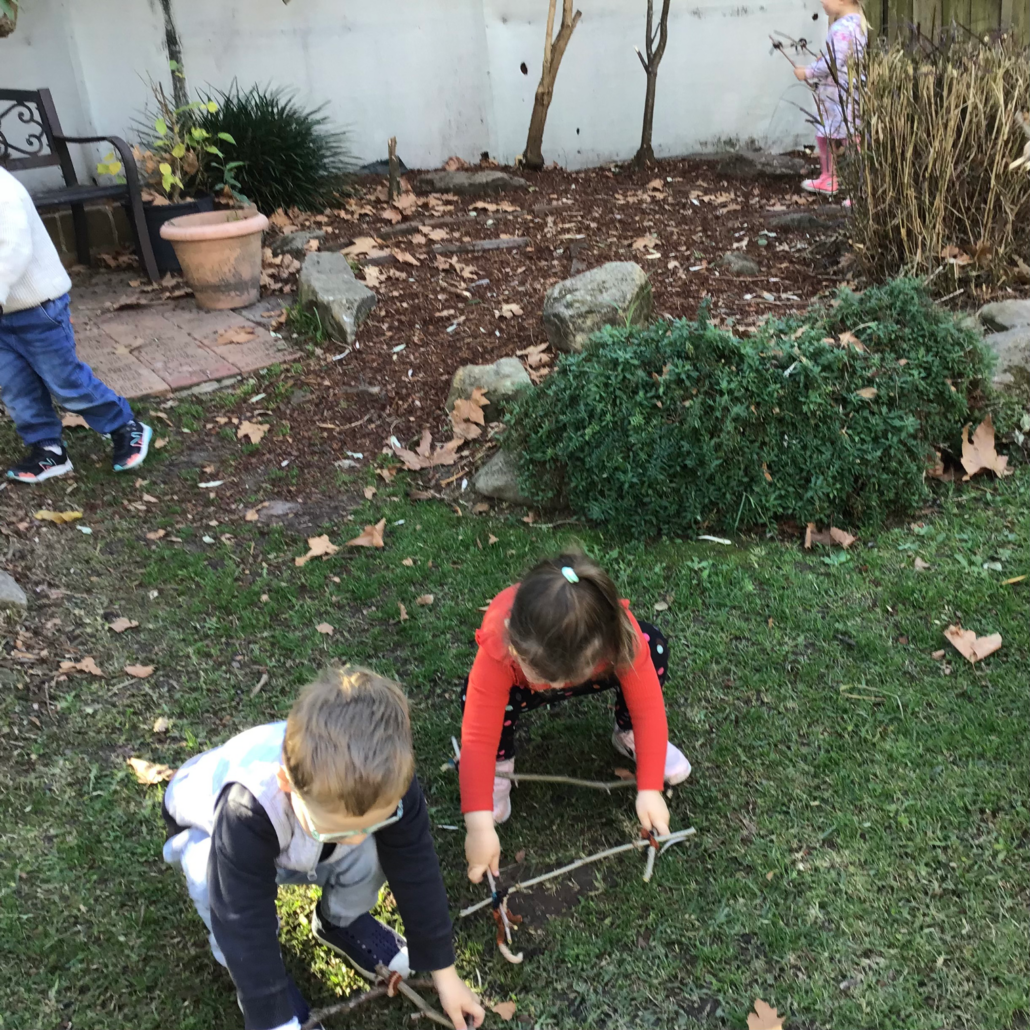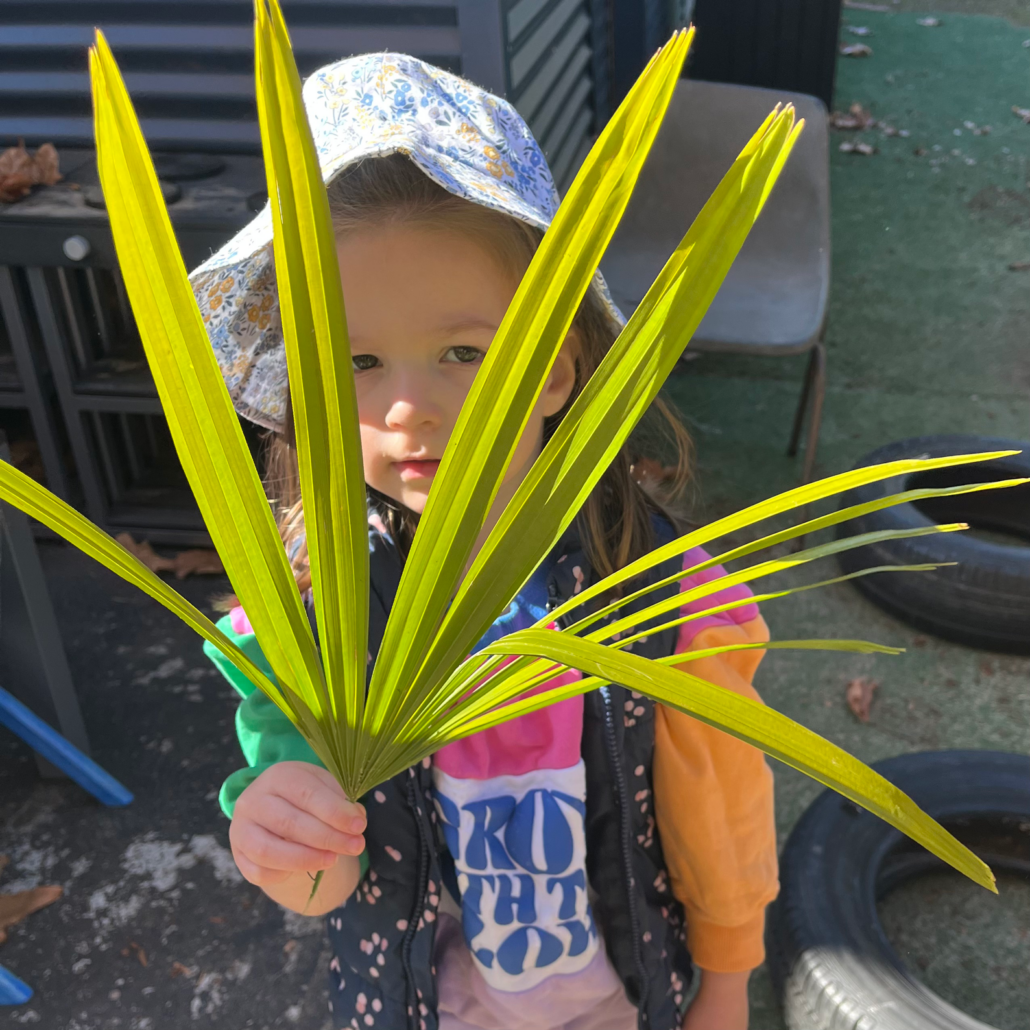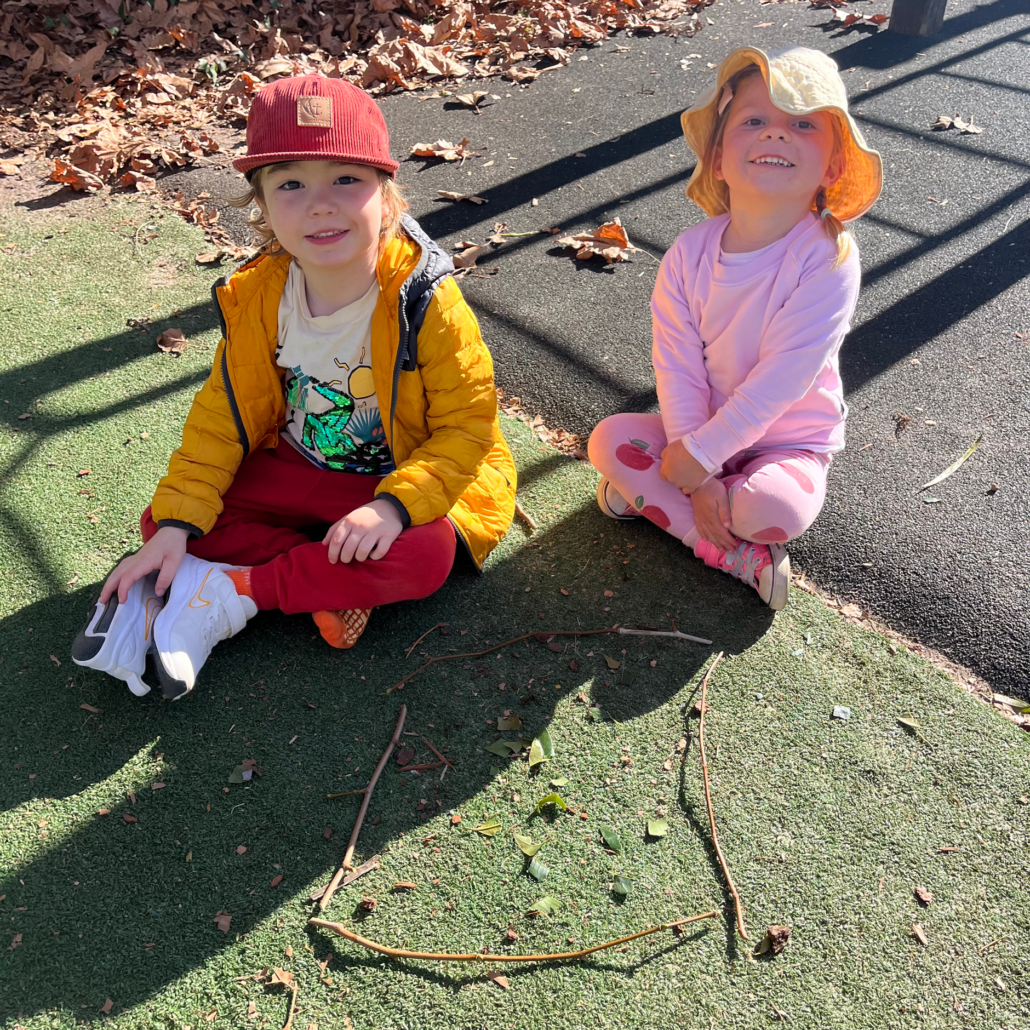 AMAROO | OUTDOOR CLASSROOM
The perfect weather recently has provided opportunities for children to work in our garden, harvesting what we've grown and planting for the next season.  Children have enjoyed trying rhubarb, oranges and lemons from our trees and potatoes we dug up to roast.  Trying a variety of foods at a young age helps children develop a positive attitude towards food, choosing to eat healthily and hopefully they have a wide and varied diet later in life.  It's also great fun to reap the rewards of your efforts.  The squeals of delight as someone found another potato and the whole body shudder of a child when they suck on a lemon to the delight of their friends is priceless! Let's see how our new seeds compete against the visiting possums and brush turkeys.
– Dawn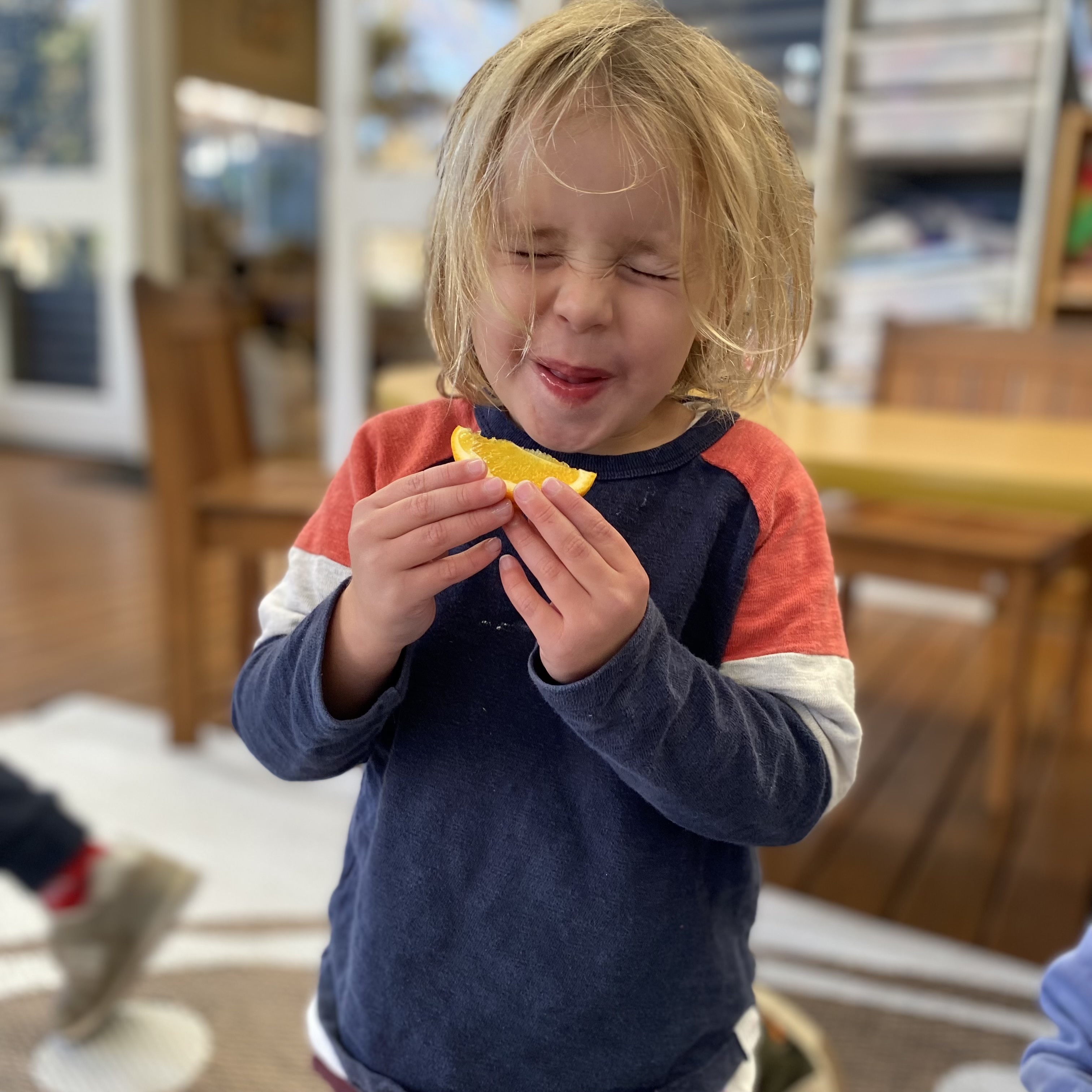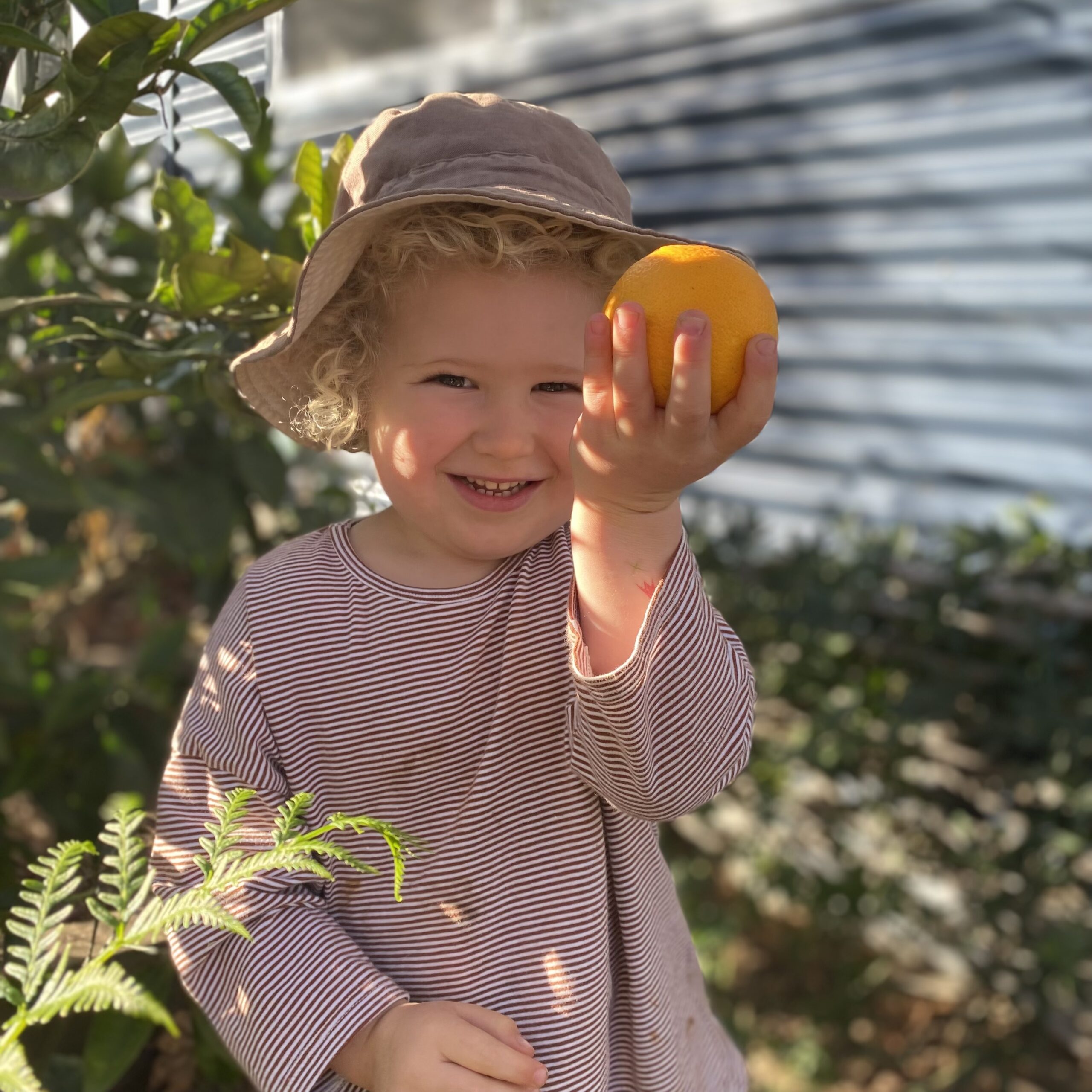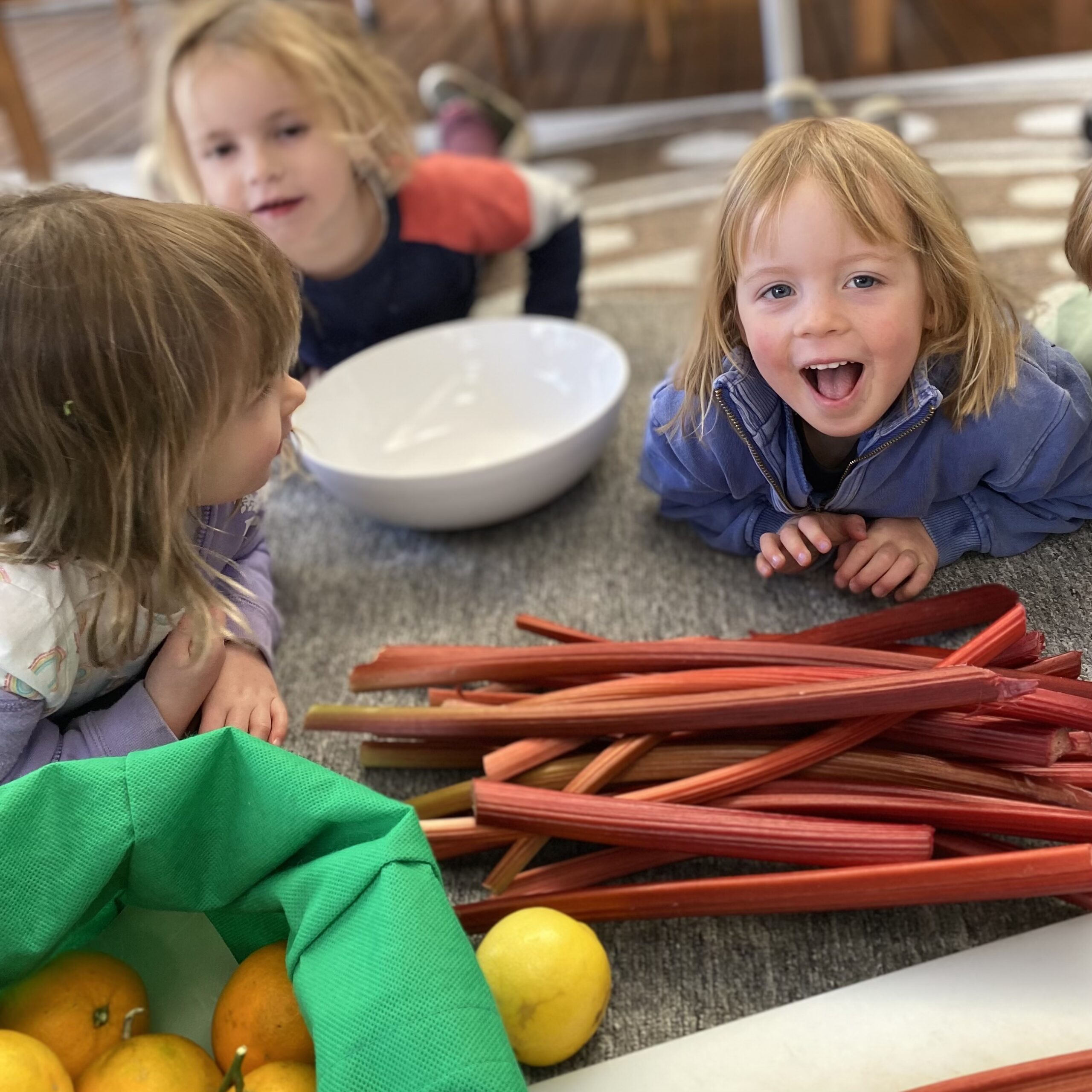 We are thrilled to provide exciting updates on our recent exploration of Sensorial extension materials and the incredible benefits they offer to the children. Over the past two weeks, the children have been fully engaged in captivating extensions of these materials, expanding their horizons and experiencing remarkable growth. Some notable examples of Sensorial extensions include the grading activity of Colour Box 3, building the Trinomial Cube at a distance, and working with the Decanomial Square by removing one colour and rearranging the remaining squares and rectangles.
These extensions of sensorial materials present mathematical concepts to the children in a concrete and tangible way. By providing them with rich and immersive sensory experiences, we nurture their curiosity, stimulate their creativity, and support their cognitive and physical development.
— Samantha.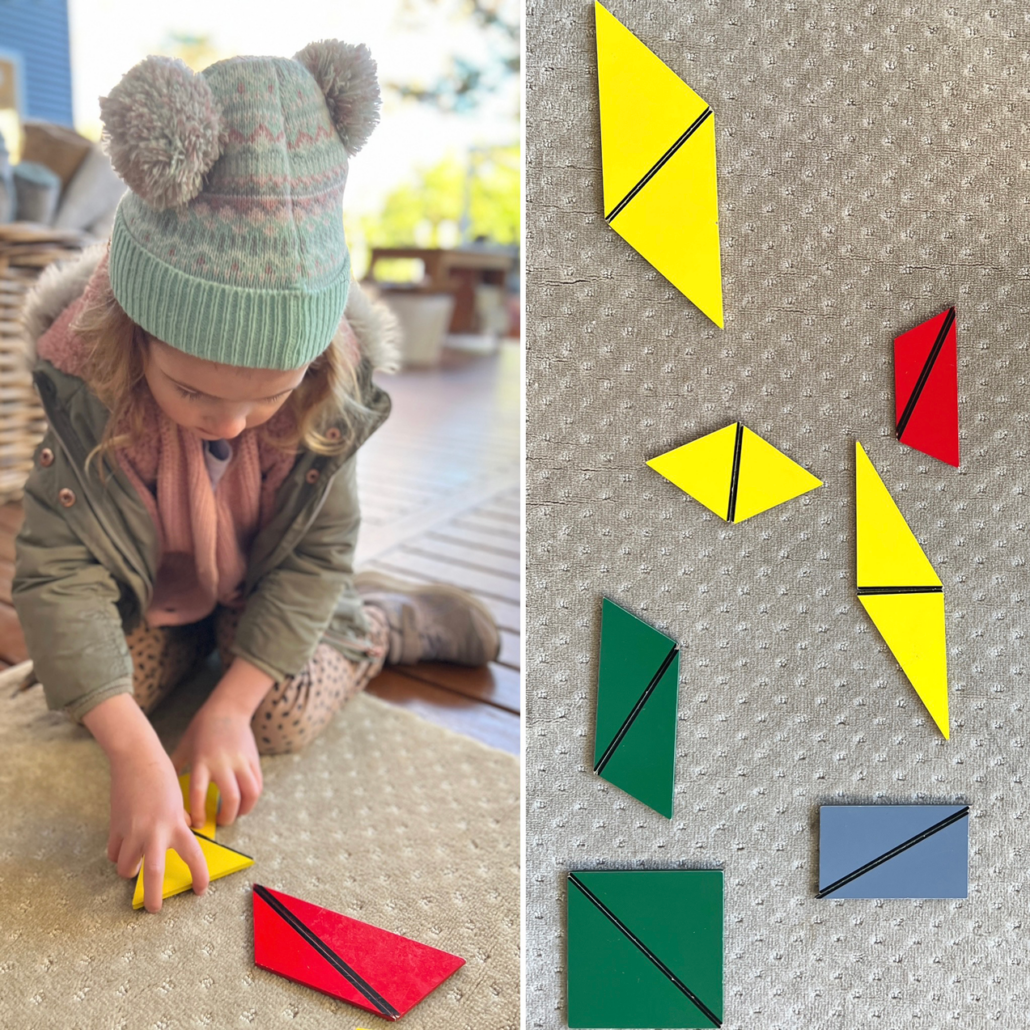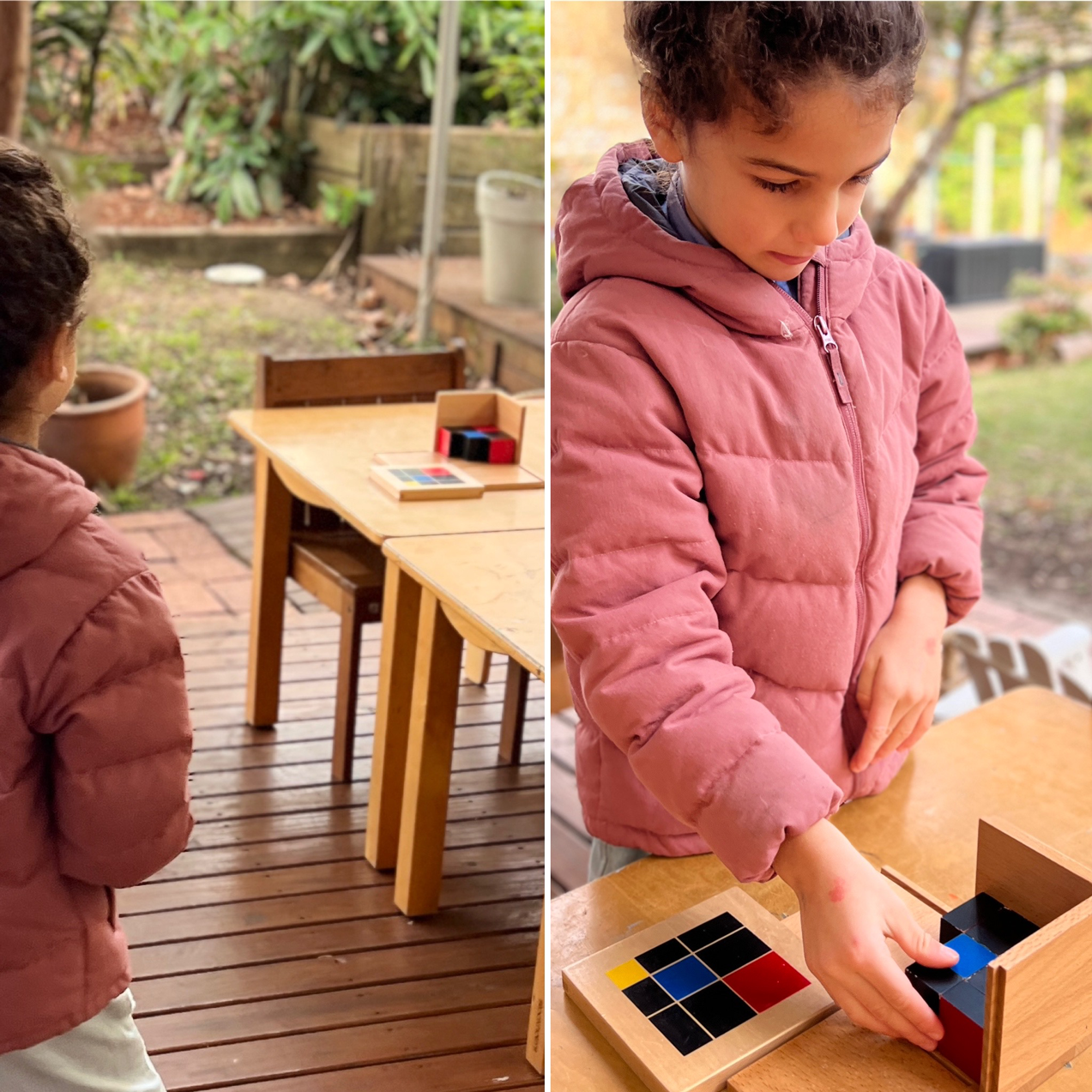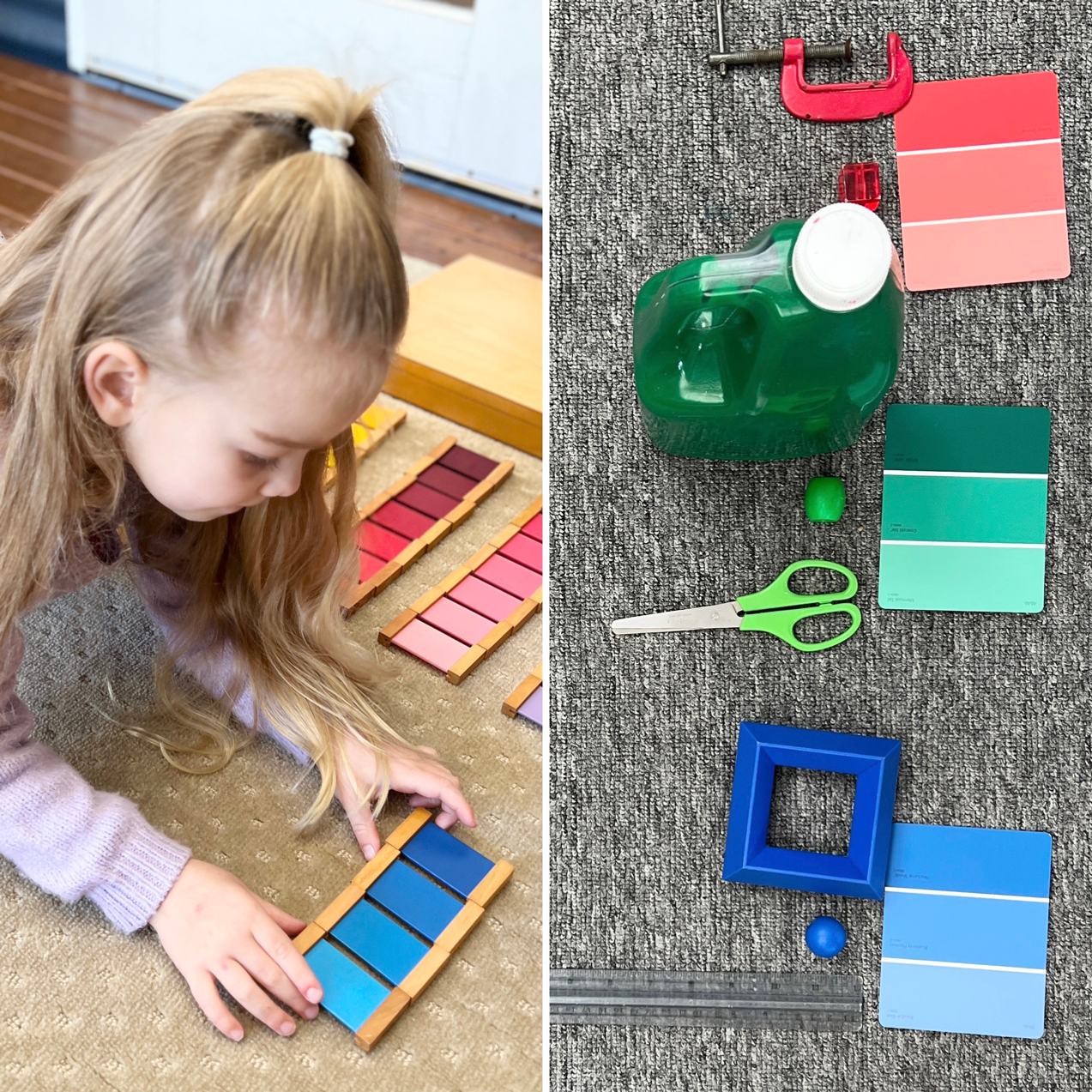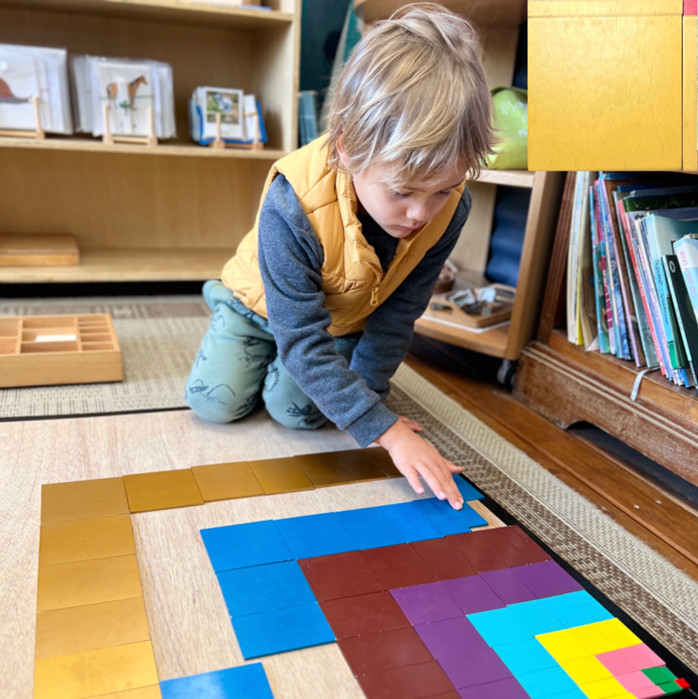 We hope this newsletter finds you in good spirits and filled with the joy of learning. Over the past two weeks, our Montessori classroom has been abuzz with exploration, discovery, and a deep appreciation for the rich cultural heritage of our land.
Our Aikya students have embraced a journey of learning and listening, immersing themselves in the significance of Sorry Day, Reconciliation Week, and the legacy of Eddie Mabo. Through engaging discussions, stories, and thought-provoking activities, they have gained a deeper understanding of the fundamental needs of humans and their connection to Aboriginal and Torres Strait Islander people.
Inspired by this exploration, our students have eagerly embarked on further research, delving into the traditions, culture, and history of the First Nations people. They have shown immense respect and curiosity, demonstrating their commitment to fostering a more inclusive and empathetic community.
To enrich our understanding of the local area and its indigenous heritage, we embarked on a guided bushwalk with the dedicated volunteers from the North Head Sanctuary. During this immersive experience, we observed how the Aboriginal people skillfully utilized native plants in their everyday lives. Our students were captivated by the wisdom and ingenuity displayed by the traditional custodians of the land.
By witnessing the practical applications of these plants, our students not only gained ecological knowledge but also cultivated a deep respect for the intricate relationship between the indigenous people and the natural environment. We are grateful for the opportunity to engage with our surroundings in such a meaningful way.
In the realm of physical education, the Aikya students have been delighting in two exhilarating activities: Frisbee and Orienteering. These initiatives have allowed them to develop coordination, teamwork, and strategic thinking while fostering a love for active, outdoor play. As they navigate through the challenges of these games, they also learn valuable lessons in perseverance, communication, and sportsmanship.
Moreover, as we transition into the winter season, the change in weather has sparked a renewed engagement with our natural surroundings. The crisp air, and unique seasonal flora and fauna have become points of fascination for our students. This connection with nature has instilled a sense of wonder and curiosity, encouraging them to explore and learn through the lens of the changing seasons.
As we move forward, our Aikya classroom will continue to foster an environment of curiosity, respect, and joy. We have exciting plans in store, including further investigations into the rich history of Aboriginal and Torres Strait Islander cultures, collaborative projects, and continued exploration of the natural world.
We extend our heartfelt gratitude to the parents, guardians, and community members for their ongoing support and enthusiasm. Together, we are building a vibrant learning community.
Warm Regards,
—Toby, Amy and the Aikya Children.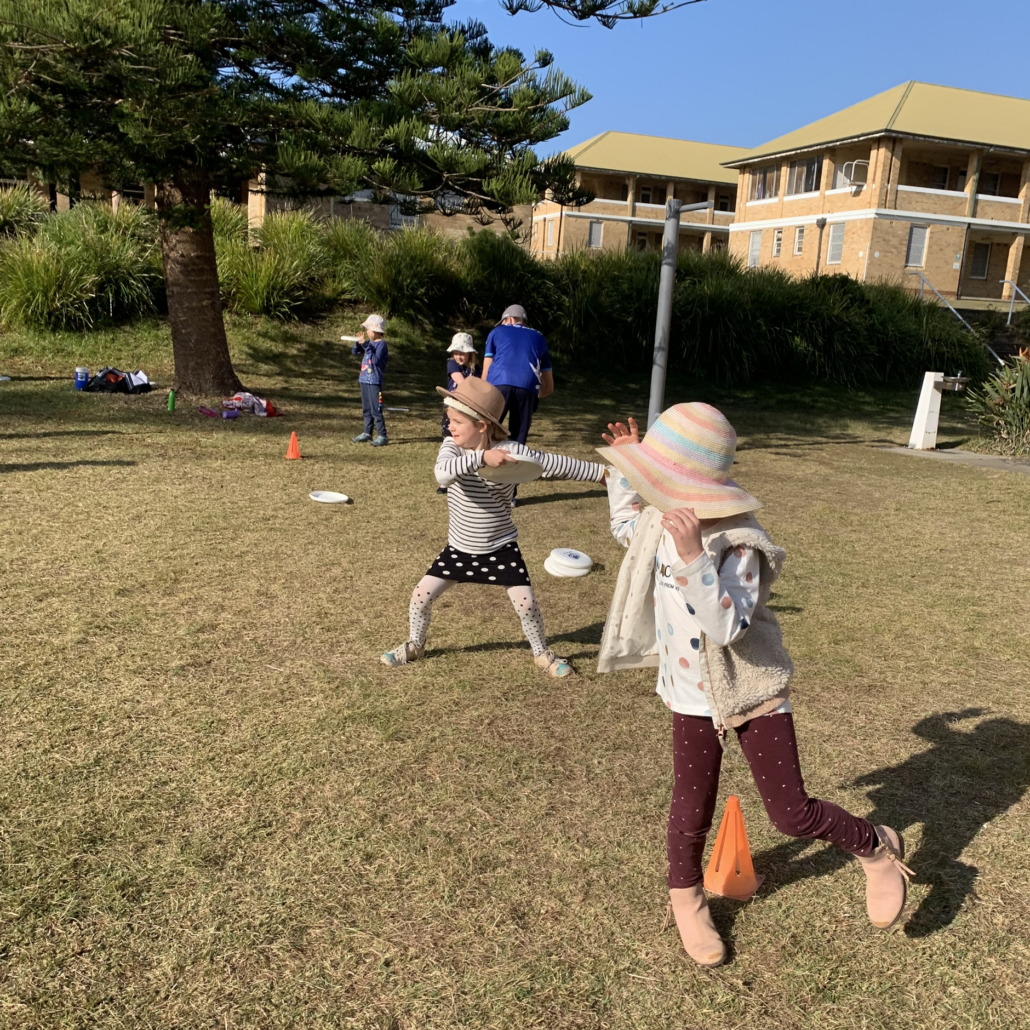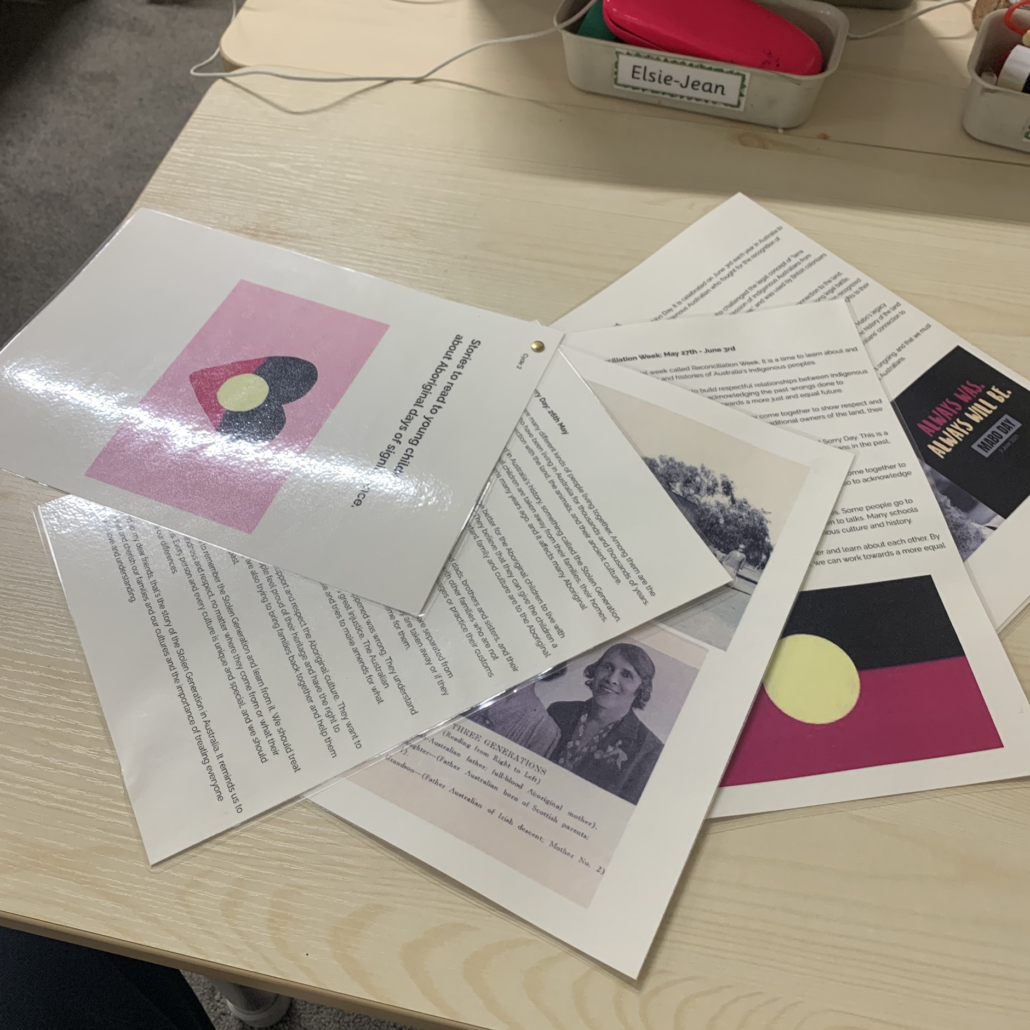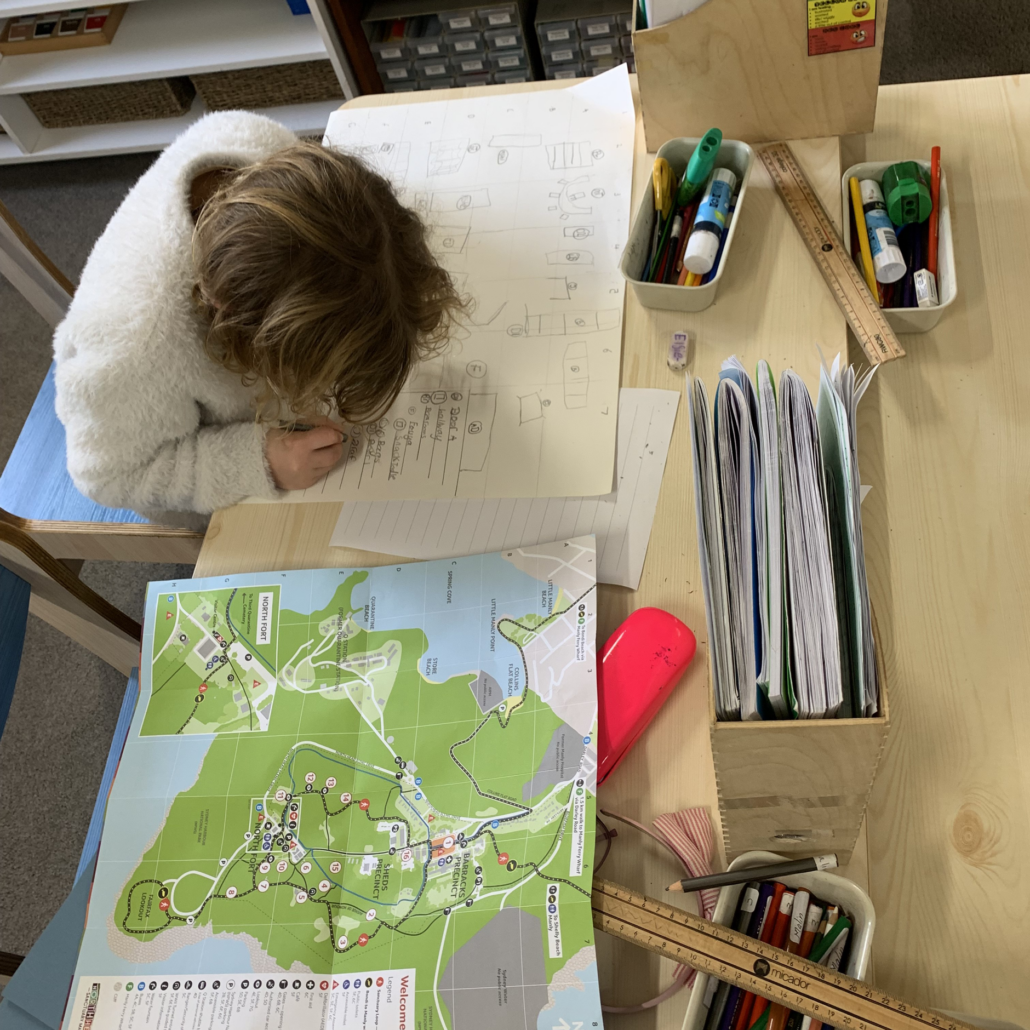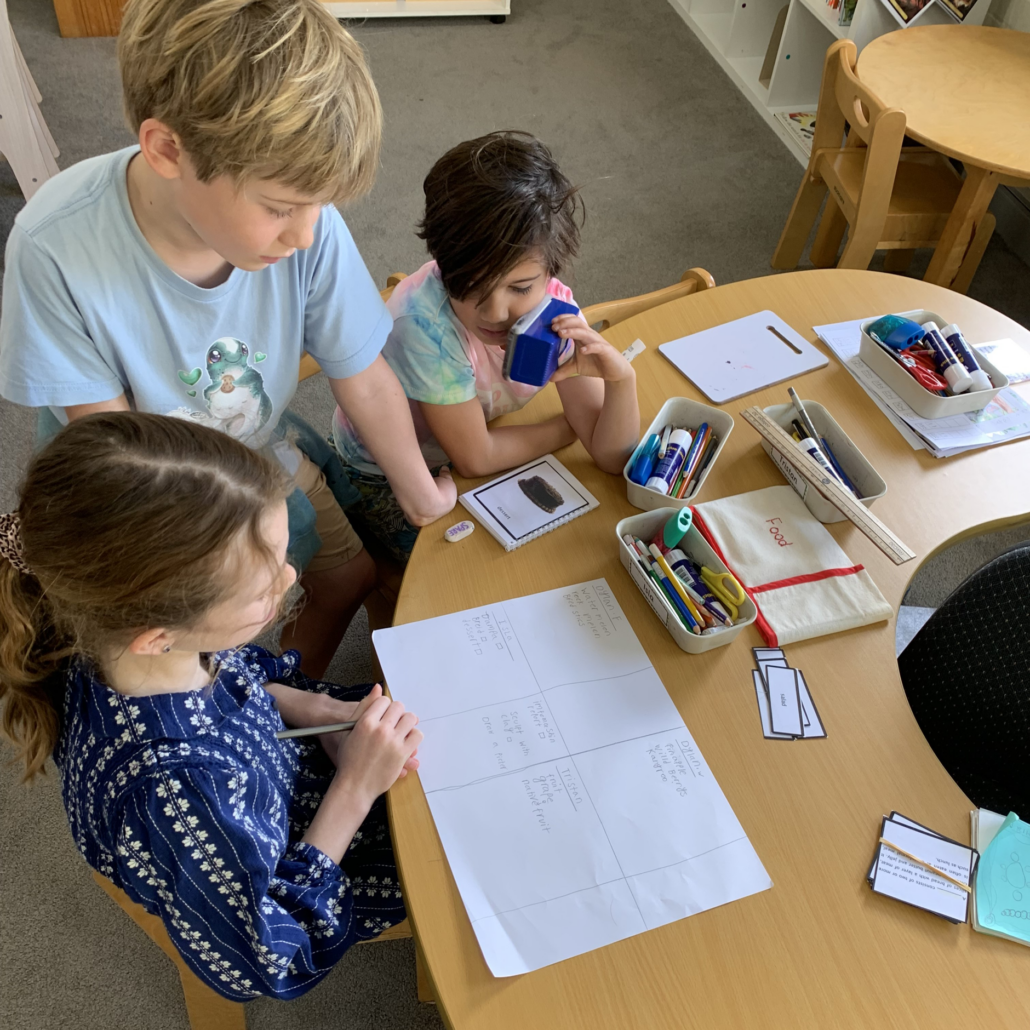 We are delighted to share with you the exciting learning adventures taking place in our classroom. Over the past few weeks, our students have been deeply engaged in exploring the concept of lines on the same plane and discovering the relationships between different line sets. Through hands-on activities and collaborative discussions, they have developed a keen understanding of parallel lines, perpendicular lines, and intersecting lines. With their newfound knowledge, our young mathematicians have been able to apply these concepts to solve various line-related puzzles and challenges.
In addition to our geometry lessons, our class has also been actively involved in share & talk lunch and team-building activities. One of the highlights was the "Turtles Game," where students worked together as a team to cross an imaginary ocean represented by our classroom floor. This cooperative activity not only encouraged communication and collaboration but also fostered a sense of unity and shared responsibility. Through the game, our students learned the importance of trust, effective teamwork, and strategic planning. It was heartwarming to observe their enthusiasm and support for one another as they navigated the challenges and celebrated their accomplishments. Music has also been a hit with the students revisiting the ukulele again with Ben.
—The Yani Team.