2022 Newsletter Term 04 | Issue 02

Upcoming events & Important Dates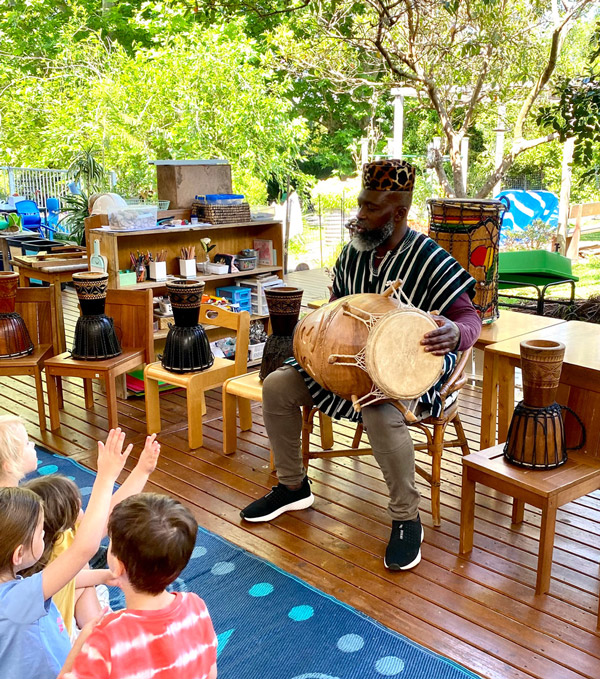 NOVEMBER
Sat 5th –  Farmhouse Montessori Open Day – North Head Campus – 10.30am – 1pm
Mon 7th – Fri 18th – Parent Teacher Conferences: Yani & Aikya
Fri 11th – Remembrance Day
Mon 14th & 15th – Transition to School Conferences: Jenny
Wed 23rd – Primary Campus: Orientation Night  – New & Transitioning 2023 – 6-8pm
Wed 23rd – Preschool Tour – 4pm
Fri 25th – Fees Due
30th November – Grandparent Day – Primary campus- 9am -10am
Click HERE to see further calendar dates.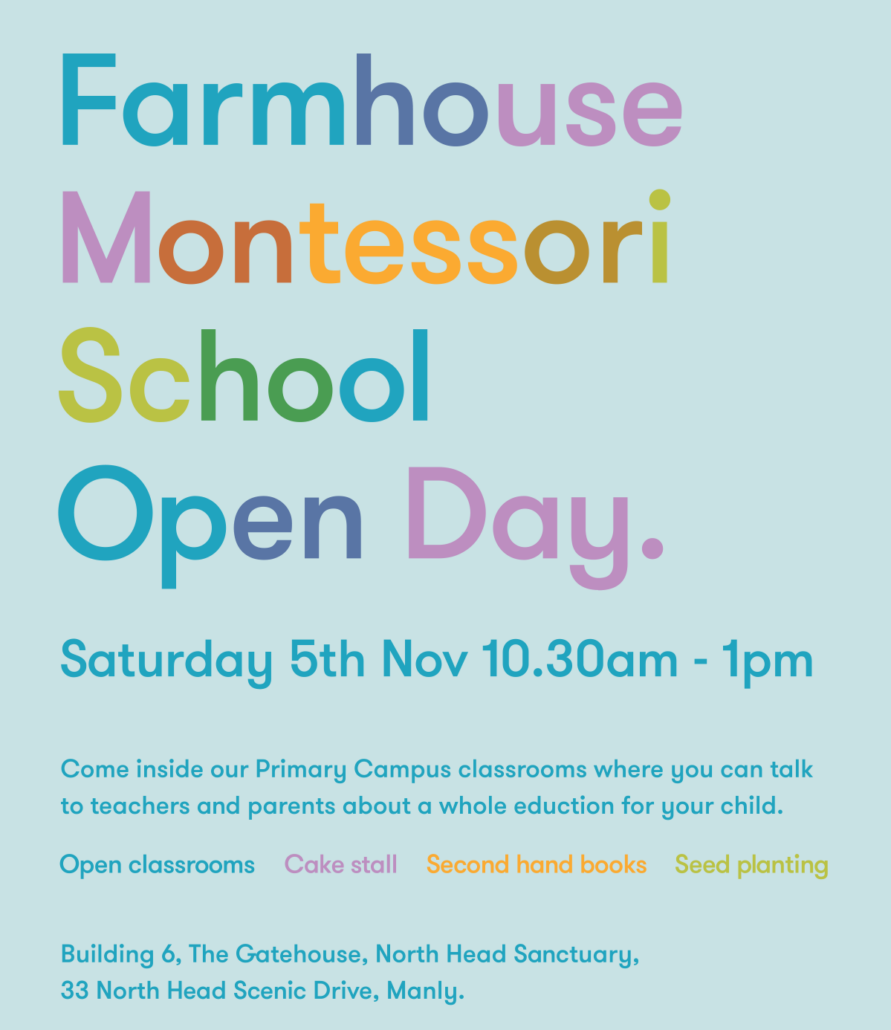 Principal's Message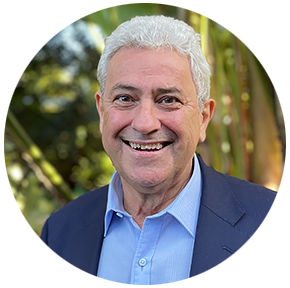 Dear Farmhouse Montessori Families,
Open Day 5th November 10.30 to 1.00pm
This Saturday is 'Open Day' at the North Head Campus from 10.30am to 1.00pm. It is a wonderful opportunity for parents from both North Balgowlah and North Head to come and join us. It is a perfect opportunity for parents who wish to learn more about the brilliant Montessori educational philosophy. Students will be engaged in their normal classroom activities and teachers will be on hand to discuss Montessori education.
Cakes, some food, and a coffee van will be available and there will be a second-hand book sale. Thank you to parents for their baking of cakes for Open Day. We have reached out personally to the local Early Learning Centres in our region and flyers which includes a QR Code to the school website have been sent to them. Some local businesses also have the promotion material.
Thank you to class parents Faye, Jenny, and Jessica for your efforts in promoting Open Day with our parents. I look forward seeing you on Saturday
Grandparents Day 30th November from 9.15am to 10.15am – PRIMARY SCHOOL ONLY
I invite grandparents to visit the Aikya & Yani classrooms and spend time with their grandchildren  Wednesday morning 30th November from 9.15am.
The opportunity for our Grandparents to enjoy seeing their grandchildren engaged in their class activities is special. I invite grandparents to visit the classroom and spend time with their grandchildren  Wednesday morning 30th November from 9.15am.
Semester Two Reports. I have had the privilege of reading Semester Two reports. The reports were a delight to read. They will be distributed, via email in the very near future.
Parent / Teacher interviews for Aikya & Yani Classes are scheduled from 7th to 18th November. Teachers will send an invitation to parents to select suitable time to meet with respective teachers.
Orientation for new Primary families will be held Wednesday 23rd November from 6.00pm to 8.00pm at North Head Campus. Invitations have been sent. Should you know of families who may be interested in knowing more of our amazing Montessori education, please encourage them to attend and to make contact with Suzanne or Alli for more information.
Orientation for the Infant community was held last Wednesday evening at the Preschool Campus. 24 new families were invited to an information session to discover more about their child's new learning environment and how to prepare themselves for their Montessori journey ahead.
EDUCA comes to North Head. Thank you, to you Primary parents for returning your expression of interest to EDUCA, the program which enables interconnection with parents providing 'live' classroom experiences. Teachers will commence using EDUCA next week.
Kindergarten to Year 6 Behaviour Policy and Student Code of Conduct. Thank you to parents for joining the recent ZOOM session where I spoke to this revised policy. I appreciate your feedback and support for this direction. The policy is now 'live' and replaces the existing policy.
Inter-campus before and after school bus service Monday 7th November
I am delighted to announce this new service will commence next Monday. The aim is to support parents in the busyness of their lives with a morning and afternoon pick up and drop off at the North Balgowlah shops.
Orientation Evening Wednesday 22 November form 6.00pm
We will be holding our Parent Orientation Night on the 22nd November at the North Head Campus from 6pm-8pm. This will be a wonderful opportunity to welcome parents of students who will be commencing at the North Head Campus in 2023. It will also be a good opportunity for current and future families to hear of the Montessori educational philosophy. Please join us to meet the staff, view the classrooms and have a run through of the primary school procedures. This is also a time for you to feel free to ask any question you may have.
End of Year Celebrations
Thursday 8th December is the last school day for 2022. Each campus will hold special events. North Head Campus will have a Year 6 Graduation Ceremony followed by a whole campus picnic. North Balgowlah Campus will have a picnic. Details for these events will be provided to parents over the coming days.
MSCA Workshop
I draw your attention to the coming workshop offered by MSCA (Montessori School & Centres Australia) on Wellbeing, titled ' From Good Intentions to Positive Behaviours', presented by Dr Helen Street. The presentation will take place on 16 November 8.00pm to 9.30pm.
Link to accessing tickets is: https://events.humanitix.com/helen-street
Dr Street is an applied social psychologist who has a passion for educating and improving the mental health of Australians.
African Drumming Incursion at the Preschool
A wonderful musical Incursion was held at the Preschool Campus last week. Tooza's from African Beat visited with his drums and taught the staff and students about the joy of African drumming & singing. You can enjoy a snippet below.
Bruce Rixon  |   Interim Principal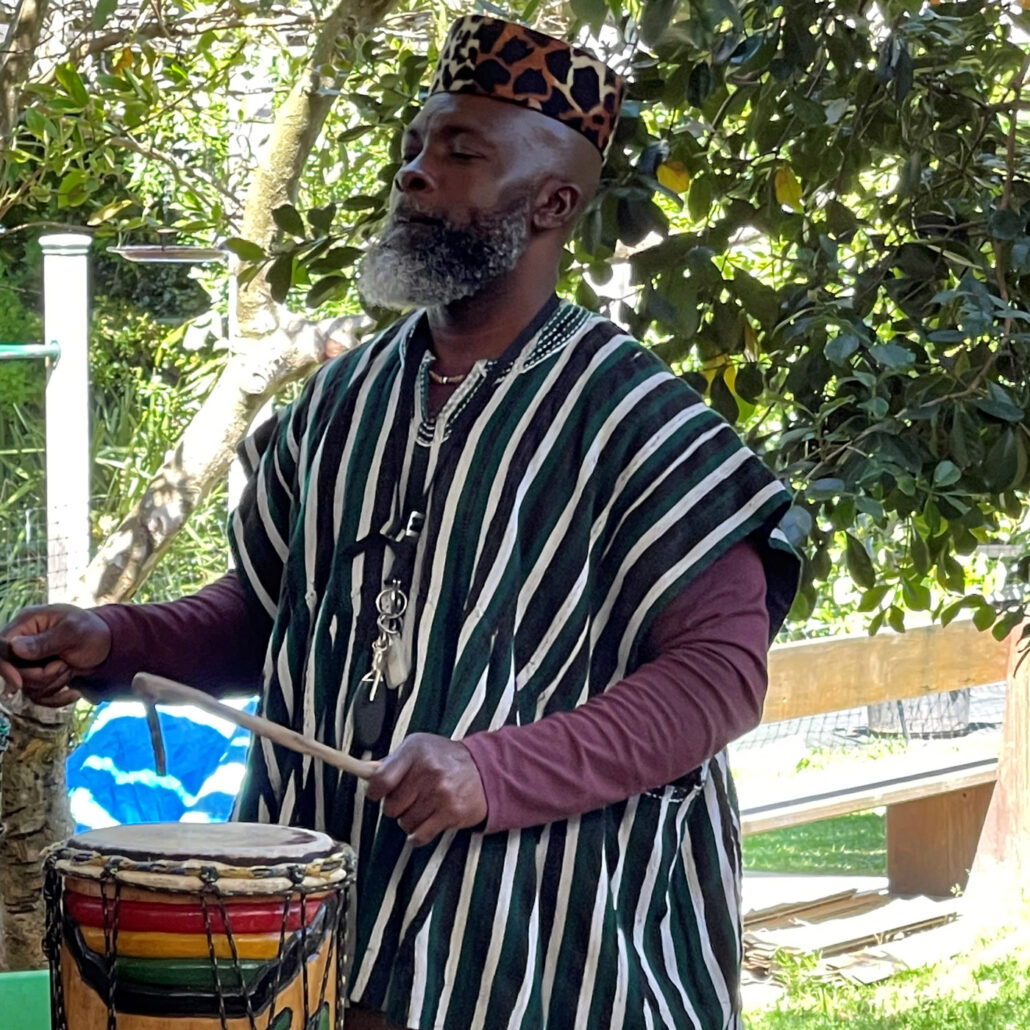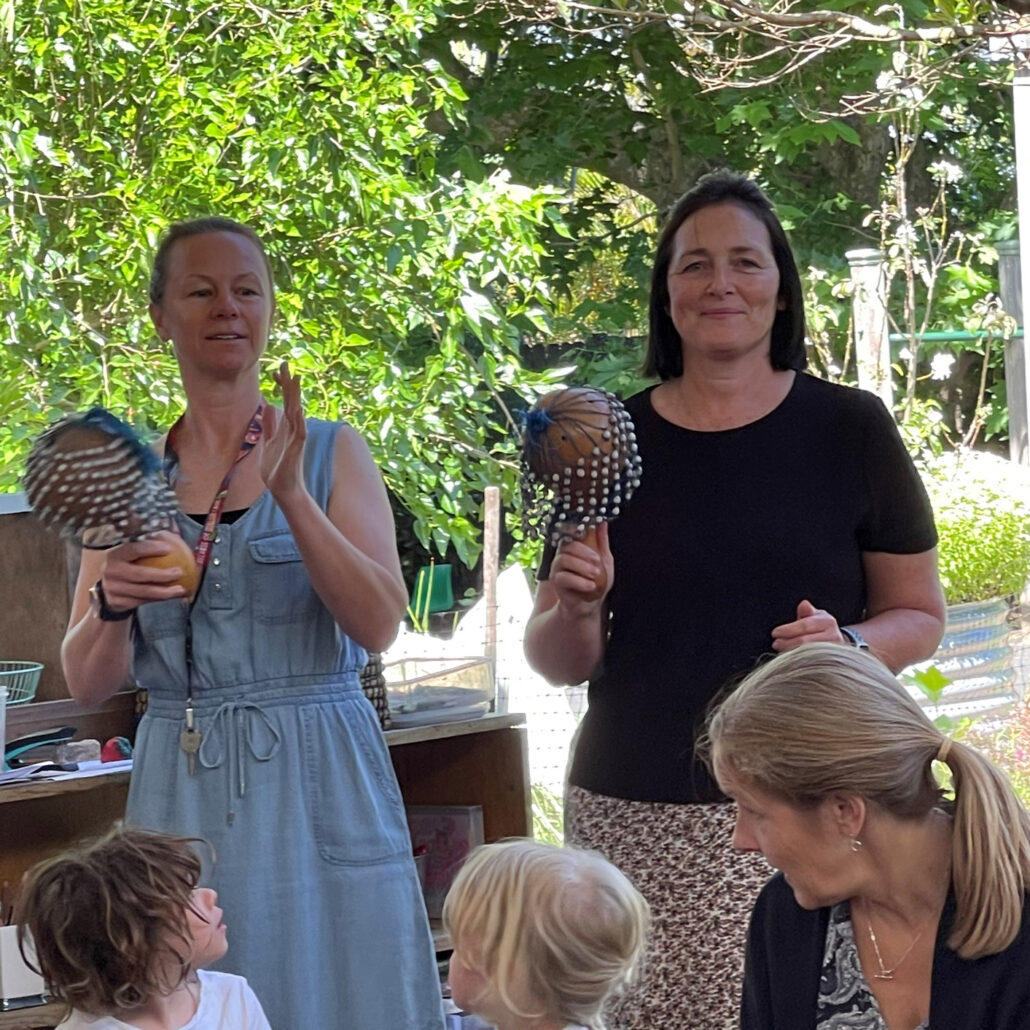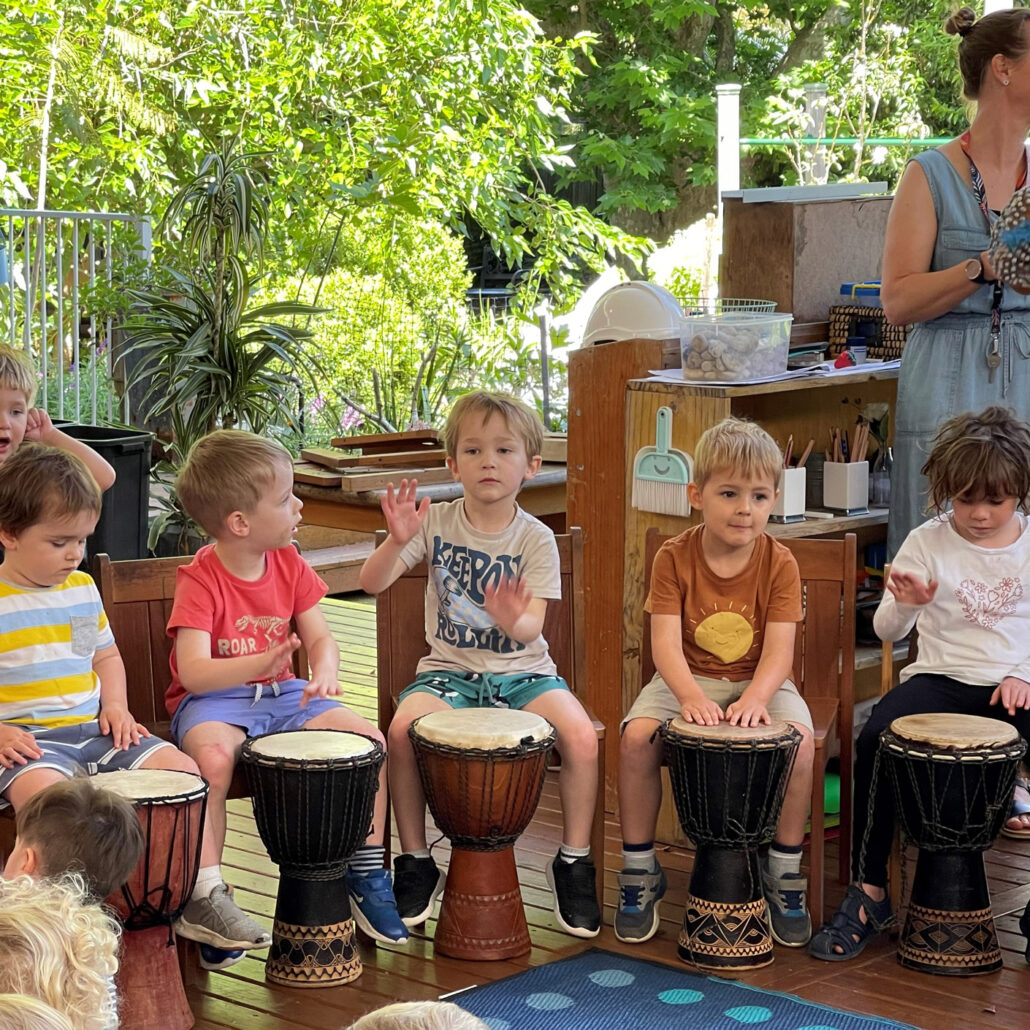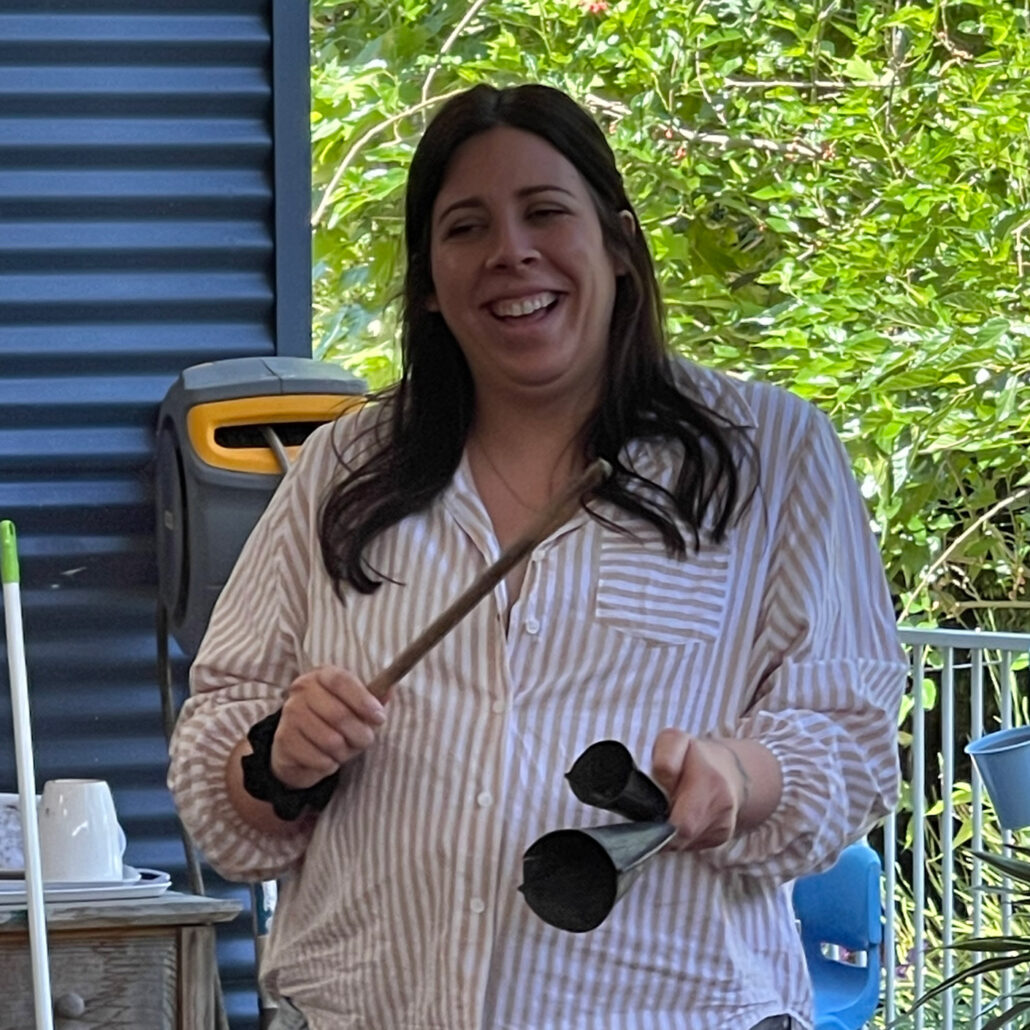 ELOUERA | Stage 1 Infant Community
Last week we explored Kandinsky's circles. We looked at some photos of Kandinsky's artworks and then we created our own by pasting circles onto paper. We introduced the work by showing the children how to choose the biggest circle first, glue it onto the page and then find the next biggest circle until we reached the smallest circle! Each circle was placed in the middle of the bigger circle – this made them "concentric" circles and that was a hard word to say! Exploring different artists and creating artworks using a variety of mediums is an important part of creative expression work in the Elouera classroom. Kandinsky's art also encourages the children to explore mathematical ideas and positional language; biggest, bigger, smallest, smaller, middle, and concentric.
— Corinne, Nina & Rachel.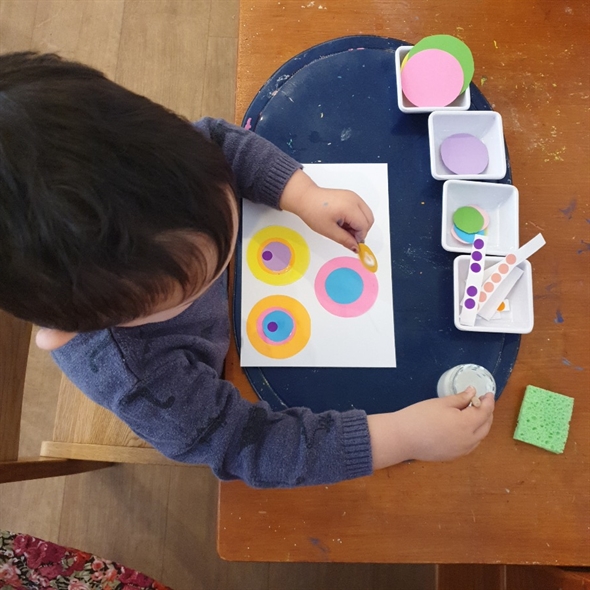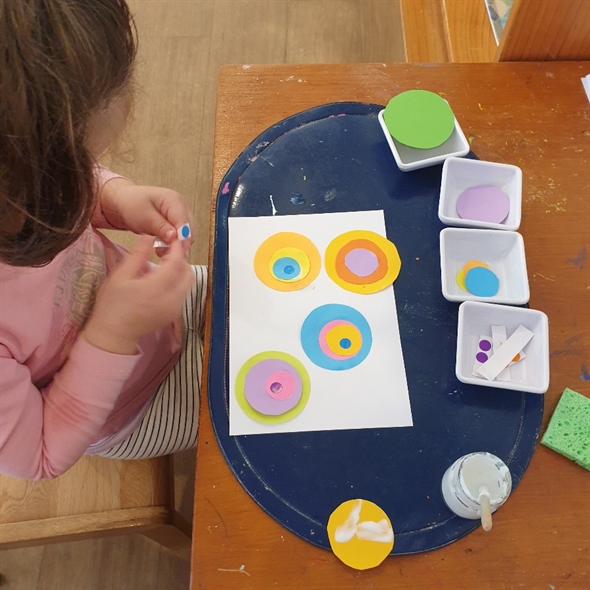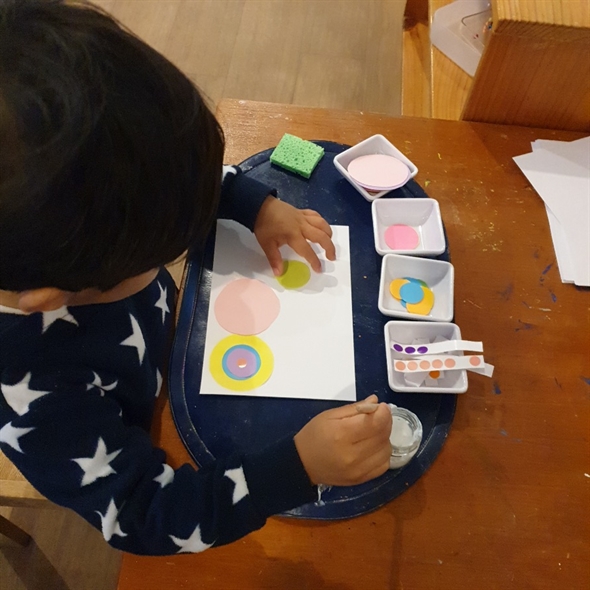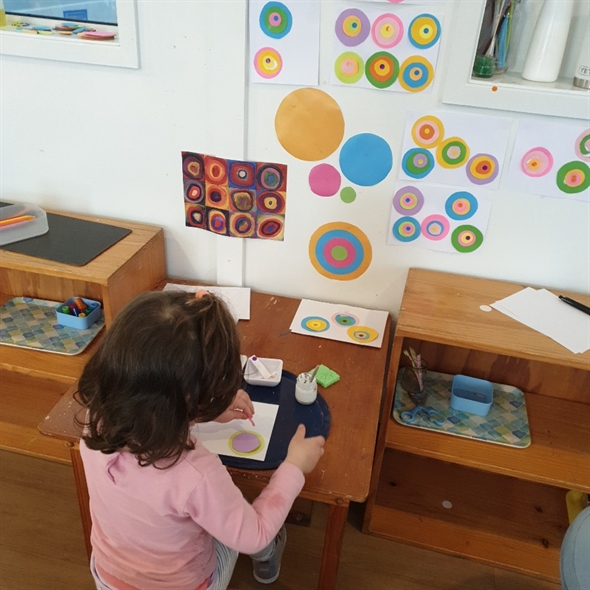 This week in Burbangana the children were presented with some new resources. Before these materials are added to the shelves, the were children are given a grace and courtesy lesson and a demonstration of how to use these materials responsibly. The Montessori classroom encourages children to take ownership of their environment, both indoors and the outdoor garden. The children are encouraged to tidy their tray and place materials back onto the shelves ready for the next child to work. The classroom provides cleaning materials such as cloths and dust pan and brushes to clean any spills or mess made while working.
At this time of year when older children are getting ready to transition to school, it is the perfect opportunity to prepare the younger children to become the leaders of our classroom.
— Helen, Teresa & Claire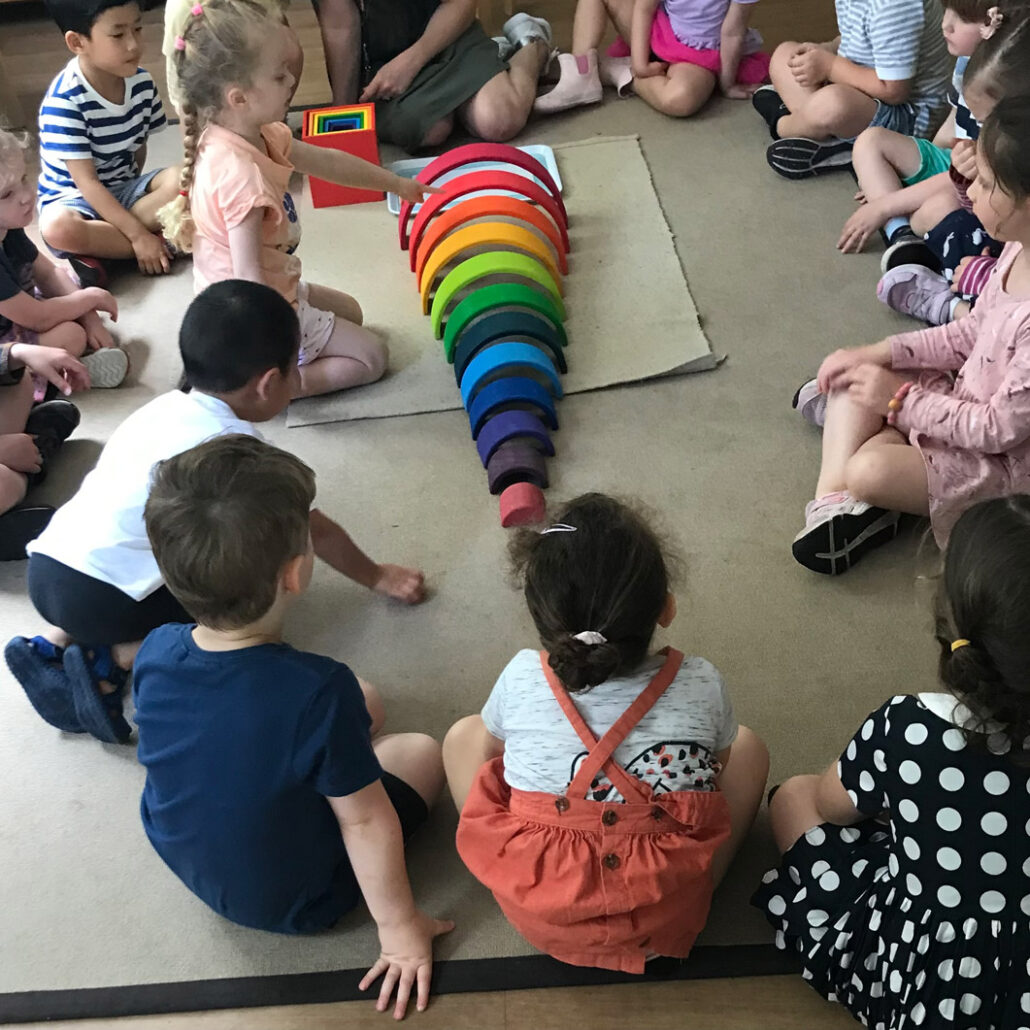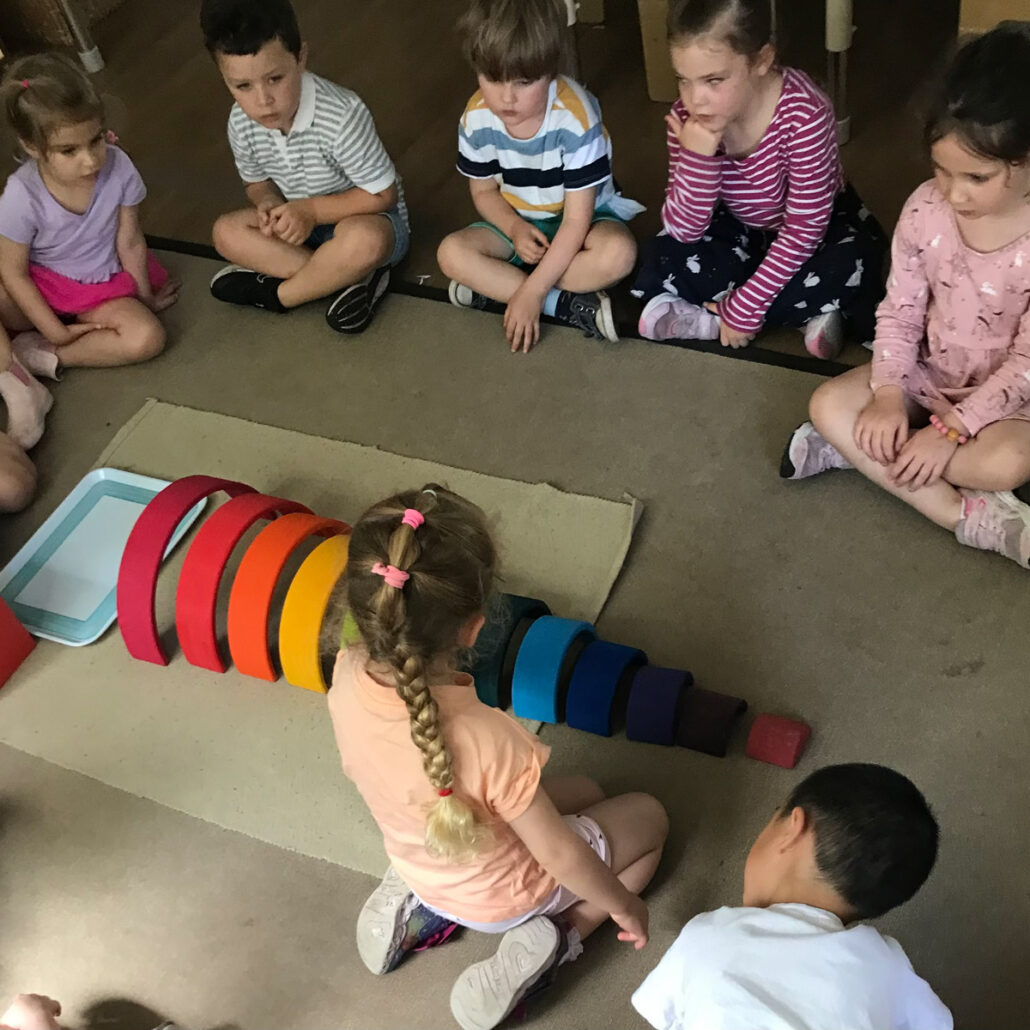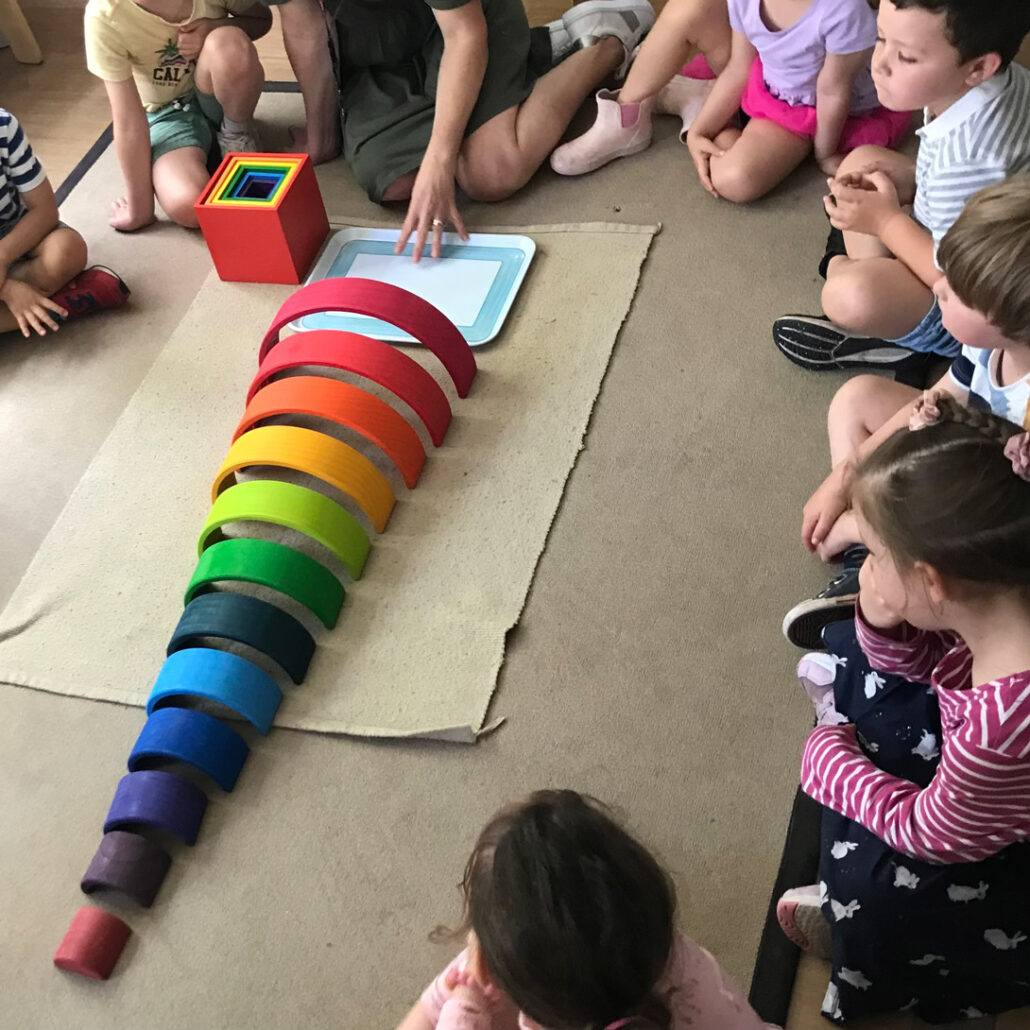 One of the most beautiful aspects of the Montessori sensorial materials is extensions. As the children progress through the materials they will explore variations and extensions as their interest increases allowing them to discover a more complex aspect of the material. Through extensions, the children put into practice their ability to sort, discriminate and grade materials by width, length, colour and size. Sensorial extensions provide multiple opportunities to revisit these materials over and over again which contributes with the development of imagination, solving problem skills and resilience.
— Catalina, Elizabeth, Jo and Angela.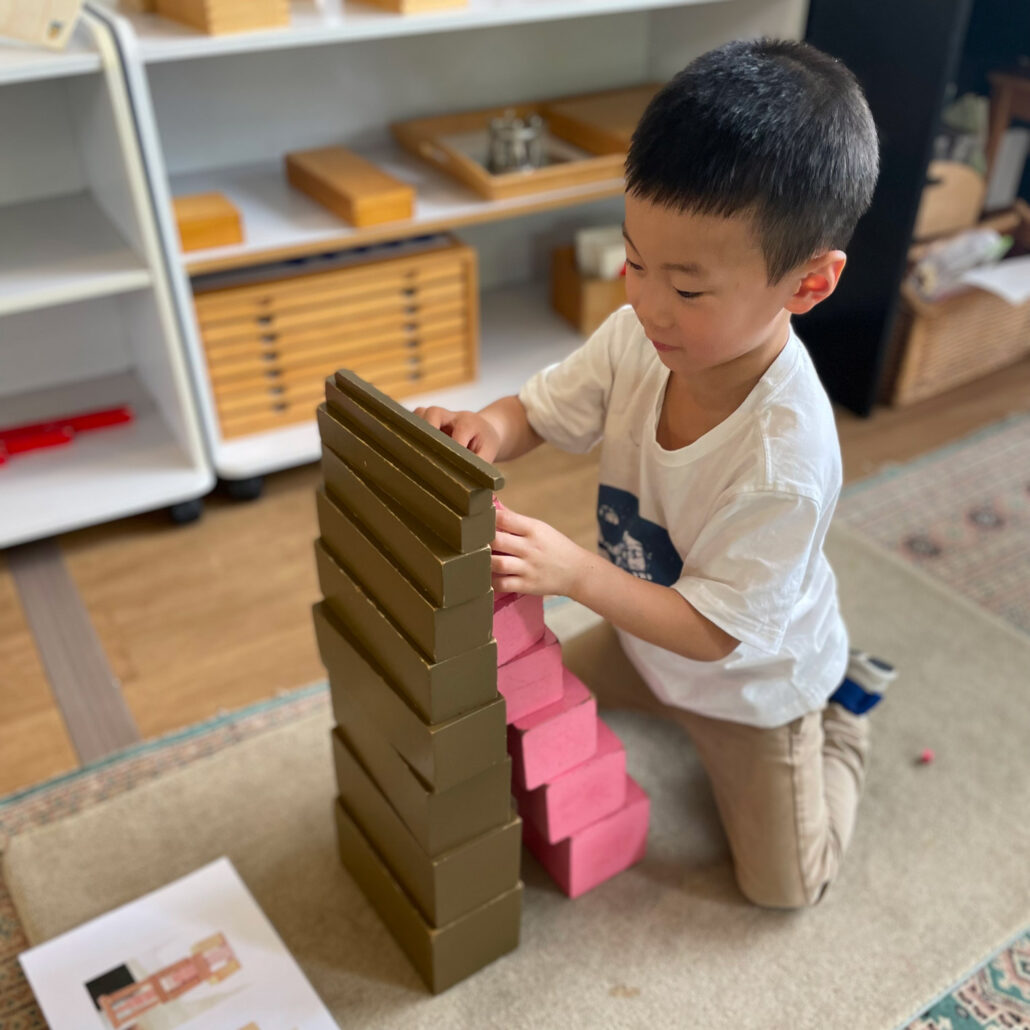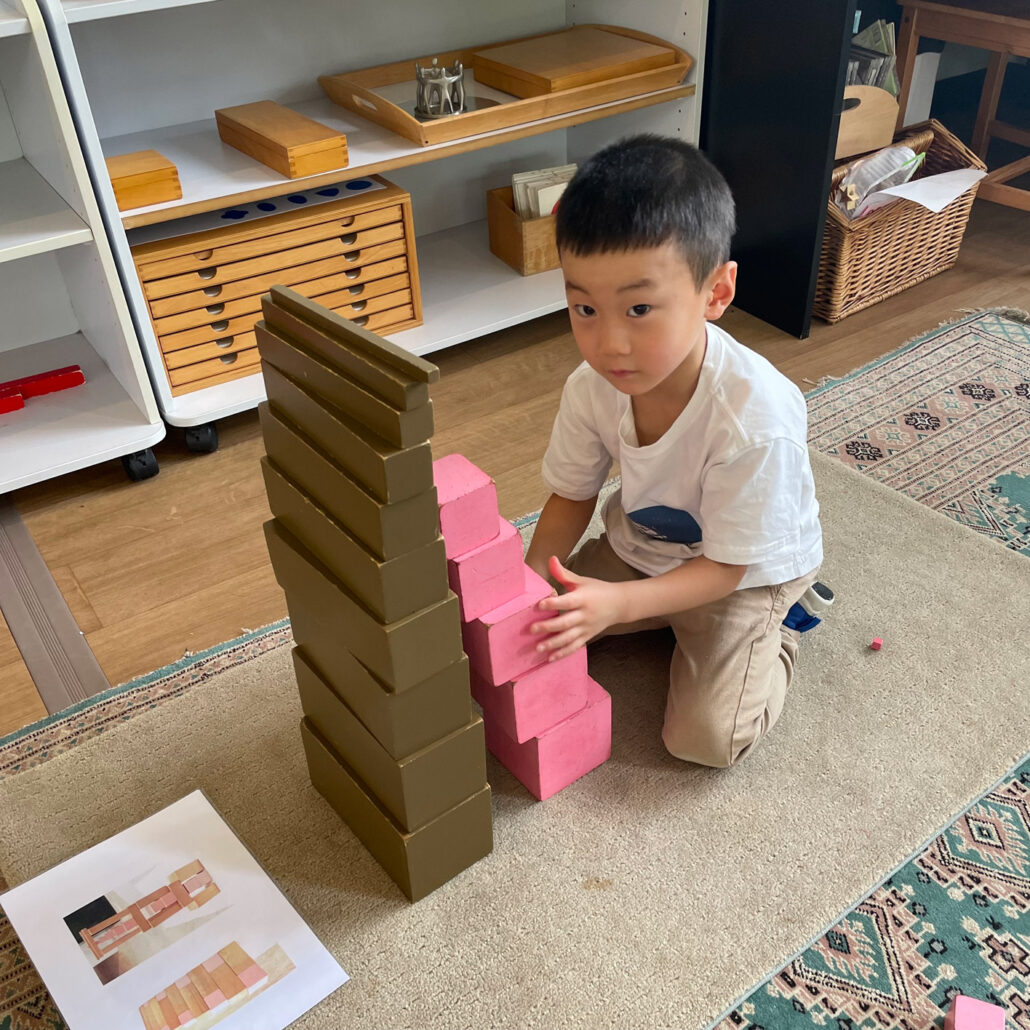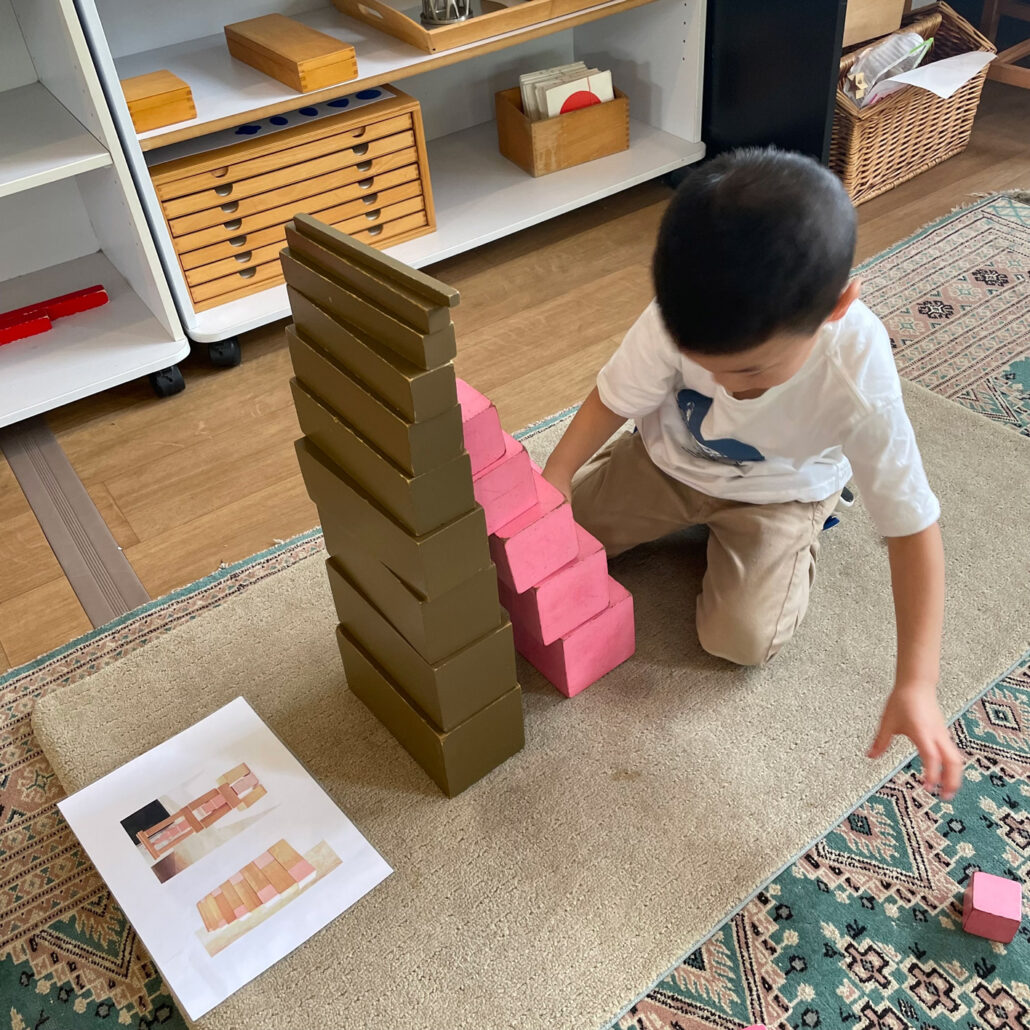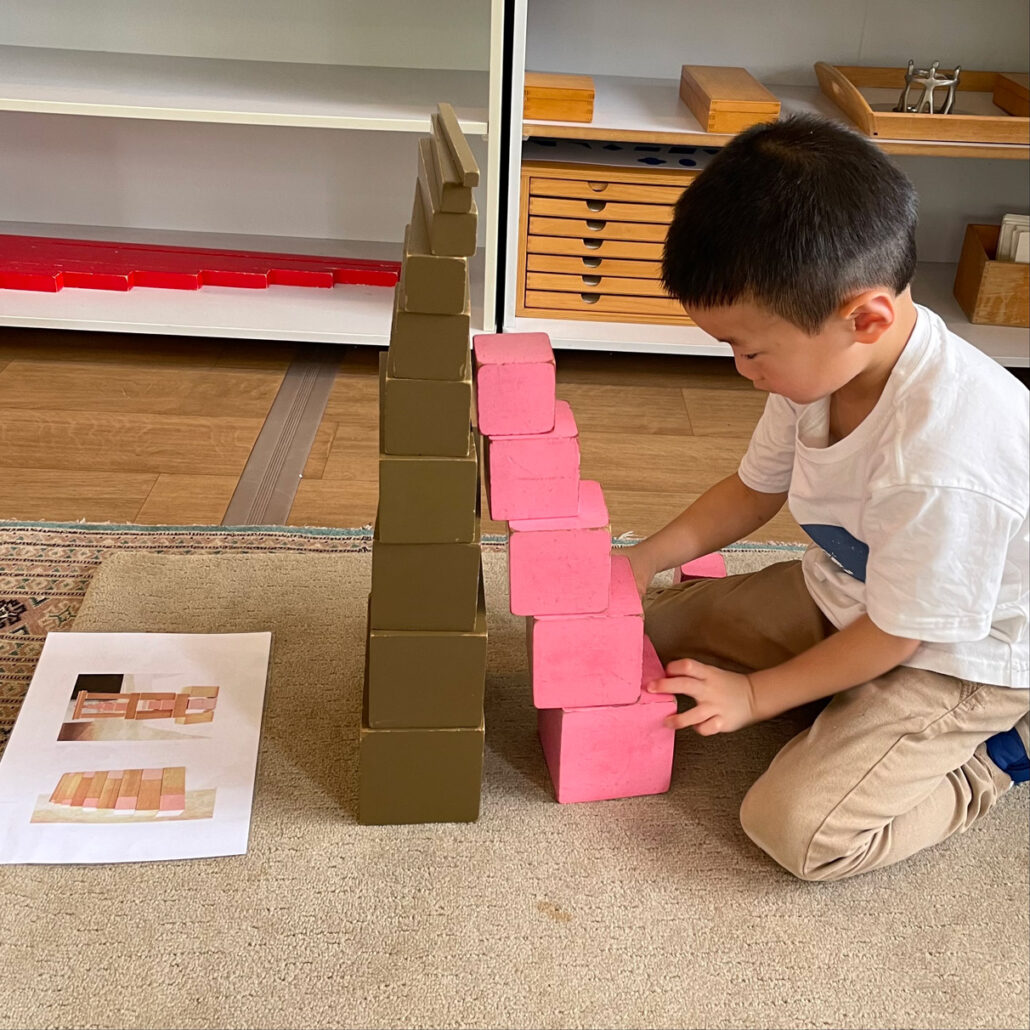 AMAROO | OUTDOOR CLASSROOM
We were lucky enough to welcome Tooza into our school this week along with his beautiful African drums.  The children had the opportunity to play the drums, dance and sing. Tooza's fun and engaging incursion led the children to ask lots of questions about Africa.  Some chose to look at animals of Africa and their habitats.  This has led to lots of map making as children explore the world beyond their own.
Including diversity activities helps teach children to respect and celebrate the differences in all people.  Developing 'cultural awareness' helps to build more meaningful relationships with all those around us, celebrating differences as well as our similarities.
– Dawn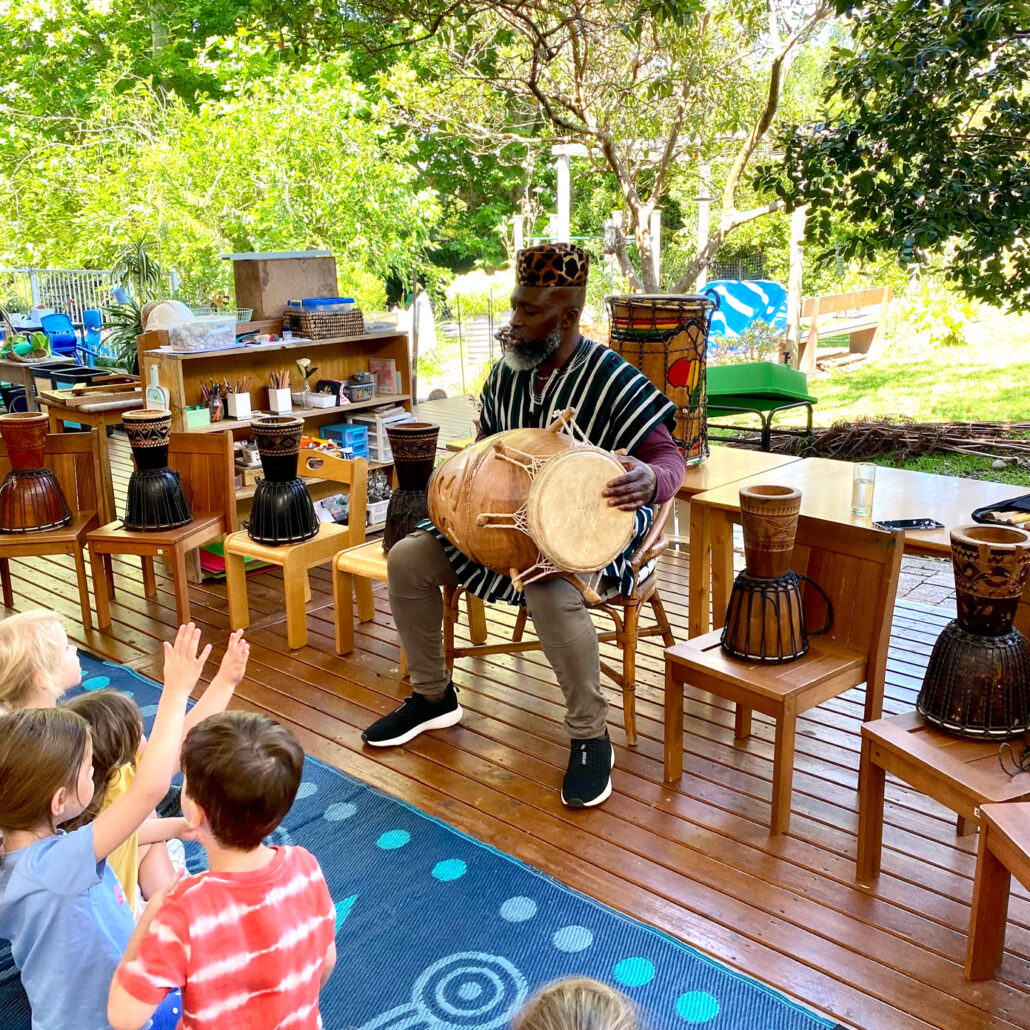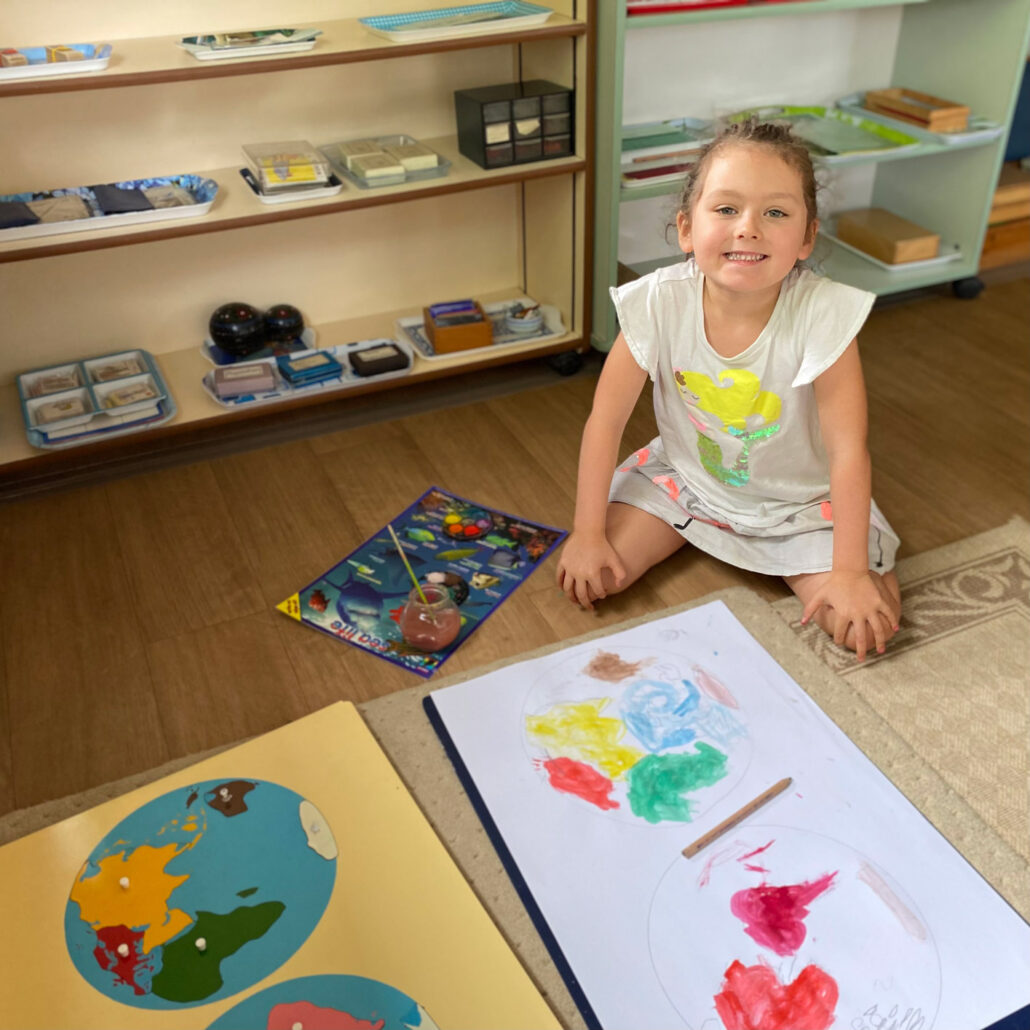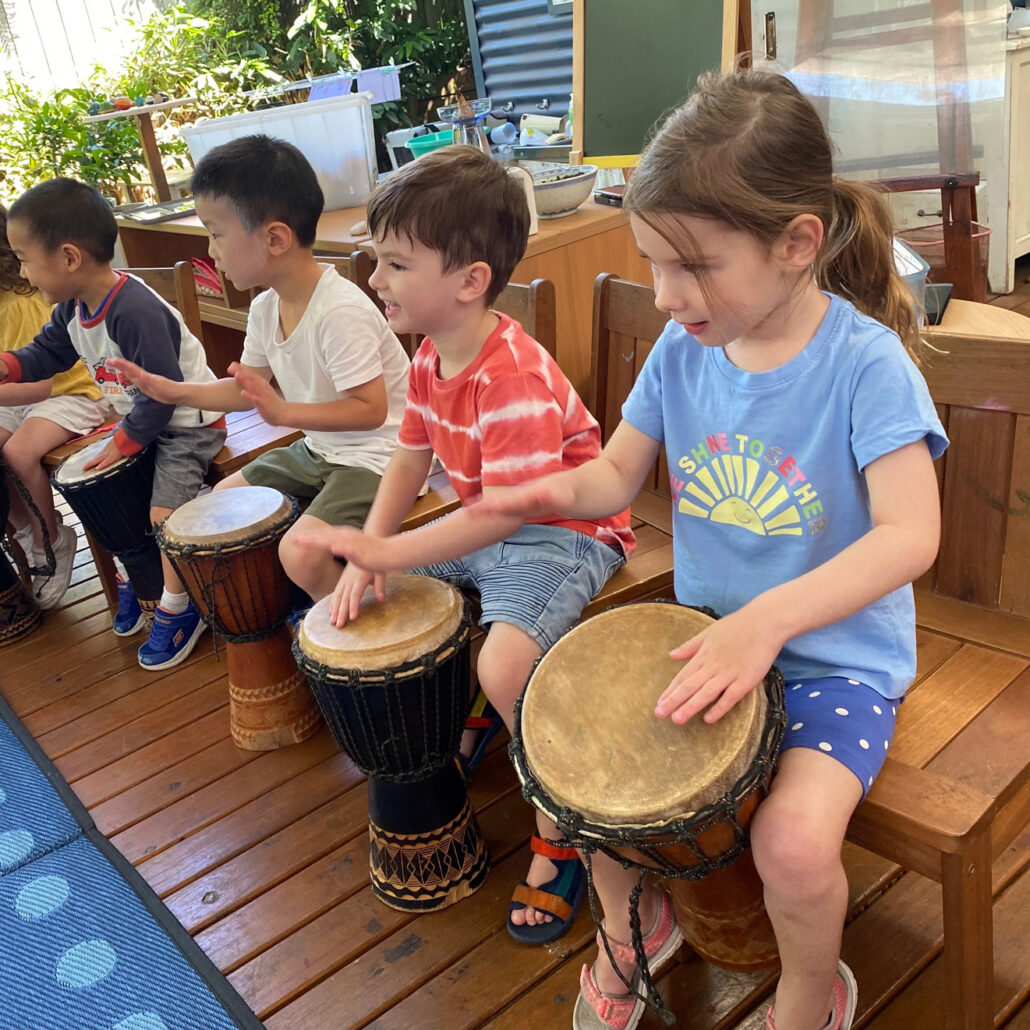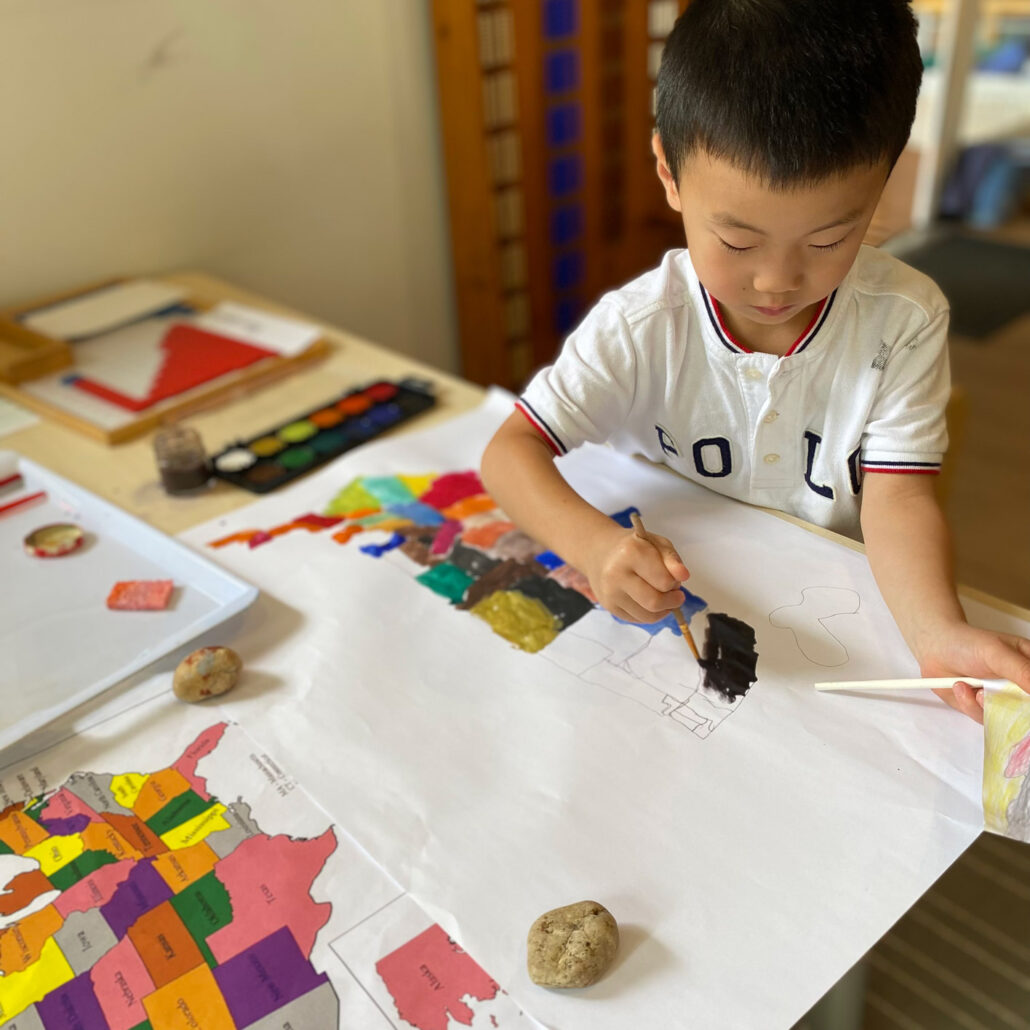 In the classroom we have been looking at different types of maps and thinking about where we live. We spoke about our homes, streets, towns and cities that we live in. There has been a great interest in using the atlas and looking at different countries too. The children are learning about their place in the world and what makes places special.
— Helen & Fiona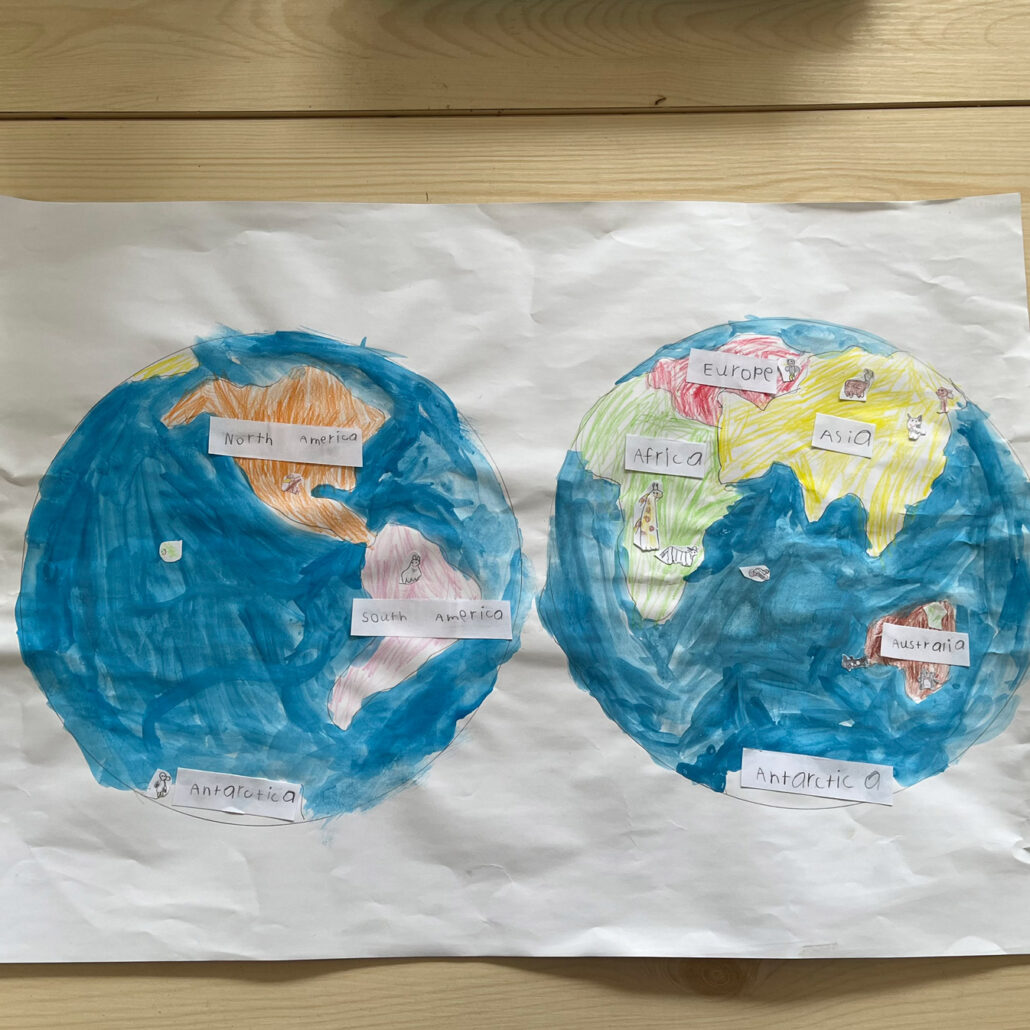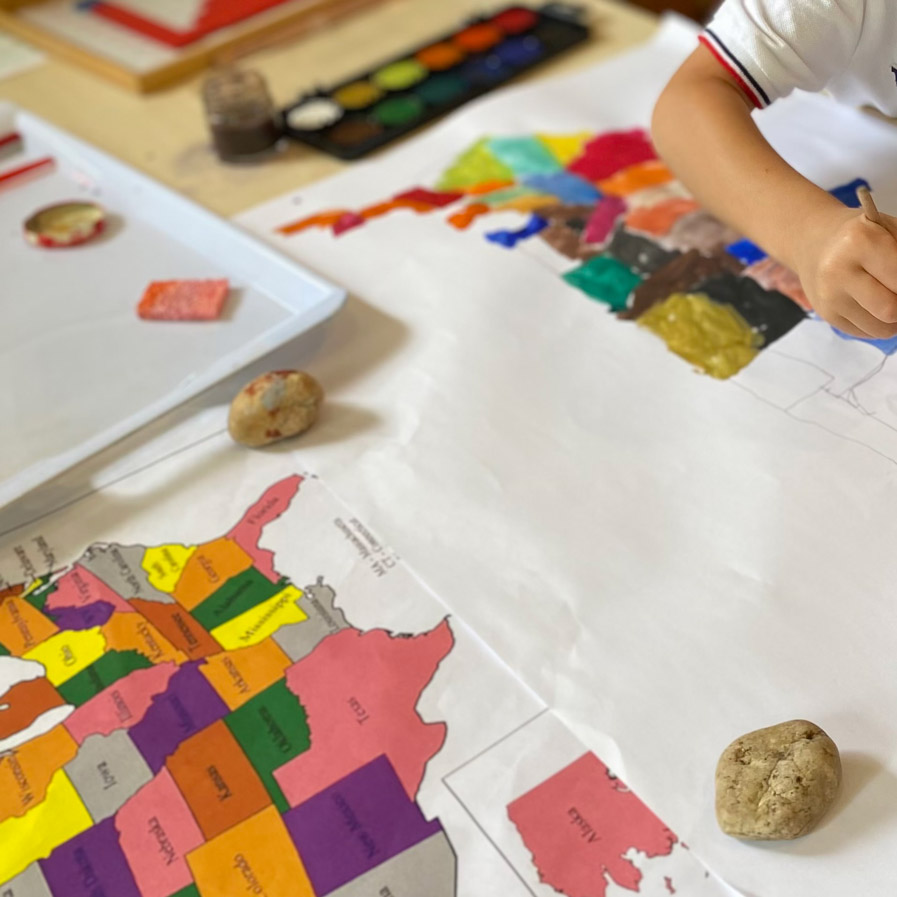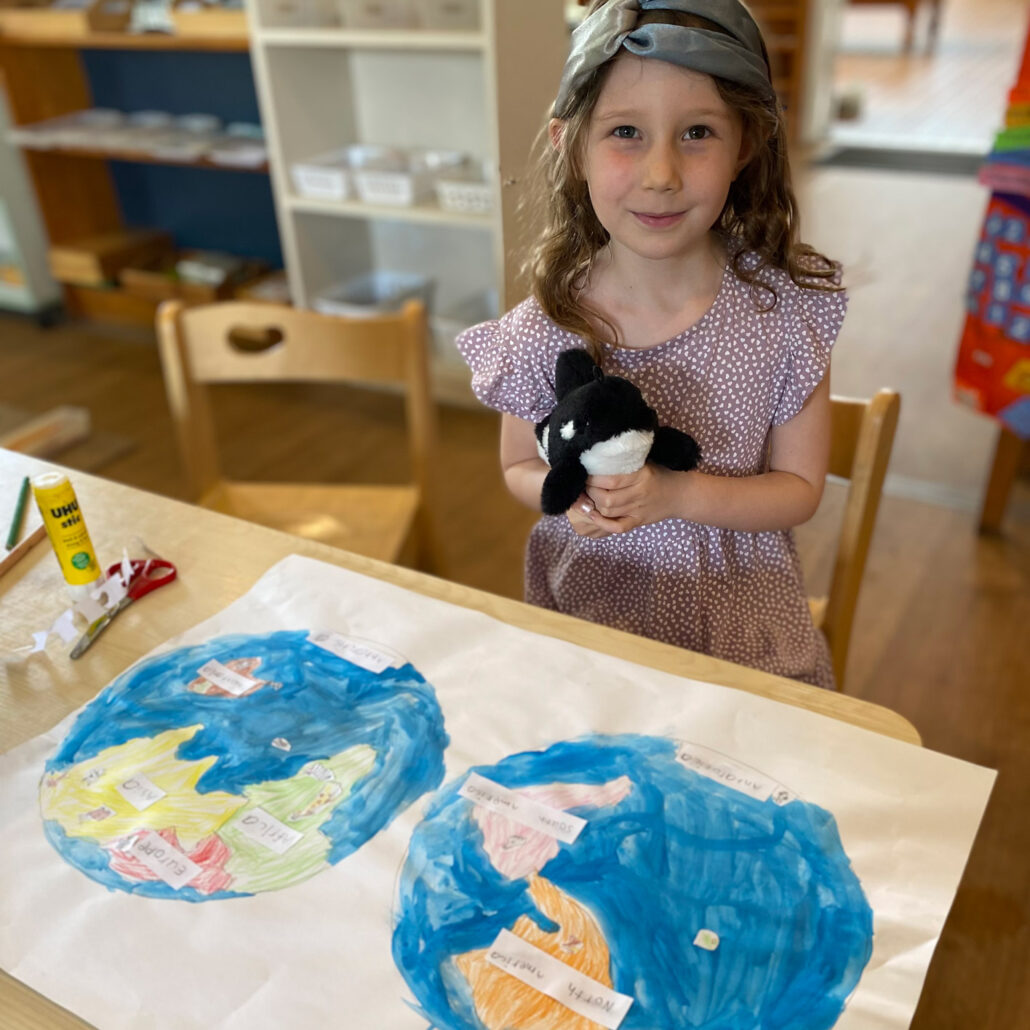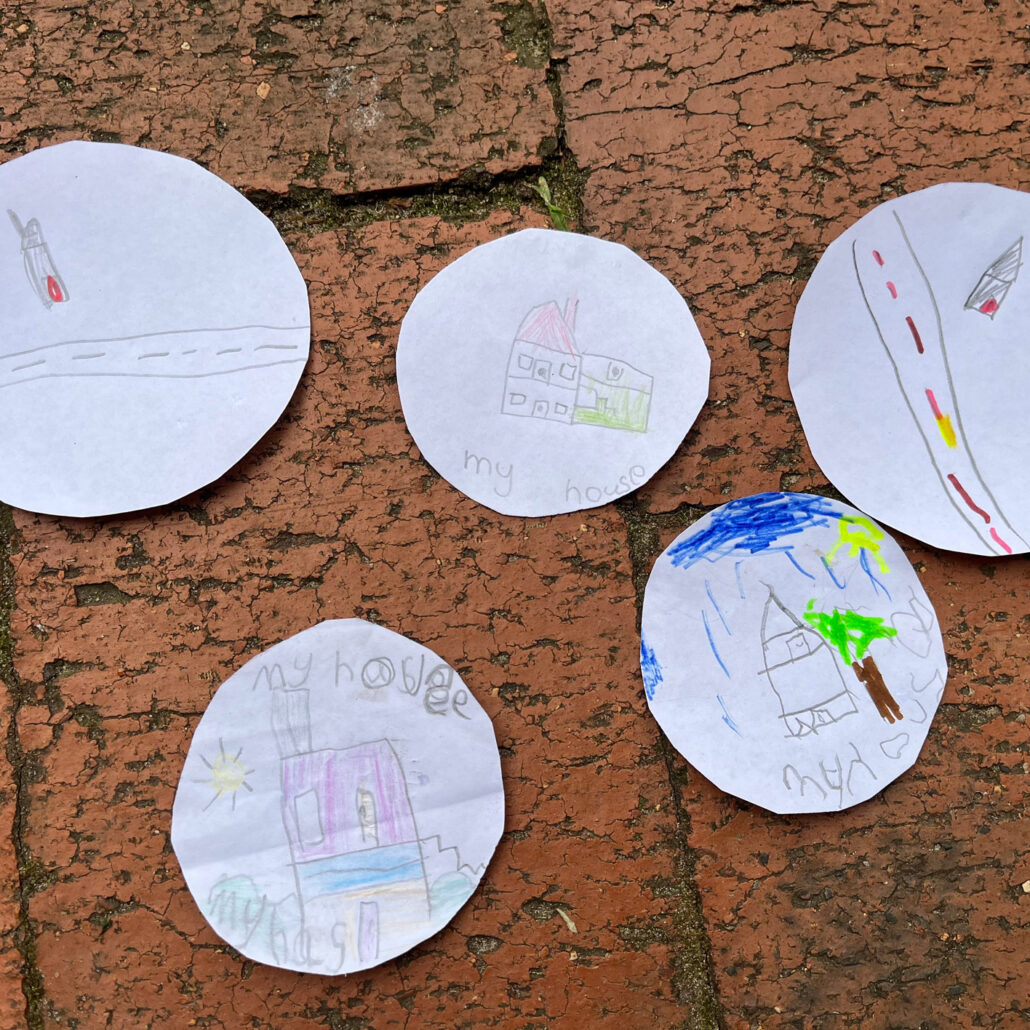 This fortnight in Aikya saw plenty of engagement outside the classroom. Not only have we been enjoying our weekly swimming lessons at the Warringah Aquatic Center, but we have also taken a trip to the city to visit the Museum of Contemporary Art (MCA) and collaborated with the North Head Sanctuary Volunteers to learn about the native flowers currently blooming around our school's bushland.
Our visit to the MCA was terrific and gave the children a lovely experience with their peers outside the classroom. We explored aspects of Contemporary Art, Indigenous Culture and our own sense of belonging through the guidance of the MCA educators. We took a tour of the gallery plus collaborated on our own artwork in the education centre.
Furthermore, with the coming of spring, we took advantage of our local surroundings and went on a guided bush walk with the North Head Sanctuary Volunteers. We discussed the current seasonal state of the sanctuary and what we could expect to see, then embarked on an engaging bush walk to immerse ourselves in our beautiful bushland. The children were blown away by the beautiful flowers and the diverse pollinators. We are genuinely thankful for the passing on of such fantastic knowledge of our surrounding flora and fauna by our guides. We are looking forward to a continued relationship with them.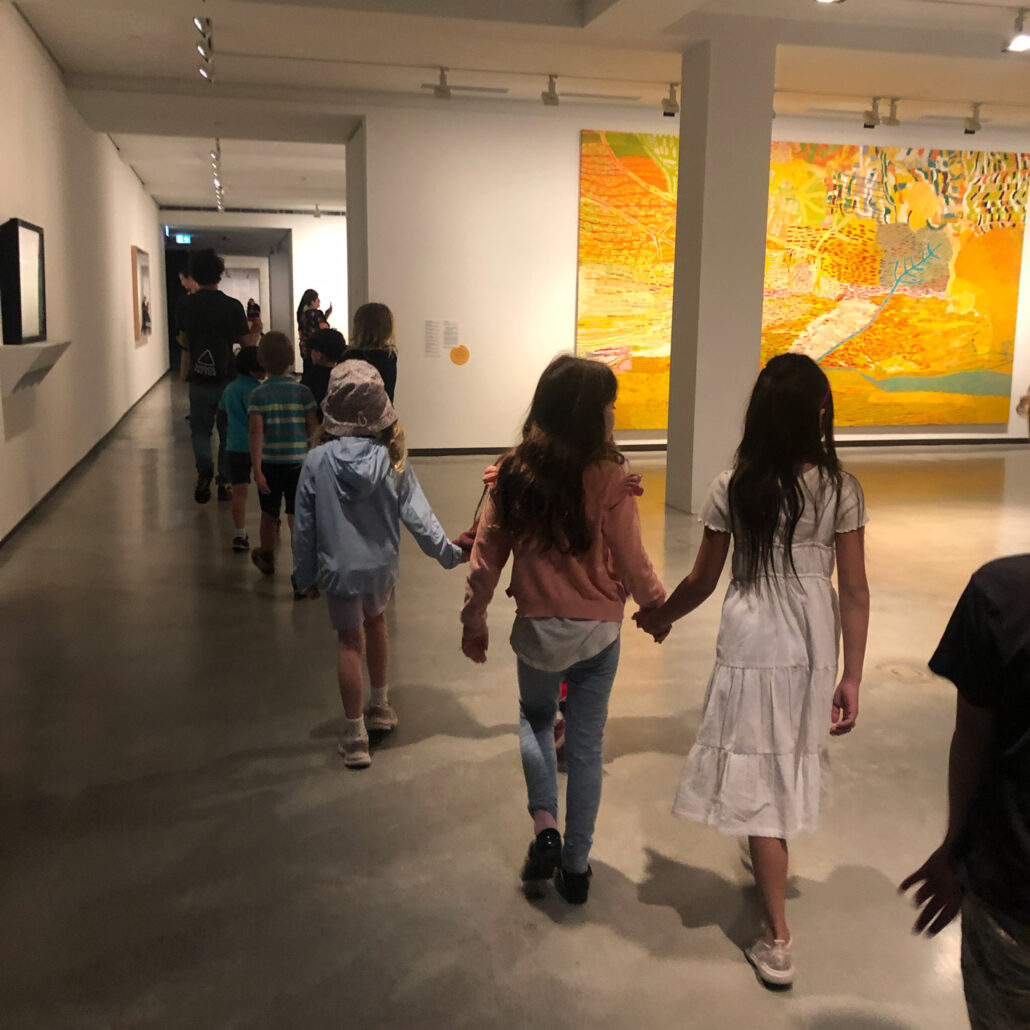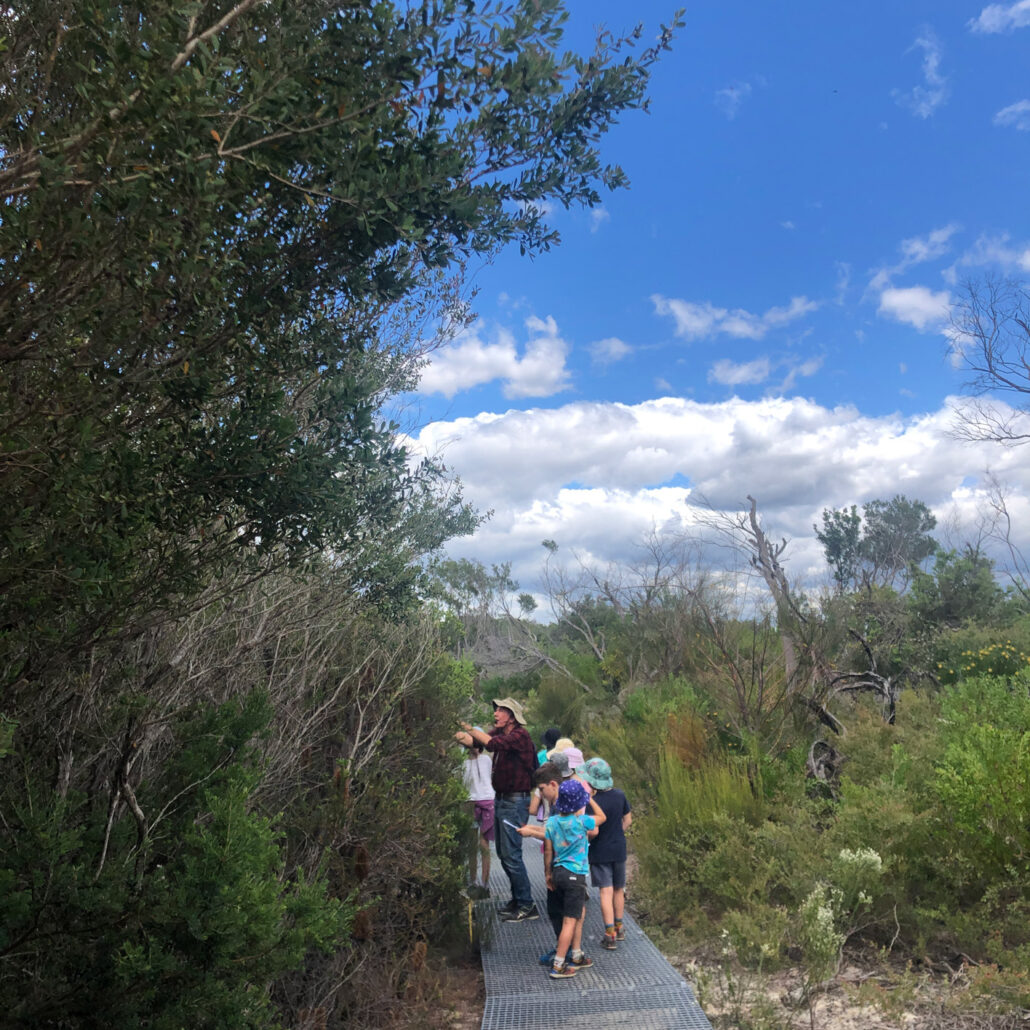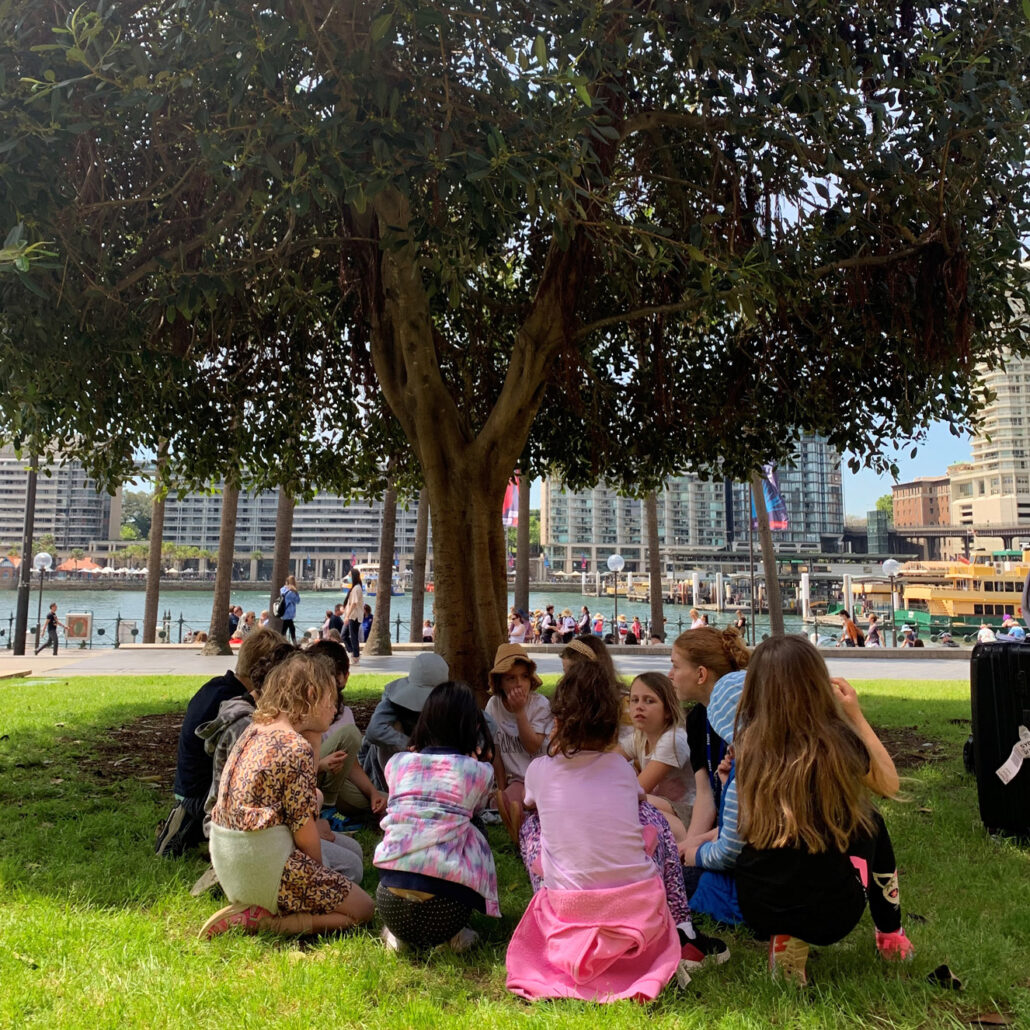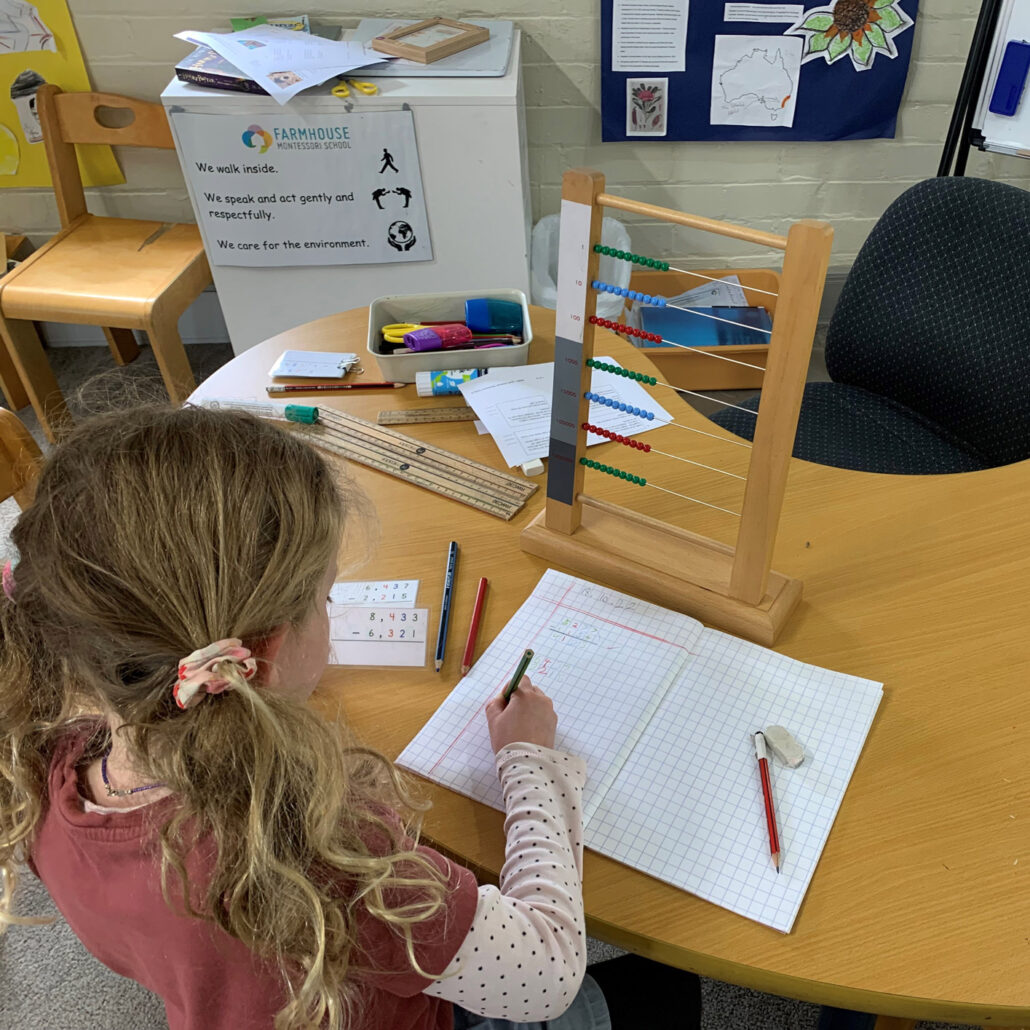 The Yani Classroom has been off to a very productive start for their final term of 2022. Students came back into the classroom refreshed and invigorated with many stories to tell. As a class we set the goal to have a planned project ready to go by the end of Week 1…and we got there! All students have a project they are working on throughout the week, these range from extinct animals to the evolution of sea planes through the ages.
Our older students in the classroom have been hard at work developing their writing techniques. They have been involved in workshops to identify and apply new writing techniques in 'showing not telling'. Some exquisite pieces of writing have evolved from these workshops. We look forward to the published pieces of work. In the same workspace some children are working on a timeline of writing, which follows the story of writing from the beginning up until today, a big task that we are also keen to see finished.
The Yani Team have had a very enjoyable first few weeks back at school with the students and look forward to the weeks ahead.
— Thomas, Nick, Amy & Ella Lee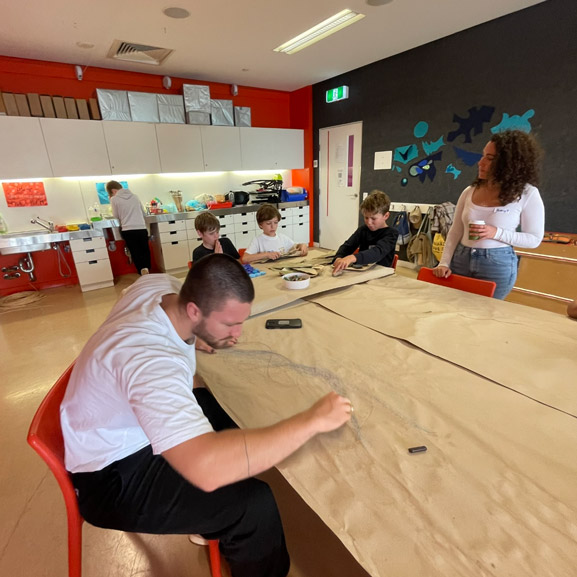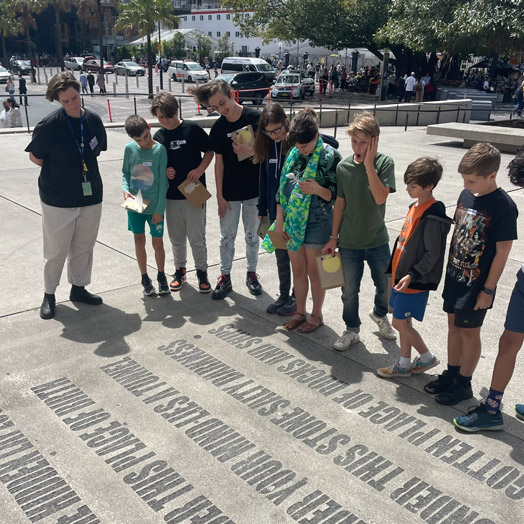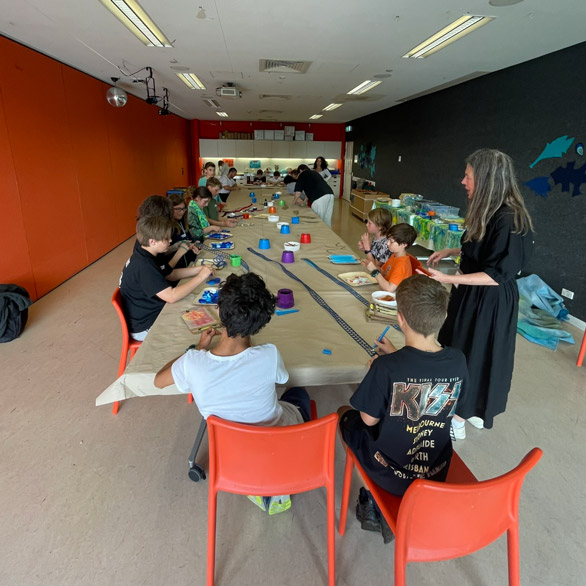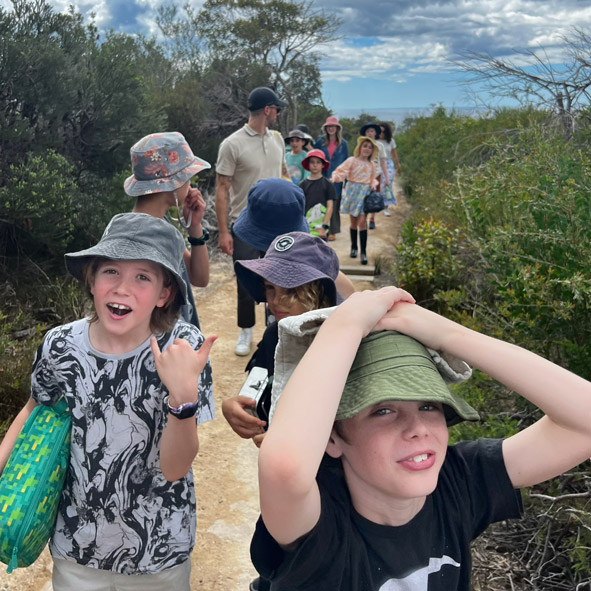 PRE-SCHOOL CAMPUS
In music, we've been learning about the parts of a drum kit and the different types of sticks and brushes we can use to make different sounds. Last week the kids turned into a human drum kit and we made some different beats using our flash cards. Boom, Cha, Tsss!
NORTH HEAD CLASSROOM MUSIC/MONTESSORI MIXED ENSEMBLE
James is back this week (was unwell last week) and is looking forward to seeing all the kids again!
— Angie, Ben & Deb
The Evergreen Music Team