2022 Newsletter Term 01 | Issue 04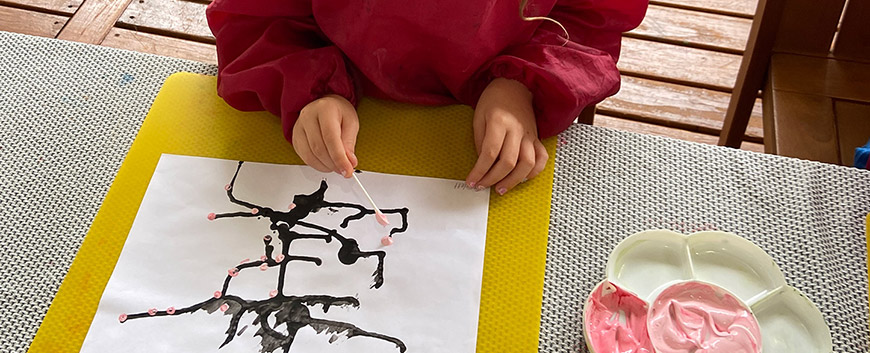 Upcoming events & Important Dates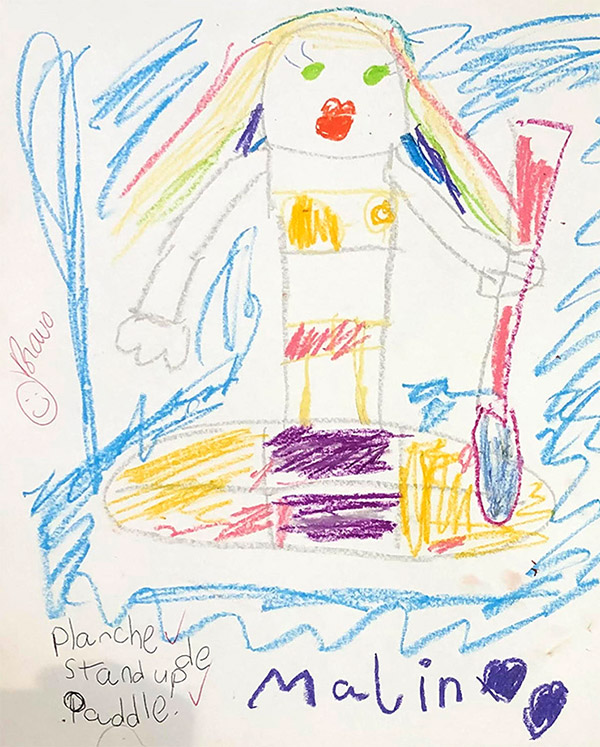 MARCH
Mon 21st – Fri 25th – Harmony Week
Fri 25th – Ride 2 School Day
Fri 25th – Fees Due
APRIL
Fri 8th – Last day of Term
Fri 15th – Good Friday
Mon 18th – Easter Monday
Mon 25th – Anzac Day – Public Holiday
Tues 26th – All Students Return
Tues 26th – New Starter Orientation – 3.45-4.30pm Elouera
Fri 29th – Staff Development Day
Click
HERE
to see further calendar dates.
Principals Message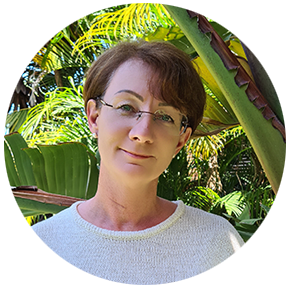 Dear Farmhouse Montessori Families,
I am pleased to welcome you to a new edition of our school newsletter and trust that you are well.
After all the heavy rainfall which caused flooding in so many areas in NSW and elsewhere, it appears that the weather has somewhat settled. Children and educators alike were enjoying more outdoor time and the wonderful sunshine that we have been having in the last days. We were very appreciative of that.
Help for The Little School
I would like to thank all those families who have so kindly donated money in support of our call to assist The Little School in Lismore this week. All monies raised will be transferred to a nominated account for the school and will support a rebuild and new school environment for the community.
Ride 2 School skill session
(ahead of National Ride 2 School Day on 25th March – weather permitting)
What a great turn out we had on Friday 11th for this fabulous event and with plenty of sunshine – it was such good fun and lovely community spirit. Organisers counted 54 children's participants, multiplied by parents, grandparents, friends, with probably around 150 people attending – we also had preschool families join in. A big thank you to the many Farmhouse parents who planned and executed this event and helped with cakes, bike checks, skill practice and overall organisation. I would have loved to add more photos to the newsletter, but we had too few photo permissions and most picks were of course group photos.
Here are some of the comments from participating families:
Wow 🙌🌈🎊💖 what a special afternoon!!
👏 Great event. Thank you 💛
Huge congratulations to everyone involved in orchestrating this wonderful event . We thoroughly enjoyed every aspect and I know just how many hours and logistics go into pulling these occasions together. We felt very proud and grateful to be part of such an amazing school community. 🙏💜💜 🚴
Congrats on a brilliant event and amazing fundraising as well. Brilliant work! Thank you xx
Thanks for the amazing bike skills afternoon! What a great effort done by the people involved! Thanks for making it happened for everyone, it was great to get together 🙏💫🚴‍♂️
Bienvenue, Delphine – News from our French Teacher
We now also have a French lesson component in our newsletter – thank you Delphine. Please read on to find out about what our students learn during their weekly French sessions.
Harmony Week – this week
We look forward to welcoming families to classrooms to see some of the work the students have prepared in the spirit of Harmony Week and for some tea and coffee. We will share news and picks in our next edition.
Have a wonderful weekend.
Sabine Adigun  |   Principal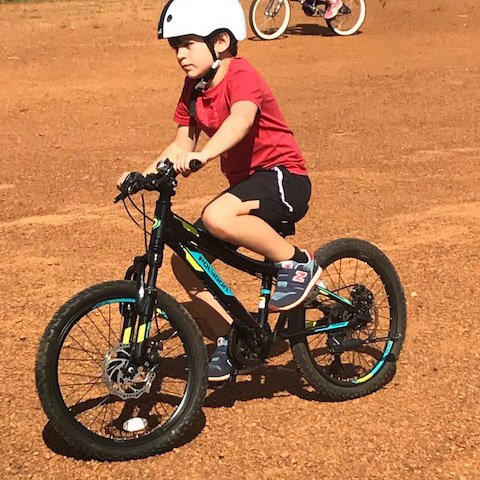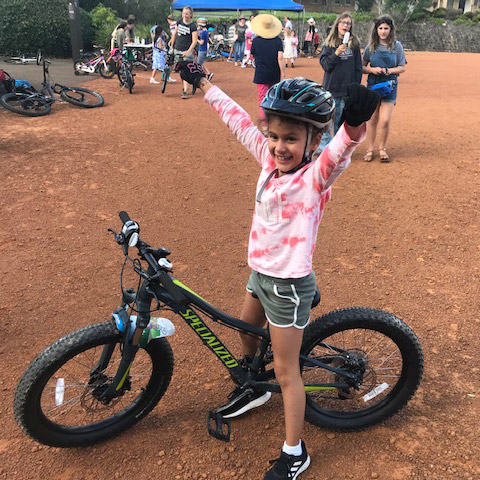 ELOUERA | Stage 1 Infant Community
Maria Montessori said, "Free choice is one of the highest mental processes." Freedom of choice is an essential part of the Montessori Classroom, it allows children to discover and develop their own interests, needs, and abilities. In the Elouera classroom, the children have the freedom to decide where they want to work (inside or outside, at the table or on the floor), what they want to work with, and even who they want to work with. Maria Montessori knew that even the smallest child was capable of making these choices. The children are set up for success in making these choices, by providing 'freedom within limits' in the classroom. The children's choices are limited by the prepared environment, the classroom and the educators are set-up to meet the child's needs and to support their interests. Finally, once our children make a choice, we need to respect and trust that choice.
— Corinne, Sarah & Nina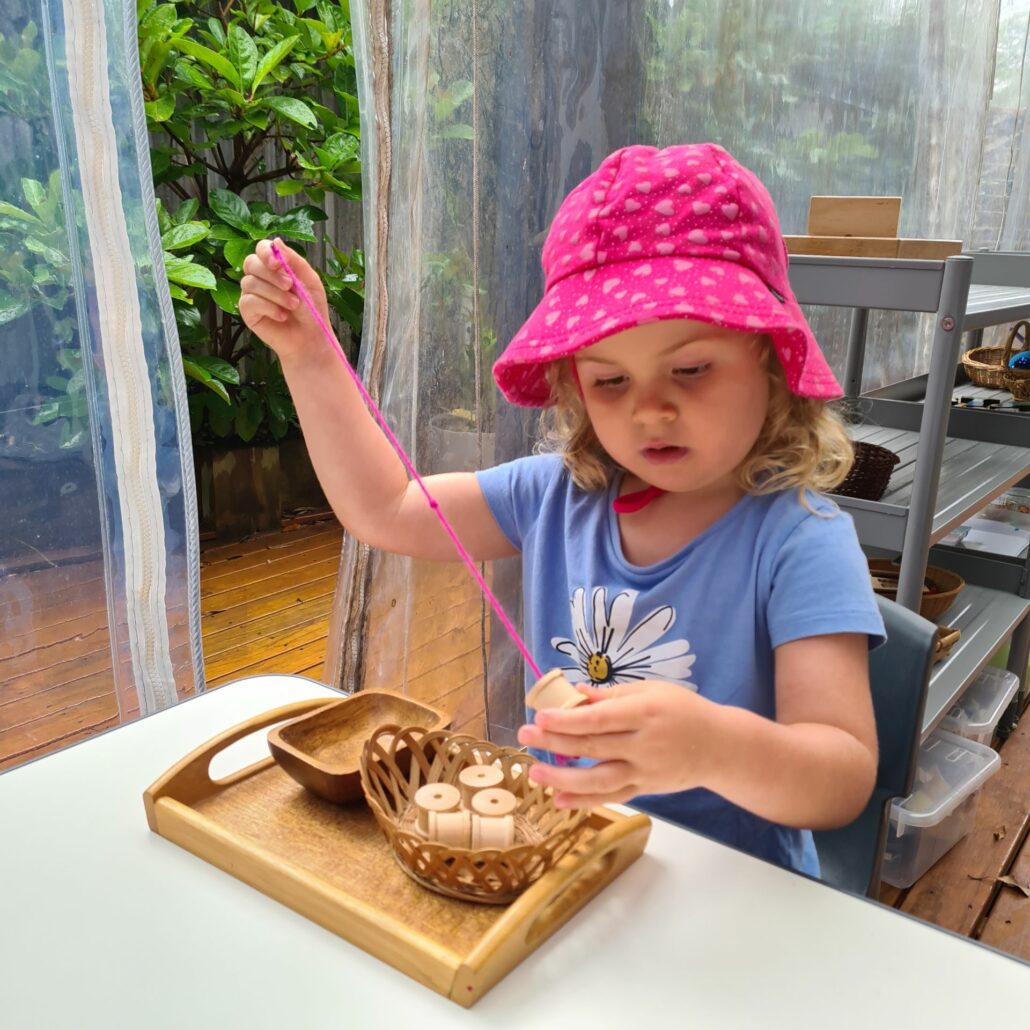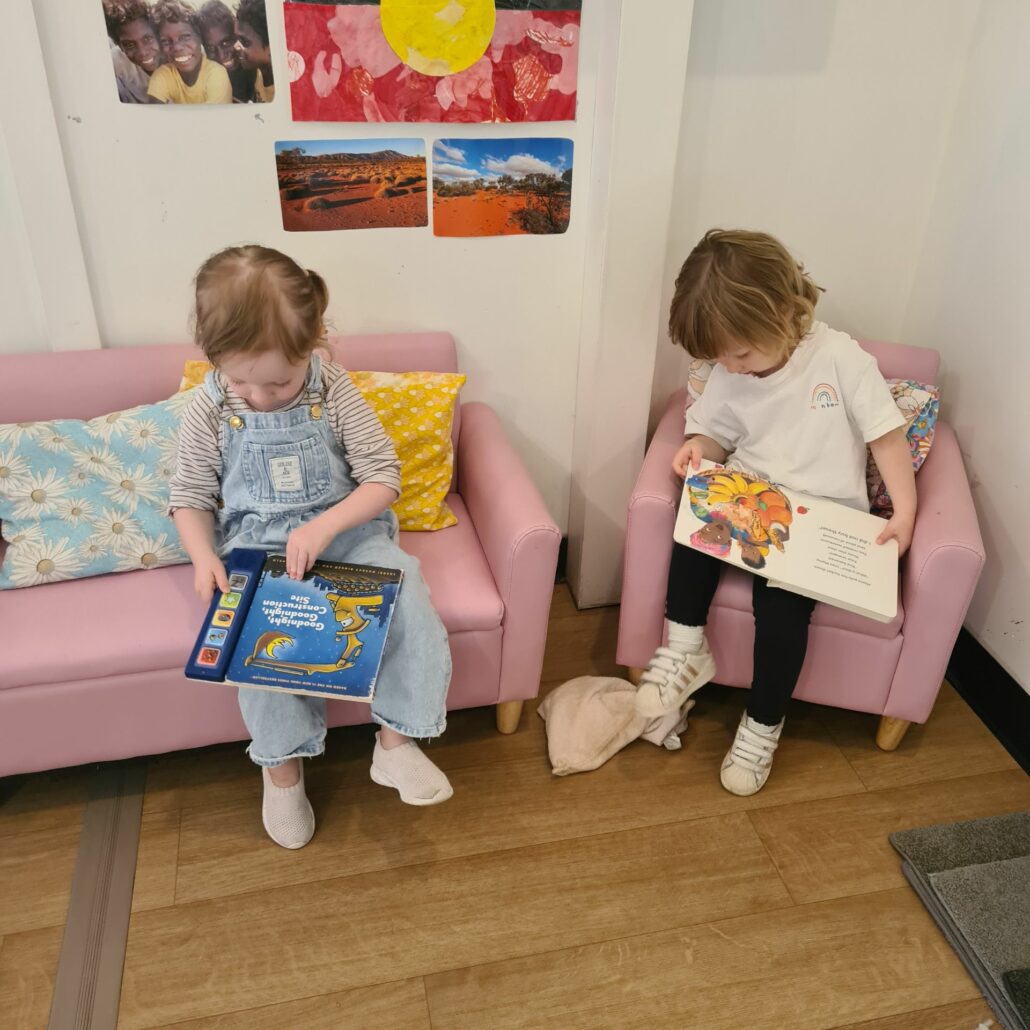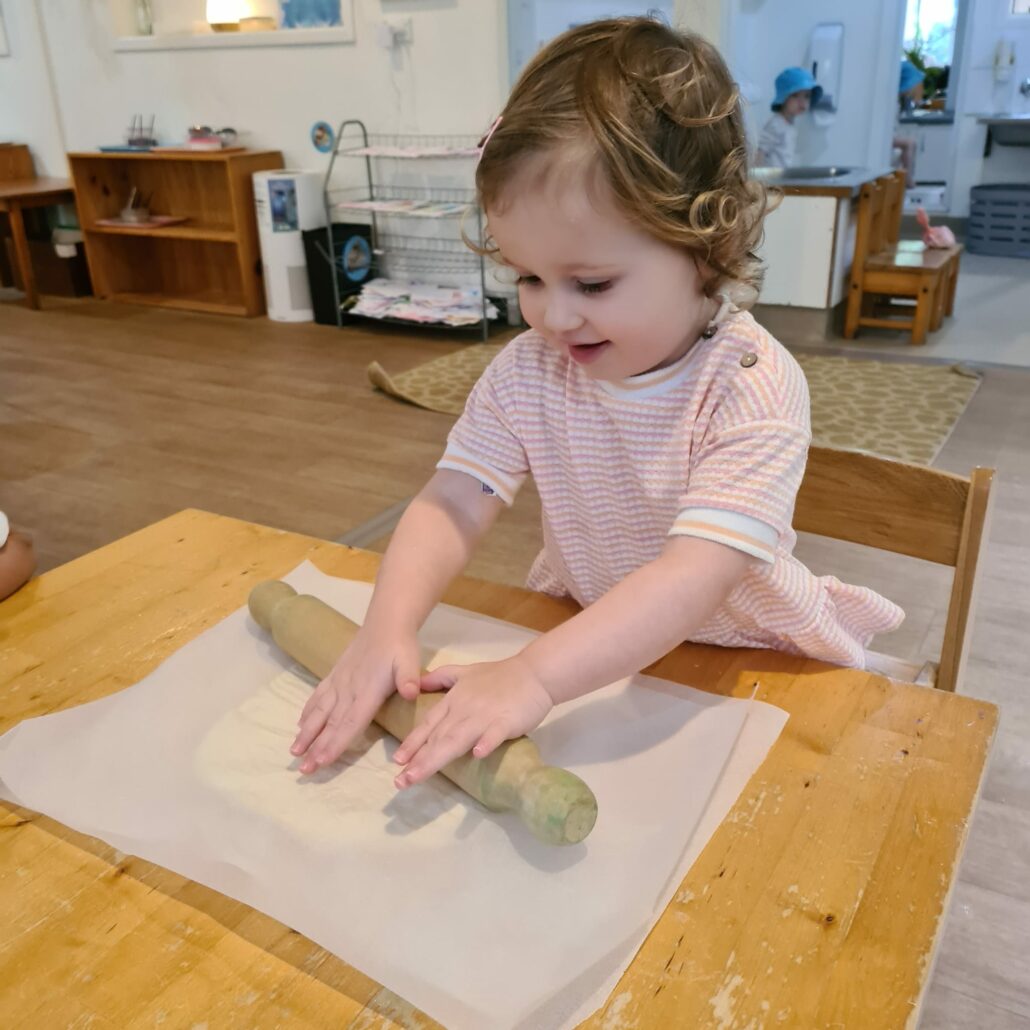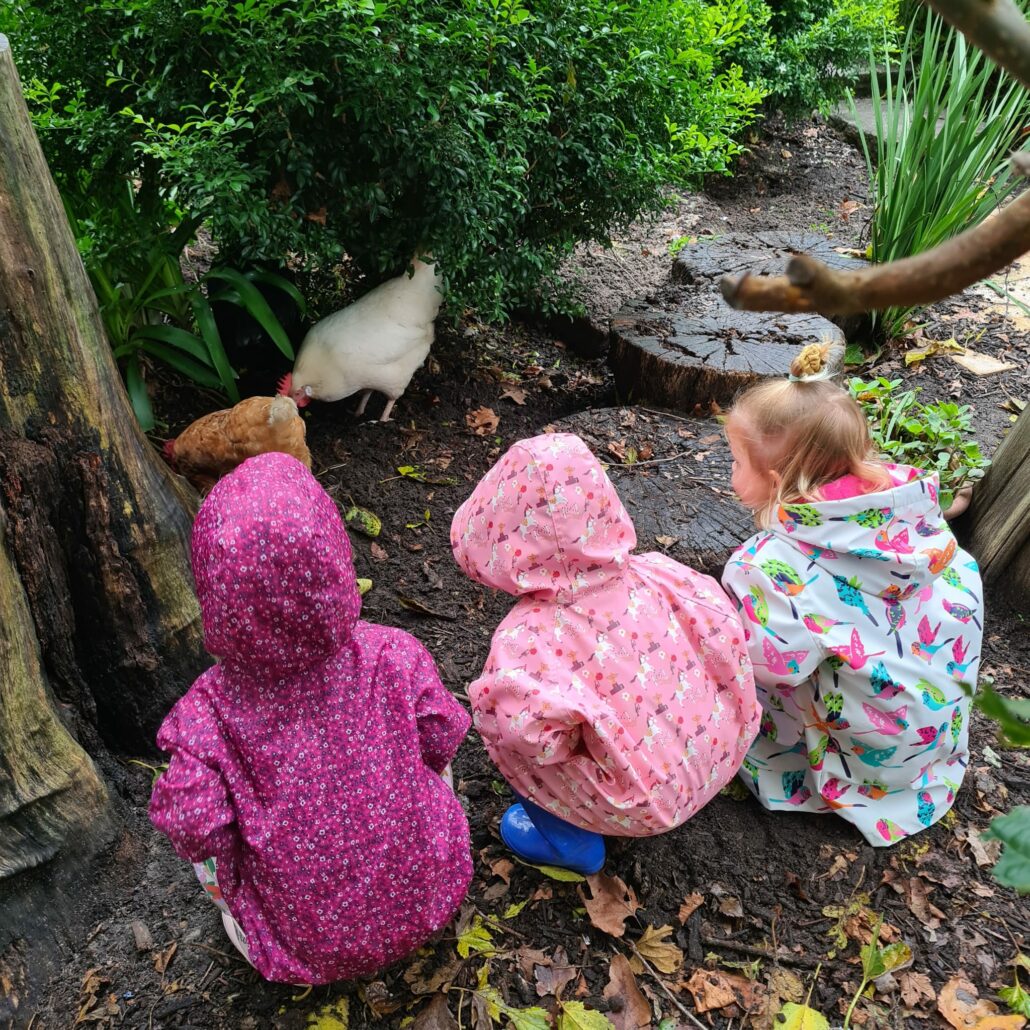 Movement is an integral part of the Montessori method. Children move freely through the prepared environment, choosing a shelf by which to select an activity and a table by which to work. Movement is also deeply tied to social opportunities. While walking through the classroom, spontaneous encounters occur. Along with freedom to move about the classroom, we have incorporated yoga cards for the children to choose as an mindfulness activity. There is a focus in our daily routines to check in with our bodies through relaxation, sometimes it is listening to a story in the classroom or other days we have spent time listening to the sounds around our playground. In the Burbangana classroom we love playing games outside like Duck, Duck, Goose and Stuck in the Mud and our weekly cricket lessons providing us the opportunity to develop our gross motor skills, hand-eye coordination and working as a team.
— Amanda, Teresa and Claire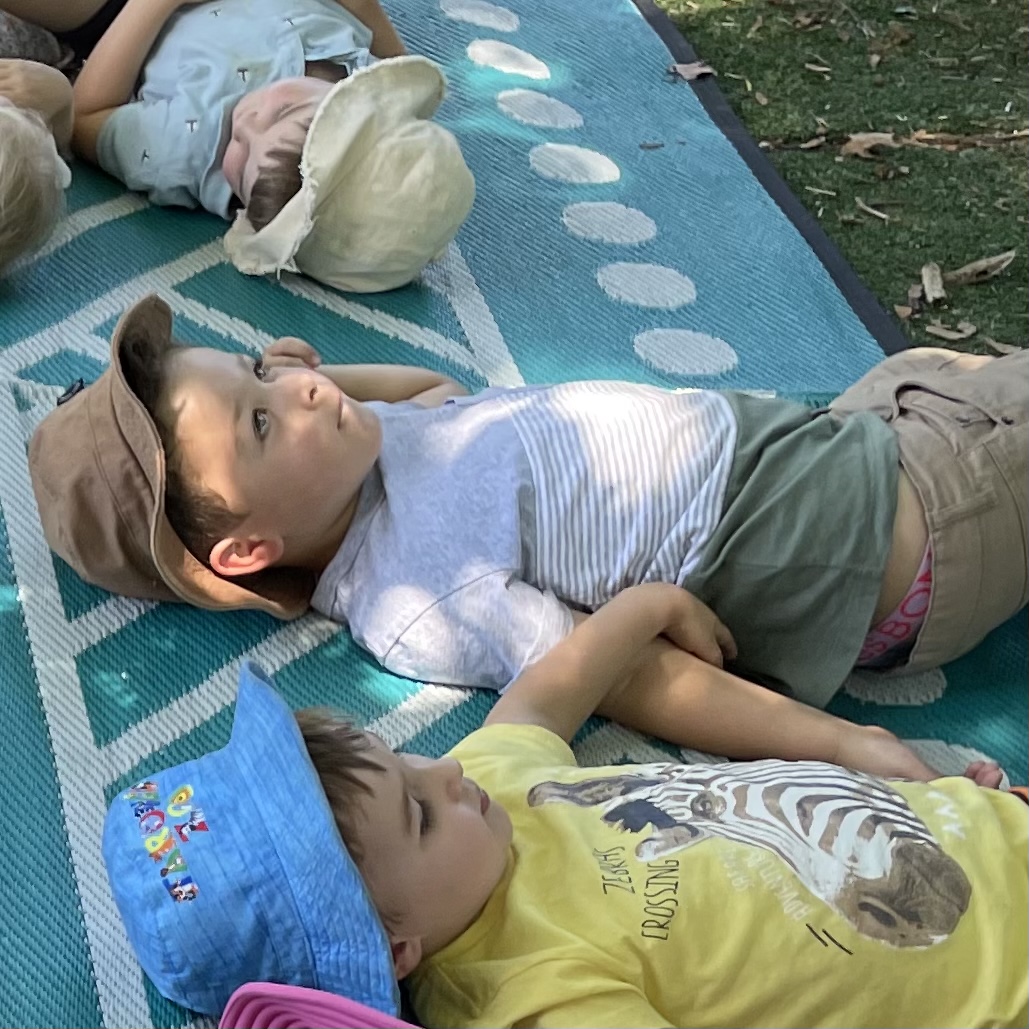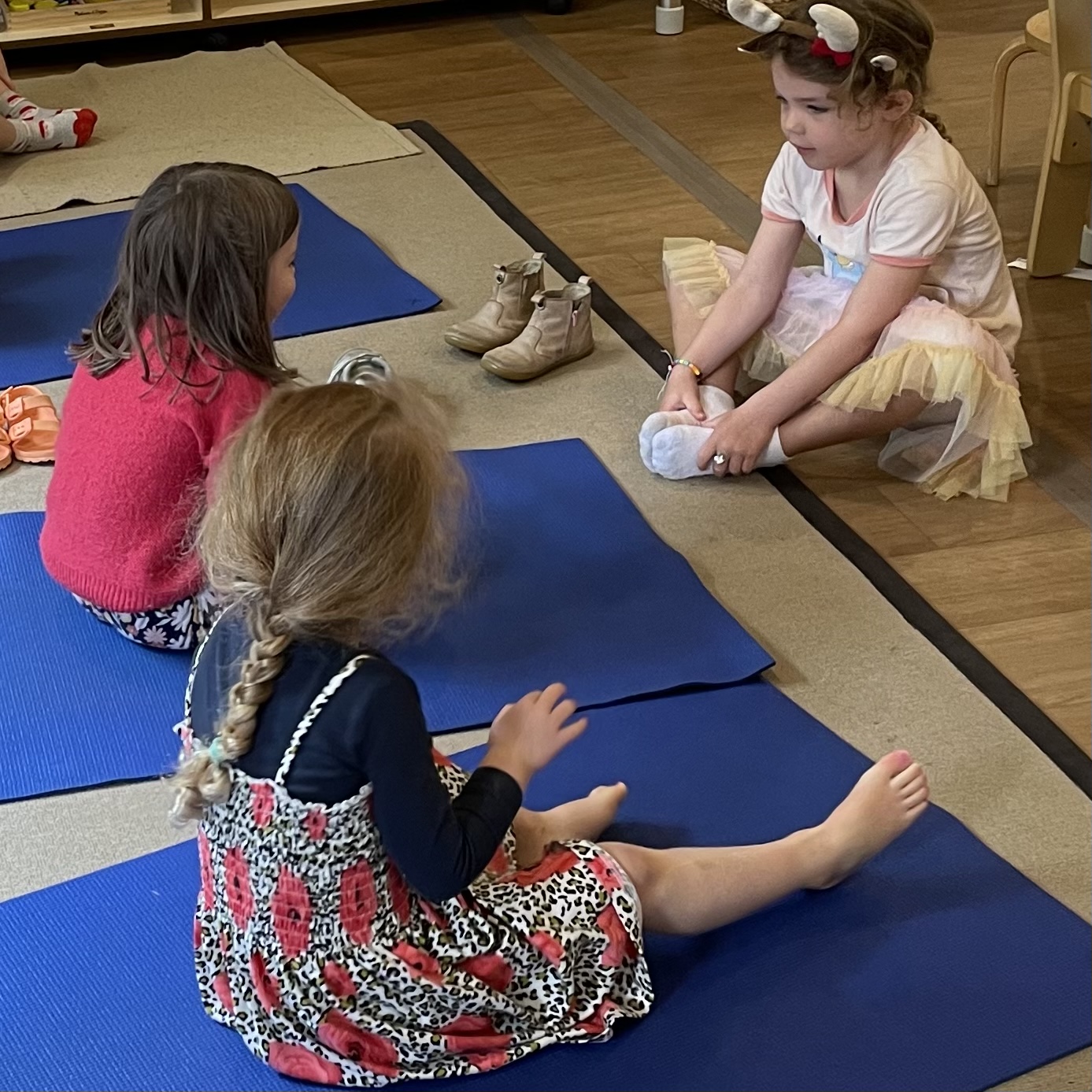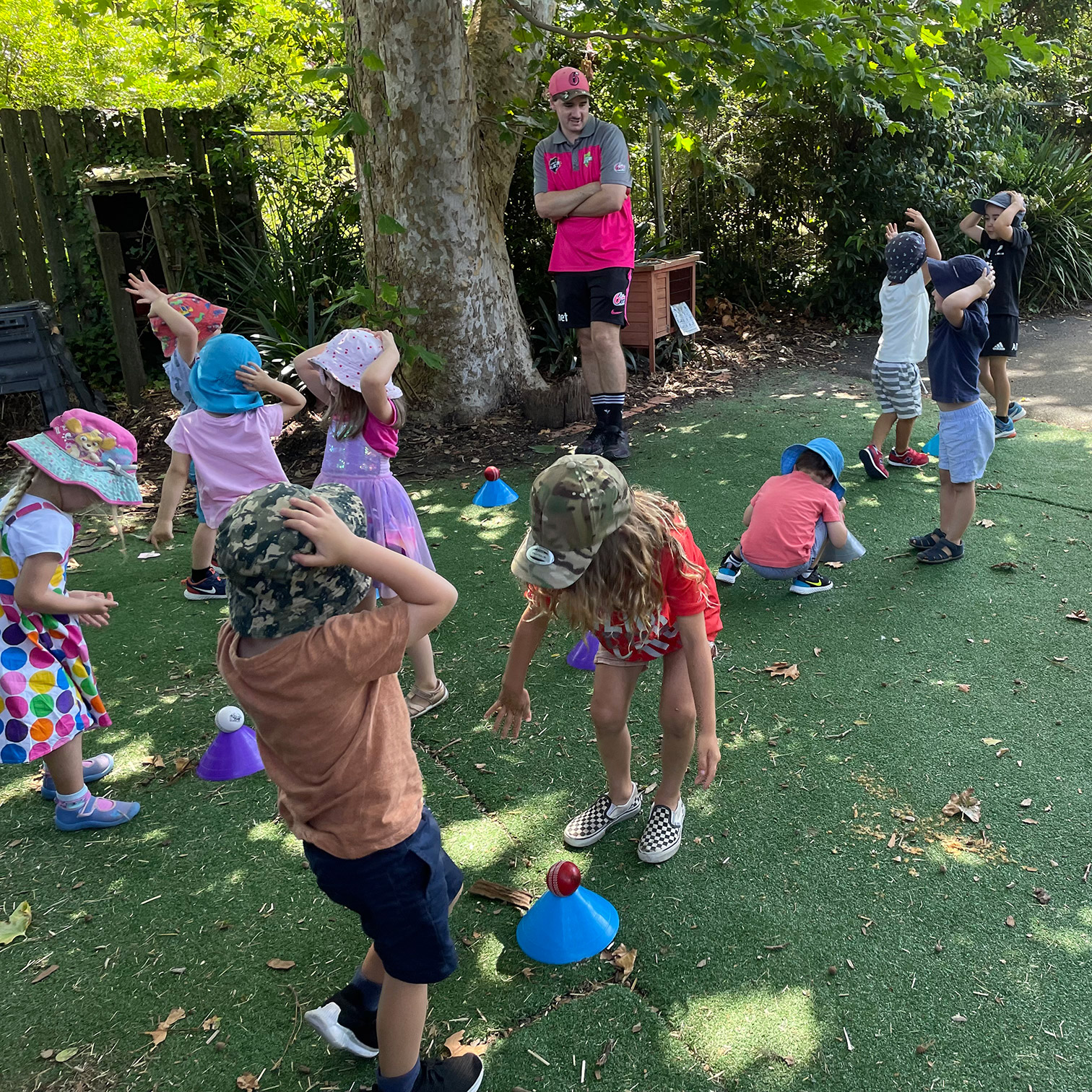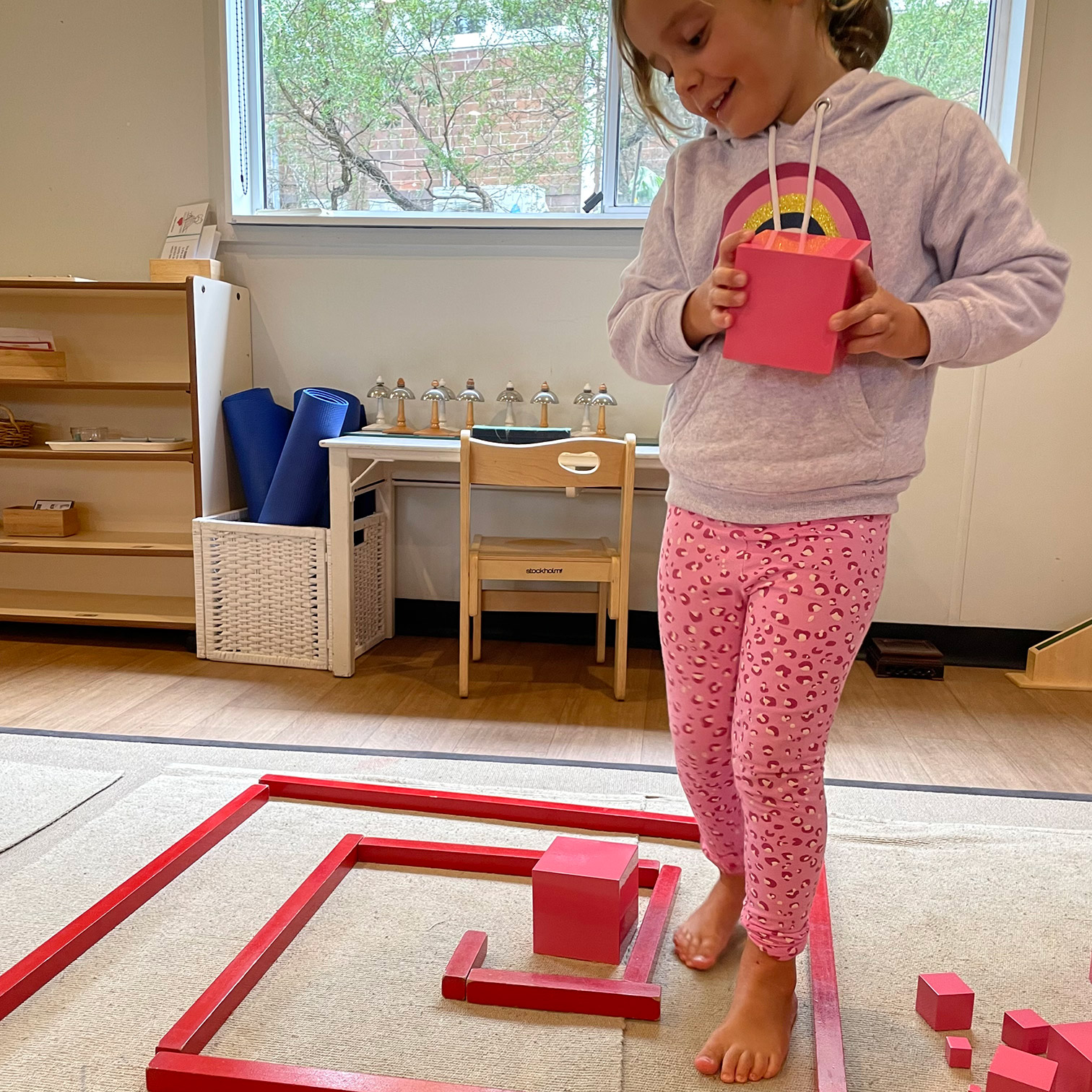 This week in the Cooinda classroom the children practiced meditation and breathing techniques. It was wonderful to see them getting themselves ready to relax by lying on the mat or closing their eyes. They enjoyed the guided meditation and afterwards they said they felt much calmer and relaxed.
Meditation helps children to improve their listening, problem-solving skills, deep breathing techniques, visualisation and encourages children to use positive affirmations.
It promotes confidence and self-esteem. Positive self-talk gives us the power to believe and appreciate ourselves. Through meditation, children learn to quiet their mind and follow our voice through the guided journey. Children then learn to be comfortable in stillness and quietness, learning to focus on the now. This exercise helps them to improve their attention and focus. These are skills that will be transferred to other areas of their development and are proven to be profoundly useful later in their life.
– Jenny, Catalina, Jo & Angela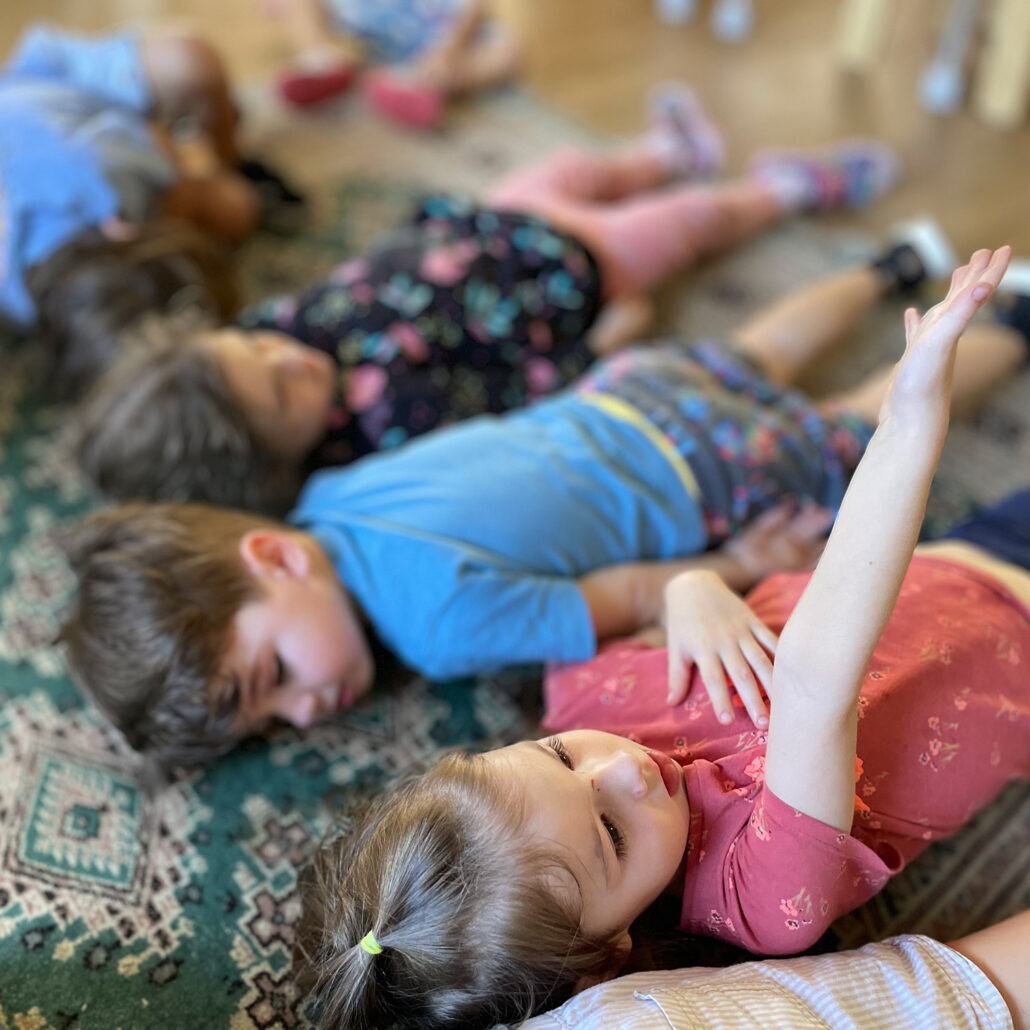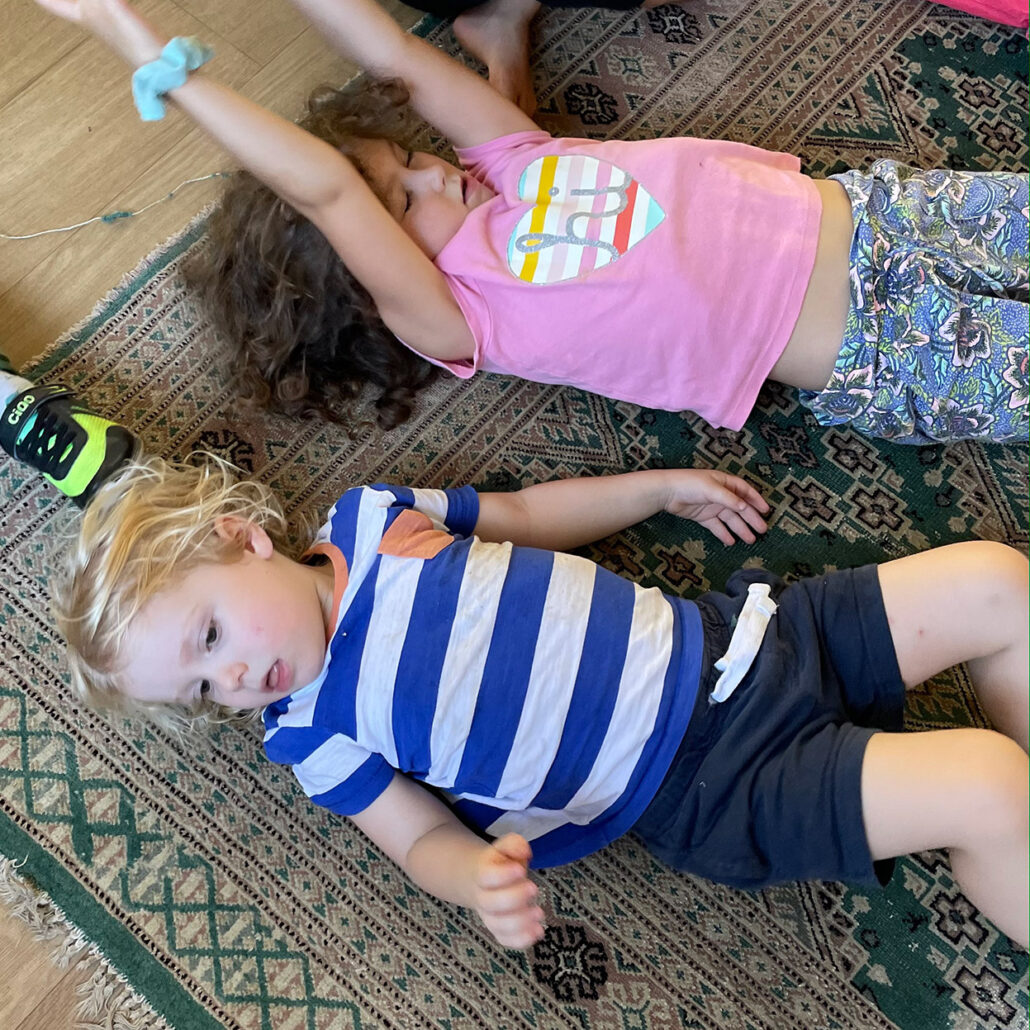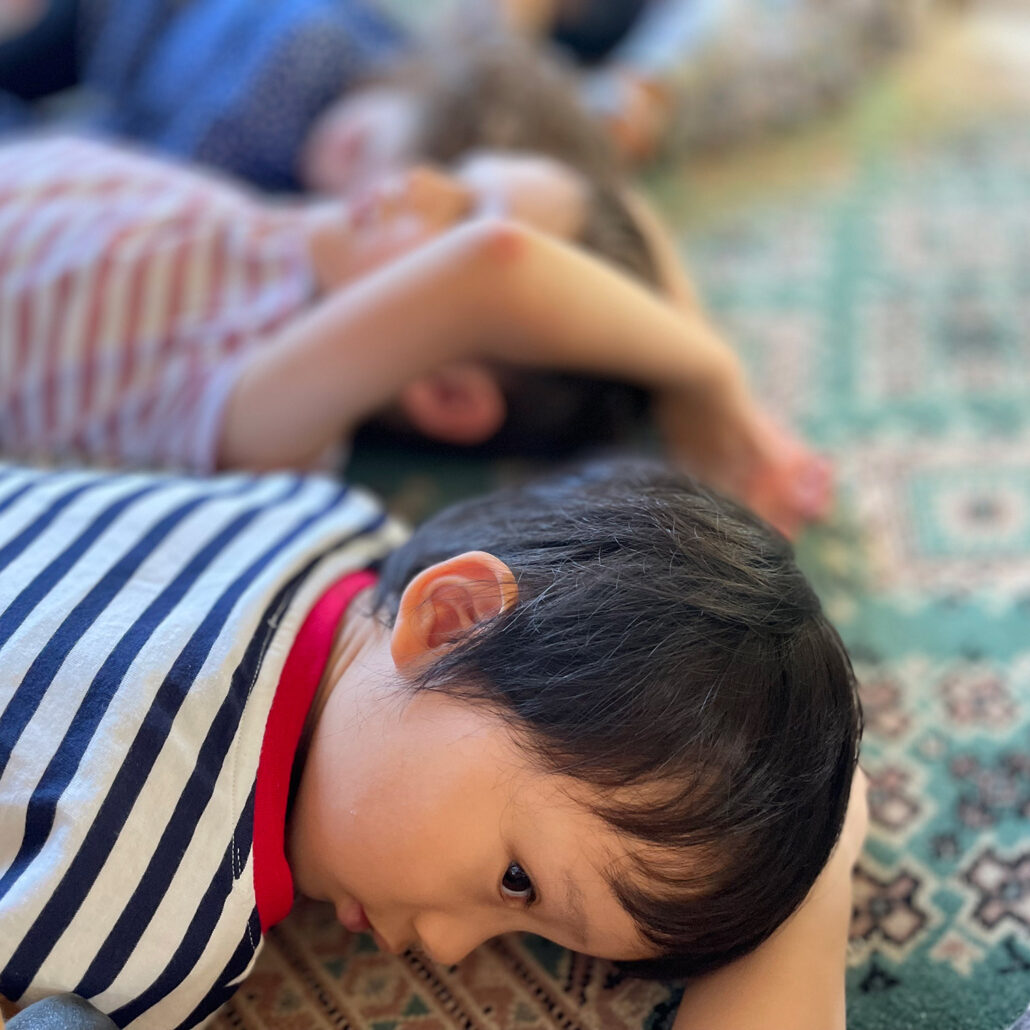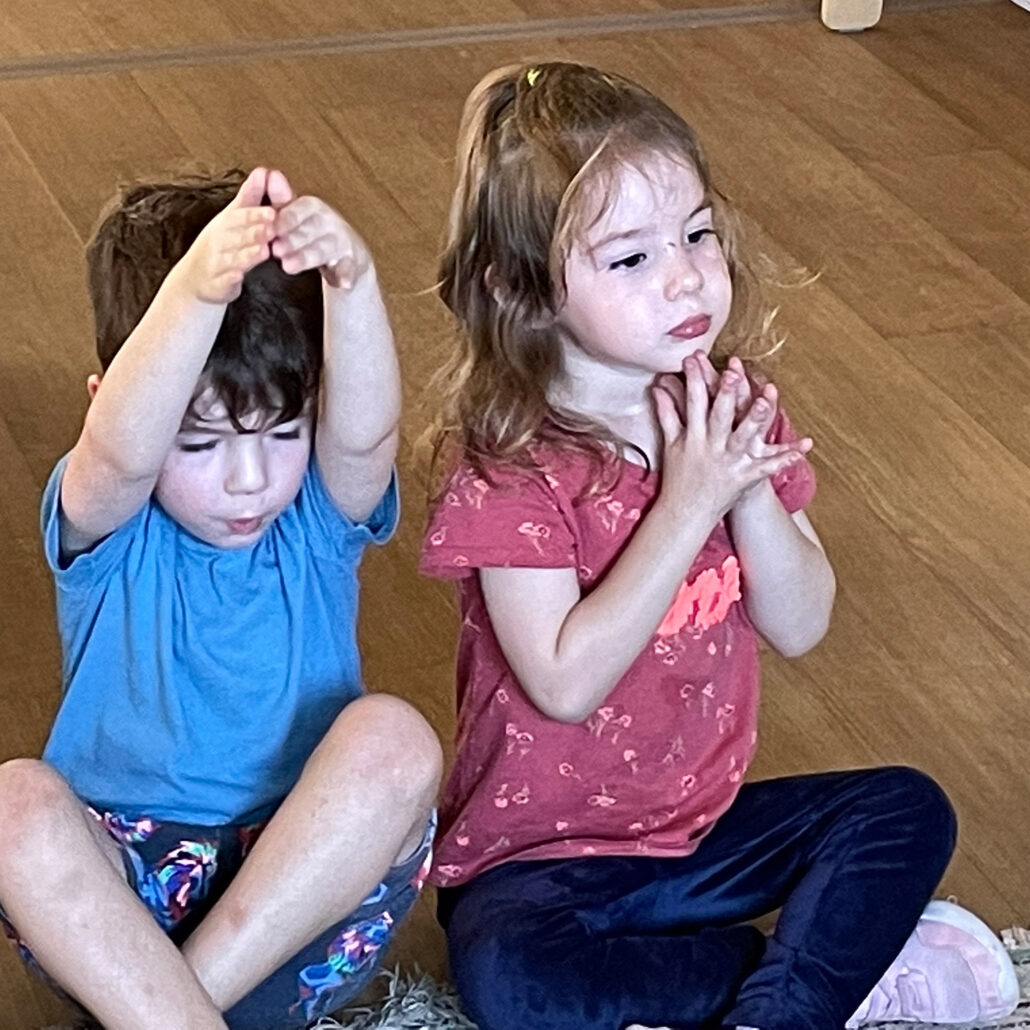 AMAROO | OUTDOOR CLASSROOM
Food is an important part of any celebration in all nations of the world.  It can unite and strengthen community bonds and establish a sense of belonging with the children.  We had a great time, making, sharing and eating green pancakes to celebrate St Patricks Day hope you had a fun day too!
– Dawn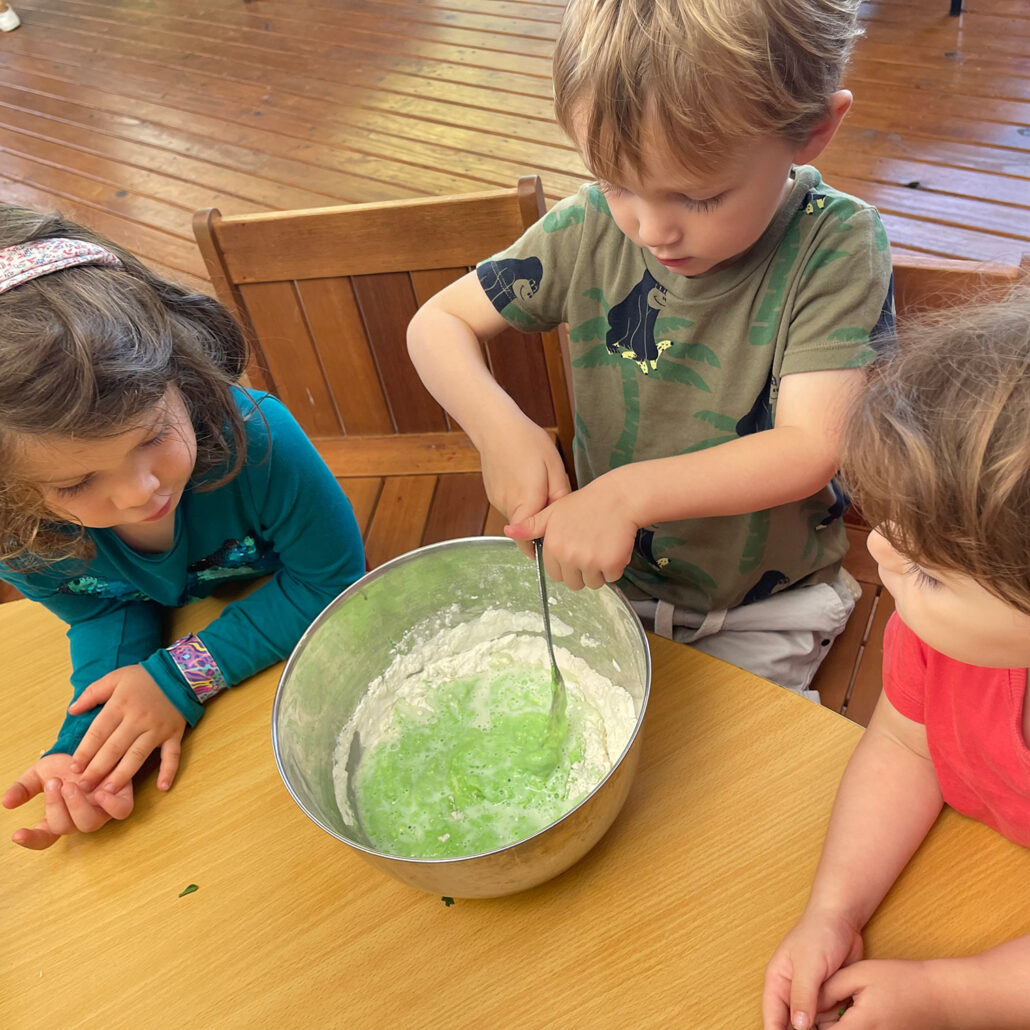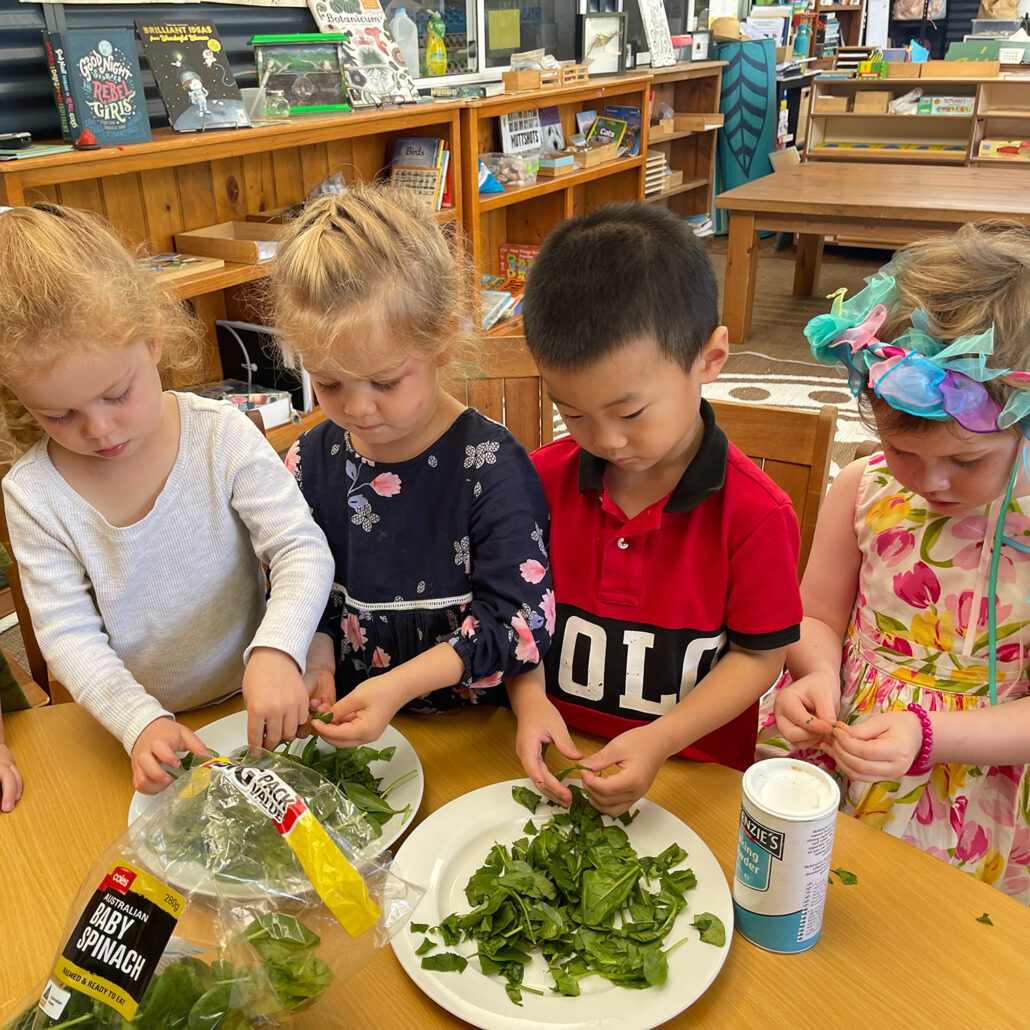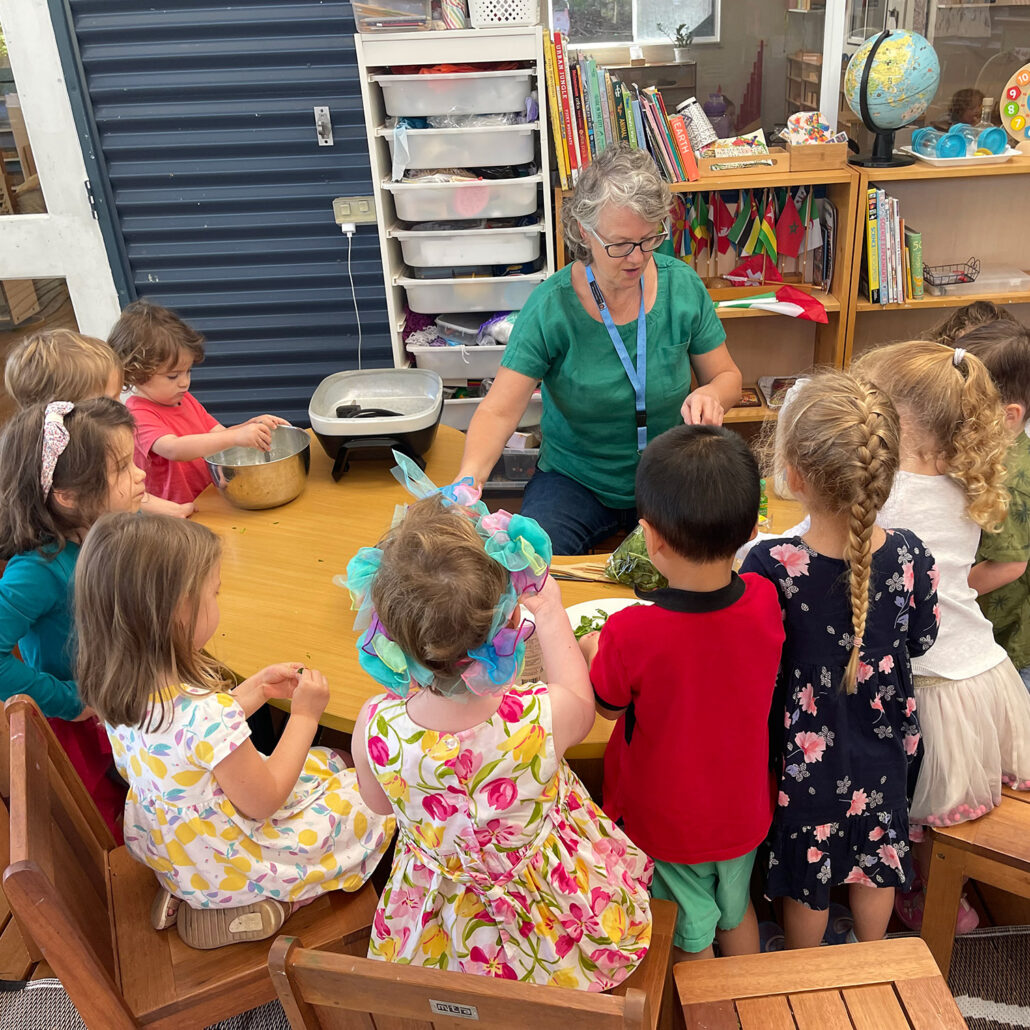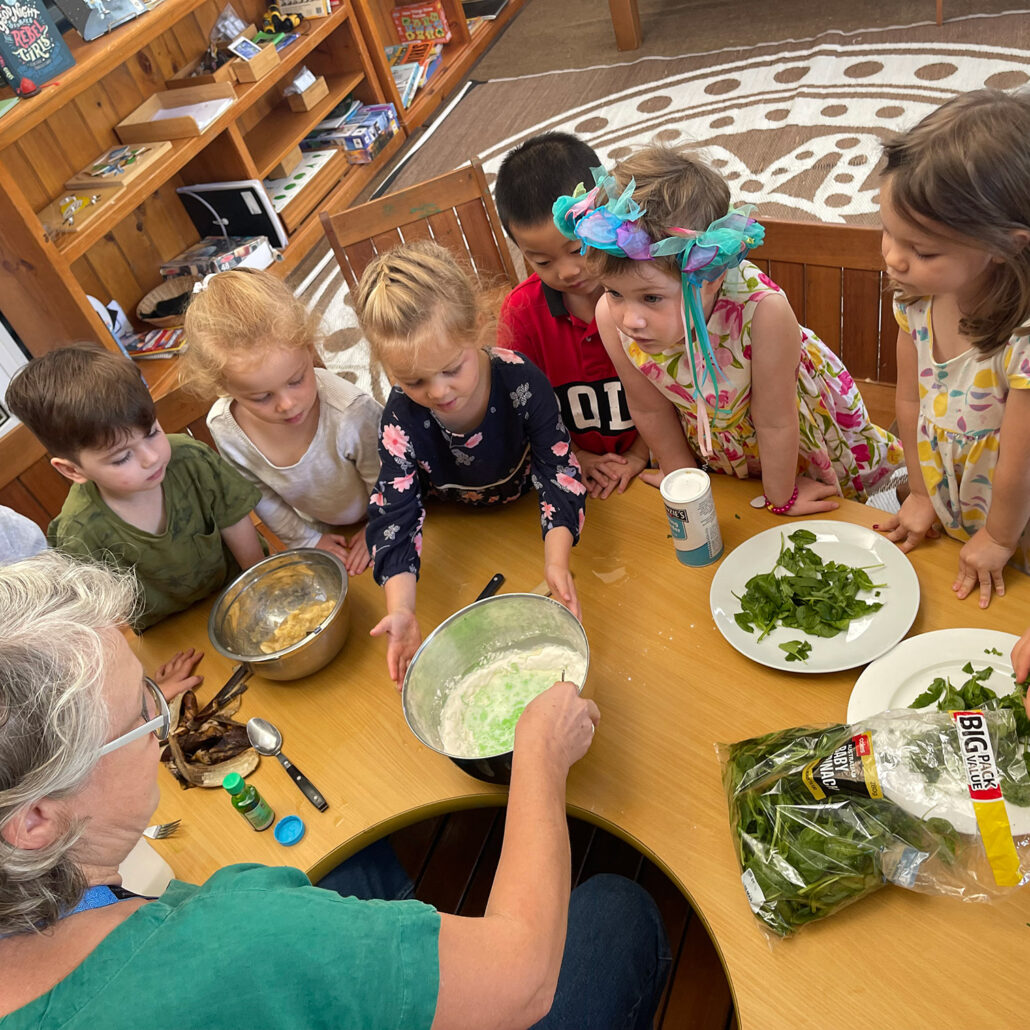 This term in kindergarten we have been investigating pieces of art from various artists and the children created their own art with inspiration from different cultures. Together with Cooinda, the Kindergarten children explored the artist Matisse and how his artworks changed over his lifetime. Matisse's artwork 'Still life with Magnolia' inspired many of the children to visit the Matisse exhibition being at the Art Gallery of New South Wales.
Kindergarten learned about the Japanese cherry blossom festival , which signifies the welcoming of spring in Japan, the children created their own cherry blossom trees using a variety of techniques.
— Helen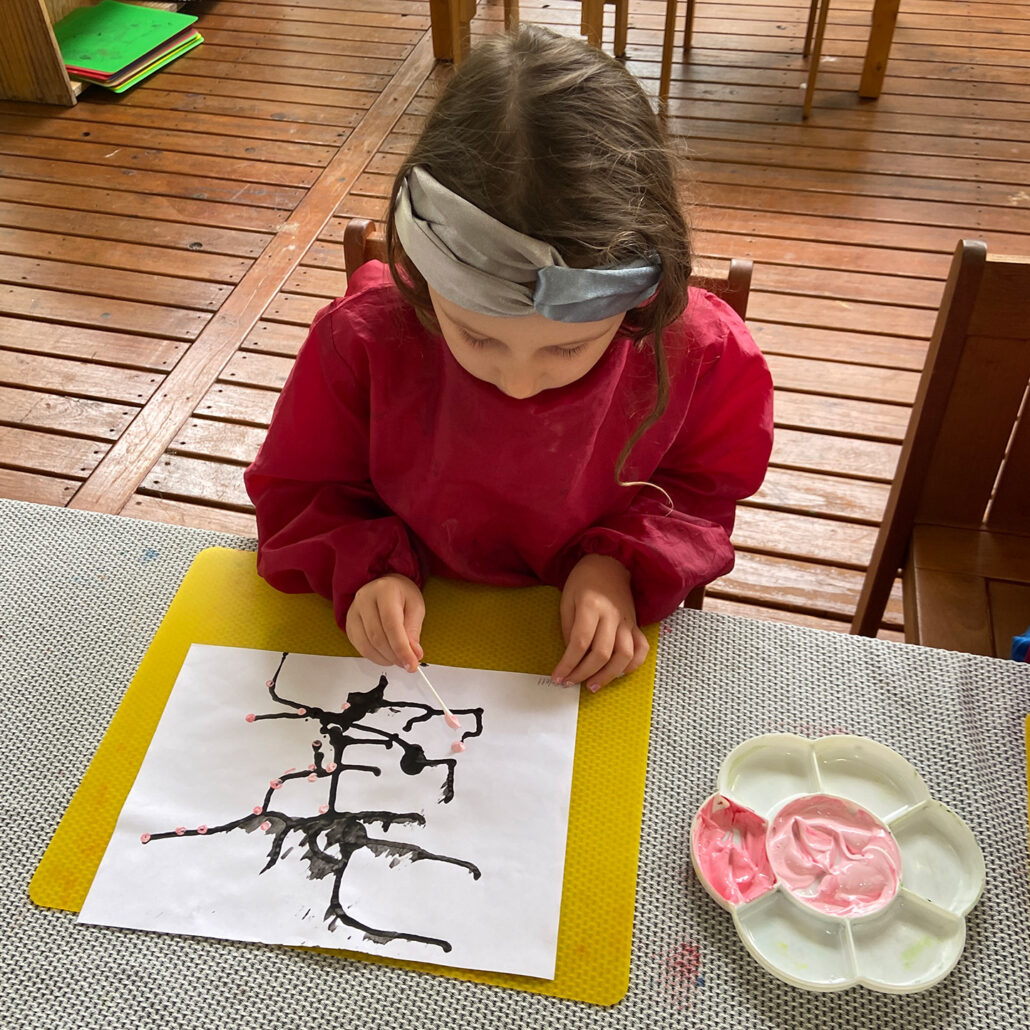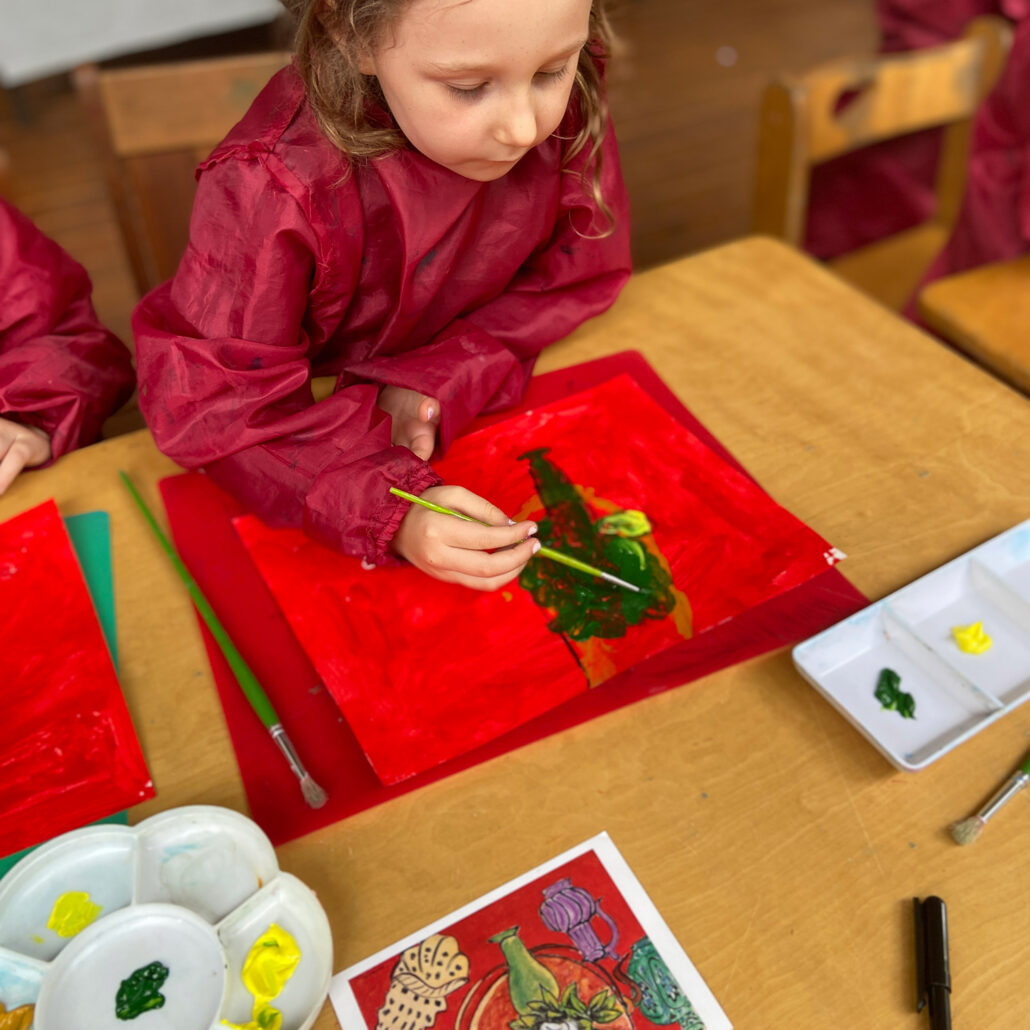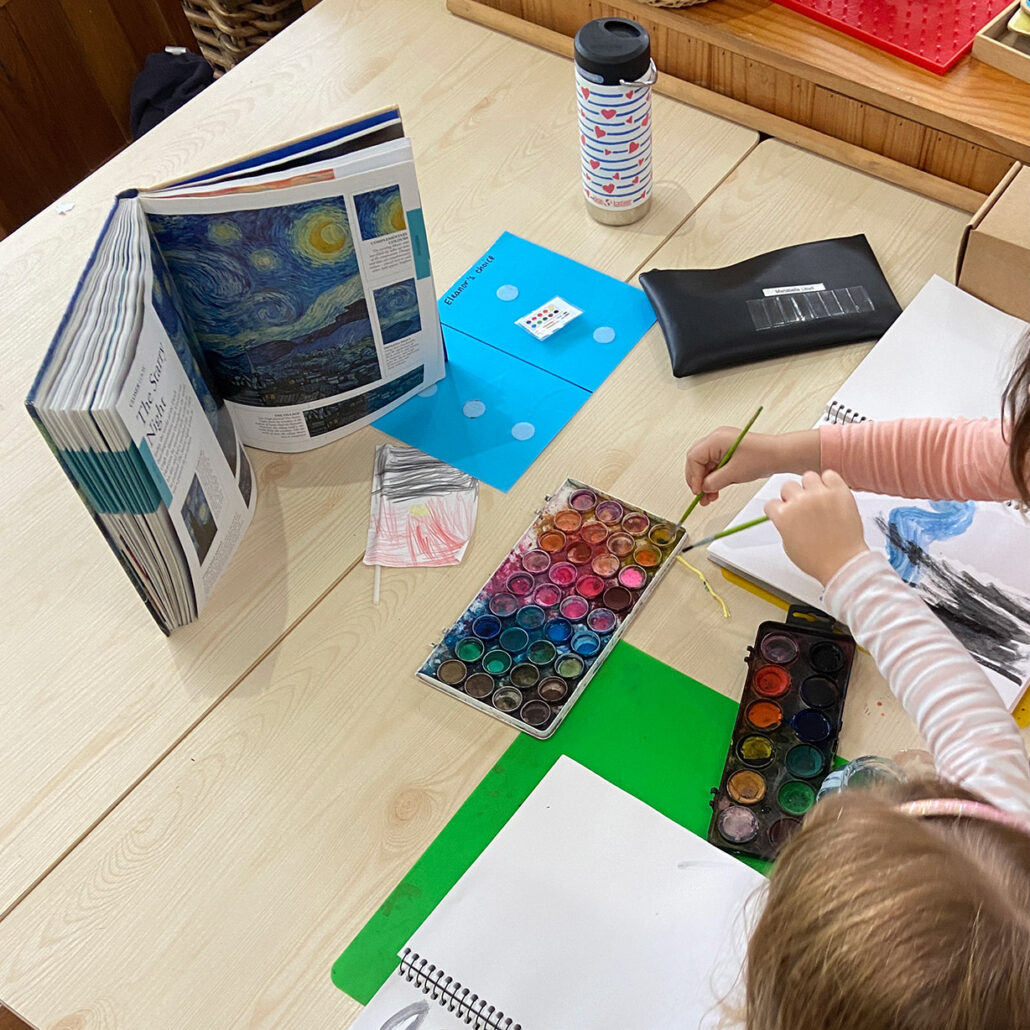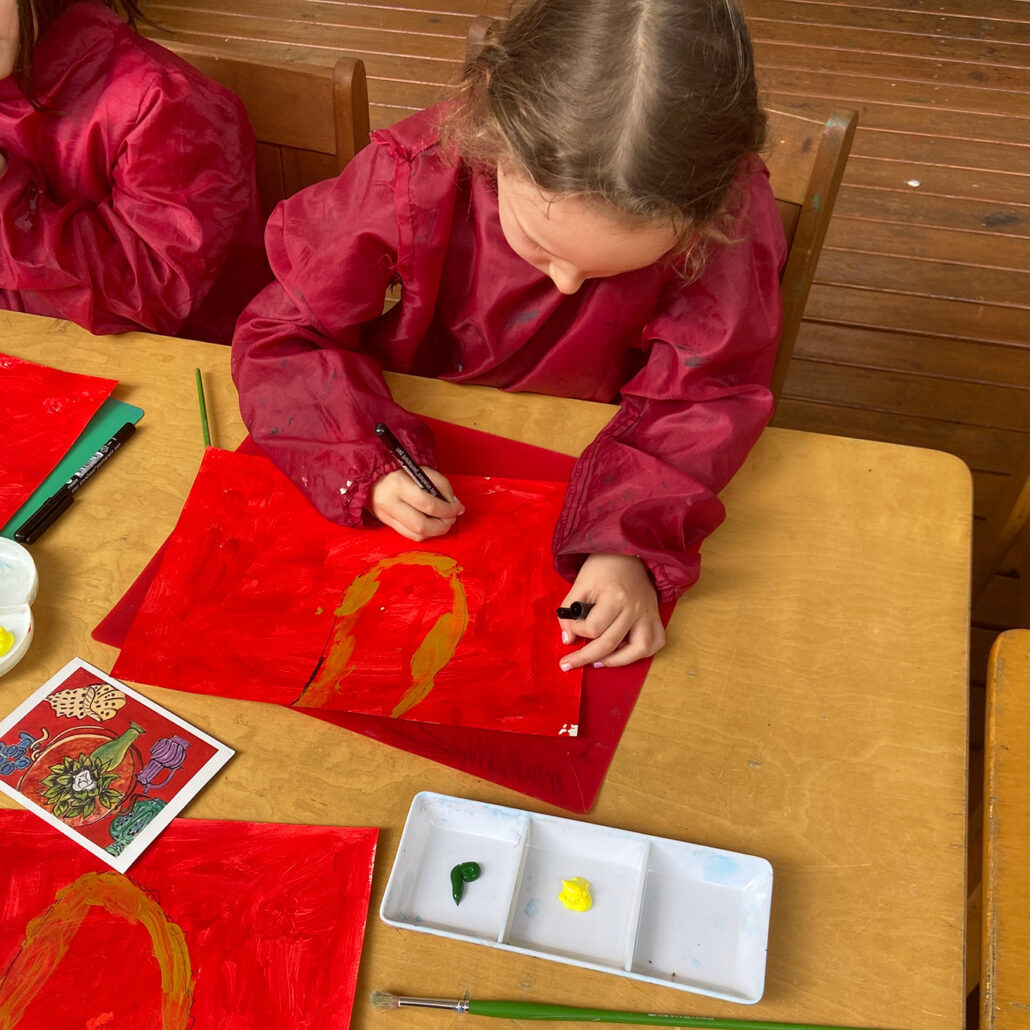 Students in Aikya are experiencing the importance of community through the structures and learning programs utilised within our stage 2 classroom. Constantly, discussions are had in groups and individually on how we can support each other while empowering ourselves—realising our role within our community, Aikya and more broadly as a global citizen.
Moreover, human relationships are a strong focus in Stage 2 and recently, children have been encouraged to discuss, practise and reflect on their interactions with peers, teachers, adults and parents.
This fortnight we were excited to celebrate Harmony Day. A big occasion on the annual calendar that celebrates the diversity within our local communities and the world. Typically, stage 2 children are sensitive to the acquisition of culture, wanting to understand and be part of the culture in which they live. Students shared their heritage and explored identity on Monday and then continued the theme for the week by working collaboratively in groups to present a larger research project on one of the seven continents and the cultures based there.
– Harshitha, Toby, Thomas
French Lessons
At the start of the term, we talked about the summer holidays and labelled all the student's work in French. We did a big revision of the colours and numbers up to 12 with a lot of fun games. Then we started to learn all about the French greetings.
All the students created a little French play about meeting a new friend and asking some questions like " Comment tu t'appelles ?'' or ''Comment ça va ?''
Finally, we will finish the term learning about how we celebrate Easters in France with various games and craft.
— Delphine .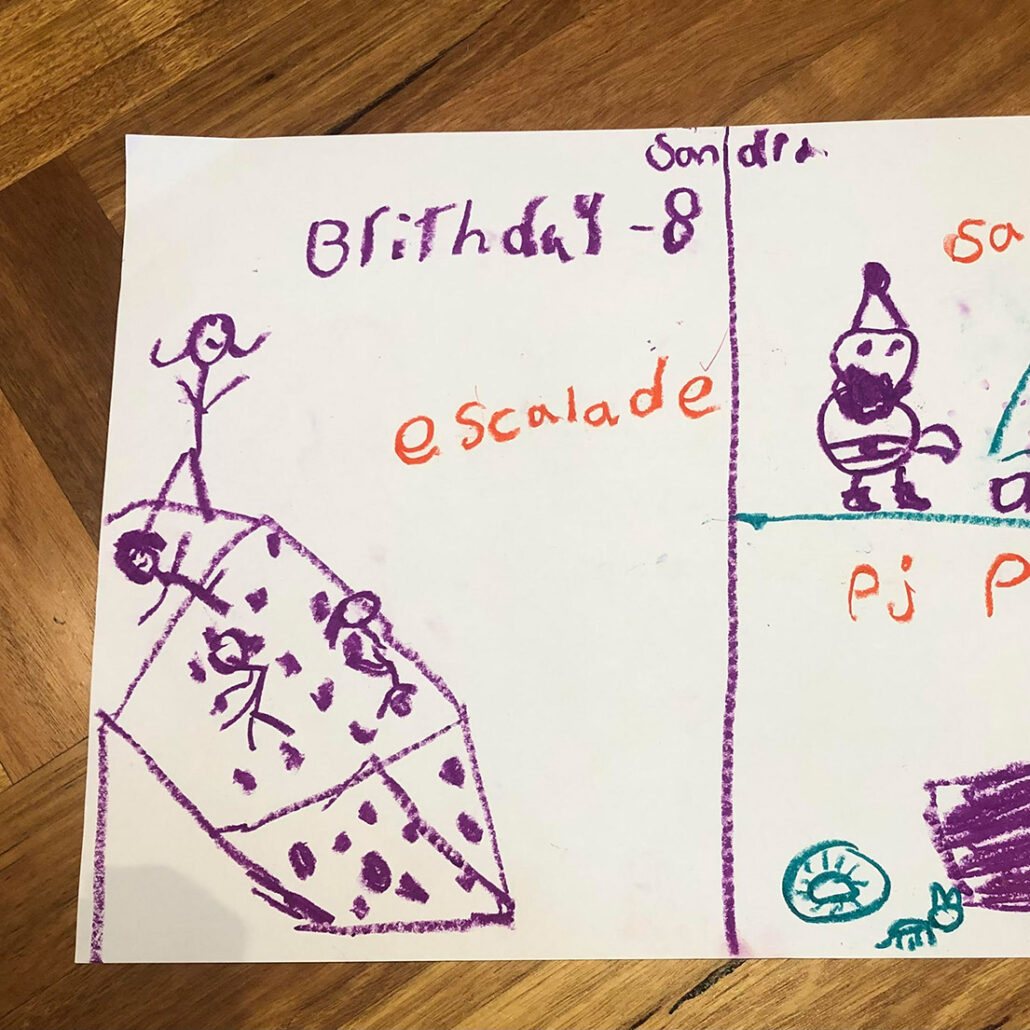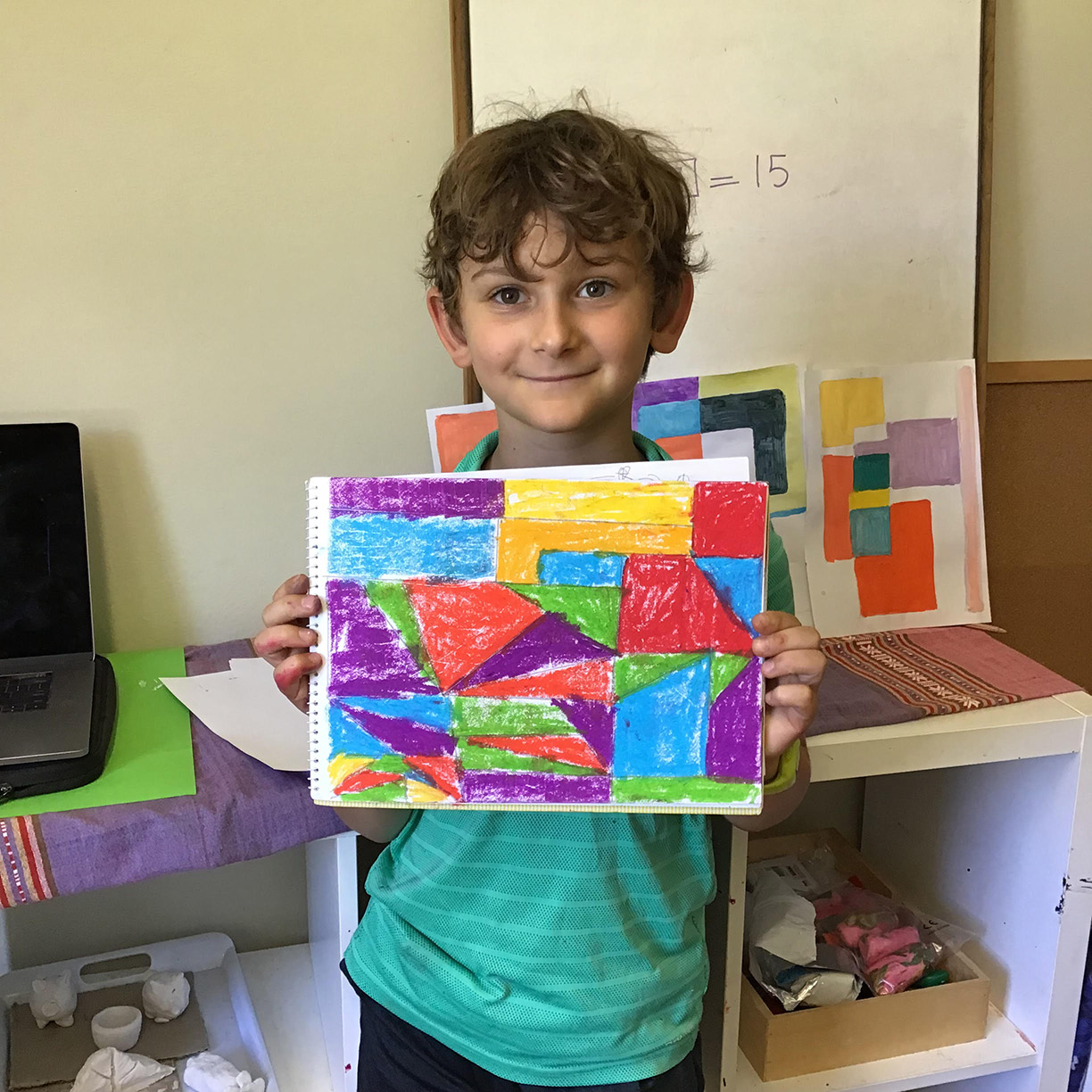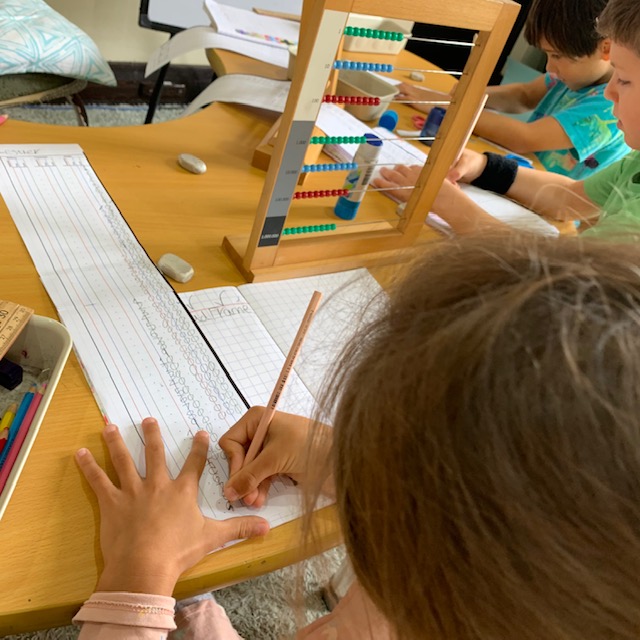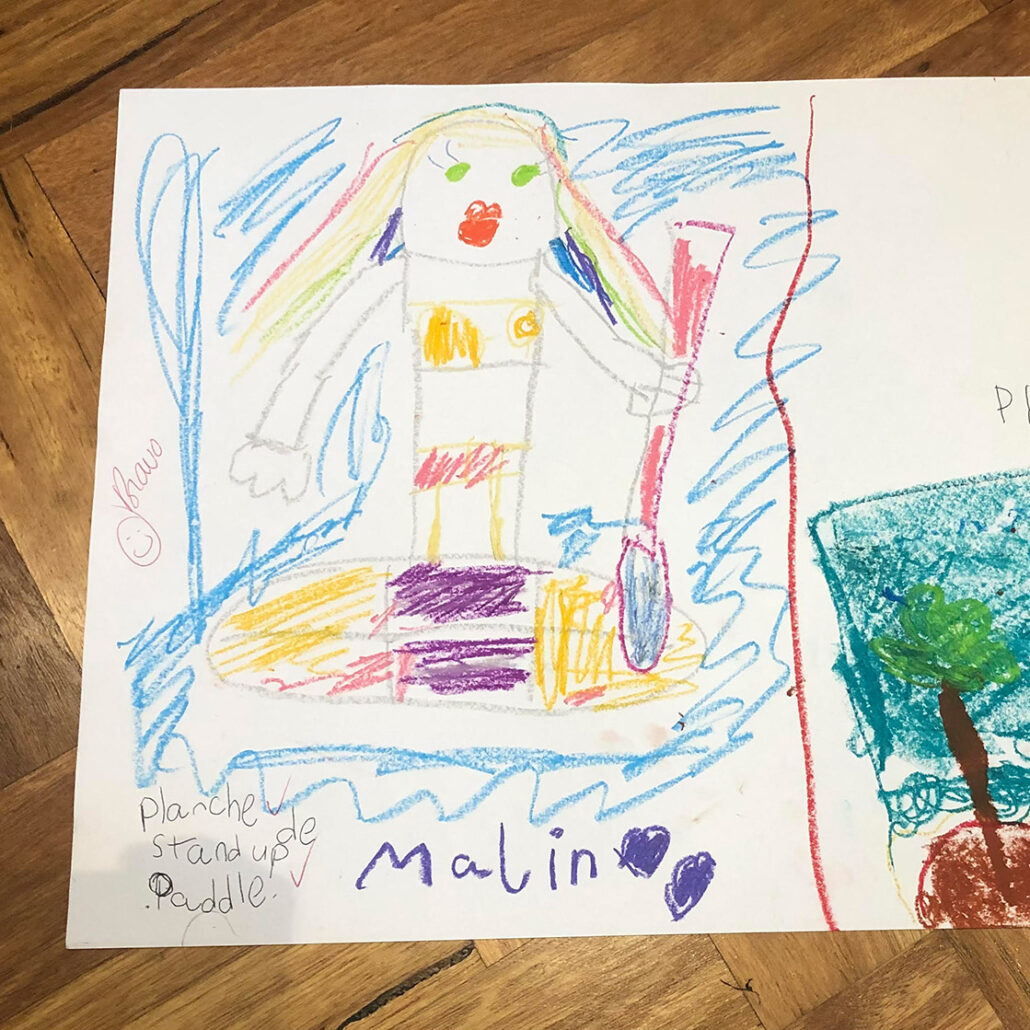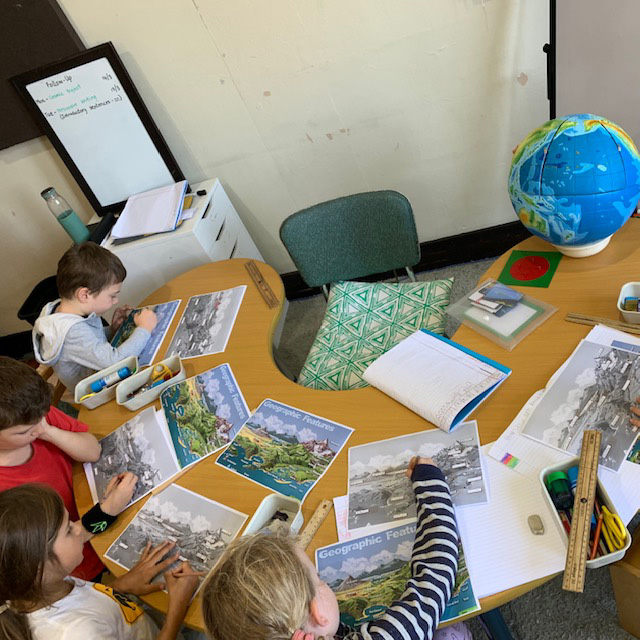 Last week, the older students in Yani visited a GRIP conference. GRIP is an annual one-day conference that brings together several hundred student leaders from dozens of local schools. The children participated in several activities interacting with other children who came from different schools. They sang, played games and took part in experiments to reinforce the idea of becoming leaders inside and outside of the classroom.
At school, some of the children have been learning about chance and probability. They have been playing these games in the playground and working collaboratively.
Pairing International Women's Day and the Ride To School festival, Kristina Rivers took the time to visit the Yani classroom and talk about her own experience with cycling. We discussed important environmental and social reasons that support cycling. We would like to thank her for visiting us!
— Laura & Thomas.
French Lessons
At the start of the term, we did a big revision of the colours, French alphabet with pronunciation and numbers up to 20 with spelling games. Then we started to learn all about the French greetings. All the students created a little French play as groups and some students played it in class.
We will finish the term learning about how we celebrate Easters in France with various games and craft.
— Delphine.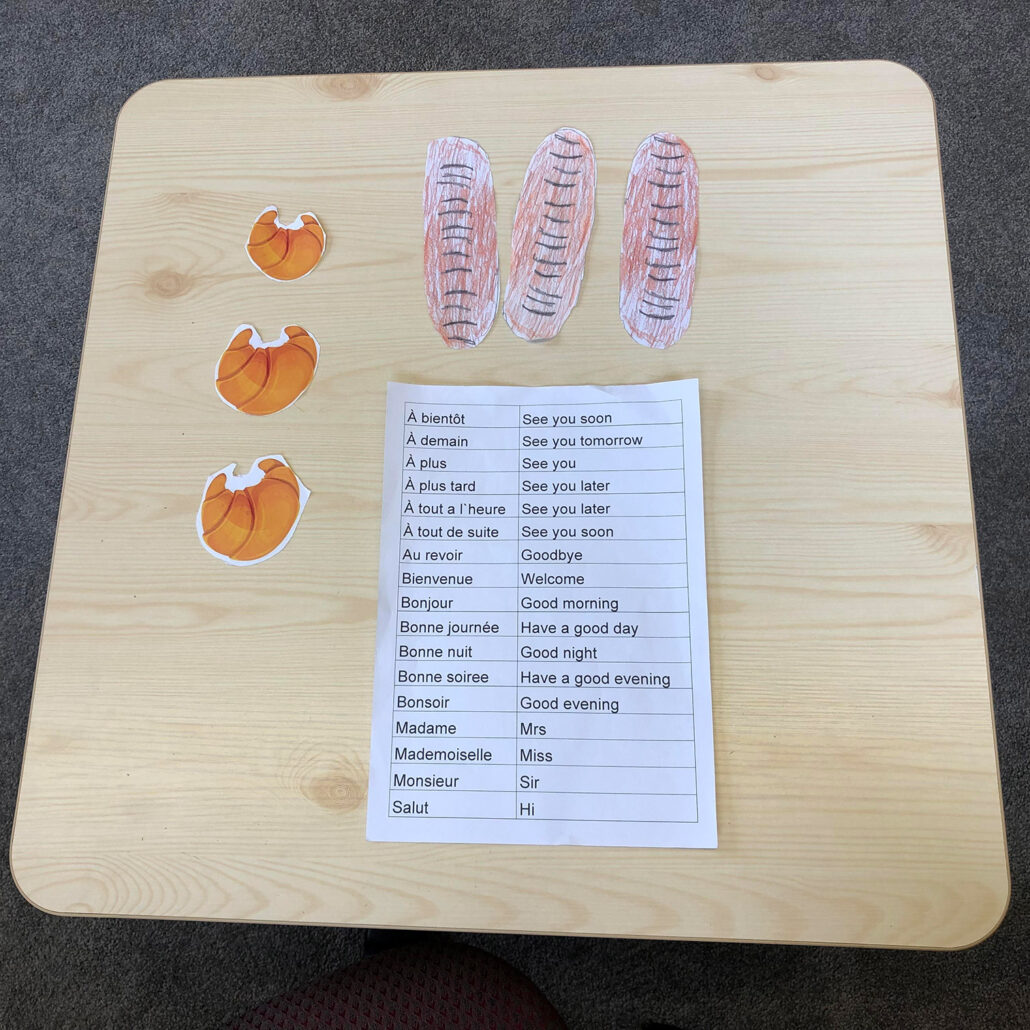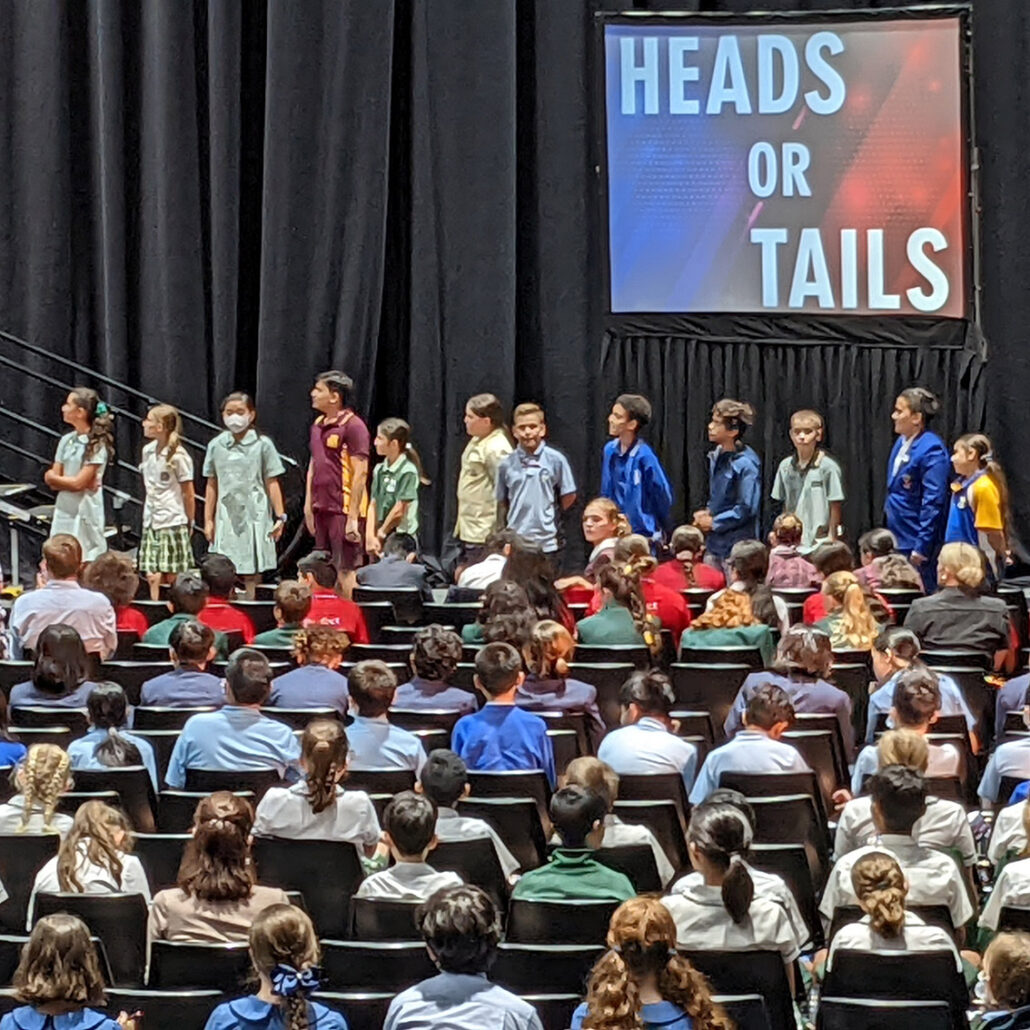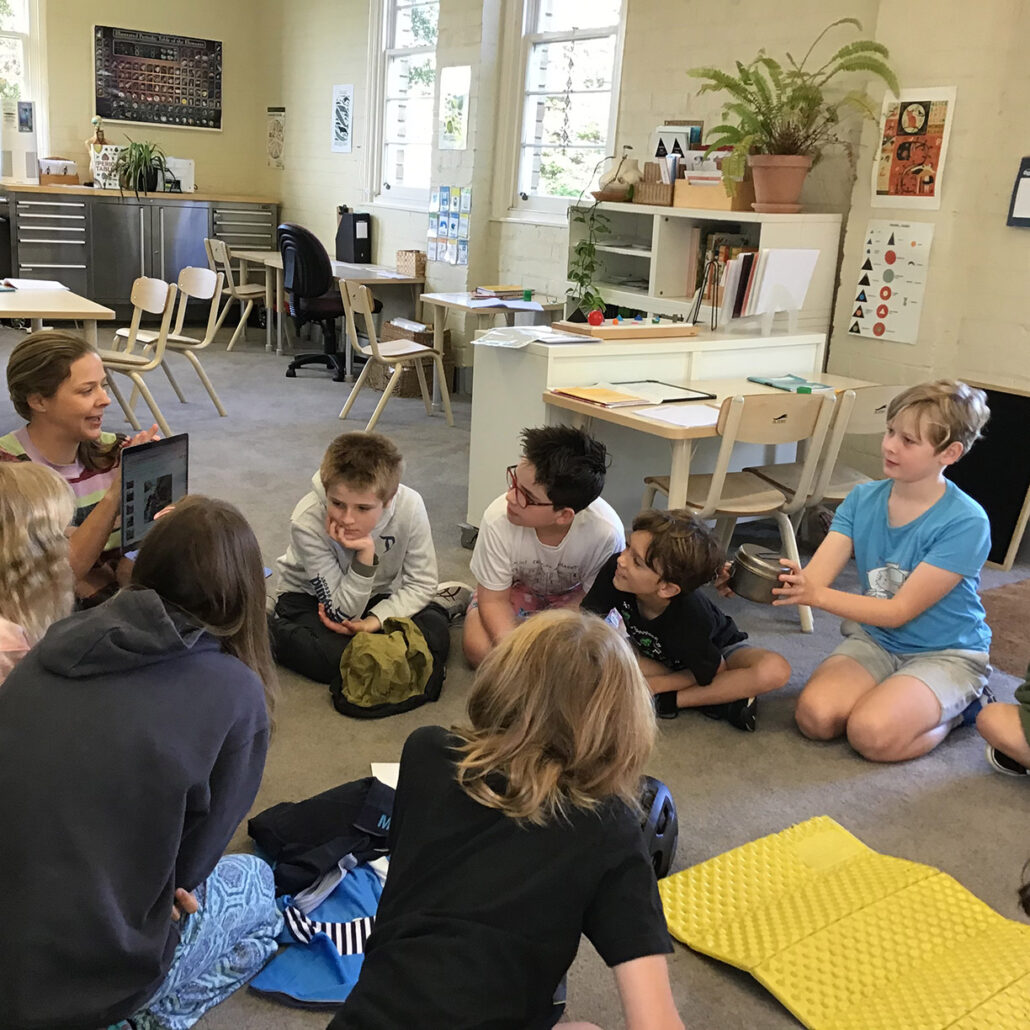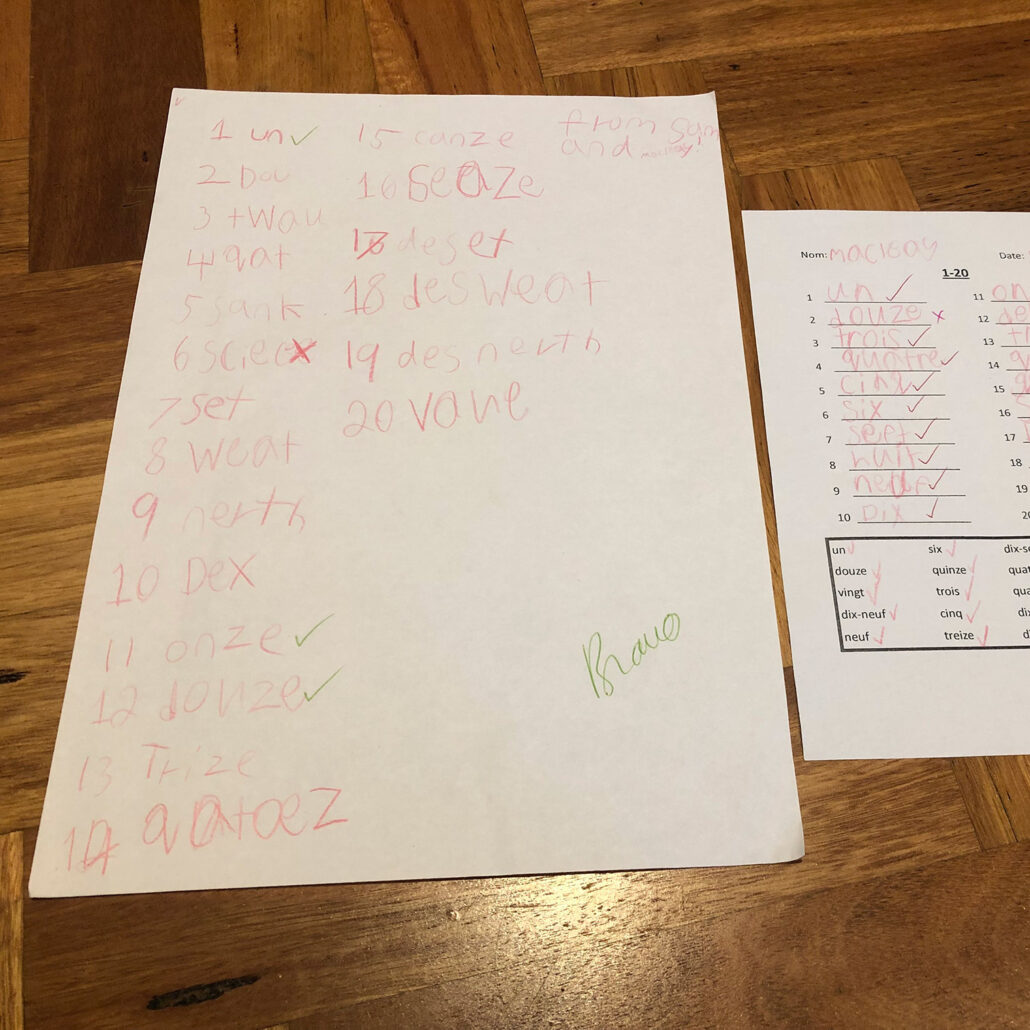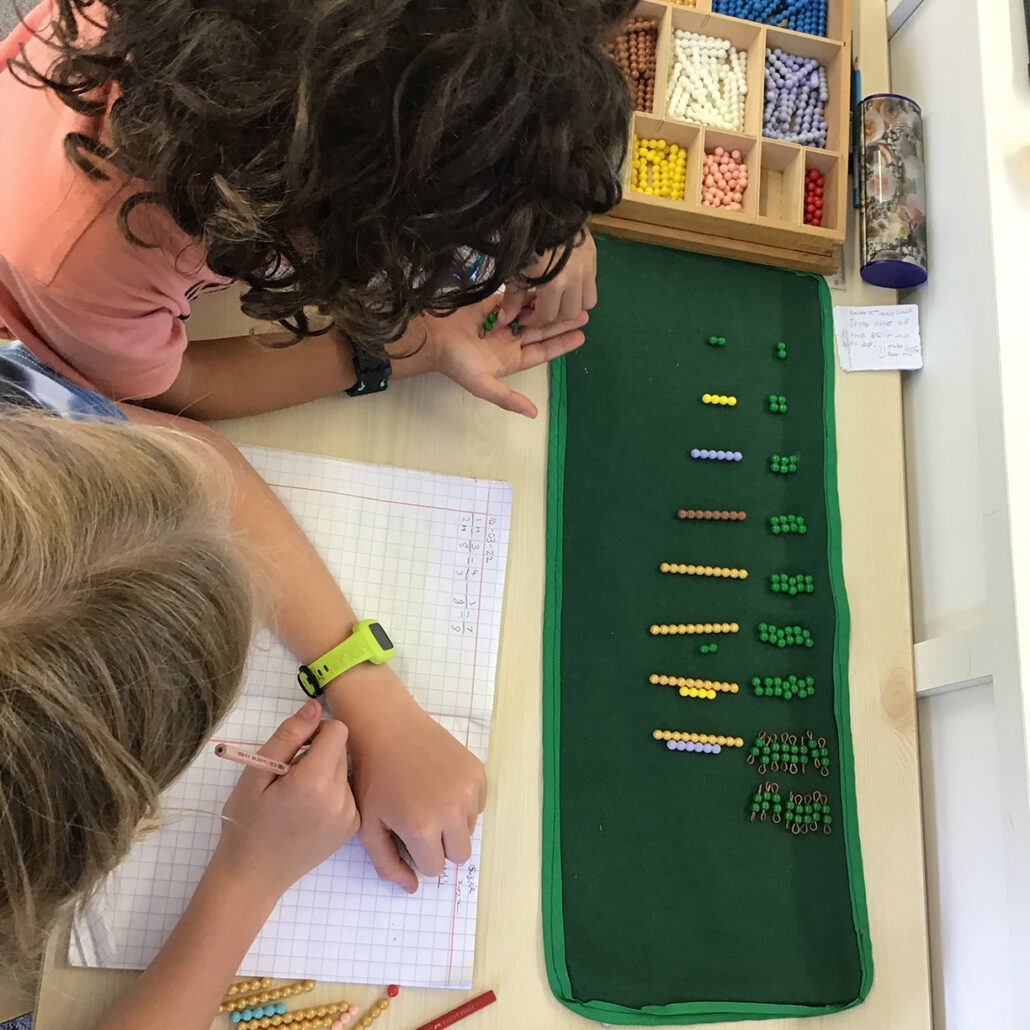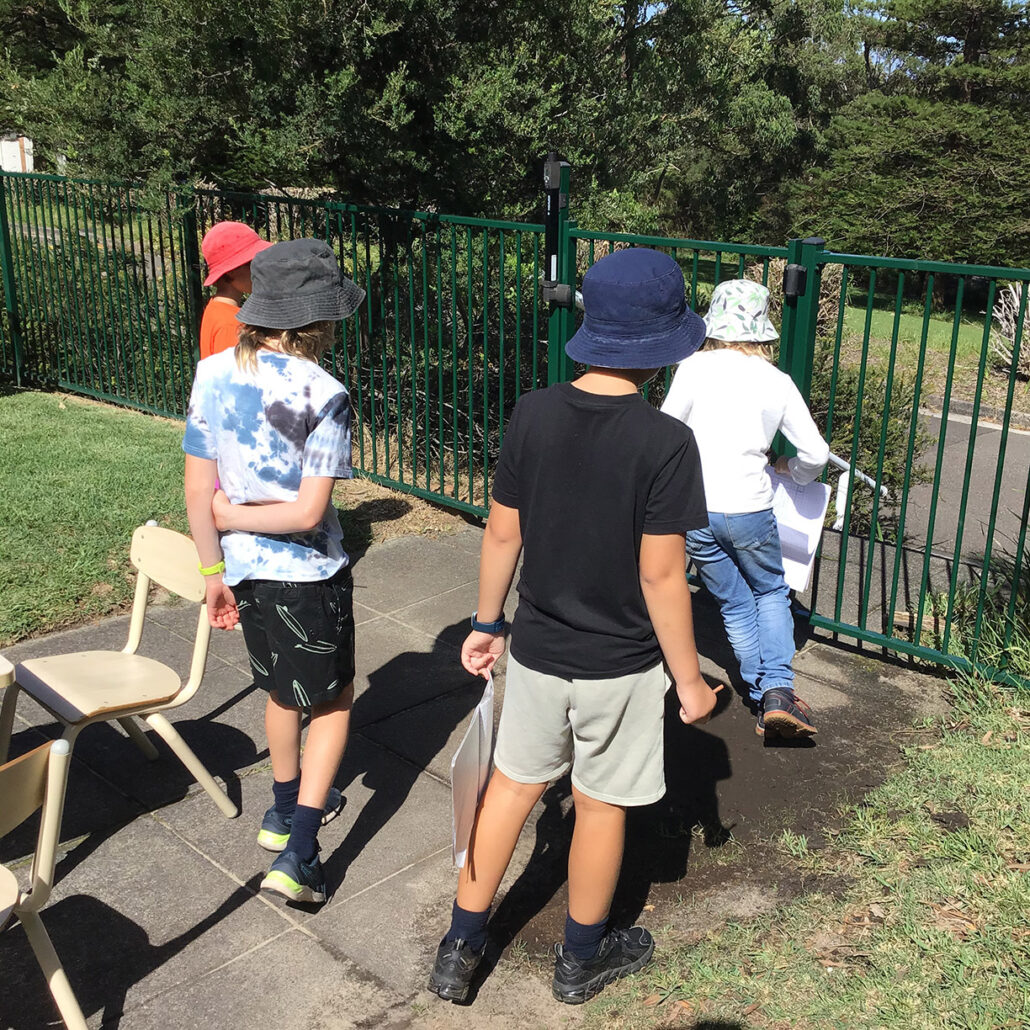 EVERGREEN | MUSIC PROGRAM
North Balgowlah Campus – Little Leaves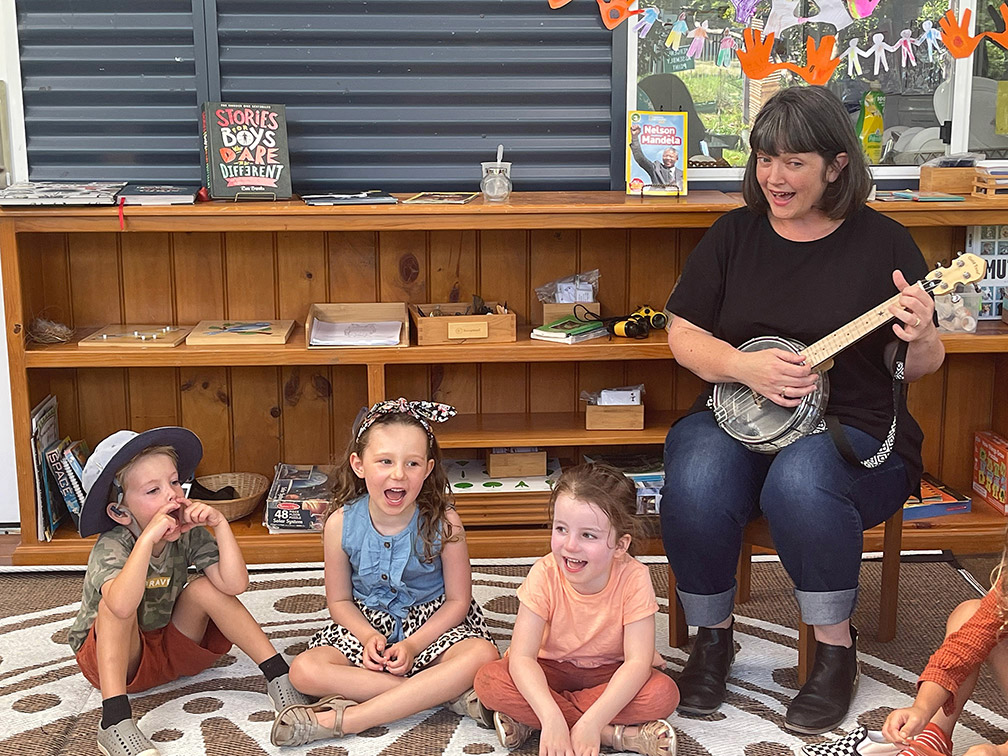 Hello families!
We've been having lots of fun continuing with Glockenspiels and our Kindies have even been learning to play some nursery rhyme melodies using our coloured flashcards! Our other classes are continuing with Dynamics and High and Low sounds. We're gearing up to do more original compositions in the coming weeks.
Angie
North Head Campus
Stage 2 – our stage 2 class are starting to compose their own melodies with correct pitch and rhythm using staff notation. We're still using Xylophones as our main instrument, and it's been a real delight to see students start to connect the notes on the musical stave and also understand scales.
Stage 3 – We are continuing with Uke's this term, and after having a go at writing our own little ditties on the open strings, are now progressing to learning to play simple chords like C and C7, Am and F9. Changing between each of these chords takes a bit of practice, but with practice comes improvement, and we can already see students moving more confidently through chord changes. Once confident, students are encouraged to try to incorporate different strumming patterns along with the chord changes.
Mixed Ensemble (Band) – Lots of rehearsal work happening with Believer – it's starting to really come together! Students should be practicing Intro, Verse, Pre Chorus & Chorus for the upcoming band rehearsals and also starting to work on the Bridge in their private lessons. Band rehearsals are all about adding each of our individual parts and working together. Listening to the different parts and understanding how your individual part will help make every Montessori band member a great musician in the long run!
James