2019 Newsletter Term 1 | Issue 03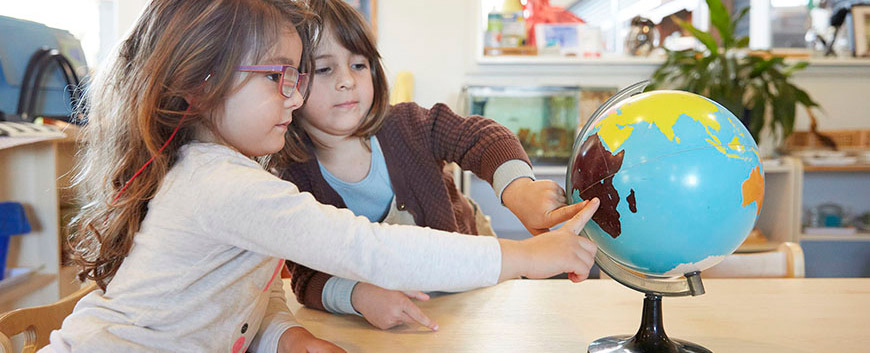 Upcoming events & Important Dates
21st March Thursday – Harmony Day – Preschool Campus
22nd March Friday – Harmony Day – Primary Campus
19th March Tuesday  6-7:30pm – Parent Information Night (Cosmic Education) North Head Campus
23rd March Saturday – Open Day  9am-12pm – Preschool Campus
27th March 7.30pm – AGM – Nth Balgowlah Campus
29th March – Term 2 fees due
4th April – Primary Tour – Primary Campus
12th April – Last day of term – whole school
19th April – Good Friday – public holiday
22nd April – Easter Monday – public holiday
25th April – Anzac Day – public holiday
Click HERE to see further calendar dates.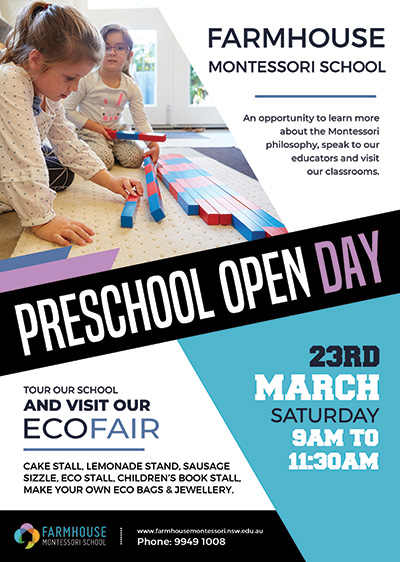 OPEN DAY | Sat March 23rd
Register your interest
Our Annual Open Day is a great opportunity to learn more about the Montessori philosophy, speak to the educators and visit our classrooms. Please fill out our booking form to register your interest.
COSMIC EDUCATION | Tuesday March 19th : 6-7.30pm
Join us for this wonderful evening
Join the staff at Farmhouse Montessori School on Tuesday the 19th of March at 6-7.30pm as we set out to explain the journey our primary students take as they make their way through the Cosmic Education component of the Montessori Curriculum.
We will discuss the way that the Second Plane of Montessori enables our students to make connections throughout the curriculum. We will demonstrate the hands-on approach to the Montessori method and allow you to try some of the experiments yourself.
We hope you can join us for this wonderful evening of Montessori method.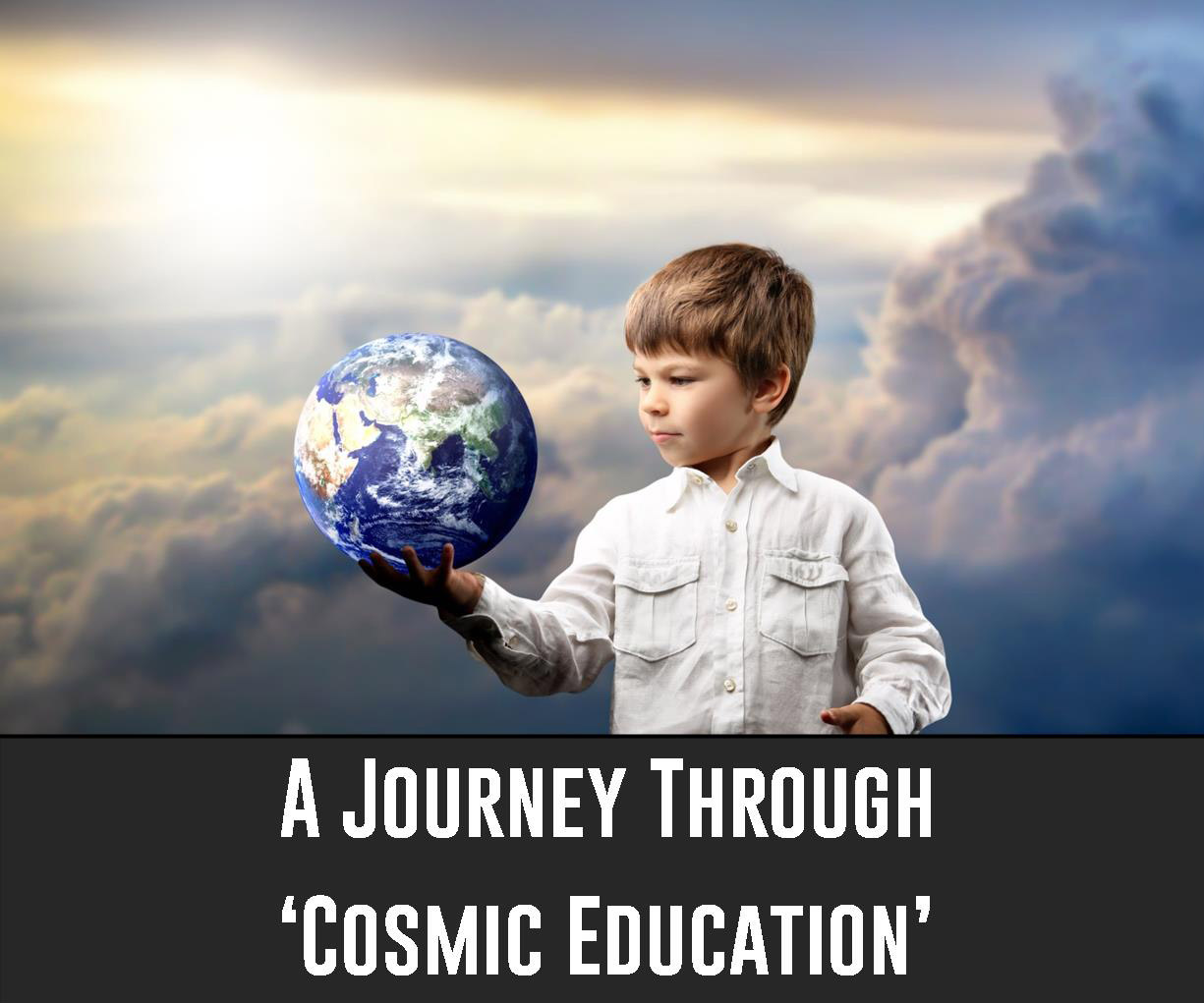 Principals Message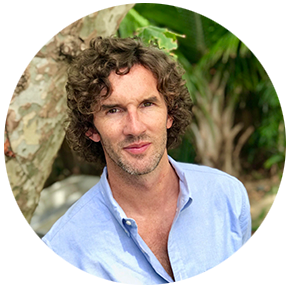 Hello Parents and Carers.
As we all know, the Montessori approach to teaching not only allows the children to extend their breadth of knowledge across the curriculum, but also allows time for innovation and creativity within the average school day. These moments of independent learning and collaboration create avenues for children to work in a variety of ways, but more importantly to develop a huge array of soft skills that will enable them to tackle the more complex aspects of the future.
This week was evidence for me that these essential skills are evident everywhere you turn in the Montessori environment. A new student was visiting the school last week and, understandably, he was a little nervous about entering his new classroom. As we both stood at the door, another student appeared and said, "Hello Gavin, would you like me to show him around?" I handed him over and observed as he was shown around the classroom. He was shown where his bag goes, where the coat pegs are, and as they toured the room, other children appeared to greet him and offer their help if he was ever lost or needed any assistance. It was beautiful to see. A moment that could've been the most stressful for a child was transformed into a beautiful moment of inclusion, thanks to the foundations that the Montessori pedagogy instills.
As I walked back to my office, I reflected on these skills, such as empathy, care, grace, courtesy and compassion. They are skills that cannot be graded, they cannot be tested or scored, but they are evident around every corner in the Montessori environment and are essential to the development of our students. To me, this is the true beauty of the Montessori approach and the teachers who prepare the environments to facilitate these skills.Have a wonderful weekend.
– Gavin McCormack
ELOUERA | Stage 1 Infant Community
One of our most beloved activities each day in the Elouera classroom is bread making! Bread making is not only fun (and delicious!) but it is a practical life experience that offers so many opportunities for the child's development. Bread making is a popular morning activity and all the children are proud to be able to contribute to their little classroom community by helping prepare the bread for afternoon tea. Bread making is one of the pieces of work in the classroom where the children begin to explore what it means to be a part of a group, how they can share roles and valuable social skills such as team work. We've noticed the children are more willing to try new foods, or recipes if they've helped prepare them too!
There is also so many opportunities to explore mathematical and scientific concepts such as; measurement, change of matter, temperature and time. Even before the child is consciously aware of these concepts, through cooking they are able to explore language like; full and empty, hot and cold, small and big, all precursors to mathematic and scientific learning. Something to remember next time you sample some of the tasty bread rolls the children bring home!
– Corinne, Debbie & Sarah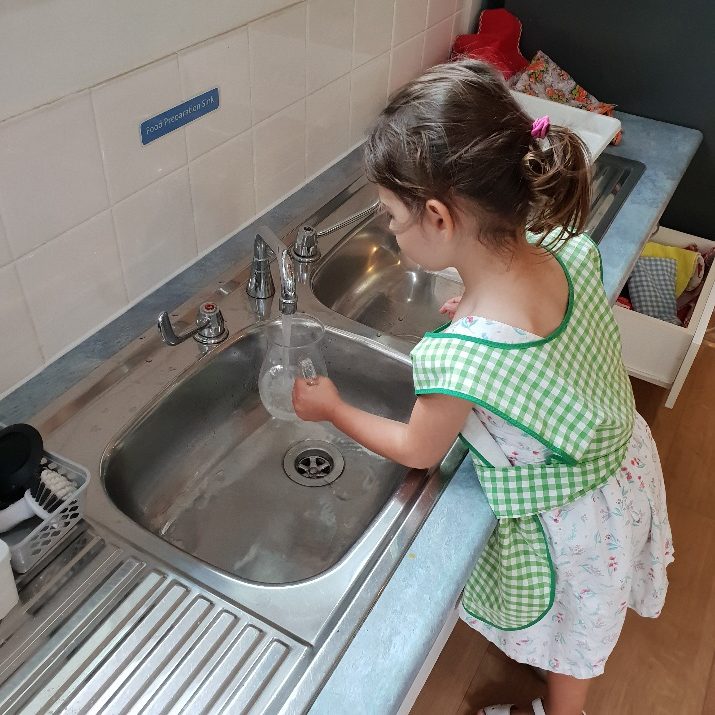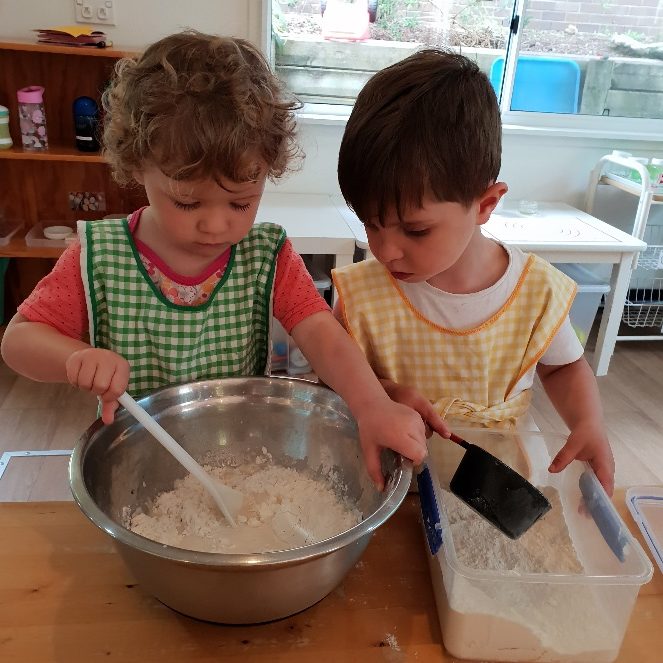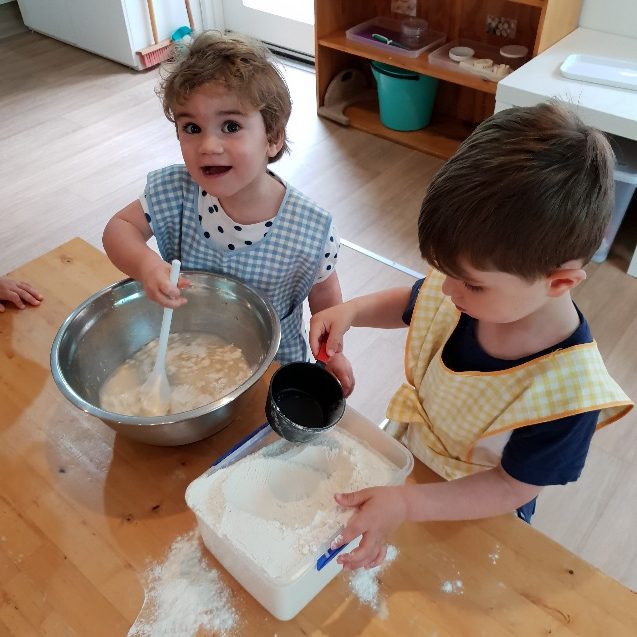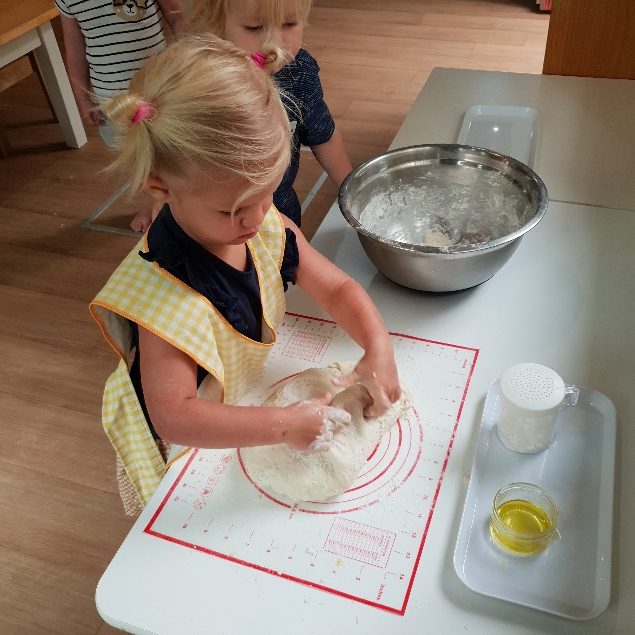 Cooking in the Burbangana Classroom is very popular. Everyday we bake a loaf of bread to share at afternoon tea time. Over the past couple of weeks the children have been interesting in making cakes using the variety of fruits we have leftover from morning snacks. When children cook in the classroom they are participating in many developmental activities. Cooking calls into play the greatest number of skills used simultaneously, more than any other activity in the classroom. These include Practical Life (cutting fruit), maths (measuring ingredients) and language development. The children are also experimenting with different flavour combinations.
Over the coming weeks we look forward to using our school grown produce in our cooking experiences.
– Amanda & Teresa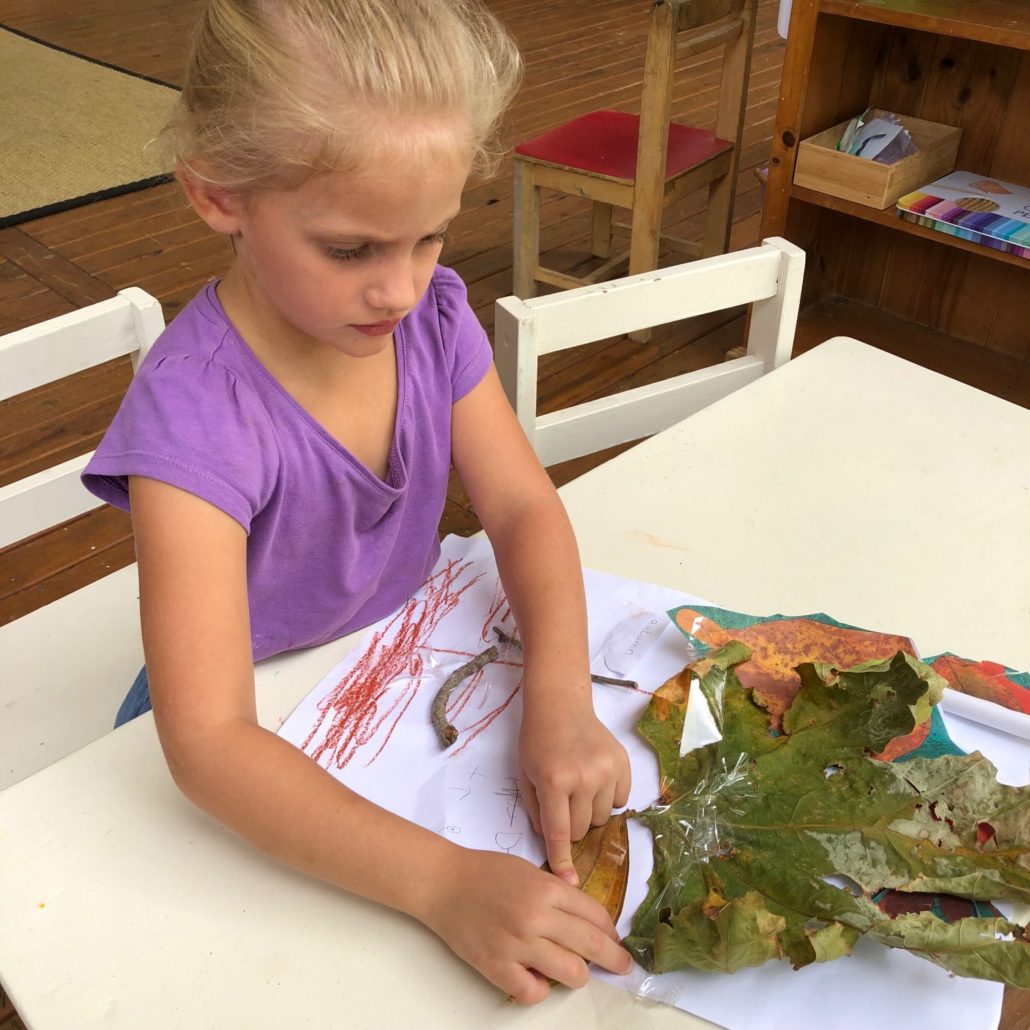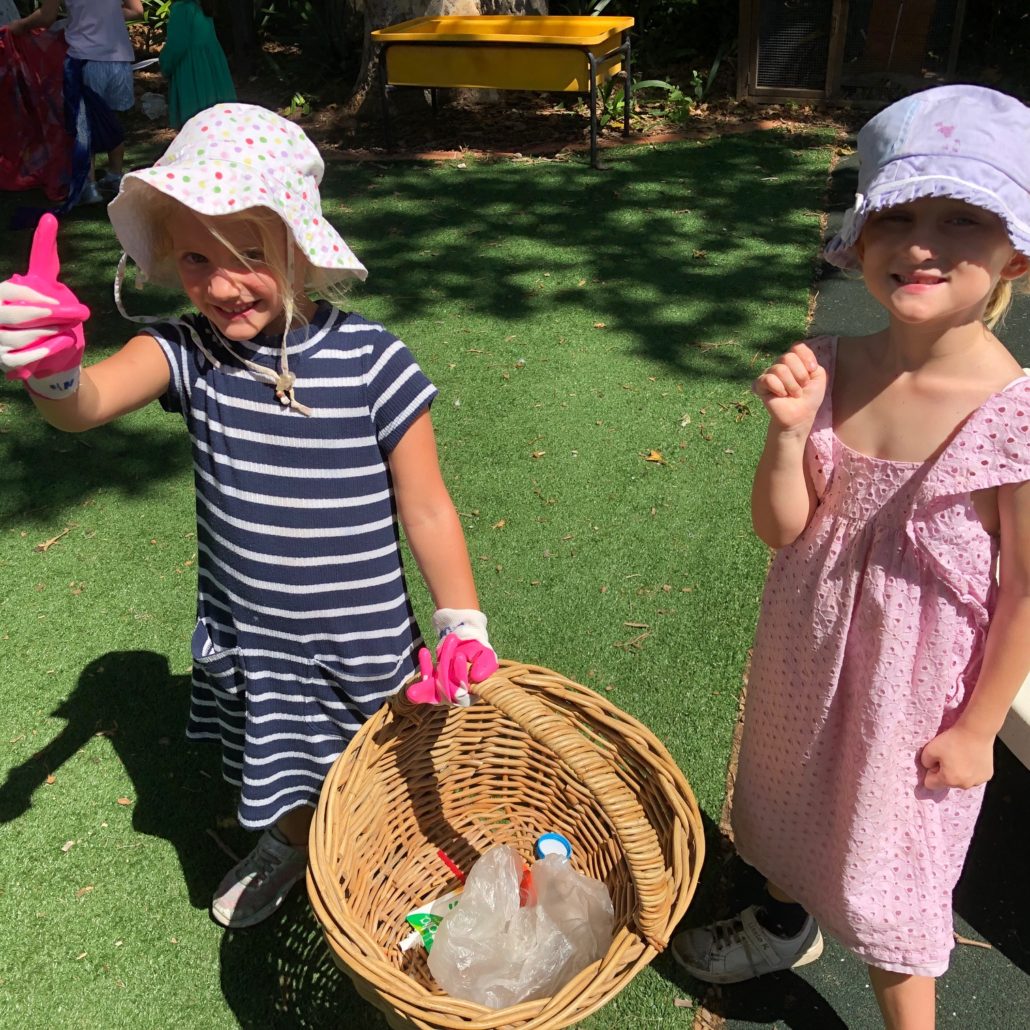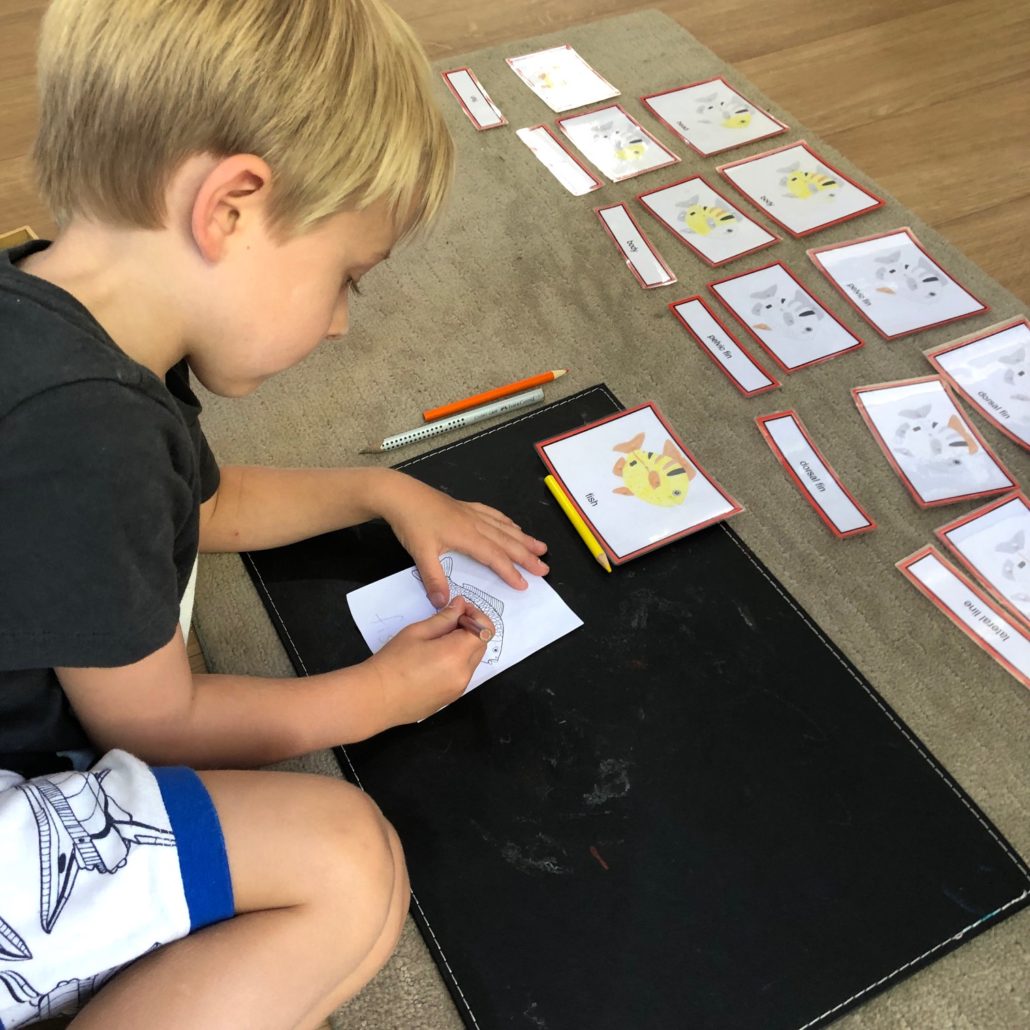 Such a big couple of weeks in Cooinda class. The children have continued with their interest in bees and we have taken this interest into working with collage in our art class. Children learn how to paint through breaking down the object into shapes and working with collage shapes allows the child to construct how the object is formed prior to using paint.
Both classes were very serious about how they constructed their bee and the room was very quiet with lots of thinking. This work will lay the foundation for painting of bees this week.
We have also started working on our scarecrow . The children took this opportunity to work on their sewing skills to sew the head of the scarecrow. 
– Jenny, Jo & Angela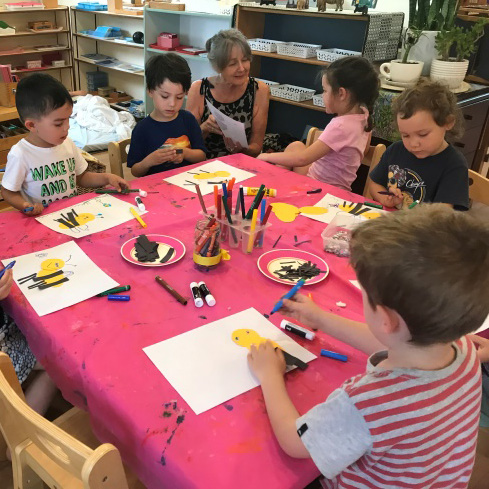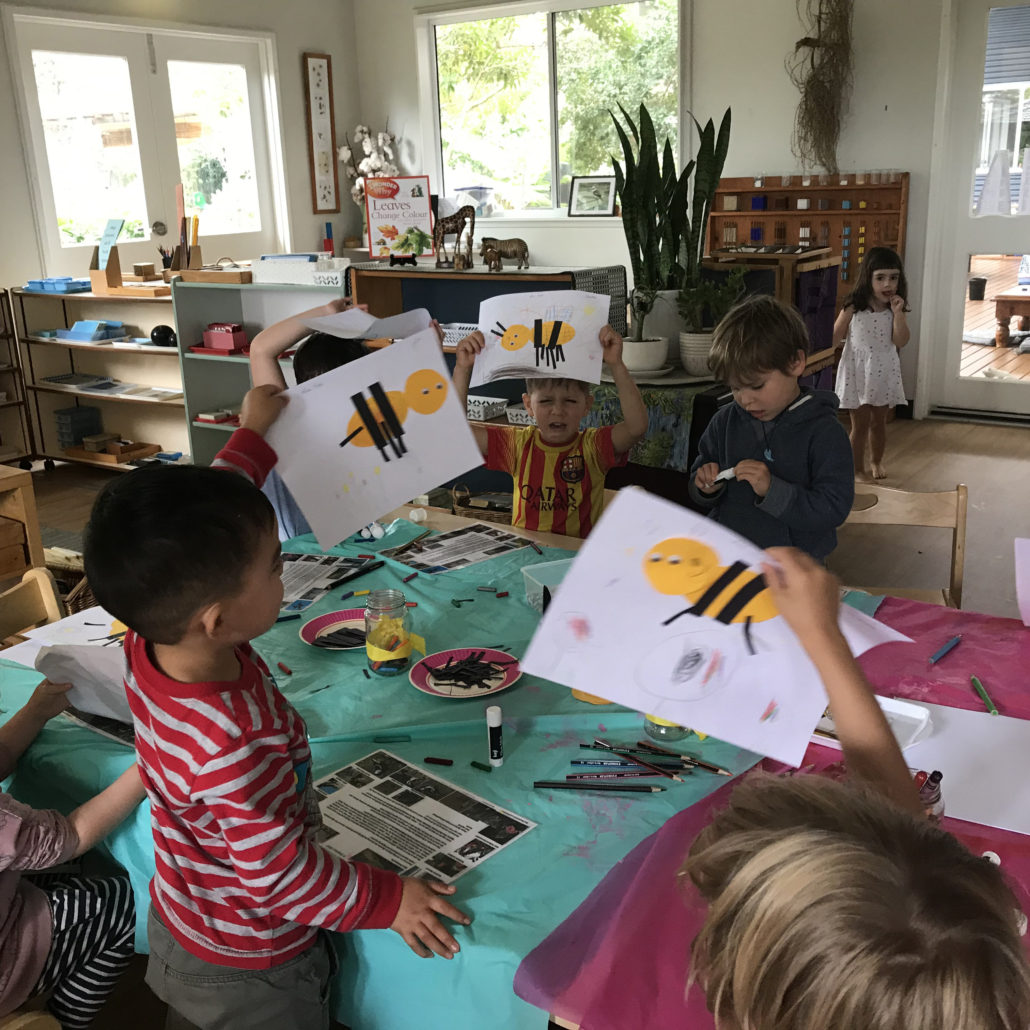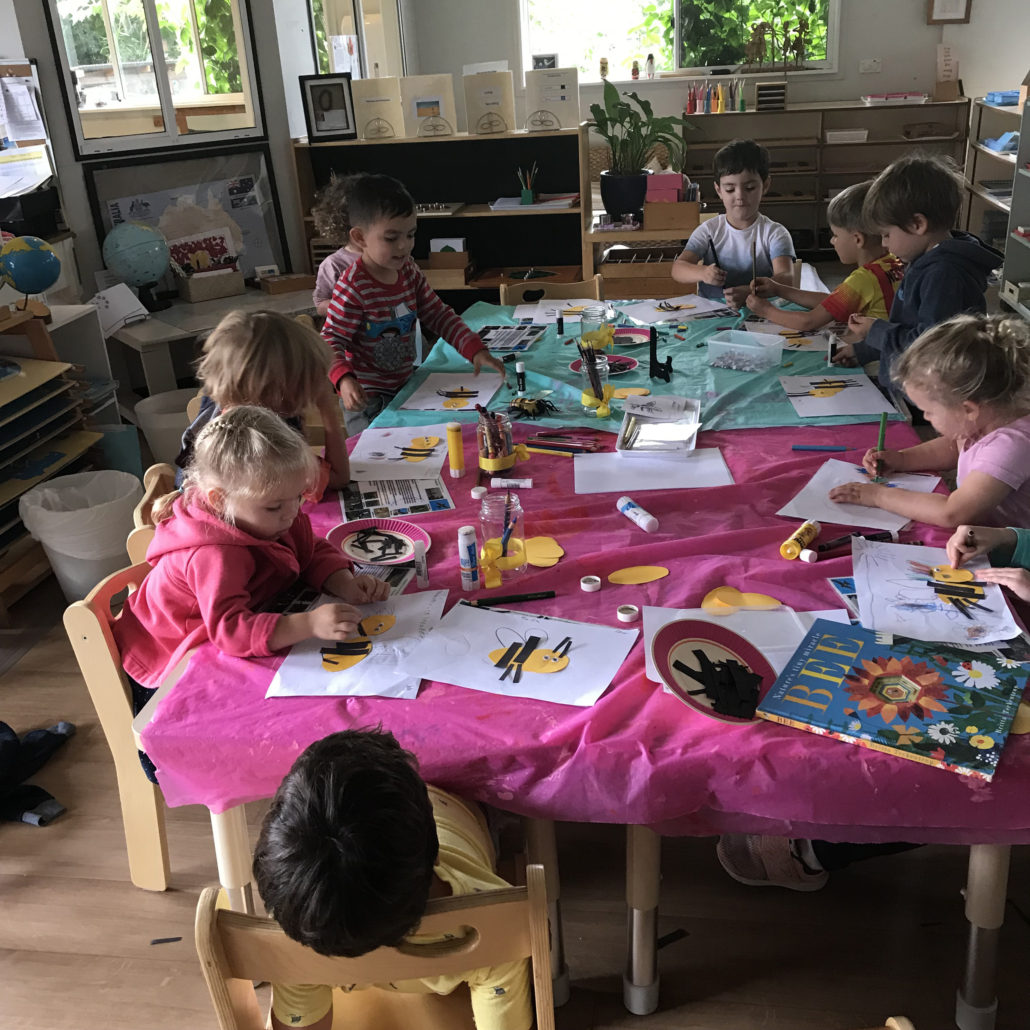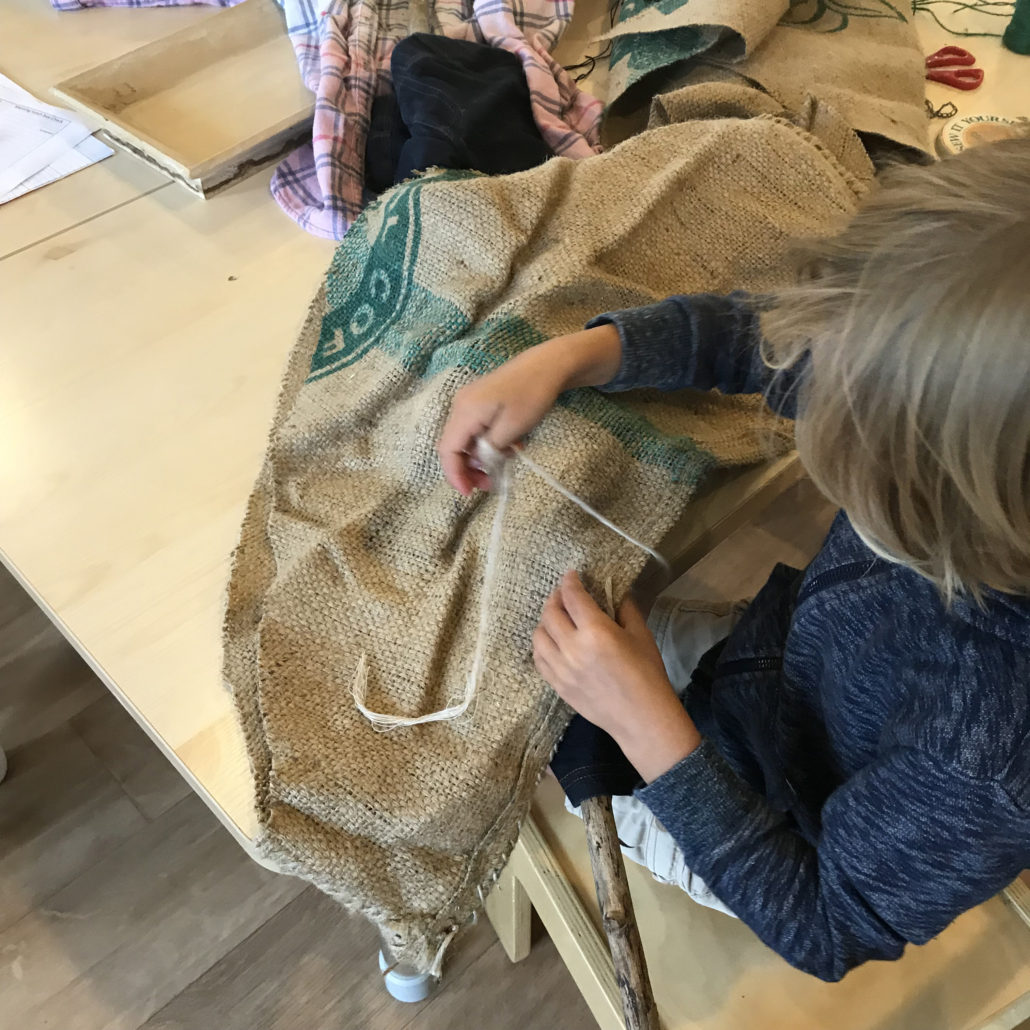 AMAROO | Outdoor Classroom
A little book about the Titanic has led into a week of Engineering projects.  One conclusion being "if the Titanic had been an ice breaker ship it wouldn't have sunk!"
Inquiring minds have researched types of engineering and then each day the children chose what they would do.  By the end of the week they knew they had to research, draw designs, write specifications, use maths, work as a team to share ideas and build a model.
They could explain how their model train, ship, aeroplane, car worked and what they would need to build it "in real life".They expanded upon their knowledge eg learning about  different types of bridges, materials, using Montessori materials, The Roman Arch to reinforce their learning.  Building vocabulary, practicing their writing skills, mathematical enquiry, curiosity, knowledge of the world around them.  So much going on!  Some children dipped in and out of this on going work others where engrossed every day working for up to 2 hours on an idea from inception to completion. Great life skills.
To have a child say "I am so excited to be at school to do….my engineering work" is such a treasure.  What will next week hold for us all?
– Dawn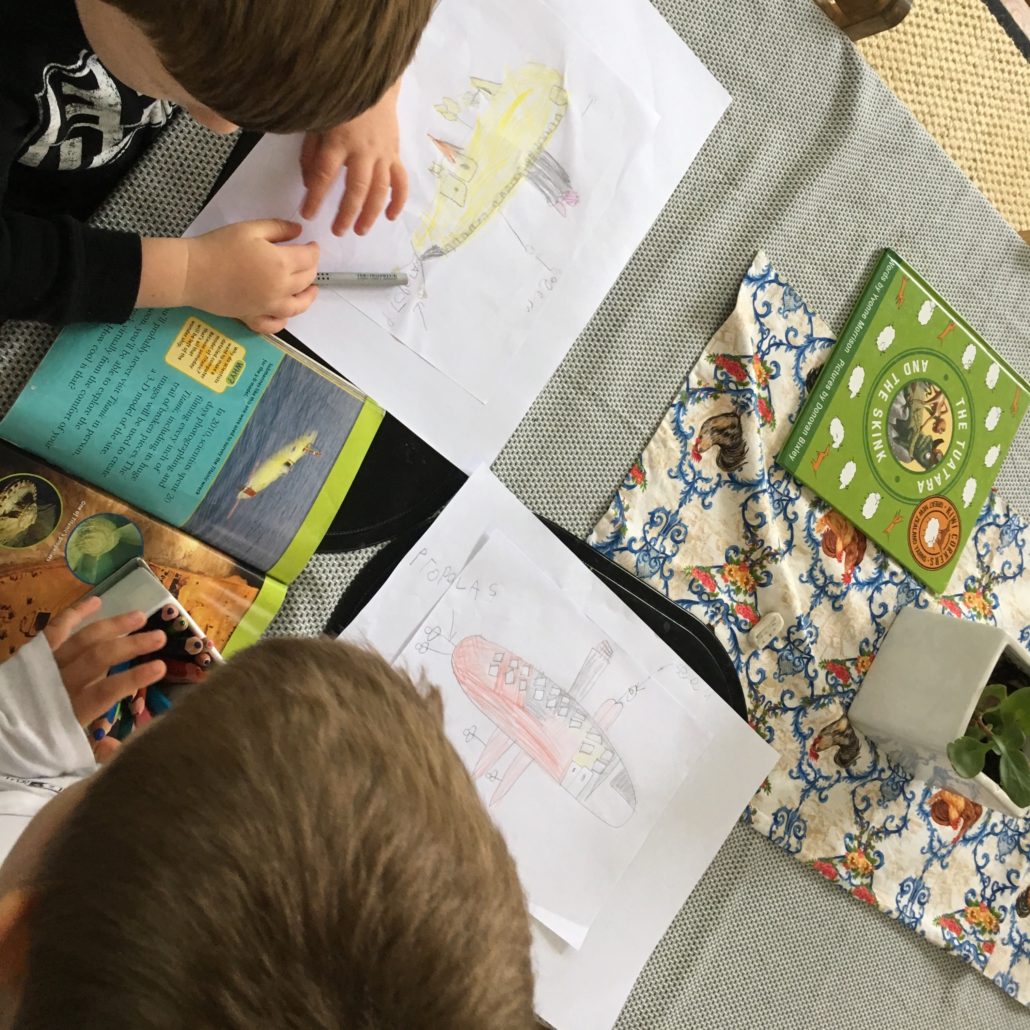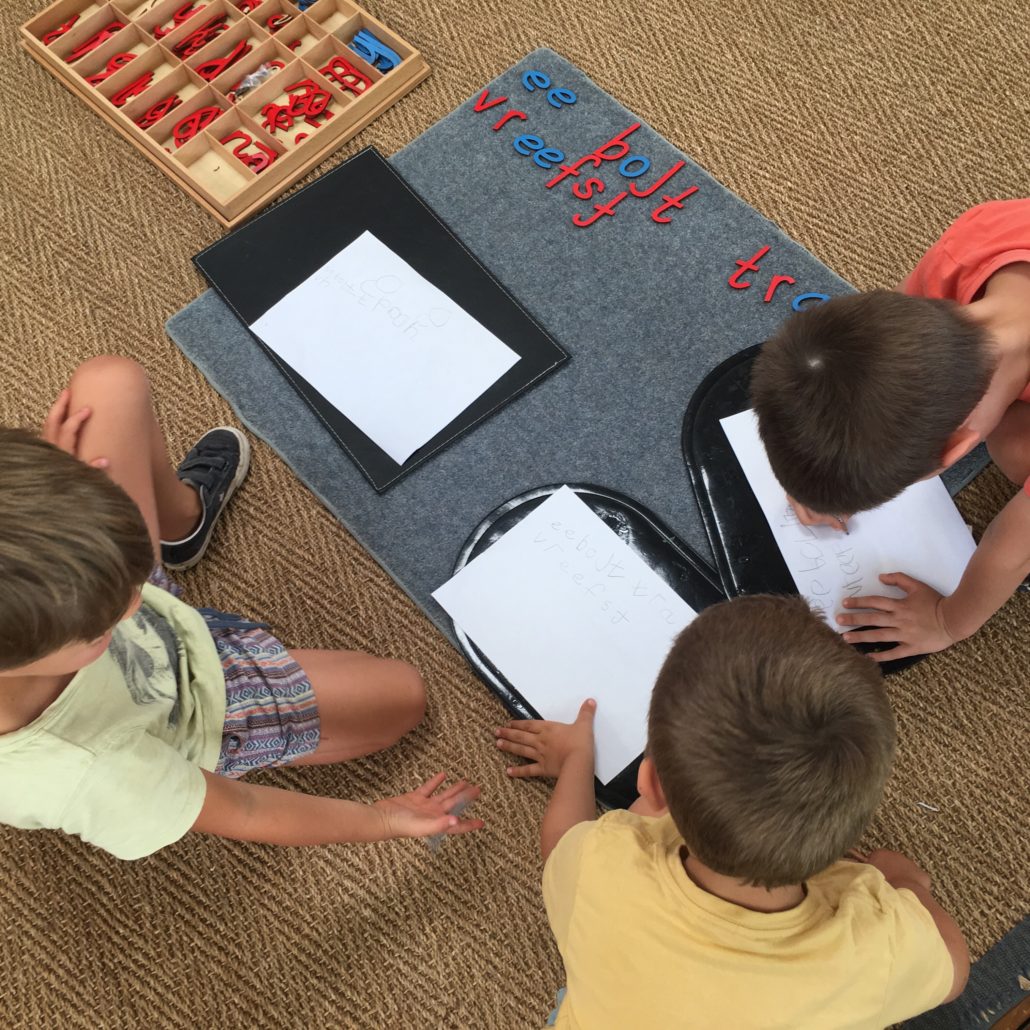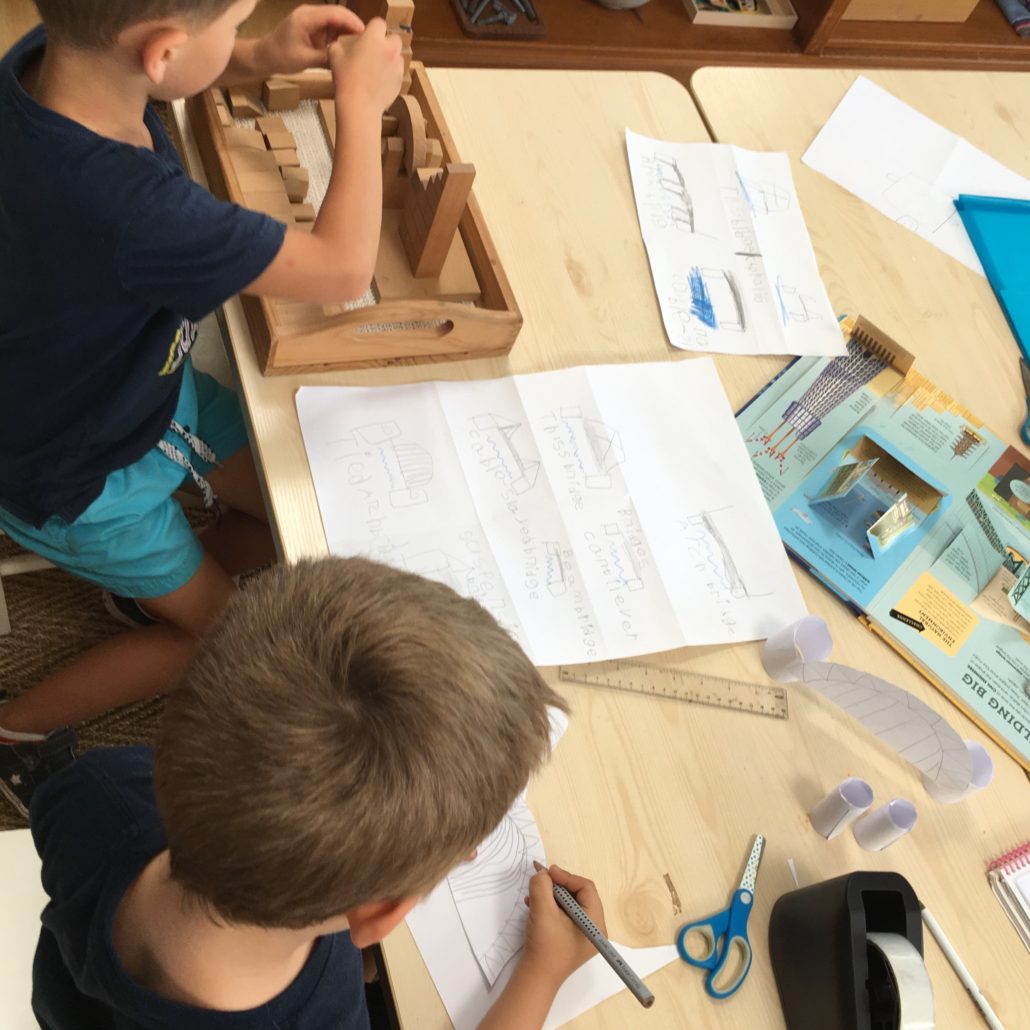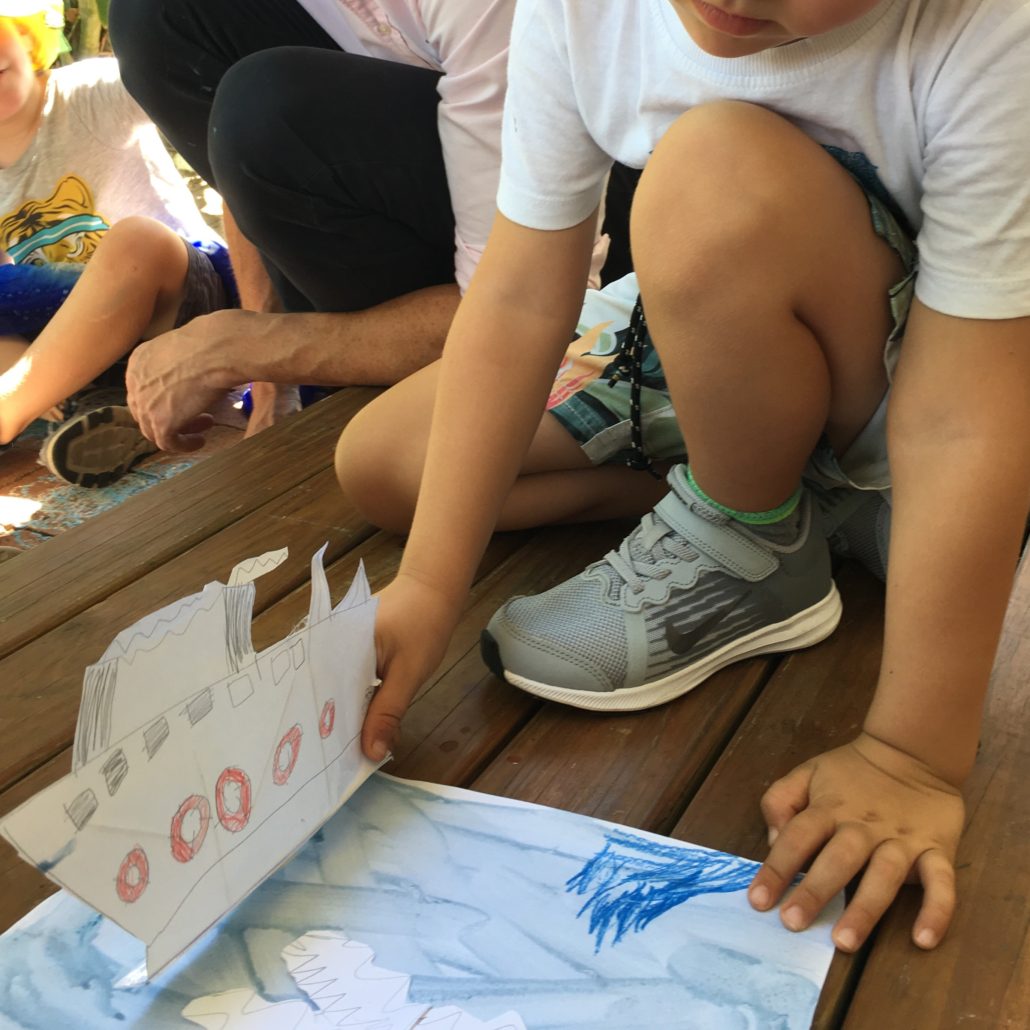 This week the Kindergarten children have been very interested in making small books. We have been deciding on our topic and discussing what we would like to put in the books. Topics have included: types of animals, all about me and types of transport. We have been working on sounding out words, leaving spaces between words and writing our names on the front of the book. The alphabet box has been used often, with children writing out short words or making up their own stories.
The chickens have been laying lots of eggs and we made lovely banana muffins and pancakes. Thank you to Lola Jane's Mum Belinda for helping us make some delicious pancakes! We have been making posters to put up in the chicken coop explaining how to take care of them. We drew pictures of the chickens and wrote down what they like to eat.
We have been working on adding amounts together. The children were shown the addition and equals symbol and we discussed how to write out a number sentence. Some children have been adding the eggs together!
The process of being an engineer has been popular, with children making boats, cars, aeroplanes, airports and aquariums. We spoke about different types of engineers and how to design and make a specification before building. This has led onto many discussions about how things are made and how things work.
– Elizabeth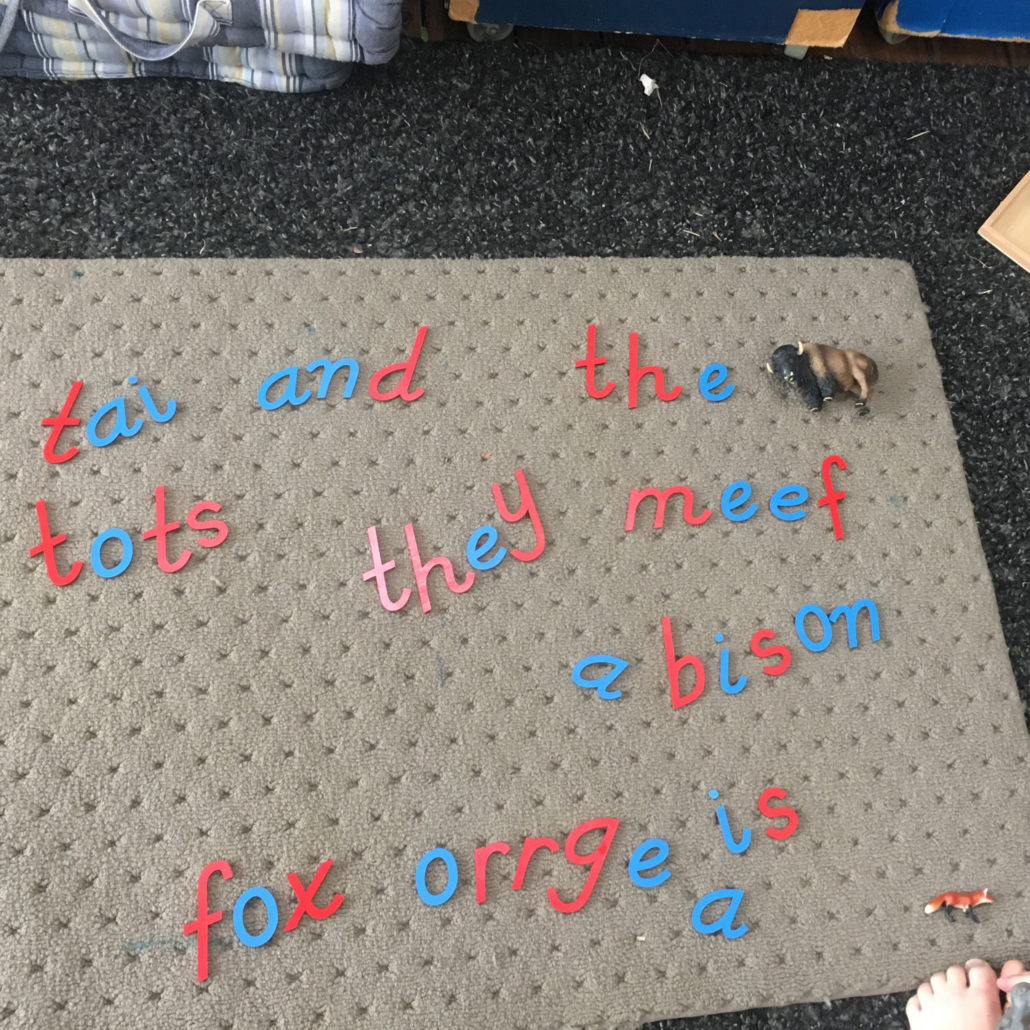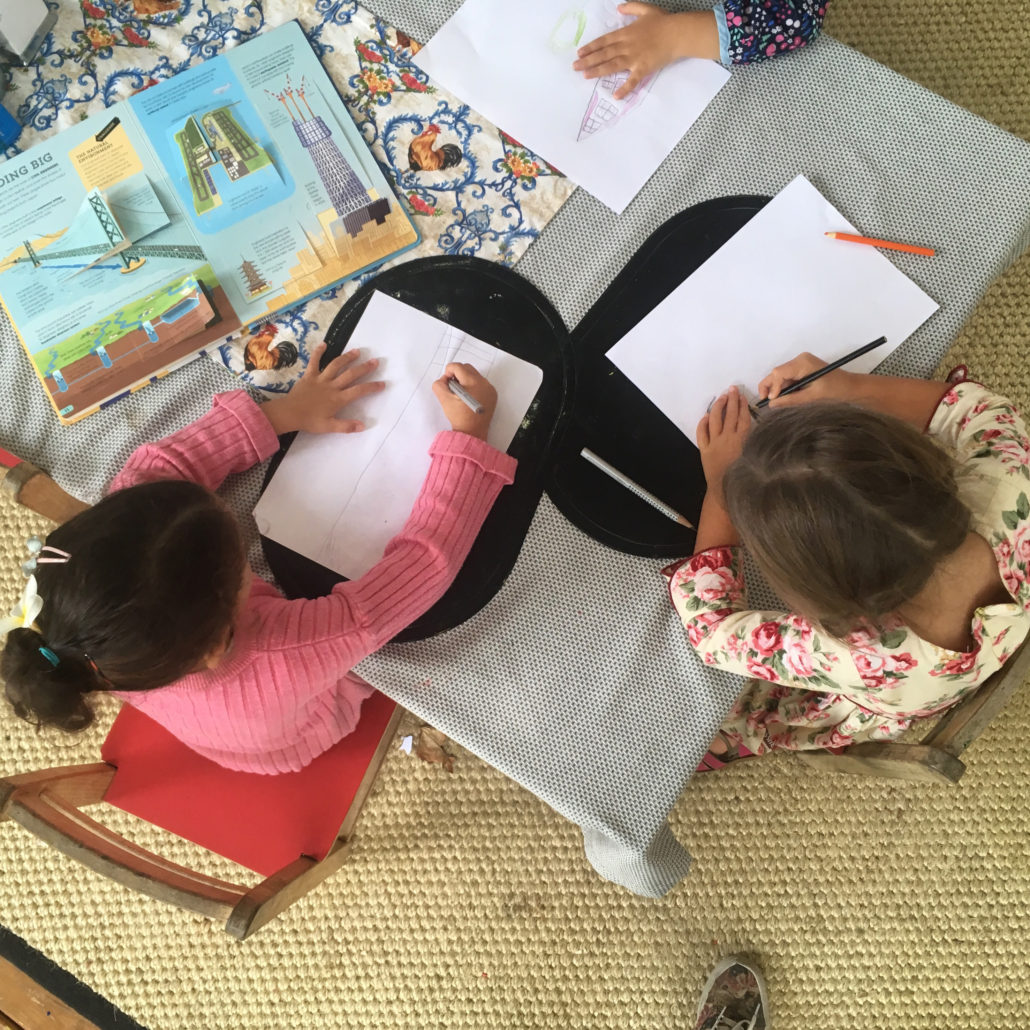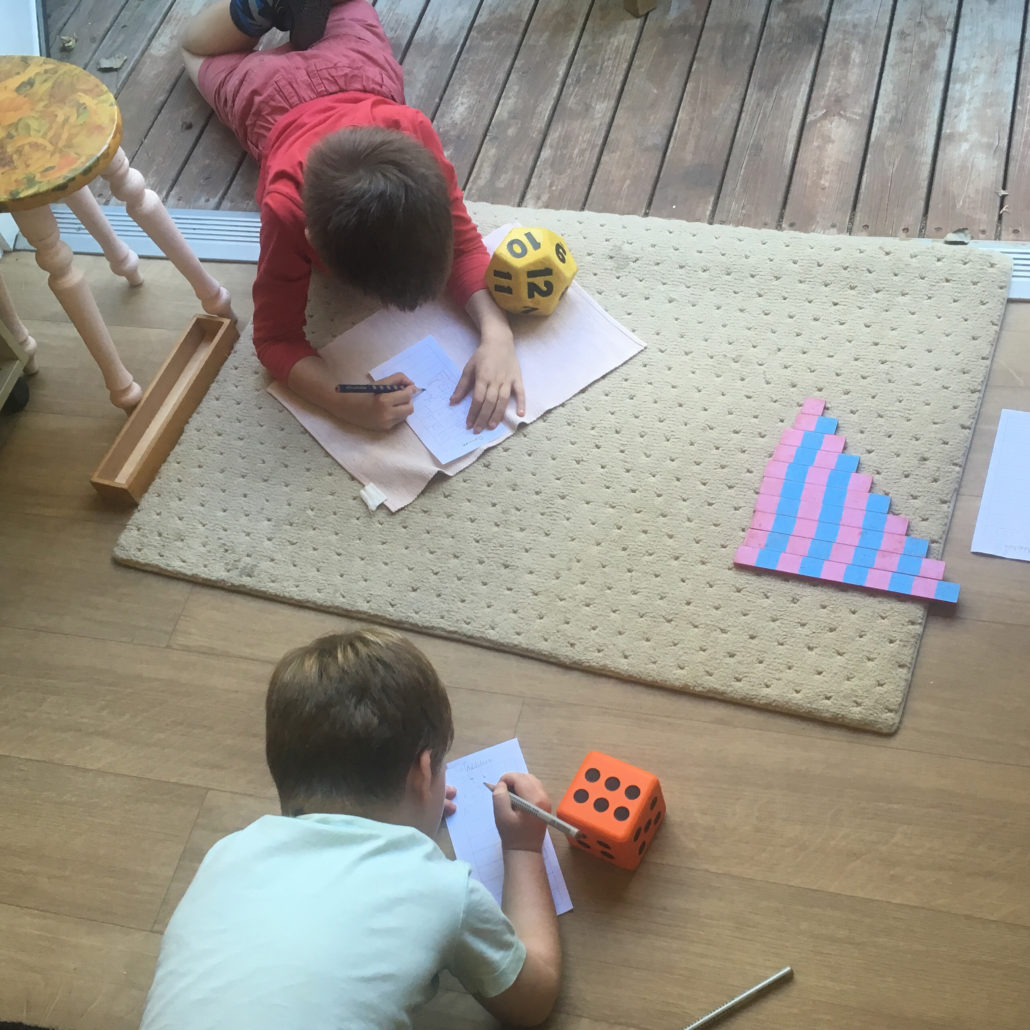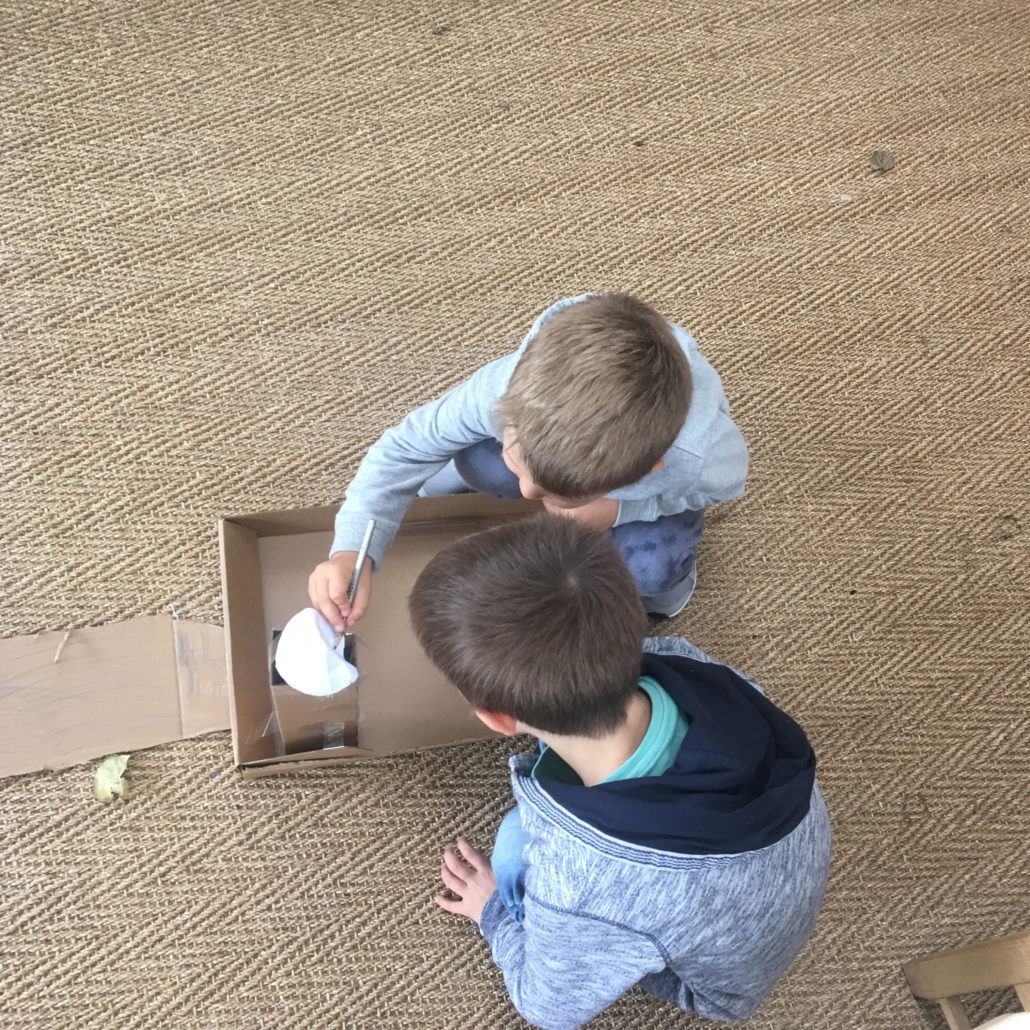 As many of you may already know we are in the year of the pig of the Chinese zodiac. Aikya's children had a great time in making a piggy bun as part of our cooking lesson. The children enjoyed the buns over morning tea break and they wanted more cooking lessons which will continue throughout over several terms. Cooking lesson is a fun activity that encourages children to be creative in writing their own recipe as part of writing and exploring different text types.
As we further our study of First Great Story: The Beginning of the Universe. The children in Aikya continues their research in the topic that interest them. One of the topic the children often find fascinating is the Volcano. The children have been researching on how the volcano came about. What causes an eruption and how many countries still have active volcanoes and so forth. They also made a volcano craft which will be used as an experiment once completed. In addition, They also have been learning the parts of the volcano where some of the children will be making the volcano booklet.
The children will continue to study angles which will see them tape and measure different angles of the classroom door. A great visual and fun activity the children can benefit from.
We would also like to welcome Oscar and his family Amanda and Simon Du Flou as part of Farmhouse community.
– Samantha & Laura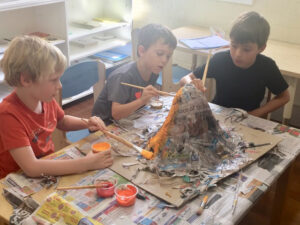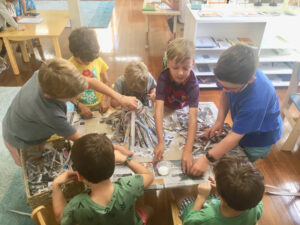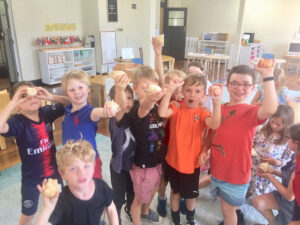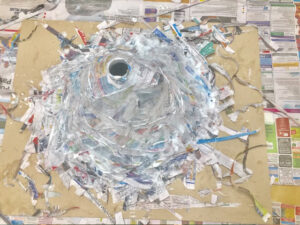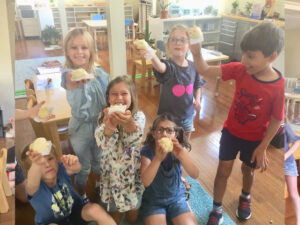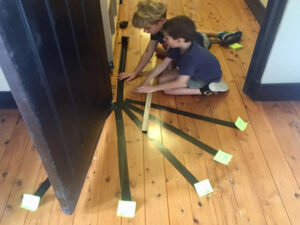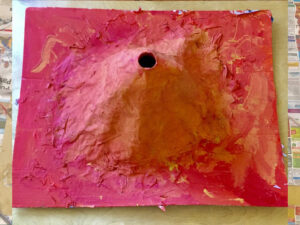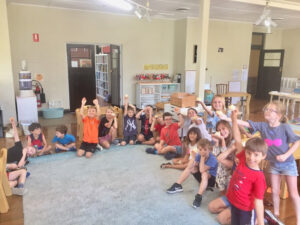 Last week in Yani we had a visit from the police on cyberbullying and how to be safe on the internet. Some of the advice that they gave us was –
Don't let anyone know your password, not even your brothers or sisters, only your parents or a trusted adult.
Don't use your real name when creating usernames for games.
Make sure you only connect with friends that you know in real life.
We learnt a lot from their visit about how to be safe on the internet.
Yani is starting block coding and robotics. Coding is basically commanding the computer to do something, like solve a problem or clear a level. When we start our robotics in a couple of weeks, we will be learning how to program robots, everyone is very excited about this.
There has been lots of geometry in the classroom recently, Xavier learnt how to form shapes using right angled isosceles triangles, he taught this lesson to other children in the class.
We have been learning about the different types of triangles, their names and angles. Some people made beautiful diagrams to highlight the different parts of the triangle, we learnt about the altitude, hypotenuse and perpendicular lines.
By Darcy and Sam E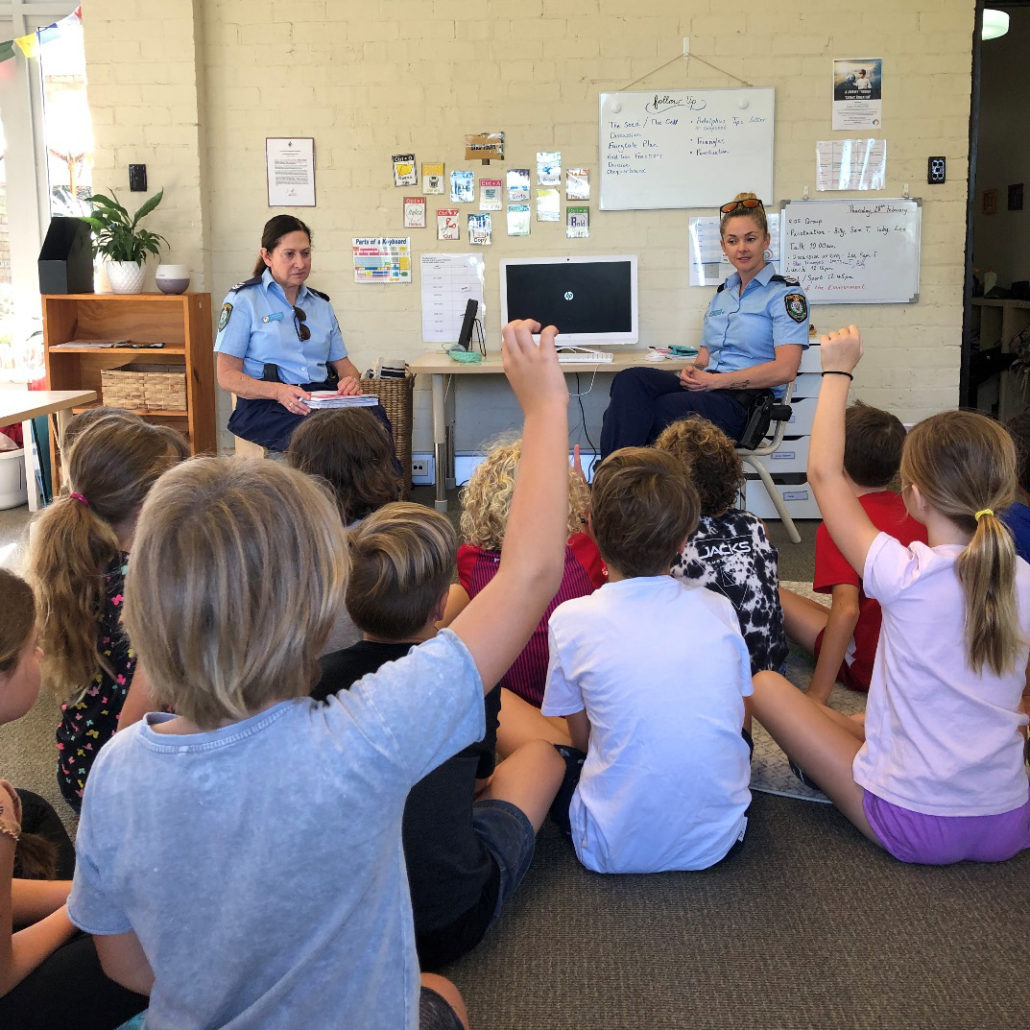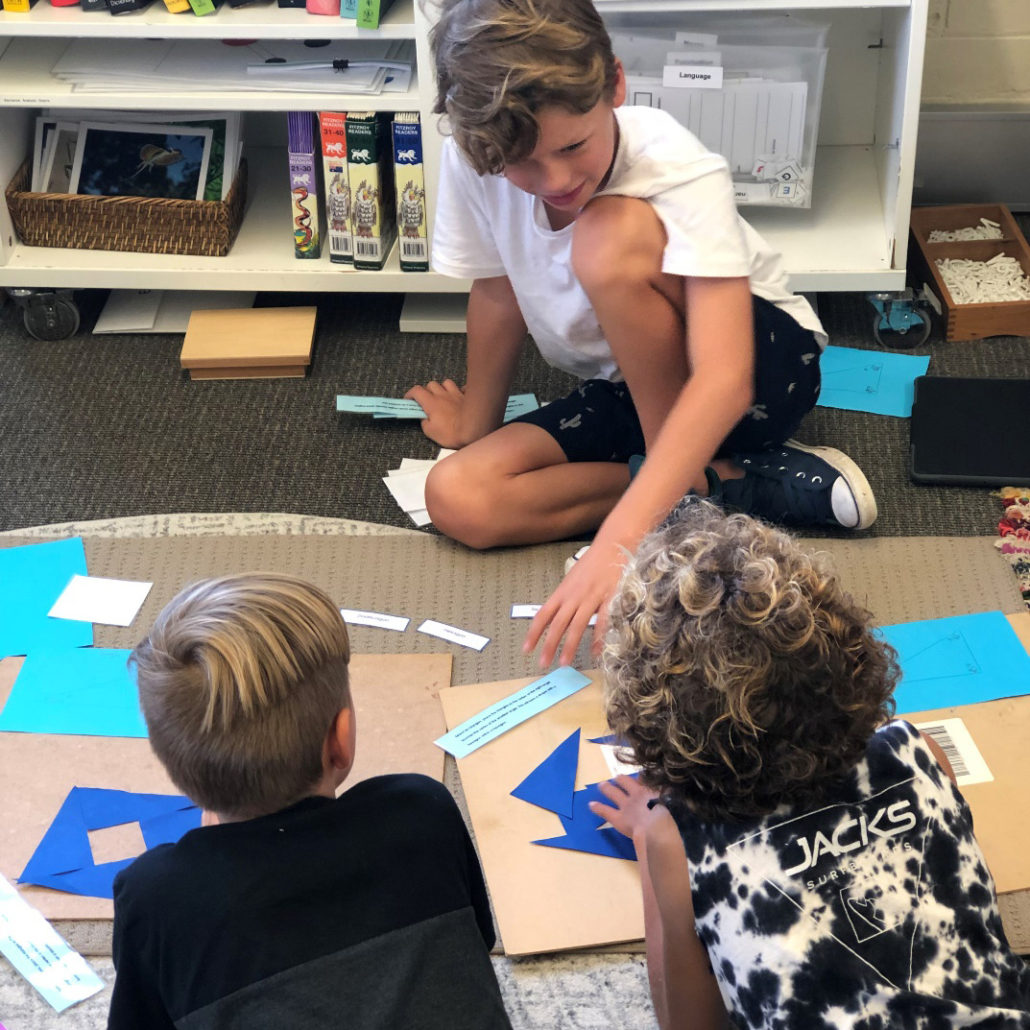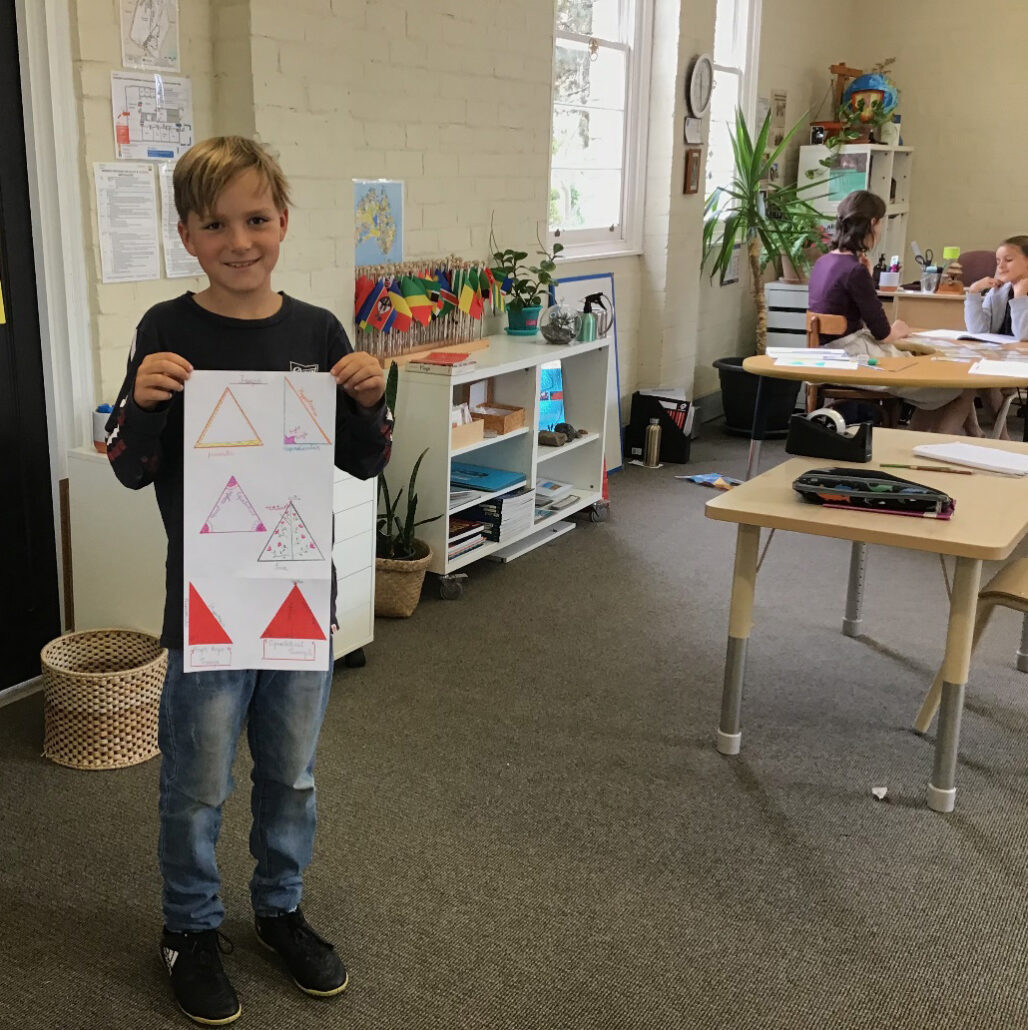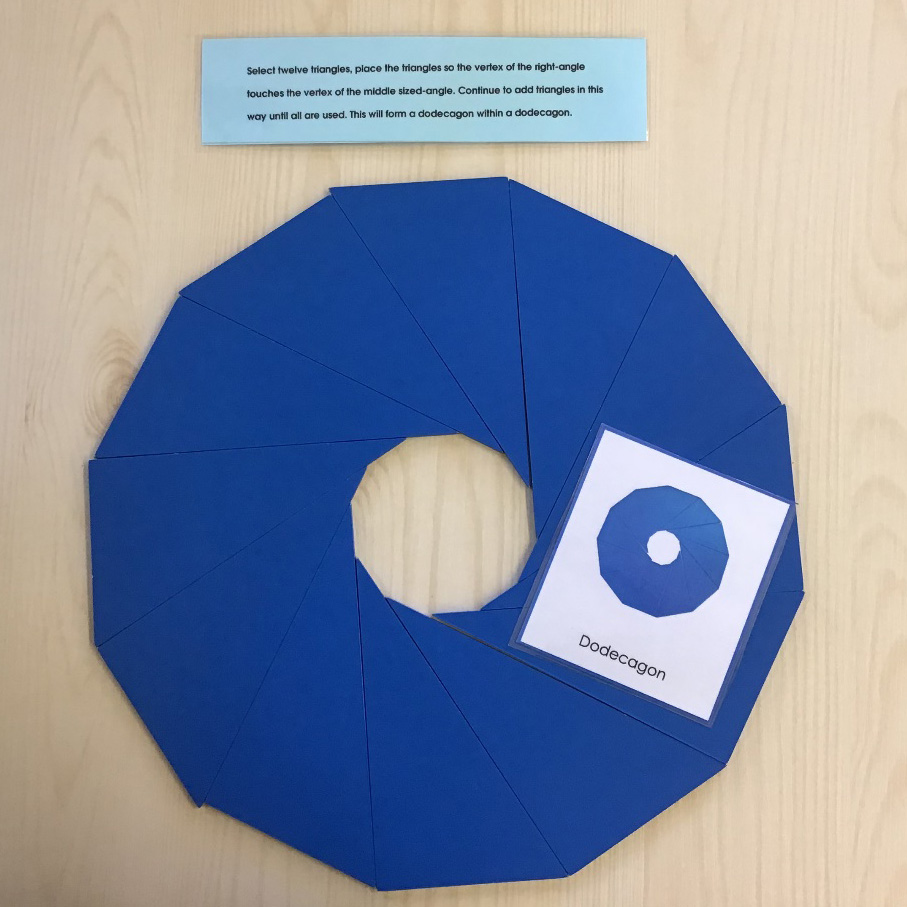 Farmhouse | Primary OSHCare
Dear Families,
Primary OSHCare endeavors to support the communities in which we are embedded thorough contributing to school initiatives and events. We have recently supported the Farmhouse Montessori School, who's children wrote, launched and published two books; The Two Leopards Meet and Christmas with the Leopards. Not only did Farmhouse Primary OSHCare, purchase the books, we opened up the opportunity to all Primary OSHCare Centres. The books are now in 40 Centres across our organisation. Thank you for allowing us to support the school in such a great cause.
We have recently left our April Vaction Care program in family's pockets. Have a look and get excited, it's going to be a fun filled holiday and we would love for you to join us. If you have any questions or would like further information, please feel free to contact the centre.
We have had a great time outside this week. The children have been engaged in a variety of activities including a paper plane competition. The children threw their planes from the same point to see who's would fly the furthest.
Also this week we got out the Totem Tennis to keep our tennis skill on point. The children always enjoy playing this and ask that an educator time their turns so everyone get a fair go.
Please see the Centre journals for more details and photos from the week.
Next Week Events:
11th March – Commonwealth Day
14th March – International Ask a Question Day
15th March – International Day of Action Against Bullying & Violence
11th – 17th March – Brain Awareness Week
20th March – International Day of Happiess
21st March – Harmony Day
If you would like more information about Primary OSH Care or our centre and how to enrol, please visit our website www.primaryoshcare.com.au
– From Amanda, Kim and all the OSHC staff at Farmhouse Montessori OSHC Centre
E: fmoshc@primaryoshcare.com.au
M: 0447 821 806