2020 Newsletter Term 04 | Issue 02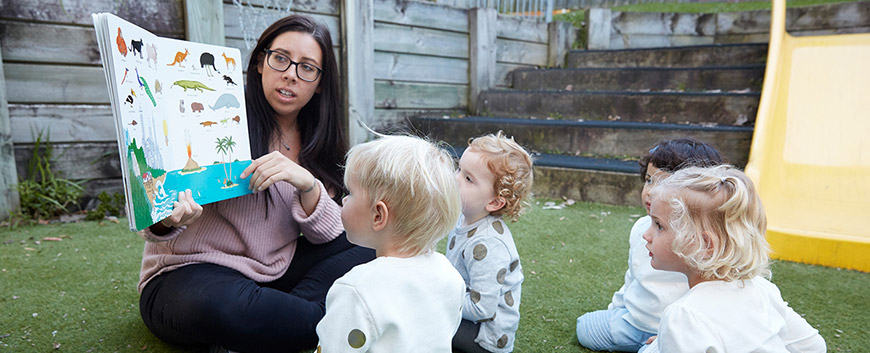 Upcoming events & Important Dates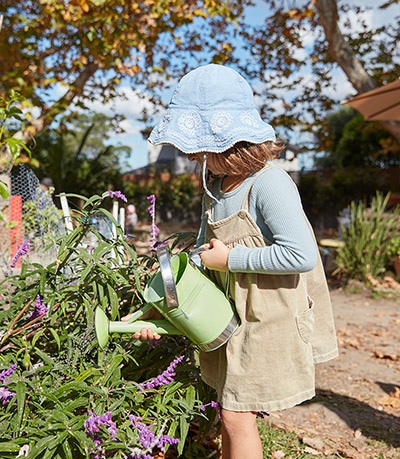 16-27th Nov – Parent Teacher Conferences: Yani & Aikya
Tuesday 24th Nov – Orientation Evening-Primary Campus now on 5th November to be held via Zoom 3.30pm
Friday 4th December – Stage 3 Graduation Ceremony 2.15pm – (Stage 3 Parents only Due to COVID restrictions.)
Monday 7-9 December – Primary – Stage Three school Camp
Thursday 10th December – 1.45-2.30pm End of Year Concert – Primary Campus – held via Zoom
Thursday 10th December – Preschool – Last day of Term 4 – closes 3pm
Thursday 10th December – Primary Campus – Last day of Term 4 – closes 3pm
Friday 11th December – Both Campuses – Closed- Staff Development Day
Click
HERE
to see further calendar dates.
Principals Message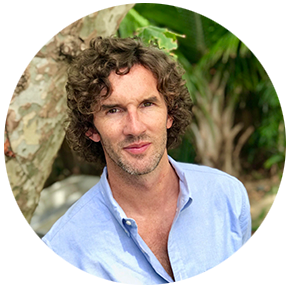 Dear Parents and Carers,
I hope you are all well. This week our school community took part in a cyber safety workshop with the amazing Susan Mclean. She explained how the online world of games and apps can be very different from the real world and while we are all vigilant as to how our children use technology, it was evident that we must be on the same page as a community in order to protect our students from the perils of the online world.
As a school, we are extremely vigilant to any content our children are exposed to in school. All of our teaching programs, online content or literature are always pre-read or pre-watched to make sure that our children are protected.
Three pieces of amazing advice that Susan suggested were to:
Never allow our children to use online capable technology out of sight of parents.
Always  read the terms and conditions for any games and apps your children have access to.
 If you are going to allow your children to play a game online, play it first yourself to gauge it's appropriateness.
Thank you to all of the families who tuned in to this important workshop. For those who could not make it, there's a link sitting in your inbox.
As technology emerges and the online and offline works begin to overlap, our job is to protect our students as much as possible and I believe that when we work together we can do this.
Have a wonderful weekend ahead and if you any questions please don't hesitate to reach out.
– Gavin McCormack
ELOUERA | Stage 1 Infant Community
Term four is a busy term for Elouera, perhaps most importantly because many of our children will move into their new classrooms in term one next year, so this term we spend a lot of time getting ready for change.
We have spent the year preparing the children and supporting their independence and emotional development, and now is the time we begin to explore those skills as we visit the other classrooms, children and teachers.
Continuity through change is key for a successful transition, visiting other classrooms with the security of familiar educators, allows the child to develop confidence and comfort across all their environments. The transition to the 3-6 classroom is most effective when it occurs over a period of time and continues to position the child as in control, capable and independent. We want them to feel like this is something that is happening with them, not to them.
This next stage of their educational journey is exciting, challenging and will provide so many opportunities and possibilities.
– Corinne, Debbie & Sarah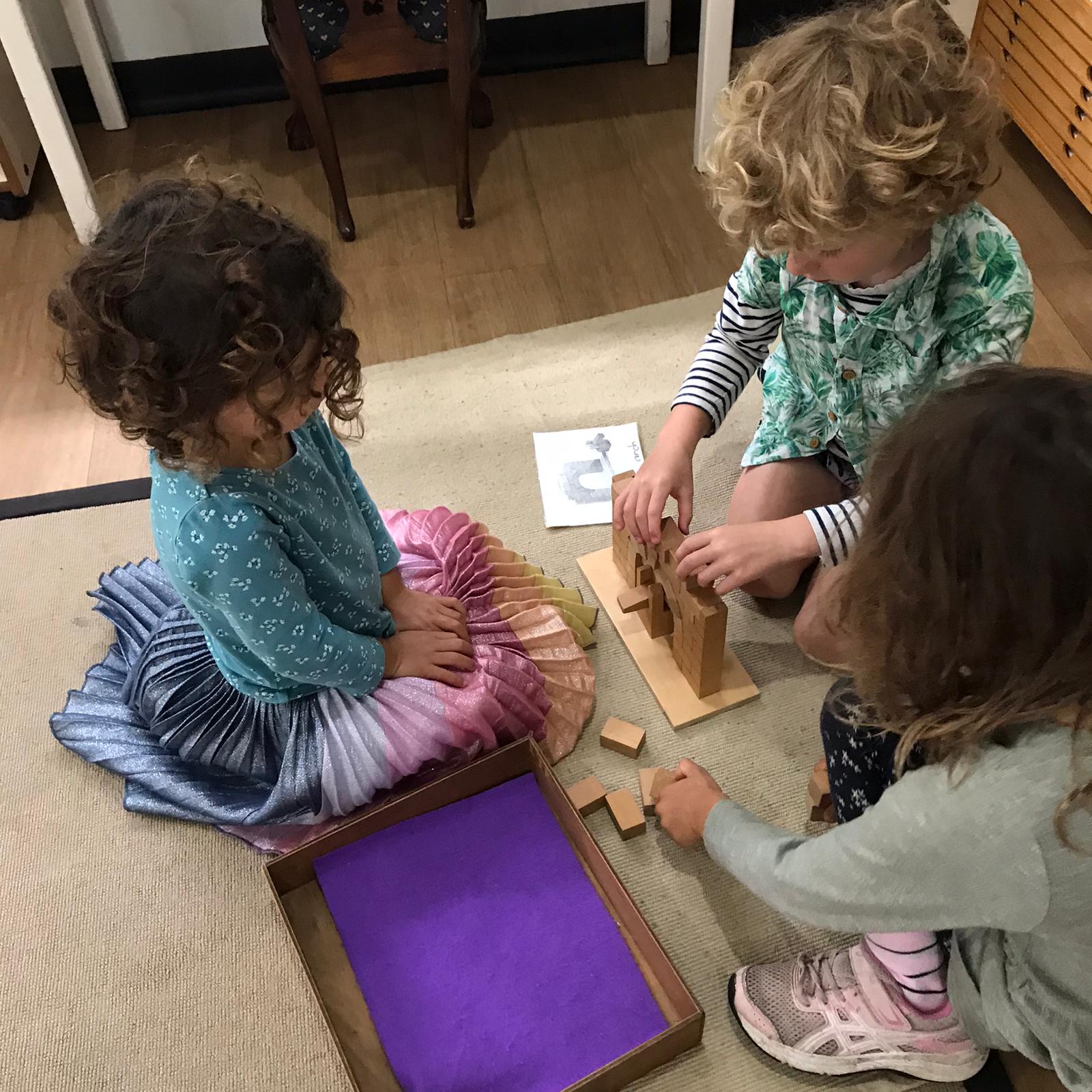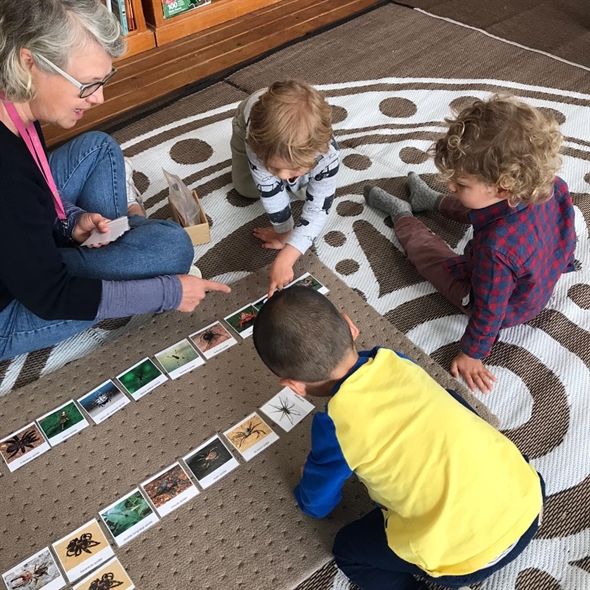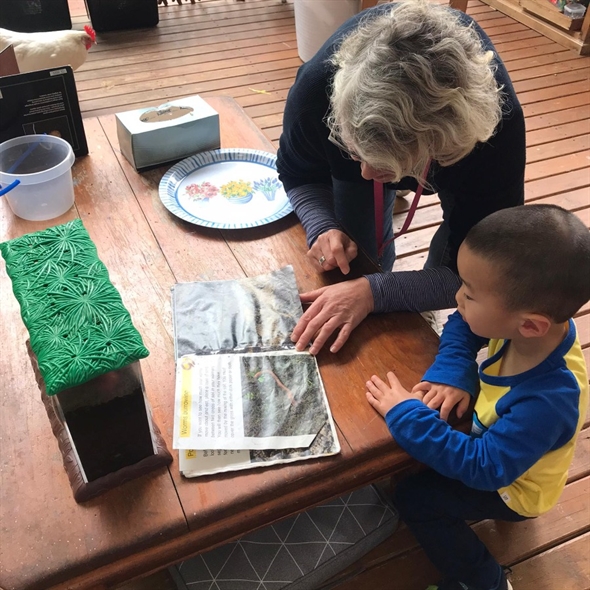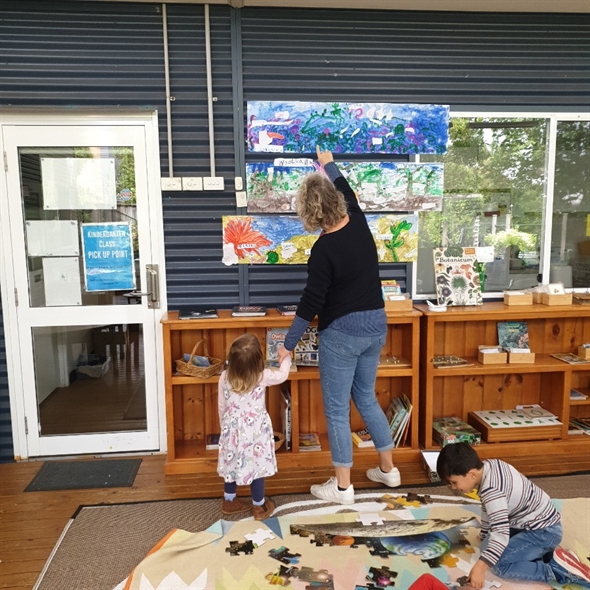 Children learn to appreciate the natural and social world through their senses. The science related activities in the classroom provide a hands-on learning experience that allows freedom of choice and repetition. Children choose from a variety of experiments presented to them on trays displayed on the shelf, the volcano experiment is a favourite. To this we add a natural element to their learning. We learn about life cycles of plants and animals. Over a period of time children observe a seed growing into a sunflower. At the moment our class is full of excitement as we have been watching our silkworms grow and start spinning their cocoons. Not only have they experienced learning about the lifecycle of a silk worm, they have learned skills in caring for them as well by making sure they have food to eat.
– Amanda & Teresa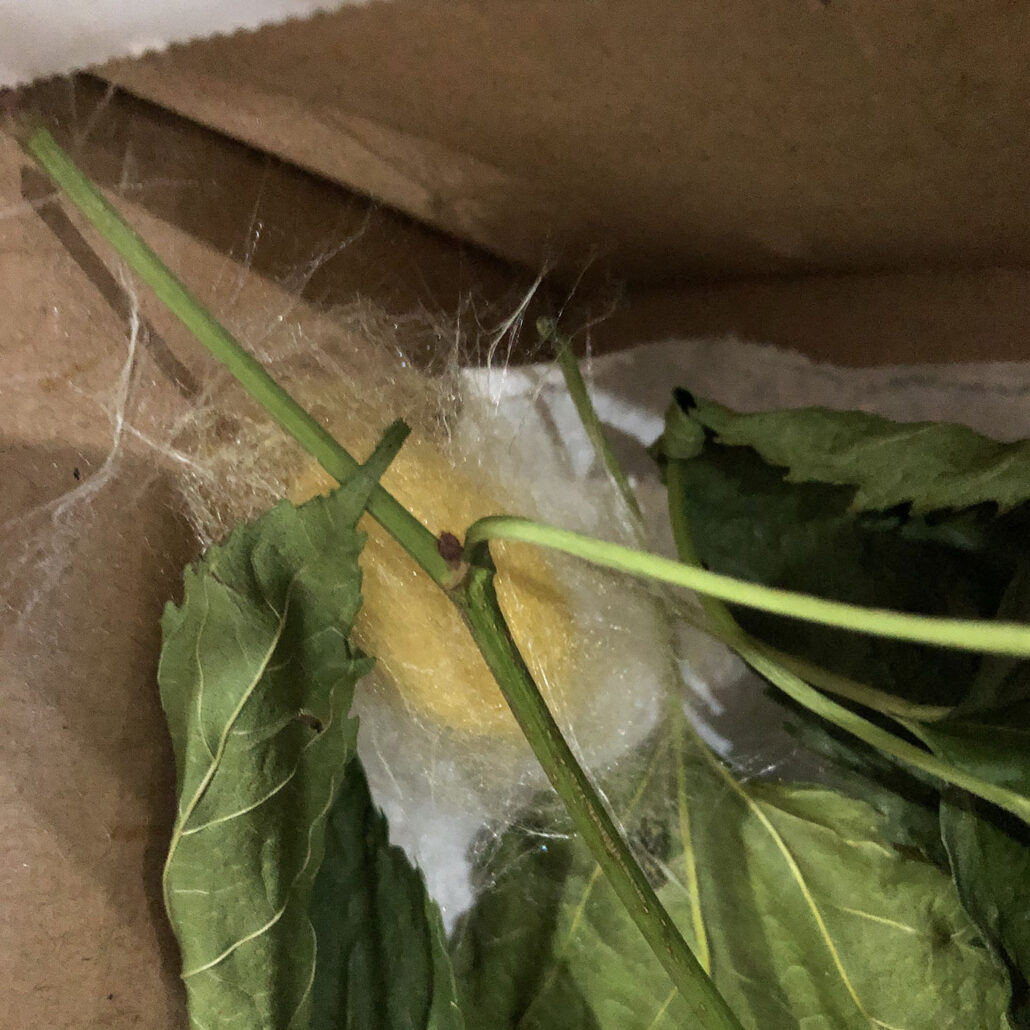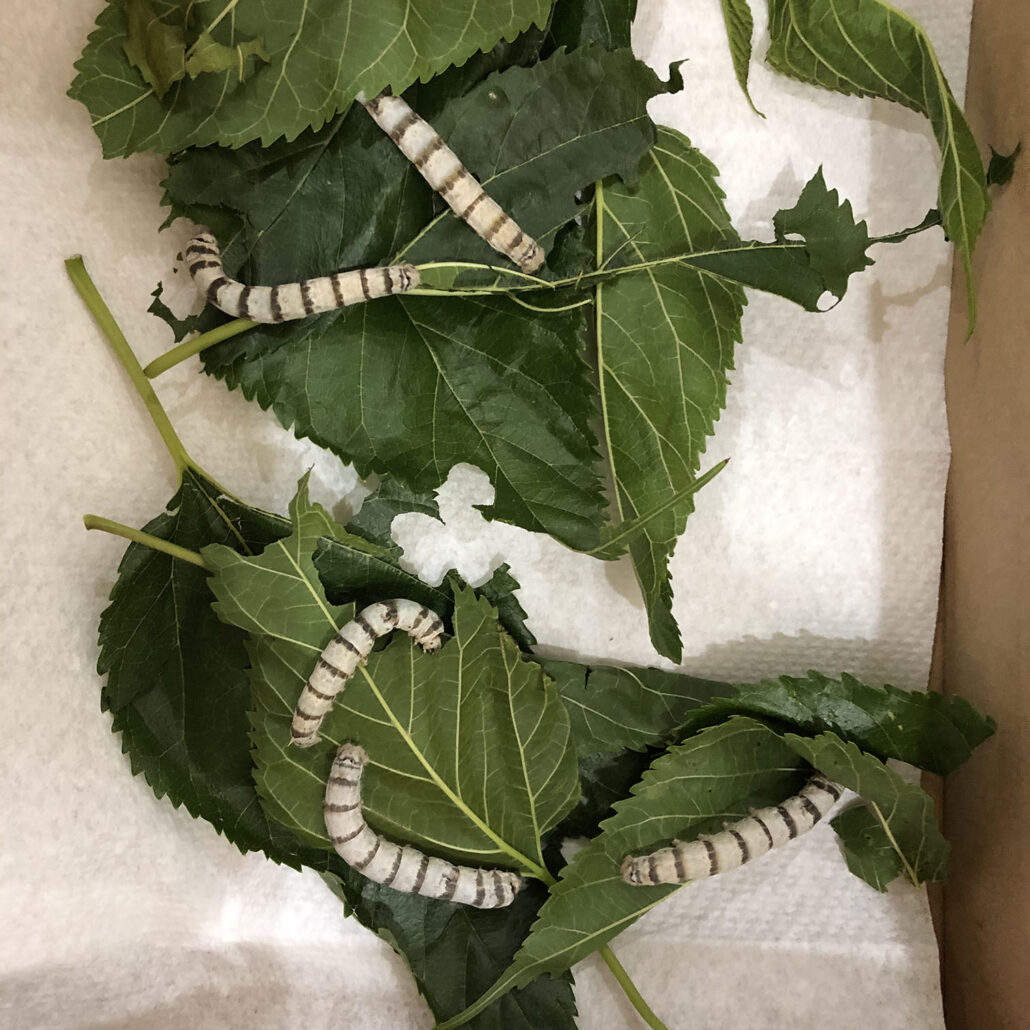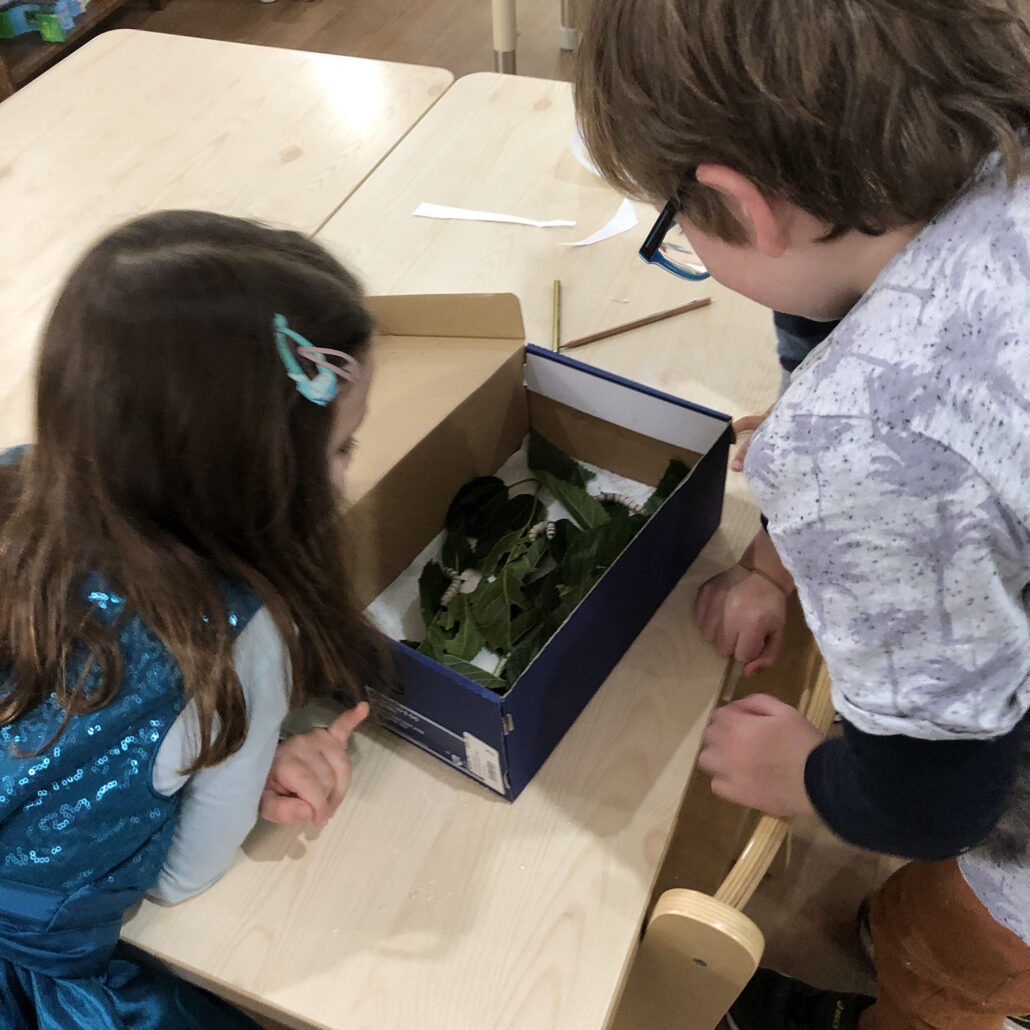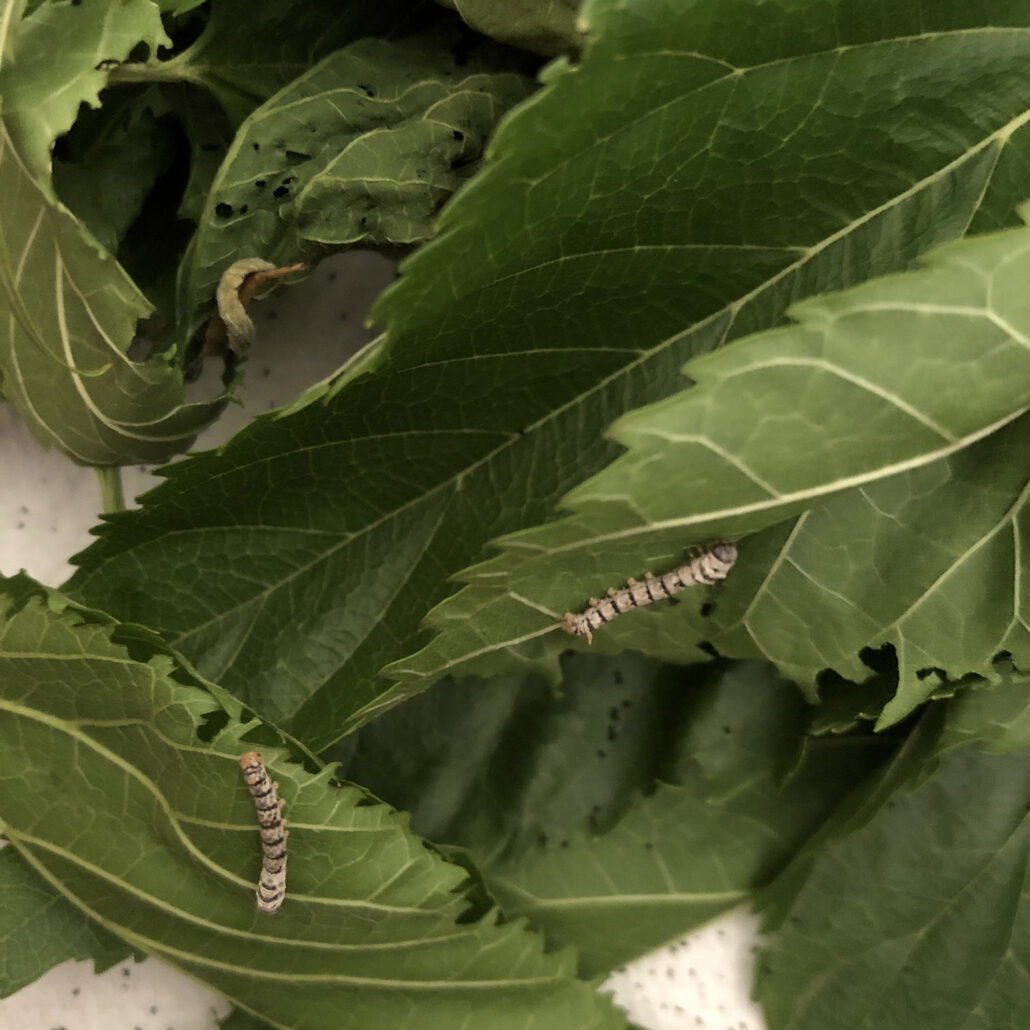 Lots of rain and warm weather has brought an explosion of flowers into the garden. Children are by nature curious about the world around them. Our work as educators is to take these spontaneous interests and expand them into learning opportunities. The discovery of flowers in the garden led to a presentation on parts of a flower. The flower was dissected allowing for the visual pictures and text to match the real flower. " When children come in contact with nature, they reveal their strength." Maria Montessori
– Jenny, Jo & Angela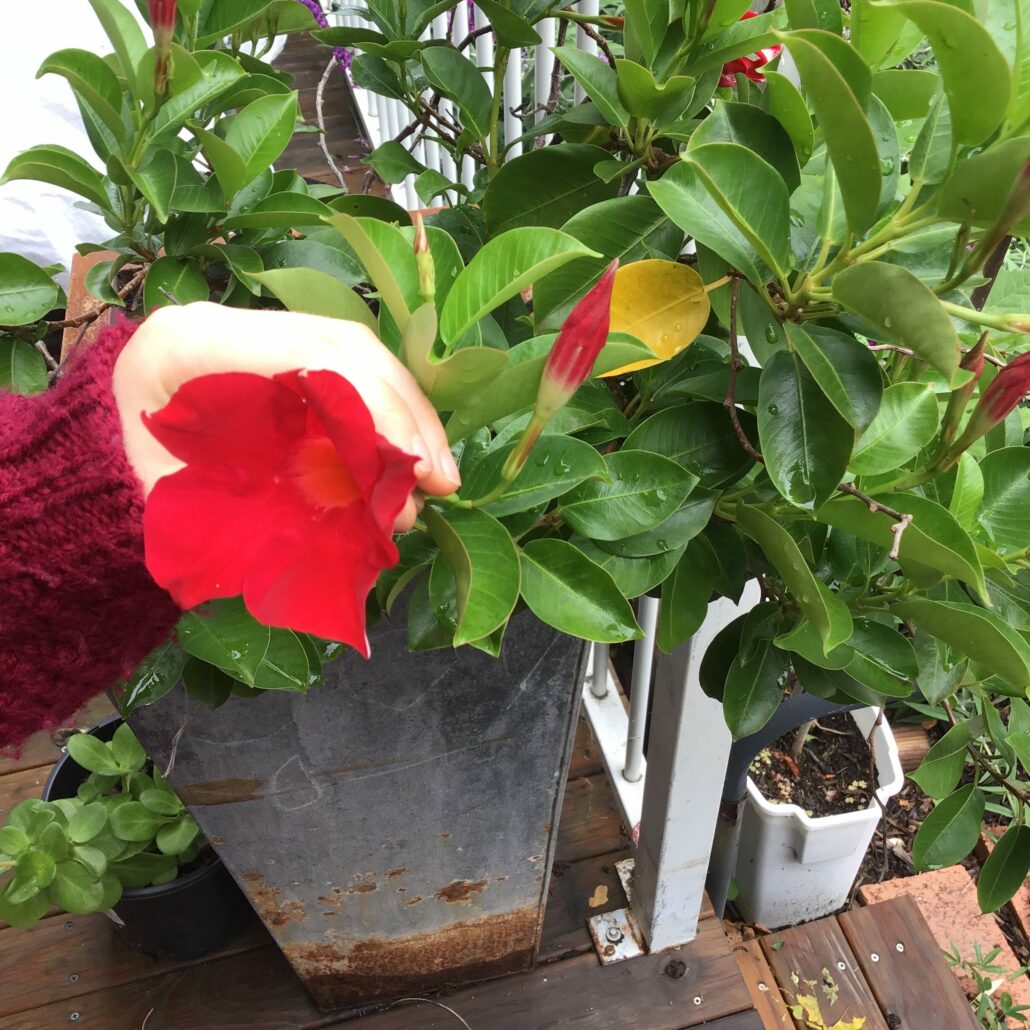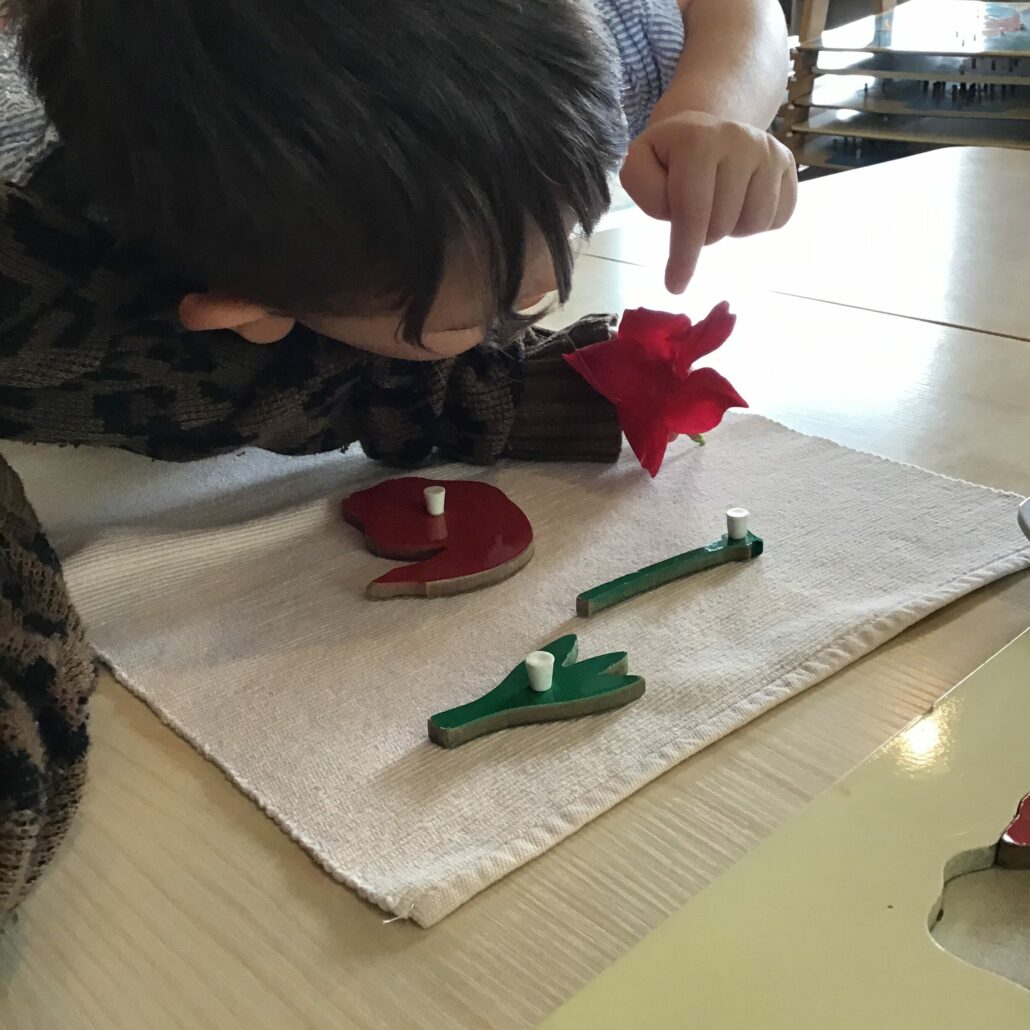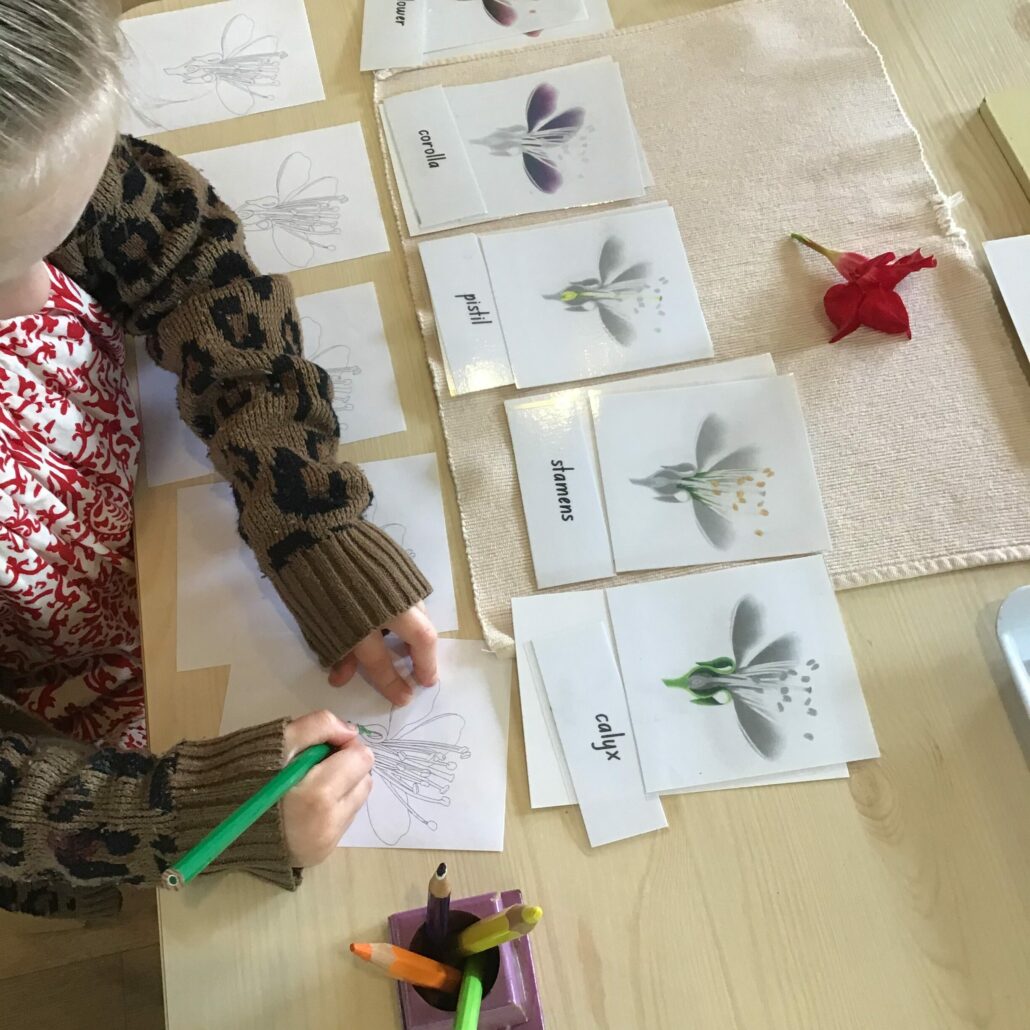 AMAROO | OUTDOOR CLASSROOM
We are lucky enough to have an amazing library of reference books for the children in the Outdoor Classroom.  Good non fiction books help expand vocabulary and build real world connections.  Using these books also fosters critical thinking and information gathering skills.
We love learning something new every day be that how a turtle can see under water or how does the harbour bridge not fall in the harbour.  These books nourish a child's curiosity of everything around them from an apple to a solar panel and lots in between.   Children then decide how they will present their findings working in groups or alone eg making books of their own, posters, artworks, writing a story, or pretending you're a turtle with goggles on!
– Dawn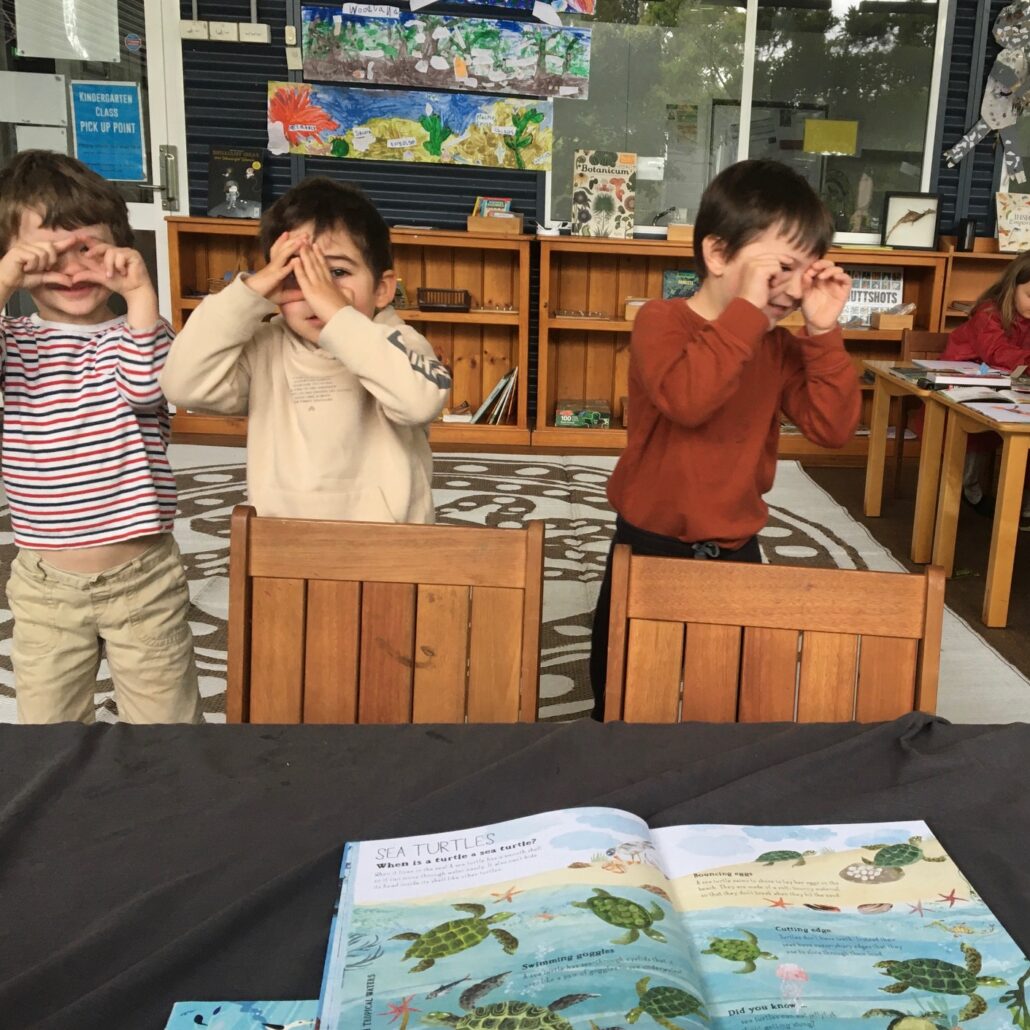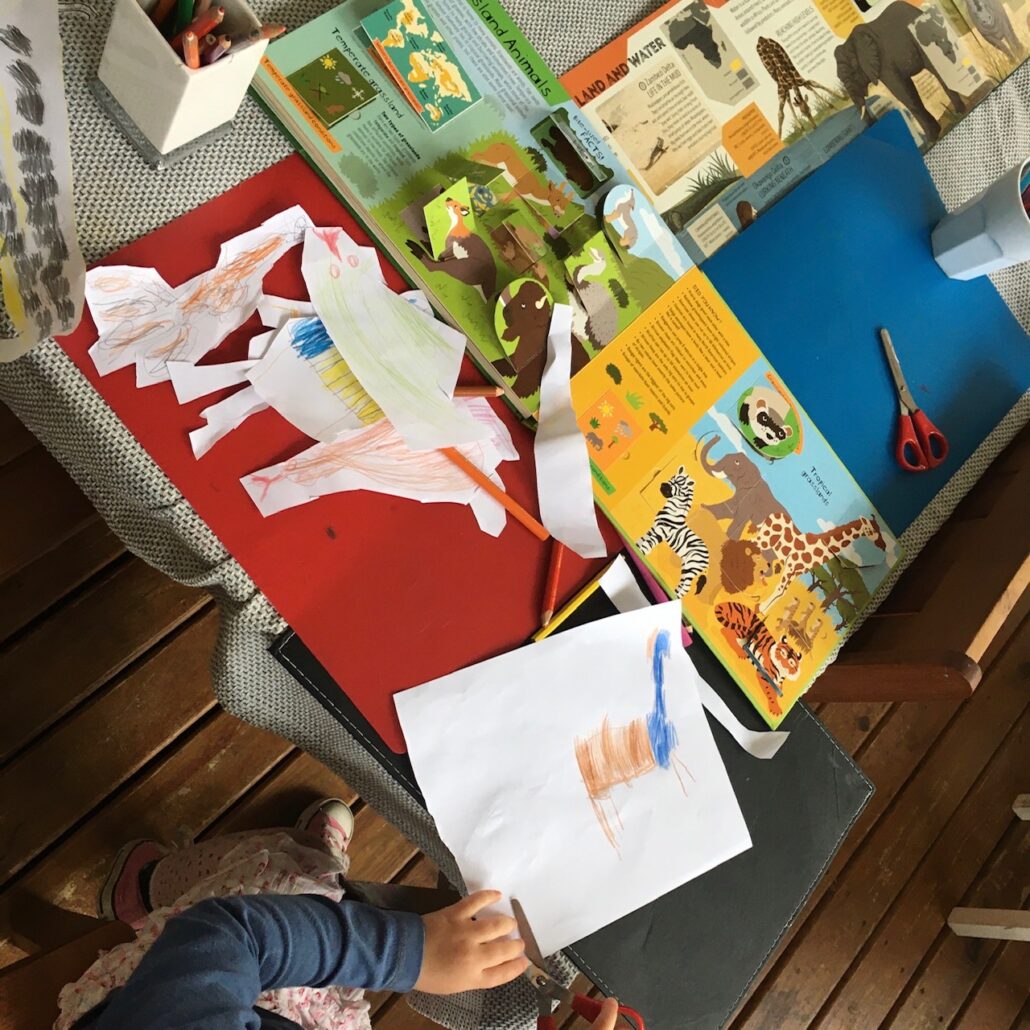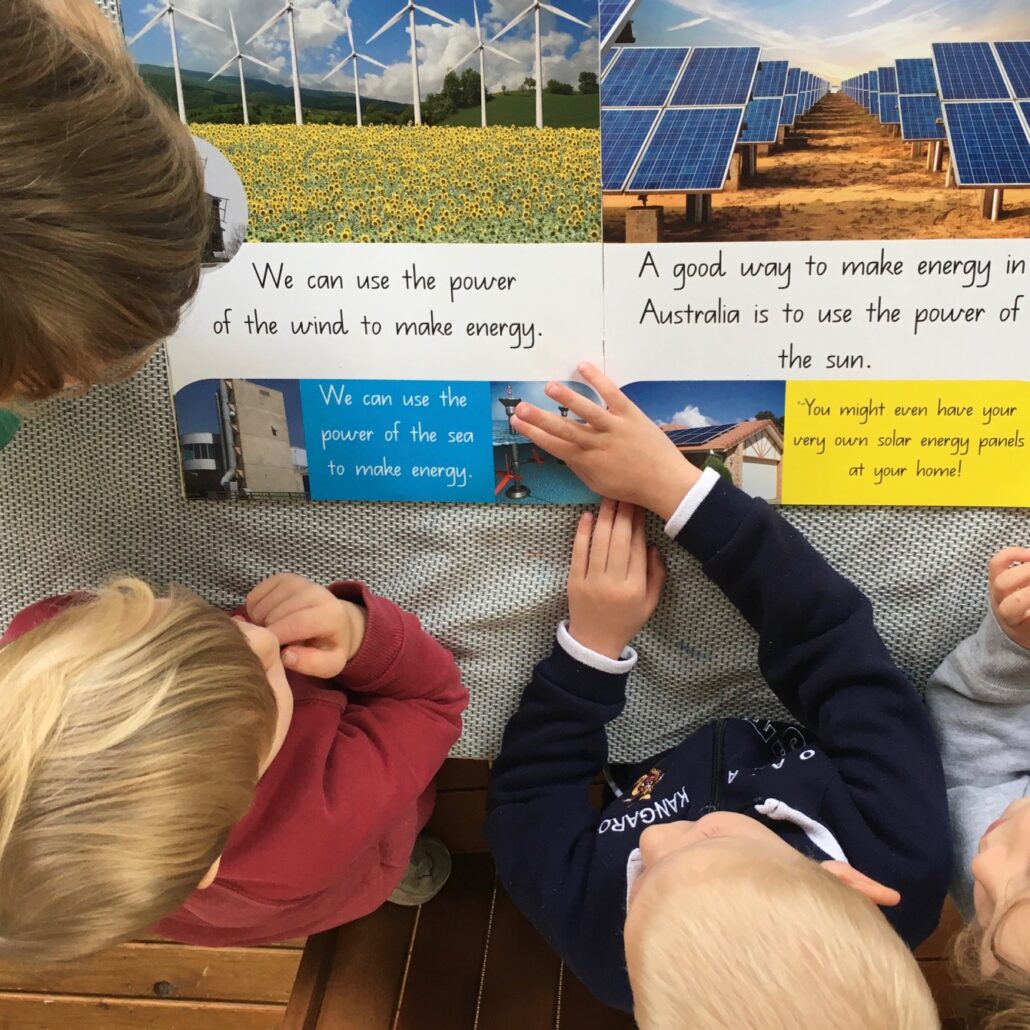 The grammar boxes
The Kindergarten children have been learning aspects of grammar. These include verbs, adjectives and article and a noun. We have been finding these in different texts. The children made books about things they like to do and called them verb books.  We also looked at homonyms, words that sound the same and synonyms.
– Elizabeth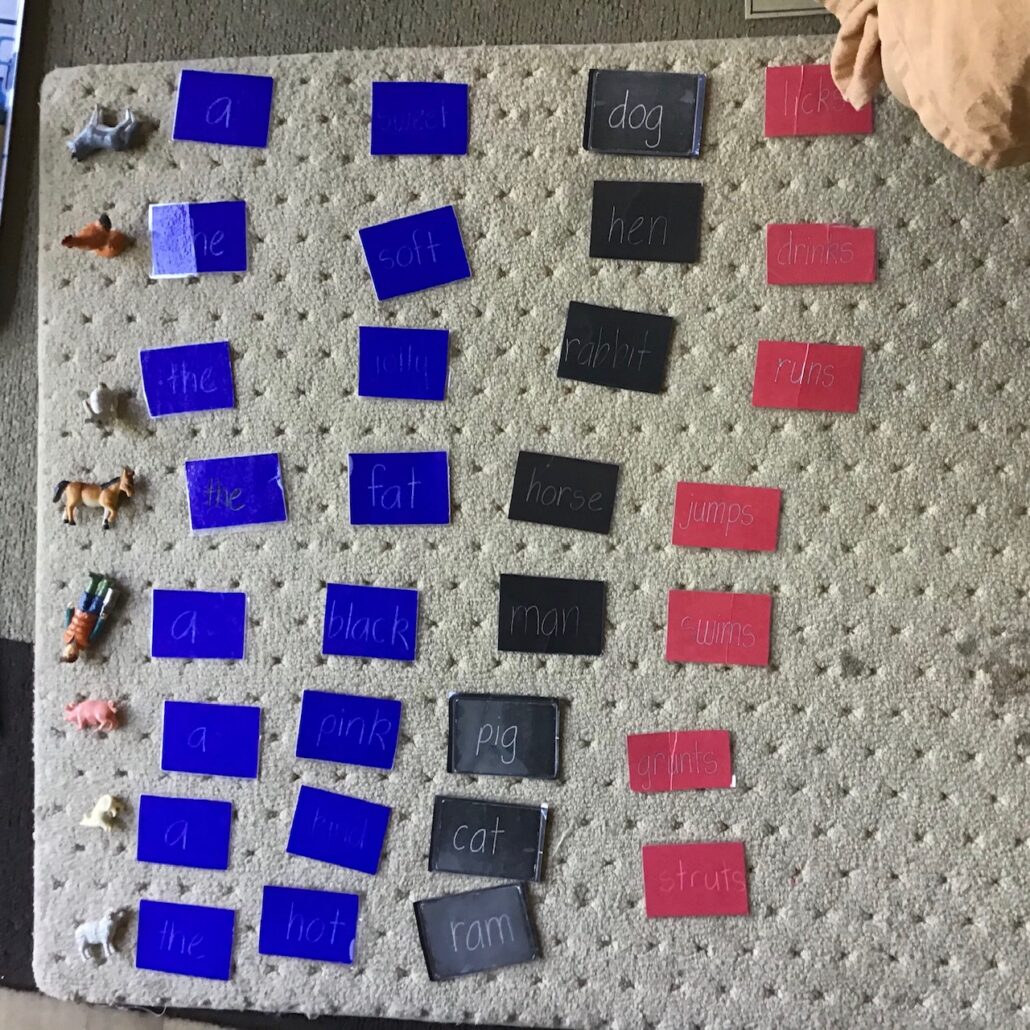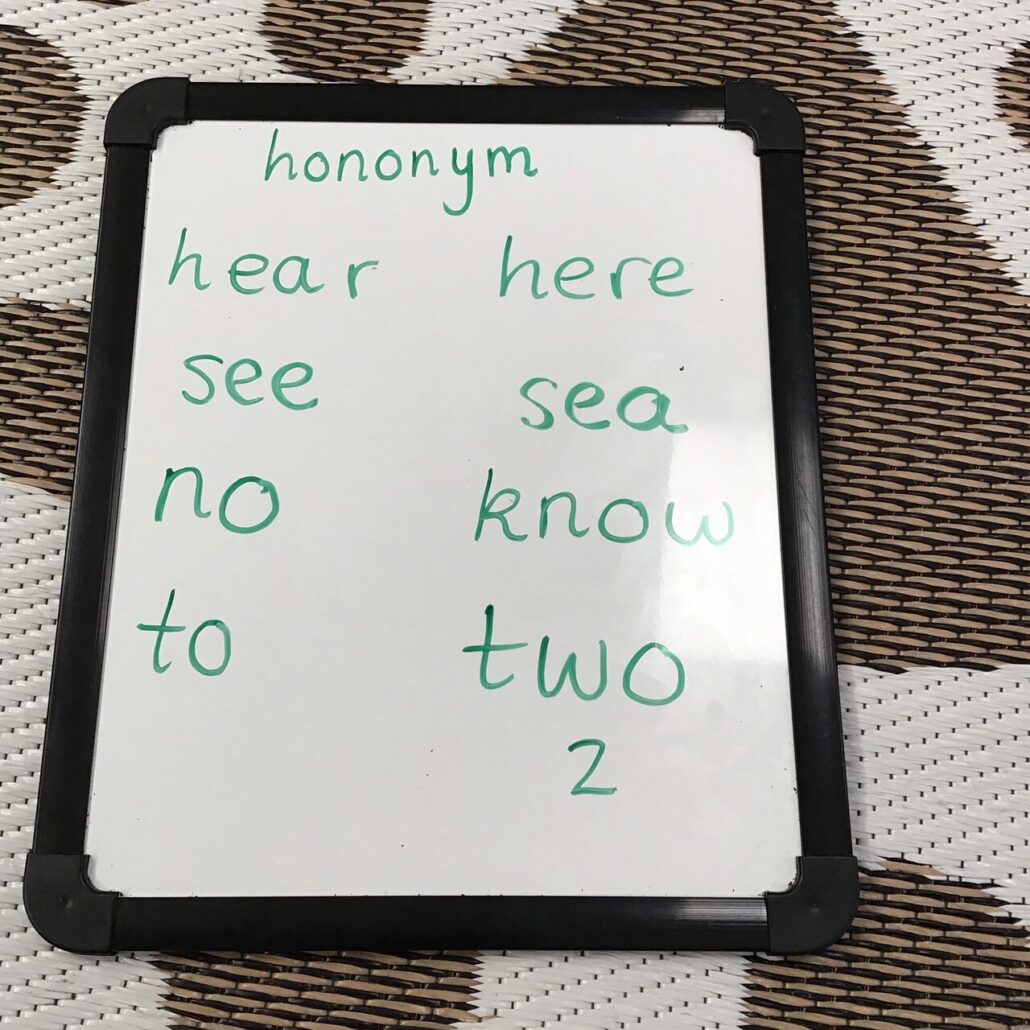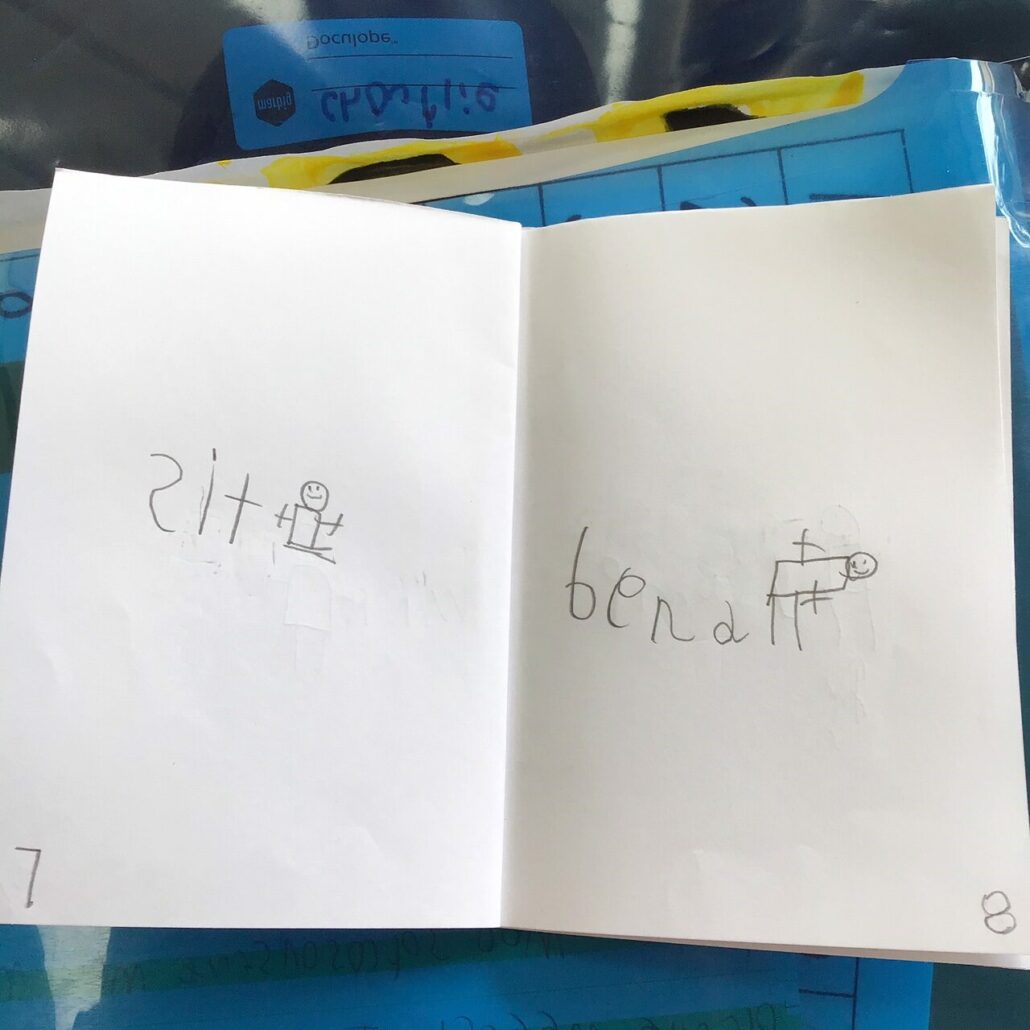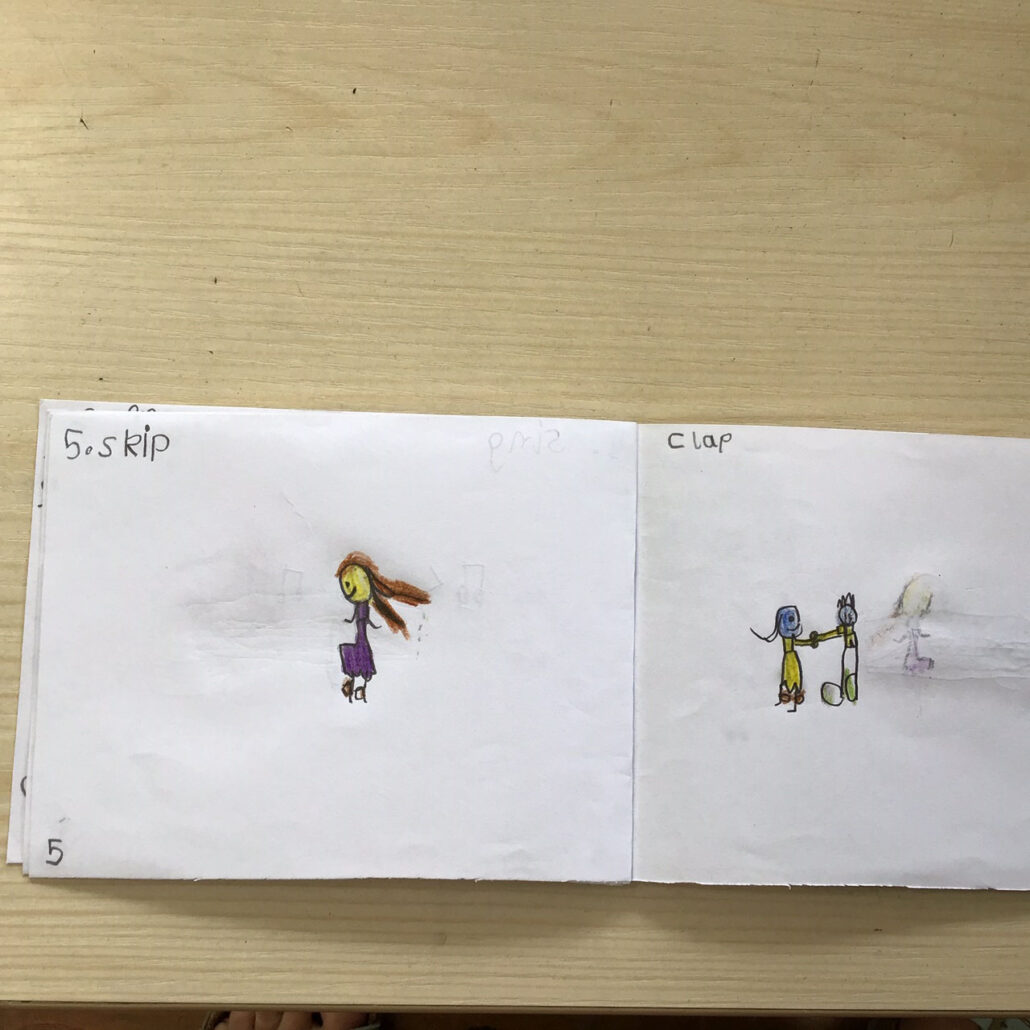 A packed fortnight with Aikya back in the swing of things.
Science experiments have been held in our new kitchen space, outdoor lessons have taken place to portray relative time and distance and poetry lessons and rehearsals have begun in preparation for the school Christmas Concert. Not to forget all the curriculum learnings happening every day.
A notable topic covered was TimeLines, with some children opting to create and present their own depictions of time and events. Also, we were able to depict the relative time between now and how long our Indiginouse cultures have inhabited the land. Relating to time stamps such as the birth of Jesus Christ, The Roman Empire and the Colonisation of Australia to list just a few.
Music, French, Pottery and Swimming have continued to feature, with Pottery and Swimming still maintaining the hype you would expect as the children eagerly anticipate their scheduling.
– Harshitha, Toby, Phillipa & Thomas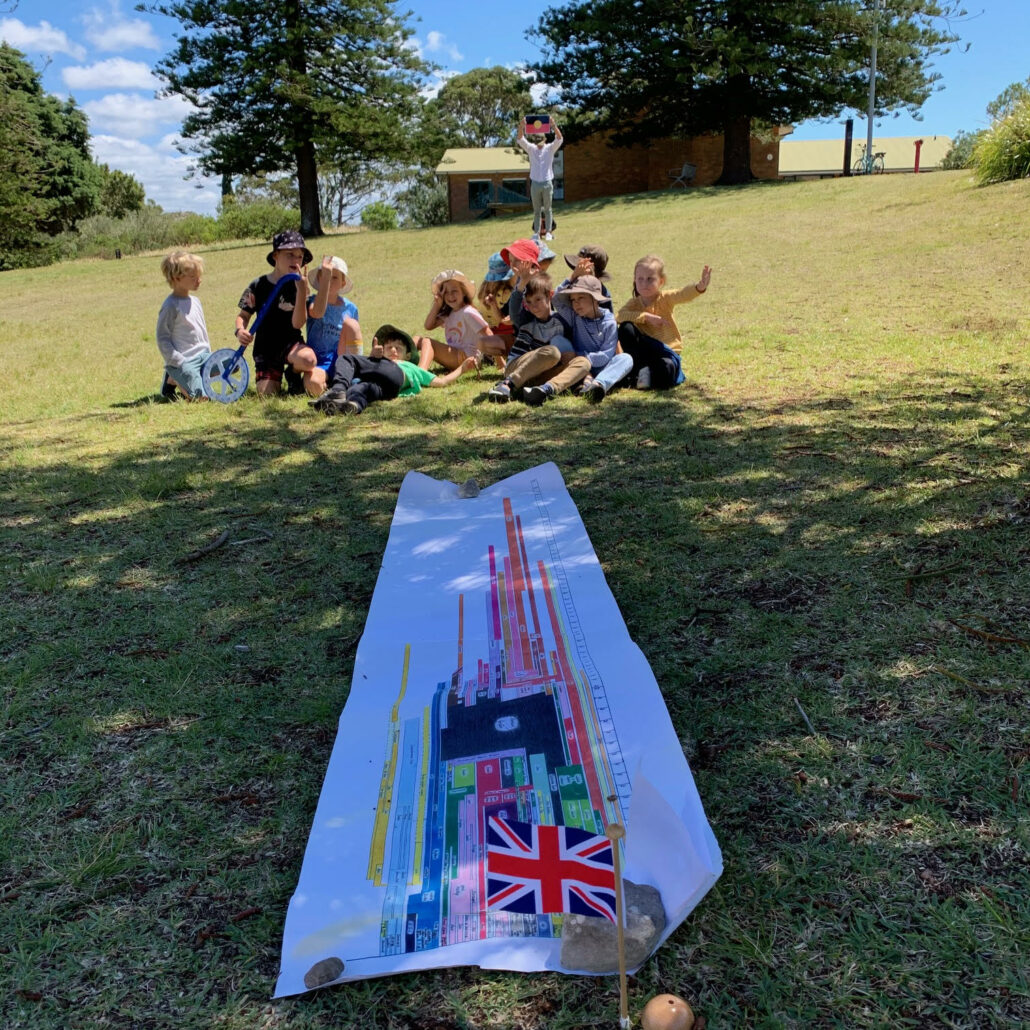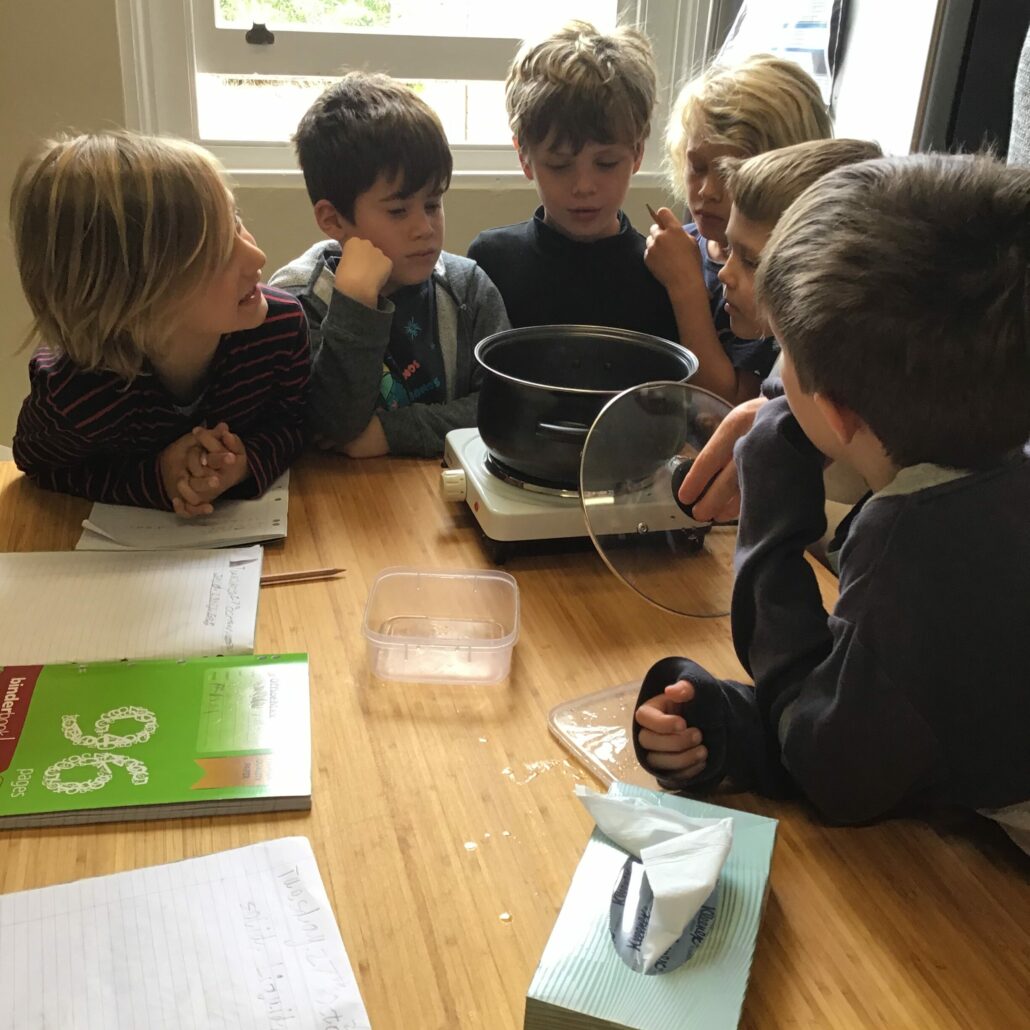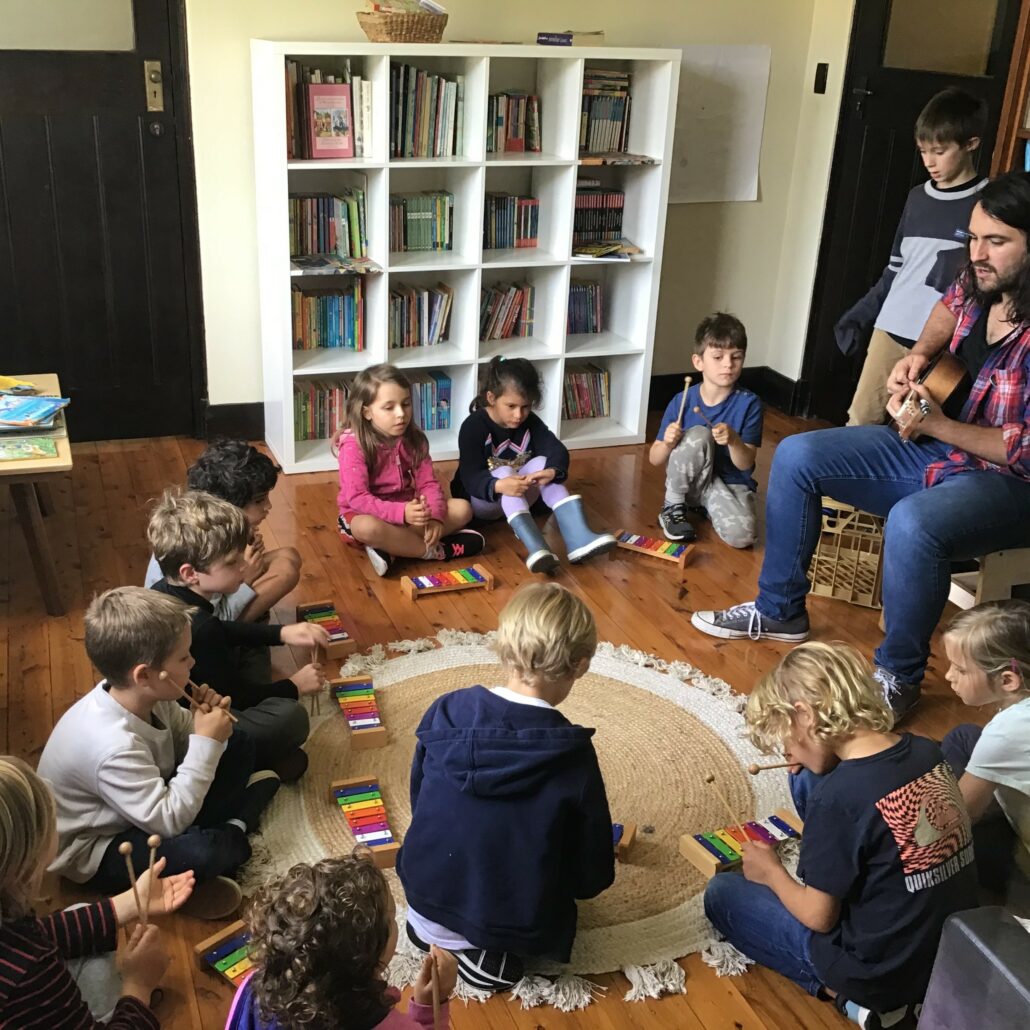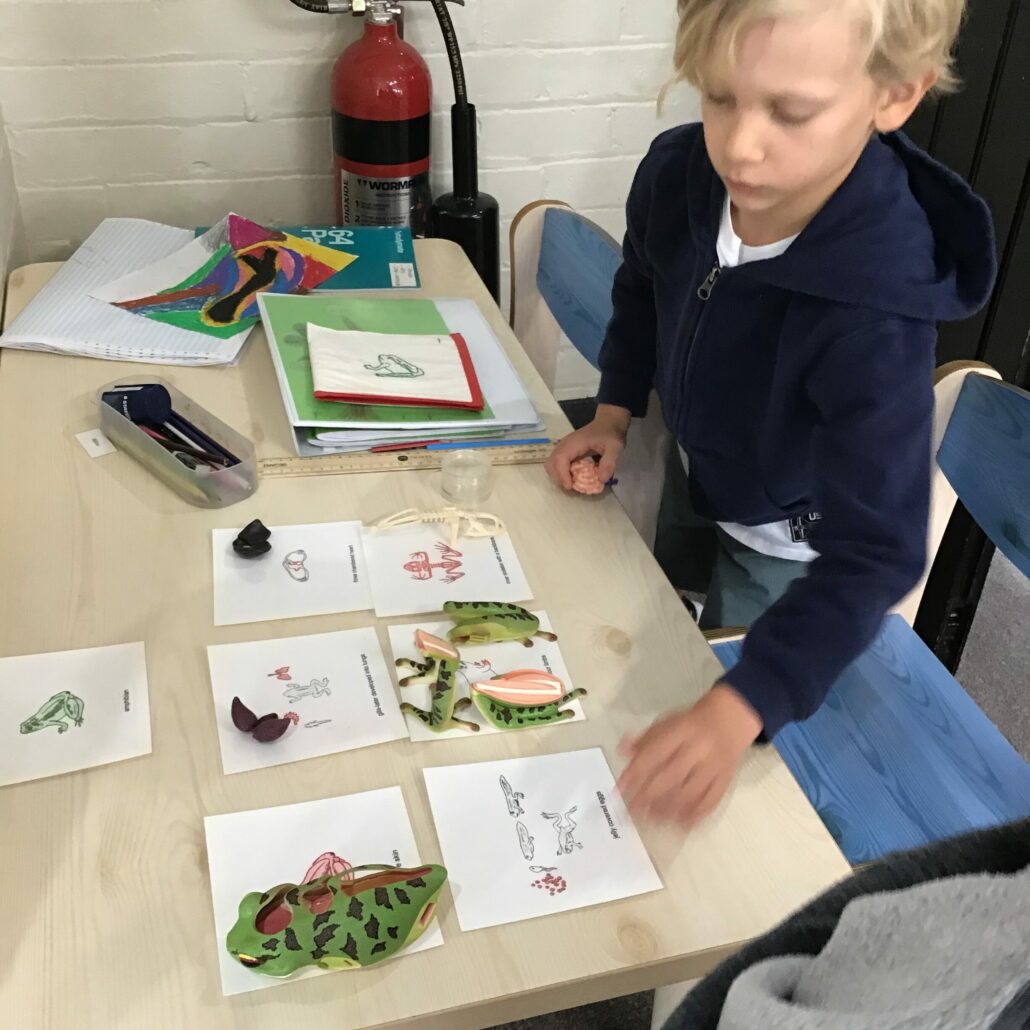 Some students are transitioning from stage 2 to stage 3. Oscar, Jasper, Alara, Havana, Mac, Macleay, and Luca. They have had a couple of transition days, learning what it's like to be in Stage 3 and getting them ready to be in our class permanently.
We had a police talk with a Youth Liaison Officer called Robin. She explained the importance of Cyber security, bullying in general, and school safety. We talked about her job, the youth's she works with and Juvenile Detention Centre's. There were a lot of questions about this, we found it super interesting.  All in all, it was a good chat, and we learnt a lot.
Yep, the time of year has come. It's nearly Christmas! We are in the middle of making our Christmas presents. We can't tell you too much because it's a surprise, but we are using succulents and making our own creations using polymer clay.
In music we're doing a pop/classical song. Played with keyboards, guitars, percussions, a cello (Claudia) and trumpet (Leo and Jessica). We are learning a variety of songs for our Christmas Concert!
By Oskar and Sam
– Laura & Jessica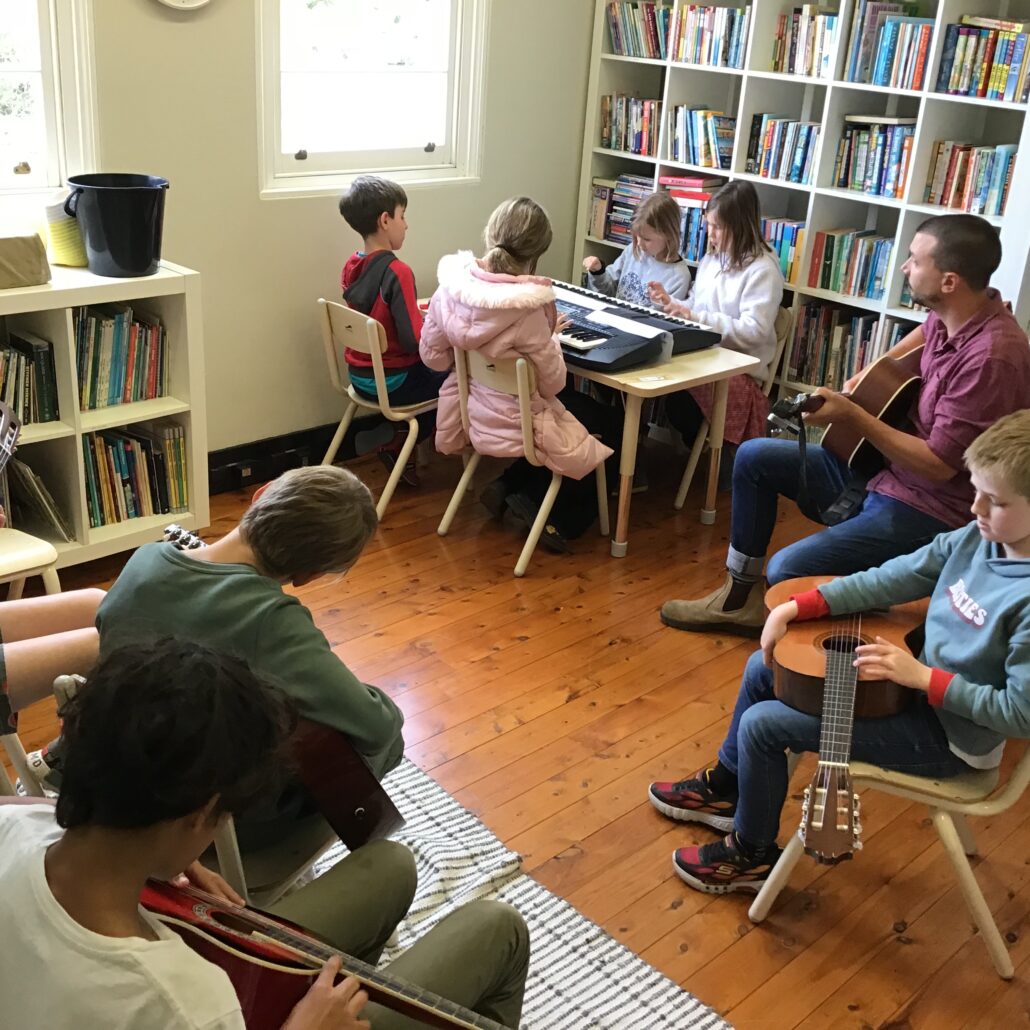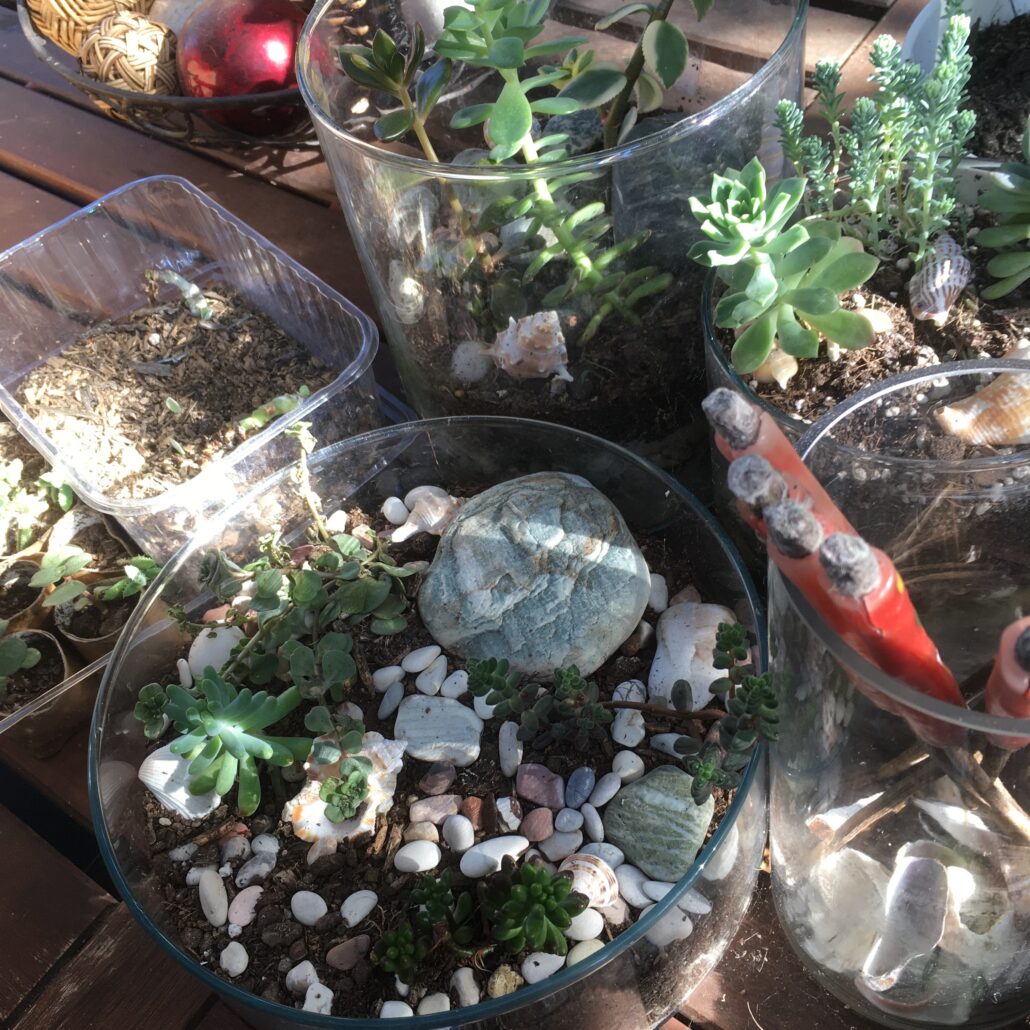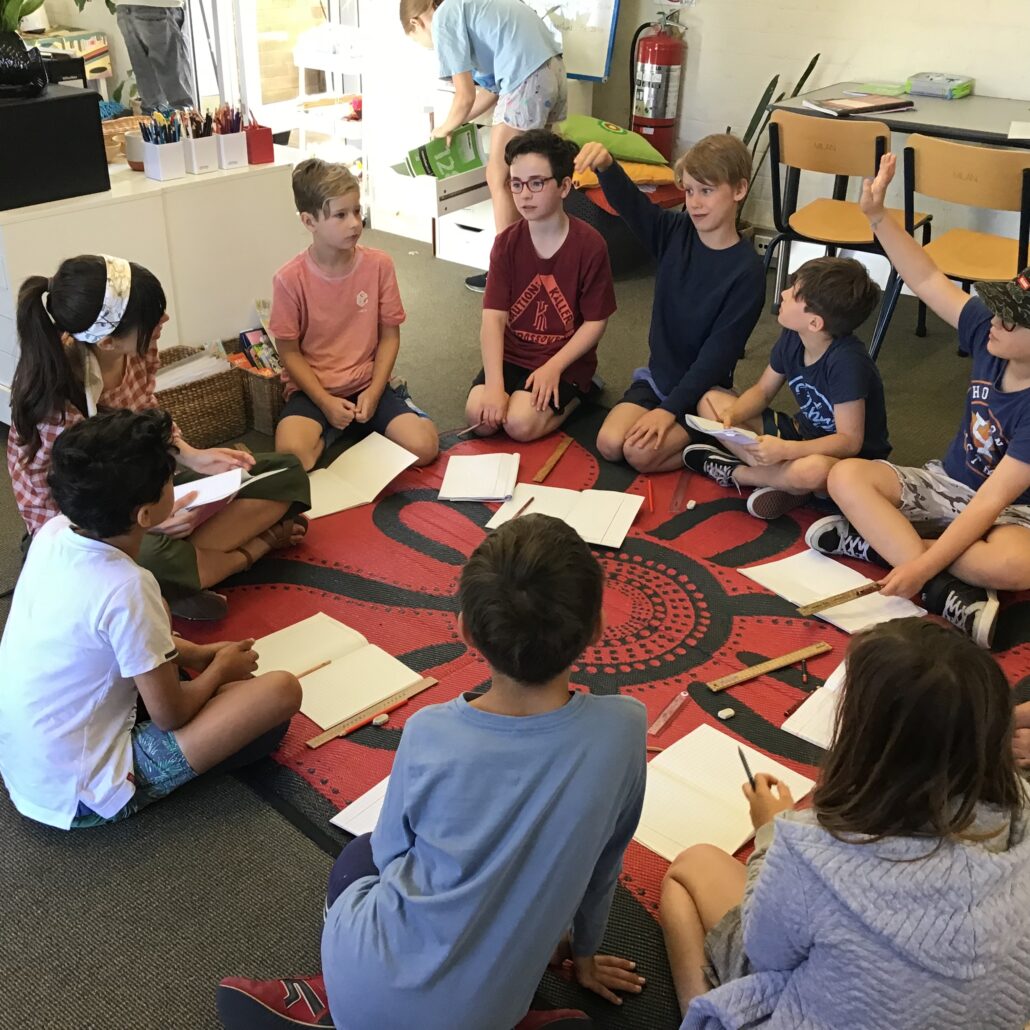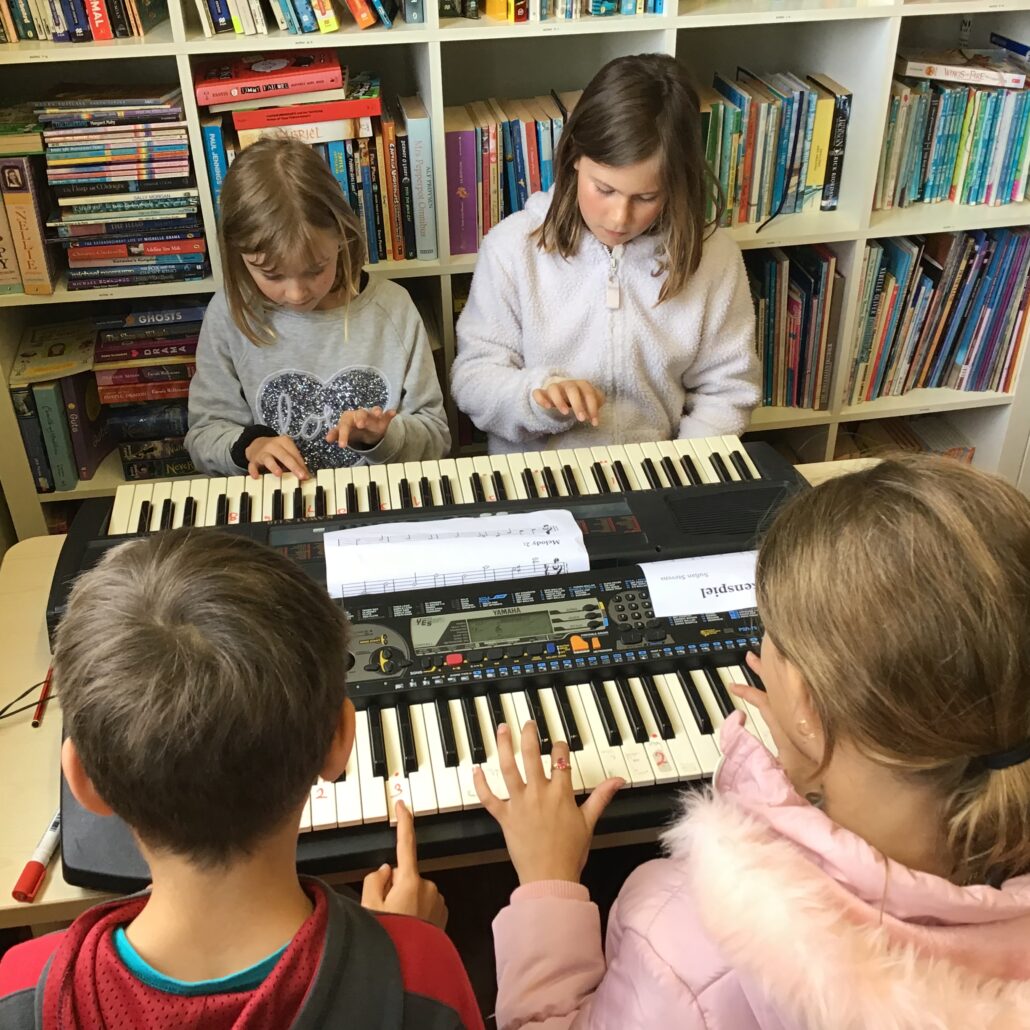 Farmhouse | Primary OSHCare
Dear Families,
Vacation Care Update
Unfortunately, we will not be running vacation care for the upcoming holiday period of December 10th- January 29th. If you do require care we are operating a Vacation Care program from our Seaforth OSHC Centre which operates from Seaforth Community Centre on Baringa Avenue.
Bookings can be made:
Via our website http://www.primaryoshcare.com.au/vacation-care
Contacting the service directly on 0433 472 776 or soshc@primaryoshcare.com.au.
Please let us know if you need any assistance.
Smith Family Toy and Book Appeal
This Term we will be collecting unused toys and books for the Smith Family Toy and Book appeal.  The Smith Family's Toy & Book Appeal is your opportunity to help bring a smile to a disadvantaged child's face this Christmas.
Sadly, thousands of Australian children will go without receiving a gift this holiday season simply because their families can't afford it. Your generous support will help children in need to acquire the skills and knowledge they need to build a better future and help them to create a sense of belonging this Christmas.
Next to the parent sign in area, we have placed a mini Christmas tree to place our collected presents under. If you are unsure on what gifts to purchase the tree is decorated with stars with present ideas, these are for you to pick off and take home! 
If you would like more information about Primary OSH Care or our centre and how to enrol, please visit our website www.primaryoshcare.com.au
From Sarah, Ella and all the OSHC staff at Farmhouse Montessori OSHC Centre